Fried Chicken is everyone's favorite staple. That extra crunch on the outside, and juicy on the inside… perfect companion for a meal, or just a quick snack!
Why not order some Korean fried chicken from GrabFood! K-pop may be South Korea's biggest export, but their fried chicken is taking the world by storm too, and is quite a trend!
Did you know there are an impressive line-up of Korean fried chicken merchants with GrabFood. All these restaurants will serve the signature Korean Fried Chicken, but you'll soon find out that each of these eateries are unique with their own twist to the dish, a variety of spicy level to suit your taste buds and a long list of side dishes that are just as impressive.
All set for a crunchy experience? Here's the 5 Korean Fried Chicken restaurants in GrabFood!
Jinjja Chicken
Jinjja Chicken is a hit among KLites, with its menu inspired by South Korea's rich street food culture. To be sure that customers are getting the most authentic dishes, its ingredients are sourced from all over Korea. Select the Jinjja Wings or Jinjja Drumsticks and your spicy level! Choose the Soy Garlic for the mild experience. However, if that's too easy than choose the Monster for a sizzling experience! Still hungry? Well there's the noodles, rice rolls dishes and even Tofu burgers to choose from!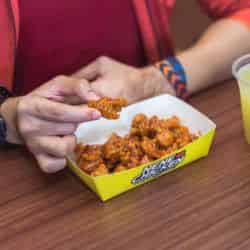 Nene Chicken
Nene Chicken has been in business for two decades, with over 1,200 outlets in South Korea alone. With their impressive portfolio, Malaysians are definitely in for a treat with Nene Chicken. Each piece are deliciously marinated, moist on the inside and crunchy on the outside. The fried chicken comes in a variety of flavour, starting from the original (which uses a secret recipe from South Korea!) to Sweet and Spicy (also known as Swicy), Freaking Hot Fried Chicken. Our favorite is the Bulgogi Fried Chicken, that's not too mild, not spicy but still enough flavours to give an unforgettable taste!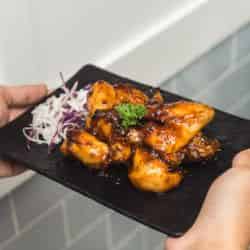 Goobne
With all these fried chicken, some of you may want a healthier option, right? Goobne has become the most popular over-roasted chicken brand in Korea and is growing in popularity right here in Malaysia. If offers customers  chicken that contains less trans fat, carbohydrates, and sodium and also, calories (yay!). The roasted chicken will give a crunchy outer layer and juicy and tender meat inside. Their best seller is the Goobne Volcano, which is their spicy flavour. For a more cheesy experience, the Goodne Deep Cheese is an irresistible option. For the less adventurous, the Goobne Soy Garlic may be your best bet!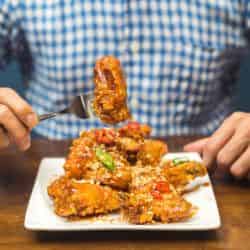 BBQ Chicken
BBQ Chicken is one of the best Korean chicken restaurants with more than 1,000 outlets in their home country. It has since expanded with outlets around the world, including Malaysia. Customers are truly spoilt for choice at BBQ Chicken as there are 11 types of signature chicken dishes. Jerk BBQ Chicken, that is marinated in their secret Jamaican Jerk Sauce for hours, is a must-try but their Signature Golden Olive Chicken will give you that extra crunch at every bite. But of course for a more spicy experience, the Hot Hot Chicken is for you! Apart from the standalone chicken dishes, you can also enjoy the chicken as a burger, pizza or sandwiches. Trust us – these dishes are just as good!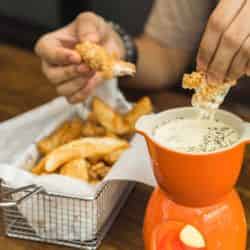 Choo Choo Chicken
Choo Choo Chicken is relatively new to the scene, opening their doors in 2015. What's unique about Choo Choo Chicken is that it maintains the authenticity of the Korean fried chicken recipe but at the same suit it to the local Malaysian taste. There are 8 sauces to choose from namely Crispy, Soy Honey Soy, Sweet, Spicy, Garlic, Creamy Garlic and Sweet and Spicy with three levels of spiciness: Original, Half Spicy and Full Spicy.
Whether you enjoy your Chicken Wings or Boneless Chicken, each bite will leave you wanting for more. If that's not enough, order their Rice Burgers to really complete the Korean experience!
There you have it, folks! 5 Korean fried chicken restaurants that are available on GrabFood! There's no need for you to fly all the way to South Korea to enjoy these delightful chicken dishes as you can enjoy these dishes from the comfort of home.
Whether you want a healthier option, roasted, BBQ glazed, deep fried or a super spicy experience… just order in and enjoy your fried chicken! What's more, with their amazing side dishes.. It's a totally complete meal!