Skip the waiting at restaurants. Enjoy cashless convenience. Pay in the app when you order, be notified when your food is almost ready, and pick it up from the restaurant.
 For a limited time only, enjoy up to 40% when you order Self Pick-Up:
 

40% OFF

(up to RM8) from GrabFood Signatures restaurants. Promo code: 

PICKUP40

.

20% OFF

(up RM8) from selected restaurants on GrabFood. Promo code: 

PICKUP20

.
It's easy to order Self Pick-Up: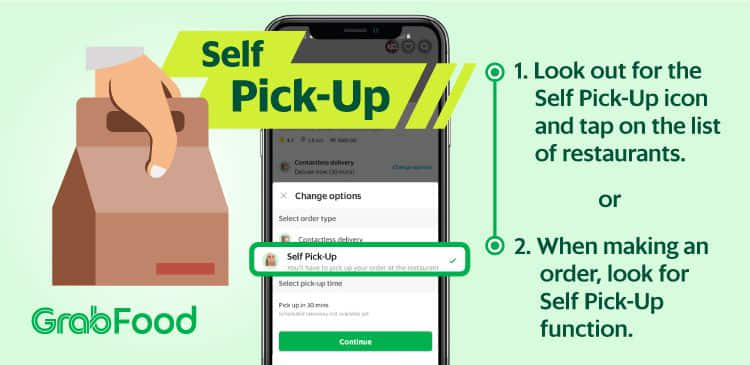 Place your order with Self Pick-Up.

You will be notified when your order is almost ready.

Head to the restaurant and pick up your order.
T&C - PICKUP40
The discount of 40% OFF is up to RM8 per order. No min spend required.

Valid for 6 transactions per user, per Grab account or per device during campaign period.

Users must enter promo code PICKUP40 at checkout. 

This promo is valid for selected signatures restaurants only.

This promo is valid for self pick-up orders only.

Promotion is not valid with any other vouchers or promotions.

Grab reserves the right to alter, extend or terminate the promotion, or amend the terms and condition at its sole discretion at any time without prior notice. In case of any disputes directly or indirectly arising from the promotion, the decision of Grab shall be final.

These terms and conditions shall be governed by the laws of Malaysia and any dispute arising out of or in connection with promotion shall be referred to the exclusive jurisdiction of courts of Malaysia.
T&C - PICKUP20
1828 Bistro & Bar – Pusat Komersil 88 [Non-Halal]
1977 New Ipoh Chicken Rice – Seksyen 10 [Non-Halal]
1977 New Ipoh Chicken Rice – Sri Petaling [Non-Halal]
1977 New Ipoh Chicken Rice – Petaling Street [Non-Halal]
1977 New Ipoh Chicken Rice – Damansara Jaya [Non-Halal]
21 Street Cafe – Taman Melaka Raya
7 Spice – Danga Bay
Absolute Thai – The Gardens
Absolute Thai – IPC
Absolute Thai – MyTown
Absolute Thai – Sunway Giza
Absolute Thai – Kiara 163
Absolute Thai – KL East Mall
Absolute Thai – Central i-City
Absolute Thai – Sunway Putra Mall
Absolute Thai – IOI City Mall
Absolute Thai – Main Place
Absolute Thai – Wangsa Walk
Absolute Thai – Medini Mall
Absolute Thai – JPO
Absolute Thai – Toppen Shopping Centre
Absolute Thai – Mid Valley Southkey
Absolute Thai – Sunway Big Box
Absolute Thai Street Food – The Gardens Mall
Absolute Thai Street Food – Sunway Velocity
Adelphi & Co – Jalan Damai [Non-Halal]
After 4 Kopitiam – Aiman Mall
After 4 Kopitiam – Jalan Rubber
Ah Cheng Laksa – Starling Mall
Ah Cheng Laksa – Lotus's Kepong
Ah Cheng Laksa – Publika
Ah Huat Nasi Lemak Kukus Tradisional – Taman Kerjasama
Al Gazerah Restaurant – Jalan Bukit Beruang Utama
Alamak – Jalan Argyll
Alamak – Krystal Square
Almizan Satay House – Bandar Baru Uda
Almizan Satay House – Kampung Ubi
Almizan Satay House – Tepian Tebrau
Amarin Heavenly Thai – Mid Valley
An Viet – The Gardens [Non-Halal]
An Viet – Sunway Pyramid [Non-Halal]
An Viet – Gurney Plaza [Non-Halal]
An Viet – Paradigm Mall [Non-Halal]
Arabica Restaurant
Bala's Banana Leaf – Lucky Garden
Basil – Bangsar Village
Ben's – KLCC
Ben's – BSC
Ben's – The Gardens
Ben's – Linc Mall
Ben's – Publika
Ben's Chicken Shop – Lorong Kurau
Ben's Chicken Shop – Publika
Ben's General Food Store – Jalan Batai
Ben's General Food Store – Publika
Ben's To Go – The Linc
Beside UHome Restaurant 你家隔壁 – Taman Ungku Tun Aminah [Non-Halal]
Big Coconut – 9th Mile CS Food Street
Big Coconut Western – Taman Hui Sing
Big Food F&B – Taman Adda
Big Food – Taman Nong Chik
Biru Biru Cafe – Lorong Dewan
Bistro Benji's by BIG – Jalan Telawi
Blonde – The Republik
Boran – Classic Thai Street Food – Sri Petaling [Non-Halal]
Boran – Classic Thai Street Food – Seapark [Non-Halal]
Boran – Classic Thai Street Food – SS14 [Non-Halal]
Botanist Cafe – Taman Melaka Raya
Box26 Cafe – Kampung Pasir Pekan
Bukit China Soya Bean House – Taman Kota Laksamana
Bumbu Cabe – Rock Road
Bungkus Kaw Kaw – MyTown
Burger On 16 – Dataran Sunway
Busaba Heavenly Thai – BSC
Busaba Thai – Bandar Sunway
Buttermilk Kitchen
Buttermilk Kitchen – Hartamas
Cafe Eatura – Jalan Trus
Cafe Includes – The Weld
Cafe Includes – Seksyen 9
Caffe Diem – Pekan Cina
Calanthe Art Cafe – Jalan Hang Kasturi
Canning Dim Sum Express – D'Piazza Mall
Carl's Jr – 1Utama
Carl's Jr – SS15
Carl's Jr – Melawati Mall
Carl's Jr – Subang Parade
Carl's Jr – Mid Valley
Carl's Jr – Mid Valley Southkey
Celadon – Pavilion
Chaang Caffe – Taman Malim Jaya
Chakra Restaurant – Kampung Bahru
Chinese Barbecue Specialist – Jalan Padungan [Non-Halal]
Chubs – Plaza Shell [Non-Halal]
Ciku-Ciku – Medan Meru Bistari
Cosy Bistro – Johor Jaya
CRUST – 163 Retail Park
David's Diner – Greentown Square
Deens Maju Nasi Kandar – Jalan Gurdwara
DIB Restaurant Cafe – Menara Gamuda
Dong Seoul Korea Restaurant – Taman Perniagaan Arosa [Non-Halal]
Dong Seoul Korea Restaurant – Taman Flora Utama [Non-Halal]
Dong Seoul Korea Restaurant – Taman Sutera Utama [Non-Halal]
Dong Seoul Korea Restaurant – Jalan Rambutan [Non-Halal]
Dragon Noodle – Solaria Square [Non-Halal]
Dragon Noodle – All Season [Non-Halal]
D'Shida Corner – Jalan Sultanah Sambungan
Eatomo – Bangsar
Eatomo – Taman Danau Desa
Eatomo – Publika
Eatomo – Suria KLCC
Eden Dim Sum City – Bandar Menjalara [Non-Halal]
Euro House – Jalan Hussein [Non-Halal]
Fahrenheit 600
Fei Fei Crab – Damansara Jaya [Non-Halal]
Fei Fei Crab Restaurant – Desa Aman Puri [Non-Halal]
Fei Fei Crab Restaurant – Taman Mount Austin [Non-Halal]
FGJB Mix & Match I [Non-Halal]
FGJB II Mix & Match – [Non-Halal]
FGJB III Mix & Match – [Non-Halal]
FGJB IV Mix & Match [Non-Halal]
Fifty Trees Cafe – Taman Melodies
Fish & Co. – Paradigm Mall
Fish & Co. – Main Place
Fish & Co. – 1Utama
Fish & Co – Toppen Shopping Centre
Flip Burger – Gurney Paragon Mall [Non-Halal]
Flip Burger – Queensbay Mall [Non-Halal]
Foodbike – Menara CIMB
Frenzy Coffee – Bukit Piatu
Gappo Trattoria – Lembah Sireh
Geographer Cafe
Gerai Makan Seri Menanti Char Kuey Teow Penang – Putatan
Gerai Seri Menanti 2 – Kampung Lok Bonu
Gino Pizza – Kg. Cherang
Ginza Japanese Restaurant – Saradise
GO Noodle House – Sunway Velocity [Non-Halal]
GO Noodle House – Mid Valley [Non-Halal]
GO Noodle House – DaMen Mall [Non-Halal]
GO Noodle House – Setia City Mall [Non-Halal]
GO Noodle House – Gamuda Walk [Non-Halal]
GO Noodle House – 1Utama [Non-Halal]
GO Noodle House – AEON Metro Prima [Non-Halal]
GO Noodle House – Sunway Pyramid [Non-Halal]
GO Noodle House – Klang Parade [Non-Halal]
Go Noodle House – Muar [Non-Halal]
GO Noodle House – AEON Melaka [Non-Halal]
GO Noodle House – The Mines [Non-Halal]
GO Noodle House – Sunway Putra [Non-Halal]
GO Noodle House – Sunway Giza [Non-Halal]
GO Noodle House – Queensbay Mall [Non-Halal]
GO Noodle House – Sunway Carnival [Non-Halal]
GO Noodle House – Gurney Plaza [Non-Halal]
GO Noodle House – IOI Puchong [Non-Halal]
GO Noodle House – Leisure Mall [Non-Halal]
GO Noodle House – Avenue K [Non-Halal]
GO Noodle House – MyTown [Non-Halal]
GO Noodle House – Publika [Non-Halal]
GO Noodle House – Jaya One [Non-Halal]
GO Noodle House – IOI City Mall [Non-Halal]
GO Noodle House – DPulze [Non-Halal]
GO Noodle House – Starling Mall [Non-Halal]
GO Noodle House – Paradigm Mall [Non-Halal]
GO Noodle House – Empire Subang [Non-Halal]
GO Noodle House – Pearl Suria [Non-Halal]
GO Noodle House – JB City Square [Non-Halal]
GO Noodle House – Paradigm JB [Non-Halal]
GO Noodle House – AEON Seremban 2 [Non-Halal]
Go Noodle House – Vivacity Megamall [Non-Halal]
Golden Arch Garden Laksa – Jalan Datuk Tawi Sli
Golden Balls – ITCC [Non-Halal]
Golden Bowl – New World Park
Golden Bowl – The Promenade
Goobne Chicken – MyTown
Goobne Chicken – SS15
Goodbox – Horizon Hills [Non-Halal]
Grill Patio – Menggatal
Grill Patio – Cyber City
Grill Patio – Damai
Grill Patio – Putatan
Grill Patio – Bandaran
Grounded 22 – Taman Kota Laksamana Jaya
Hainan Hakka Lui Cha 海南村客家擂茶 – Jalan Pisang Barat
Hameediyah Restaurant – Lebuh Campbell
Hartz Chicken Buffet – Sarawak Plaza
Hartz Chicken Buffet – Jalan Satok
Hawker Chan – Jalan Petaling [Non-Halal]
Hawker Hall – Hartamas
Hawker Hall – Menara Hap Seng 2
Hawker Hall – Seventeen Mall
Hayaki – Subang Parade
Hayaki – Uptown Damansara
Hayaki – The Curve
Hayaki – Shah Alam
Hayaki – Setapak
Hello Stranger Cafe – The Walk Riverson
Heritage Flavours – Jalan Tun Tan Cheng Lock
Hicaa by Hilxon's 21 – Jalan Dr Wong Soon Kai
Hicaa by Hilxon's 21 – Lorong Lau King Howe
Hicaa by Hilxon's 21 – Riam Miri
Hicaa By Hilxon's 21 – Marina Parkcity
Yogurtto by Hicaa – La Promenade Mall
Hicaa by Hilxon's 21 – ICOM Square
Hicaa By Hilxon's 21 – Vivacity Megamall
Hicaa By Hilxon's 21 – Jalan Tun Jugah
HoHo Hot Pot – Taman Nusa Bestari [Non-Halal]
HoHo Steamboat – Taman Mount Austin [Non-Halal]
HoHo Steamboat – Southkey [Non-Halal]
Hong Kong 8am – D'Piazza Mall [Non-Halal]
Hong Kong 8AM – Maritime Piazza [Non-Halal]
Hong Kong 8am – Lorong Macalister [Non-Halal]
House of Pok – Sunway Pyramid [Non-Halal]
Howdy Grillhouse – Brighton Square [Non-Halal]
Hungrybear – BB Bazzar
Ikan Boulu Tanpa Tulang 3 – Pavillion Bundusan
Ikan Boulu Tanpa Tulang II – Inanam
Inside Scoop – Klang
Ipoh Hainan Chicken Rice – Kampung Jawa
Ippudo – Pavilion [Non-Halal]
Ippudo – The Gardens [Non-Halal]
Ippudo – Gurney Plaza [Non-Halal]
Ippudo – Queensbay Mall [Non-Halal]
Ippudo – BSC [Non-Halal]
Ippudo – Sunway Velocity [Non-Halal]
Ippudo – Jaya One [Non-Halal]
Ippudo – 1Utama [Non-Halal]
Ippudo – Sunway Pyramid [Non-Halal]
IT Mall Cafe – Perak IT Mall [Non-Halal]
Izakaya – Icom Square
Jaiho Cafe – Jalan Kehakiman
JBorn Cafe & Bistro – B5 Johor Street Market
JBorn Cafe & Bistro – Kampung Melayu
JBorn Cafe & Bistro – Adda Heights
Jibby & Co – Empire Shopping Gallery
Jibby By The Park – Desa ParkCity
Jibby Chow – Bangsar Village II
Jibby East – KL East Gallery
Jin Du Li Fish Head Noodle 金都里鱼头米粉 – Taman Bunga Raya [Non-Halal]
Jin Ming Cafe – Jln Sekama [Non-Halal]
Jinjja Chicken – The Gardens
Jinjja Chicken – Sunway Pyramid
JNJ FoodBox – Jalan Bukit Beruang
Jom Burgeria – Arena Curve
Jom Burgeria – Karpal Singh
Jom Penyet – Plaza Kingfisher
Jom Penyet – Aeropod
Jothy's Fish Head Curry Banana Leaf
JY Bistro – Taman Desa Tebrau
K Fry Urban Korean – KL East Mall
K Fry Urban Korean – Setia City Mall
Kafe Greentown Dimsum Cafe – Greentown Avenue
Kafe JB Bubur Nasi No.1 – Taman Nong Chik
Kafe Kaki Lepak – Jalan Marina Avenvue
Kam Long Ah Zai – Jalan Wong Ah Fook
Kampung Nelayan – Taman Tun Fuad
Kanna Curry House – Seksyen 17
Kanna Curry House – Taman Mayang Jaya
Kanna Curry House – Bandar Menjalara
Kanna Curry House – Jalan Gasing
Kanna Curry House – Puchong Jaya
Kanna Curry House – Seksyen 4
Kanna Curry House – Bukit Tinggi
Kaori Cha Kuantan – Chinatown
Kaori Cha Kuala Terengganu – Jalan Pasir Panjang
Kaori Cha Berek 12 – Jalan Hospital
Kaori Cha – Taman Bendahara
Kaori Cha Lembah Sireh – Jalan Sultanah Zainab
Kaori Cha Wakaf Che Yeh – Jalan Kuala Krai
Kaori Cha Wakaf Stan – Jalan Wakaf Stan
Kaori Cha Panji – Simpang 4 Pauh Panji
Kedai Biskut Guan Heong – Jalan Sultan Iskandar [Non-Halal]
Kedai Makan Cik Hasnah – Taman Adda
Keeper's Ground – The Spring
Kenko – Penang Digital Library
KGB – Bangsar
KGB – TTDI
KGB – Putrajaya
KGB – Empire Subang
KGB – Pavilion
Kim Joo 锦裕 – Jln Ewe Hai [Non-Halal]
Kitchen Delight Restaurant – Taman Bukit Piatu Mutiara
Kizuna Bento King – Jalan Perusahaan Jelutong 2 [Non-Halal]
Kizuna Signature Ramen – Gurney Drive [Non-Halal]
Kruathai Cafe – Taman Adda
Krup Krup! – Shah Alam Seksyen 13
Krup Krup! – SS21
L A Burger Kukus Bakar – Stesen KTM Lama Taiping
L Bistro – Taman Desa Melati
L.table – 1Utama
L.table – Taman Pelangi
La Juiceria – Sri Hartamas
La Juiceria Superfoods – Menara Hap Seng 2
La Juiceria Superfoods – Main Place
La Juiceria Superfoods – Verve Shops
La Juiceria Superfoods Pro – KLCC
La Juiceria Superfoods Signature – Nadi Bangsar
La Juiceria Superfoods Cafe – Faber Towers
La Juiceria Superfoods – SS18 Subang
La Juiceria Superfoods Signature – Atria Shopping Gallery
La Juiceria Goodness Greens Cafe – TTDI
Lao San Kueh Chap ⽼三粿杂 – Woon Lam Cafe 1999 [Non-Halal]
Lao San Kueh Chap 老三粿杂 – Jalan Stapok [Non-Halal]
Let's Eat – Taman Gaya [Non-Halal]
Let's Eat – Setia Tropika [Non-Halal]
Let's Eat – Johor Jaya [Non-Halal]
Let's Eat – Taman Molek [Non-Halal]
Let's Meat – Lebuh Lembah Permai [Non-Halal]
Life Cafe – Miri Times Square
Life Cafe – Jln Tun Ahmad Zaidi Adruce
Life Cafe – Jalan Padungan
Life Cafe – Brighton Square
Lim Fried Chicken – Hartamas
Lim Fried Chicken – Sunway Velocity
Lim Fried Chicken – Puchong
Lim Fried Chicken – SS2
Lim Fried Chicken – SS15
Little Heritage – Seksyen 17
Luce Osteria Contemporanea – Raja Chulan [Non-Halal]
Lucky Luck Seafood – Taman Nusa Bestari 2 [Non-Halal]
Lupa Café Lounge – Luyang
LyRoy Briyani Kukus – Taman Daya
Madam Tang's Cafe – Jalan Petanak
Madam Tang's Laksa Stall – The Spring
Mamasita – Lorong Dewan
Mango Royale Float Melaka – Batu Berendam
Mango Royale Float Melaka – Pengkalan Rama
Mashawi – Bandar Sepanggar 1
Mashawi 2 – Sembulan
Master Crab – Taman Sutera Utama [Non-Halal]
Med Mex – Batu Caves
Med Mex – Sunway Pyramid
Med Mex – Hartamas
Med Mex – Tropicana Gardens
Med Mex – Platinum Sentral
Med Mex – Sunway Velocity
Med Mex – Avenue K
Med Mex – KL Eco City
Med Mex – 1 Mont' Kiara
Med Mex – NU Sentral
Med Mex – Starling Mall
Med Mex – Paradigm Mall
Med Mex – The Weld
Med Mex – Intermark
Megumi Modern Cuisine – KSL City
Megumi Modern Cuisine – Mid Valley Southkey
Megumi Modern Cuisine – Jalan Austin Height 8 [Non-Halal]
Mei Mei Laksa – Mei Mei Food Centre [Non-Halal]
Mikey's Original New York Pizza – Melawati Mall
Mikey's Original New York Pizza – MyTown
Mikey's Original New York Pizza – Bukit Damansara
Mikey's Original New York Pizza – The Curve
Mikey's Original New York Pizza – Sunway Geo
Mikey's Original New York Pizza – Citta Mall
Mikey's Original New York Pizza – Mid Valley
Ming Cafe – Mayland Building [Non-Halal]
Miss Siam – Jalan Sri Purnama 2/3
Mohammad Chow Express – Hartamas
Mohammad Chow Express
MyBurgerLab – Seapark
MyBurgerLab – OUG
MyBurgerLab – Bangsar
MyBurgerLab – Cyberjaya
MyBurgerLab – Hartamas
MyBurgerLab – Sunway
MyBurgerLab – MyTown
Nam Heong – Jalan Bandar Timah [Non-Halal]
Nam Heong Chicken Rice – DaMen Mall
Nam Heong Chicken Rice – Kelana Jaya
Nam Heong Ipoh – Lorong Dr Wong Soon Kai 4B [Non-Halal]
Nam Heong Ipoh – Mid Valley Southkey [Non-Halal]
Nancy's Kitchen [Non-Halal]
Nasi Ayam Kee Chup – Jalan Dato Dalam
Nasi Kandar Pekan Lama – Jalan Bijih Timah
Nasi Kandar Rahamath – Jalan Dato Sagor
Nasi Lemak Ong – Bandar Alor Setar
Nasi Padang Selera Bunda – Sarawak River
Nasi Tomato Batu Lanchang – Lintang Batu Lancang
Naughty Bali – Taman Sri Tebrau [Non-Halal]
Nefa Station – Medan Meru Bestari
New Thien Thien Restaurant – Royal Plaza Putatan
Noble House – Jalan Tun Razak [Non-Halal]
Noble Mansion – Plaza 33 [Non-Halal]
Noms La Promenade – Samarahan Expressway
Noms Metro City – Jalan Matang Lama
Noms Signature – Jalan Tun Jugah
Nopal De Epoch – Asia City
Norzi Cafe Manjoi – Kg Manjoi Baru
NY Burger Co – Citta Mall
NY Burger Co – Mid Valley
NY Burger Co. – The Curve
NY Burger Co. – Melawati Mall
NY Burger Co – Bukit Damansara
NY Burger Co – Mont Kiara
NY Burger Co. – Sunway Geo
NY Burger Co. – MyTown
O'Briens Irish Sandwich Cafe – Suria KLCC
O'Briens Irish Sandwich Cafe – Empire City
Old Klang Road Hokkien Mee [Non-Halal]
Ong Shun Seafood Restaurant – Kampung Bahru
Oriental Landmark – Intermark [Non-Halal]
Oriental Pavilion – PJ33 [Non-Halal]
Oriental Star – EkoCheras Mall [Non-Halal]
Oriental Treasure – The Sphere [Non-Halal]
Pakeeza Restaurant & Catering – Jalan Dato Seri Ahmad Said
Paperfish – TTDI
Parklife Restaurant – Bangsar South
Parklife Restaurant – RexKL
Pelicana Chicken – Lorong Pedada 7
Pelicana Chicken – Jalan MCLD
Pelicana Chicken – Song Plaza
PichaEats – Complex Cantonment Exchange
Pinxin Vegan Cuisine – Lebuh Tye Sin
Pisang Goreng Bunpah Corner – Kampung Melayu Majidee
Plan B – TRX
Plan B – Ipoh
Plan B – Mid Valley
Plan B – Publika
Plan B – Saradise [Non-Halal]
Plan B Roasters – The Linc
Plan B Roasters – Plaza Batai
Plan B Roasters – Publika
Planet Lapar – Jalan Bayam
Pokego Cafe – Taman Pelangi
Pokego Cafe – Taman Eko Botani
Pound – Jesselton Mall
Proof – Mont Kiara [Non-Halal]
Proof – APW [Non-Halal]
Pure Minded Vegetarian Cafe – Jalan Indah
Pure Minded Vegetarian Cafe – Pusat Perniagaan Taman Daya
Putu Piring Melaka
Qian Li Xiang Restaurant – Taman Merdeka Permai [Non-Halal]
Qong – Kubota Sentral
Qong – Suria Sabah
Qong – Lintas Square
Ratio Fusion Beef Cuisine – Taman Kota Laksamana Jaya
Restaurant Jin Xuan Hong Kong – Damansara Uptown [Non-Halal]
Restaurant Jin Xuan Hong Kong – Puchong Jaya [Non-Halal]
Restaurant Jin Xuan Hong Kong – Kota Kemuning [Non-Halal]
Restaurant Jin Xuan Hong Kong – Damansara Jaya [Non-Halal]
Restaurant Jin Xuan Hong Kong – Kuchai Lama [Non-Halal]
Restaurant Jin Xuan Hong Kong – USJ10 [Non-Halal]
Restaurant Jin Xuan Hong Kong – Kota Damansara [Non-Halal]
Restaurant Jin Xuan Hong Kong – PJ Old Town [Non-Halal]
Restaurant Jin Xuan Hong Kong – Bandar Puteri [Non-Halal]
Restaurant Lu Yeh Yen – Jalan Bunga Raya [Non-Halal]
Restoran 7 Terbalik – Taman Bukit Beruang Utama
Restoran 777 I Mix & Match – [Non-Halal]
Restoran 777 II Mix & Match – [Non-Halal]
Restoran Al Hanin – Taman Rinting Masai
Restoran Bee Gaik – Taman Ipoh Selatan [Non-Halal]
Restoran Chooi Yue Dim Sum – Taman Ipoh Selatan [Non-Halal]
Restoran Cibiuk – Kompleks Perniagaan MITC Perdana
Restoran Glk – Vivo Square [Non-Halal]
Restoran Haji Yahya – Jalan Datuk Onn Jaafar
Restoran Hameediyah – Jalan Dato Ismail Hashim
Restoran Hua Mui – Eko Botanic
Restoran Hua Mui – Jalan Trus
Hwa Mui Kopitiam – Taman Sutera Utama
Restoran Hua Mui – Jalan Austin Height
Restoran Hui Ji – Jalan Seenivasagam [Non-Halal]
Restoran Kaknas – Taman Tampoi Utama
Restoran King Kunyit – Taman Tasik Utama
Restoran Maharaj – Jalan Raja Dr Nazrin Shah
Restoran Nasi Ayam Pak Kong – Taman Jubilee [Non-Halal]
Restoran Nasi Kandar Arsad – Taman Teknologi Cheng
Restoran Nasi Kukus Ekonomi – Kingfisher
Restoran Nasi Malaya – Taman Perling
Olivia's Restaurant – Lebuhraya Batu Lanchang
Restoran Queen Nara Tom Yam – Taman Kim Teng Park
Restoran Sulaiman Nasi Kandar – Jalan Air Itam
Restoran Super Kitchen Chili Pan Mee – Taman Connaught [Non-Halal]
Restoran Super Kitchen Chili Pan Mee – Bandar Bukit Tinggi 2 [Non-Halal]
Restoran Super Kitchen Chili Pan Mee – Jalan Radin Bagus [Non-Halal]
Restoran Super Kitchen Chili Pan Mee – Chow Kit [Non-Halal]
Restoran Super Kitchen Chili Pan Mee – Taipan [Non-Halal]
Restoran Super Kitchen Chili Pan Mee – Kota Damansara [Non-Halal]
Restoran Super Kitchen Chili Pan Mee – SS15 [Non-Halal]
Restoran Super Kitchen Chili Pan Mee – SS2 [Non-Halal]
Restoran Super Kitchen Chili Pan Mee – Taman Usahawan Kepong [Non-Halal]
Restoran Wan Loi Noodles – Jalan S.A. Lingam [Non-Halal]
Restoran Wan Xi Heng I Mix & Match [Non-Halal]
Restoran Wan Xi Heng II Mix & Match [Non-Halal]
Restoran Yoke Fook Moon Sdn Bhd – Jalan Bandar Timah [Non-Halal]
Restoran Yoke Fook Moon Sdn Bhd – Jalan Leong Sin Nam [Non-Halal]
Roberto's 1020 – BSC
RUYI – BSC
S11 Kopitiam Mix & Match I [Non-Halal]
S11 Kopitiam Mix & Match II [Non-Halal]
Salad Atelier Cafe – KLEC
Salad Atelier Cafe – Platinum Sentral
Salad Atelier Cafe – Sunway Velocity
Salad Atelier – NU Sentral
Prime by Salad Atelier – Hartamas
Salad Atelier Cafe – The Weld
Salad Atelier Cafe – Sunway Pyramid
Salad Atelier Cafe – Avenue K
Salad Atelier Cafe – The Intermark
Salad Atelier Cafe – 1 Mont Kiara
Salad Atelier Cafe – Starling Mall
EATS by Salad Atelier – Batu Caves
Salad Atelier Cafe – Paradigm Mall
Salad Atelier – Tropicana Gardens Mall
San Francisco Coffee – Central i-City
San Francisco Coffee – Symphony Square
San Francisco Coffee – Menara Prudential
San Francisco Coffee – Kenanga Tower
San Francisco Coffee – Melawati Mall
San Francisco Coffee – Menara UOA
San Francisco Coffee – Gardens
San Francisco Coffee – Menara TM
San Francisco Coffee – Prestige
San Francisco Coffee – Gurney Plaza
San Francisco Coffee – Juru Auto City
San Francisco Coffee – Queensbay Mall
San Francisco Coffee – KL Gateway
San Francisco Coffee – Bandar Baru Sg. Buloh
San Francisco Coffee – Chulan Tower
San Francisco Coffee – Arcoris Mont Kiara
San Francisco Coffee – Oasis Village
San Francisco Coffee – The Envictus
San Francisco Coffee – Technology Park Malaysia
San Francisco Coffee – The Horizon
San Francisco Coffee – Gamuda Walk
San Francisco Coffee – Suria KLCC
San Francisco Coffee – Quill 18
San Francisco Coffee – D'Network
San Francisco Coffee – Symphony House
San Francisco Coffee – Menara AIA
San Francisco Coffee – PJ Trade Centre
San Francisco Coffee – Tamarind Square
San Francisco Coffee – Nu Sentral
San Francisco Coffee – Publika
San Francisco Coffee – Wisma Consplant
San Francisco Coffee – Aman Central
San Francisco Coffee – Seremban Gateway
San Francisco Coffee – R&F
San Francisco Coffee – AEON Nilai
San Francisco Coffee – Mid Valley Southkey
Sangkaya – Tamarind Square
Sangkaya – Bukit Jelutong
Sangkaya – Jaya One
Sangkaya – Jalan Sultan Iskandar
Sangkaya – Sri Petaling
Sangkaya – Muar
Sangkaya – Wangsa Walk
Sangkaya – LuLu Hypermarket
Sangkaya – Spectrum
Sangkaya – Menara Rajawali
Sangkaya – IOI Puchong
Sangkaya – Central i-City
Sangkaya – Jalan Alor
Sangkaya – Riverson
Sangkaya – Lintas Station
Sangkaya – Mesamall
Sangkaya – Toppen Shopping Centre
Sangkaya – Vivacity Megamall
Satay Bayu & Ayam Golek – Penampang Baru
Seafood World – Plaza 3
Serai – Paradigm Mall
Serai – Pavilion
Serai – KL East Mall
Serai – Empire Shopping Gallery
Serai – KLCC
Serai – Shaftsbury Square
Serai – Jaya Shopping Centre
Seven Oaks – Mid Valley Southkey
Seven Oaks – Taman Pelangi
Shellambok Char Kuey Teow – Giant Kuantan
Shells N Fins Restaurant – Jalan Padi Emas
Shu Peo Korean BBQ – Kota Syahbandar [Non-Halal]
Signature Madam Tang's Cafe – Saradise
Signature Madam Tang's Cafe – Jalan Matang Baru
Signature Madam Tang's Cafe – Vivacity Megamall
Signature Madam Tang's Cafe – Jalan Song
Sin See Tai [Non-Halal]
Sisters BBQ – Jalan Indah 15 [Non-Halal]
Small Coconut – Jalan Batu Kawah
Small Coconut – Jalan Stutong Baru
Spade's Burger – Persiaran Greentown [Non-Halal]
Spade's Burger – i-Avenue [Non-Halal]
Spade's Burger – Jalan Burma [Non-Halal]
Spade's Burger – Lorong Maju Utama [Non-Halal]
Spade's Burger – Taman Kolej Perdana [Non-Halal]
Spade's Burger – SS15 [Non-Halal]
Spade's Burger – SS21 [Non-Halal]
Spade's Burger – Jalan Radin Bagus [Non-Halal]
Spade's Burger – Bukit Tinggi 2 [Non-Halal]
Spade's Burger – Taman Mount Austin [Non-Halal]
Sri Annapoorana Curry House – Jalan Taming Sari
STG Bukit Ceylon – Vida Bukit Ceylon
Super Saigon – TTDI
Super Saigon – Sri Hartamas
Super Saigon – Ampang
Super Saigon – Subang Jaya
Super Saigon – Menara Hap Seng 2
Super Saigon – Bangsar
Super Saigon – Main Place
Super Saigon – Seventeen Mall
Tail & Fin – Sunway Geo
Tamaha Cafe – Toojou Hotel
Tang Room – Starling Mall [Non-Halal]
Tasixi Hong Kong Dim Sum – Taman Eko Botani [Non-Halal]
Tasixi Hong Kong Dim Sum – Taman Perling [Non-Halal]
Tasty Chapathi – Hartamas
Tasty Chapathi – Plaza Damansara
Tasty Chapathi – PJ
Tasty Chapathi – Jalan Ipoh
Teapack – Saradise
Teapack – Icom Square
Teck Kee Restaurant – Plaza 333 [Non-Halal]
Thai Cup – Publika
Thai Thai – Sunway Pyramid
The Baker's Hut – Taman Ria Jaya
The Baker's Hut – TF Samudera
The BARN Wine Bar – Gurney Plaza [Non-Halal]
The BARN Wine Bar – Mid Valley [Non-Halal]
The BARN Wine Bar – IOI City Mall [Non-Halal]
The BARN Wine Bar – Pavilion [Non-Halal]
The BARN Wine Bar – Desa Parkcity [Non-Halal]
The BARN Wine Bar – Citta Mall [Non-Halal]
The BARN Wine Bar – 1 Mont Kiara [Non-Halal]
The BARN Wine Bar – Sunway Pyramid [Non-Halal]
The Bassment – SS4 [Non-Halal]
The Container – Jalan Simpang 3
The Fish Bowl – Quayside Mall
The Fish Bowl – The Gardens
The Fish Bowl – DC Mall
The Fish Bowl – Pavilion
The Fish Bowl – IOI City Mall
The Fish Bowl – Sri Petaling
The Fish Bowl – Kiara 163
The Fish Bowl – Plaza Arkadia
The Fish Bowl – KLCC
The Fish Bowl – Bandar Sunway
The Fish Bowl – 1Utama
The Fish Bowl – Sunway Velocity
The Good Batch
The Han Room – The Gardens [Non-Halal]
The Ice Cream Bar – Seapark
The Ice Cream Bar – Hartamas
The Ming Room – BSC [Non-Halal]
The Morso – Bandar Baru Kangkar Pulai
The Morso – Bandar Dato Onn
The Museum – Starling Mall [Non-Halal]
The Naked Lunch Box – Ara Damansara
The Naked Lunch Box – Damansara Utama
The Public House by Vintry – The Sphere [Non-Halal]
The Soybean Factory – Bandar Sri Menjalara
The Soybean Factory – Taman Connaught
The Soybean Factory – SS15
The Soybean Factory – The Palette
The Soybean Factory – Dataran C180
The Soybean Factory – SS2
The Soybean Factory – Puchong
The Taste – Taman Segar [Non-Halal]
The Taste – Setapak [Non-Halal]
The Taste – UCSI [Non-Halal]
The Taste – Sunway College [Non-Halal]
Three Leg Cat Cafe – Jalan Paya Terubung [Non-Halal]
Tok Janggut Western – Bandar Laguna Merbok
Tori-Tori – Queensbay Mall
Tori-Tori – Gurney Plaza
Tori-Tori – D'Piazza Mall
Tree Cafe – Manjung Point 3
TreeSea By 3C Cafe – Horizon Hill
Tuk Tuk Tomyam – Harbour City Sembulan
Upperstar – 1 Borneo
Upperstar – Segama Complex
Upperstar – Plaza 333
Upperstar – Lintas Plaza
Upperstar – Damai Plaza
Upperstar – Plaza Menggatal
Vintry – Oasis Square [Non-Halal]
Vintry – Kampung Dua [Non-Halal]
Vintry – Medan Damansara [Non-Halal]
Vintry – Symphony Square [Non-Halal]
Volt Coffee – Taman Bendahara
Wah Juan Coffee Shop – Tanjung Aru [Non-Halal]
Wan Nurn Barbeque – Jalan Padungan [Non-Halal]
Wang Thai Restaurant – Pulau Tikus [Non-Halal]
Wang Thai – All Season [Non-Halal]
Warong Baroka – Beverly Hills
Warteg Ipoh – Jalan Raja Musa Aziz
Warteq Ipoh 2 – Bazar Mara Medan Jaya
Wu Jia Chinese Restaurant – Bangunan Lip Sin [Non-Halal]
Xiang Man Ju Restaurant – Jalan Gaya
Xiang Yang Food 祥洋小厨 – Bandar Baru Permas Jaya [Non-Halal]
Yen Tattoo & Cafe – Taman Kenanga
Yeolde English – Greentown Business Centre
Yeolde English – Bandar Baru Medan Ipoh
Yisu Veggie House – Medan Ipoh Bistari
Yong Peng Fish Ball – Taman Melaka Raya [Non-Halal]
YU – The Gardens
Zenzero Wine & Bar – AmpleWest@Menara 6
1 Bendahara Bistro – Taman Bendahara
1 Plus 1 Tea Republique – Bestari Walk
1 Taste Food Centre – Jalan Sekama [Non-Halal]
10 Gram – Bandar Mahkota Cheras
10 Gram – Cyberjaya
10 Gram Gourmet – IOI Boulevard
10 Gram Gourmet – Seksyen 14
10 Gram Gourmet – Sri Dagangan
10 Miles Bazaar Famous Seafoods & Fresh Meat Kolo Noodle – Foody Goody Cafe [Non-Halal]
10 'N Go – 88 Market Place
10 Pasento
10 Tio Lor – The Palazzia
10 Warung – Jalan Tun Razak
100 Percent Cafe – Jalan Laksamana Cheng Ho [Non-Halal]
1001 Beriani Gam – Pusat Penjaja DBKL
101 Fried Chicken Rice – Jalan Kenari
101 Laksa – Premier 101 Food Center
101 Sabah Pork Noodle – Taman Dahlia [Non-Halal]
1028 Prawn Mee – Restoran 1028 [Non-Halal]
103 Coffee Workshop – AEON Maluri [Non-Halal]
11 Fried Kuey Teow – Taman Perling [Non-Halal]
11 Haus Cafe – The Henge Boulevard [Non-Halal]
1128 Ikan Bakar – Chinatown Food Court
116 Handmade Pan Mee – 116 Kopitiam [Non-Halal]
116 Kopitiam – Taman Bercham Idaman [Non-Halal]
116 Wan Tan Mee – 116 Kopitiam [Non-Halal]
116 Yong Tau Fu Noodles – 116 Kopitiam [Non-Halal]
118 Hock Kean Char – Kompleks Makanan Bayan Baru [Non-Halal]
118 Papa Mama Restaurant – Metro Prima [Non-Halal]
118 Restaurant – Kepong [Non-Halal]
12 – Tong Sui Kai
壹贰1212 Fish Head Bee Hoon – Jalan Paya Terubong [Non-Halal]
123 Cafe – Jalan Maigold
123 Corner – Kampung Sungai Penchala
123 Family Cafe – Boulevard Commercial Centre [Non-Halal]
126 Home Tasty Enterprise – Taman Ungku Tun Aminah [Non-Halal]
126 Laksa – Jalan Chan Chi Ann
13 Tanjung Rojak – Gerai Tanjung Emas [Non-Halal]
132 Laksa & Pan Mee – Connaught Coffee Shop [Non-Halal]
13th House Cafe – Plaza Prima Setapak [Non-Halal]
1475 Food Venture – Arena Selera Lindungan PJS 6
15 Grams Coffee Bar – Promenade
15 Kitchen Burger – Ipoh Night Market
15 Midah Special – Song Kheng Hai Hawker Centre
15 Minutes Bake – 1 Borneo
151 Hugh Low Kopitiam – Nu Sentral
15th Floor Wantun Mee – Restoran Soon Hoong [Non-Halal]
167Shell Out – Tingkat Batu Maung [Non-Halal]
168 Curry Mee – Tai Ka Huat Food Court [Non-Halal]
168 Huat Huat Resources – Jalan Malim Mukim Balai Panjang
168 Kopitiam – Meru Klang
168 Kopitiam – Port Klang
168 Kopitiam – Puchong Kinrara
17 Minum Minum – Lorong Tun Ismail 10
178 (Empire 178 Fresh Seafood) – Jalan Siam [Non-Halal]
18 Topspot Seafood Ah Hock – Jalan Bukit Mata
181 – Taman Jubilee [Non-Halal]
18°c Cool Blend – Jalan Raya
18℃ Tea Cafe – KPKS
18oz Kitchen – Sitiawan Sentral [Non-Halal]
19 Avenue – Persiaran Greenhill
19 City Cat Chicken Rice – Song Kheng Hai
19 Delicioso – Medan Seri Impian
19 Seafood Restaurant – Palazzo 19 Mall
1901 Hot Dogs – Petronas Kesas Arah Timur
1901 Hot Dogs – SWAN Setapak
1901 Hot Dogs – Petronas USJ2
1973 J&G Fried Chicken – United Point
1978 Cucur Udang – Sea Park
1981 Florist Cafe – Riverson
壹赞食1Place Many Cuisines – Hutton Lane [Non-Halal]
2 Eatdiots Cafe – Plaza Prima Setapak
2 Sneks – Little Susan
2 Ways Station – Taman Sri Kota
2 Ways Station – Kampung Surau Lama Geting
200°C Chicken Cutlet Rice – Jalan Permas 10
2020 Biryani & Tandoori Nan – K88 Food Court
21 Grilled – Seri Manjung
21 Grilled – Greentown
21 Grilled – Gunung Rapat
21 Jakson – Song Kheng Hai [Non-Halal]
21 Plates Cafe – Pudu
2118 – Lorong Baru [Non-Halal]
218 Bean Sprout Chicken – GP Food Court Taman Mas
218 Curry Mee – GP Food Court Taman Mas
22 Kam Wan White Coffee – Aneka Selera Ipoh Garden
228 – Jalan Mohammad [Non-Halal]
228 Ikan Bakar Thailand – Sun Sun Lei Yen
23 Ah Mey Laksa – Gerai MDS [Non-Halal]
233 Hokkien Mee – Juke Cafe Jalan Macalister [Non-Halal]
236 Curry Mee / Dry – Kedai Kopi Bukit Tengah
248 CAFE – Jalan Yahya Ahmad
24Hours Noodle House – Taman Mount Austin [Non-Halal]
25 Ah Lau – Song Kheng Hai [Non-Halal]
26 Jia Jia – Song Kheng Hai [Non-Halal]
27 Corner – Bandar Baru Sentul
27 Lucky Restaurant – Taman Pengkalan Jaya [Non-Halal]
270 SQFT – Sea Park
28 Barthehood – 28 Boulevard [Non-Halal]
28 Koay Teow Th'ng – Kompleks Pasar Taman Terubong
28 Street Food – Rancangan Perumahan Batu Kawa
2929 Kafe – Taman Muhibbah Jaya [Non-Halal]
296 Hokkien Mee – Queensbay Mall
2986 Ikan Bakar – Jalan Danga
2amburger – Taman Universiti
2F+ Coffee Roastery – Relau [Non-Halal]
2fingers – Beware Cafe [Non-Halal]
2gether – Persiaran Bayan Indah [Non-Halal]
2Go Coffee – Mutiara Damansara
2nd Floor Kopitiam – Taman Mount Austin [Non-Halal]
2ND HOME – Marina Square 2 [Non-Halal]
3 Beanz Cafe – Bandar Puchong Jaya
3 Budak Cheese – Taman Ibu Kota
3 Circle Seafood
3 Layer Pork – Depo Kafe [Non-Halal]
3 Man Restaurant – Bandar Puncak Alam [Non-Halal]
3 Monkeys Cafe – Bandar Botanik [Non-Halal]
3 Rasa Rockstar – Kota Damansara
3 Rasa Rockstar – Bangsar
3 Rasa Rockstar – Kayu Ara
3 Variety Chicken Rice – Restaurant Sin Yong Kee [Non-Halal]
300 Restaurant Bar Desserts
302 Fried Noodles – Gunung Rapat [Non-Halal]
31 Gerai Pekin – Kompleks Sukan Ipoh
31 Nyonya Laksa – Looking Good Hawker Centre [Non-Halal]
32 Ah Chai Cafe – Petanak Market
32 Bowls – Aman Suria [Non-Halal]
33 Air Tebu – Gerai Jalan Syed Abd. Kadir
33 BBQ 中式烧烤 – KDCA [Non-Halal]
33 BBQ 中式烧烤 – CKS Millennium [Non-Halal]
33 Lucky Duck Medicinal Herbs Keuy Teow Sup – Jalan SME [Non-Halal]
33 Stir Fry – Ji Xiang 101 Cafe [Non-Halal]
333 Char Kueh – CS Food Court
333 Fried Kway Tiao – Medan Selera Tiga Tiga Tiga [Non-Halal]
333 Wan Tan Mee – Medan Selera 333 Jalan Selayang [Non-Halal]
338 Huat Enterprise Mix & Match
339 Chee Cheong Fun – Restoran 339 [Non-Halal]
339 Economy Rice – Restoran 339
34 Bishop
35 Ling Jie Claypot/Porridge – Looking Good Hawker Centre [Non-Halal]
36 Fei Pao Tong Sui 肥豹糖水档 – Tong Sui Kai [Non-Halal]
360 Drink House – ITCC Mall
37.2°c Cafe
37 Food Street – Bukit Mertajam [Non-Halal]
3922 Wan Tan Mee – Jalan Munshi Abdullah [Non-Halal]
398 Kopitiam – Bandar Tasek Mutiara [Non-Halal]
3BG – Rawang
3BG – Keramat
3BG – Seri Kembangan
3BG – Jalan Klang Lama
3BG – 3BG Food Station
3BG – Bandar Tun Hussein Onn
3BG – Country Homes
3BG – Dataran Niaga Tun Teja
3BG – Maluri
3BG – USJ
3BG – Food Valet
3BG – Balakong
3BG – Bangi Avenue
3BG – Gombak
3BG – Casa Tropicana
3BG – Petaling Jaya
3BG – Shah Alam
3BG – Setia Alam
3BG – Ampang
3BG – Batu Caves
3BG – Bukit Jalil
3BG – Dataran Face-Lift HKL
3BG – Puchong
3BG – Segambut
3BG – Taman Bunga Negara
3BG – Impiana Residence
3BG – Kampung Bakar Batu
3BG – Senawang
3BG – Seremban
3BG – Kota Warisan
3BG – Melati Square
3BG – Kota Bharu
3BG Senawang – Taman Seri Kasih
3CT Sweet Station – Bandar Seri Iskandar
3S D'ALMAS RECIPE – D'Riverside Foodcourt
3ZA'S Kitchen – ONB
4 Hungry Bears – Plaza Damas
4 Stroke Cafe – Kampung Baru
42 Zest Cafe – Taman Sungai Abong Permai
44 & 45 Wai Wai Wan Tan Mee 威威云吞面&猪肠粉 – Tong Sui Kai [Non-Halal]
49 Snow – Chew Jetty
5-11 Delight Cold Drink & Rojak House – Miri-Pujut Road
5 AYOBS – SS 22
5 Lor Bangkok Famous Thai Food – Jalan Transfer [Non-Halal]
5 Star Hainanese Chicken Rice & BBQ – Gaya Street [Non-Halal]
五星海南家鄉雞飯和燒臘 5 Star Hainanese Chicken Rice & BBQ Pork – City Mall [Non-Halal]
50 Shade Bar – Ruang Iramanis
53 – Larut Matang Food Court [Non-Halal]
53 MSN Bak Kut Teh – Restoran Da Jia Lai Food Court [Non-Halal]
55 Jumbo Wan Tan Mee – Wisma Sri Taiping [Non-Halal]
55 Muar Chee (Gurney Drive) – Pulau Tikus
56 Ah Chye Rojak – Gurney Drive
56 Hotel – Jalan Tun Jugah
57 Eat Cafe – Wisma Rampai [Non-Halal]
575 Restaurant – Plaza Kingfisher [Non-Halal]
58 Pork Leg Rice/Kueh Chap – Y. Y Café [Non-Halal]
5th Avenue – Damai [Non-Halal]
6 Tree Cafe – Bandar Sepanggar
60 Vegetarian Food – Jalan Petanak
606 Claypot Chicken Rice – The Food Station
616 Noodles – Sun Sun Lei Yen [Non-Halal]
628 Spicy Soup – Restoran 628 [Non-Halal]
63 Bean – Taman Selayang Jaya
63 Bean – Taman Setia Utama 2
63 Bean – SS14
63 Bean – USJ 17
63 Bean – SS2
63 Bean – Bandar Sri Damansara
66 Chu Yuk Fun大山脚猪肉粉 – Taman Megah [Non-Halal]
66 Claypot Chicken Rice – Pusat Makanan Gunung Rapat Enam Enam [Non-Halal]
66 Food Court Mix & Match – [Non-Halal]
66 Nyonya Secrets – SS2
66 Nyonya Secrets – Aman Suria Damansara
66 Tart Shop – Fortune Avenue [Non-Halal]
668 Tea Cafe – Taman Rawang Idaman
67 Cafe – Jalan Putera
678 Burger – Kampung Sungai Penchala
678 Claypot Rice – Koufu Food Court [Non-Halal]
68 Wan Than Mee – Persiaran Gurney [Non-Halal]
688 Ngiu Chap – Kg Kobusak [Non-Halal]
French Roasted Chicken @ Foodstarted – Setia Alam
69 Grill – Bandar Utama
6mmol Tea House – Taman Makmur [Non-Halal]
7 Jejaka – Taman Universiti
7 Oceans – Bukit Jelutong
7 Sins Fusion – Kayu Ara
7 Sins Fusion – Kota Damansara
7 To 8 Cafe – Lutong Baru
7 Village Noodle House – SS2 [Non-Halal]
7 Village Noodle House – Klang [Non-Halal]
7 Warna Kopitiam Enterprise – Seremban 2
718 Pizza – Persiaran Greentown 8
7181 Restoran – Taman Ungku Tun Aminah [Non-Halal]
73 Stew Soup – Thian You Food Court Corner [Non-Halal]
75 Verse – Desa Tun Razak
76 Fries Skewers – Gurney Drive
7686 Choy Kor Homecook Recipes [Non-Halal]
7686 Choy Kor Homecook Recipes – DU Cafe [Non-Halal]
77 Penang Best Rojak – Persiaran Gurney
777 Fried Oyster – Taman Nusantara
777 Fried Oyster – Heng Park Food Court
7H
8 – Tong Sui Kai
8 Blessing Corner Mee Stall – Lrg Sg Merah [Non-Halal]
80 Kopitiam – Medan Pusing [Non-Halal]
81 Claypot – 81 Roundabout Food Centre [Non-Halal]
81 Hainan Chicken Rice – 81 Roundabout Food Centre
818 Café' Restaurant – Lutong Baru [Non-Halal]
82 Traditional Nasi Lemak – Taman Mutiara Mas
83 Nasi Kukus – Pangsapuri Cempaka
83 Restaurant Fusion By Everyone Can Cook – Sri Petaling [Non-Halal]
833 Lok Lok & Bubble Tea – Taman Kota Masai
850 Char Koay Teow – Lebuh Cecil [Non-Halal]
8599 BBQ Music Bar – Taman Merdeka Permai
86 Cold Drinks – Taman Jelita
866 Chee Cheong Fun – Selection 929 Food Court [Non-Halal]
88 Gou Yen – Taman Sri Tebrau [Non-Halal]
88 Hainan Roasted Chicken Rice – Taman Seri Impian [Non-Halal]
88 Penang Har Mee – Restoran Starfood Corner
88 Steamboat (Seafood) Restaurant – Taman Sri Intan [Non-Halal]
88 Tambunan Mari Bak Kut Teh – Funky Farm Food Court [Non-Halal]
888 Canteen – Phileo Damansara [Non-Halal]
888 Canteen – Publika [Non-Halal]
888 Food Court Mix & Match – [Non-Halal]
888 Hokkien Mee – Lorong Mahsuri [Non-Halal]
888 Restaurant – Taman Machang Bubok [Non-Halal]
888 Steam & Shabu – Sri Petaling [Non-Halal]
888 Thai Food – Quan Jin Kedai Makanan [Non-Halal]
88KETO – Bangsar
88KETO – SS2
88KETO – Selayang
88KETO – TTDI
88KETO – Cyberjaya
88KETO – Cheras Hartamas
88KETO – Klang
88KETO – Subang Jaya
88KETO – Bangsar South
88KETO – Rawang
88KETO – Seri Kembangan
89 Kolomee – Kopi Sentral Cafe [Non-Halal]
89 Stir Fry – Restoran 89 Kopitiam [Non-Halal]
899 Classic Bistro & Cafe – Bandar Utama
899 Hokkien Mee – Kobusak [Non-Halal]
899 Kuey Teow Goreng – Bandar Putra
8Haus [Non-Halal]
9 – Tong Sui Kai [Non-Halal]
9 Column Tea – Taman Industrial Jaya
9 Spicy Garden – Pusat Perdagangan Danga Utama
9 Story Cafe – Jalan Pendekar [Non-Halal]
90 Degrees Cafe & Art – Jalan Air Putih
90 Tailor Cafe – Taman Ungku Tun Aminah [Non-Halal]
90's Chef 90′ 后厨房 – Jalan Kompleks Sukan [Non-Halal]
90's Recipes – Subang Jaya
918 Cafe – Jalan Chung Thye Phin
918 Kopitiam – Taman Bukit Indah [Non-Halal]
919 Cafe – Taman Seng Goon [Non-Halal]
91Prawn Mee – Jalan Penawar [Non-Halal]
923 Bah Kut Tea – 923 Food Court [Non-Halal]
928 Laksa – Taman Cheng Perdana
929 Galley'S – Jalan Melati
95 Degres Art Cafe
95 Tea & Restaurant – Taman Mount Austin [Non-Halal]
96 Cafe – One Avenue
96 Dionysus Restaurant – Taman Kota Laksamana [Non-Halal]
966 Joy Western Food & BBQ – Taman Tunku [Non-Halal]
976 Fried Chicken – Taman Seri Pagi
99 BBQ – 99 Cafe [Non-Halal]
99 Cafe (Dim Sum & Drinks) – 99 Cafe [Non-Halal]
99 Cafe Laksa – 99 Cafe
99 Kopitiam – Plaza Menggatal [Non-Halal]
99 Nasi Lemak – Mahkota Sentral
9th Floor Restaurant – Plaza Menjalara [Non-Halal]
A & B Discovery Bistro – Seksyen 17
A & B Restaurant – Taman Sri Sinar [Non-Halal]
A & C Espresso – Taman Bandar Baru
A & S Kitchen – Jalan Pengkalan Chepa
A & Z Tampoi – Taman Sri Bahagia
A Container Cafe – Treeline Urban Inn
A Friendship Cafe – Taman Bukit Merah [Non-Halal]
A Good Seafood – Premier Food Republic Samarahan [Non-Halal]
A Good Street Cafe – Kasturi Walk
A Half Tea – Gala City
A La Mode – Taman Psj Sungai Karang
A Laksa – Restoran Woh
A Ma Secret Curry – FGJB [Non-Halal]
A Ma Secret Curry Restaurant – R&F Mall [Non-Halal]
A. Muthu House of Briyani – Bandar Bukit Tinggi 2
A One Laksa Cafe Mix & Match – [Non-Halal]
A Pastry House – Jalan Pelanduk Putih
A Pie Thing
A Plus Chicken Rice 3- Servay Hypermarket
A Plus Chicken Rice 1 – Bandar Prima
A Plus Chicken Rice 2 – Medan Selera Mydin
A Plus Nasi Lemak House – Jalan SJ77 Selayang
A Plus Nasi Lemak House – Bandar Sunway
A Plus Nasi Lemak House – Laman Rimbunan
A Spooon Full – PJ New Town
A – Toast Breakfast & Juice – Jalan Dato Zakaria
A – Toast Breakfast & Juice Bar
A Yogurt Cow – Taman Sutera Utama
A1 Bak Kut Teh [Non-Halal]
A1 Bistro – Ara Damansara
A1 Bistro – Bukit Damansara
A1 Bistro – SS2
A1 Chicken Rice – ITCC Mall
A1 Chicken Rice – Lintas Plaza
A1 Chicken Rice – Imago Shopping Mall
A1 Ikan Bakar – Kafe WK Garden East
AA 吃喝 Bar – Jalan Wan Alwi [Non-Halal]
AA Burger – Bandar Puteri
Aa Pgc – Kampung Chica
AA Street Burger – Pekan Telipok
AA Western & Grill – Taman Sukma
Aaira Mikayla Kitchen – Kampung Alor Akar
Aaira Safiyyah Corner – Rapat Baru
A.A.M Cafe – North Yu Seng Road
AAM Restaurant – Depan HUSM
AAM Street Stall – Bandar Baru Kubang Kerian
A&H Signature Cafe – Jalan Gapam
A&J Burger Grill JB – Taman Air Biru
A&J Burger Grill JB – Taman Mount Austin
A&J Grill Western – Jalan Sungai Merab
A&J Grill Western – Taman Villa Putra
A&R Delight Selegho YB – Medan Selera Protec Ampangan
Aariya Bhavan – Jalan Tun Sambanthan
Dapo Kita – Damansara Perdana
Aathie's Banana Leaf Dum Briyani – Taman Danau Kota
AB Cafe – Taman Suria Tropika
AB Corner – Jln Tanjong Tokong
Abah Ayam Gunting – Kampung Nakhoda
Abah Deli (Hero Market) – Kota Kemuning
Abah Deli (Hero Market) – TTDI Plaza
Abah Deli (Hero Market) – Kelana Jaya
Abah Deli (Hero Market) – Bandar Puchong Utama
Abah Is @ Kopitiam 2 Cinta – Taman Sri Wangi
Abam Bulat – Padang Hiliran
Abang Adik Canteen – Evolve Concept Mall
Abang Burger – Taman Perbandaran Tengku Anis
Abang Burger – Jalan Salor
Abang Burger – Hadapan Maheran Laksa
Abang Cendoll D24 – Taman Shamelin Perkasa
Abang Grab Kopitiam – Jalan Tun HS Lee
Abang Kitchen Burger – Taman Indah Perdana
Abang Mel Kopitiam – Lorong Pusat Komersial B3
Abang Misai Char Koay Teow – Jalan Besar
Abang Yus & Zaty Burger – Kompleks Perniagaan Al-Azim
Abangbotakcharkeowteow – Taman Kemacahaya
AbangM Dapur Seroja Indah – Kunyap – Kunyap Cafe
ABBA Hotpot Japanese Fusion – Damansara Utama
Abbu Bakar – Tampoi
ABC Aiskrim – Bandar Putra
ABC Al-Barkat Corner – Permata Magna
ABC Anak Melaka – Medan Selera Dataran Bukit Baru
ABC & Beverages – Jiki Food Court Bukit Baru
ABC & Cendol – Taman Puchong Perdana
ABC Bak Kut Teh – Jalan Tanjong [Non-Halal]
ABC Bistro Cafe
ABC Cempaka – Taman Setiawangsa
ABC Cendol Laicikang – Medan Selera Bumbung Biru
ABC Fast Food – Yik Foong Kompleks
ABC Foods Corner – Desa Petaling
ABC Foods Corner – Puchong
ABC Foods Corner – Taman Taming Jaya
ABC Foods Corner – Taman Seri Taming
ABC Mamak Bistro – Bandar Teknologi Kajang
ABC One Bistro – Sunway
ABC One Bistro – Banana Leaf Brickfields
ABC, Rojak – New Wonderful Place
ABC Seafood Sdn Bhd – Jln Bukit Mata
ABC Station JB – Jalan Dato Hj Md Said
Abd Hamad Ayam Gunting Cheese Meleleh – Taman Sri Andalas
Abe & Chici Maju Masakan Panas – Sunway Nexis
Abe J Yong Tau Foo Sedap Pasir Gudang – KIP Mall Masai
Abe Kelate – Bandar Sri Damansara
Abe Mie Pohon Celagi – Kampung Wakaf Stan
Abe Wa Corner – Pusat Perniagaan Manjung Point 4
Abe Weayy Thai Tom Yam Seafood & Nasi Kukus Aye Berempoh – Jalan Pantai Jerjak
Abe Zee Apam Balik – Kampung Tapang
Abean Rojak & Cendol – Jalan Kebun Teh
ABG Boroi Western Classic – Apartment Taman Bukit Permai
Abg Burger – Jalan Datuk Mohammad Musa
Abg Long Coconut Shake & Cendol – Kingfisher
Abg Long Coconut Shake & Cendol – Putatan Square
Abhab Snacks – Emart Batu Kawa
Abhab Snacks – Wisma Hopoh
Abie Crab & Co – Shah Alam
ABOF – Taman Jubilee
About Sushi – KTCC Mall
abraj cafe Al-Madinah – Kuala Kangsar
Absolut Chocolat (Whole Cakes) – Medan Connaught
Absolute Ayam Bakar – Seksyen 19
Abu Fadi Restaurant – Bukit Oug Condominium
Abu Ice – Sunway Velocity
Abuya Station – Taman Wangsa Jaya
AC Piggy Noodles House – Jalan Jejaka [Non-Halal]
Acah Acah – Empire Damansara
Acai Lab – TTDI
Accolades Lounge – Tamarind Square
Acik Kitchen – Taman Ukay Perdana
Acik Nasi Ayam Berempah – Taman Seri Berjaya
Acil Resipi – Jalan Sulaman
Acme Bar & Coffee – KLCC
Acu Takoyaki – Taman Puncak Jalil
ACUPADAY – Lebuh Bishop [Non-Halal]
ACUPADAY – Solaria Square [Non-Halal]
Ad Athari – Jalan PPMP 3
Ad Athari – Seri Manjung
AD Butcher & Steak – Trivo Jelutong
Adah Adira Kitchen – Kampung Melayu Subang
#Adalah – Bangsar Baru
Adam Boba Milk Tea – Bandar Baru Kangkar Pulai
Adam House Cafe – Desa Ilmu
Adam Roti John Cheese – Jalan Pcb
Adaman Foods – Bandar Damai Perdana
AdaMia's Castle Cafe – Suria Jelutong
Adamqu Crispy Chicken – Taman Scientex
Adam's Bar – Jalan Pulai Business Center
Adam's Chicken Rice – SS2
Add Ikan Bakar Bellamy
Addon White Coffee – Jalan Raja Musa Aziz
Addon White Coffee Cafe – Pusat Komersial Bg Perdana
Addy Buang Burger Corner
Adeena Thai Cafe – TTDI
Aden Resources – Jalan Dato Kramat
Adi & Jon Cafe – Spring Avenue Service Residents [Non-Halal]
Adi Corner – Bandar Menjalara
Adib Burger – Taman Sri Andalas
Adib Burger – Bandar Puteri
Adila's Kitchen Nasi Ayam Comel – Jalan Tanjung Tokong Lama
Adi's Fried Chicken
Aditri Banana Leaf Rice – SS5A
Adiz Fried Chicken – Taman Bukit Indah
Adizan Family Cafe – Taman Meru
Adlin Tomyam – Kampung Padang Bongor Binjai
ADM II – Food Court Medan Niaga Kompleks Petra Jaya
Ado-Rabowl – OUG Parklane
Ado-Rabowl – USJ 16
Ado Robowl – Glomac Cyberjaya
ADR Kitchen – Jalan Pantai Dalam
ADS Corner's – Pusat Perdagangan Kebun Teh
Ady Best Food Enterprise – Mydin Mutiara Rini
Adyanna Stall Burger – Marina Phase 2
Adyanna Stall Burger – Bandar Baru Permyjaya
Adyar Ananda Bhavan – Brickfields
Adyar Ananda Bhavan – Jalan Masjid India
AEM Kitchen – Klang
Aestea – Ampang
Aestea – Langat
Aestea – Gombak
A.Fadzil Nasi Lemak Lampung – Medan Selera MPTI Mini Stadium
Afeef Ayam Gunting – Sg Isap Perdana 3
Affieyah Idaman Kitchen – Tuaran
Afghan Hadramawt Restaurant – M3 Shopping Mall
Afniq Fast Food – Subang Bestari
Afour Cafe – Bandar Baru Peramu
AFRI Restaurant – Casa Tropicana
Afrosian – Komplek Makanan Persiaran Gurney
After 4 Chicken Chop Rice – Aiman Mall
After 5 Plus One Grill & Bar – Bandar Sri Damansara
After Black – Bandar Sunway
After Coffee – Paradigm Mall
After Rain & Cafe Dining – Jalan Tanjung [Non-Halal]
After Seven Lounge – Tamarind Square
After Taste – Lorong Gopeng [Non-Halal]
After White Coffee – Jalan Radin Bagus
AfterFarm – Kuchai Entrepreneur Park
Afy Brother Ent – Kampung Baru
AG Station – Kompleks Niaga AG Sentral
AG Western
Again – Jalan Dataran Cheras [Non-Halal]
Agape – Bandar Permas Jaya
Ages Ago – Paradigm Mall JB
Ages Ago – Sutera Mall
Ages Ago – Mid Valley Southkey
Ages Ago – Vivacity Megamall
Agrain – Desa Sri Hartamas
Agrain By Hale – Kompleks Sogo
Agrain By Hale – Menara Hap Seng
Agrain By Hale – Bangsar South
Agrain by Hale – Intermark
Agrain by Hale – Gardens North Tower
AGS Fried Chicken – Bachang
Ah B Kopitiam – Taman Petaling Utama [Non-Halal]
Ah Bah Ko – Jelutong Road [Non-Halal]
Ah Be Grill Fish – Kedai Kopi Ye Ye Fatt
Ah Ben Laksa – Taman Lukut Hartamas [Non-Halal]
Ah Ben Porridge – Siang Siang Food & Drinks Centre [Non-Halal]
Ah Beng Roti Bak Kwa – Lou Che Fong Kopitiam
Ah Boon Beef Noodle – Foody Goody Cafe
Ah Boon Chicken Rice – Jalan Rubber
Ah Boon Chicken Rice – Jalan Ang Cheng Ho
Ah Boon Chicken Rice – Icom Square
Ah Boy Wan Tan Mee – Meika Cafe
Ah Boy Wan Tan Mee – Jalan Perak [Non-Halal]
Ah Cheng Laksa Grocer – 3 Damansara
Ah Chia Charcoal Fried Hokkien Mee – Seri Kembangan [Non-Halal]
Ah Chien Fried – Jalan Ban Hock [Non-Halal]
Ah Chin Satay – Taman Merdeka Jaya [Non-Halal]
Ah Chong – Lebuh King [Non-Halal]
Ah Chong – Restoran Roda Tiga
Ah Chong Fish Curry Head – Taman Damai Jaya [Non-Halal]
Ah Chong Stir Fried – Cafe 101 [Non-Halal]
Ah Choon Fried – Jalan Stutong [Non-Halal]
Ah Choy Wan Tan Mee – Jalan Ali [Non-Halal]
Ah Chuan Fish Soup – Taman Impian Emas
Ah Chuan Fish Soup – Restoran Starfood Corner
Ah Chun Xiao Chao – Xu Cheng Cafe [Non-Halal]
Ah Cui Bak Kut Teh – Jalan Pasar Besar Lukut [Non-Halal]
Sabah Ah Fatt Kuey Teow Soup – Taman Che Mei [Non-Halal]
Ah Fei Mian Dang – Hilltop Little Kitchen [Non-Halal]
Ah Fen Cafe – Jalan Ang Cheng Ho [Non-Halal]
Ah Fook Masakan Mee – Jalan Sultanah Zainab [Non-Halal]
Ah Fook Street Pasar – S11 Kopitiam [Non-Halal]
Ah Geor – Soon Joo Cafe [Non-Halal]
Ah Gong Secret Handmade Recipe Mee Hoon Kuey – Bandar Selesa Jaya [Non-Halal]
Ah Gu Pan Mee – Lorong Selamat [Non-Halal]
Ah Hai Ban Mian Kopitiam – Jalan Sri Cemerlang [Non-Halal]
Ah Han Bah Kut Teh – Pandamaran Jaya [Non-Halal]
Ah Han Bakuteh & Seafood – Taman Eng Ann [Non-Halal]
Ah Hee Kampua – Foody Goody Cafe [Non-Halal]
Ah Hee Teo Chew Soup/Dry Noodles – Restoran Starfood Corner [Non-Halal]
Ah Hock Claypot Special – Megabite Cafe Batu Kawa [Non-Halal]
Ah Hong Kueh Chap Lau Tee Fang Branch – Koufu Food Court [Non-Halal]
Ah Hong Roasted House – Permyjaya Food Centre [Non-Halal]
Ah Hua Kampua Mee – Love Chopstick Garden [Non-Halal]
Ah Hua Keow Teow Goreng – Taman Permas Jaya
Ah Jie Fried Shrimp Mee – Taman Putera Indah [Non-Halal]
Ah Jin Koay Teow Soup – Big Tea Rice [Non-Halal]
Ah Keat Kung Fu Chao – S2 Uptown Food Garden
Ah Keong Rojak – Taman Sri Kulai Baru [Non-Halal]
Ah Khiong Bbq Kopitiam – Jalan Lintas [Non-Halal]
Ah Khoon Char Koay Teow – Maga Restaurant
亞杰燒臘 Ah Kit Roasted [Non-Halal] – Taman Cantek
Ah Koong Restaurant – Jalan Changkat
Restaurant Ah Koong – Subang Business Centre [Non-Halal]
Ah Koong Restaurant – EkoCheras Mall
Ah Kor Kopitiam 阿哥海南咖啡店 – Taman Kota Laksamana
Ah Lai Hokkien Mee – Bdr Mahkota Cheras [Non-Halal]
Ah Lan Cafe – Pengkalan Weld [Non-Halal]
Ah Lan Hainanese Satay – Jalan Bunga Raya Pantai [Non-Halal]
Ah Lau Fried Stall – Foody Goody Cafe [Non-Halal]
Ah Leng 手工面 – Fu Sen Court [Non-Halal]
Ah Liang Kolo Mee – Fu Yu Kopi Shop [Non-Halal]
Ah Liang Wan Tan Mee – Jalan Marin [Non-Halal]
Ah Lim Pork Leg Rice – Thian You Food Court Corner [Non-Halal]
Ah Ling Porridge – Xiang Xiang Food Court Piasau [Non-Halal]
Ah Liong Cafe Mix & Match – [Non-Halal]
Ah Liong Set Meal Menu – Ah Liong Cafe [Non-Halal]
Ah Lo – Jalan Pujut [Non-Halal]
Ah Long Wan Tan Mee – Taman Seri Orkid Skudai
Ah Lye Cozy Cafe – Jalan Lembah Permai
Ah Ma Ho Liao Cafe – Taman Merdeka Permai
Ah Ma Laksa – Kampung Baru
Ah Ma TeoChew Kuih – Jalan Trus
Ah Ma Zap Fan – Wisma Cosway [Non-Halal]
Ah Mei Char Kuey Teow – Pekan Klebang
Ah Min Charcoal Dang Gui Roast Duck 当归烤鸭 – Liberty Grove [Non-Halal]
Ah Mui Beef Noodle (亚美牛肉面) – Tower Market Hawker Centre Stall No 32
Ah Mui Laksa – Foody Goody Cafe
Ah Muk Cha Chaan Teng – Wisma Setapak 33 [Non-Halal]
Ah Mun Char Kuey Teow – Food Street at Rock Cafe [Non-Halal]
Ah Nga Stall – Xiang Xiang Food Court Piasau
Ah Niu WanTan Mee – Sg Ara 1 [Non-Halal]
Ah Pek Bak Kut Teh – Taman Merdeka Permai [Non-Halal]
Ah Pek Bak Kut Teh – Taman Cheng Baru [Non-Halal]
Ah Pheow Fish Head Bee Hoon – Viva Local Food Haven [Non-Halal]
Ah Pis Kolo Mee – Koufu Food Court [Non-Halal]
Ah Po Jia Kopitiam – Taman Ungku Tun Aminah [Non-Halal]
Ah Pui Fried Kueh Tiaw – CS Food Court [Non-Halal]
Ah Q Handmade Desserts – Pinji Centrepoint
Ah Q Handmade Desserts – Taman Ipoh Timur
Ah Ru Lu Wei – Jalan Khalidi [Non-Halal]
Ah Shan Mixed Pork Mee – Hua Wei Yuan [Non-Halal]
Ah Siang Fish Head – Kedai Kopi Eng Aun [Non-Halal]
Ah Sim Kolo Mee – Foody Goody Cafe [Non-Halal]
Ah Soon Char Koay Teow – Jalan Sungai Kelian
Ah Soon Curry Fish Head Restaurant – Taman Bukit Indah [Non-Halal]
AH-SSA Chicken – Seri Alam
Ah Thai Restaurant – Oakland Commercial Center [Non-Halal]
Ah Tieng Chicken Rice – Daka Cafe [Non-Halal]
Ah Tong Kor Chicken Rice Cafe – Medan Angsana [Non-Halal]
Ah Wah Nasi Ayam Hainan – Restoran Tai Zhong [Non-Halal]
Ah Wei Kampung Food – PJ 988 Food Court [Non-Halal]
Ah Weng Koh Hainan Tea – ICC Pudu
Ah Wong Rawang Steam Fish – Pusat Makanan L dan L [Non-Halal]
Ah Xian Oyster – Green World Food Court
Ah Yan Chicken Rice – Pin Hao [Non-Halal]
Ah Yang BBQ Stall – Medan Kopitiam [Non-Halal]
Ah Yang BBQ Stall – 96 Cafe [Non-Halal]
Ah Yau Kuching Laksa – Taman Cantek
Ah Yiaw Lok Lok 耀哥串串 – Kafe Baobao Ais Kacang 2
Ah Ying Dumpling – S11 Kopitiam [Non-Halal]
Ah Yip Herbal Soup – Hartamas Shopping Centre [Non-Halal]
Ah Yip Herbal Soup – AEON Maluri [Non-Halal]
Ah Yip Herbal Soup – The Mines [Non-Halal]
Ah Yip Herbal Soup – Cheras Sentral [Non-Halal]
Ah Yip Herbal Soup – Bandar Puchong Jaya [Non-Halal]
Ah Yip Herbal Soup – Summit USJ [Non-Halal]
Ah Yip Herbal Soup – Plaza Low Yat [Non-Halal]
Ah Zheng Mee Rebus – Taman Pulai Utama
Ah Zhou Plate Rice – Jalan Dogan [Non-Halal]
Aha Cafe – Taman Samariang
Ahh Yum – Cityone Megamall
Ahh-Yum by Kampong Kravers – Bukit Damansara
Ahh-Yum by Kampong Kravers – Shah Alam
Ahh-Yum by Kampong Kravers – Wangsa Maju
Ahh-Yum by Kampong Kravers – IJN
Ahh-Yum by Kampong Kravers – KLCC
Ahh Yum by Kampong Kravers – Bukit Tunku
AhMa PanMee – Juru Sentral [Non-Halal]
AhMa PanMee – Bandar Bayan Baru [Non-Halal]
AhMa PanMee – Lebuh Tye Sin [Non-Halal]
Ahma PanMee – Eco Bloom [Non-Halal]
Ahmad Asam Pedas Melaka – Kampung Bukit Beruang
Ahmad Cendol King – Kampung Bukit Beruang
Ahmad Kitchen – Rumah Pangsa Mak Mandin Satu
Ahnaf Nasi Kandar – Jalan Changkat Perak
Ahroy Thai Cuisine – Taman Segar
阿肖海南鸡饭 Ahsiaw Hainan Chicken Rice – Bundusan [Non-Halal]
Ahu Soya Enterprise – Taman Rapat Indah
Ai Bake Bakery – Desa Jaya
Ai Delicious Cafe – Taman Setapak Indah Jaya [Non-Halal]
Ai Jai Mee 矮仔面 – Taman Miharja [Non-Halal]
Ai Lee Curry Mee – Lorong Tiram [Non-Halal]
Ai Ling You Zha Gui – Foody Goody Cafe
Ai Nasi Lemak Ayam Berempah
Ai Shang Spicy Hot Pot – Bandar Bukit Tinggi [Non-Halal]
Ai Suan Soup Tomyam – Lorong Kendi Kawasan Perniagaan
Ai Yuan Zi Cafe – Jalan Yang Kalsom [Non-Halal]
Ai Yummy Kitchen – Taman Paduka Setia [Non-Halal]
Aidens On The Go – Taman Cheras Perdana
Aidil Cafe – Taman Suria Shop Apartment
Aiman Food Station – Glomac Centro
Aiman Santai Ckt – Tmn Anggerik Perdana
Aina Zaman Cafe – Ampang
Ains Foodie (Whole Cakes) – Kampung Sungai Tangkas
Ainul Sizzling – Taman Sri Desa
Air Balang Ipoh – Belakang Hospital Raja Permaisuri Bainun
Air Kelapa Ori – Dataran Niaga Amanjaya Iskandar Perdana
Air Soya Nofieya – Kawasan Perkilangan Jelapang
Air Soya Perak – Taman Pengkalan Jaya
Air Soya Perak – Jalan Changkat
Air Soya Perak – Kampung Piandang
Air Soya Perak – Jalan Besar
Air Soya Perak – Taman Batu Gajah Perdana
Air Tebu Abah – Jalan Langkasuka
Aira Cafe (Coconut Shake & Yong Tau Foo) – Metrocity
Aira Yong Tau Foo & Coconut Shake – Kedey Cikgu Dauz
Airtea – Taman Ungku Tun Aminah
Ais & Kopi – Lokaldistro
Ais Kacang – Jalan Dewa
Ais Kacang Sentosa – Jalan Kulim
Ais Kacang Yeo – Ah Liong Cafe
Aisha's Lunchbox- Jalan Gersik
Aiskrim Malaysia Kaw – Kg Melayu Sbg Tambahan
Aisy Cafe – Ampang
Aisy Cafe – Medan Niaga Kenali
Aisy Restoran Peringat – Jalan Pasir Puteh
Aisyah De Kitchen – Taman Sri Penaga 2
Aisyah Delicacy – Kampung Kepayang
Aisyah Pad Thai – Kampung Petani Sering
AJ Bakar House – Lorong Cengal Kuning
AJ Cafe & Restaurant – Sungai Udang
AJ Cheese Baked – K88 Food Court [Non-Halal]
AJ Satay Junction – Taman Prima Selayang
Ajak Nasi Lemak Wak Kentut – Jalan Delima
Aji Bento – Jalan Raja Uda [Non-Halal]
Aji Dataran – Fair Park
Aji-Don Cafe – Plaza Damas
Ajied Burger – Permyjaya
Ajihs Nasi Lemak – Guchil Bayam
Ajisen Ramen – Vivacity Megamall [Non-Halal]
Ajishou – Plaza Merdeka
Ajnas Kitchen – Seksyen 11
Ajoomma Pocha – SS15 [Non-Halal]
Ajoy Nasi Lemak
Aj's Recipe – Cheras Business Centre
Ajwad Cafe – Taman Desa Ilmu
AK Burger – Jalan Phuah Hin Leong
AK Curry House – TT3 Commercial Centre
AK Fishball – The Gardens
AK Noodles House – 1Utama
Akak Aiskrim Viral – Setapak
Akaka – Sutera Mall
Akaka – Toppen Shopping Centre
Akha Thai – GM Klang
Aki Borneo – Fortuna Commercial Centre
Akie Burger – Taman Shahzan
Aki's Kohi – Cheras
Akok De' Raja Kak Za Pasir Pekan – Kg Pasir Pekan
Al Alha Nasi Ayam Hainan – Taman Melor 3
Al-Aliff Restaurant – Jalan Putra Permai
Al-Amar Express – Fahrenheit 88
Al-Amar Pavilion – Pavillion
Al Ameen Eating House – Taman Kota Putri
Al Aqsa Restaurant – Savannah Lifestyle Retail
Al Arif Bistro – One City
A.L. Baik Bistro – Jalan Haji Taha
Al Baik Maju Bistro – SS14
Al-Barr Kebab – Pusat Perniagaan Danau Lumayan
Al Birru Cafe – Taman Sri Pulai
Al-Buhari Bistro – Seri Kembangan
Al Cahaya Food Palace – Bandar Mahkota Cheras
Al Dente – Saradise Kuching [Non-Halal]
Al Diafah Express – Sri Petaling
Al Diafah Express – Taman Putra Kajang
Al Diafah Express – Bangi
AL Dubai Restaurant – Taman Kota Syahbandar
Al Faiq Kitchen's – Taman Sri Stulang
Al Falah Curry House – Desa Aman Puri
Al Falah Curry House – Taman Indah Jaya
Al Fresco by The Farm Shop – Bandar Kinrara
Al Habib Market – Jalan Ipoh
Al Habibi Curry House – Aeropod
Al Haji Bistro – Bandar Puteri Bangi
Al Haji Bistro – Taman Mas
Al Hani Kitchen – Jalan Batu Uban
Al Haura Arabic Kopitiam – Krystal Point
Al Haura Arabic Kopitiam – Bandar Laguna Merbok
Al Kauzar Corner – Taman Setia Indah
Al Khatiri Kofee – Bandar Baru Kubang Kerian
Al Khatiri Restaurant – Bandar Baru Kubang Kerian
AL Malik Restaurant – Taman Bintang Batu 3
Al-Maqhaa Cafe – Jalan Persiaran Sultan Abu Bakar
Al Marjan Arabic Authentic Cuisine – Plaza Merdeka
Al-Mashur – Jalan Serampang
Al Meerasa Maju – Taman Sri Manja
Al Meerasa Maju – Bandar Puteri
Al Neo Internationals Char Kwey Teow – Dataran Mentari
Al Qadr Cendol – Pusat Bandar Puchong
Al Rafi Bistro – Seksyen 13
Al Raudah Arabian Food – Marigold Square
Al-Raudah Arabian Food – Putra Permai
Al Raudah Masakan Nasi Arab – KIP Sentral
Al Rifa Bistro – Jalan Perusahaan 3
Al Shamiah Restaurant – SS16
Al Ulfah Catering – Taman Desa Duranta
Al Wazir Food Court Enterprise – Desa Kolej Putra Nilai
Al-Yemen Restaurant – Riveredge Commercial Centre
Ala Carte – Kunyap-kunyap Cafe
Ala Kampung Cafe – LCDA Tower
Ala Nysa – Taman Putri
Ala Thai – Makan Street Penang Sentral
Alaenamirza Cafe – Taman Melawati
Alam Cafe – AEON Shah Alam
Alam Nion – Taman Bukit Cheras
Alang-Alang Bev – Uptown Sri Gombak
Alang Western – Jalan Mawar 7
Alanna Kitchen
Alarabi – Southern City Hypermarket
Albaraq Nasi Kukus Ayam Berempah – Damansara Kim
Albin Fried Chicken – Dataran Sunway
Albin Fried Chicken – Taipan
Alcea Coffee – Tamarind Square
Alee Western – Medan Selera Satay Kajang
Alfa Kitchen – Taman Seri Pengkalan Chepa
Alfa Maju Curry House – Platinum Walk
Alfa Maju Food Court – Puchong Prima
Alfayad Western – Jalan Awang Wal
Alfresco Wine & Dine – Hock Lee Centre [Non-Halal]
Alhamra Restaurant – Taman Serdang Perdana
Alhani Restaurant – The Atmosphere
Ali Bhai Recipe – Millennium Square
Ali Cafe Tomyam Seafood – Jalan Pantai Baru
Ali Crispy – Kg Gong Pauh
Ali Food Corner – PJ Sea Park
Ali Food Corner – Cheras Pertama
Ali Food Corner – Eve Suite
Ali Food Corner – Bandar Tun Razak
Ali Food Corner – M Avenue
Ali Food Corner – Changkat Thambi Dollah
Ali Food Corner – Semenyih Vista Valley
Ali Food Corner – Pudu
Ali Maju Kafe – Menara Usahawan
Ali Maju Kafe – Kafeteria Motac
Ali Maju Kafe – Presint 18
Ali Mart – Seksyen 7
Ali Mee Sotong – Taman Tun Sardon
Ali Putu Mayam – Taman Johor
Ali Rojak & Cendol – Taman Gombak Permai
Aliang Fish Noodle – Bandar Baru
Alibaba Cripsy Zinger Burger – Bandar Tasek Mutiara
Alibaba Kopitiam – Taman Putra Prima
Alibabar KL – Taman Gembira [Non-Halal]
Alibomb Kitchen – Bukit Jalil
Alice Kitchen – Tropicana Gardens Mall
Alice's – Bandar Kim Fung
Alif Nur Restaurant – Bandar Kinrara 1
Alif Rozi Pure Juice – Taman Cempaka
Aliff Burger @ Western – Taman Pulai Jaya
Aliff Burgers Cheese – Taman Seri Meru
Aliff Kitchen Restaurant – Bandar Megah Jaya
Alif's Fried Chicken – Kampung Sebiew
Alim Curry House – Pandan Perdana
Alina Restaurant & Cafe – Taman Bukit Saga
Alip's Ikan Bakar & Masakan Thai – Taman Serdang Perdana
Ali'S Fried Chicken – Kampung Lombong
Alison Soup House – TTDI [Non-Halal]
Aliza Cheese Naan – Kompleks Bukit Jambul
All About Chocolate – Damansara Damai
All About Thai Restaurant – Taman Kinrara [Non-Halal]
All Dak – Fahrenheit 88
All Day by Union Roastery – 3 Damansara
All Day Cafe – 1Borneo Hypermall
All Day Cafe by LSH Food Service – Pandan Indah [Non-Halal]
All Day Polo Bun – Jalan SS2/10 [Non-Halal]
All in All – Cyberjaya
All Joy Good Food Centre – Wisma Saberkas
All Thai Food – Restoran Wah Lok [Non-Halal]
All Vegetarian Restaurant – Taman Sentosa II
Alleylab Coffee Roastery – Sunway Citirne Hub
Allysstreet Enterprise – Taman Kajang Utama
Almaidani Sham Palace – Avenue Mall
Aloha – Medan Assaykirin [Non-Halal]
Aloha Metro – The Paddock
Aloi Happy Thai – Jalan Phuah Hin Leong [Non-Halal]
Alomas Western Delis – Kampung Pasir
Alomas Western Delis – Taman Perling
Along Bistro – Taman Gunung Pulai
Along Burger – Jalan Ismail
Along Corner – Taman Delima
Along Corner'z – Seksyen 4
Along Tomyam – Komplek Penjaja Bukit Gedung
Alor Food Corner – Jalan Alor
Alor Setar Chicken Noodle – Lucky Eatery Food Court Centre
Alpaca Chicken – Lebuh Armenian
Alpaca Chicken – Kampung Seberang Paya
Alsah Food Catering – Gombak Utara
Aluminium Foil Ikan Bakar – Pnine Foodcourt [Non-Halal]
Alun Fried – Sing Garden Cafe [Non-Halal]
Alvar Claypot Rice Trading – Jalan Manickavasagam
Always Full Chicken Rice – Taman Mutiara Mas [Non-Halal]
Alwi Burger – Taman Daya
Alwi Burger Kempas Baru – Lorong Sawa 4
Alzahra Dessert Castle – Mutiara Idaman 2
Alzahra Nasi Ayam – Skyridge Apartment
Am Bistro – Kelana Jaya
AM Bistro – Pusat Bandar Melawati
A'M Burger Station – Bandar Pulai Jaya
AM Junction – Jalan Abang Ateh
AM PM – Gala City
Amaaraas – Super Tanker Food Court
Aman Nasi Dalca – Tapak Penjaja Sri Tanjung
Aman Tomyam – Tanjong Tokong
Amanda House – Chepor
Amara Cafe – Kompleks Pusat Bandar Pasir Gudang
Amaraas Curry House – Bayan Baru Food Court
Amaya Food Gallery – Jalan Trus
Amaze Zone – Jalan Datuk Tawi Sli
Amazing Bakes – Tropicana
Amazing Thailand [Non-Halal] – Public Food Court
Ambesten Noodle – SS15 [Non-Halal]
Amboi Nyonya Restaurant – Taman Melaka Raya
Amchar Char Kuey Teow – Taman Cempaka
Amdani Cuisine – Jalan Suasana
Ame Soeur – Jalan Jalil Jaya 2
AMHA Thai – Desa Jaya
Ami Cafe – Naim Street Mall
Amigo Steak & Grill – Jalan Melaka Raya
Amigo's (Taste Of Mexico) – Kitchen Co
Amin Jaya Restoran – Inanam
Aminah Food Stall – Kota Samarahan
Aminmd Lejen Western Food – Jalan Tanjung Tokong Lama
Amir Burger – Tampin
Amir Burger Celup – Gerai Taman Sri Bahagia
Amir Snack – Kampung Bahagia Bangi
Amir Western Corner – Dataran Tampin
Amira One Bistro – Bandar Sri Permaisuri
Amity Fruits – Medan Klebang Restu
Amity Tropical Fruits – Mydin Meru
AMK Economy Fried Bihun/Curry Mee – Da Zhong Restaurant
Amma On Budget – Taman Sri Idaman
Amma Restaurant – Ngee Heng
Ammar Kari Kepala Ikan – Jalan Sultan Mahmud
Amma's Kitchen – Taman Seraya
Ammayas Curry House – Taman Teratai Mewah
Amni Corner – Jalan Panji
Amo Cafe – Uptown Kota Dame
Amoi Burger – Jalan Kuala Kangsar
Amore Desserts – Jalan Tun Ahmad Zaidi Adruce
Ampang Balik – Jalan Sulaiman
Ampang Kopitiam – Taman Equine [Non-Halal]
Amphawa Boat Noodle – Sutera Utama
Amphawa Boat Noodle – Downtown
Amphawa Boat Noodle – Mount Austin
Amphawa Thai Tea & Co. – Berjaya Times Square
Amphawa Thai Tea & Co – Avenue K
Amphawa Thai Tea & Co – Mid Valley
Amphawa Thai Tea & Co – MyTown
Amphawa Thai Tea & Co – IOI Puchong
Amphawa Thai Tea & Co – Mid Valley Southkey
Amphawa Thai Tea & Co – Paradigm Mall JB
AMPM Express – Jalan Kancil
Amran Catering – Taman Perdana
Amusemo Coffee – Bandar Bukit Tinggi
Amy Char Kuew Teow – Jalan Bestari
Amy Redlands Catering – Taman Desa Cempaka
Amy Stew Soup – Best Time Cafe [Non-Halal]
Amy Vegetarian Restaurant – Lorong Tangling Indah 1
Amy's BBQ Roast Meat – Taman Desa Wira [Non-Halal]
An 23 Char Kuey Teow – Taman Tawas Mewah
An Char Kway Teow – Jalan Sultan Azlan Shah
An Ji – Lau Yew Hawker Center [Non-Halal]
Ana Camp Smokehouse- Jalan Kwang Tung [Non-Halal]
Ana Ikan Bakar Petai – Seksyen 7
Ana Saji Resources – Taman Perkampungan Indera Sempurna
Anak Kampung – Subang Bestari
Anak Kulim Cafe – Jalan Raya [Non-Halal]
Anak M – Taman Perindustrian Plentong Utama
Anak M – Jalan Cengkerik
Anak M – Taman Nusa Damai
Anak M – Taman Mutiara Rini
Anak M – Kempas Utama
Anak Mak Dara Kitchen – Jalan Kebun
Anam Sup Belut – Kubang Kerian
Anchor Cafe – Lebuh Presgrave [Non-Halal]
Ancient Taste Penang Char Kuey Teow – Kopitiam Yat Yat Yit Fatt [Non-Halal]
& Arabica – The Weld
& Arabica Coffee – KDU College
& Arabica Coffee – Jalan Universiti
Andan's Ice Cream – Jalan Gombak
Andrew & Aisyah – Lestari Perdana
Andrew's Kampung Restaurant – Eden Parade
Andy's Fast Corner – The Latitude Complex
Aneka Citarasa – Kompleks Silveritage
Aneka Juadah Keramaian – Gerai Selera SUKOM
Aneka Kari Kepala Ikan (Ori Penang) – Jalan Sultanah Zainab
Aneka Mi Noodle House – Taman Indah [Non-Halal]
Aneka Nasi Ayam – Medan Selera Rumbia
Aneka Nasi Ayam Mee Bandung – Kampung Kurnia
Aneka Selera Nasi Pandan – Aneka Selera Ipoh Garden
Aneka Sup – Jalan Dato Jaafar
Aneka Sup & Laksa – KTCC Mall
Aneka Sup Angsana – Pusat Perniagaan Bandar Baru
Anew Cafe – Taman Saujana
ANF Burger – Kg Tersusun Tasek
Ang Kang Kopitiam and Cafe – Jalan Padang Lalang [Non-Halal]
A'ngah Burger – Taman Permai Jaya
A'ngah Burger – Jalan Megat Harun
A'ngah Burger – Jalan Rozhan
Angah Churros – Batu Caves
Angah Corner – Kelana Jaya
Angah Middle Burger – Taman Ehsan Jaya
Angah Patin Segar Ori Sokmo MCH Bistro – Bandar Tasik Selatan
Anggrek Kuring Restaurant – Bandar Puteri
Anggun Chef Cafe – MITEC
Anggun Chef Cafe – Taman Mastiara
Anggun Kitchen – Restoran Alkaff Manjoi
Anggun Kitchen – Jalan Tok Pegoh
Angry Chicken – Plaza Low Yat
Angry Hog Joint – Senadin [Non-Halal]
Angry Takoyaki – Lebuh Keng Kwee
Ang's Apam Balik – Gala Food Court
Ani Ikan Bakar & Dessert – Bandar Dato Onn
Ani Santai Kitchen – Bandar Baru Sri Damansara
Ani Sup Utara – UUC
Aniey Muslim Food – Premier Food Republic
Anip Char Kuey Teow – Kampung Padang Lati
Anis Coffee – TTDI Jaya
Anis Coffee – Grace Junction
Anis KPS
Anis Tom Yam – Tanah Rata
Anizah Tomyam – Lorong Perak
Anjalai Arusuvai Unavagam – Taman Desa Cemerlang
Anjappar Restaurant – Sek 14
Anjappar Restaurant – Leboh Ampang
Anjappar Restaurant – Jalan Tun Sambanthan
Anjappar Restaurant – Jalan Maarof
Anjappar Restaurant – Jalan Bunus
Anjer Jr Burger House – Kampungg Bahagia
Anjung 114 Food Court – Mukim Langgar
Anjung D' Puncak – Jalan Chemor Suria
Anjung Perdana – Tmn Sri Perdana Kuantan
Anjung Rasa – Taman Samudera
Anjung Selera Mix & Match
Anjung Selera UUC – Kayu Madang Telipok
Anjung Seri Bella – Leboh 3
Anjung Village – Prangin Mall
Anmour Cafe – Batu Pahat [Non-Halal]
Anmour Cafe – Taman Pelangi [Non-Halal]
Anmour Cafe – Johor Jaya [Non-Halal]
Anmour Cafe – Taman Gaya [Non-Halal]
Anmour Cafe – Mount Austin [Non-Halal]
Anmour Cafe – Bukit Indah [Non-Halal]
Anmour Cafe – Kulai [Non-Halal]
Anmour Cafe – Eco Botanic [Non-Halal]
Anmour Cafe – Taman Sutera Utama [Non-Halal]
Anmour Cafe – Permas Jaya [Non-Halal]
Ann Char Koay Teow 炒粿條 – Kang Hoe Coffee Shop
Anna Cake Training Centre – Jalan Canna
Anna Curry House – Taman Putri Kulai
Anna Waffle – Taman Rinting
Annang Cafe – Kampung Kobusak
Annie 1 – Damansara Uptown [Non-Halal]
Annie Pan Mee – Taman Serdang Perdana
Annie's Kitchen – Taman Seri Selendang
Annie's Little Kitchen – Jalan Ciku
Ann's Corner [Non-Halal]
Anson Bali – Taman Manggis
Anson Kari Mee – Da Fan Shu Food Court
Ansshellbox – Ayuman Suites
Ant Hotpot
Antee Cafe – Plaza Damas
Anther & Stigma Floral Cafe – Plaza Arkadia
Anthony Vegetarian Restaurant – Jalan Laksamana Cheng Ho
Antipodean – Atria Shopping Gallery [Non-Halal]
Antipodean – Menara Tan & Tan [Non-Halal]
Antipodean – Jalan Telawi [Non-Halal]
Antist Restaurant – City Mall
Antoolaye Burger – Medan Selera Greentown Utama
Anuar Burger Station – Loong Foong Kook
Anuimama Homemade – Taman Usahaniaga [Non-Halal]
Anvi Delights – Taman Puchong Perdana
Anwar Cendol Special & ABC – Pasir Puteh
Anwar Cendol Special & ABC – Pekan Gopeng
Anythink Bakery – Taman Nusa Bestari
AOL Cafe (Ambassador Of Love Cafe) – Plaza Damas 3
Aon Rojak – Tai Ka Huat Food Court
A.One Ice Cream – Maong Bazaar
Aori Ramen – Pavilion [Non-Halal]
Aori Ramen – Jesselton Mall [Non-Halal]
Aorora – Taman Rakyat Mergong
Apa Nama Ni Kafeteria – Lebuh Pantai
Apam Balek Bunda – Taman Jenaris
Apam Balek Stylo!!! – Taman Cengal Utama
Apam Balik 2 U – Taman Samudera
Apam Balik Bacang – Taman Kota Masai
Apam Balik Bkt Tinggi – Garden Homes
Apam Balik Cho – Iskandar Perdana
Apam Balik D'Tasek – Taman Molek
Apam Balik FN – Wangsa Maju
Apam Balik FN – Tasik Perdana
Apam Balik Jefrina – Setapak
Apam Balik Klasik – Kajang
Apam Balik Kuhot – Medan Selera Taman Orkid Batu Gajah
Apam Balik Kuhot – Paya Jaras Dalam
Apam Balik Lintau – Pandan Indah
Apam Balik Meleleh – Taman Mawar 2
Apam Balik Nusantara
Apam Balik Persiaran Bercham Selatan – Taman Desa Kenchana
Apam Balik Seri Menanti Kelantan – Kota Bharu
Apam Balik Sg Besar – Komplek PKNS
Apam Balik Taman Pasir Putih – Taman Pasir Putih
Apam Balik Unique – Bandar Sri Damansara
Apam Balik Unique – Puncak Jalil
Apam Balik Warisan Abah – Taman Perpaduan
Apam Balik Kuhot – Samarahan Food Centre
Apathaas Taste Indian Restaurant – Persiaran Mutiara
Apcy Kitchen – Taman Subang Perdana
Apcy Kitchen – Bandar Bukit Puchong 2
Apek Burger Crispy – Bandar Bukit Puchong
Api Burger – Tapak Urban Street Dining Cyberjaya
API – Putrajaya Food Truck Hotspot @ Presint 14
API – Tapak Urban Street Dining
Api-Api Steamboat & Grill – Jalan Lagenda
Apit Burger – Jalan Taman Jalong Baru 2
Apit Corner – Kampung Kemumin
APN Cafe 1 – Taman Harmoni Jln Archer
Apollo BM Western Food – Taman Lembah Permai
Apollo Stall Air Kelapa & Air Tebu – Jalan Raja Uda
Apom Balik – Kuta Bali Cafe
Apom Balik – Restoran 1288
Apom Chooi – Jalan Burma
Apom Telur – Lorong Delima 5
Apong Telur – Lorong Baru
Appalams Curry House – Bandar Baru Kampar
Appatha Curry House – Jalan Bestari 6/2
Appethaizing – Taman Pelangi [Non-Halal]
Appetizer Thai&Chinese Fusion Fried Glass Noodles – Kedai Makanan Dan Minuman Lim Kee
Apple Fun – Jalan Ong Yi How
Apple Trees Street Foods – Amerin Mall [Non-Halal]
Apronfools – USJ2
APS Kitchen – Taman Petani Jaya
Apt Restaurant – Kemena Land District
Apy Laksa Sabah – Funky Farm Food Court
Aqua S – The Spring
Ar Kitchen – Taman Mahkota Permai 2
Ara Johari's Kitchen – Kg Baru
Arab Hadramot – Jalan Pudu
Arab Madu 3 – Port Mamam Subang
Arab Palace – Bandar Sunway
Arabella Restaurant & Shisha Lounge – Bukit Bintang
Arabian Delight – Bandar Baru Mergong
Arabian House Restaurant – Taman Putra Kajang
Arabian Island – Subang Jaya
Arabian Kebab & Pizza – New World Park
Arabic Palace Restaurant – Sg Merab
Arabica Estate Specialty Cafe – Karpal Singh
ArabThai Chef Restaurant – Bandar Baru Lembah Selatan
Arafah Curry House & Catering – Pekan Koidupan
Arakawa Japanese Gastro & Bar – Gurney Paragon [Non-Halal]
Arang Batu – Taman Bukit Beruang Permai
ARC Burgers – Rumah Asap Dayak Samarahan [Non-Halal]
Arch Cafe – Menara AA
Arch Cafe – Pacific Express Hotel
Archanaa Curry House – Jalan Rengas
Are_u & Co Western – Taman Universiti
Are We Corner – Assam Kumbang
Area 24 – Lorong Matang Jaya
AREE – Setapak Village
Arena – Menara KEN TTDI [Non-Halal]
Arena Tom Yam – Kawasan Perindustrian Gopeng 2
Arienah Corner – Bukit Piatu
Arif Fried Chicken – Bandar Putra
Arif Satay Kepong – Taman Mutiara Fadason
Ariff Maju Bistro – Jalan Putra
Aris Cheese Naan – Ivory Plaza
Arisu Korean Food – Red Garden Food Paradise [Non-Halal]
Arithai – Sunway Putra
Arjuna Burger – Stulang Baru
Arjuna Joint – Medan Selera Dato' Tahwil Azar
Armada's Kitchen Cafe – Arked Plaza Usahawan
Army Navy Burger + Burrito – City Mall
Arnish – Kampung Semerah Padi
Aroi Corner – Jalan Kuala Berang
Aroi Mak Cuisine – Beautiful Jade Centre
AROI Mak Mak [Non-Halal]
Aroi Thai – Main Place
Aroi Thai – Utropolis Marketplace
Aroi Thai – Paradigm Mall
Aroi Thai – MyTown
Aroi Thai – DaMen Mall
Aroma 7 Rasa – Pusat Perdagangan Danga Utama
Aroma Bistro – Glomac Centro
Aroma by Eden
Aroma Cafe – Jalan Tabuan
Aroma Kitchen – Jalan Ampang
Aroma of Breakfast – CCS One Cafe [Non-Halal]
Aroma Selera – Plaza R&R Batu 5
Aroma Tganu Cafe – The Palazzia
Aroma's Kitchen – Sentosa Villas
ARR Corner Kg Jawa – Jalan Raja Nong
Arrison Aiyu
Art Burger Kuala Lumpur – Taman Danau Kota
Art Burger Kuala Lumpur – Pusat Penjaja Danau Kota
Art Nest Lifestyle Cafe – Selayang 18
Art3 Bistro – SS2 [Non-Halal]
Arte – Jalan Argyll [Non-Halal]
Arthur Rice Noodle Roll (Cheong Fun) – Lido Square [Non-Halal]
Arto Moro Kuliner Indonesia – Eco Ardence
Arul Special Burger – Seksyen 7
Arul Special Burger – Bukit Jelutong
Arul Special Burger – U12
Arwana Cafe – Taman Semabok Perdana
Aryan – PWTC
Arzu Restaurant – Jalan Sultan Azlan Shah
ASA Global – Persatuan Usahawan Seri Alamuan
Asada Ramen – Jalan Medan Ipoh 10 [Non-Halal]
Asahan Coffee – Mitc Hotel
Asam Laksa
Asam Laksa Lok-Lok Street – Bandar Puchong Jaya [Non-Halal]
Asam Pedas – Amerin Mall
Asam Pedas 5 Beradik – Plaza Mahkota
Asam Pedas AA – Pusat Perdagangan Kempas
Asam Pedas & Herbal Soup – OTS Foodcourt [Non-Halal]
Asam Pedas Aniee Legacy – Taman Bukit Teratai
Asam Pedas Cempaka – Medan Selera Taman Sri Cempaka
Asam Pedas Cik Odah – Medan Selera Dato Tahwil Azar
Asam Pedas Claypot Sheeken – Kampung Melayu
Asam Pedas Fish Noodle – Popular Food Court
Asam Pedas Hauz – Jalan Matang
Asam Pedas Ipoh – Taman Ipoh Jaya
Asam Pedas Kak Rose – Medan Selera Dataran Mat Riau
Asam Pedas Lagenda – Taman Lagenda
Asam Pedas Overdozzz – Jalan Putra Perdana
Asam Pedas Pak Man – Kompleks Niaga Melaka Perdana
Asam Pedas Pasir Klebang – Taman Klebang Utama
Asam Pedas Paya Datuk – Kampung Paya Datuk
Asam Pedas Power Perigi Hang Li Poh – Taman Kota Laksamana
Asam Pedas Premier – Setia City Mall
Asam Pedas Premier – Tropicana Gardens Mall
Asam Pedas Premier – Bukit Jelutong
Asam Pedas Ramen – Jalan Kampung Hulu
Asam Pedas Saka – Tapak Niaga Taman Jati
Asam Pedas Salbiah Corner – Kg Pulau Samak
Asam Pedas Selatan – Jalan Sultan Azlan Shah
Asam Pedas Umbai
Asam Pedas Warisan – Bazaria Pantai Dalam
Asana's Delights Restorant – Tun Aminah
ASAP Burger – PJ Centrestages
Asap Kitchen – Kampung Ampang
Asap Steamboat & Grill – Kampung Tengah
Asera + Co – Plaza Arkadia
As'Fa Kitchen – Taman Desa Senadin
Asfa Tomyam Seafood – Bandar Baru Sungai Buloh
Ash Food Lab – Medan Gopeng 5
Asha Cake – KipMall Bangi
Asha Kitchen Cafe – Kampung Melayu Subang
Ashikin Cafe – Taman Sri Temenggong
Asia Cafe Mushroom King – Food Street at Rock Cafe
Asia Delights Restaurant – Jalan Hala Timah 4 [Non-Halal]
Asia Food Centre – Pasar Moden SS15
Asia Kitchen – Taman Desa Tebrau [Non-Halal]
Asia Street Food Club – Jalan Petaling [Non-Halal]
Asiah K. Enterprise – Taman Kota Puteri
Asian Chefs – Kawasan Perindustrian Temasya
Asian Cuisine – Teluk likas
Asian Delight Restaurant – Tmn Malim Jaya
Asian Kitchen by Decanter – Bukit Damansara
Asian Korean Bento Kitchen – Merbau Road [Non-Halal]
Asian Nasi Kandar Sdn Bhd – Jalan Bendahara
Asian Rice Pot
Asian Taste – Shah Alam
Asiana Signature – Kampung Bukit Angin
Asiarasa Cafe Citarasa Kampung – Karamunsing Capital
A'sib Burger – Seksyen 4 Wangsa Maju
Asilio Grill Burger – Likas
Asimah Rojak & Cendol – Prima Saujana
Asitah KNS Sdn Bhd – Tmn Johor
Asma Rojak Larkin – Plaza Larkin
Asnah Sate – Setapak
Asow Eatery Canteen – Taman Jubilee
Asow Eatery Station – Ampang Baru
Aspresso Coffee – The Broadwalk
Assam House – Medan Gopeng 2
Assam House – Persiaran Greentown 4
Assam House – Pusat Komersial Ayer Keroh
Astana Putra – UPM
Astons Specialities – Paradigm Mall JB
Astons Specialities – JB City Square
@ Gudang Kafe – Lebuh Armenian
At Tanjung Laundry Cafe – Jalan Tanjung Lumpur 7
Ate Kome – Foodspot
Ate Tea Cafe – Taman Gembira
Atelier Binchotan – Desa Business Centre [Non-Halal]
Atio – Brickfields
Atip's Kitchen – Taman Gombak Jaya
Atisha Selera Pantai Timur – Taman Melor 3
Atlas Bistro – Jalan Ampang
Atlas Pizzeria – Jalan Ampang
Atok D'River – Jalan Tuanku Antah
Attrus Cafe – Jalan Trus
Aud's – Jalan Sultan Yussuf [Non-Halal]
Audy Wok – Seksyen 51A
Aufa Street Aufa – Garden Homes
Aula Katering – Kafe Semerah Padi
Aula Street Food – Jalan Sultan Tengah
Aummm's Corner – Funky Farm Food Court
Aun Air Tebu – Medan Selera Jalan Dewa
Auniey Food Junction – Medan Usahawan
Auntie Fet – Centre Point Sabah
Auntie Fet Dumpling – Servay Penampang
Auntie Fet Dumpling – Servay Penampang
Auntie Fong's Kitchen – Taman Ungku Tun Aminah [Non-Halal]
Auntie Goh Laksa – Tabuan Jaya
Auntie Ida Tauhu Bergedil – Jalan Tenggiri
Auntie Jun's Marudi Kolo Mee – Damai Plaza [Non-Halal]
Auntie Kim's Chee Cheong Fun – Kopitiam Kelana Jaya 95 [Non-Halal]
Auntie Lora Kopitiam – Eko Cheras [Non-Halal]
Auntie Lora Kopitiam – Main Place [Non-Halal]
Auntie Melia Kitchen – Humah Nibong Samarahan [Non-Halal]
Auntie Mila Kitchen – PPR Kempas Permai
Auntie Sim Kitchen – SS21 [Non-Halal]
Aunties Kitchen – Jalan Yap Kwan Seng
Aunty Angela's Laksa – Double Happiness Cafe [Non-Halal]
Aunty Chooi Kitchen – Bandar Baru Medan
Aunty Choon Hokkien Mee – Jalan Nagor [Non-Halal]
Aunty Christina Sarawak Laksa – Sea Park [Non-Halal]
Aunty Curry Mee – Taman Daya Kepong
Aunty Diana's Recipe – Four Eight Restaurant
Aunty Marina Tasty Recipes – Jalan Ipoh
Aunty Q Kitchen and Bar – Summerton [Non-Halal]
Aunty Rozy's Kitchen – Jalan PJU 1A/3A
Aunty Sam Satay – Subang Jaya
Aunty Sam Satay – Damansara Utama
Aunty Sam Satay – Sri Hartamas
Aunty Shirley Noodles House – Lorong Air Putih 2 [Non-Halal]
Aunty Theng – Taman Mount Austin [Non-Halal]
Aura 12 Charcoal Chicken – Beach Street
Aura Taste – Jalan Bundusan
Aurora Burger – Taman kota Masai
Aurora Corner & Catering – Taman Johor Jaya
Aurora Corner Cafe – Glomac Cyberjaya
Aussie Space – Bandar Sri Damansara [Non-Halal]
Austin Hari Hari Cafe – Taman Molek [Non-Halal]
Austin Station – Taman Mount Austin [Non-Halal]
Australian Cake House – Kepong
Australian Cake House (Whole Cakes) – Bandar Mahkota Cheras
Australian Cake House (Whole Cakes) – Bandar Sri Petaling
Australian Cake House (Whole Cakes) – Kepong
Authentic Giza – Lintang Mayang Pasir 4
Authentic Kuching Cuisine – Oakland Industrial Park [Non-Halal]
Autumn Shrimp – SS15
Avenue Bistro – Empire Damansara
Avenue Bistro – Taman Dagang
Avenue Golden Farm Food – Jalan Golden Farm [Non-Halal]
Avo Avo – Centrepoint
Avocadian – Bangsar
Avocadian's Avocado Milkshake Malaysia – Damansara Utama
Avocadian's Avocado Milkshake Malaysia – SS15
Avocado Famous No 1 – Jalan Limbongan
Avril Kitchen – Country Height
AWA Mee Bar – AEON Kuching [Non-Halal]
Awah Alifa – Api Api Centre
Awal Nasi Kukus – Jalan Hospital
Awang Cafe
Awas Cafe – SS15
Awesome Brew – Sunway Citrine Hub
Awesome Fastfood – Afiniti Suites
Awie Nasi Ayam Harmoni – Pantai Dalam
Awiet Bistro Corner – Taman Setia Indah
Awiet Corner – Anjung Selera Larkin Bomba
Ay Crispy – Kuarters Inai Merah
AY Trad. Fried Pork Kuey Teow (Sdkn Wet Mrket) – Inanam Kapital [Non-Halal]
Ayah Western – Tmn Keramat
Ayam Ala Kentucky – Taman Samudera
Ayam Bakar – 777 Kopitiam
Ayam Bakar Bob Thai – Sha Food Court
Ayam Bakar Jakarta – Food Street at Rock Cafe
Ayam Bawang Zul Nasi Kandar – Bayan Baru
Ayam Bawang Zul Nasi Kandar – Lintang Sungai Tiram
Ayam BBQ Honey – Taman Puncak Jalil
Ayam Daebak – Jalan Johan Setia
Ayam Geprek – Taman Medan
Ayam Geprek Aja Bonda – Taman Impian Ehsan
Ayam Geprek Cobek – Jalan Rumbia
Ayam Geprek Lock Luck – Tapak Ekspo Bandar Universiti
Ayam Geprek Ngences – Pasar Raya SKS
Ayam Geprek Sambal Leleh – Taman Sri Pulai
Ayam Geprek Sambal Tenyeh – Taman Limbongan Jaya
Ayam Gepuk Bang Jagoh – Taman Park View Villa IJM
Ayam Gepuk Berempah – Shah Alam
Ayam Gepuk Berempah – Taman Melawati
Ayam Gepuk Ganteng – Bandar Meru Raya
Ayam Gepuk Makcik Gembus – Salai Master @ Damansara
Ayam Gepuk Ori Selayang – Bandar Puncak Alam
Ayam Gepuk Ori Selayang – Maxim Citylights Sentul
Ayam Gepuk Ori Selayang – Kompleks Renang Seri Siantan
Ayam Gepuk Pak Gembus – Bandar Sri Permaisuri
Ayam Gepuk Pak Gembus – Seksyen 8 PJ
Ayam Gepuk Pak Gembus – Seksyen 13 Shah Alam
Ayam Gepuk Pak Gembus – Seksyen U20
Ayam Gepuk Pak Gembus – Taman Maju Jaya
Ayam Gepuk Pak Gembus – Ampang Point
Ayam Gepuk Pak Gembus – Pandan Indah
Ayam Gepuk Pak Gembus – Pelangi Damansara
Ayam Gepuk Pak Gembus – Seksyen 8 Bangi
Ayam Gepuk Pak Gembus – Jalan Bangsar
Ayam Gepuk Pak Gembus – Serdang Perdana
Ayam Gepuk Pak Gembus – Imperial Heritage Melaka
Ayam Gepuk Pak Gembus – Danau Kota
Ayam Gepuk Pak Gembus – Jalan Gombak Batu 5
Ayam Gepuk Pak Gembus – Rasta TTDI
Ayam Gepuk Pak Gembus – Prima Sri Gombak
Ayam Gepuk Pak Gembus – Kelana Park View
Ayam Gepuk Pak Gembus – Dataran C180
Ayam Gepuk Pak Gembus – Dataran Wangsa Melawati
Ayam Gepuk Pak Gembus – Jalan TAR
Ayam Gepuk Pak Gembus – Seksyen 9
Ayam Gepuk Pak Gembus – Jalan Datuk Keramat
Ayam Gepuk Pak Gembus – Solaris
Ayam Gepuk Pak Gembus – Cyber 12
Ayam Gepuk Pak Gembus – Rawang
Ayam Gepuk Pak Gembus – Putrajaya
Ayam Gepuk Pak Gembus – Bandar Puchong Jaya
Ayam Gepuk Pak Gembus – Putrajaya Presint 8
Ayam Gepuk Pak Gembus – Indera Mahkota
Ayam Gepuk Pak Gembus – Kuantan
Ayam Gepuk Pak Gembus – Senawang
Ayam Gepuk Pak Gembus – Teluk Kemang
Ayam Gepuk Pak Gembus – Seremban 2
Ayam Gepuk Pak Gembus – Kuala Terengganu
Ayam Gepuk Pak Gembus – Kubang Kerian
Ayam Gepuk Pak Gembus – Jalan Sultan Yahya Petra
Ayam Gepuk Pak Janggus – Batu Caves
Ayam Gepuk Pak Janggus – Taman Sri Gombak
Ayam Gepuk Rockstar – Bangsar
Ayam Gepuk Rockstar – Kota Damansara
Ayam Gepuk Utaqa – Taman Rakyat Mergong
Ayam Gepuk Wak Kardan – Pekan Meru
Ayam Gepuk Wak Kardan – Subang Business Centre
Ayam Gesek Putra – Taman Seri Taming
Ayam Getok Mantul – Taman Melawati
Ayam Getok Mantul – Jalan Sultan Ismail
Ayam Getok Mantul – Maxim Resindences Cheras
Ayam Getuk Berdesik – Jalan Pasir Panjang
Ayam Giling Berdesing – Jalan Kristal Merah
Ayam Golek D' Arang – Kampung Cherang
Ayam Golek Raja – Taman Universiti
Ayam Golek Zaharah – Taman Puchong Permai
Ayam Goreng Kasturi X Karipap Cheese – Taman Cempaka
Ayam Goreng Ketagih – Taman Bercham Raya
Ayam Goreng Kunyit Atok Chan
Ayam Goreng Kunyit Pak Ngah – Jalan Jurunilai
Ayam Goreng Rezeki – Taman Seri Dermawan
Ayam Goreng Thor – Jalan Hospital Pakar Metro
Ayam Goreng Ting Tong – Laman IR Uptown
Ayam Gunting – Tanjong Malim
Ayam Gunting Hot – Kampung Kepayang
Ayam Gunting Pandan Indah – Pandan Indah
Ayam Gunting Sri Pulai – Taman Sri Pulai
Ayam Gunting Subdepo – Taman Seri Intan
Ayam Gunting @ Uncle Best Fried Chicken – Jalan Medan Gopeng 1
Ayam Jingkrak Mbax Ardilla – Bukit Jambul Complex
Ayam Jingkrak Mbax Ardilla – Jalan Rumbia
Ayam Kampung Marzam – Hentian Sebelah PJS 9
Ayam Katok Emba – Sembulan
Ayam Ketuk 3 Jempol – Jalan Sarikei
Ayam Kicap Kak Az – Bangsar
Ayam Kicap Kak Az – Kayu Ara
Ayam Kicap Kak Az – Kota Damansara
Ayam King JB – Taman Kolej Perdana
Ayam Kunyit Pak Ngah
Ayam Kunyit Pak Ngah – Medan Selera Dataran Sri Angkasa
Ayam Kunyit Rockstar – Bangsar
Ayam Kunyit Rockstar – Kota Damansara
Ayam Kunyit Rockstar – Kayu Ara
Ayam Makjoss Khas Samarahan – Kampung Melaban
Ayam Mat Pop – Bangsar
Ayam Mat Pop – Kota Damansara
Ayam Mat Pop – Kayu Ara
Ayam Musing Ketang – Jalan Sultan Omar
Ayam Pedas Sofia – Pandan Indah
Ayam Penyet – Design Village Outlet Mall
Ayam Penyet – Harbour Mall
Ayam Penyet – Kedai Makanan Dan Minuman BR [Non-Halal]
Ayam Penyet – Komplek Kubah Ria
Ayam Penyet 555 – Taman Daya
Ayam Penyet 6.80 – Jalan Cecawi
Ayam Penyet – 777 Kopitiam [Non-Halal]
Ayam Penyet 888 – Medan Selera Teluk Sisek
Ayam Penyet A3 – Jalan Besar Selayang Baru
Ayam Penyet & Bakso – Taman Putra Indah
Ayam Penyet & Rojak – Taman Perling
Ayam Penyet Anita – Bandar Dato Onn
Ayam Penyet AP – Meru
Ayam Penyet AP – Bandar Sri Permaisuri
Ayam Penyet AP – Subang Jaya
Ayam Penyet AP – Ole Ole Shopping Centre
Ayam Penyet AP – Mydin Meru Raya
Ayam Penyet AP – Amanjaya Mall
Ayam Penyet AP – KTCC Mall
Ayam Penyet AP – Mydin Gong Badak
Ayam Penyet AP – Paya Bunga Square
Ayam Penyet Berapi – Kolej Kediaman Za'ba
Ayam Penyet Berapi – Suzi's Corner
Ayam Penyet Best – Kawasan Perindustrian Fimas
Ayam Penyet Best – Evo Mall
Ayam Penyet Bonda – Rapat Setia
Ayam Penyet Cabe Teraka – Koperasi Polis Fasa 2
Ayam Penyet D'Kota – Plaza Mont' Kiara
Ayam Penyet D'Kota – The Ascent, Paradigm
Ayam Penyet D'Kota – Dataran Glomac
Ayam Penyet Express – Subang Parade
Ayam Penyet Express – Sunway Putra
Ayam Penyet Express – Berjaya Times Square
Ayam Penyet Express – Sunway Pyramid
Ayam Penyet Express – KL Sentral
Ayam Penyet – FGJB
Ayam Penyet House – Parkcity Jalan Diwarta
Ayam Penyet Indorasa – Glomac Cyberjaya
Ayam Penyet Jawa – Taman Dato Senu
Ayam Penyet Kak Ika – Sg Chua
Ayam Penyet Kak Wati – Winnie Plaza
Ayam Penyet – Kenanga Food Court
Ayam Penyet Kiara – Plaza Mont Kiara
Ayam Penyet Lamongan – KIPMall Melaka
Ayam Penyet Lamongan – MITC
Ayam Penyet Lot 13, 14 – East Coast Food Court
Ayam Penyet – My Kopitiam
Ayam Penyet Nusantara – Seksyen 7
Ayam Penyet Nusantara – Wangsa Maju
Ayam Penyet Pasundan – Jalan Hospital
Ayam Penyet Resepi Bu Endang – Kota Damanasara
Ayam Penyet – Restoran 89 Kopitiam
Ayam Penyet Ria – Melawati
Ayam Penyet Ria – Wangsa Delima
Ayam Penyet Ria – Setia City Mall
Ayam Penyet Sambalado – Spectrum
Ayam Penyet Sambalado – AEON BiG Mall
Ayam Penyet Sambalado – Taman Dagang
Ayam Penyet – Siang Food Court
Ayam Penyet Sofia – Taman Perling
Ayam Penyet Surabaya – Dataran Mentari
Ayam Penyet Surabaya Danau Kota – Taman Setapak Indah
Ayam Penyet Umi – Taman Desa
Ayam Percik Banjir Ipoh – Kampung Dato Ahmad Said Tambahan 1
Ayam Percik Sedap Sengoti Pilihan Hati – Jalan Pasir Hor
Ayam Pramugari – KL City Walk
Ayam PUBG 223 – Medan Selera 223
Ayam Samurai Melaka Original – Plaza Merdeka
Ayam Suharti – Denai Alam
Ayam Tauge Lim – Taman Pusing Baru [Non-Halal]
Ayam Winners Padang Speedy – Medan Selera MPTI
Ayamas – Kelana Jaya
Ayan Art Cafe – Jalan Besar
Ayaq Hangat – Pusat Komersial Bg Perdana
Ayers Rock Restaurant – D'Bayu
Ayie Elham Café – Platinum Walk
Ayin Dine – Bukit Besar
Ayman Restaurant – Jalan Tengku Mohd Ma'asum
Ayn Zamzam Express – Avenue K
Ayn ZamZam Express – Mid Valley
Ayn ZamZam Restaurant – Kota Damansara
AYO Beverages – Pusat Bandar Putra Permai
Ayo Munchymunchy – Hartamas
Ayo Munchymunchy – Melaka
Ayo Munchymunchy – Selayang
Ayo Munchymunchy – Uptown KD
Ayo Munchymunchy – Kg Baru
Ayo Munchymunchy – Senawang
Ayob's Cafe
Ayoden – Taman Klebang Utama
Ayoi Culture Cafe – Lintas Plaza
Ayong Zetapark Satay – New Li Garden Food Court
Ayra's Kitchen – BeeliFood
Ayu Bulan Tomyam – BDR Seremban Utama
Ayu Flores Malayan Herbals – Sea Park
Ayu Mee Udang – Teluk Kumbar
Ayu Nasi Ayam – Jalan Hamzah
Ayyub Jagung Manis & Pau Kukus – Bandar Baru Bangi
Ayyub Shawarma Kebab – Bandar Baru Bangi
AZ – Taman Pengkalan Utama
AZ – Bandar Meru Raya
Az Imran Bistro – Seksyen U5
AZ Imran Bistro – Taman Sri Sinar
Az One Cafe – USJ 7
Az Restaurant Thai Seafood – Persiaran Mutiara Kelana Mas
Az Sham Ayam Penyet – Bandar Sri Permaisuri
Azba Kitchen – Jalan Sultan Iskandar
Azdpro D'Cafin – Bandar Baru Bangi
Azeez Bistro – Taman Denai Utama
Azeez Bistro – Sungai Besi
Azhar Station Ayam Goreng Kunyit – Keramat
Azi Bistro Cafe – Jalan Cochrane Perkasa
Azie Delights – Bandar Bukit Raja
Azie Sizzling – Medan Selera Taipan
Azimie Station – Taman Melor 3
AzizahKitchen Raralicious – Taman Tasik Jaya
Azkia Banana Cheese – Kopitiam 2 Cinta
Azmi No Keki – Putra Walk
Azmie Kitchen – Taman Bunga Melor
Azry Kebab Melaka – Jalan Pengkalan
Azs Selera Kita – Taman Desa Cemerlang
Azss Kitchen – Taman Sutera Prima
Azubaba Cafe – Taman Mount Austin [Non-Halal]
Azuma Japanese Restaurant – Queensbay Mall
Azuma Japanese Restaurant – Seremban 2
Azuma Sushi – Arena Curve
Azuma Sushi – Pusat Perniagaan Sentral Jaya
Azuma Sushi – EkoCheras Mall
Azuma Sushi – Village Mall
B & B Curry House – SS15
(B) Ayam Koko – Jiki Food Court Bukit Baru
B Bush Cafe [Non-Halal]
B Cafe – Taman Setia Eco Cascadia
B Cafe International – Bandar Sri Permaisuri
B Cafe International – Plaza Arkadia
B Cafe International – Kuchai Lama
B Cafe International – Publika
B Cafe International – Puchong
B Cafe International (Whole Cakes) – Publika
B Fried Chicken – Empire Damansara
B9R Cafe – Jalan Bendera 10 [Non-Halal]
Ba Ba Cha – Taman Nusa Bestari
Ba Gai Cafe – Taman Tan Sri Yacob [Non-Halal]
Ba, Thai Restaurant & Bar – Taman Utama
Ba Yi Ba Fei Zai Meng Chicken Rice – Bandar Indapura [Non-Halal]
Baan 26 – Bukit Bintang
Baan Korat Thai Restaurant – Bandar Baru Klang [Non-Halal]
Baan Thai Boat Noodle Cafe- Galacity [Non-Halal]
Baba Cafe – Kota Kemuning
Baba Kitchen Vegetarian Restaurant – Danga Utama
Baba Low's – Bangsar Utama
Baba Phang – Jalan Sri Bahari [Non-Halal]
Baba Waffle – Econsave Alma
Baba Waffle – Taman Kempas Indah 3
Babah Kitchen – Taman Pandan Mesra
Baby Boss Cafe – Damai
Baby Cami Sushi – Jalan Dataran Cheras 2
Baby Cami Sushi Restaurant – Taman Segar
Baby Dal – Lorong Maarof
Baby Izz – Bandar Jaya Gading
Baby Mochi – Lido Square
Baby Sifu The Bakery – Taman Lip Sin
Baby'O Chicken Rice – Lorong Astana 4
Bachang Kopitiam Mee Rebus – Jalan Bachang
Bachelor's Pizza Co. – Mont Kiara Meridin
Bachelor's Pizza Co. – Bandar Sunway
Back Street Kopitiam – Taman Mount Austin
Backlane Coffee – Jalan Hang Jebat [Non-Halal]
Backlane Curry House – SS2
Backyard Garden Healthy Drinks Cafe – PJU 1
Backyard Satay & BBQ – Seri Alam
Bad Boy – Sunway Geo Avenue [Non-Halal]
Badai Ikan Bakar & Seafood – Jalan Lebuhraya Pasir Gudang
Badaimu Japanese Souffle – Palo 101
Badut Corner – Jalan Danau Saujana 1
Baek Cafe & Bistro – Jalan Tengah Kampung Benaung
Bagel's Dream – Lebuh Campbell
Bageto Dimsum – Anjung Selera
Bagus Chicken & Dakgalbi – Sunway Geo Avenue [Non-Halal]
Bagus-Lah! Heritage Fusion Cafe – Kelana Jaya
Bagus Roti Canai – Taman Kenanga
Bagutta Cafe & Catering – Taman Keramat
Bah Ku Teh Klang Yip Yong – Kepong [Non-Halal]
Bah Kut Teh – Lido Square [Non-Halal]
Bah Kut Teh (Restoran Wai Wai) – Taman Meranti Jaya [Non-Halal]
Bahagia – Plaza Sri Muda
Bahulu & Kueh – Masjid Tepian Putra
Bahwang BBQ – Restoran Ma Zi C180 [Non-Halal]
Bai Le Dessert – Taman Cheng Baru
Bai Wei Cuisine – Desa Sri Hartamas [Non-Halal]
Bai Xing Chicken Rice – CCS One Cafe
Baiduri Delight Thai Seafood – Penampang
Baihaqi Bhai Food The Village Cafe – Kg Binjai Baru Badang
Bait – Jalan Telawi 3
Baiwago Plus Cafe – SS2
Bak Cheng Bak Kut Teh – Paradigm Mall JB [Non-Halal]
Bak Fu Restaurant – Tiong Hua Road [Non-Halal]
Bak Ku Teh Klang Yip Weng – Bandar Puteri Puchong [Non-Halal]
Bak Ku Teh Klang Yip Yong – Kota Damansra [Non-Halal]
Bak Kut Teh – Pusat Penjaja Bentayan [Non-Halal]
Bak Kut Teh – Limbongan Food Court [Non-Halal]
Bak Kut Teh – WR Medan Selera [Non-Halal]
Bak Kut Teh – Lebuh Kimberly [Non-Halal]
Bak Kut Teh – Off Jalan Sultan Idris Shah [Non-Halal]
Bak Kut Teh – Restoran New Hong Tu [Non-Halal]
Bak Kut Teh – Public Food Court [Non-Halal]
Bak Kut Teh – Kawasan Perindustrian SME [Non-Halal]
Bak Kut Teh – Restoran 777 [Non-Halal]
Bak Kut Teh Claypot – Koufu Food Court [Non-Halal]
Bak Kut Teh – Persiaran Gurney [Non-Halal]
Bak Kut Teh II – Taman Impian Emas [Non-Halal]
Bak Kut Teh 家乡味肉骨茶 – Taman Impian Emas [Non-Halal]
Bake and Beans – Jalan Hang Lekiu
Bake & Chill – One Place Mall
Bake In The Garden By Artisan [Non-Halal] – Gurney Paragon Mall
Ba'Kecalaq – Parkcity Commerce Square [Non-Halal]
Bakeroni Cafe – Taman Desa
Bakery Cafe – Kampung Kebakat
Bakesville – Taman Ipoh Selatan
Bakin Style – Jalan Mega
Bako Korean BBQ & Eateries – Jalan Puteri 1 [Non-Halal]
Bako Korean BBQ & Eateries – Jalan Radin Bagus 7 [Non-Halal]
Bakso – Kunyap-kunyap Cafe
Bakso & Soto – Dataran Mat Riau
Bakso and Sup Tulang Kak Ina – Jalan Tokong Ular
Bakso Barokah – Taman Desa Seri Ketiau
Bakso Ibu Meri – Pasar Transit Bachang
Bakso Jawa Kendara – Kedai Kepayan Point
Bakso Jowo Timur – Taman Penampang
Bakso Kota – Kampung Makam
Bakso Langgani – Karamunsing Basement Food Court
Bakso Mak Yang – The Garden
Bakso Twist – Lintas Plaza
Bakso Twist – Plaza 333
Bakso Yusup Pelangi – Taman Pelangi
Bakti Woodlands Vegetarian Cafe – Leboh Ampang
Balay Inasal (formerly Spitfire) – Wisma Cosway [Non-Halal]
Baleela Mango Fresh – Jalan Nenas
Bali Bakar – Bandar Utama
Bali Bakar – Ampang
Bali Thai Restaurant – Taman Permai [Non-Halal]
Balik Pulau Rojak – Kampung Syed
Balkis Nasi Kandar – Inanam Commercial Centre
Balloon 52U Cafe – Taman Kota Laksamana Jaya
Balsam Pear Soup – Kepong Food Court
Balun Burger – Taman Meru Perdana
Balut Balut Pak Ostad – Lorong Lampam
Bamboo Briyani – Bayan Baru Food Court
Bamboo Garden Seafood – Hui Sing Garden [Non-Halal]
Bamboo House – Seri Iskandar Business Centre
Bamboo Masala Briyani – Medan Saujana
Bamboos Thai Cafe – Prima Sri Gombak
Ban Chuen Cafe – Jalan Nanas [Non-Halal]
Ban Heong Seng Restaurant – Taman Impian Emas [Non-Halal]
Ban Kee Curry Rice Varieties – Tingkat Talang Satu [Non-Halal]
Ban Mee老板面 – Kota Damansara [Non-Halal]
Bana Nurul Corner – Taman Foong Joon
Banafee – Seri Alam
Banafee Village – Jalan Dato Abdullah Tahir
Banana & Cheese – Presint 8
Banana Cheese – Salleh Corner Cafe
Banana Curry House – Damansara Intan
Banana Leaf – Suria Bangsar
Banana Leaf Rice – Miri Centre Point II
Bananabro – Platinum Lake Condominium
Bananabro – The Gardens
Bananabro – Empire Damansara
Bananabro Restaurant – Kota Damansara
Banaq Burger
B&B Cafe – Bukit Horizon
Bang Anjang – Imperial Mall Food Court
Bang Jago Kitchen – Family Kopitiam
Bangaji Enterprise – Seremban Jaya
Bangi Bak Kut Teh – Taman Tun Perak [Non-Halal]
Bangi Golf Resort Restaurant – Bangi Golf Resort
Bangkok Food – S11 Kopitiam [Non-Halal]
Bangkok Pintho Cafe – Presint 9
Bangkok Thai Seafood Restaurant – Jalan Padungan
Bangkok To Buriram – SS12 [Non-Halal]
Bangsar Railway Cafe – Jalan Kemuja
Bangsata Cafe – Penampang
Bangsata Cafe 2 – Taman Suria Shop Apartment
Banh Mi Anh Map – Taman Bunga Raya [Non-Halal]
Banh Mi Kitchen – Jalan Zainal Abidin [Non-Halal]
Banh Mi Saigon Cafe – Bandar Mahkota Cheras [Non-Halal]
Banngkok Street Food – Platinum Walk
Bao Bao Ais Kacang – Jalan Court House
Bao Bao's Sweet Toast – TT3 Corner
Baobaoda – Lorong 22/SS1, Ground Floor [Non-Halal]
Bapak Ayam – Hampshire Park
Bar & Bistro 红吧 – Dataran Perniagaan Cheras [Non-Halal]
Bar.B.Q Tonight
Bar Man Restaurant – Taman Bayu Tinggi [Non-Halal]
Bar Wang Rice – Georgetown [Non-Halal]
Bar Wang Rice – Farlim [Non-Halal]
Bar Wang Rice – Raja Uda [Non-Halal]
Bar Wang Rice – Taman Mutiara [Non-Halal]
Bar Wang Rice – Alma [Non-Halal]
Bar Wang Rice – Taman Maju Jaya [Non-Halal]
Bar Wang Rice – Permas Jaya [Non-Halal]
Bar Wang Rice – Taman Pelangi [Non-Halal]
Bar Wang Rice – Taman Daya [Non-Halal]
Bar Wang Rice – Taman Mount Austin [Non-Halal]
Bar Wang Rice – Taman Johor Jaya [Non-Halal]
Bar Wang Rice – Taman Setia Indah [Non-Halal]
Bar Wang Rice – Taman Molek [Non-Halal]
Barastar – Lorong Perda Utama 7
Barat – Taman Bukit Pantai
Barbacoa KL – Jalan Bangsar
Barbarian Station – Taman Prominence
Barbeque Charcoal Fruit Wood – Lebuh China
Barbeque Nation – Pavillion
Bar B Q Plaza – AEON Bandaraya Melaka [Non-Halal]
Bar B Q Plaza – Berjaya Times Square [Non-Halal]
Bar B Q Plaza – Dataran Pahlawan [Non-Halal]
Bar B Q Plaza – Setapak Central [Non-Halal]
Bar B Q Plaza – Main Place [Non-Halal]
Bar B Q Plaza – Sunway Pyramid [Non-Halal]
Bar B Q Plaza – AEON Metro Prima [Non-Halal]
Bar B Q Plaza – Setia City Mall [Non-Halal]
Bar B Q Plaza – Queensbay Mall [Non-Halal]
Bar B Q Plaza – Gurney Plaza [Non-Halal]
Bar B Q Plaza – Sunway Damansara Technology Park [Non-Halal]
Bar B Q Plaza – 1Utama [Non-Halal]
Bar B Q Plaza – The Mines [Non-Halal]
Bar B Q Plaza – AEON Bukit Tinggi [Non-Halal]
Bar B Q Plaza – Sunway Velocity [Non-Halal]
Bar B Q Plaza – IOI City Mall [Non-Halal]
Bar B Q Plaza – IOI Puchong [Non-Halal]
Bar B Q Plaza – Mid Valley Southkey [Non-Halal]
Bar B Q Plaza – Paradigm Mall JB [Non-Halal]
Bar B Q Plaza – Toppen Shopping Centre [Non-Halal]
Barcade – EkoCheras Mall [Non-Halal]
Barcarat – Puchong Jaya [Non-Halal]
Barce's Kitchen 7 – Jalan Haji Ahmad
Barcook Bakery – The Sphere
Barcook – IOI Puchong
Barfellowws – Plaza Arkadia
Bari Uma – Jaya Shopping Centre [Non-Halal]
Bari Uma – MyTown [Non-Halal]
Bari Uma – Pavilion Elite [Non-Halal]
Bark & Bean – Sungai Nibong [Non-Halal]
Barokah Ibu – Kampung Sri Langkas Tambahan
Barong Tinuk – Jln Merdeka
Barra Kiosk @ The Podium – Kampung Sungai Penchala
Barrel2u Western Food – Lau Yew Food Court [Non-Halal]
Bashir's Wheel – Pasar Pagi Ampang Jaya
Bashir's Wheel – Shah Alam
Basically Just Burrito Bowls – Bangsar Village 1
Basically Just Burrito Bowls – KLCC
Basically Just Burrito Bowls – Wisma Lim Foo Yong
Basically Just Burrito Bowls – Plaza Mont Kiara
Basically Just Burrito Bowls – Sunway Future X Farm
Basil Pasta House – Kuchai Lama [Non-Halal]
Basilico Restaurant – Taman Mount Austin [Non-Halal]
Bask Bear Coffee – Centro Klang
Bask Bear Coffee – Sunsuria Forum
Bask Bear Coffee – Jakel Mall
Bask Bear Coffee – SOGO KL
Bask Bear Coffee – Plaza Alam Sentral
Bask Bear Coffee – Lotus's Mutiara Damansara
Bask Bear Coffee – Sri Petaling
Bask Bear Coffee – Empire Shopping Gallery
Bask Bear Coffee – Skypark Terminal
Bask Bear Coffee – Paradigm Mall
Bask Bear Coffee – Mahkota Cheras
Bask Bear Coffee – AEON Cheras Selatan
Bask Bear Coffee – Muar Art Gallery
Bask Bear Coffee – AEON Ayer Keroh
Bask Bear Coffee – LRT Bangsar
Bask Bear Coffee – Citta Mall
Bask Bear Coffee – VSQ @ PJ
Bask Bear Coffee – Bandar Baru Bangi Seksyen 9 Shoplot
Bask Bear Coffee – Lotus's Seberang Perai
Bask Bear Coffee – Penang Sentral
Bask Bear Coffee – Gurney Paragon
Bask Bear Coffee – Sunshine Square Penang
Bask Bear Coffee – Prangin Mall
Bask Bear Coffee – 1st Avenue
Bask Bear Coffee – Suntech Penang
Bask Bear Coffee – Central Kulim
Bask Bear Coffee – Lotus's Penang
Bask Bear Coffee – Setia Sentral
Bask Bear Coffee – Maju Utama
Bask Bear Coffee – All Season
Bask Bear Coffee – Caltex Seberang Jaya
Bask Bear Coffee – Eco Bloom
Bask Bear Coffee – AEON Bukit Tinggi
Bask Bear Coffee – Lotus's Ampang
Bask Bear Coffee – Lotus's Bukit Puchong
Bask Bear Coffee – Shell Bukit Cheras
Bask Bear Coffee – Sg Pelong
Bask Bear Coffee – Suria KLCC
Bask Bear Coffee – Damansara Jaya
Bask Bear Coffee – IOI City Mall
Bask Bear Coffee – Lotus's Shah Alam
Bask Bear Coffee – Setapak Central
Bask Bear Coffee – Alamanda Putrajaya
Bask Bear Coffee – Bandar Baru Sg Buloh
Bask Bear Coffee – Caltex Sri Damansara
Bask Bear Coffee – Brem Mall
Bask Bear Coffee – AEON Rawang
Bask Bear Coffee – Wisma UOA Damansara
Bask Bear Coffee – Shell NKVE
Bask Bear Coffee – Nexus Bangsar
Bask Bear Coffee – SS2
Bask Bear Coffee – KPDNHEP
Bask Bear Coffee – DT Shell Bandar Puteri Klang
Bask Bear Coffee – Nouvelle Park 2
Bask Bear Coffee – Monorail Hang Tuah
Bask Bear Coffee – Bandar Sunway
Bask Bear Coffee – 1Utama
Bask Bear Coffee – Pandan Indah
Bask Bear Coffee – Aman Suria
Bask Bear Coffee – AEON BiG Subang Jaya
Bask Bear Coffee – Klang Parade
Bask Bear Coffee – Caltex Taman Cempaka
Bask Bear Coffee – Bukit Jalil
Bask Bear Coffee – IOI Puchong
Bask Bear Coffee – MyTown
Bask Bear Coffee – The Henge Kepong
Bask Bear Coffee – Shaftbury Square Cyberjaya
Bask Bear Coffee – Desa ParkCity
Bask Bear Coffee – Lotus's Semenyih
Bask Bear Coffee – Bandar Puteri Puchong
Bask Bear Coffee – The Linc
Bask Bear Coffee – Lotus's Klang
Bask Bear Coffee – Pantai Hospital KL
Bask Bear Coffee – Kota Kemuning
Bask Bear Coffee – AEON Taman Maluri
Bask Bear Coffee – Taipan USJ
Bask Bear Coffee – Kuchai Lama
Bask Bear Coffee – Metro Point Kajang
Bask Bear Coffee – Jalan Soga
Bask Bear Coffee – AEON Kulai
Bask Bear Coffee – Setia Tropika
Bask Bear Coffee – Palm Mall
Bask Bear Coffee – AEON Nilai
Bask Bear Coffee – Mid Valley Southkey
Bask Bear Coffee – AEON Tebrau City
Bask Bear Coffee – Jalan Manickavasagam
Bask Bear Coffee – AEON Bandar Dato' Onn
Bask Bear Coffee – R&F Mall
Bask Bear Coffee – KTCC Mall
Bask Bear Coffee – Dataran Panji
Bask Bear Coffee – AEON Permas Jaya
Baskin Robbins – AEON Shah Alam
Baskin Robbins – Shell Wangsa Maju
Baskin Robbins – Pavilion
Baskin Robbins – Forum Setia
Baskin Robbins – Dpulze
Baskin Robbins – Bukit Jelutong
Baskin Robbins – Taiping Mall
Baskin Robbins – Klang Bukit Tinggi
Baskin Robbins – Bangsar
Baskin Robbins – SOGO KL
Baskin Robbins – Shoplex Mont Kiara
Baskin Robbins – Centrepoint
Baskin Robbins – Sunway Giza
Baskin Robbins – Taipan
Baskin Robbins – Setapak Central
Baskin Robbins – Melawati Mall
Baskin Robbins – Wetex Parade
Baskin Robbins – Imperial Heritage Hotel
Baskin Robbins – Mahkota Parade
Baskin Robbins – AEON Melaka
Baskin Robbins – Desa ParkCity
Baskin Robbins – Avenue K
Baskin Robbins – Uptown
Baskin Robbins – AEON Bukit Mertajam
Baskin Robbins – Sunway Carnival
Baskin Robbins – Gurney Plaza
Baskin Robbins – Sungai Dua
Baskin Robbins – Gurney Paragon
Baskin Robbins – Design Village Mall
Baskin Robbins – Burma Road
Baskin Robbins – Queensbay Mall
Baskin Robbins – Taman Connaught
Baskin Robbins – Bandar Puteri Puchong
Baskin Robbins – Pelangi Semenyih
Baskin Robbins – Shell SS7 Bangi
Baskin Robbins – Central i-City
Baskin Robbins – The Gardens
Baskin Robbins – Alamanda
Baskin Robbins – Publika
Baskin Robbins – AEON Ipoh Station 18
Baskin Robbins – Setia Alam
Baskin Robbins – AEON Ipoh Klebang
Baskin Robbins – Setia City Mall
Baskin Robbins – AEON Taiping
Baskin Robbins – Atria Shopping Gallery
Baskin Robbins – AEON Seri Manjung
Baskin Robbins – Klang Parade
Baskin Robbins – Kota Kemuning
Baskin Robbins – AEON Cheras Selatan
Baskin Robbins – IOI City Mall
Baskin Robbins – AEON Kinta City
Baskin Robbins – SACC Mall
Baskin Robbins – Sunway Pyramid
Baskin Robbins – Sri Petaling
Baskin Robbins – The Mines
Baskin Robbins – Ipoh Parade
Baskin Robbins – Sunway Velocity
Baskin Robbins – NU Sentral
Baskin Robbins – Jaya Section 14
Baskin Robbins – Ampang Point
Baskin Robbins – Subang Parade
Baskin Robbins – G-Village
Baskin Robbins – Lagenda Village Mall
Baskin Robbins – East Coast Mall 2
Baskin Robbins – Berjaya Megamall
Baskin Robbins – 1Borneo
Baskin Robbins – Suria Sabah Mall
Baskin Robbins – Petronas Tan Swee Hoe
Baskin Robbins – Aman Central
Baskin Robbins – Imago Shopping Mall
Baskin Robbins – AEON Tebrau City
Baskin Robbins – Taman Molek
Baskin Robbins – JB City Square
Baskin Robbins – AEON Bukit Indah
Baskin Robbins – Shell Dato Onn
Baskin Robbins – Paradigm Mall JB
Baskin Robbins – Petronas Sri Orkid
Baskin Robbins – JPO
Baskin Robbins – AEON Bandar Dato' Onn
Baskin Robbins – Seremban Gateway
Baskin Robbins – AEON Permas Jaya
Baskin Robbins – Sutera Mall
Baskin Robbins – Southkey
Baskin Robbins – AEON Nilai
Baskin Robbins – AEON Seremban 2
Baskin Robbins – KTCC Mall
Baskin Robbins – AEON Kota Bharu 1
Baskin Robbins – AEON Mall Kuching
Baskin Robbins – Vivacity Megamall
Baskin Robbins – KB Mall
Baskin Robbins (Whole Cakes) – Desa Sentul Village
Bass Bar Music – Pusat Bandar Bukit Jalil
Bassa Keisya Nasi Ayam Cincang – Sebelah Sek.Men.Keb Panji
Batang Ai, Limbang BBQ – Rumah Asap Dayak Samarahan [Non-Halal]
Batavia Cafe – Pangsapuri Ixora
Batavia Kitchen – JB City Square
Batu Pahat Kopitiam – Jalan Tun Ismail
Bavaneesh Bistro – Taman Sentosa
Bavarian Bierhaus – The Curve [Non-Halal]
Bawal Power Sempoi – Cyberjaya
Bawal Power Sempoi – USJ 21
Bawal Power Sempoi – Glenmarie
Bawal Power Sempoi – Bangi
Bawangchaji – Damansara Utama
Bawangchaji – Cheras Trader Square
Bawangchaji – Bandar Menjalara
Bawangchaji – Jalan Radin Bagus
Bawangchaji – Bukit Mertajam
Bawangchaji – Kimberley Street
Bawangchaji – Toppen Shopping Centre
Bawangchaji – Ipoh Parade
Bawangchaji – SS2
Bawangchaji – Bandar Puteri
Bawangchaji – Sunway Velocity
Bawangchaji – Pusat Bandar Bukit Jalil
Bawangchaji – Star City
Bawangchaji – Taman Mount Austin
Bay Street 66 – Taman Johor Jaya [Non-Halal]
Bay Street 66 Cafe – Jalan Suria [Non-Halal]
Bayan Baru Food Court Mix & Match
Bayan Baru Food Court Mix & Match – [Non-Halal]
Bayan Point Cafe – Bayan Point
Bayou Coffee House – Jalan Wakaf Utama
Bayou Diner – Taipan Business Centre
Bayu Village Cheese Banana Minions – Taman Kiambang Indah
Bayu Village Dapur Bonda Ilham – Taman Kiambang Indah
Bayu Village Dapur Umi Zila – Jalan Paroi Senawang
Bayu Village Restaurant – Taman Kiambang Indah
Bayu Village Rojak Singapore Since 1994 – Taman Kiambang Indah
Bayu Village Satay Paksu – Jalan Paroi Senawang
Bayu Village Streetakoyaki N9 – Taman Kiambang Indah
BB Fong Roasted – Kampung Ganang [Non-Halal]
BB Shellfood x Tomatoes Station – Setapak Village
B.BAP On The Go – NU Sentral
BBB Kafe Dan Stimbot – Bandar Baru Bangi
BBQ – Kedai Makanan dan Minuman BR [Non-Halal]
BBQ 烧腊 – Kota Sentosa [Non-Halal]
BBQ Box – Taman Nusa Bestari [Non-Halal]
BBQ Chicken – Central i-City
BBQ Chicken – Lotus's Cheras
BBQ Chicken – Faber Tower
BBQ Chicken – Marina Times Square
BBQ Chicken – Imago KK Times Square
BB.Q Chicken – EG Mall
BBQ Chicken – AEON Mall Kuching
BBQ Chicken Wing – Sungai Pinang Food Court
BBQ Chicken Wing – Restoran Tar Chong
BBQ Chicken Wing – Taman Impian Emas
BBQ Chicken Wing – FGJB
BBQ Chicken's Wing – Jalan Parameswara
BBQ Fishman – Taman Ungku Tun Aminah
Bbq Garden – Pekan Koidupan [Non-Halal]
BBQ In Love Cafe – Jalan Raja Uda [Non-Halal]
BBQ Indera Mahkota – Indera Mahkota 3
BBQ King Seafood – Jalan Song [Non-Halal]
BBQ Lover Corner – Bandar Sri Damansara [Non-Halal]
BBQ Restaurant – Jalan Sultan Azlan Shah [Non-Halal]
BBQ Restaurant – Dataran Mentari [Non-Halal]
BBQ Rice – Happy Rich Kopitiam Matang [Non-Halal]
BBQ Rice – Hock Xiang Coffee Shop [Non-Halal]
BBQ Rice – Peaches Garden Food Court Centre [Non-Halal]
BBQ Stall No. 4 – Rumah Asap Dayak Samarahan [Non-Halal]
Bbq Yi Kou – The Garden [Non-Halal]
BBSE Cafe – Bandar Baru Simpang Empat
BBT Bak Kut Teh – BBT Kopitiam [Non-Halal]
BBU BBQ – Taman Bukit Beruang Utama
BC Bistro – Sadong Jaya
BCD Bike Cafe – Kampung Banda Dalam
BCI @ Pekan – Burger Cheese Ipoh – Jalan Raja Ekram
BD Delight Western Food – 100 Baifa Kopitiam [Non-Halal]
BDC Famous Kolo Mee – Expert Food Court [Non-Halal]
BDC Lui Cha – Ah Liong Cafe
Be Chillax Bistro & Cafe – Taman Pak Siong
Be Sixth Comfort Food – Melawati Mall
Beach Blanket Babylon – Jalan Sultan Ahmad Shah
Beach House Cafe – Lorong Kinta
Bean & Butter – Pusat Perniagaan Intan Flora
Bean and Cherry – Prima 11
Bean Bean Food Store 豆豆小炒 – DM Food Court [Non-Halal]
Bean Brothers – Sunway Damansara
Bean Brothers – The Linc KL
Bean Jr. – Cheras
Bean Jr. – Bandar Sri Petaling
Bean Jr. – Laman Rimbunan
Bean Jr. – Puchong
Bean Jr. – Taipan
Bean Jr. – Wisma Setapak 33
Bean N Joy Enterprise – Seksyen 16
Bean Sprout Cafe – Jalan Masjid Kapitan Keling [Non-Halal]
Bean Sprout Chicken Rice – Old Winston Coffee Garden [Non-Halal]
Beancurd & Jelly – Tabuan Heights
Beangels Specialty Coffee – Island Plaza
BeanGo Cafe – Rock Road [Non-Halal]
BeanGo Cafe – Tabuan Stutong Commercial Centre [Non-Halal]
Beanies Cafe – Commerce Square
Beanies Express – Bandar Puteri Puchong
Beans & Yogurt – Taman Connaught [Non-Halal]
Beans Dot Pink – Jalan Genting Kelang
Beans Dot – Permas Jaya
Beans n Beans Korean Dessert – Uptown
Beans Work Superhero Cafe – Kampung Cina
Beans.Dot – Bandar Puteri Puchong
Beanz & Co. – Jalan Teluk Sisek
Bear Garden – Wayang Street
Bear Nasi Kukus Banjir – Medan Selera Silibin
Beard Papa – Tropicana Gardens Mall
Beard Papa's – Mid Valley
Beard Papa's – Melawati Mall
Beard Papa's – Pavilion
Beard Papa's – IOI City Mall
Beary Thai – Kawasan Perindustrian Kampung Baru Balakong
Beauty Tea – Greentown Business Centre
Beb Stone Oven – Kampung Sungai Sekamat Dalam
Bedhills Creamery – KNMP
Bedong Seafood Cuisine – Jetty Foodcourt [Non-Halal]
Bedouin Arabian Cuisine
Bedudun Cafe – Royal Plaza Putatan
Bee & CY – Taman Jentayu [Non-Halal]
Bee Bee – Lee Cafe [Non-Halal]
Bee Hive Bee Natural – Southkey
Bee Hwa Cafe
Bee N Bites – Taman Scientex
Bee N Bites – Taman Bukit Dahlia
Bee NJ Restaurant – Lot 66 Food Court [Non-Halal]
Bee Wei Delicious Set Meal – Jalan Ayer Itam [Non-Halal]
Beef Ball Soup – Yummy Cottage
Beef Bowl – SS15
Beef Noodle / Hock Hai Bao – Xin Daren Coffee Shop [Non-Halal]
Beef Noodle – Peaches Garden Food Court Centre
Beelalaq – Parkcity Phase 1
BeeliFood Mix & Match
Beer House – Taman Usahawan Kepong [Non-Halal]
Beer Palace – Padimas Point
Beer To Beer – Taman Impian [Non-Halal]
Beethoven Coffee & Bar – Taman Melodies
Bege – Sri Aman Food Centre
Begedil Ipoh – Ulu Kinta
Begegaq Tex Mex Food – Lomaq Coffee
Beger Akim Gendut – Kampung Bintawa Tengah
Beger Bijork King – Jalan Sura Gate
Bei Ma Handmade Kuih – Taman Impian Emas
Bei Zhan Restaurant – Taman Kota Laksamana [Non-Halal]
Belacan Bee Hoon (ABC Branch) – K One Kopitiam
Bell Su Buffet Steamboat Restaurant – Taman Century [Non-Halal]
Bella & Luca Cafe – Tivoli Villas
Bella Recipes – Taman Kempas Baru
Belle Cafe – Jalan Sungai Tiram 7 [Non-Halal]
Bell's Burger – Kingfisher Riverside
Belly & The Chef – Cheras Business Centre
Belly Belly Station – Solaria Square [Non-Halal]
Belly Good Cafe – Taman Desa Tebrau [Non-Halal]
Belly Puas – Taman Sri Manja
Belly Talk – Eco Palladium
Bellygood Cafe – Bandar Riyal [Non-Halal]
Belly's – Temasya Square Glenmarie
Ben Gong's Tea – Sunway Nexis
Ben Soul – Lake Fields [Non-Halal]
Benak Raya Enteprise – Kampung Melaban
Beng Curry Fish Head – Sih Jing Shan Food Centre [Non-Halal]
Beng Heang Bah Kut Teh – Taman Padang Tembak [Non-Halal]
Benny's Fish & Chips – Mesa Mall
Ben's Corner – Taman Tinggi
Ben's Kitchen – Kuchai Entrepreneurs Park
Bentayan Bread – Pusat Penjara Bentayan
Bentayan Fried Oyster – Pusat Penjaja Bentayan
Bento – Alamanda Putrajaya
Bento Boss – Medan Selara Seksyen 10
Bento By Lehome Taste – Taman Koperasi Jelutong
Bento Fusion – Subang Jaya
Bento Ramen Japanese Restaurant – Jalan Song
Bentong BBQ Chicken Rice – Pandan Malim Food Court [Non-Halal]
Bentoya – Sunway Pyramid [Non-Halal]
Bentoya – Sunway Velocity [Non-Halal]
Benua Cafe – Setia Ecohill Taipan
Berandan Cafe & Restaurant – Bandar Pulai Jaya
Bercham Fai Kee Porridge and Noodle House – Bercham [Non-Halal]
Berdonut – Sunsuria Forum
Beriani Ambok Shah Alam – Seksyen 7
Beriani Bonda House – Bandar Baru Uda
Beriani Hut – Desa Pinggiran Putra
Beriani Hut – Taman Warisan Putrajaya
Beriani Kampung Melayu – Kampung Melayu Majidee
Berisu Kitchen – Ayer Keroh
Beriyani Merindu – Taman Puncak Saujana
Berjaya Keropok Lekor – Taman Kantan Permai
Berlin Doner Kebab – Zenith Corporate Park
Berri Coffee and Restaurant – Solok Mayang Pasir
Berry Fresh – Amanjaya Mall
Best Burger Corner – Jalan Sultan Zainal Abidin
Best Express – BMC Mall
Best Food Bowl Restaurant – Taman Muda [Non-Halal]
Best Indian Family Restaurant – Taman Inderawasih
Best Meet (Pandan Ice Kacang) – Taman Daya
Best Penyet – Puchong Batu 14
Best View Restaurant – Desa Rishah [Non-Halal]
Bestea – Putatan Plaza
Bestie Lok Lok & Bubble Tea – Taman Mount Austin
Bestway – Taman Kajang Perdana
Betel Leaf Restaurant – Lebuh Ampang
Betjeman & Barton – Pavillion
Better Meals – Taman Daya [Non-Halal]
Betty's Midwest Kitchen – Petaling Jaya [Non-Halal]
Bev C'afe – Jalan Tan Hiok Nee
Beverage – First Cafe
Beverage – Rox Cafe
Beverages – Fu Yu Kopi Shop
Beverages – Soon Joo Cafe
Beverly Hills Platters – Ampang Putra Residensi
Beverly Hills Platters – Bukit Bintang
Beware Cafe Mix & Match – [Non-Halal]
Beyond Taste – Medan Kampung Relau [Non-Halal]
BFF Yong Tau Fu – Kota Kemuning [Non-Halal]
BG'S Famous Waffle – Bukit Gedung
Bhai Jim Jum – Pavilion
Bhai Jim Jum – IOI City Mall
Bhai Jim Jum – Aeon Maluri
Biao Ge Bak Kut Teh – Jalan Binjai [Non-Halal]
Bibiey Millarez – Taman Indah Jaya
Bibik House Cendol – Jalan Hang Jebat
Bibik's Kitchen – Jalan Gereja
Bibimbowl – Summerton [Non-Halal]
Bibimmix – Lot 10
Bibimmix – 163 Retail Park
Bibimmix – Cheras Leisure Mall
Bibi's Popiah – Aneka Selera Restaurant Kam Wan
Bica & Co Courtyard Cafe – Jalan Parameswara
Biddy's – Stutong Avenue [Non-Halal]
Bie Raz Kitchen – Medan Selera Wakaf
Biebot's Kitchen – Jalan Matang
Biergarten – Bukit Bintang [Non-Halal]
Big 3 Kopitiam – Jalan Dato Onn Jaafar [Non-Halal]
Big Abdul Enterprise – Seven On Seven Cafe
Big Alphabets
Big Apple – CS Food Court
Big Apple Donuts & Coffee – MyTown
Big Apple Donuts & Coffee – Selayang Mall
Big Apple Donuts & Coffee – AEON Rawang
Big Apple Donuts & Coffee – Avenue K
Big Apple Donuts & Coffee – Mydin Meru Raya
Big Apple Donuts & Coffee – AEON Ipoh Station 18
Big Apple Donuts & Coffee – Lotus's Taiping
Big Apple Donuts & Coffee – AEON Seri Manjung
Big Apple Donuts & Coffee – The Mines
Big Apple Donuts & Coffee – Plaza Metro Kajang
Big Apple Donuts & Coffee – Lotus's Puchong
Big Apple Donuts & Coffee – Wangsa Walk
Big Apple Donuts & Coffee – AEON Alpha Angle
Big Apple Donuts & Coffee – Lotus's Melaka
Big Apple Donuts & Coffee – Penang Sentral
Big Apple Donuts & Coffee – Wetex Parade
Big Apple Donuts & Coffee – AEON AU2
Big Apple Donuts & Coffee – Bangi Utama
Big Apple Donuts & Coffee – IOI City Mall
Big Apple Donuts & Coffee – Lotus's Cheras
Big Apple Donuts & Coffee – Jakel Mall
Big Apple Donuts & Coffee – Lotus's Ipoh
Big Apple Donuts & Coffee – Setapak Central
Big Apple Donuts & Coffee – NU Sentral
Big Apple Donuts & Coffee – Sungei Wang Plaza
Big Apple Donuts & Coffee – Complex Sungai Buloh
Big Apple Donuts & Coffee – Mentakab Star Mall
Big Apple Donuts & Coffee – Giant Kuantan
Big Apple Donuts & Coffee – East Coast Mall
Big Apple Donuts & Coffee – Kuantan City Mall
Big Apple Donuts & Coffee – Putra Square (CK)
Big Apple Donuts & Coffee – AEON BiG BP
Big Apple Donuts & Coffee – Aman Central
Big Apple Donuts & Coffee – 1Borneo
Big Apple Donuts & Coffee – Suria Sabah
Big Apple Donuts & Coffee – Imago Shopping Mall
Big Apple Donuts & Coffee – BP Mall
Big Apple Donuts & Coffee – Lotus's Mergong
Big Apple Donuts & Coffee – AEON Nilai
Big Apple Donuts & Coffee – AEON Bukit Indah
Big Apple Donuts & Coffee – Mydin Senawang
Big Apple Donuts & Coffee – AEON Bandar Dato' Onn
Big Apple Donuts & Coffee – AEON Seremban 2
Big Apple Donuts & Coffee – Lotus's Putra Nilai
Big Apple Donuts & Coffee – Mydin Mall Gong Badak
Big Apple Donuts & Coffee – Giant Kuala Terengganu
Big Apple Donuts & Coffee – Kluang Mall
Big Apple Donuts & Coffee – KB Mall
Big Apple Donuts & Coffee – Lotus's Kota Bahru
Big Apple Donuts & Coffee – KTCC Mall
Big Baba Restaurant – Desa Business Park
Big Bad Burg – Jalan Pisang Embun
Big Belly Food Delivery – The Regency Scholar's Hotel
Big Big Bowl Hakka Kitchen – Desa Aman Puri [Non-Halal]
Big Big Roast Bun – 66 Food Court
Big Big Wanton Mee – 66 Food Court [Non-Halal]
Big Bills Restaurant – Taman Shukor
Big Bird Asam Laksa – Restoran U Say Yes
Big Bite Burgers And Sandwich – Taman Sri Bintang
Big Bites Cafe – Kg Langgar
Big Bites Cafe – Kampung Hutan Chengal
Big Bone Bak Kut Teh – Subang Jaya [Non-Halal]
Big Boss – Publika
Big Boss Curry House – Skudai Parade
Big Boss Kopitiam – Medan Bercham Bistari [Non-Halal]
Big Boss Penang Iron Plate – Tmn Tunku [Non-Halal]
Big Boss Ramen – 28 Seafood Kopitiam [Non-Halal]
Big Boss Ramen – Ma Zi Restaurant [Non-Halal]
Big Boyz BBQ – TTDI
Big Bro Char Kuey Teow – Uptown Puchong Night Bazaar
Big Bro Western & Pasta @ Prinze Corner – Seksyen 7
Big Brooklyn Pizza – SS15
Big Bull House – Bandar Baru Seri Petaling [Non-Halal]
Big Chef Taman Tunku – Tmn Tunku [Non-Halal]
Big Cup Tembikai Jus Fresh – Taman Dagang
Big-D Burger Sandwiches – Kg Seri Pandan
Big Daddy's – Jalan Padi Emas
Big Daddy's Restaurant – USJ10 [Non-Halal]
Big Daddy's Satti Sorru Curry Claypot Rice – Kedai Kopi Xin Long 88
Big Eyes 88 Restaurant – Taman Tan Sri Yaacob [Non-Halal]
Big Fan Cafe – Jalan Setia Raja [Non-Halal]
Big Fan Cafe Mix & Match
Big Fan Cafe Mix & Match – [Non-Halal]
Big Fat Seng Chicken Rice – Double Lucky Kopitiam [Non-Halal]
Big Food Kitchen – Kampung Duyong
Big Four Kitchen – Jalan Bendera Mahkota [Non-Halal]
Big Galley's Cafe – Kompleks Perniagaan LITC
Big Garden Cafe – Setia Alam
Big Head – 116 Kopitiam [Non-Halal]
Big Head Prawn White Curry Mee – Jalan Bidara [Non-Halal]
Big Italy – Brickfields
Big Juiceee – Jaya One
Big Juiceee – Menara LGB
Big Juiceee – Gleneagles
Big Juiceee – Riverwalk Village
Big Juiceee – Pantai Hospital
Big Juiceee – Atria Shopping Gallery
Big Mama's Southern Table – Jalan Perdana
Big Market Wan Tan Mee – Kampung Simee [Non-Halal]
Big Mom Beancurd 靓妈豆花 – Jalan Yang Kalsom
Big Mouth Fusion Cuisine Hub – Blossom Hawker Centre PLT [Non-Halal]
Big Mouth Station – Laparbetul.co Foodcourt
Big Mouth Station – Uptown Setia Alam
Big Mug – Cyber Square
Big Old Brother Fast Food (Lintas) – Lintas Square [Non-Halal]
Big Onion – Jalan Sultan Azlan Shah
Big Paw Fusion Cuisine (Restoran Meng Kee 88) – Bandar Sunway
Big Show Noodle Stall – Premier Food Republic [Non-Halal]
Big Singh Chapati – Plaza Mont' Kiara
Big Singh Chapati – SS15
Big Singh Chapati – TTDI
Big Stick – Amanjaya Mall
Big Stick – Gurney Plaza
B.I.G. The Grocers Kitchen – The Linc
B.I.G. The Grocers Kitchen – IPC Shopping Centre
B.I.G. The Grocers Kitchen – Medini Mall
Big Three Coffee – Puchong
Big Three Food Square – Menara Binjai
Big Toast – Taman Pakatan
Big Toast – Xin Daren Coffee Shop [Non-Halal]
Big Tree Cafe – TTDI
Big Tree Foot 兵如港大树脚 – Pasir Pinji [Non-Halal]
Big Western – Restoran Hong Sheng Best [Non-Halal]
Big Western – Taman Nusa Bestari [Non-Halal]
Bihun Ekonomi – Jit Jit Siang Restaurant
Bihun Sup Abah Kaw – Taman Kinta
Bihun Sup Berasap – Jalan Sultanah Sambungan Shahab Perdana
Bihun Sup Cik Na – Kampung Kandang Hilir Kota Lama Kanan
Bihun Sup Kak Rozy – Taman Mewah
Bihun Sup Kedah – Taman Cempaka
Bihun Sup Kedah – Batu Caves Centrepoint
Bihun Sup Kimie – Jalan Keramat Pulai
Bihun Sup Utara Haji Azli – Bandar Seri Botani
Bihun Sup Utara Special – Medan Selera Taman Sri Cempaka
Bijan – Bukit Ceylon
Bikin Panas – Ab Corner
Bilall Bistro – Taman Equine
Bilique – Bangsar Baru
Billfish Kitchen – Muara Tuang Land District [Non-Halal]
Billionaires Concept Cuisine – Taman I-Lagenda
Billy Hainan Chicken Rice – Lorong Merpati Indah 2 [Non-Halal]
Bin Coffee & Tea Vietnamese – Parkcity Commercial Square Phase 5
Bing Coffee – Green Heights Commercial Centre
Bing Coffee – Premier 101
Bing Coffee – Jalan Padungan
Bingo Cafe – Great Eastern Mall
Bingo Milk Tea – Taman Ungku Tun Aminah
Bingsoo 21 – Harbour Mall
Bingsoo Olaf – N9 Food Court
Bingsu 9 – Persiaran Karpal Singh
Bintang Sidewalk Cafe – Pusat Komersial Seksyen 7
Bintangor Rojak- Jalan Pedada
Bintawa Kueh Chap – Tabuan Jaya [Non-Halal]
Biogreen – Pusat Perniagaan Suria Puchong
Biryani Ayam Madu – Desa Manjung Raya
Biryani Bae – Jalan Anggerik Vanilla
Biryani Bae – Jalan Tengku Kelana
Biryani Bae – Glomac
Biryani Bae – Sunway Geo Avenue
Biryani Bae – Hotel Flamingo Tasik Ampang
Biryani Bae – Bandar Puchong Jaya
Biryani Bae – Bangsar Park
Biryani Bae – Menara Ikhlas
Biryani Bae – Medan Selara Seksyen 10
Biryani Bae – Bandar Baru Sungai Buloh
Biryani Bae – Publika
Biryani Bro! – Berjaya Times Square
Biryani Bro! – Platinum Lake Condominium
Biryani Bro! – Empire Damansara
Biryani Bro! – Leisure Mall
Biryani Bro! – Jalan Radin Tengah
Biryani King – The Link 2
Briyani Paradise – Bandar Bukit Tinggi 2
Biryani Station – Seasons Garden
Biryani Warisan – Taman Ampang Hilir
Bisik Bisik – Astaka Seri Pengasih Food Station
Bisik-bisik Restaurant
Biskita Cafe – KKIP
Bismi Restaurant – Pusat Bandar Utara
Bismi Stall – Taman Selayang Jaya
Bismillah Beriani Adam Stall – Taman Nusa Perintis
Bismillah Berkat D.K.M Cafe – Jalan Mayang Pasir
Bismillahirrahmanirrahim – Market Bandar Riyal Samarahan
Bistari Cafe – Gerai Makan Taman Seri Pelangi
Bistaria Western Corner – Taman Ukay Bistari
Bistro Bonda – Putrajaya
Bistro Halia Nasi Kandar – Persiaran Halia 3
Bistro Tang – Lebuh Penang
Bite And Taste – Sunway College
Bite Me Dessert – Gurney Paragon
Bite Me Dessert – Gurney Plaza
Bite Me – Funky Farm Food Court
Bite N Eat Dindigul Biriyani – Lebuh Penang
Bite Right
Bites N' Talk – Bandar Bukit Raja
Bitter Gourd Clear Soup – Restoran One Plus Eight Kopitiam [Non-Halal]
Bitter Gourd Pork Soup – Back Street Kopitiam [Non-Halal]
Bitter Gourd Pork Soup – MS 26 Kopitiam [Non-Halal]
Bitter Gourd Soup – Restoran Wan Xi Heng [Non-Halal]
Bitter Gourd Soup/ Sup Peria – YMY Food Court
Bitter Ground Soup – Taman Ungku Tun Aminah [Non-Halal]
BJ Station – Bagan Jermal
BJP Thai Food – Taman Perwira Indah [Non-Halal]
BK Biryani House – @mart Kempas
BK2 Pork Noodle – Restoran Damai Utama [Non-Halal]
BKE Corner – Kubang Semang
B'KLYN Deli
BL Foodies Cafe – Bandar Menjalara
Blacc Pearl Kafe – Jalan Klang Lama
Black & White Burger Lorong – Jalan Lumut Sitiawan
Black Ball – Kuchai Avenue
Black Cabin Cafe – Universiti Sains Malaysia
Black Cafe – Kampong Pulau Belanga Sering
Black Canyon – AEON Kinta City
Black Canyon – Dataran Pahlawan
Black Canyon – AEON Taiping
Black Canyon – AEON Ipoh Klebang
Black Canyon – AEON Seri Manjung
Black Canyon – AEON Maluri
Black Canyon – Summit USJ
Black Canyon – AEON Bukit Tinggi
Black Canyon – Central i-City
Black Canyon – Melawati Mall
Black Canyon – IOI City Mall
Black Canyon – AEON AU2
Black Canyon – East Coast Mall
Black Canyon – Kuantan City Mall
Black Canyon – Aman Central
Black Canyon – AEON Bukit Indah
Black Canyon – Palm Mall
Black Canyon – AEON Tebrau City
Black Canyon – Toppen Shopping Centre
Black Canyon – AEON Kota Bahru
Black Canyon – AEON Kuching
Black Canyon – AEON Nilai
Black Cat – Taman Industri [Non-Halal]
Black Daimon Teppanyaki – TTDI
Black Daimon Teppanyaki – Kelana Jaya
Black Door – Arena Curve
Black Dragon – Desa Sri Hartamas
Black Eye Bear – Menara K1
Black Horse – Jalan Lancang
Black Horse – Jalan PSK 1
Black Ice – Leisure Mall
Black Jam Cafe – Saradise [Non-Halal]
Black Kettle – Beach St [Non-Halal]
Black Leo Burger – Taman Kota Laksamana
Black Market – St Mary Place [Non-Halal]
Black Market – Kg Pandan [Non-Halal]
Black Moon Kitchen & Bar – Jalan Tun Sambathan
Black Pearl Bistro – Taman Mahkota Putra
Black Pepper By Six Nine Kitchen & Caterers – Seri Kembangan
Black Plate Western Food – Medan Selera Rumbia
Black Sheep Sarawak – Galacity
Black Tea Stinky Tofu – Taman Segar [Non-Halal]
Blackball – Pelangi Point
Blackball – Bandar Puchong Jaya
Blackball – Jalan Rimbunan Raya
Blackball – Klang Parade
Blackball – Atria Shopping Gallery
Blackball – Medan Sejahtera
Blackball – Mkh Boulevard
Blackball – East Coast Mall
Blackball – Sutera Mall
Blackball – Permas Jaya
Blackball – Taman Bukit Indah
Blackball – Taman Gaya
Blackball – KSL City
Blackball – Taman Mount Austin
Blackball Mini – Taman Serdang Perdana
Blackball Mini – Sunway Velocity
Blackball Mini – Taman Sri Tebrau
Blackball Mini – Paradigm Mall JB
Blackbox.my – Seksyen 7
Blackbyrd KL – Naza Tower @ Platinum Park
Blacksheep – Love Lane
Blackstone Bakery Cafe – Bandar Botanic [Non-Halal]
Blackwood Cafe
Blazin' Bamboo Chinese – Cottage Walk
Blendsmiths – Saradise
Blessed Burrito Bowls – Danau Kota
Blessed Burrito Bowls – Tropicana Gardens Mall
Bliss 21 Cafe [Non-Halal]
Bliss 33 – Subang Jaya
Bliss Dim Sum – Metro Prima Kepong [Non-Halal]
Bliss Moment Cafe Hotpot – Kuchai Lama [Non-Halal]
Block C Corner – Kampung Semat Jal
Blondie – SS15
Bloom – Taman Mount Austin
Blossoming Juice – Dataran Trader Square
Bluberry Cafe – Taman Cabaran
Blue & White Cafe – Plaza Damas
Blue Bellvine Nyonya Cuisine – Lebuh Noordin [Non-Halal]
Blue Cabin Sungai Kantan – Jalan Sungai Kantan
Blue Dragon Cafe – Pandan Indah
Blue Ginger Chinese Muslim Restaurant – Taman Puncak Jalil
Bleu Grill Family Restaurant – Persiaran Bayan Indah [Non-Halal]
Blue Mountain Cafe – Taman Ipoh Grove [Non-Halal]
Blue Reef FISH & CHIPS – Straits Quay
Blue Street V Cafeteria – Taman Nusa Betari [Non-Halal]
Blue Tears Cafe – Taman Lembah Permai [Non-Halal]
Bluebird Cafe Bistro Restaurant – Hotel Olympic Malaysia
Bluemoon Pizza Shop – Foodcourt Shop No3
BM Hui Hui Yam Rice – Taipan Business Centre [Non-Halal]
BM Yam Rice – Publika [Non-Halal]
BMS Corner – Jalan Indah
BMS Organic – Jalan Stutong
BMS Organics (Cafe) – Taman Kota Syahbandar
BMS Organics (Cafe) – MyTown
BnB Western Food – Restoran Hainam Coffee & Teh [Non-Halal]
Bo Kee Yong Tau Fu – Taman Mutiara Rini
Bo Kei Pan Mee – Kepong [Non-Halal]
Bo Plan Drink Stall – Jalan Raja Uda
Bo The Avocado – Wisma Central
Bo The Avocado – Taman Tun Dr Ismail
Boat Noodle – Kompleks Permaisuri Q
Boat Noodle – 1Utama
Boat Noodle – Central i-City
Boat Noodle – Nadi @ 15
Boat Noodle – Ipoh Parade
Boat Noodle – Berjaya Times Square
Boat Noodle – The Gardens
Boat Noodle – Citta Mall
Boat Noodle – Sunway Pyramid
Boat Noodle – Mahkota Parade
Boat Noodle – AEON Melaka
Boat Noodle – Sunway Carnival
Boat Noodle – Queensbay Mall
Boat Noodle – Gamuda Walk
Boat Noodle – Sunway Velocity Mall
Boat Noodle – Sogo KL
Boat Noodle – Melawati Mall
Boat Noodle – Gombak
Boat Noodle – Sungai Buloh
Boat Noodle – DPulze
Boat Noodle – IOI City Mall
Boat Noodle – IOI Puchong
Boat Noodle – AEON Shah Alam
Boat Noodle – Setapak Sentral
Boat Noodle – Sunway Putra
Boat Noodle – AEON AU2
Boat Noodle – AEON Bukit Tinggi
Boat Noodle – Setia City Mall
Boat Noodle – Aman Central
Boat Noodle – Mid Valley Southkey
Boat Noodle – Paya Bunga Square
Boat Noodle – AEON Kota Bharu
BOB & FAMILY – Seksyen 6
Bob Burger – Taman Cempaka
Bob Burger Batu 13 – Jalan Cheras
Bob Cafe Selera Utara – Pekan Meru
Bob Kopitiam – Kampung Baru Ampang [Non-Halal]
Boba Tea House – Pusat Perniagaan R.E.E.F 2
Boba Tea House – Pusat Komersial Equine
Boba Tea House – Kajang Prima
Boba Tea House – Semenyih Vista Valley
Boba Tea House – Bandar Puchong Jaya
Boba Tea House – Bandar Prima Senawang
Boba Wang – Jalan Radin Bagus 3
Bobby's
Bobo Boba Milk Tea – Kopi Sentral Cafe
Bobo Curry House – Seri Kembangan [Non-Halal]
Bobo Restaurant – Kobusak Commercial Centre
Bobo Snack Waffle Beverage – Imperial Residences
Bobohouse Cafe – Bandar Damai Perdana
Boboi Fried Chicken – Dewan Damai
Bobola – Jalan Selinsing
Bob's Grill Station – BeeliFood
B.O.D – Puchong Jaya [Non-Halal]
B.O.D – One Utama [Non-Halal]
B.O.D – Mid Valley Megamall [Non-Halal]
B.O.D – KSL (KIOSK) [Non-Halal]
B.O.D – Taman Sentosa [Non-Halal]
B.O.D – Mount Austin [Non-Halal]
B.O.D – Sutera Mall [Non-Halal]
B.O.D – KSL (Shop) [Non-Halal]
B.O.D – Taman Molek [Non-Halal]
B.O.D – Nusa Bestari [Non-Halal]
B.O.E.K Catering – Petra Jaya
Boiled Dumpings 口口香水饺- Taman Sri Tebrau [Non-Halal]
Bok Bok Korean Fried Chicken – Uptown Damansara
Bokei – Jalan Desa Bakti [Non-Halal]
Boksu Bento
Bolburger – Cheras
Bom Cha – Taman Sutera Utama
Bombay Masala Sdn Bhd – RH Plaza
Bombay Palace – Life Centre
Bombay Sedap – 3 1/2 Mile
Bombay Sedap Sdn Bhd – Metro City 3
Bombay Selera – Jalan Wan Alwi
Bombay Spices Batu 4 – Jln Tun Hussein Onn
Bombay Spices (Samarindah) Sdn Bhd – Kota Samarahan
Bombay Spices Satok – Lorong Nanas
Bomber Chicken – Jalan Gaya
Bomnal Korean Brunch & Dining – Taman Bukit Indah [Non-Halal]
Bon Appetit By Ng Kitchen – Mount Austin
Bon Appetit Restaurant & Cafe
Bon Bon – Taman Mount Austin [Non-Halal]
Bon Burger – Taman Bandar Jaya [Non-Halal]
Bon Cafe – Glenmarie
Bonda Coconut Shake – Kg Baru Sungai Ara
Bonda Kitchen – Taman Pekaka
Bonda Nasi Lemak Kukus – Kampung Bendahara
Bonda Rozita Kitchen – Taman Maju Jaya
Bonda Signature's – Jalan Bukit Sekilau
Boneless Fried Chicken Rice – Peaches Garden Food Court Centre
Bongchu Braised Chicken – 1Utama
Bonggol's Cafe – Kampung Malaysia Tambahan
Bonjour Garden – Gurney Paragon
Bonjour Garden – Intermark
Bonjour Garden – Glo Damansara
Bonjuk & Lunchbox Cafe – Danau Kota [Non-Halal]
Bonzo Catering & Canopy – Jalan Bukit Katil
Boo Cafe Char Kuey Teow – Boo Cafe
Boo Cafe Fried Rice – Boo Cafe
Boochplease Kombucha – Taman Desa Mewah
Boochplease Kombucha – Taman Sri Subang
Bookafe – Batu 11 [Non-Halal]
Bookmark Coffee – Taman Len Seng
Boon Khai Delights – Jalan Wan Alwi
Boon Long Food Stall – Tin City Corner [Non-Halal]
Boon Signature Roast Pork – Setia Alam [Non Halal]
Boost Blend – SS15
Boost Juice Bars – Alamanda Shopping Centre
Boost Juice Bars – Hartamas Shopping Center
Boost Juice Bars – Tamarind Square
Boost Juice Bars – Sunway Giza
Boost Juice Bars – Sogo KL
Boost Juice Bars – Sunway Velocity
Boost Juice Bars – Subang Parade
Boost Juice Bars – KL East Mall
Boost Juice Bars – KL Gateway
Boost Juice Bars – Subang Courtyard
Boost Juice Bars – Atria Shopping Gallery
Boost Juice Bars – Mahkota Parade Shopping Centre
Boost Juice Bars – Penang Sentral
Boost Juice Bars – Kulim Central
Boost Juice Bars – Design Village
Boost Juice Bars – Gurney Plaza
Boost Juice Bars – Queensbay Mall
Boost Juice Bars – Shell Kuchai Lama
Boost Juice Bars – Berjaya Time Square
Boost Juice Bars – Avenue K
Boost Juice Bars – KLCC
Boost Juice Bars – Mid Valley
Boost Juice Bars – Nu Sentral
Boost Juice Bars – Publika
Boost Juice Bars – 1Utama
Boost Juice Bars – Kiara 163
Boost Juice Bars – Sunway Pyramid
Boost Juice Bars – B& KLCC
Boost Juice Bars – Menara TM
Boost Juice Bars – The Hub KL Eco City
Boost Juice Bars – AEON Maluri
Boost Juice Bars – IOI City Mall
Boost Juice Bars – Intermark
Boost Juice Bars – Pavilion
Boost Juice Bars – DPulze
Boost Juice Bars – Jaya Shopping Centre
Boost Juice Bars – Central i-City
Boost Juice Bars – Bangsar Village
Boost Juice Bars – Setia City Mall
Boost Juice Bars – Menara Citibank
Boost Juice Bars – Cheras Leisure Mall
Boost Juice Bars – 3 Damansara
Boost Juice Bars – Paradigm Mall
Boost Juice Bars – IOI Puchong
Boost Juice Bars – Plaza Low Yat
Boost Juice Bars – 1 Mont Kiara
Boost Juice Bars – Laxton
Boost Juice Bars – IPC Shopping Centre
Boost Juice Bars – The Mines
Boost Juice Bars – Skypark Terminal
Boost Juice Bars – Shell Damansara Jaya
Boost Juice Bars – Nexus Bangsar South
Boost Juice Bars – The Weld
Boost Juice Bars – Plaza Shah Alam
Boost Juice Bars – Sungei Wang Plaza
Boost Juice Bars – Great Eastern Mall
Boost Juice Bars – Waterfront @ Desa Park City
Boost Juice Bars – Wangsa Walk Mall
Boost Juice Bars – The Gardens
Boost Juice Bars – Tropicana Gardens Mall
Boost Juice Bars – Bintang Megamall
Boost Juice Bars – East Coast Mall
Boost Juice Bars – Paradigm Mall JB
Boost Juice Bars – MesaMall
Boost Juice Bars – AEON Tebrau City
Boost Juice Bars – JPO
Boost Juice Bars – Komtar JBCC
Boost Juice Bars – Toppen Shopping Centre
Boost Juice Bars – KSL City
Boost Juice Bars – JB City Square
Boost Juice Bars – R&F Mall
Boost Juice Bars – Kluang Mall
Bootcamp Cafe – Jalan Tengah Likas
Bora Bora Botanist – Senibong Cove
Border's Tea – Jalan Perda Utama 3
Border's Tea – AEON Bukit Raja
Borenos Fried Chicken – Asia City
Borhan's Kebab – Sejati Walk
Borneo 1st Chicken Rice – ITCC Penampang
Borneo Asian Food by SugarBun – Chow Kit
Borneo Asian Food by Sugarbun – Seri Alam
Borneo Black Bean Coffee – Mid Valley Southkey
Borneo Bun – Inanam
Borneo Chicken Rice – Cyber Square Commercial Centre
Borneo Copacabana Café & Catering – Penampang
Borneo Fruit Shaved Ice – Marina Times Square
Borneo Fruit Shaved Ice – Metro City
Borneo Recipe – Donggongon Square [Non-Halal]
Borneo Recipes – Old Street Food Centre
Borneo Tako – Desa Setapak
Borneo Tomyam Steam Barbeque Seafood – Jalan Tun Jugah [Non-Halal]
Borneo Village – Grandma's
Borneo Wild Treasure Restaurant – Bundusan Square [Non-Halal]
Bosko Restaurant & Bar – Centrepoint Bandar Utama
Bosphorus Cafe & Patisserie – Jalan Tiram 5
Boss Beriani – Bandar Utama
Boss Beriani – Bandar Sri Damansara
Boss Beriani – TTDI
Boss Char Koey Teow Penang – Bandar Labuk Jaya
Boss Masala Curry House – Simpang Ampat
Bossku Coconut Shake – Wakaf Che Yeh
Bossmen Cafe – Taman Jaya
Boston Coffee – Lebuh Victoria [Non-Halal]
Botak Chee Cheong Fun – Desa Petaling [Non-Halal]
Botak Mangga – Taman Teknology
Botak Nasi Lemak – Taman Universiti
Bottega Mediterranea [Non-Halal]
Bottle & Glass – Jalan Ibrahim Sultan [Non-Halal]
Bow Bubble – Sunsuria Forum
Bowl & Bowl Pan Mee Restaurant-Jalan Bukit [Non-Halal]
Bowl Bowl – Bandar Sri Damansara
Bowleh – Glomac Square
Bowls Station – Wangsa Walk
Bowtak Burger – Angsana Hilir
Box Kitchen "Viral Food" – Plaza Usahawan
Boy Boy Mee Hun Kueh – S11 Kopitiam
Boy Boy Restaurant – Bandar Perdana
Boy Burger – Bandar Putra
Boy Burger Celop – Taman Setapak Indah
Boy Impiana – Kidurong
Boy Impiana – Rileks Corner
Boy Sikar BBQ – Rumah Asap Dayak Samarahan [Non-Halal]
Boyboy Breakfast – Goodtaste Cafe Sekama
Boye Vegetarian Cafe
Bozzy Food – Kedai Kopi Woh Heng [Non-Halal]
BP Baryani – Kampong Bharu
Brader Bob's Char Koay Teow – Jalan Semambu Baru 1
Braised Duck Rice – Jalan Paya Terubong [Non-Halal]
Braised Pork Rice – Kedai Makanan dan Minuman BR [Non-Halal]
Braised Pork Rice Noodles – Back Street Kopitiam [Non-Halal]
Brass Cafe – Crystal Crown Hotel PJ
Brasserie Leon – TTDI
Braulio – Kawasan Perniagaan Sg Rambai
Brava 91 Cafe – Taman Seri Impian
BRAVO Italiana – Medan Sunshine [Non-Halal]
Bread And Butter – Kompleks Karamunsing
Bread & Loaf – Riverson
Bread & Olive – Bukit Piatu
Bread Buddy – Taman Puncak Jalil
Bread Lover Bakery – Kompleks Desiran Tanjung
Bread Maison – Sunway Velocity
Bread Passion – Lebuh Nipah
Bread Room Cafe & Bakery – Jalan Sagu
BreadFruits – Hartamas [Non-Halal]
BreadKing – Summerton
BreadKING & Leycha – Promenade
BreadTalk – Central i-City
BreadTalk – Avenue K
BreadTalk – Suasana Bukit Ceylon
BreadTalk – Plaza Low Yat
Break & Bread – Taman Kota Puteri
Breakfast – Jalan Masjid Negeri [Non-Halal]
Breakfast – Jalan Lapangan Suria [Non-Halal]
Breakfast Bowl – Tian Xia Coffee Shop [Non-Halal]
Breakfast Buddy – Taman Tun Dr Ismail
Breakfast – Chai Shu Cafe
Breakfast from the Barn – Lorong Bangkok [Non-Halal]
Breakfast Thieves – Bangsar
Breakfastology – Bandar Sunway
Breakfirst Cafe – Centre Point Medan Connaught [Non-Halal]
Breda Cafe – Jalan Medan Ipoh [Non-Halal]
Bremen Catering – Kampung Sungai Nada [Non-Halal]
Brew – Chulia Street
Brew 9 – Kota Kemuning
Brew & Bread – Wisma MCA
Brew Hut Cafe – Persiaran APEC
Brew N Bloom Cafe – Bukit Jalil
Brewing Thai – Taylor's Lakeside
Breworks – IOI Boulevard [Non-Halal]
Brewtiful – Plaza Arkadia [Non-Halal]
BR.GR Klub – Tamarind Square
Briani JDT – Kampung Pematang Duyung
Brickfields Pisang Goreng
Bricklin Cafe Bar – Jalan Gurdwara
Brilliant Fried 炒煌 – Jia Fook Food Cafe [Non-Halal]
Brilliant Nasi Lemak House – Bandar Bukit Tinggi [Non-Halal]
Brilliant Nasi Lemak House – Puchong [Non-Halal]
Brilliant Nasi Lemak House – Taman Usahawan Kepong [Non-Halal]
Briyani Asif – Bukit Bintang
Briyani bae – Bandar Tasik Kesuma
Briyani bae – Seksyen 7
Briyani bae – Seksyen 19
Briyani bae – Bandar Sri Permaisuri
Briyani bae – Balakong Jaya
Briyani bae – Bandar Saujana Putra
Briyani bae – Dataran Ara Damansara
Briyani bae – Bandar Seri Putra
Briyani Bae – Damansara Damai
Briyani bae – Dataran Cheras
Briyani bae – Taman Setia Balakong
Briyani Bossku – Bangsar Park
Briyani Bro – Seksyen 14
Briyani Bro – Damansara Utama
Briyani Bro – Kawasan Desa Ria
Briyani Bro – Taman Reko Sentral
Briyani Bro – SS15
Briyani Bro – Bintang Side walk
Briyani Bro – Seksyen 7
Briyani Bro – Vista Alam
Briyani Bro – Seksyen 15
Briyani Bro – Jalan Jelok 6
Briyani Bro – Seksyen 20
Briyani Bro – Wisma Tanjung Balai
Briyani Bro – Seksyen 3
Briyani Bro – Seksyen 15
Briyani Bro – Jalan Metro Avenue
Briyani Bro – Seksyen 8
Briyani Brothers – Ara Permata
Briyani Bungkus – Danga Bay
Briyani House – Taman Saujana Megah
Briyani House Tronoh – Desa Tronoh Indah
Briyani Pakistan Kak Jan – Section U9 Shah Alam
Briyani Special
Briyani World – Metro City
Bro & Sis Kitchen – Persiaran Putra
Bro Beger – Taman Seri Jati
Bro Joe Ikan Bakar dan Kerang Bakar – Jalan Tokong Ular
Broasted by Sugarbun – Eco Spring Lab
Broasted Chicken House – Jalan Ampang
Broasted Chicken King – Taman Setiawangsa
Brobites – Sukma Ria
Brooklyn Calzones – Endah Promenade
Brooklyn Calzones – Taman Serdang Perdana
Brooklyn Calzones – Seksyen 3
Brother Amy – Taman Mount Austin
Brother Chung Noodles Stall – Old Street Food Centre [Non-Halal]
Brother Claypot – Taman Sri Pinang [Non-Halal]
Brother Kiey's Burger – Taman Bunga Negara
Brother Noodle & Rice Stall – Tah San Yuan Cafe [Non-Halal]
Brother's Cook – Jln Song [Non-Halal]
Brother's Cook – Love Chopstick Garden [Non-Halal]
Brothers Dumpling – Taman Waja [Non-Halal]
Brown Cafe – Lintas Plaza
Brown Pocket – Persiaran Gurney DR Georgetown Penang
Browny's Burger – Peach Garden Food Centre [Non-Halal]
Broz Cafe – Jalan Pasar Bahru
Brunchio & Brekkie – Medan Mayang Pasir
Bruno's – Fauziah Family Cafe Matang
Brussels Beer Cafe – 3 Damansara [Non-Halal]
Brussels Beer Cafe – Menara Hap Seng [Non-Halal]
BS3 – Taman Samudera
BS3 – Sebelah Kuil Arulmigu Sitiawan
BSA 28 Cafe – Penang Times Square [Non-Halal]
BSS Sate 70sen – Tun Hussein Onn
BSS Sate Tulang – Sri Petaling
BSS Sate Tulang 70sen – Cheras Dahlia
BSS Sate Tulang Viral – Pandan Jaya
BSS Sate Tulang Viral – Taman Midah
B.Station – Bandar Seri Alam
BT Dim Sum House [Non-Halal]
BTC Bistro – Bandar Sabindo
BTC Bistro – Putatan
BTC Bistro – Heritage Plaza
BTC Bistro – Inanam
Bu Zhi Dao – Bundusan Commercial Centre [Non-Halal]
Buah-Buahan Potong Azwan – Taman Malcop
Bubble Bear Cafe – UMS
Bubble Bee Cafe – Jalan Petaling
Bubble Pop Drinks & Desserts – ONB
Bubble Tea House – Prima Square
Bubble Village – Taman Seri Gemilang [Non-Halal]
Bubble Z – Setiawangsa
BuBu Cafe – Jalan Imbi
Bubur – 63 Foodcourt [Non-Halal]
Bubur Ayam Ayong – Pusat Perniagaan Pulai
Bubur Ayam Ayong Meru – Jalan Meru Bestari
Bubur Ayam Mama
Bubur Istimewa Melaka – Jalan Cempaka
Bubur Lambuk Haji Ismail – Taman Melati
Bubur Manis Tradisi – Taman Pulai Jaya
Bubur Nasi Berlauk@Arzu Kitchen – Amara Services Residence
Bubur Nasi Melawati – Taman Melawati 1
Bubur Nasi Melawati X Sri Rampai – Jalan Rampai Niaga 4
Bubur Permysuri – Bandar Sri Permaisuri
Bubur Ujong Pasir – Ujong Pasir
Buck – Jalan Niaga
Bucket B – IPC
Bucky's Chicken Wings – Jalan Mohamadiah
Budak Gemok Utara – Permatang Pauh
Budak Gumuk Kitchen
Budget Corner – Lorong Tun Ismail 6
Budin Corner – Taman Bukit Jaya
Buena Vida – MKH Boulevard
Buga Korean Restaurant – KK Waterfront
Buharry Briyani Bistro
Bujang Kitchen – Taman Puchong Intan
Bujang Lapok Cafe – Jalan Nenas
Bukit Cafe & Restoran – Jalan Ayer Keroh
Bukit Tinggi Yong Tau Foo – Taman Bukit Serdang [Non-Halal]
Buko Pandan Kelapa 6 Sitti – Sulaman Sentral
Bulgogi Go Go @ SJ Cafe – SS15
Bull Bar Grill – Beverly Hills Plaza
Bulldog – Jalan Bendahara
Bumbledee's @ 1938 – USM
Bumbu Dapur by Tiara – Plaza Alam Sentral
Bumbu J Restaurant – Seremban 2
Bun Barons – OUG Parklane
Buna Takoyaki – Taman Boon Bak
Bunbury Restaurant & Cafe – Bandar Cyber [Non-Halal]
Bunceat – Medan Selera SS15
Bundafit Kitchen – Bandar Baru Permas Jaya
Bundle Of Bun – SS19
Bunga Cafe – Wisma Koop-Sawit
Bunga Raya Century Old Hainanese Porridge – Foodcourt Taman Cheng Baru [Non-Halal]
Bunga Raya Popiah – Jalan Bunga Raya [Non-Halal]
Bungah Nasi Tomato – Tanjung Bungah
Bungalow Steak House [Non-Halal]
Bungkused – Kitchen Co
Bungsu Cafe Kingfisher – Plaza Kingfisher
Bunkers Cafe – Kingfisher
Bunn Choon Restaurant – Lorong Panggung [Non-Halal]
Bunrise Burger – Taman Setapak [Non-Halal]
Buns & Bowl – Taman Mesra Permai [Non-Halal]
Buns Burger Bar – Sri Hartamas
Buntong Chee Cheong Fun – Kampung Chakadi
Buranchi – Bandar Puteri Puchong [Non-Halal]
Burandomarkt – Jalan Sungai Maong Tengah Utama
Burga Army – Bandar Bukit Mahkota
Burger – Hentian Peladang Jalan Rozhan
Burger – Warong Tokki
Burger – Kunyap-kunyap Cafe
Burger Abah – Bukit Kapar
Burger Abah Den – Taman Panchor Jaya
Burger Abam Buncit – Taman Bukit Dahlia
Burger Abang Towing – Kampung Sungai Kembong Hilir
Burger Abg&Adik Tokkun – Jalan Cerok Tokun Atas
Burger AjakBoss – Jalan Johan Setia
Burger Ambo – Taman Bukit Segar
Burger & Bites – Century Bay Apartment
Burger & Sushi
Burger Ayam Goreng Njoy – Taman Desa Wangsa
Burger Bakar Madu – Bandar Seri Botani
Burger Bandit – Jalan Austin Height
Burger Bandit – Sunway Iskandar
Burger Bar Station – Taman Sri Pulai
Burger Beaufort – Taman Koidupan
Burger Be'Don – Taman Sri Gombak
Burger Berdepot – Kampung Sri Aman
Burger Berempah Cheras – Taman Damai Indah
Burger Berempah Cheras – Megan Phoenix
Burger Bezza Crispy – Kampung Tanjung Aru Lama
Burger Boss – Lorong Pearl
Burger Bossku – Prima Damansara
Burger Bossku – Bangsar Park
Burger Boy – Taman Tun Dr Ismail
Burger Bro
Burger Bro 1.1 – Medan Gopeng
Burger Bro 2.0 – Medan Bercham Selatan
Burger Bros – One South Street Mall
Burger Budget Permy – Jalan Dato Permaisuri 2B
Burger Celop Mak CT – Jalan Dataran Larkin 1
Burger Cheese Ipoh – Taman Foo On
Burger Club – Boomtown USJ
Burger Crispy Chicken – Plaza Ivori
Burger D Tupong – Kopitiam 2 Cinta
Burger Daddy – Seasons Food Court [Non-Halal]
Burger Danau – Taman Danau Kota
Burger Dato – Jalan Bagan Luar
Burger Debab – Seremban 2
Burger Deco – Jalan Besar Gopeng
Burger Empire – Maps Republic
Burger Fly – Carmila Apartment
Burger Flyover Kubur Lemal Pasir Mas – Kampung Lemal
Burger Galaxy – Jalan Gajah Berang [Non-Halal]
Burger Goddess – Kenwingston Square Garden
Burger Goddess – Centro Mall
Burger Goddess – Jaya Shopping Centre
Burger Goddess – Lestari Perdana
Burger Hero – Jln Mangga 1
Burger House – Taman Pelangi
Burger John Corner – Bandar Putera 2
Burger Kak Nani – Popular Food Court
Burger Kebab – SS15
Burger Loyal – SS15
Burger Mak Busu – Larkin Jaya
Burger_Mbira Uptown – Damansara Uptown
Burger Mek Chicken – Jalan PKY
Burger Mozzarella – Taman Padang Tembak
Burger Mushroom Ampang – Taman Kosas
Burger Ngosek – Kampung Kedai Baru Banggu
Burger Noor – Taman Lestari Putra
Burger O Myy – Taman Samarindah
Burger Papa Ainul – Kampung Nakhoda
Burger Papacle – SS5
Burger Petak Dot My – Jalan Cheras
Burger Queen – Lorong Tuna
Burger Raintown Taiping – Jalan Istana Larut
Burger Ramly – Pasar Moden SS15
Burger Rampage – Klang
Burger Rempit Tokwan – Reko Sentral
Burger Royal – Jalan Gajah 6
Burger Royal – Taman Pandan Mewah
Burger Senget – Gelang Patah
Burger Slumber – Taman Pulai Utama
Burger Society – Lebuh Leith
Burger Society – Elit Avenue
Burger Stall 6 – Pangsapuri Sentosa
Burger Station – Grace Junction Shopping Mall
Burger Station – Jalan Z'aba
Burger Stop – Taman Gaya
Burger Talk – Yes Cafe [Non-Halal]
Burger Tang Corner – Komersial Waterfront
Burger Times – Premier Food Republic [Non-Halal]
Burger Town – Bayu Sentul Condominium
Burger Town – Bukit Bintang
Burger Town – Ampang Putra Residensi
Burger Tunok '78 – Kpg Pinang Jawa
Burgerbros – Jalan Stutong [Non-Halal]
BurgerDeals – Taman Kesidang
Burgerdoh Adik Beradik – Jalan Persiaran Hillpark
Burgerfatty 46 – Kampung Lindungan
Burgerimba – Terminal Sentral Kuantan
Burgers & Wings Co. – The Curve
Burgers & Wings Co.- Citta Mall
Burgers & Wings Co. – MyTown
Burgers & Wings Co. – Sunway Geo
Burgers & Wings Co. – Melawati Mall
Burgertory – Puchong Utama [Non-Halal]
Burgertory – SS 15 [Non-Halal]
Burgervibe – Desa Alam
Burghkin Coffee – Jalan Gajah Berang
Burgirls – SS17
Burgirls – USJ 9
Burgler – Taman Medan
Burn By Sara – Kg Cheras Baru
Burnin Pit – Desa Sri Hartamas
Burung Hantu By The Owls Cafe – TREC
Busan Banchan Enterprise – Taman Puchong Prima
Busan Burger – Taman Merdeka Permai
Busy Bean Coffee – Menara Perak
Busy Cowboy – Taman Ipoh Selatan
Busy Cowboy Cafe – Taman Johor Jaya
Butaya Izakaya [Non-Halal]
Butter & Kreme – Bandar Baru Uda
Butter Chicken Rice – Peach Garden Food Centre
Butter Chicken Sayangku – Kota Damansara
Butter Chicken Sayangku – Kayu Ara
Butter Chicken Sayangku – Bangsar
Butterbee Cafe – Temasya Glenmarie
Bu'Zainab Corner – Alamesra Plaza Utama
Buzy Bee – Taman Semabok
Buzz Out Coffee – Abedeen Clubhouse
By Dapo Cikla – Kampong Alor Tembesu
ByDokkfaa Dining Bar – Sri Petaling [Non-Halal]
By Flynn Foodie – Seri Intan Apartment
By The Sea Lifestyle Shoppe – Jalan Ong Yi How [Non-Halal]
BZ Junction (Homemade Burger) – Taman Harmoni
C+厅 – Bandar Baru Sri Petaling [Non-Halal]
C Hing Western Food – Kopitiam Jelapang 126 [Non-Halal]
C. Kafe & Restoran – Taman Ekoflora
C-Latte Cafe – Lorong Damai 4
C Plus – Jalan Aston [Non-Halal]
C' Qaseh Burger – Jalan Cheras
C Three Food Cafe Mix & Match – [Non-Halal]
C16 Nasi Kerabu Sri Andalas – Medan SEDC
C39 – Pusat Penjaja [Non-Halal]
Cabana
Cabik Salai Selera Kampung – Seberkas Commercial Centre
Cabin Burger Toraja – Taman Taufik
Cabin Geprek – Taman Equine
Cabin Geprek – Balakong
Cafe 101 Mix & Match – [Non-Halal]
Cafe 101 (Main) – Cafe 101 [Non-Halal]
Cafe 1950 – Jalan Limbongan
Cafe 1957 – Palazzo 19 Mall [Non-Halal]
Cafe 1961 – Stesen 18 [Non-Halal]
Cafe 37 – Metrocity Comm Centre
Cafe 3.80 – Taman Greenwood
Cafe 5 – Pearl Point
Cafe 5 – Belgian Liege Waffle – Jalan Brunei Utara
Cafe 66 – Paya Jaras
Cafe 7 Wok & Grill Seafood – Taman Tunku [Non-Halal]
Caffe 81 – Pekan Koidupan [Non-Halal]
Cafe 9 Taste Of Thai
Cafe 96°c – Jalan Puteri 1 [Non-Halal]
Cafe Abang K – Setapak
Cafe Adik Ayong – Taman Batu Tiga Subang
Cafe Ali – AG Putra Business Centre
Cafe Alley No 5 – Melaka
Cafe & Bistro ZL – Bandar Baru Uda
Cafe Ate'3 – Bukit Damansara
Cafe Auwawa – Jalan Lim Lean Teng
Cafe Awesome of Arts – Disney Avenue Bandar Agacia
Cafe Azzalava – Taman Kota Masai
Cafe Beskal – Bandar 16
Cafe BLD – Renaissance Hotel
Cafe Brunch – Jalan Bukit Dumbar
Cafe Bunda – Country Heights
Cafe Burger – Kawasan Perindustrian
Cafe Cacamerba – Wangsa Maju
Cafe Cafe – Medan Jaya Commercial Centre
Cafe Cheq Yam – Jalan Bagan Luar
Cafe Chi Fun – Kota Damansara
Cafe D'Amara – Hotel Amara
Cafe D Mutiara – Jalan Merak
Cafe Dapoq Campoq By Korn Kitchen – B5 Johor Street Market
Cafe de Flore – Taman Mount Austin [Non-Halal]
Cafe De Ohana – South Homes [Non-Halal]
Cafe De' Santai Tebing – Taman Sedia
Cafe De Sky Garden – PJS 1
Cafe Del Tesso – Damansara Kim [Non-Halal]
Cafe Deli by El Meson – Desa ParkCity [Non-Halal]
Cafe Deli by El Meson – 163 Retail Park [Non-Halal]
Cafe D'Marmalade – Taman Pundut Jaya
Cafe D'Orient – Grand Orient Hotel
Cafe Eat & Repeat – Seksyen 7
Cafe Enak Rasa
Cafe Endless Tea – Jalan Junid
Cafe Food Locker – Casa Kiara 1
Cafe JW – Jalan Seni
Cafe Kak Na & Catering – Leisure Commerce Square
Cafe Kak Wan – Seksyen U16/5
Café Kasih Ibu – Eastern plaza
Cafe KRT BTHO – Bandar Tun Hussien Onn
Cafe Ladesco – Segi University
Cafe Lafayette – Damansara Utama
Cafe Laksa Tempurung – Jalan Gertak Sanggul
Cafe Lan Ikan Bakar & Tomyam – Jalan Tanjung Lumpur
Cafe Lan Ikan Bakar Tomyam – Kedai Makan MPK
Cafe Lesung Pipit – Halaman Meru Permai
Cafe Lucky Burger – Putatan
Cafe Mak Jannah – Metrocity
Cafe Manis @ No 5 – Bukit Rahman Putra
Cafe Masniq – Lee Ling Commercial Centre Jalan Matang
Cafe Masniq – Plaza Astana
Cafe Mesra – Y2K Food Court
Cafe Niesa & Co – Jalan Tawakal
Cafe' Qudrat – Taman Melawati
Cafe Raudhah – Sekolah Kebangsaan Taman Seri Rampai
Cafe Rocco – Suite Servis Suria [Non-Halal]
Cafe Secret Corner – Kelab Idris Kuala Kangsar
Cafe Shamsiah – Taman Puteri Wangsa
Cafe Signature – Jalan Sultan Ahmad Shah
Cafe Station 9 – Uni Capital [Non-Halal]
Cafe Sun Yoon Wah – Jalan Bijeh Timah [Non-Halal]
Cafe Sup Meletop – Taman Megah Jaya
Cafe Tasik Seri Bayu – Hotel Seri Malaysia Taiping
Cafe Tong Xin Yuan – Pasir Penjih [Non-Halal]
Cafe Ujana – Jalan Penampang
Cafe Usual Media – Taman Ungku Tun Aminah [Non-Halal]
Cafe Warisan Bonda – Garden Villa Sunway City
Cafe Xu Food & Beverages – Taman Pekan Baru [Non-Halal]
Cafeteria – Kompleks MAB
Cafeteria Pantai Hospital Penang – Bayan Baru
Cafeteria Pejabat Pos Melaka – Bukit Baru
Caffeinees – Puchong Utama
Cahaya & Taufik Senadin – Lorong Desa
Cahaya Balqisha – Taman Desa Cemerlang
Cahaya Fatehah – Medan Selera Stadium
Cahya Damai Homemade Grilled Burger House & Cafe – Bandar Baru Semariang
Cai Shen Ye Coffee House – Q3A [Non-Halal]
Cake Rawala – Taman Psj
Cake Town Cafe – Jalan Tun Ismail
Cake Walk Cafe – Jalan PJU 1A
Cakemania Café – Bandar Tepian Sungai
Cakes by Fa – Bazar Enggang
Cakoi & Apam Balik – Peaches Garden Food Court Centre
Cakoi Big Donut – Jalan Wangsa Melawati
Cakoi Calvin – Kota Sentosa [Non-Halal]
Calia – Pavillion
Calia – KL East Mall
Caliph Donut & Bomboloni – Seksyen 7
Calis Burger – Damansara Utama
Calli Ice Cream
My Cafe – Jalan BRP 1/3
Cambodia Sup – Jalan TMR 1 Taman Tanjung Minyak Ria
Cameleon Vegetarian Restaurant
Campbell Cafe – Lebuh Campbell [Non-Halal]
Campfire Cafe – Taman Scientex
Campur – Lebuh Armenian
Campur Campur Kitchen – DPulze
Campur Campur Kitchen – Mesa Mall
Can Can Wantan Mee – Kopitiam Kelana Jaya 95 [Non-Halal]
Canai Anjang – Kafe Najwa
Canai Cafe – SS15
Canang Cafe – Seksyen 13
C&O Café – Icon City
C&P Coffee Company – Bandar Baru Bangi
Candy Tomyam – Taman Desa
Cangkir Cafe – Damansara Damai
Canning Dim Sum – Taman Canning
Canning Heritage Express – NU Sentral
Canning Heritage Express- PJ222
Canning Heritage Express – MyTown
Canning Heritage Express – Melawati Mall
Canning Heritage Express – Paradigm Mall
Canning Heritage Express – Sunway Geo
Canopy by Tiger Bay London – The Mayang Club
± Canteen – MKH Boulevard [Non-Halal]
Canteen 167 – Seksyen U5
Canteen Authentic Bangkok Tomyam – Wo Lai Yeh Cafe [Non-Halal]
Canteen Skolah – Jalan TAR
Canteen Skolah @ Kg. Bharu – Jalan Raja Muda Abdul Aziz
Cantin – Paradigm Mall
Cantin – NU Sentral
Canton City Cafe – Jalan Perak [Non-Halal]
Canton Noodle House – SS7 PJ [Non-Halal]
Canton Village – Suria Jelutong
Cantonese Vegetarian Steam Rice Roll – Lou Che Fong Kopitiam
Canton'icious Cafe – Taman Mas [Non-Halal]
Cap Badak Western Food – Kampung Padang Keladi
Capang – 3BG Food Station
Capati Cheng – Taman Cheng Baru 2
Restaurant Capital Cafe – Kedai Nasi Padang
Capitan Corner – Kiosk Garden Station
Capitol Seafood – Taman Sutera Utama
Capitol Seafood – Indahpura Kulai
Capitol Seafood – Taman Mount Austin
Captain Grill – Kg Warisan
Carabao Thai Restaurant – Taman Stulang Laut
Caramel by AH – Oasis Corporate Park
CaraRara – NeoCyber
Carbo and Bites – Jalan Aziz Ibrahim [Non-Halal]
Cargo Street – OUG Parklane
Cari Makan – Jalan Panji Alam
Caribou Cafe – Kampung Bahagia
Carlos Cafe – Wangsa Walk Mall
Carl's Station – Jalan Madrasah
Carnarvon Cafe – Lorong Prangin [Non-Halal]
Carpenter Street Kueh Chap – Xin Daren Coffee Shop [Non-Halal]
Carrot Fish – Pangsapuri Eco Bloom
Carrot Fish – New World Park
Carrotfish Cafe – Juru Sentral
Cars Talk Lounge – Taman Gaya
Carson Grill – Coronation Swimming Pool
Cartel Coffee Shop – Seksyen 15
Carvery – Jalan Tunku Abdul Rahman
Casa De Cafe – Taman Kota Laksamana
Caspo Juice – Jalan Putra
Cassia Kitchen – Lebuhraya Bandar Cassia
Castle Baking – Bandar Damai Perdana
Castle Cafe – Jalan Tengku Mohd Ma'asum
Cat Live Cafe – Bandar Perda
Cat Nasi Lemak & 313 Dessert – Taman Johor Jaya
Cat Walk Studio – Taman Tasik Utama
Cata Tapas, Pizza E vino – Plaza Damansara [Non-Halal]
Catering Hidayah – Serdang Jaya
Cathay Bak Kut Teh – Taman Melodies [Non-Halal]
Cathay Food Centre – Kedai Taman Hing [Non-Halal]
Cathay Restaurant (JB) Sdn Bhd – Taman Molek [Non-Halal]
Catherine Rohana Cafe – Permyjaya
Cauli & Rice – Subang Jaya
Cauli & Rice – Damansara Utama
Cauli & Rice – Sri Hartamas
Cavells Restaurant – Desa Sri Hartamas
Cawan Pinggan Cafe – Laman Seri Business Park
C.B – Jalan Datuk Mohamad Musa
CB Sado Ikan Bakar – Kg Kebun Bunga
CBD Restoran – Taman Permai
CBMB – Luyang [Non-Halal]
CBMB Penampang – Season Food Court [Non-Halal]
CC by Mel – Aurora Place Bukit Jalil
CC Chow Tofu n Snacks – 811 Food Court [Non-Halal]
CC Rice – ITCC Shopping Mall
CCS Beverage – CCS One Cafe
C.C.S One Cafe Mix & Match – [Non-Halal]
C.C.S One Cafe Mix & Match
CDC Dessert – Jalan Perak
CDC Food – Taman Perindustrian Bukit Serdang
Ceb Cafe by RSMY – Jalan Bendahara
Cece Station – Wisma Dataran Fajar
Cef Jane – Bagan Luar
Cek Pah Chickeboom! Traditional Food & Souvenirs – Jalan Plaza Mahkota
Cekabor Cafe – Taman Perpaduan
Cekodok Jepun – Bandar Sri Permaisuri
Celebrities Cafe – Plaza 333
Celebrity Caterer – Jalan Stadium
Celup-Celup Darul Naim – Taman Cheras Utama
Celup Tepung – Taman Pasir Putih
Celup Tepung Setia Alam – Jalan Setia Perdana
Celups – Jalan Beserah
Cempaka Kueh Tiaw Kia Eating House – Taman Nusa Bestari [Non-Halal]
Cempaka Square – Taman Hiburan
Cendol Abang Hafiz – Rumah Pangsa Pantai Peringgit
Cendol Aqeem's – Kampung Melayu Majidee
Cendol Asha – Jalan Bantu
Cendol BMI 1985 – Gerai Majlis Daerah
Cendol BMI 1985 – MesaMall
Cendol Bongsu Pak Mus – Taman Sierra Perdana
Cendol Chicken Rice – Jalan Kledang [Non-Halal]
Cendol Corner – Danga Bay
Cendol Durian Atok – Bangi Square
Cendol Durian Santan Sawit Bilal – Desa Pandan
Cendol Durian Santan Sawit Bilal – Pangsapuri Anggerik Desa Pandan
Cendol Hussin – Gerai Makan Sementara Jalan Nusaria
Cendol Istimewa – Taman Harmoni
Cendol Jam Besar – Jalan Temenggong
Cendol Kak Ti – Taman Perling
Cendol Kek'L – Selera Medan Bunus
Cendol Laksa Padang Tembak – Kampung Padang Tembak
Cendol Live – Jalan Tengku Kelana
Cendol Madam J – Taman Tampoi Indah
Cendol Maju – Jalan Raya Barat
Cendol Malim Legacy – Mukim Beram
Cendol Malim Legacy – Jalan Kg Tengah
Cendol Mamak – Cheng Avenue Foodcourt
Cendol Mami – Jalan Matang
Cendol Mamu Nogori – Jalan Tuanku Munawir
Cendol No 1 – Taman Ipoh Jaya Timur
Cendol Padang Polo – Persiaran Brash
Cendol Pak Brahim Klebang – Taman Nirwana
Cendol Pak Razak – Gerai Setara MDKT
Cendol Pulut – Bandar Cyber
Cendol Pulut Behrang – Medan Selera Behrang Station
Cendol Reyza – Jalan Firma
Cendol Time Cafe – Kota Kemuning
Cendol Village – Jalan Cyber Square 1
Cengkih – Taman Melawati
Cenoni – Taman Desa Jaya
Cenoni – Medan Selera Taman Bunga Ros
Cenoni Kitchen – Taman Desa Cemerlang
Central Asia Restaurant – Jalan Yap Kwan Seng
Central Market Food Court – Jalan Hang Kasturi
Centre Point Sabah Basement Foodcourt Mix & Match
Century Claypot Chicken Rice – Century Garden [Non-Halal]
CEO Karaoke Box – Fahrenheit 88
Ceo Kitchen & Bar – Seri Gembira Avenue [Non-Halal]
Cerdito Restaurant – Bandar Puchong Jaya [Non-Halal]
Ceruk – Kampung Berembang
Ceylonese Restaurant – Jalan Green Hill
CFC Sarawak – Jalan Rubber
CGS Vegetarian Cafe – Faradale Garden [Non-Halal]
Cha Bo – Jalan Tabuan
Cha-Cha Kitchen's – Taman Pauh Jaya
Cha Cha Kitchen's
Cha Cha Rice Food – Taman Pancasila
Cha Kee 茶记 – Jalan Kurung [Non-Halal]
Cha Kueh – YS Food Court
Cha Kueh – Ah Liong Cafe
Cha Lao Dim Sum – Menara Malpakat [Non-Halal]
Cha North & South Indian Cafe – 1 Mont Kiara
Cha Qian Sui – Pusat Perdagangan Mega
Cha Wan Jia Tea Bubble – SS15
Cha Wan Jia Tea Bubble – Bandar Sunway
Cha Wan Jia Tea Bubble – Danau Kota
Cha Yen Thai Tea – Taman Sri Nibong
Cha Yu Qian Xun – Tasek Central
Cha2 Smoothies – Taman Vista Sri Melanin
Chaah Noodles – Taman Daya [Non-Halal]
Chaatasty – Aurora Place Bukit Jalil
Chacha Cafe – Jalan Jee Foh Utama
Chaffeine Cafe – Jalan Canna [Non-Halal]
Chai Ji Chicken Rice – Taman Molek [Non-Halal]
Chai Key – Taman Perling [Non-Halal]
Chai Shu Kolo Mee – Chai Shu Cafe [Non-Halal]
Chai Soup & Thai Food Cuisine 生机苦瓜汤 – Kampong Lapan [Non-Halal]
Chai Thai [Non-Halal]
Imperial Chakri Palace – KLCC
Chakri Palace Skyview x Raintree Skybar – Dorsett Hartamas
Chakri Palace – Pavilion
Chakz Premium – Shah Alam
Chalet Suisse Restaurant – One Ampang Avenue
Cham Kee Restaurant – Balakong [Non-Halal]
Chamcha Coffee & Tea House – Jalan Suria
Chamek Kopitiam – Kota Tun Fatimah
Champ's Bistro – Bangsar [Non-Halal]
Champs Express – TTDI [Non-Halal]
Champs Masakan Melayu – Bandar Sri Permaisuri
Cham's Roast & Grill – Damas 118 Plaza [Non-Halal]
Chan Garden Restaurant – Lintas Jaya [Non-Halal]
Chan Herbal World – Taman Kasturi
Chan Jang Korean Restaurant [Non-Halal]
馋口鲜 Chan Kou Xian – Jalan Tong Sang 1 [Non-Halal]
Chan Mari Chan – Malakat Mall
Chan Noodles Store – Pusat Perdagangan [Non-Halal]
Chan Sin Kee Noodle – Kota Damansara [Non-Halal]
Chan Yuan Vegetarian Restaurant – Pasir Puteh
Chandelier Wine Dine & Party – Jalan Syed Putra
Chang Cheng Coffee – Taman Pusat Perniagaan Bakri [Non-Halal]
Chang Cheng Roasted Chicken Rice – Metro Prima Kepong [Non-Halal]
Chang Lok Chiu Cafe – Jln Bukit Lima [Non-Halal]
Chani Satay Corner – Pasir Pinji Baru
Chantek Cafe – Jalan Bukit Ubi
Chantique Nasi Lemak – Langkawi Chantique
Chao Da Pai Chicken Chop – Taman Pulai Utama
Chao Fu Jie – Taman Nusa Bestari [Non-Halal]
Chao Kuew Tiao – MS 26 Kopitiam
Chao Zhou Chicken Rice – Q BBQ Steamboat [Non-Halal]
Chapathi Recipes
Chapati and Chai Cafe – Plaza Mutiara
Chapati Box – The Rock Place
Chapayom – Central i-City
Chapayom Express – Eco Sky
Chapo's Cafe – Bangi Street Mall
Chappati.com – Jalan Kemajuan
Chapter 1 – Bandar Puteri
Chapter 2 Coffee – Suria Sabah Mall
Chapter 6 – Taman Tasek Jaya
Chapter One Cafe – Marina Square 2
Char Hor Fun – Golden Bay Food Court [Non-Halal]
Char Koay Kak – Super Tanker Food Court
Char Koay Teow – Jalan Macalister [Non-Halal]
Char Koay Teow – Jalan Impian Indah 3
Char Koay Teow – Jalan Danga
Char Koay Teow 77 – Shen Huat Coffee Shop [Non-Halal]
Char Koay Teow And Satay – Kawasan Perindustrian Bayan Lepas
Char Koay Teow Sg. Melaka – Medan Selera Taman Sri Cempaka
Char Koey Teow – Restaurant Mr.Zhu Bak Kut Teh
Char Koey Tiow Letup -Bandar Tun Hussein Onn
Char Kuay Teaw – Pasar Moden SS15
Char Kuayteow SEMPOi – Taman Pantai Indah
Char Kueh – Dai Pai Dong Cafe [Non-Halal]
Char Kueh – Jia Jia Court [Non-Halal]
Char Kueh – Peach Garden Food Centre
Char Kueh – Premier 101 Food Center
Char Kuey Teow Abang Sayang – Medan Meru Bestari
Char Kuey Teow Aiman – Jalan Masjid Tok Guru
Char Kuey Teow Bossku – Kampung Batu Muda
Char Kuey Teow Fariz – Taman Seri Intan
Char Kuey Teow Hello Kitty – Kampung Cherang
Char Kuey Teow Ori Penang – Medan Selera Gong Kapas
Char Kuey Teow Ori Penang – Kg Panji
Char Kuey Teow Penang – Kubota Square
Char Kuey Teow Udang Selambak – Perkampungan Sungai Isap 2
Char Kuey Teow Utara – Kampung Kempadang
Char Kuey Teow Wak Pezal – Taman Sri Timah
Char Kuey Tiaw No 1 – Sungai Tiram
Char Kuih Tiau Fire King – Restoran 2323
Char Kway Teow GDT & Roti Canai Viral – Taman Alamanda Senawang
Char Kway Teow Tapak Kuning – Jalan Satok
Char Line Asado + Bar – Plaza Damansara
Char-Taro House Cafe – Cheras
Char-Taro In Da House – Sri Kembangan
Charcoal & Grill Western – A One Laksa Cafe
Charcoal BBQ – Bestcourt 077 [Non-Halal]
Charcoal Fried Kuey Teow – Segambut [Non-Halal]
Charcoal Fried Kuey Teow Penang – Bandar Baru Petaling Jaya [Non-Halal]
Charcoal Grilled Toast – Ji Xiang 101 Corner [Non-Halal]
Charcoal H – Taman Mount Austin [Non-Halal]
Charcoal Handmade Hokkien Mee – Food Street at Rock Cafe [Non-Halal]
Charcoal Kitchen – Taman Skudai Baru [Non-Halal]
Charcoal Original Penang – Pudu [Non-Halal]
Charcoal Original Penang – Bandar Puchong [Non-Halal]
Charcoal Queen Fish Steamboat [Non-Halal]
Charkoeyteow Panas – Taman Tulip 2
Charlie's Cafe & Bakery – Taman Bukit Desa
Charlie's Coffee – Jalan Burma
Charms Cafe – Gleneagles
Charr'D Smokey Grillhouse – Trinity Hub
Chat Tea – Parkcity
Chat Tea – Bintulu Times Square
Chat Tea – Star Megamall
Chatea – Jalan Indah
Chateau De Caffeinees
Chateau De Charles – Kawasan Perindustrian Kg Baru Balakong
Chatime – Central i-City
Chatime – Melawati Mall
Chatime – University Malaya
Chatime – AEON Seri Manjung
Chatime – Mid Valley
Chatime – KL Sentral
Chatime – Subang Parade
Chatime – IPC Shopping Centre
Chatime – KL East Mall
Chatime – Kajang
Chatime – Sunway Pyramid
Chatime – AEON Shah Alam
Chatime – Mahkota Parade
Chatime – Queensbay Mall
Chatime – AEON Bukit Mertajam
Chatime – 1st Avenue
Chatime – Sunway Carnival
Chatime – The Mines
Chatime – Desa Mentari
Chatime – Taping Sentral Mall
Chatime – Berjaya Times Square
Chatime – MyTown
Chatime – Avenue K
Chatime – Sunway Velocity
Chatime – Plaza Shah Alam
Chatime – Shaftsbury
Chatime – Taman Chi Liung
Chatime – Presint 15
Chatime – AEON Kinta City
Chatime – AEON Ipoh Station 18
Chatime – AEON Taman Maluri
Chatime – Semenyih
Chatime – Jakel Mall
Chatime – Kota Damansara
Chatime – Shell Melati
Chatime – Shell Gombak
Chatime – Shell Bangi
Chatime – Bukit Raja
Chatime – Ampang Point
Chatime – AEON Ipoh Klebang
Chatime – Sg Petani
Chatime – Jetty Point Langkawi
Chatime – Kuantan City Mall
Chatime – JB City Square
Chatime – BHP Mutiara Rini
Chatime – AEON Tebrau City
Chatime – Shell Nilai
Chatime – Seremban Gateway
Chatime – AEON Bandar Dato' Onn
Chatime – Beletime
Chatime – KTCC Mall
Chatime – AEON Kuching Central
Chatime – Kubang Kerian
Chatime – Vivacity Megamall
Chatime – Metrocity
ChaTraMue – MyTown Shopping Center
ChaTraMue – Central i-City
ChaTraMue – IOI City Mall
Chatter Box Dessert & Cafe – Pelita Commercial Centre [Non-Halal]
Chatter Corner – Bangunan Yik Foong [Non-Halal]
Chatterbox HK – Bangsar Village [Non-Halal]
Chatterbox HK – 163 Retail Park [Non-Halal]
Chatterbox HK – 1Utama [Non-Halal]
Chatto – Taman Connaught
Chatto – Cheras Traders Square
Chatto – Sri Petaling
Chatto – Jalan Setia Utama
Chatto – Jln Batu Nilam
Chatto – SS15
Chatto – Bandar Puchong Jaya
Chatto – Bukit Beruang
Chatto – Taman Kota Laksamana
Chatto – Lebuh Carnarvon
Chatto – Sibu
Chatto – Sunway
Chatto – Residensi Kepongmas 7
Chatto – Setapak
Chatto – NU Sentral
Chatto – Sri Serdang
Chatto – Kompleks Perniagaan Ampang
Chatto – Imago Shopping Mall
Chatto – Lintas Plaza
Chatto – Putra Nilai
Chatto – Mount Austin
Chatto – Taman Pelangi
Chatto – Taman Anggerik Emas
Chatto – Kuching
Chatto Supa – Taman Sutera Utama
Chau's Dumpling – Kg. Nosoob Baru [Non-Halal]
Cha'Wan – Kg Melayu Majidee
Chay Kway Teow – Taman Asean [Non-Halal]
Che Dah Home Cafe – Kampung Pauh Badang
Che Go – AEON Bandaraya Melaka
Che Go – AEON Bukit Mertajam
Che Go – AEON Mall Taiping
Che Go – AEON Bukit Tinggi
Che Go – AEON Tebrau City
Che Pah Noodle – Kota Bharu
Che Yah Bites – N9 Food Court
Check In Dining – 88 Market Place
Check In Thai Food – Public House Food Court [Non-Halal]
Checkmate CM Cafe – Arena Green Apartment Bukit Jalil [Non-Halal]
Chee Cheong Fun – Restoran New Hong Tu [Non-Halal]
Chee Cheong Fun – Dataran Pahlawan
Chee Cheong Fun – K88 Food Court
Chee Cheong Fun – Sin Chong Choon Cafe [Non-Halal]
Chee Cheong Fun & Claypot Chicken Rice – SS2 Chow Yang Kopitiam [Non-Halal]
Chee Cheong Fun – Dai Pai Dong [Non-Halal]
Chee Cheong Fun – Premier Food Republic [Non-Halal]
Chee Chicken Village Restaurant – Pandan Perdana [Non-Halal]
Chee Chiong Fun – Quan Jin Kedai Makanan [Non-Halal]
Chee Leong Pork Leg Rice – On3 Kopitiam [Non-Halal]
Chee Pork – Fisherman's Wharf Food Corner [Non-Halal]
Chee Seong Seafood Restaurant – Jalan Radin Anum 1 [Non-Halal]
Cheerful Cafe – Jalan Rock [Non-Halal]
Cheers Restaurant – Bandar Baru Klang [Non-Halal]
Cheesang – Kajang Utama
Cheesang – Shah Alam S28
Cheesang – Sungai Besi
Cheesang & Wings Bosku – Taman Bukit Mewah
Cheesang & Wings Bosku – Jalan Reko Sentral
Cheesang Banana Smoothie – Shah Alam S28
Cheese & Tea Cafe – Jalan Tun Ahmad Zaidi Adruce
Cheese Lala Bee Hoon Soup – Pandan Malim Food Court [Non-Halal]
Cheese Leleh House – Taman Meru Perdana
Cheese U Bistro & Dessert Bar – Jalan Tun Habab
Cheesekut by Cik Aten – Lorong IM 2/16 Bandar Indera Mahkota 2
CheeseU – Taman Kluang Indah
CheeseU Cafe – Presint 2
CheeseU (Whole Cakes) – Taman Kluang Indah
Cheesy Chicken Chop – Restoran Wan Xi Heng
Cheezie N Bros – Jalan Ampang
Cheezy Chicken – Jalan Kampung Hulu
Cheezy Mozza – Karamunsing Complex
Cheezy Mozza – Gaya Street
Cheezy Mozza – 1Borneo
Cheezy Mozza – Bataras Menggatal
Cheezy Mozza – Centre Point
Cheezystix – Taman Dato' Harun
Chef Basel For Arabic Rice – Chillex Park
Chef Ben Diners – Seri Kembangan
Chef Bob Kitchen – Batu 9 Cheras
Chef Chef Cafe – Taman Dato Chellam
Chef Din Roti Canai – Pasar Awam Kampung Baru
Chef Hasan Cuisine – Taman Lucky Bangsar
Chef-Lah – Oasis Square
Chef Lalahh – Kayu Ara
Chef Lato – Seven On Seven Cafe
Chef Lee Home Made Dumpling – Aneka Selera Restaurant Kam Wan [Non-Halal]
Chef Low Express – Lucky Garden [Non-Halal]
Chef Madi – Karamunsing Basement Food Court
Chef Mic – Cheng Garden Avenue Foodcourt [Non-Halal]
Chef Murtabak – Kubang Labu
Chef Omar – SS21
Chef Paul Kitchen – Dataran Sunway [Non-Halal]
Chef Rasa Sayang – Crystal Crown Hotel PJ
Chef Recipe Cafe – Taman Mount Austin [Non-Halal]
Chef Recipe Cafe – Taman Setia Indah [Non-Halal]
Chef Royale – Taman Adda Heights
Chef Smokey Houz – Jalan Bintang [Non-Halal]
Chef Tako – Terminal Bentayan Muar
Chef Tako – Bukit Mewah
Chef Tan's – The Peak Vista [Non-Halal]
Chef Thivyah's Kitchen – Tmn Lestari Putra
Chef TK – Xin Daren Coffee Shop [Non-Halal]
Chef Wong's Chicken Rice – Marina Square 1
Chef Yeong Eatery – Jalan Centrepoint 2 [Non-Halal]
ChefTako – Kepong
ChefTako – Metroprima
Cheftako – Desa Sri Hartamas
Chefxbox Delivery – Desa Tun Razak
Chelvei's Curry House – Bukit Beruang
Chemor East Ocean Restaurant – Chemor [Non-Halal]
Chemor Smoothie Ice – Pusat Penjaja Chemor
Chemy Vintage Kitchen
Chen Bao Hometown Dessert – Bandar Baru Permas Jaya
Chen Ji – Taman Cheng Baru [Non-Halal]
Chen Ji Bak Kut Teh – Premier Food Republic [Non-Halal]
Chen Ji Intestines Soup – Jalan Dato Ahmad [Non-Halal]
Chen Jia Kopitiam – Hicom Glenmarie Industrial Park [Non-Halal]
Chen Kee Chicken Rice 陈记鸡饭 – Restoran Get Together [Non-Halal]
Chen Kee Hai Nam Chicken Rice – Boulevard Commercial Centre
Chen Yan Hong Hot Pot – Jalan SS15/4 [Non-Halal]
Chen Ye Seafood – Bandar Selesa Jaya [Non-Halal]
Cheng Fa Curry Noodle – Restoran 89 Kopitiam [Non-Halal]
Cheng Garden Avenue Mix & Match – [Non-Halal]
Cheng Noodle Soup – Jalan Burma [Non-Halal]
Cheng Rong – Restoran Roda Tiga [Non-Halal]
承香肉骨茶 Cheng Xiang Bak Kut Teh – Kampung Dungkahang [Non-Halal]
Chenmak – Persiaran Astaka U8
Chenmak – Persiaran Galaxy
Chenmak – Subang Perdana
Chenmak – Petronas Subang Airport
Chenmak – Bandar Pinggiran Subang
Chennai Express – Gurney Plaza
Chennai Spice – Jalan Tun Sambanthan
Cheong Dam Jaya – IOI City Mall
Cheong Kee Hakka Lao – Ipoh Garden East [Non-Halal]
Cheong Kee Hakka Lao – Jalan Raja Ekram [Non-Halal]
Cheong Kee Pan Mee – Taman Cheras [Non-Halal]
Cheong Kee Prawn Noodles – Taman Bukit Maluri [Non-Halal]
Cheotnun – Korean Dessert Cafe
Cheow Sang Bak Kut Teh – Jalan PJU 1/3A [Non-Halal]
Cheqma Cafe – Seksyen 7
Chequers
Cheras Fish Head Noodle – Jalan Klang Lama [Non-Halal]
Cheras SattiSorru – Taman Taming Jaya
Cheras SattiSorru@Penang – Bukit Tengah
Cherish House Cafe – Taman Bukit Kepayang
Chern Ka – Jalan Kuchai Lama [Non-Halal]
Chern Ka – Lebuh Tye Sin [Non-Halal]
Cheroq Cafe – Taman Vokasional Kelibang
Cherry Blossom Thai Restaurant – Golden Triangle [Non-Halal]
Chettiar's Tiffin Cafe
Chew Chew Chow Tofu – Kepong Baru
Chew Jetty Penang Chiak – Desa Aman Puri [Non-Halal]
Chew Seafood Garden Restaurant – Taman Century [Non-Halal]
Chewie Mellow – SS15
Chewie Mellow – Lot 10
Chez Gaston – Bangsar Utama [Non-Halal]
Chezza John – Jalan Reko Sentral
Chi Ba Japanese Recipe – Taman Meranti Jaya
Chi Cha San Chen – Pavilion
Chi Cha San Chen – Taman Mount Austin
Chi Cha San Chen – Taman Sutera Utama
Chi Fan – Taman Melawati
Chi Gui Mala Hot Pot – Jalan Dato Abdullah Tahir [Non-Halal]
Chi Mac Bistro [Non-Halal]
Chi Sha Restaurant 吃啥炭火小龙虾牛蛙专卖店 – Sri Petaling [Non-Halal]
Chi Sha Restaurant 吃啥炭火小龙虾牛蛙专卖店 – Taman Mount Austin [Non-Halal]
Chia Foo Restaurant – Bayan Point [Non-Halal]
Chiak Ong Bak Kut Teh – Jalan Trengganu [Non-Halal]
Chiang Mai Mookata Corner – Taman Lembah Permai 4 [Non-Halal]
Chiang Mai Thai Cuisine – Taman Century [Non-Halal]
Chicago 7 – Kampung Nyabor
Chicago 7 – Summer Mall
Chicago 7 – Emart Matang
Chicago 7 – Emart Batu Kawa
Chicago 7 – Eco Mall Petra Jaya
Chicago 7 – Rubber Road
Chicago 7 – Tabuan Plaza
Chicago 7 – Eastmoore Centre
Chicago 7 Express – Mydin Tunku Vista
Chicco's Kebab – N9 Foodcourt
Chick Chick Fried Chicken – Jalan Maju
Chick Mommy Kitchen – Taman Ciku
Chick N' Bites – Jalan Johan Setia
Chick n' Waffle – Karpal Singh Drive [Non-Halal]
Chicken Ball Ball Rice Restaurant – Jalan Dr Krishnan
Chicken BBQ & Roasted House – Merbau Road [Non-Halal]
Chicken Boss – Anggun City
Chicken Bowl – Jalan Kuasa Kangsar
Chicken Bowl Dessert Restaurant – Taman Selamat [Non-Halal]
Chicken By Won – Star Boulevard KLCC
Chicken By Won – Chicken Rice Mutiara Damansara
Chicken Chop – Jalan Perniagaan Jaya
Chicken Chop Rice – Restoran Indah Food
Chicken Chop Rice – Hau Kopitiam
Chicken Claypot House – Kuchai Entrepreneurs Park [Non-Halal]
Chicken Claypot House – Jalan Macalister [Non-Halal]
Chicken Claypot House – Jalan Metro Barat Perdana [Non-Halal]
Chicken Claypot House – Sunway Pyramid [Non-Halal]
Chicken Claypot House – Taman Mount Austin [Non-Halal]
Chicken Claypot House – Taman Sutera Utama [Non-Halal]
Chicken Delight – Jalan Ismail
Chicken Dinner – Petaling Jaya
Chicken Duck Restaurant – Kota Warisan
Chicken Hor Fun – Taman Tasek Jaya [Non-Halal]
Chicken Hot Pot & Chee Cheong Fen (168 Kopitiam) – Kampung Muhibbah [Non-Halal]
Chicken Hotpot House – All Season [Non-Halal]
Chicken Hotpot House – Jalan Icon City [Non-Halal]
Chicken Hotpot House – Jalan Rozhan [Non-Halal]
Chicken Hotpot House – Elit Avenue [Non-Halal]
Chicken Hotpot House – Plaza Arkadia [Non-Halal]
Chicken Plus – SS15
Chicken Plus – 3 Damansara
Chicken Plus – Sunway Velocity
Chicken Plus – EkoCheras Mall
Chicken Plus – Central i-City
Chicken Plus – Sunway Putra Mall
Chicken Porridge – Pusat Penjaja Danau Kota
Chicken Rice – Lotus Kepong Food Court
Chicken Rice – SOGO KL
Chicken Rice – Menara Millenium
Chicken Rice – Restoran Maluri [Non-Halal]
Chicken Rice – Jalan Batu Berendam
Chicken Rice – Suria Bangsar
Chicken Rice – Pusat Makanan Gunung Rapat Enam Enam [Non-Halal]
Chicken Rice – O & S Restaurant [Non-Halal]
Chicken Rice – GP Food Court [Non-Halal]
Chicken Rice – Taman Setia Indah
Chicken Rice 彩虹烧腊饭 – Taman Molek [Non-Halal]
Chicken Rice – Restaurant Jing He [Non-Halal]
Chicken Rice – Jalan Kelochor
Chicken Rice – Siang Siang Corner
Chicken Rice 鸡饭 – Boulevard Mall
Chicken Rice Ah Yap – 66 Coffee & Food Center [Non-Halal]
Chicken Rice Ah Yap – 89 Selera Kopitiam [Non-Halal]
Chicken Rice & Noodles Station – KESAS
Chicken Rice & Noodles Station No 4 – Jalan Ampang
Chicken Rice Asia – Neocyber
Chicken Rice @ Restaurant Jing Quan [Non-Halal]
Chicken Rice Ayam Kampung – 888 Food Court [Non-Halal]
Chicken Rice Ball 马六甲鸡饭粒 – Taman Impian Emas
Chicken Rice – Chai Shu Cafe
Chicken Rice – Good Luck 18 Kopitiam [Non-Halal]
Chicken Rice Guys – SS15
Chicken Rice – Happy Hour Cafe
Chicken Rice House
Chicken Rice – Kafe Najwa
Chicken Rice – New Wonderful Place
Chicken Rice – One Nice Cafe
Chicken Rice – Restoran Wan Xi Heng [Non-Halal]
Chicken Rice (S12) – Food Junction Mid Valley I Mix & Match
Chicken Rice (S6) – Food Junction IOI City Mall II
Chicken Shak – TT3
Chicken Wak Wak – Kompleks Bukit Jambul
Chicken Wings – Jalan Bentayan
Chicketory – Taman Berjaya
Chickilicious – Star Megamall
Chickilicious – Marina ParkCity
Chickilicious – Bintang Megamall
Chickilicious – Jalan Airport
Chickilicious – Vivacity Megamall
Chickilicious – Summer Mall
Chickilicious – Gala City
Chicking – Sunway Geo
Chicking Eating House – Wisma Nation Horizon
Chickwich – Bangsar Baru
Chickwich – Jaya One
Chickwich – Seksyen 51A
Chickwich – Atria Shopping Gallery
Chicky Boy – Karamusing Complex
Chicky Boy – Taman Far East
Chicma (Restoran Jamal Mohamed) – Kelana Jaya
Chienta Kitchen – Taman Seri Watan
Chiffonade – Kubota Road
Chikin Out – Lucky Eatery Food Court
Chili Pan Mee – Glomac Cyberjaya [Non-Halal]
Chili Wantan Mee – KLCC
Chili's – Paradigm Mall
Chili's – Sunway Velocity
Chili's – Jaya Shopping Centre
Chili's – 1Utama
Chili's – Mid Valley
Chili's – KLCC
Chili's – Citta Mall
Chili's – BSC
Chili's – G Hotel
Chili's – Sunway Putra Mall
Chili's – Sunway Pyramid
Chili's – Empire Shopping Gallery
Chili's – Kiara 163
Chilisncheese – Arena Curve
Chill Cafe – UMSC
Chill Out Cafe – Pintas Avenue
Chill U Up Dessert House – SS15
Chilleyh – Kilang Kitchen 3
Chilli Padi – Karamunsing Basement Food Court
Chilli Pan Mee – NU Sentral
Chilli Vanilla – Jalan Haji Saman
Chillizz Chicken Rice – Jalan U Thant
Chill's Bite Western – Sego Centre
Chili Pan Mee – USJ 9 [Non-Halal]
Chillz Cafe – Vantage Desiran Tanjung
Chim Thai Food Corner – Taman Lip Sin
Chimi Chuka Restaurant – Prima Tanjung [Non-Halal]
ChimiChurri – Petaling Jaya
ChimiChurri – Kelana Jaya
ChimiChurri – Sri Petaling
Chimmy Chummy – Permas Jaya
Chimmy Chummy – Plaza Mentari
Chimney – Plaza Mentari
Chin Brothers Chef – Uncle J Cafe [Non-Halal]
Chin Chen Cafe – Stutong Parade Commercial Centre [Non-Halal]
Chin Hua Vegetarian Food – Kota Laksamana [Non-Halal]
Chin Sian Bak Kut Teh – Taman Selasih [Non-Halal]
China Northeast Seafood & Dumpling – Lebuh Leith [Non-Halal]
China Special – Thian You Food Court Corner [Non-Halal]
China Street Kueh Chap – Gala Food Court [Non-Halal]
China Town – East Coast Food Court [Non-Halal]
China Town Dessert – Pandan Indah [Non-Halal]
Chinese Barbeque – Lido Square [Non-Halal]
Chinese Dumpling · Hot & Sour Crystal Noodle – Taman Bukit Indah [Non-Halal]
Chinese Fast Food Corner – Taman Sri Sinar [Non-Halal]
Chinese Fried – Kepong Food Court [Non-Halal]
Chinese Handmade Dumpling 东北纯手工饺子 – Restoran Chit Chat [Non-Halal]
Chinese Herb Soup / Rice – Jalan Bentayan [Non-Halal]
Chinese Muslim Restaurant – Kompleks Bukit Jambul
Chinese Noodle – Food Street at Rock Cafe [Non-Halal]
Ching Fah Catering – Pekan Donggongon [Non-Halal]
Ching Jie Dumpling – The Garden [Non-Halal]
Ching's Recipe – Lido Square [Non-Halal]
Chingu Korean Street Food – Taman Teratai
Chin's Cafe – Krokop [Non-Halal]
Chin's Rojak – Chin's Cafe
Chinta Boutique Cafe – Bukit Kapar
Chinta Sala Thai – Jalan Santong
Chiong Gei Cafe II – Jalan Airport [Non-Halal]
Chiong Kee Wan Tan Mee – Taman Sri Tebrau [Non-Halal]
CHITOC – Taman Nusa Bestari 2
Chitose Japanese Restaurant – Solaris Mont Kiara [Non-Halal]
Chittes Corner – Kampung Selayang Baru
Chiu Gei – Kuchai Avenue [Non-Halal]
Chiu's – 88 Market Place
Chiyo Sushi – Jalan Kenanga
Chizu – KL Gateway
Chizu – Citta Mall
Chizu – IOI City Mall
Chizu – Setia City Mall
Chizu – 1Utama
Chizu & Honzu – Nu Sentral
Chizu – Tropicana Gardens Mall
Chizu & Honzu – Leisure Mall
Chizu – Sunway Pyramid
Cho Dong Jib – Gurney Paragon [Non-Halal]
Cho Dong Jib – Queensbay Mall [Non-Halal]
Chō Gyū (Japanese Beef Don) – Glomac Centro
Chobar – Icon City [Non-Halal]
Chobar Izakaya – PJ Midtown [Non-Halal]
Chockies Delight – Taman Meru
Choco Boo – Jalan Melati 1
Choco Choco – KSL City
Choco Choco – Toppen Shopping Centre
Chocolate Concierge – BSC
Chocoloco Caffe – AEON Shah Alam
Chocoloco Caffe – Muar Traders Hotel
Chocoloco Caffe – eCurve
Chocoloco Caffe – Publika
Chocoloco Caffe – AEON Nilai
Choi's Don & Dak – Jalan Kuchai Lama [Non-Halal]
Chok Dee Thai Restaurant [Non-Halal]
Chokolatte The Coffee Ministry – Utama Zone
Chon Dak – 1 Mont Kiara
Chong Cha – Bandar Puteri Puchong
Chong Cha – Laman Rimbunan
Chong Coconut – Kedai Makanan dan Minuman BR [Non-Halal]
Chong Eu Enterprise – Century Garden [Non-Halal]
Chong Hwa Curry Laksa Restaurant – PV128
Chong Hwa Curry Laksa Restaurant – Batu Caves
Chong Mama 张妈妈 – City Square [Non-Halal]
Chong Qing Grilled Fish 重庆烤鱼 – Emporium
Chong Qing Lao Huo Guo – Icon City [Non-Halal]
Chong Qing Lao Huo Guo – Jalan Kelawai 重庆老火锅 [Non-Halal]
Chong Soo Vegetarian Food – Jalan Ali
Chongqing Chicken Hot Pot – Dataran Sunway [Non-Halal]
Chongqing Chicken Hot Pot – Jalan Radin Bagus 3 [Non-Halal]
Chongqing Chicken Hot Pot – Taman Segar [Non-Halal]
Chongqing Hot Pot – Jalan Juru Sentral [Non-Halal]
Chongqing Kitchen – Jingwood Cafe [Non-Halal]
Choo Choo Chicken – Bukit Tinggi
Choo Choo Chicken – Sri Petaling
Choo Choo Chicken – Bandar Puteri
Choo Choo Chicken – Setapak
Choo Choo Chicken – USJ
Choon Fatt Kopitiam – Kepong Baru [Non-Halal]
Choon Prawn Mee House – Sea Park [Non-Halal]
Chop Chop Cafe – Saradise [Non-Halal]
Chop Chop Lah! – Jalan Dato Mahmud
Chop N Chips – Lebuh Presgrave
Chop Rice – Loong Foong Kook [Non-Halal]
Chop Suey Catering Services – Pandan Mewah
Chop Tiang Bee – Jalan Hang Kasturi
Chopping Block – Jalan Gaya
Chopstickers – Taman Perindustrian Desa Plentong
Chopsticks by Muhammad Onn – TTDI
Chorak Restaurant – Mercure Kuala Lumpur
Chorr Char Kuey Teow – Kampung Johan Setia
Chow Yang Vegetarian Restaurant – Taman Ria
Choy Kee Hong Kong Roasted – Taman Desa [Non-Halal]
Choy Kee Wan Tan Mee – Taman Jati [Non-Halal]
Chris Cottage – Hock Kheng Restaurant
Chris Pasta – Taman University [Non-Halal]
Christina Ee – Jalan Hang Lekir
Christine's Bakery – Sunway Geo
Christine's Bakery – Publika
Chu Char 1st – 1st Avenue
Chu Cheong Fun – Taman Ungku Tun Aminah [Non-Halal]
Chu Yuan Western Food 48 – Petanak Market
Chua Cafe – Hong Kong Recipe 蔡记烧腊 – Marina Parkcity [Non-Halal]
Chuan Chiew Bak Ku Teh [Non-Halal]
Chuan Jin Restaurant – Tabuan Heights Commercial Centre [Non-Halal]
Chuan Jin Restaurant – Jalan Datuk Wee Kheng Chiang [Non-Halal]
Chuan La Xiao Guan – GP Food Court First Garden [Non-Halal]
Chuan Mala Hotpot – Kafe Wk Garden East [Non-Halal]
Chuan Mei Zi 川妹子香辣锅 – Dataran Perniagaan Cheras [Non-Halal]
Chuan Porridge & Noodles – Lebuh Lapangan Perdana 4 [Non-Halal]
Chuan Xiang Village Restaurant – Taman Austin Heights [Non-Halal]
Chuan Yue De Cuisine [Non-Halal]
Chubbies Cafe – Shaftsbury Square
Chubbs – Jalan Carpenter Street
Chubby Crispy – Beware Cafe [Non-Halal]
Chuck Two Sons by Sri Melaka [Non-Halal]
Chuen 1954 Hainanese Restaurant – Wangsa Walk
Chuen Hainanese Chicken Rice & Noodles – TTDI
Chuen Kee Honey Chicken Wings – Taman Ipoh Timur
Chuen Wan Kopitiam – Kampung Pasir Puteh [Non-Halal]
Chulia Street Curry Mee – Lebuh Chulia
Chum-Chum – Plaza Damansara [Non-Halal]
Chun Ji Sugar – Plaza Low Yat
Chun Kan Pua Mee – Kedai Makanan dan Minuman BR [Non-Halal]
Chun Kei Tai Bu Noodle Restaurant – Jalan Pudu [Non-Halal]
Chun Resipi – Jalan Pasai
Chun Wei Chicken Rice – Taman Foh Sang [Non-Halal]
Chun Yang – Jalan Mega
Chun Yang Tea – Bukit Jalil
Chun Yang Tea – Sunway Pyramid
Chung Hwa Curry Mee – Ming Le 88 Cafe [Non-Halal]
CHUNZ – DPulze
CHUNZ – Paradigm Mall
CHUNZ – Metro Point Kajang
CHUNZ – IOI City Mall
CHUNZ – Dataran Pahlawan
Chunz – Berjaya Times Square
CHUNZ – Petronas Seksyen 7
Chunz – Central i-City
CHUNZ – MyTown
CHUNZ – Pavilion
CHUNZ – Amanjaya Mall
CHUNZ – Aman Central
CHUNZ – Toppen Shopping Centre
Chunz – Mydin Kuala Terengganu
Churittos Fresh Mex – SS15
Churros House – Taman Puchong Perdana
Churosstime – Pantai Dalam
Chutneys – Empire Shopping Gallery
Chuxin Noodle – Fun Kopitiam [Non-Halal]
CHW Dessert – Jalan Bunga Raya
Chye Hue Fried Chicken – Tai Ka Huat Food Court
Chye Ji Soup – Restoran 777 [Non-Halal]
Chye Seng Foo Coffee Shop – Jalan Cheras [Non-Halal]
Ci Xin Vegetarian Food – Jinjang Selatan
Cibo (Pertam) – Taman Pertam Jaya
Cica's Dessert – Empire City
Ciccio Bar Pizzeria – Changkat Bukit Bintang [Non-Halal]
Cici Light – Suria Sabah Shopping Mall
Cik Ani Kitchen – Taman Sri Puchong
Cik B Boba Lova – Pertama Complex
Cik B Boba Lova – Empayar Dato' Seri Vida
Cik B Boba Lova – Angsana Mall Ipoh
Cik Daa Nasi Kukus – Kajang
Cik Kiah Corner – Sha Food Court
Cik Leha Sandwich Cafe & Delivery – Jalan Tok Lam
"Cik Mat Bts Tomyam – Bandar Tasik Selatan"
Cik Ninie Kitchen – Ipoh Walk Night Bazaar
Cik Ninie Kitchen – Taman Cempaka
Cik Num's P.P. Cheese – Jalan Jpj Panji
Cik Pia Kitchen – Bandar Baru Sentul
Cik Su Akok Baulu Beko – Jalan Tok Kenali
Cik Temah The Caterer – Jalan Kelapa Gading
Cik Turquoise – Jalan Sri Cemerlang
Cik Yah Corner – Bandar Putra
Cik Yah Sup Keting – Kampung Kemumin
Cik Yam Corner – Desa Pandan
Cik Yan Pisang Goreng Cheese – Bandar Country Homes
Cik Yang Nasi Lemak Berlauk – Persiaran SIBC 2
Cikgu Fuad Catering & Services – Kampung Jana Sambungan
Cikitang – Jalan Dato Dol Said
Cikitang – Sg Putat
Cikitang – Taman Bukit Tambun Perdana
Cikitang – Makan Avenue
Cikmaas Asian Cuisine – Taman Desa Jaya
Cikmiah Nasi Lemak – Setapak Jaya
Cikyin Kitchen's – Taman Rinting
Cilantro – Kota Kemuning
Cilantro Grill Burger – Bandar Kinrara 2
Cili Api Station – Taman Dato Senu
Cili Pauh – Wangsa Walk
Cili Pepper Kitchen Restoran & Steamboat – Plaza Shah Alam
Cincai – SS15
Cincai Everywhere – Pusat Komersil Kubota Bintang
Cindy's Cakes, Desserts & Snacks – Park View Tower
Cinnamons Fusion Cuisine – Kota Kemuning
Cinta Pantai Cafe Nasi Ayam – Gerai Selera Serai
Cinta Ria Restoran & Kafe – Damansara Jaya
Cintra House – Lebuh Cintra
Cio – Jalan Sultan Abdul Jalil [Non-Halal]
Cio Fermented Fruit Drink – Tanjung Puteri
Citarasa Azizah – Taman Sri Kenari
Citarasa Azizah – Food Valet
Citarasa Bonda Noodle – Seksyen 13
Citarasa Mak Manja – Bandar Baru Permas Jaya
Citarasa Marmila – Medan Selera Dato Tahwil Azar
Citarasa Melayu – Taman Nasalim
Citarasa Seafood Market Steamboat – NSK Trade City
Citarasa Uniq Sdn Bhd – Pusat Bandar Puchong
Citarasa Wak Jeli – Taman Universiti
Citiey Corner – Medan Usahawan
Citrus Cafe – Bulatan Commercial Centre
City Cafe & Karaoke – Taman Miharja [Non-Halal]
City Food Corner – Inanam Capital
City Food Corner – Sinsuran Complex
City Food Corner (CFC) – Gaya Street
City Milk – Sunway Velocity
City Milk – 1 Utama
City Milk – Sunway Pyramid
City Milk – Toppen Shopping Centre
CJ2 Che Jas Colek Jalanan – Pulai Business Centre
Ck Cheng Cafe – Lintang Slim [Non-Halal]
CK Hotplate Sambal Fried Kueh Tiaw/Mee/Bee Hoon – Peach Garden Food Centre
CK Lim Catering – Taman Kerjasamana [Non-Halal]
CK Linh Vietnamese Cuisine – Food City Kolombong [Non-Halal]
CK Tan Char Keuy Teow – Ju Hoo Baru Kopitiam [Non-Halal]
Ckt Corner – Jalan Pasir Hor
CktWong Jia Hua Foodcourt – Grand Industrial Centre
CL Macau Bakery – Taman Malim Jaya [Non-Halal]
Clams and Mussels – Jalan Ampang
Clash Burger – Apartment Permai
Classic Briyani House – GM Klang
Classic Chicken Chop – Taman Merdeka Permai [Non-Halal]
Classic Corner – Ipoh City & Country Club
Classic Fried – Plaza Gurney
Classic Fried by Fried Rice King – New World Park Food City
Classic Tomyam – Jalan Helang Sungai Dua
Classmates Cafe & Bistro – Setia Alam [Non-Halal]
Claws Between Enterprise – Taman Nusa Bestari [Non-Halal]
Clay Pot Meru Klang – Persiaran Hamzah Alang
Claypot – Xin Daren Coffee Shop [Non-Halal]
Claypot @ Fu Hua Cafe – Jln Chan Chin Ann [Non-Halal]
Claypot & Sizzling – Queensbay Mall
Claypot & Sizzling – SOGO KL
Claypot & Sizzling – Berjaya Times Square
Claypot Asam Curry Seafood – Medan Selera WR [Non-Halal]
鄉濃 Claypot Bak Kut Teh & Curry Fish Head – Taman United [Non-Halal]
Claypot Bak Kut Teh – Premier 101 Food Center [Non-Halal]
Claypot Bak Kut The – 63 Food Court [Non-Halal]
Claypot Chicken Rice – Hotel Ambassadress [Non-Halal]
Claypot Chicken Rice – Lucky Street [Non-Halal]
Claypot Chicken Rice – Taman Daya
Claypot Chicken Rice 强记砂煲鸡饭 – Taman Ungku Tun Aminah [Non-Halal]
Claypot Chicken Rice – Bandar Indahpura [Non-Halal]
Claypot Chicken Rice – Taman Gaya [Non-Halal]
Claypot Chicken Rice – Taman Impian Emas [Non-Halal]
Claypot Chicken Rice – Taman Impian Emas [Non-Halal]
Claypot 煲仔饭 – CS Food Court [Non-Halal]
Claypot 砂锅 – CS Food Court [Non-Halal]
Claypot Curry Fish Head – Limbongan [Non-Halal]
Claypot Curry Fish Head 砂煲咖喱鱼头 – Taman Jelutong [Non-Halal]
Claypot Curry House – Medan Selera WR
Claypot Curry House – Ocean Food Court
Claypot Curry House – Heng Leong Food Court
Claypot Healthy Soup – Hua San Court [Non-Halal]
Claypot – Jia Jia Court [Non-Halal]
Claypot Lee – Jalan Abdul Rahman [Non-Halal]
Claypot Mee – Maga Food Court
Claypot Mee & Porridge – Sing Garden Cafe [Non-Halal]
Claypot Mee Tai Bak – Kedai Makanan Seong Huat [Non-Halal]
Claypot Mee/Char Kueh/Porridge – Siang Siang Food & Drinks Centre [Non-Halal]
Claypot – Mei Mei Food Centre [Non-Halal]
Claypot Noodle & Porridge – Pearls Park Food Centre [Non-Halal]
Claypot Noodles – Sungai Nibong
Claypot Porridge – Loong Coffee Shop [Non-Halal]
Claypot Porridge/Mee – Siang Siang Food & Drinks Centre [Non-Halal]
Claypot Rice – Restoran Abundance U Corner [Non-Halal]
Claypot Rice – Taman Daya
Claypot Rice Pengkalan Emas – GP Food Court [Non-Halal]
Claypot Rice – Restoran Piao Xiang 88 – Taman Perling [Non-Halal]
Claypot – So Good Cafe [Non-Halal]
Closer Kitchen & Espresso Bar – Menara TSR
Cloud Cookies – Ampang Jaya
Cloud Vege House – Lintang Sungai Ara 9
Cloves Restaurant & Cafe – Dataran Wangsa Melawati
Cloves Restaurant & Cafe
CMR 3.0 China Muslim Restaurant – D'Piazza Mall
C'Muaz Stall – Medan Selera Ayer Keroh
C'Noira Kitchen – Funky Farm Food Court
Co. Drink – Fajar Complex Tawau
Coachlicious – Sri Petaling
Coboroy – IRDKL
Cockoncoal – Ampang 971
Cockoncoal – MyTown
Coco Cafe – Taman Nusa Bestari
Coco Chill – Tanjung Park Satu [Non-Halal]
Coco Island – Persiaran Gurney
Coco Loca – Puchong
Coco Loca – Seksyen 13 Shah Alam
Coco Loca – Sentosa
Coco Loca – Sri Petaling
Coco Steamboat – Taman Bukit Hijau [Non-Halal]
Coco Steamboat – Scott Garden [Non-Halal]
Coconut – Taman Bukit Indah
Coconut Bay – Bandar Sri Damansara
Coconut Shake – Pusat Perdagangan Tasek Indra
Coconut Shake – Taman Kota Masai
Coconut Shake 336 – Wisma Al-Baghdadi
Coconut Shake Ara Damansara – Pacific Place Commercial Centre
Coconut Shake Batu Berendam – Taman Ria
Coconut Shake Bukit Katil – Jalan Wakaf Utama
Coconut Shake – Jonker Walk
Coconut Shake Qaseh Merindu Kubang Kerian – Jalan Perempuan Zainab II
Coconut Tree Corner
Coco's Thai Banana Leaf Restaurant – Bandar Puchong Jaya
Code Black Coffee House – MKH Boulevard
Code Thai – Bayan Baru [Non-Halal]
Cofeology – Jalan Bukit Beruang
Coffea Coffee – Plaza Shah Alam
Coffea Coffee – 163 Retail Park
Coffea Coffee – SS2
Coffea Coffee – Cheras Traders Square
Coffea Coffee – IOI Mall Puchong
Coffea Coffee – Moulmein Rise Shoppes
Coffea Coffee – Sunway Pyramid
Coffea Coffee – IOI City Mall
Coffea Coffee – G Tower
Coffea Coffee – Sri Petaling
Coffea Coffee – SS15
Coffee 45 – Love Lane
Coffee Affairs – Lebuh Bishop
Coffee & Dreams – Uptown Avenue
Coffee & Stuff – Vista Alam
Coffee & Stuff – KLTS
Coffee & Toast – Da Men Mall
Coffee Art Cafe – Seri Gembira Avenue
Coffee Box – Sri Gombak
Coffee Box – Taman Desa
Coffee Cabana Cafe – SS15
Coffee Cartel – TTDI
Coffee City – Desa Tun Razak
Coffee Classic Nanstop Cafe – Taman Fadason
Coffee + Cream – Jalan Bakri
Coffee Culture – Jln Raja Perempuan Zainab 2
Coffee Dose Cafe – Taman Dagang Avenue
Coffee ETC – Oasis Square
Coffee Friends – Plaza Tanjung Aru
Coffee Good Golly Miss Molly – Millennium Square
Coffee House – Casuarina
Coffee In The House – Taman Kota Laksamana [Non-Halal]
Coffee Ink – Bandar Botanik [Non-Halal]
Coffee Lab – Taman Bukit Mas
Coffee Lab – Taman Sook Kiong [Non-Halal]
Coffee Lab Cafe – Jalan Laman Intan
Coffee Legend Bangi – Flea Market De Bangi Gateway
Coffee Legend Bangi – Jalan Medan PB 2A
Coffee Mingle – Sungei Wang Plaza
Coffee Obsession – Tun Ahmad Zaidi Adruce
Coffee Signature – Jalan Ahmad Nor
Coffee Simple – Bandar Tun Hussein Onn
Coffee Squad – Jalan Long Yunus
Coffee Stain – Solaris Dutamas
Coffee Stall Temerloh – Jalan Tok Muda Awang Ngah
Coffee Star – Space U8
CoffeeBox – Cheras
Coffeeric – Jalan Mayang Pasir [Non-Halal]
CoffeeTALK Royale – Jalan Perniagaan Seri Tambun
Coffeetrap Bistro & Party – Permas Jaya
Cofftea – Jalan Tun Syed Sheh Barakbah
Coko Ice Cream – Lorong Teras Jaya 9
Coko Ice Cream – Chulia Street
Cola Cafe Yapyewcun Seafood – Taman Sultan Badlishah [Non-Halal]
Cold & Melt Cafe – Menara U
Cold Blue Specialty Coffee – Jalan Tun Sambathan
Cold Pressed Daily – Zenith Corporate Park
Cold Stone Creamery – Pavillion
Cold Stone Creamery – Central i-City
Cold Stone Creamery – KLCC
Cold Stone Creamery – The Garden
Cold Stone Creamery – MyTown
Cold Stone Creamery – Plaza Damas
Coleens Kitchen – Taman Pelangi
Colobaba – Jalan Manjalara Idaman
Colobaba – PV128
Colourbowl Cafe – Jalan Puteri 1
Colourfull Life – Kajang Prima
Comamos @ Rueben's – USJ 9 [Non-Halal]
Comfort & Brews – Bangunan Ming
Comfort Root Cafe – OUG
Comi Comi Hamburgers & Sandwich [Non-Halal]
Common Grind – The Row
Common Ground Cafe – Pusat Komersial Anggun City
Common Man Coffee Roasters
Communal Kitchen & Bar – Jalan Lau Ek Ching [Non-Halal]
Como – Persiaran Menglembu Suria
Concubine – KL
Concubines by PastryVille – Jalan Panglima
Confection Dessert House – Jalan Seri Teruntum 3 [Non-Halal]
Cong Caphe – NU Sentral
Cong Caphe – 1Utama
Congee Rice Noodles – Taman Melaka Raya [Non-Halal]
Congkak – Jalan Beremi
Connaught Black Tofu – Fisherman's Wharf Food Corner
Connaught Coffee Shop Mix & Match – [Non-Halal]
Connaught Coffee Shop (Beverage) – Connaught Coffee Shop
Connoisseurs Cafe – Bukit Bintang
Connoisseurs Corner – Kuala Lumpur Golf & Country Club
Constant Gardener Coffee – Lebuh Light
Container Kebab – Giant Batu Caves
Container Kebab – Giant Klang Sentral
Cook and Fried – Top 1 Food Court [Non-Halal]
Cook Kitchen – Jalan Nagor [Non-Halal]
Cookai – Jalan Stutong [Non-Halal]
Cool Amazone – Kamunting
Cool City – 1Borneo
Cool City – Sulaman
Cool City – One Place
Cool City – ITCC
Cool City – Warisan Square
Cool Dessert & Dimsum – SS16
Cool Dessert House – Jln Pahlawan
Cool Family Restaurant – Taman Cahaya Kota Puteri [Non-Halal]
Cool Go – Pusat Perniagaan Olive Hill
Cool Island – Lotus's Jelutong
Cool Life – Kg Paya Jaras Hilir
Cool Life – Kampung Baru
Cool Life – Taman Harmoni
Cool Station – KTMB Subang Jaya
Cool Station – LRT Taman Melati
Cool Station – LRT Sri Rampai
Cool Station – Giant Prima Saujana
Cool Station – KTMB Rawang
Cool Station – LRT Sentul Timur
Cool Station – AEON Kota Bharu
Coolblog – Star Avenue Lifestyle Mall
Coolblog – Lotus's Klang
Coolblog – NSK Klang
Coolblog – Lotus's Sri Manjung
Coolblog – Billion Sri Manjung
Coolblog – Econsave Sri Iskandar
Coolblog – Melaka Mall
Coolblog – Dataran Pahlawan
Coolblog – Super Cowboy
Coolblog – Mydin Bukit Mertajam
Coolblog – Kompleks Bukit Jambul
Coolblog – Setapak Central
Coolblog – The Mines
Coolblog – Lotus's Kampar
Coolblog – Lotus's Station 18
Coolblog – SOGO KL
Coolblog – NSK Selayang
Coolblog – Suria Jaya Mall
Coolblog – Lotus's Cheras
Coolblog – Caltex Puchong
Coolblog – Selayang Mall
Coolblog – Mentakab
Coolblog – Mydin Kuantan
Coolblog – Aman Central
Coolblog – CMart Alor Setar
Coolblog – Alor Star Mall
Coolblog – Lotus's Mergong
Coolblog – Giant Southern City
Coolblog – Maslee Larkin Aman
Coolblog – Maslee Larkin Idaman
Coolblog – Maslee Setia Indah
Coolblog – AEON Nilai
Coolblog – NSK Pandan
Coolblog – Lotus's Tebrau
Coolblog – IOI Mall Kulai
Coolblog – Mydin Taman Rinting
Coolblog – NSK Ulu Tiram
Coolblog – Maslee Cahaya Masai
Coolblog – Maslee Taman Teratai
Coolblog – POS Malaysia Gelang Patah
Coolblog – Plaza Tasek
Coolblog – A Mart Kempas
Coolblog – Econsave Taman Daya
Coolblog – City Square
Coolblog – S'Mart
Coolblog – Lotus's Plentong
Coolblog – Ikea Toppen
Coolblog – AEON Taman University
Coolblog – Lotus's Kulai
Coolblog – Paradigm Mall JB
Coolblog – TF Value Mart Nusa Bestari
Coolblog – Giant Tampoi
Coolblog – Lotus's Bukit Indah
Coolblog – Angsana JB
Coolblog – Giant Plentong
Coolblog – SS Mart Air Biru
Coolblog – Lotus's Mutiara Rini
Coolblog – Kulai Hypermarket
Coolblog – Eco-Shop Ulu Tiram
Coolblog – Eco2 Hiliran
Coolblog – Mydin Kuala Terengganu
Coolblog – Giant Senawang
Coolegend – AEON BiG Falim
Coolegend Enterprise – Bandar Baru Sri Klebang
Coollala – CityONE Megamall
Copacabana Acai Bowl – Kenwingston Square Garden
Copo Pizzeria – Rivercity
Coppa Cabana – Harbour Mall
Cor Blimey – SS15
Cor Blimey – Damansara Uptown
Coral Cafe – D'Riverside Food Court
Corazon Cafe – Taman Jubilee [Non-Halal]
Corazon Kitchen – Medan Selera 2 Uniten
Core Cafe – Medan Connaught [Non-Halal]
Corgi & The Gang Pet Cafe – New World Park [Non-Halal]
Coriander Cafe – 1Borneo
Coriander Home Kitchen – Ipoh Garden East Apartments
Corndog Cheesy Viral – Bangsar
Corndog Cheesy Viral – Kota Damansara
Corndog Cheesy Viral – Kayu Ara
Corndog Jumbo – Ulu Kinta
Corndog Mozza Stick – Bandar Prima Senawang
Corndog Viral Teluk Intan – Jalan Mahkota
Corner 3 Cafe – Jalan Ong Kim Wee [Non-Halal]
Corner Kitchen – Piasau Utara Commercial Centre
Cornerstone – Ji Xiang 101 Cafe
Cosmo Kitchen – De Centrum Mall
Cosmo Kitchen – Tamarind Square
Cotello – Taman Tasik Prima
Coto Makassar Bandar Perdana – Bandar Perdana
Coto Makassar Tawau – Jalan Ismail Juma
Cottage 75 Cafe – Meru Impian
Cottage Garden – Kg Ketiau
Cottage Spices – Taman Melaka Raya
Country Cafe
Country Road Kafe – Pekan Baru [Non-Halal]
Cousin Soya – Taman Cempaka
Cow Cow Yogurt – SS2
Cow Cow Yogurt – SS15
Cow Cow Yogurt – Mount Austin
Cowboy Grill – Kampung Teluk Lipat
Cowboy Western Food – 1128 Food Court
Coworking Cafe – Persada Plus
Cozy Shack Temerloh – Dynaton Bukit Angin
CR Cafe – Plaza Arkadia [Non-Halal]
Crab and Mantou
Crab B Restaurant – Bandar Puchong Jaya [Non-Halal]
Crab Generation Restaurant – Taman Len Seng [Non-Halal]
Crab Generation Restaurant – Dataran Perniagaan Cheras [Non-Halal]
Crab Generation Restaurant – Uptown Avenue [Non-Halal]
Crab One Corner – Restoran NSV
Craf – The Kuala Lumpur Performing Arts Centre
Craft Cafe [Non-Halal]
Craft Cha Maki – Jalan Riong
Craftsmen Cafe – Aman Suria
Crave & Cravings – Bandar Baru Selayang
Crave Bite
Crave Wings – Taman Sri Rampai
Crave Wings – Street Food Corner
Craveat Restaurant – Shah Alam
Cravings Restaurant – Kota Kemuning [Non-Halal]
Crazy Cheezy – Kilang Kitchen Petaling Jaya
Crazy Cheezy – Kilang Kitchen Klang
Crazy Cheezy – Port Mamam
Crazy Cheezy – Kantin @ Setor Gombak
Crazy Cheezy – Pusat Komersial Seksyen 7
Crazy Dog Breakfast & Brunch – Kawasan Perindustrian Teras Jaya [Non-Halal]
Crazy Dog Breakfast & Brunch – Pusat Perniagaan Maju Jaya [Non-Halal]
Crazy Ice-Cream & Salad House – Persiaran Green Hill
Crazy Kopitiam – Taman United [Non-Halal]
Cream/The Roast Things – The Tube
Creamore Coconut Shake – UTC Shah Alam
Create By Adiz – Century Street Food Court
Creativity Med – Taman IKS Merdeka
Creem Artisan Dessert Bar – Seksyen 17
Creem Artisan Dessert Bar – Jalan Mamanda 9
Crema Cafe – Iramanis Centre
Creme De La Creme – Damansara Utama
Creme De La Creme – Jalan Hutton
Crepe 2U Kopitiam – Mutiara Rini
Crepe Cottage – Persiaran Gurney
Crepe Me Out – Putrajaya Foodtruck Hotspot Presint 14
Crepe Me Out – Putrajaya
Crispoo Restaurant – Bukit OUG
Crispy Chicken – Jalan Datuk Tawi Sli
Crispy Chippy – Damansara Perdana
Crispy Crust – Sunway Pyramid
Crispy Crust – Main Place
Crispy Fried – Excellent Delight [Non-Halal]
Crispy Fried Chicken Rice – Grand Subang
Crispy Pecel Lele Cafe – Saujana Impian
Crispy Salad Chicken Rice – Gala Food Court
Crocodile Farm Seafood Village Restoran – SS12
Crocodile Rock – Jalan Telok Sisek
Croissant Taiyaki – Pavilion
Crowd 99 Cafe – Suria Sabah
Crown Bakery & Cafe – Lintas Square
Crown Cafe – Crystal Crown Hotel Kuala Lumpur
Crown Colony Cuisine – Jaya Shopping Centre
Crunchy Snack – FGJB
Crunzy Burger – Taman Pengkalan Jaya
Crunzy Burger – The Station
CRUSH – S-Mart
CRUSH – @Mart Kempas
Crush – KIPMall Kota Tinggi
CRUSH – Econsave Taman Teratai
Crush – Heritage Mall
CryoCloud Ice Cream – Presint 1
CS Dragon Kitchen – Jalan Dato Ismail Hashim [Non-Halal]
CS Food Court Mix & Match – [Non-Halal]
CS Food Street – CS Food Court
CS Happy Garden Mamak Stall – Taman Gembira
CT Eisya Cafe – Dataran Pahlawan Melaka
CT Satay – Jalan Kadir Adabi
CTJ Burger – Taman Tinggi
CTK Hong Kong Style Steamed Rice – Food City Kolombong [Non-Halal]
Ctmal Stadium – Medan Selera Stadium
CTRL – Solaris Mont Kiara [Non-Halal]
CU 29 Steak House – Taman Desa Jasmin [Non-Halal]
Cuaca – KL Gateway Mall
Cuan Yue Malatang – Sutera Mall [Non-Halal]
Cube Coffee – Lebuhraya Utara Selatan
Cube Coffee – One Precinct
Cube Coffee – Manjung Point 3
Cube Coffee Tan Jetty
Cubee – Shaftsbury Square
Cubic World – Pandan Indah
Cubiloxe – SS15
Cuckoo Chicken Rice – Taman Desa Damai [Non-Halal]
Cucu Blagak's House – Kampung Jaya Industrial Area
Cucur Campur ABC – Kunyap-kunyap Cafe
Cucur Campur – Fauziah Family Cafe
Cucur Misslaa – Kopiplus Cafe
Cucur Udang – New World Park Foodcourt
Cucur Udang & Taukua Rendang – Bayan Baru Food Court
Cucur Udang Baha Alor Gajah – Medan Selera Pasar Menggong
Cucur Udang Leleh – Medan Selera Arked Senawang
Cui Xiang Lou Restaurant – Jalan Perak [Non-Halal]
Cuisine Ho – Taman Skudai Baru [Non-Halal]
Cuisines – The Haven Resort Hotel
Culture by Tealive – Damansara Utama
Culture by Tealive – Georgetown
Cultured Craft Main – KL Tower
Cultured Craft Main – Taman Angkasa
Cupid Wings – Taman Dagang Jaya
Cupid's Wings – Ampang Putra Residensi
Cupid's Wings – Plaza Mont Kiara
Cupid's Wings – TTDI
Cupi'T – Bandar Botanic
Cupoca Thunder Tea – Bandar Botanic
Cuppa-Kap Coffee Cafe – One Jaya Shopping Mall
Cuppa Memories Cafe [Non-Halal]
Cuppa Two Cafe – Bandar Bukit Tinggi 2
Cups Cafe – Dataran Perniagaan Cheras
Curbside Cantina – M-Avenue
Curee – Bukit Bintang
Curried Citchen – Taman Tempua
Curry Fish Head & Three Cup Chicken & Alcohol Chicken – Kepong Food Court
Curry Fish Head – S11 Kopitiam
Curry Fun – Galacity [Non-Halal]
Curry Home – Lorong Maarof
Curry Home – Bukit Bintang
Curry Home – Hartamas Shopping Centre
Curry House – Demak Laut Commercial Centre
Curry House – Jalan Sultan Tengah Siol Kanan
Curry House – Satok
Curry House – MJC
Curry House – Kota Samarahan
Curry In Hurry – Bangsar Park
Curry King Nasi Lemak Special – Restoran Wan Xi Heng
Curry Leaf Restaurant
Curry Mee – Kedai Makanan Fa Kee [Non-Halal]
Curry Mee – Lorong Baru [Non-Halal]
Curry Mee – Taman Lip Sin [Non-Halal]
Curry Mee – Sweet Garden Coffee Shop [Non-Halal]
Curry Mee – Heng Park Food Court [Non-Halal]
Curry Mee 班台咖喱面 – Back Street Kopitiam [Non-Halal]
Curry Mee @ BBT2 Kopitiam – Bandar Bukit Tinggi [Non-Halal]
Curry Mix / Lo Mix Rice – On3 Kopitiam [Non-Halal]
Curry Noodles – Pusat Makanan Metro Ipoh [Non-Halal]
Curry Rice – Jalan Seang Tek [Non-Halal]
Curry Rice – Jia Jia Court [Non-Halal]
Curry/Lo Mix Rice – Koufu Food Court [Non-Halal]
Cute Cute Nasi Lemak Neng – Kobusak [Non-Halal]
Cutie Chilled Bean Curd – Medan Malim Jaya
CV Bistro – Changkat View Condominium
CW River Bay Kafe – Taman Pekan Baru
CX Cafe Sdn Bhd – Jln Sekama [Non-Halal]
D An Cafe – Taman Cempaka
D Anjung Corner Restaurant & Catering – Jalan Changkat
D' Anjung Timur – Taman Prima Selayang
D Bangkok Wok – Uptown Avenue Seremban
D' Bayam Corner – KG Bendahara
D Bulan Tomyam Restoran – Damai Plaza
D' Cherry Burger – Taman Daya
D' Dapur Melayu Ala Carte – PPUM
D' Faiz Tomyam – Medan Jalan Ayer Keroh
D Fat Mona Lisa – Jalan Free School
D' Geqid Ayam Penyet – Taman Kota Cheras
D' Hanss – Medan Selera Bumbung Biru
D' Highway – Kampung Jeram
D Intake Mee Tulang – Kampung Melayu
D Jit Seafood – Gerai Masjid
D Kenyalang Smoke House – Johor Jaya [Non-Halal]
D Khas Cafe – Pantai Chenang
D' Krabi Tomyam Classic – Bandar Seri Iskandar
D' Laman Restoran – Jalan Dusun Muda
D' Mee Kelate – Taman Bendahara Pengkalan Chepa
D' Moments Cafe – Seremban Gateway
D N Mini Mart No. 1- Kedai Viewlang
D' Naim Nasi Kukus – PJ
D' Naim Nasi Kukus – KL
D' Nan Nasi Daun Pisang – Kg Cherang
D' Nan Nasi Daun Pisang – Jalan Pintu Pong
D' Naz Corner Bistro 2 – Jalan Sultan Yahya Petra
D Nina Corner – Taman Binaraya
D' Penyet Lenyet – Panorama Lapangan Perdana
D Rinis Cafe – Kota Kemuning
D' Royal Martabak – Jalan Merbau
D' Sawah Corner – Kampung Pangkal Danan
D Sepit Biru – Persiaran SIBC
D Sun Veggie Cafe – Seri Kembangan
D Tambang Cafe – Kampung Lintang
D Tandoori @ D Tanjong – Taman OUG Parklane
D' Tradisi Cafe – University Place
D' Villa Seafood Restaurant – Jalan Besar
D Waffles Bubble Tea – Megalong Mall
D Wajan Cafe – Jalan Raya Barat
D Western Corner – Kedai Kopi Sun Sun Cafe [Non-Halal]
D Yummy Chicken Cheese (Kitchen Kak Bulan) – Jalan Masjid
Da Cheng Lok Lok – Jalan Kepong [Non-Halal]
Da Fei Delicious Food – Restoran Liang Yong Soo Siah [Non-Halal]
Da Fei Delicious Food – Kedai Kopi Ekonomi [Non-Halal]
Da Fei Delicious Food – Restaurant GW [Non-Halal]
Da' Gadis Burger – Taman Serdang Raya
Da Jie Jiao Zi Wang – Yes Cafe [Non-Halal]
Da Jie S Restaurant – Plaza Utama [Non-Halal]
Da Jiexi Cafe – Jalan Ayer Puteh [Non-Halal]
Da Kip Wan Tan Mee – Taman Nusa Bestari
Da Kip Wan Tan Mee – Taman Bukit Indah
Da Long Yi Hotpot – Sunway Nexis [Non-Halal]
Da Long Yi Hotpot – Jalan Imbi [Non-Halal]
Da Ma Kuey Teow ⼤⻢粿条仔 – Taman Bukit Indah [Non-Halal]
Da Ma Kuey Teow ⼤⻢粿条仔 – Taman Mount Austin [Non-Halal]
Da Mai Ikan Bakar – Taman Sri Tebrau
Da Mang Ren 大芒人 – Jalan Haji Abdullah
Da Mang Ren 大芒人 – Taman Pinggiran Putra
Da Mang Ren 大芒人 – Kampung Cempaka
Da Mang Ren大芒人 – Taman Star
Da Mang Ren – ITCC Mall
Da Niang Dumpling – FGJB [Non-Halal]
Dasarang Korean BBQ Restaurant [Non-Halal]
Da Shun Restaurant – Bandar Baru Permas Jaya [Non-Halal]
Dabao Restobar – Jalan Petaling [Non-Halal]
Daboba – NU Sentral
Daboba – Kota Kemuning
Daboba – The Landmark
Daboba – Kompleks Perniagaan Kota Syahbandar
Daboba – Gurney Paragon
Daboba – Pekaka Square
Daboba – Queensbay Mall
Daboba – Ipoh SOHO
Daboba – Sunway Giza
Daboba – Setia Alam
Daboba – Pandan Indah
Daboba – IOI City Mall
Daboba – IOI Puchong
Daboba – Seksyen 7
Daboba – Cheras Traders Square
Daboba – Taman Segar
Daboba – Jalan Batu Sinar
Daboba – Mytown
Daboba – Prima Sri Gombak
Daboba – Taman Selayang Jaya
Daboba – SS2
Daboba – Paradigm Mall
Daboba – East Coast Mall
Daboba – Damai Plaza
Daboba – Aman Central
Daboba – Taman Sutera Utama
Daboba – Jalan Station
Daboba – Gala City
Daddy & Co – SS15 [Non-Halal]
Daddy & Pizza – SS15 [Non-Halal]
Daddy Arumugam Recipe – Bangsar
Daddy Arumugam Recipe – USJ Taipan
Daddy Arumugam Recipe – Masjid India
Daddy Kuey Teow Kerang – Bandar Seri Iskandar
Daddy Mummy Goreng-Goreng Corner – Jalan Kuala Ketil
Daddy Village Restaurant – Taman Bukit Pasir
Dad's Bakery – Jalan Pulai Makmur
Dad's Home Kitchen – Taman IKS Merdeka [Non-Halal]
Dae Bak Cafe – Star City
Daebab (Nasi Ayam Korea) – Medan Selera Adikku
D.A.G (Dapur Abang Gemoks) – Kg. Melayu Majidee
Daging Merah Loqstaq – Shah Alam
Daging Merah Loqstaq – Raja Chulan
Daging Merah Loqstaq – Mutiara Damansara
Dai Cha Dim – Pavillion [Non-Halal]
Dai Ga Jay – Jalan Gopeng [Non-Halal]
Dai Ga Jay – Setapak Central
Dai Pai Dong Cafe – Lorong Wong King Huo [Non-Halal]
Dai Pai Dong Cafe Mix & Match – [Non-Halal]
Dai Sou Nasi Lemak – Air Putih
Daifuku Restaurant – Taman Daya
Daikaiju – Lebuh Kimberly [Non-Halal]
Daikaiju Japanese Barbecue – Plaza Prima [Non-Halal]
Daily Fresh – Inanam
Daily Fresh – City Mall
Daily Fresh – Suria Sabah
Daily Fresh – Karamunsing Complex
Daily Fresh – Centre Point Sabah
Daily Fruity – Central i-City
Daily Munchies – The Zizz
Daily Potion – The Sphere
Daily Potion – Sunway Geo
Daily Potion – Jalan Green Hill
Daily Restaurant – Taman Foh Sang
Daily VJ Vibes – Light Street [Non-Halal]
D'Aiman Kitchen (Cafe & Catering) – Bandar Koidupan
Dainty Kitchen – Medan Seri Impian 1 [Non-Halal]
D'Airis 69 – Taman Universiti
D'Aisyah Cafe – Kampung Semerah Padi
Dak Amie Yong Tau Foo & Sotong Kangkong – Medan Selera Datuk Demang Hussin
Dak Curry Noodle 大客咖喱面 – Kafe Fascination [Non-Halal]
Daka Cafe – Airport Commercial Centre [Non-Halal]
Dakenyang Kitchen – Bandar Bukit Raja
Damansara Uptown Hokkien Mee – Kuchai Lama [Non-Halal]
Damansara Uptown Hokkien Mee – Bandar Puchong Jaya [Non-Halal]
Damansara Uptown Hokkien Mee – Damansara Uptown [Non-Halal]
Damansara Uptown Hokkien Mee – Kota Damansara [Non-Halal]
Damansara Uptown Hokkien Mee – Hartamas [Non-Halal]
Damas Rose
Damascus BBQ
Damascus Kebab – Giant Setapak
Damascus Restoran
Damiaaqilah Home Made Food – Perumahan Polis Desa Baiduri
Damit Cottage 9 – Bandar Baru Permyjaya
Damn Good Burger – Putatan
Damn Good Burger – ITCC Mall
Damn Good Pizza – Casa Tropicana
Damn Good Pizza – Bukit Bintang
Damn Good Pizza – Ampang Putra Residensi
Damn Good Pizza – Lestari Perdana
Damn Good Pizza – Bangsar
Dan Yakitoriya – Lorong Desa Impian 2 [Non-Halal]
Dana's Bamboo Biryani & Curry House – Medan Bercham Bestari
Dancing Fish – BSC
D&C Noodle House – Jalan Kuchai Maju [Non-Halal]
D&M Cafe – Bandar Baru Sungai Buloh
D&T Burger Corner – Taman Keledang Emas
D&T Burger Corner – Taman Buntong Jaya
Dandy – Queensbay Mall
Dandy – Arena Curve
D&Z Corner – Jalan Simpang IKS Bukit Minyak
Dang Arot – Medan Selera Taman Harmoni Sibu
Dang n Cafe – Bandar Sierra
Dang Suri Laksa Penang Mee Kari – Taman Johor Jaya
Dania Cafe – Metrotown
Daniella Homemade – Pangsapuri Laksamana Jaya
Daniesha Aneka Rasa – PT 9703
Dani's Recipe – Bandar Mahkota Cheras
Danish & Co. – Pasar Moden SS15
Danish Briyani House – Lebuh Penang
Danish Briyani House – Eden Parade
Dann's Cafe – Taman Daya
Danny Fries – Pangsapuri Putra
Dante's Italian Fusion Cafe
Danur Sutra Kitchen – Palm Villa Commercial Centre
Dao Desserts – Puchong Jaya
Dao Desserts – Kuchai Entrepreneurs Park
Dao Feng Wei Seafood – Taman Bestari Indah [Non-Halal]
Dao Heong Chicken Rice – Bukit Rahman Putra [Non-Halal]
Daol Cafe – Green Heights Commercial Centre [Non-Halal]
Dapo Bawah Pokok – Uptown Puchong Night Bazaar
Dapo Che Hamdan – Matang Jaya
Dapo Cik Ogee – Kubang Kerian
Dapo Dani – Gerai UPEN
Dapo Gegar – Paktam Asam Pedas Sg Bakap Station
Dapo Idaman – Jalan Piasau Jaya 2A Fasa II
Dapo Kaq Eina – Foodspot
Dapo LaMan – Lorong Chantek 4
Dapo Mak Long & Anjang Oden – Cha Cha Cafe
Dapo Mak Su – Bandar Lahat Baru
Dapo Manje Nayleea – Jalan Lapangan Terbang 1
Dapo Ommi – Medan Selera Cheng Baru
Dapo Rizki – Medan Niaga SEDC
Dapo Tokma – Taman Orkid
Dapogoya Restaurant – 9ine Condominium
Daponazs – Dataran Usahawan PKNNS
Dapoq 2 Bini – Kantin @ Gombak Depot
Dapo'q Dua Beradik – Jalan Lencongan
Dapoq@Kelana Jaya – Taman Sri Kelana
Dapoq Metal Food Truck
Dapoq Omputeh – Taman Bandar Senawang
Dapoq Pak Syed – Jalan Telaga Air
Dapoq Street – Bandar Tun Razak
Dapoq Utagha – Jalan Parit Tiram
Dapoqlate Restaurant & Frozen Food – Jln Sultan Yahya Petra
Dapor 3 Makcik – Taman Sepakat
Dapor Berasap – Kg Baru Subang
Dapor Mama – Pangsapuri Putra Permai 3
Dapor Mommy's – Beware Cafe
Dapor Tnn – Jalan Masjid Abidin
Dappo Wadi – Kampung Bayam
Dapur 3 Dara Delivery – Taman Pulai Utama
Dapur Aisyah – Taman Jelok Indah
Dapur & Satay Cik Niz – Kampung Sri Andalus Batu 13
Dapur Ariana – Pasar Moden SS15
Dapur Aroy Cafe – Jalan Tengku Mohd Massum Pasir Hor
Dapur Asia – Sering Ukay
Dapur Asia – Bdr Satelit Islam P. Tumbuh
Dapur Ayam Penyet Jawa – OUG Parklane
Dapur Bang Jago – Salak Tinggi
Dapur Berasap – Taman Komersial Senawang
Dapur Bolkia – Taman Kuala Menggatal
Dapur Bot 492 – Taman Esplanade
Dapur Brozam – Taman Bukit Subang
Dapur Bunda – Taman Puchong Permai
Dapur Bunda Secobek Pedas Gila – Cyber Square
Dapur Che – Apartment Pandan Ria 2
Dapur Chef Adil Joe – Jalan Boling Padang 13/62
Dapur Cicie Muslim Food – Siang Food Court
Dapur Cik Bee – USJ 1
Dapur Cik Bee – Bismilaah Restoran
Dapur Dadamlicious – Taman Maju
Dapur Datin – Jalan Masjid Lundang
Dapur Desamall – KPLB
Dapur D'Pindang – Kampung Sungai Kantan
Dapur Fas – Seven On Seven Cafe
Dapur Finaz – Taman Pantai Dalam
Dapur Hendra Aneka Nasi Ambeng – Keramat Wangsa
Dapur Heng Heng – 1010 Food Court [Non-Halal]
Dapur Heng Heng – Family Kopitiam [Non-Halal]
Dapur Ibu Kami – Go Kitchens
Dapur Ibu Khalish – Taman Suria
Dapur Ibu Khalish – Taman Ekoperniagaan
Dapur Ika – Sepakat Indah
Dapur Indonesia – Plaza Merdeka
Dapur Indonesia @ Jalan Song – Lorong Laksamana Cheng Ho
Dapur KAF – Bandar Sri Manjalara
Dapur Kak Ain – Taman Tunku
Dapur Kak Cah – Tmn Industri Sg Buloh Jaya
Dapur Kak Ida – Batu Caves
Dapur Kak Ju – Anjung Malawa
Dapur Kak Leha – Jalan Dato' Mohamad Kampung Selabak
Dapur Kak Mai – Taman Sri Muda
Dapur Kak Nora Legend – Taman Maluri
Dapur Kak Ross – Cyber Square
Dapur Kakreen – Taman JP Perdana
Dapur Kamek – Jalan Jernang Commercial Centre
Dapur Kumang – Rumah Asap Dayak Samarahan [Non-Halal]
Dapur Like Bonda – Komplek Penjaja Bandar Tasek Mutiara
Dapur Ma-Lin-Do Cafe – Jalan Penrissen
Dapur Mak Jemah – Taman Sekamat
Dapur Mak Rose – Terminal 1
Dapur Maklang – Taman Melaka Perdana
Dapur Maksu – Taman Indah Jaya
Dapur Mama Qq – Balai Selera 7 Tanjak
Dapur Mamii Siti – AEON BiG Falim
Dapur Mammy – Malay Town
Dapur Masliana – Prestige Heights
Dapur Mc'na – Lorong Peramu Aman 30
Dapur Medan – Kg Wakaf Che Yeh
Dapur Mek Qlate – Bandar Baru Nilai
Dapur Melekat – Popular Food Court
Dapur Mizlin – Kg Melayu Majidee
Dapur Nana – Sinsuran Complex
Dapur Nana – One Place Mall
Dapur Nora – Subang Bestari
Dapur Norra – Desa Pakatan
Dapur Nyonya – Lee Tak Street
Dapur Pacak – Bandar Tasek Mutiara
Dapur Pilot – Bangi Avenue
Dapur Pink Jaja – Jalan Cili Empat
Dapur Pok Nik – Uniq Cafe
Dapur Pondok Kayu – Jalan Mohd Akil
Dapur Salai Mak Iti – Pekan Durian Tunggal
Dapur Selera Pudu – Jalan Pudu
Dapur Serama – Taman Murai Jaya
Dapur Seri Salai – Plaza Mahkota
Dapur Seri Wijaya – Sejati Walk
Dapur Siti Fatimah – Jalan Pending
Dapur Tanjak – Desa Permai
Dapur Tok Mat – Jalan Ampang
Dapur Tokki – Taman Nusa Bestari Jaya
Dapur Tua Hajah – Taman Penampang
Dapur Ummi – Bandar Meru Raya
Dapur Ummi Kontena Paroi – Taman Pinggiran Golf
Dapur Warisan – Ampang
Dapur Yasmeen – Likas
Dapur Yasmeen – Harbour City
Dapuran Wawa – Prima Square
Dapurlicious – Selayang Indah
Dapur's Armada – Medan Selera
Dar Al-Arab Gourmet Restaurant – Sunway Pyramid
Dar Soo Vegetarian Cuisine – Jalan Ipoh
Dar Zen Food Centre Mix & Match – [Non-Halal]
Dara Burger Bakar – Persiaran Ampang
Dara Burger Bakar – Taman Sri Andalas
Dara Burger Bakar – Cheras
Dara Burger Bakar – San Cafe Dapur Sentral
Dara Burger Bakar – TTDI
Dara Burger Bakar – Bangsar
Dara Burger Bakar – SS2
Dara Burger Bakar – Desa Sri Hartamas
Dara Burger Bakar – Shell Lebuhraya KL-Seremban
Dara Burger Bakar – Menjalara
Dara Burger Bakar – Sg Penchala
Dara Burger Bakar – Kota Kemuning
Dara Burger Bakar – UM
Darbar Curry House – Pandan Indah
Dardos 13 – Taman Bukit Serdang [Non-Halal]
Darel & Ben's Restaurant and Bar – SS15
D'Arena Cafe – Setiawangsa
Dari Dapur Cik Yana – Taman Tanjung Minyak Jaya
Dari Hati – The Curve
Dark Tea Cafe 安化黑茶 – Taman Sri Rambai [Non-Halal]
Darna Cuisine – Kota Damansara
Darora Kitchen – Rivera @ Pulau Melaka
Darren Vegetarian
Darrich – Desa Samudera
Darts Line Lounge & Bistro
Daruma Syokudo – Jalan Kiara [Non-Halal]
Daryzwan Corner – Rox Cafe
Daseo – Queensbay Mall
Dat Pizza Dough – Plaza Mont Kiara
Dato Sagor Mee Rebus – Medan Selera Dato Sagor
Datong Vegetarian Foods – Sekama
Dattebayo – Bandar Sri Ampang
Datuk Chicken Rice – CityOne Megamall
Daun Kitchen – Taman Bukit Indah [Non-Halal]
Daveg Cafe – Jalan Mahsuri [Non-Halal]
Dave's Deli – IOI City Mall
Dave's Deli – Design Village
Dave's Deli – Sunway Carnival
Dave's Deli – Queensbay Mall
Dave's Deli – The Starling Mall
Dave's Deli Express – Ara Damansara
Dave's Deli – Subang Parade
Dave's Deli – Atria Shopping Gallery
David Kitchen – Kampung Tawas [Non-Halal]
Davon Gourmet – Subang Jaya
Dawa Dessert – Taman Segar [Non-Halal]
Dawn Cafe – Persiaran Gurney
Day And Night Canteen 黑白小食堂 – Taman Connaught [Non-Halal]
Day N Night Cafe – Lorong Tun Ismail 10
Day Nite Cafe – The One
Day To Day Cafe – Cheras [Non-Halal]
Dayak – The Spring Shopping Mall
Dayak Food – Pearls Park Food Court [Non-Halal]
D'Ayam Kingdom – Kota Damansara
Dayang Cafe – Medan Klebang Indah
Dayang Kafeteria – Matang
Dayang Normah Cafe – Taman Soleen
Dayang Sarawak Corner – Setapak
Dayang Sarawak Corner – Ampang
Dayang Sarawak Corner – Kompleks Q Permaisuri
Dayang Sarawak Corner Cafe Putrajaya – Precint 15
Daysya Satay – Qims Cafe
Daz Signature – Jln Pengkalan Chepa
Dazs Donuts & Coffee – Seksyen 13
Dazs Donuts & Coffee – Mydin MITC
Dazs Donuts & Coffee – Lotus's Melaka
Dazs Donuts & Coffee – Giant Bandar Kinrara
Dazs Donuts & Coffee – TF Value Mart
D'Bamboo – Plaza Kingfisher
D'Bayam Seafood – Jalan Bayam
Dben Coffee Art – Taman Kota Laksamana Jaya
D'Boba – Maple Village Gita
D'Bornion – Bornion Centre
D'Burn Satay – Big Crab Street Food
D'Burn Satay Station – Maga Restaurant
D'Cabin Kampung Jawa – Kampung Jawa
D'Cafe – Taman Petaling Utama
DCC Master Burger – Petaling Jaya
DCC Master Burger – Ara Damansara
Dchef Fusion Delight – Bukit Mertajam [Non-Halal]
D'Chubby Kitchen – SS15
DCKL Cafe
DCZ Seaview Seafood – Jalan Pantai Cahaya Bulan
DD Burger Grill and Western – Jalan Seri Tanjong Pinang
DD Family – Suria Sabah
DD Rock Station – Jalan Kampung Datu
D'd Space Burger – Subang Jaya
D'Dapo Mama – Pasaraya CS
D'Dataran Corner – Seksyen U3
Ddu-du Korean Fried Chicken – Jalan Raja Uda
De Abazagan Cafe – Ramayah
De' Aiman Cafe – Taman Pulau Melaka
De Aisyah Kitchen – Kompleks R&R
De Amore Cafe – Bandar Baru Tambun
De Bali Kopitiam – Jalan Tun Abdul Razak
De Bois Cafe – Jalan Raja Dr Nazrin Shah
De Braised – Public House Foodcourt [Non-Halal]
De Buluh Corner – Taman Subang Perdana
De Casalingo Cafe – Bandar Cyber [Non-Halal]
De' Chinta Rasa Cafe – UMall Medan Selera
De Dino Cafe – Desa Aman Puri [Non-Halal]
De Fairy Tales – Prima Segamat Business Park
De Faish Cafe – Bandar Baru Teluk Intan
de Familia – Medan Selera Pasar Moden SS15
De Forest Cafe – Bandar Puteri [Non-Halal]
de Fresh – Bandar Baru Sri Petaling
De Garden Cafe – Taman Impian Emas [Non-Halal]
De Grain – Jalan Tun Jugah
De Happy Seafood Restaurant – Macalister Road
De Hauss Garden Cafe – Bandar Perda
De Heart Cafe – Taman Merdeka Permai [Non-Halal]
De Ji – Kopitiam Tong Nam DSX [Non-Halal]
De' Kak Long Station – Jalan Pulai Perdana
De Kebayan – Lorong Pelindung Damai 11
D/E Kitchen – Seksyen U5
De Kota Air Buoh Café – Jalan Pasir Mas-Salor
De Kota Celup Burger – Medan Kamunting
De Lambai – Jalan Kenangan
De Larken Food & Beverage – Jalan Datin Halimah
De Lawn Restaurant – Seaview Apartment [Non-Halal]
De Leaf Kitchen – Ambang Botanic
De Licious Banana Shake – Pekan Klebang
De Mawardah Cafe – Plaza Mahkota
De Mommy's Corner – Jln Tambatan
De' Monas Cafe – Taman Sri Sarawak Mall
De Mouth Cuisine – Persiaran Greentown 8
De Noodles – Sea Park [Non-Halal]
De Sharifah Tomyam & Seafood – Taman IKS Merdeka
De Tamu Cafe – Lorong Satok 9
De Veyron Cafe – Eco Sky
De' Viana Cafe – Viana Court Service Apartment
De Warisan Tomyam – Kota Warisan Selayang
Deanjo Station – Jalan Raja Muda Abdul Aziz
Dear You – Jalan Penang
D'Easy Noodle – Chuan Lee Restaurant [Non-Halal]
Debob Cheezy Meatball – Mydin Bukit Mertajam
Debob Coffee – Jalan Perda Selatan
De'Bong Ampang – Jalan Pandan Cahaya
Decades Cafe – Happy Garden
Decanter PJ – Section 17 [Non-Halal]
December Bak Kut Teh – Bandar Damai Perdana [Non-Halal]
December Bak Kut Teh – Sungai Chua [Non-Halal]
December Bak Kut Teh – Bandar Baru Sri Petaling [Non-Halal]
December Eighteen – Dataran Mentari
Dee Bento House – Taman Daya [Non-Halal]
Dee Burger – Jalan Bukit Puteri
Dee Dapur Panas – Taman Pantai Indah
Dee D'village Seafood & Western Food – KG Laksamana
Dee Dynasty Dumplings & Noodles House – Bandar Baru Permas Jaya [Non-Halal]
Dee Kebab – Bandar Perdana
Dee Putra Burger x The Cat Store – Jalan Teluk Wanjah
Dee Sepet – Kantin@Setor Gombak
Dee Thai Restaurant – Jalan Bunga Raya 2
Perfect Modern Chinese Cuisine – Taman Lembah Permai [Non-Halal]
Dee Zulika Enterprise – Tabuan Jaya
Deen Baru Nasi Kandar – Relau
Deen Maju Cafe – Masreca 19
Deen Satay – Taman Ibukota
Define:Food – The Boulevard
Degree Coffee – Mahsa Avenue
Deif Kaffee-Pusat Perniagaan Manjung
Deja Vu 似曾相识 – Taman Pelangi [Non-Halal]
DejaVu – Dataran Jelatek Plaza
Deji Chicken Rice – Adda Height [Non-Halal]
Deji Chicken Rice – Setia Tropika [Non-Halal]
Deji Chicken Rice – Taman Kempas [Non-Halal]
Delay No More Crab Restaurant – Hartamas Shopping Centre
Delay No More Crab Restaurant – Tropicana Gardens Mall
Delcasis Cake – Taman Cempaka
De'Lea Kitchen – RP Menggatal Baru
De'leepaq Kiosk – Sabindo Square
Delhi Royale Restaurant – Kampung Baru
Deli BBQ Enterprise – Taman Kempas Utama [Non-Halal]
Deli Mad 19 Cafe – Kampung Baru Sungai Buloh [Non-Halal]
Deli Manjoo – Prangin Mall
Deli-Sushi – Tamarind Square
Deli-Sushi – Menara U2
Deli-Sushi Express – Lotus's Mutiara Damansara
Deli Wau – Citta Mall
Deli Western Corner – Glomac Centro
deli2go & Costa Coffee – Menggatal
deli2go & Costa Coffee – Shell Jln Mat Salleh Tg. Aru
Delicacy Bak Kut Teh – Aneka Selera Ipoh Garden [Non-Halal]
Delicias Kebab & Biryani – Taman Serdang Perdana
Delicious – Cedar Point Food Court [Non-Halal]
Delicious Cendol – De Centrum Mall
Delicious Dumplings – Kafe WK Garden East [Non-Halal]
Delicious Food Stalls – Xin Daren Coffee Shop [Non-Halal]
Delicious Mixed Rice – 10 Boulevard Commercial Centre
Delicious Taste of China – Jalan Phuah Hin Leong [Non-Halal]
Delicous Mixed Recipes Cafe – Boulevard Commercial Centre
Delifrance – Publika
deLight – Taman Desa
Delight Arabic Food – Mydin Sungai Petani
Delight Gallery Cafe – Pearl Avenue [Non-Halal]
Deli's Western Food – Aneka Selera Kam Wan [Non-Halal]
Delish Cafe – University Of Cyberjaya
Delivery Ghost Kitchen – Bistari De Kota
Dell Cendol Dell Laksa – Jalan Jones
Deluxcious Restaurant – Tanjong Tokong
Deluxe Toast – On3 Kopitiam [Non-Halal]
Demangel Cafe – Damansara Utama
D'Empire – Pavillion
Dendeng Balado Bonda – Jalan 33
Den's Udang World – Ramal Food Junction
Denze Homemade Cake – Lau Yew Food Court
Departure Lounge – Damansara Uptown
Depot Arifah – Karamunsing Road Side Foodcourt
Deq Na – Jalan Bestari
D'era Cafe – 99 Cafe
Deraman Tako – Kampung Baru
Desi Chapatti – Sentul
Dessert – Paradigm Mall JB
Dessert & Bread – Salak Selatan
Dessert & Drink – Bandar Mahkota Cheras
Dessert & Sandwiches Kuantan – Jalan Tanjung Lumpur
Dessert Bar By Stanley Choong – Sri Petaling
Dessert @ Cendol Gerek Seyy – Salai Master @ Damansara
Dessert Land @ Sri Aman – Seri Aman Food Centre
Dessert Master – Jalan Boulevard Commercial Centre
Dessert Old Time Delight Shop – Lebuh Kimberley
Dessertime – 1 Bukit Utama
Deus Bistro And Bar – Damai Point [Non-Halal]
Dev Indian Kitchen – Restoran Juru
Devil Chicken – Lorong Sena 8
Devil Chicken – EkoCheras Mall
Devil Chicken – Jalan Sutera Tanjung
Devil Chicken – Saradise Kuching
Devinaa C Mart & Cafe – Seputih Permai Condominium
Devi's Corner – Bangsar
Dewa Yong Tau Foo – Jalan Taman Maju
Dewi Laksa – Fuyu Cafe Satok
De'Zafron Kopitiam – Jalan Tun Abd Rahman Yaakub
D'Fine Cafe – Pekeliling Business Centre
DFR Cafe (Muslim Food) – Batu Kawah New Township
DG Food Court – Pusat Bandar Puchong [Non-Halal]
DGEE Kitchen – Taman Desa Pelancongan
DH Bak Kut Teh – Taman Indrahana [Non-Halal]
Dhaba 15 – Plaza Mont' Kiara
Dhani Kitchen – V.C. Kopitiam
D'Hati Corner – Riverside Plaza
Dheshar Kitchen – Pusat Penjaja Taiping
D'Hijrah Burger – Taman Sentosa
Dhilis's Briyani – Taman Desa Petaling
Dhivya Cafe & Souveniers – Batu Caves
D'Honey Sweet Chicken Rice – Putatan
Dhuha Capati – Jalan Tepi Sungai Kampung Berjaya
Di Huang Chicken Rice – Taman Nee Yan [Non-Halal]
Di Qana – Jalan Gambang
Di Tunjong Flora – Bandar Baru Tunjong
Di Yi Tai – PV128 [Non-Halal]
Diamira Kitchen – Taman M-Residence
Diana Catering – Bandar Maju
Diana Corner – Kota Damansara
Dianamashitah Hot Plate – Chacha Cafe
Diao Yu Tai Restaurant – Jalan Temiang
D'Ice Kacang – Taman Matang Jaya
DiDi Recipes For All- Taman Setapak
Diem Canteen – Tamarind Square [Non-Halal]
Dietmonsta – Jalan Raja Chulan
Dijon Catering – Poh Ming Park
Dilla Burger – Taman Bagus
Dilly Daily – Karamunsing Complex
Dim Dim Dim Sum – Taman Supreme [Non-Halal]
Dim Dou Duck – Desa ParkCity [Non-Halal]
Dim Sim – Restoran Sheng Heng [Non-Halal]
Dim Sum – On3 Kopitiam [Non-Halal]
Dim Sum Empire – Bandar Botanic [Non-Halal]
Dim Sum King – Funky Farm Food Court [Non-Halal]
Dim Sum Paradise – Ipoh Garden [Non-Halal]
Dim Sum Sedap – Medan Selera SS15
Dim Sum Station – Persiaran Mahsuri 2/3 [Non-Halal]
Dim Sum Tea House – Teaffani Catering
Dim Sum Xiang Loong Corner – Bercham Height [Non-Halal]
Dim Sum – Yes Cafe [Non-Halal]
Dima – Ara Damansara
Dimalaya Cafe – Jalan Melor
D'Imbi Sotong/Ikan Bakar – The Nest
DimDoDuc – Jalan Thean Teik [Non-Halal]
Dimsum And Pau (Alizas Cafe) – Lintang Sg Batu
DimSum House – Jalan Radin Anum [Non-Halal]
Dimsum Line – Taman Adda Heights [Non-Halal]
Dimsum Xpress – Da Men Mall
Dimsum Xpress – Kelana Jaya
Din By Din Tai Fung – KLCC
Din By Din Tai Fung – NU Sentral
Din By Din Tai Fung – Mid Valley Southkey
Din Kepak Ayam Madu – Batu Maung
Din Limbong Selera Warisan – Jalan Datuk Kumbar
Din Raja Air Nyor – Jalan Sultan Yahya Petra
Din Rojak Cendol – Sri Hartamas
Din Tai Fung – The Gardens Mall [Non-Halal]
Din Tai Fung – Gurney Plaza [Non-Halal]
Din Tai Fung – Empire Shopping Gallery [Non-Halal]
Din Tai Fung – 1Utama [Non-Halal]
Din Tai Fung – Sunway Pyramid [Non-Halal]
Din Tai Fung – Pavilion [Non-Halal]
Din Tai Fung – City Square [Non-Halal]
Dindigul Thalappakatti – Lebuh Ampang
Dindigul Thalappakatti – Brickfields
Dine – Espira Sri Petaling Hotel
Dineshaa Banana Leaf Restaurant
Ding Bian Hu – Koufu Food Court [Non-Halal]
Ding Bian Hu – Dai Pai Dong Stapok [Non-Halal]
Ding Cha – Bandar Baru Permas Jaya
Ding Dang Yun Tun Mian – Gp Food Point Restaurant [Non-Halal]
Ding Ding Homemade Dumplings – Gala Food Court [Non-Halal]
Ding Dong Ding Dong – Taman Bukit Minyak
Ding Empire (Hotpot) – SS2 [Non-Halal]
Ding Empire Noodle – SS2 [Non-Halal]
Ding Fung Kee – Kota Syahbandar
Ding House Catering – Jalan Salleh [Non-Halal]
Ding Ji Seafood – Mutiara Rini [Non-Halal]
Ding Ming Xiang Austin Mala HotPot – Taman Mount Austin [Non-Halal]
Ding Ming Xiang Mala HotPot – Taman Ungku Tun Aminah [Non-Halal]
Ding Tea – Emart Riam
Ding Cha – KSL City
Ding Tea – Emart Batu Kawa
Ding Tea – Semariang
Ding Tea – Icom Square
Ding Tea – Wisma Wan Abu Bakar
Ding Tea – Metrocity Square
Ding Tea – Summer Mall
Ding Tea – La Promenade Mall
Ding Tea – Jalan Matang
Ding Tea – Boulevard Mall
Ding Tea – The Hills
Ding Tea – Cityone Mall
Ding Tea – Plaza Merdeka
Ding Tea – Emart Tabuan Jaya
Ding Tea – VivaCity Megamall
Ding Tea – AEON Kuching
Ding Xiang Kopitiam – Jalan N-City
Ding Xuan Feng – FGJB [Non-Halal]
Ding Yi Homemade Dimsum – Restoran ShiYue Tian [Non-Halal]
Dining Bowl Vege Cuisine Cafe
Dink KL – Taman Keramat Permai
Dinner Project – Medan Meru Bestari
Dinner Set – Dai Pai Dong Stapok [Non-Halal]
Dino's Thai Food Restoran – Jalan Alor
DINS BACKYARD BBQ – Jalan Kampung Batu 7
Dins Cafe – Arked Mara
Dip & Shake – Taman Iramanis
Dip Dip – Glomac Centro
Dip Play Cafe – Jalan Gajah [Non-Halal]
dipndip – Bangsar Baru
dipndip – Mid Valley
dipndip – Sunway Velocity
dipndip – Pavilion Elite
dipndip – Sunway Pyramid
dipndip – IOI City Mall
dipndip – The Curve
dipndip – Central i-City
dipndip – Paradigm Mall JB
dipndip – Mid Valley Southkey
DIS Cafe – Taman Kepong Emas
Dish, Steam Soup and Fish – New Lucky Restaurant [Non-Halal]
Dita Catering – Sejati Walk
d'italiane – Sunway Giza
d'italiane – Paradigm Mall
Divine Fusion Restaurant & Bar – SS2
DIY Mini Hotpot – Pusat Perniagaan Menglembu Suria [Non-Halal]
Diyaasri Curry House – Plaza Makmur
DJ Nasi Kandar Lumut – Jalan Sultan Yussuff Izuddin
DJJ Restaurant – Presint 15
D'Johan Delicacies – Taman Mewah
DK Delicious – Pusat Makanan Lye Lye [Non-Halal]
D'Kaferia Enam – Bangunan Mara
D'Kampung Nenda – Sengkuap Seri Gombak
Dkarat Warisan – Taman Bukit Piatu Mutiara
D'Kelate – Jalan Hospital
D'Klasik Seafood – Taman OUG Parklane
dKS King Mee Kolok – Bandar Putra Permai
D'Kueh – Taman Sri Hartamas
DKW Kambing Bakar – Seasons Square
DL Permata Cafe – Komplek Penjaja Bandar Tasek Mutiara
D'Laksa – AEON Ipoh Station 18
D'Laksa – AEON Taiping
D'Laksa – AEON Rawang
D'Laksa – AEON Ipoh Klebang
D'Laksa – AEON Falim
D'Laksa – Empire Shopping Gallery
D'Laksa – AEON Bandaraya Melaka
D'Laksa – Dataran Pahlawan
D'Laksa – AEON Ayer Keroh
D'Laksa – AEON Bukit Mertajam
D'Laksa – Queensbay Mall
D'Laksa – Metro Point Kajang
D'Laksa – AEON Kinta City
D'Laksa – Mid Valley
D'Laksa – Sunway Pyramid
D'Laksa – AEON Alpha Angle
D'Laksa – IOI Puchong
D'Laksa – AEON Metro Prima
D'Laksa – AEON Bukit Tinggi
D'Laksa – AEON Seri Manjung
D'Laksa – AEON AU2
D'Laksa – AEON Shah Alam
D'Laksa – 1Utama
D'Laksa – AEON Taman Maluri
D'Laksa – MyTown
D'Laksa – Amanjaya Mall
D'Laksa – KSL City Mall
D'Laksa – Sutera Mall
D'Laksa – AEON Bukit Indah
D'Laksa – AEON Permas Jaya
D'Laksa – AEON Kulai
D'Laksa – AEON Seremban 2
D'Laksa – AEON Nilai
D'Laksa – AEON Taman Universiti
D'Laksa – Angsana Mall
D'Laksa – AEON Bandar Dato' Onn
D'Laksa – AEON Tebrau City
D'Laksa – Komtar JBCC
D'Laksa Village Grocer – Paradigm Mall JB
D'Larees Station Western Cuisine – Paya Jaras Hilir
D'laris Cafe – Menara BSN
D'Lazeez Nasi Kandar – Jalan Van Praagh
D'Life Cafe – Pandan Indah [Non-Halal]
D'Life Cafe – Kepong
DM Cafe – Kawasan Perindustrian Temenggong
DM Station – Taman Melati
Dmaharaanees Banana Leaf Restaurant – Taman Meranti Jaya
D'Mai Station – Wisma Rampai
D'Mari Makang – Damansara Damai
D'Matahari Thai Kitchen – Pusat Bandar Senawang
DMC Fish Soup Noodles – Damas 118 Plaza
D'Mezzanine – GBW Hotel
DMixmatch – Lagenda Heights [Non-Halal]
D'Nats
D'naz Corner Bistro – Jalan Sultan Yahya Petra
DNAZ Cuisine – Xing Xing Kafeteria
D'Northstar Bistro – Prima Square
DNS Bak Kut Teh 元帥肉骨茶 – Bandar Menjalara [Non-Halal]
Do 8 Cafe – Southville City
Do Do Fuk – Kota Damansara [Non-Halal]
Do Eat With Us
Doa'a Ameen Arabian And Western Food – Lebuhraya Sultan Iskandar
Doc Mosso Char Kuew Tiow Banjir – Jalan Ayer Panas
Dodo Dim Sum & Bowls – Tropicana Garden Mall
Dodoro – Jalan Hutton
Dodoshellout – Jalan Cempaka
Doffle – Bandar Puchong Utama
Doi Chaang Coffee – Jaya One
Doi Chaang Coffee – Taipan
Dokebi Chicken – Tamarind Square
Dokebi Chicken – Leisure Mall
Dokidoki Okonomi – Cyberjaya
D'Oldtime Kopitiam – Quill City Mall
Dole's – Bukit Rimau
Dollah Noodle – Taman 1 Lagenda [Non-Halal]
Dolly Dim Sum – The Curve
Dolly Dim Sum – Sunway Pyramid
Dolly Dim Sum – Avenue K
Dolly Dim Sum – Pavilion
Dolly Dim Sum – IOI City Mall
Dolly Dim Sum – Sunway Putra
Dolly Dim Sum – NU Sentral
Dolly Dim Sum – KL East Mall
Dolphin Kelly Chinese Food – Taman Luyang [Non-Halal]
Dome Cafe – BSC
Dome Cafe – Subang
Dome Cafe – Intermark
Dome Cafe – Ikano
Dome Cafe – KLCC
Dome Cafe – Gurney
Dome Cafe – Queensbay Mall
Dome Cafe – The Curve
Dome Cafe – Gleneagles
Dome Cafe – Pavilion Connection
Dome Cafe – Taman Shamelin Perkasa
Dome Cafe – Gardens
Don by Tastesome Food – Danau Kota Suite Apartment [Non-Halal]
Don Don – Restoran One Plus Eight Kopitiam
Don Kaiten Japanese Restaurant – Klang Parade
Don Martin Dim Sum Bar – SS2 [Non-Halal]
Don Wuri – Taman Sri Hartamas [Non-Halal]
Don Wuri – Faber Tower [Non-Halal]
Don Wuri – Damansara Jaya [Non-Halal]
Don Zinger Burger – Pusat Penjaja Seri Murni II
Dondang Sayang Coffee House – Corus Hotel
Doner Haus – Publika
Dong Bei Dumpling – 63 Food Court [Non-Halal]
Dong Guan Kopitiam – Jalan Irrawaddy
Dong Men Ji – Taman Connaught [Non-Halal]
Dong Ting Taste – Bandar Puteri [Non-Halal]
Dongdaemun Yupdduk Tteokbokki – Bandar Sri Damansara [Non-Halal]
Donkey Restaurant – Taman Iskandar [Non-Halal]
Donna Dessert – Sing Garden Cafe [Non-Halal]
Don's – Bandar Tun Hussein Onn
Don's Warong
Dont Miss Chicken Restaurant – Taman Sri Desa [Non-Halal]
Dont Yell At Me – KL East Mall
Dont Yell At Me – Courtyard Subang SS15
Dont Yell At Me – Kepong
Dont Yell At Me – 163 Retail Park
Dont Yell At Me – Mutiara Complex
Dont Yell At Me – Pearl Point Shopping Mall
Donut Bay – Cyber Square
Donut Celup – Kota Perdana
Donut Dapoq Dilla – Taman Seri Impian
Donut Dealer – Vista Alam
Donut Gazzsi – Jalan Kamaruddin
Donut Jeppon – Sungai Putat
Donut She Ina – Taman Melor 3
Dookki – IOI City Mall
Dookki – R&F Mall
Doplohtiga – Taman Tasik Titiwangsa
Dorayaki – Brem Mall
Dorayaki – Taman Sutera Utama
Doremefa Food – Wisma MPL [Non-Halal]
D'oro Wine & Dine – Cheras Business Centre [Non-Halal]
Dose nd Mega – Faber Tower
Dotty's Pastries & Coffee – TTDI
Dotty's Pastries & Coffee – KLCC
Dotty's Pastries & Coffee – IOI City Mall
Dou Dou Soya Custard – Gala Street Mall
Dou Dou Soya Custard – So Good Cafe
Dou Fu Hua – Kepong Food Court
Double Happiness Cafe (Main) – Double Happiness Cafe [Non-Halal]
Double Rainbow Kafeidian – Medan Niaga Tasik Damai
Double Tea – NSK Kota Damansara
Double Trouble Burger Ekspress – Taiping
Down To Bones – OUG [Non-Halal]
Down To Bones – Bandar Bukit Tinggi [Non-Halal]
Dozo – Persiaran Medan Ipoh [Non-Halal]
Dozo – Summerskye Residences [Non-Halal]
DP Junction – Bandar Damansara Perdana [Non-Halal]
D'Pahlawan A – Pangsapuri Bukit Saujana
D'Pearl Burger & Char Koey Teaw – Komplek Penjaja Bandar Tasek Mutiara
D'Percik – Taman Peluduk Penampang
DPermaisuri Canteen – Bandar Sri Permaisuri
D'Place Kinabalu – Plaza Shell
D'Plate Kitchen & Bakery – Taman Melur
D'Platform – OUG Parklane
Dpondok Pakar Nasi Ayam – Jalan Perda Selatan
D'Punjabi'S – Persiaran Apec Cyberjaya
D'Puteh Elyana Tomyam – Taman Bukit Beruang Utama
D'Queens Kitchen – Bandar Sierra
Dr. Burger Station – Bukit Sekilau
dr. Cafe Coffee – Setapak Central
dr. Cafe Coffee – Sime UEP
Dr. Joe Travel Cafe – Suria Inanam
Dr Meks Delight – Medan Selera Bursa Malaysia
Dragbit – Taman Miharja
Dragon Beard Candy – City Mall
Dragon Bowls – Kota Damansara
Dragon Bowls – Bangsar
Dragon Bowls – Kayu Ara
Dragon Crest Dim Sum – Taman Mount Austin [Non-Halal]
Dragon Gyoza – Taman Kinta Mas [Non-Halal]
Dragon House Hotpot – Jalan Ali Pitchay [Non-Halal]
Dragon House Hotpot – SS18 [Non-Halal]
Dragon Inn Dim Sum – Jalan Alam Damai 1 [Non-Halal]
Dragon Palace Seafood – Cheras Traders Square [Non-Halal]
Dragon Restaurant – Prima Square
Dragon Roasted Duck Noodles – 888 Food Court [Non-Halal]
Dragon Thai – Taman Nirwana
Drayyan Seafood – Jalan Sultan Azlan Shah
Dream – Bandar Puteri
Dream Burger – Eastern Court
Dream Cafe – DUMC
Dream Color – Tropicana Gardens Mall
Dream Color – The Spring
Dream House Kopitiam – Lorong Galing 2 [Non-Halal]
Dream Night Cafe – Lorong 22/SS1 [Non-Halal]
Dream Toast – All Season
Dreamboat Cafe & Spa – Taman Indah
Dreamsbaker Bakery Cafe – Taman Utama
Dreamtel Cafe – Padang Bandaran
Drialin Cooks – Bandar Kinrara
Dried Chili Pan Mee – Great Eastern Mall
D'Rimba Kafe – Air Lanjut Kelemak
Drink Cold Tea – Jalan Langsat
Drink On Cafe – Danga Bay
Drink Station Kota Damansara – Kota Damansara
Drinka – Menara Hasil
Drinks – Kunyap-kunyap Cafe
Drinks & Juices (S10) – Food Junction IOI City Mall II
Drinks & Juices (S18) – Food Junction Mid Valley I
Drinks – Kepong Food Court
Drinks (Main Cafe) – Kafe Najwa
Drinks Menu – Public Food Court
Drinks – O&S Restaurant
Drinks Stall – Karamunsing Road Side Foodcourt
Drinks Stall – The Garden
Drinks – Xing Xing Wang Cafe
D'Rizqi Kitchen – Lavender Food Court
Dromme Thick Toast – SS15
Dromme Thick Toast – MyTown
Dromme Thick Toast – Berjaya Times Square
Drop By Cafe – Taman Ehsan
Drum Salai – Taman Keramat Permai
Drunk Cat Restaurant – Kuchai Maju [Non-Halal]
Drypot Recipe – Kepong [Non-Halal]
Drypot Recipe Restaurant – Kota Damansara [Non-Halal]
D'Saiful Restoran – Universiti Plaza
D'sara Fried Chicken – Pusat Perniagaan Sura Jeti
D'Sarang – Jalan Dhoby
DSD Burger – Tmn Pasir Putih
D'Sha De'Penyet Rojak Cucur – Kota Samarahan
DStall Corner – Dataran Glomac Kelana Jaya
D'SuduGarfu – Jalan Meru Bestari B8
D'SuduGarfu – Taman Klebang Ria
DT Cafe Shellout And Western
D'Tambang Chicken Rice – D'Tambang Cafe
D'Tandoor – Jalan Tanjung Tokong
D'Tanjung Mango Shake – Kampung Tanjung
D'Tank Paradise Mix & Match – [Non-Halal]
D'Tasik Keramat – Jalan Keramat Dalam
DTD Fui Kopitiam – Taman Desa Tebrau [Non-Halal]
D'Tompell – Kampung Bandarshah
DTYK Homefood – Taman Taynton View
Du Men – EkoCheras Mall [Non-Halal]
Du Men Yi 独门驿 – CityONE Megamall [Non-Halal]
Du Noodle House – Tambun Star Food Court
Dubai Tower – Bandar Baru Nilai
Duchess Cafe – Dataran C180 [Non-Halal]
Duchess Of Cake – Taman Bukit Piatu Mutiara
Duck Blood Curry Mee – Jalan Burma [Non-Halal]
Duck Drumstick Herbal Soup – Medan Selera WR [Non-Halal]
Duck Drumstick Mee Suah – Jalan Masjid Negeri [Non-Halal]
Dudu Grill – Jingwood Cafe [Non-Halal]
Dudu Pork Noodle – Plaza Usahawan Crystal Ville [Non-Halal]
Dujour – Seksyen 19
Dukes & Duchess – SS15 [Non-Halal]
Dukes & Duchess – TTDI [Non-Halal]
Dulang People – Cahaya SPK
Dulang People – Damansara Perdana
Dum Dum Thai Tea – Sungei Wang
Dum Dum Thai Drinks – Plaza Pelangi
Dum Dum – Paradigm Mall JB
Dumpling Cafe – Lintas Plaza [Non-Halal]
Dumpling 锅贴 – Dai Pai Dong Stapok [Non-Halal]
Dumpling Queen – Taman Cheng Baru [Non-Halal]
Dumpling Stall – Pinn Xiang [Non-Halal]
Dumplings & Snacks 马泰缅小吃 – Restoran Perling 81
Duo Fu Restaurant – Union Street [Non-Halal]
Duo Treno Restaurant & Cafe – Ara Damansara
Durian Baobei – Jalan Tokong
Durian Boy – SS2
Durian Corner DC – Sunway Giza
Durian Crepe Kuching – Mydin Petra Jaya
Durian Crepe Kuching – Tabuan Jaya
Durian Crepe Kuching – Tabuan Square
Durian Glasshause – Jalan SS2/64
Durian Kingdom – Central Market Annexe [Non-Halal]
Durian Nan Sebatang – Taman Fairuza
Durianity – IOI Boulevard
Durianlicious – Medan Putra Business Centre
Durianma – D'Bayu Bukit Jelutong
Dusun Corner – Jalan Bayam
Duta Delight – Stesen Bas Hentian Duta
Dutch Harbour Cafe – Jalan Laksamana
D'uwais – Jalan Bukit Lada
D'Village – Jln Raja Perempuan Zainab II
D'Village Caterers – Universiti Malaya
D'Village Padang Merdeka – Jalan Post Office Lama
D'Warung Bakso Bajau Samah – Putatan
D'Warung Ija Soto & Catering – Kampung Soka Kinarut
D'Western Cafe – Kunyap-kunyap Cafe
D'White Cafe – Bandar Sabindo
Dwi Restaurant – 1-Stop Midlands
DY. Barbecue – Tmn Tangling Indah [Non-Halal]
Dylia Moksin Restaurant & Cafe – Airport Commercial Centre
Dynasty Dragon Seafood Restaurant – Atria Shopping Gallery [Non-Halal]
Dynasty Dragon Seafood Restaurant – IOI Puchong [Non-Halal]
Dynasty F&B Sdn Bhd 蜀味往事 – Taman Mount Austin [Non-Halal]
Dynasty Palace – Bukit Serdang [Non-Halal]
Dynasty Palace – Bukit Jalil [Non-Halal]
Dynasty Pot Restaurant – Jalan Tun Jugah [Non-Halal]
Dynasty Roast Duck – Kafe Bercham Point [Non-Halal]
Dynasty Roasted Taste – Taman Bukit Indah [Non-Halal]
D'Yuda Char Kuey Teow – Palekbang
D'Yuyun Food Station – Sri Rampai
Dzon Ayam Panggang Oven – Medan Mak Intan
E-CHIZ – Kuantan City Mall
E-Fresh Market – Halaman Paya Terubong 1
E-fresh Market – Taman Saujana Permai 1
E Lite Ultimo – Taman Merpati
Each A Cup – Mydin MITC
Each A Cup – Ipoh Parade
Each A Cup – Melawati Mall
Each A Cup – Mydin Meru
Each A Cup – Lotus's Kajang
Each A Cup – Tin Village Mall
Each A Cup – Lotus's Senawang
Each A Cup – KSL City
Each A Cup – Paradigm Mall JB
Each A Cup – Giant Plentong
Each A Cup – Lotus's Putra Nilai
Each A Cup – Smart Building
Eagle Tea House – Bukit Vor
E&Y Bistro – Taman Bukit Dahlia
East Coast Food Court Mix & Match – [Non-Halal]
East Coast Grill Seafood – Medan Niaga
East Coast Grill Seafood – Leith Street
East Coast Grill Seafood – GoodAll Cafe
East Meet's West Cuisine – Taman Miharja [Non-Halal]
Easy Drink Easy Go – Star Megamall
Easy House Home Cook – Sunway City Ipoh [Non-Halal]
E.A.T – Taman Ekoflora
Eat & Drink Stall E.D.S – Taman Saga
Eat & Repeat – Taman Lagenda
Eat Bah Kut Teh – Jalan Kilang Nenas [Non-Halal]
Eat Bay Cafe – Taman Ekoperniagaan [Non-Halal]
EAT Cafe – Persiaran Raja Muda Musa
EAT . CHILL . REPEAT BURGERS. – Dataran Larkin
Eat.com – Taman Pelangi
Eat Drink Thai – Palm Spring
Eat Full Noodles Restaurant – Taman Bukit Serdang [Non-Halal]
Eat Hami – Block C Apartment
Eat n Chat – Plaza Shell
Eat N Repeat KCH – Jalan Astana
Eat Sushi – Sunway Giza
eat X dignity – Sentul Raya Boulevard
EAT21 – Damansara Uptown
Eatalian Thyme – Dagang Avenue Food Court
Eatery – Lintas
Eathai Plus – Seri Gembira Avenue [Non-Halal]
Eatly – Kampung Salak
Eato Enjoy Japanese Paradise – NU Sentral
Eato Enjoy Japanese Paradise – KLCC
Eato Enjoy Japanese Paradise – Pavilion
Eato Enjoy Japanese Teppanyaki – NU Sentral
Eaton Satay – Jalan Tan Sri Teh Ewe Lim
Eatropica – Menara 1 Sentrum
Eats Seoul – Bangsar Village
Eatsie – Taman Subang Permai [Non-Halal]
Eatzania – Nu Sentral
EazyStreet – BeeliFood
Ebby Burger – Jalan Tuanku Jaafar Timur
Ecah Kitchen – Seksyen 7 Kota Damansara
Echa Burger Conner – Taman Puchong Prima
Echad Mokk Station – Taman Tasek Damai
Echania Roti John & Burger – Taman Puchong Indah
Ecl Vitamin Fruit & Juice – Pelabuhan Klang
Eco Village Cafe – Jalan Impian Ria [Non-Halal]
Eco Yogurt – Taman Kota Laksamana Jaya
Economic Fast Food 经济快餐 – Huo Min Cafe Taman Hui Sing
Economy Rice – Restoran Chen Fong [Non-Halal]
Economy Rice – CityONE Megamall
Economy Western Food – Jingwood Cafe [Non-Halal]
Ed Caterers – Kampung Permatang Badak
Ed Chicken Rice Shop – Taman Cempaka
Eden Char Kuey Teow – Taman Pinggiran Golf
Edgecumbe Road Famous Mee Station – Kompleks Makanan Persiaran Gurney
Edi Nasi Ayam Kg Pandan – Kg Pandan
Edmund's Homemade (Nyonya Delicacies) – Aeon Mall Kuching
Edna Kitchen – Taman Muhibbah
Edo Ichi Japanese Cuisine – Island Plaza
Edo Ichi Japanese Restaurant – Solaris
Edo Ichi Japanese Restaurant – Nexus Bangsar
EE 2 Cafe – Jalan Ujong Pasir [Non-Halal]
EE Burger – Kuah
EE Burger – Kelibang
Ee Chinese Cuisine – Eastin Hotel
Ee Ji Ban Chicken Rice Ball – Taman Melaka Raya
Ee Jia Qin – Lebuh Nipah [Non-Halal]
Eek Cafe – Medan Universiti
Eesha Signature – Persiaran Eco Sanctuary
Effendi House – D'sara Sentral
Efira Café & Catering – Centre Point Sabah Basement Foodcourt
Efood Market – Happy Garden Vege Cafe
Efood Market – Taman Ehsan
Egg Noodle Wan Tan Mee – Taman Ungku Tun Aminah
Egg Taste – Taman Mount Austin
Egg the F* Out – NU Sentral
Egg Toast Cafe – Pusat Komersial Sri Utama [Non-Halal]
Eggette Lab – Gurney Plaza
Eggette Lab – The Gardens
Eggette Lab – Pavilion
Eggette Lab – Sunway Pyramid
Eggette Lab – 1Utama
Eggette Lab – Shell Taman Connaught
Eggette Lab – Sunway Velocity
Eggies – Damai
Eggod – Taman Mount Austin
Eggspert – Ipoh Parade
EggTaste – Pengkalan Weld
Eggtaste – 1Borneo
Eggxcite Cafe – Taman Sentosa
Eggxtra Cafe
Eha – Lorong Hang Jebat
Ehsan's – Vista Alam
Ehsan's – Bukit Jelutong
Eight Days BBQ – Bukit Tengah [Non-Halal]
Eight Street Cafe – Hampshire Park
Eight@Mansion – Happy Mansion [Non-Halal]
Eighty 88 Eight Ikan Bakar – Street Food
Eighty 9 Burgers – Inanam
Eighty 9 Burgers – Indah Permai
Eighty 9 Burgers – Jln Dewan
Eighty Eight 88 Arabic Cuisine – UIA
Eightys Burger – Taman Putra Permai
Eina Nasi Campur – Taman Ros
Eiyla Satay Ent – Bandar Sri Alam
EJ Mini Steamboat – Premier Food Republic [Non-Halal]
Ejamas Restaurant – Bandar Pulai Jaya 9
Eja's Hot Kitchen – Kampung Melaka Pindah
EJI Nutrition Premium – Pine Valley
Eka Restaurant 一家楼 – Jalan Tun Jugah [Non-Halal]
Eki Sake Bar – Sunrise@Gurney
Ekkamai – Plaza Batai
Ekoba Barbecue – Eko Cheras Mall [Non-Halal]
Ekoba Kitchen – Jalan SS15/4C [Non-Halal]
El Mesón – Jalan Telawi 3 [Non-Halal]
Elavil – Jalan Chee Bee Noor [Non-Halal]
Elcantina Mexican Cuisine – Taman Melawati
Elephant Rock TTDI Restaurant & Bar
Elethai – Uptown Damansara [Non-Halal]
Eletime – Taman Sutera Utama
Eleven Brothers Recipe Restaurant 十一哥烧腊粥面家 – Kepong [Non-Halal]
Elfa Narita – Mydin Mall
Elfa Narita – TKS Hypermall Batu 8
ElFreshCo Juicery
Elfy Corney Nasi Ayam – Medan Selera Padang Brown
Elianie Restoran – Kg Laksamana
Elite Dim Sum – Kayu Ara [Non-Halal]
Elixir Kitchen – Jalan Temenggung Cheras [Non-Halal]
Elixir Tapas & Brews – Jalan Kapitan Keling
ELK Kopitiam – Bandar Mahkota Cheras [Non-Halal]
Ellycious – Spotlight Raintown Foodtruck
Elly's Cafe – Bandar Pulai Jaya
Elmondo Italian Western Cuisine
Elshah Karat Kampung Cafe – Kampung Bukit Piatu
Elsie's Kitchen by WanEli – Happy Mansion [Non-Halal]
Elwafa Kitchen – Jalan Putri Bandar Baru
Elyn Vegetarian Cafe – Puchong Utama
Elyza Cooking Fever – GoodYear Court 8
Elzha – Pulau Gadong
Eman Adele Food Truck – Lengkok Cempaka 1
Embah Burger – Kempas
Embah Burger – Bandar Baru Uda
Embassy Cafe & Kitchen – SS21
Embun Resort Restaurant – Bukit Dugang
Emi Satay – Kedai Makan Merah Jalan Batu Berendam
EML Cafe – Seksyen 13
Emma Pizzav – Pasar Malam Metrocity
Emmarinna – A One Laksa Cafe
Empatujuh On Wheels – Jln Datuk Ajibah Abol
Empayar Bahtera – Jalan Genting Klang
Emperor Delight – Gaya Street [Non-Halal]
Empire Char Kuey Tiow – Pekan Durian Tunggal
Empire Kitchen – Platinum Lake Condominium
Empire Kitchen – Empire Damansara
Empire Sushi – AEON Mall Seri Manjung
Empire Sushi – AEON Ipoh Station 18
Empire Sushi – Sunway Putra
Empire Sushi – Avenue K
Empire Sushi – Ikano Power Centre
Empire Sushi – Central i-City
Empire Sushi – Lotus's Kepong
Empire Sushi – Alamanda Putrajaya
Empire Sushi – AEON Bandaraya Melaka
Empire Sushi – AEON Taiping
Empire Sushi – Lotus's Shah Alam
Empire Sushi – Sunway Carnival
Empire Sushi – Gurney Paragon
Empire Sushi – 1st Avenue
Empire Sushi – Gurney Plaza
Empire Sushi – Prangin Mall
Empire Sushi – Queensbay Mall
Empire Sushi – Mydin Bukit Mertajam
Empire Sushi – AEON Bukit Mertajam
Empire Sushi – Sungei Wang
Empire Sushi – AEON Ipoh Klebang
Empire Sushi – Setia City Mall
Empire Sushi – 1Utama
Empire Sushi – Melawati Mall
Empire Sushi – Kompleks Sogo
Empire Sushi – Wangsa Walk
Empire Sushi – Setapak Central
Empire Sushi – Empire Shopping Gallery
Empire Sushi – Sunway Velocity
Empire Sushi – IOI City Mall
Empire Sushi – IOI Puchong
Empire Sushi – Berjaya Times Square
Empire Sushi – Sunway Pyramid
Empire Sushi – AEON Kinta City
Empire Sushi – Ipoh Parade
Empire Sushi – MyTown
Empire Sushi – NU Sentral
Empire Sushi – Amanjaya Mall
Empire Sushi – Central Square
Empire Sushi – East Coast Mall
Empire Sushi – Kuantan City Mall
Empire Sushi – Aman Central
Empire Sushi – Lotus's Mergong
Empire Sushi – JB City Square
Empire Sushi – Sunway Big Box
Empire Sushi – Toppen Shopping Centre
Empire Sushi – Paradigm Mall JB
Empire Sushi – KTCC Mall
Empire Sushi – AEON Kota Bharu
Empire Sushi – KB Mall
Empurau Restaurant – Taman Mount Austin [Non-Halal]
E.M.T Arab Family Restaurant – IIUM
E.M.T Kippah & Kebab – Taman Danau Kota
EMT Western Food – Taman Danau Kota
Emy Corner – Taman Sri Kota
En Kee – Taman Desa Cemerlang
En Kee – Taman Desa Jaya
Enad Sup Utagha – Taman Maznah
Enak Gebuzz – Bukit Mutiara
Enak Kitchen – KLCC
Enca Restaurant – Jalan Batu Ferringhi
Encik Nasi Lemak – Taman Nusa Bestari [Non-Halal]
Encore Kampar Noodle – Restoran Sang Kee Cheras [Non-Halal]
Endau's Kitchen – Jalan Petri
ENFD Pop-Up – Seri Tanjung Pinang
Eng Cun Bak Kut Teh – Tama Berkeley [Non-Halal]
Eng Heng Prawn Noodles – Taman Tan Sri Yaakob
Eng Hwa Seafood Reataurant – Jalan Jelatang [Non-Halal]
Eng Lai Chicken Rice – Restoran Sing Li [Non-Halal]
Eng Sin Char Hor Fun – Pusat Makan dan Minum Eng Sin
English Bread House – Lintas Plaza
Eninge Lemon Tea – Sunway Pyramid
Enishiya – Setapak [Non-Halal]
Enjoy Restaurant – Anjung Bercham [Non-Halal]
Enjoyour Food – The Pinnacle
Enorme Italian Cuisine & Wood Fired Pizza – Centerstage PJ [Non-Halal]
Enoshima Japanese Restaurant & Bar – Verse Shops [Non-Halal]
Ento Restaurant – Taipan 2
Enviar Restaurant – Galacity Prime [Non-Halal]
Enzo Kopitiam – PPUM
EO' Garage – OUG Parklane
Eon Mamak – Taman Mutiara Raya
Eong Char Hor Fun – Lau Yew Food Court [Non-Halal]
Epic Fit Meals Co. – Metropolitan Square
Epic Food Hall – Damansara Perdana
Epic Food Hall – Mont Kiara
Epic Food Hall – Bandar Sunway
EPL Corner – Bandar Baru Ayer Itam
Er Corner – Jalan Telipot
Er Lou Cafe – Seksyen 17 [Non-Halal]
Er Shi Xiong Bak Kut Teh – Restoran Da Fengshou [Non-Halal]
Er Shi Xiong Bak Kut Teh – KSL City Mall [Non-Halal]
Er Shi Xiong Pork Chop Bun – Jalan Haji Abu [Non-Halal]
Erawan – DC Mall
Erawan Thai Noodles – Emart One Stop Shopping Mall
Erna Kitchen – Giant Southern City
Escobar Wine & Deli – Jalan Pintal Tali [Non-Halal]
Esplanade Izuaris – Jalan Padang Kota Lama
Espoir Cafe – SS15
es.sense kitchen – Jalan Syed Abdul Aziz
EST Delicious Delight's – ONB
ESW Empire Burger – Bandar Seri Alam
Eswari Hot Kitchen – Taman Jasa Utama
E.T Steak House – Jalan Setia Raja
ET's Kitchen – Zenith Corporate Park [Non-Halal]
Eugene's Grocery – Taman Pelangi
Eureka Popcorn – IOI City Mall
Eureka Popcorn – Central Market
Eurouhaus Restaurant – Subang Jaya
Eusoff Murtabucks – Senadin
Eva Hong Kong Snacks – Taman Malim Jaya [Non-Halal]
Everfull Kopitiam Mix & Match – [Non-Halal]
Evergreen – Sutera Mall
Everlyn Korean Food – Kg Pasir Hor
Everybody Bakery & Cafe – Lorong Lobak [Non-Halal]
Everyday Morgot – Chulia Street [Non-Halal]
Evie Nasi Lemak – Pusat Makanan Yew Foo
EWANERNA – Jalan Sungai Ara
Excellent Delight – Cha Yi Goldland
Execute The Food – SS12
Executive Coffee Cafe – KYM Tower
Exito Cafe – Kepong
Exotic Fruits Shop – Bandar Putatan
Exotic Korean Food – Kepong Food Court [Non-Halal]
Expert Food Court Mix & Match – [Non-Halal]
Express Eatery – Prangin Mall
Expressoul Gastrobar – Pearl Suria Gallery
Expressoul Restobar – Sunway Velocity [Non-Halal]
Extraction Cafe [Non-Halal]
Extreme Corner – Pandan Indah
Eyda Nasi Kukus – Jalan Tengku Mohd Maa'sun
Eye's Steak – Pantai Dalam
Eyra Local & Western Cuisine – Glomac Cyberjaya
Eyuzu Japanese Cuisine – Eastin Hotel
EZ Diet- Dataran Palma
Ez Meal – Changkat Batu Maung [Non-Halal]
Ezie Zafan – Taman Indah
Ezya Nasi Kukus – Kg Dalam Kota
Ezya Nasi Kukus – Kg Baru
Ezy's Coconut Beverages – Taman Tun Sardon
Ezza Signature – Seksyen 13
F & B Station Restaurant – Persiaran Greentown 10 [Non-Halal]
F One Seafood – Sunsuria Forum [Non-Halal]
(F) Vegetarian Food – Jiki Food Court Bukit Baru
Fa Ge Lu Chuan Sutera – Taman Sutera Utama [Non-Halal]
Fa Guo San – Taman Mas Falim [Non-Halal]
Faathirah Tomyam & Seafood – Padang Matsirat
Fabulous Burger – Jln Depo
Fabulous Falafel – Ampang Putra Residensi
Fabulous Falafels – Bukit Bintang
Face Pan Mee House – Kuchai Entrepreneurs Park [Non-Halal]
Face Pan Mee Noodle House – Jalan USJ 9 [Non-Halal]
Facey Noodle House – Persiaran Greentown 7 [Non-Halal]
Facing Mee 面对面 – Jalan Langgar [Non-Halal]
Faculty Of Caffeine – Jalan Dhoby
Fadzlynt Soya Sedap – Seksyen 7
Fahmy Satay Alor Gajah – Medan Selera Pasar Menggong
Fai Kee Porridge And Noodle House – Taman Ipoh Jaya [Non-Halal]
Fai Kee Roasted – Market Place [Non-Halal]
Faith Noodle House – Bandar Bukit Tinggi [Non-Halal]
Faizah Bakery @ Bayu Village – Taman Kiambang Indah
Faizal Burger – Dataran Seri Iskandar
Faizal Burger – Damansara Damai
Faizal Mee Kari & Kuetiau Kerang – Jalan Stesyen
Fajar Nyum Nyum – Grace Junction
Fake Bro Real Pork – Jalan Sultan [Non-Halal]
Falim Kopitiam – Aeon Midtown Falim
Fam' Fries Kitchen – Seksyen 10 Wangsa Maju
Fam' Fries Kitchen – Shah Alam (Seksyen 7)
Fam' Fries Kitchen – The Foodmonger
Fam' Fries Kitchen – The Podium
Fam' Fries Kitchen – Seksyen 51A Petaling Jaya
Familia Fried Chicken – Kampung Baru
Familia Fried Chicken – Datuk Keramat
Family Ayam Penyet – Jln Datuk Stephen Yong [Non-Halal]
Family Bundle Cafe – Ampang Waterfront
Family Burger – Taman Perling
Family Corner – Jalan Petri
Family Fresh Juice – Seksyen U4
Family Kitchen Pak Abu – Taman Daya
Family Kuih Muih – Yes Cafe [Non-Halal]
Family Laypark Corner Western Food & Tomyam – Kampung Padang Kulim
(Family) Mini Mart & Cafe – The Latitude Commercial Shoplot [Non-Halal]
Family Noodle House – Taman Perindustrian Bukit Serdang [Non-Halal]
Family Of Soup – Kampung Melayu Majidee
Family Port Cafe & Catering – Taman Melodies
Family Rice – Centro Klang
Family Rice – Bukit Tinggi
FamilyMart – Taman Segar
FamilyMart – Shah Alam Sek. 18
FamilyMart – Bandar Seri Putra
FamilyMart – Kajang
FamilyMart – The Waterfront
FamilyMart – Wisma Lim Foo Yong
FamilyMart – Caltex Les. Perdana
FamilyMart – Oasis Ara Damansara
FamilyMart – The Mines
FamilyMart – KLSMC
FamilyMart – Eng Ann
FamilyMart – DC Mall
FamilyMart – PJ Seksyen 14
FamilyMart – Plaza Sentral
FamilyMart – Damansara Heights
FamilyMart – Sri Permaisuri
FamilyMart – Jalan Kebun
FamilyMart – Caltex LDP Batu 14
FamilyMart – Setia City Mall
FamilyMart – Ecohill Taipan
FamilyMart – Jalan Pesta
FamilyMart – Jonker Street
FamilyMart – Puncak Bertam
FamilyMart – Caltex Lebuh Spa
FamilyMart – Malim Jaya
FamilyMart – Porto Historia
FamilyMart – Bukit Beruang
FamilyMart – Lagenda Melaka
FamilyMart – Batu Berendam
FamilyMart – Melaka Sentral
FamilyMart – Melaka Raya
FamilyMart – Ayer Keroh
FamilyMart – Bukit Baru
FamilyMart – Mahkota Parade
FamilyMart – Auto City
FamilyMart – Icon City
FamilyMart – Caltex Raja Uda
FamilyMart – Caltex Jalan Song Ban Kheng
FamilyMart – Jalan Perak
FamilyMart – Karpal Singh Drive
FamilyMart – Caltex Sg. Dua
FamilyMart – Farlim
FamilyMart – Desa Pandan
FamilyMart – Amcorp Mall
FamilyMart – LRT Ampang Park
FamilyMart – Glenmarie
FamilyMart – Sunway Medical Centre
FamilyMart – LRT Masjid Jamek
FamilyMart – Sungai Long
FamilyMart – Damansara Uptown
FamilyMart – Menara Ikhlas
FamilyMart – Menara Hap Seng
FamilyMart – Ctx Jalan Besar,SK
FamilyMart – Jalan Kapar
FamilyMart – Sungai Buloh OBR
FamilyMart – Caltex Setiawangsa
FamilyMart – Mont Kiara Shoplex
FamilyMart – Chulia Street
FamilyMart – Gombak
FamilyMart – Mid Valley L3
FamilyMart – Scott Garden
FamilyMart – Kompleks Mutiara
FamilyMart – Bandar Sunway
FamilyMart – Plaza Damas
FamilyMart – iCity
FamilyMart – Caltex Bandar Puteri
FamilyMart – Taipan USJ
FamilyMart – Rawang
FamilyMart – IOI City Mall
FamilyMart – Bukit Tinggi 2
FamilyMart – C180 Belakong
FamilyMart – Caltex Sungai Buloh
FamilyMart – Sunway Monash Res
FamilyMart – Sunway Putra Mall
FamilyMart – Paradigm Mall
FamilyMart – Sunway Medical (LG)
FamilyMart – Seksyen 9
FamilyMart – Sri Hartamas
FamilyMart – Bandar Sri Damansara
FamilyMart – NU Sentral
FamilyMart – Bandar Puchong Jaya
FamilyMart – Prima Avenue
FamilyMart – Caltex Setia Alam
FamilyMart – Cheras Mahkota
FamilyMart – Aman Puri
FamilyMart – Mega Mendung
FamilyMart – Bangi Seksyen 9
FamilyMart – Jalan Burma
FamilyMart – Uptown Tower 3
FamilyMart – TTDI
FamilyMart – Bandar Menjalara
FamilyMart – Danau Niaga
FamilyMart – Bdr Puteri Puchong
FamilyMart – MidPoint
FamilyMart – Pantai Hospital KL
FamilyMart – Leisure Mall
FamilyMart – Damansara Jaya
FamilyMart – Fraser Business Park
FamilyMart – Empire Subang
FamilyMart – Gleneagles
FamilyMart – Intermark
FamilyMart – Sunway Pyramid
FamilyMart – Bukit Jalil Jaya
FamilyMart – Menara Citibank
FamilyMart – Jln Sultan Ismail 2
FamilyMart – IPC
FamilyMart – Ampang Jaya
FamilyMart – SS15
FamilyMart – Bukit Tinggi
FamilyMart – Bukit Bintang
FamilyMart – Suria KLCC
FamilyMart – MyTown
FamilyMart – Kepong
FamilyMart – Bdr. Damai Perdana
FamilyMart – Taylor Lakeside
FamilyMart – Kuchai Lama
FamilyMart – Taman Selayang Utama
FamilyMart – One Maxim
FamilyMart – MRT TTDI
FamilyMart – Olive Hill Biz.Park
FamilyMart – Nadi Putrajaya
FamilyMart – Sunway Velocity
FamilyMart – Caltex Jalan Kapar
FamilyMart – Bangsar South
FamilyMart – Sunway Giza
FamilyMart – Alamanda Putrajaya
FamilyMart – Sri Petaling
FamilyMart – SJMC
FamilyMart – Kota Kemuning
FamilyMart – Bangi Seksyen 15
FamilyMart – Menara UOA
FamilyMart – KSL Avenue
FamilyMart – Taman Maluri
FamilyMart – DPulze
FamilyMart – Desa Setapak
FamilyMart – SACC Mall
FamilyMart – Petron Setia Impian
FamilyMart – Petron Hulu Langat
FamilyMart – Sunway Velocity MC
FamilyMart – Dataran Glomac
FamilyMart – Teluk Pulai
FamilyMart – Berkeley Uptown
FamilyMart – Vista Valley
FamilyMart – Setia Alam (Prima)
FamilyMart – SS2
FamilyMart – Lebuh Turi
FamilyMart – Lake Fields
FamilyMart – Denai Alam
FamilyMart – Metro Point Kajang
FamilyMart – Menara U
FamilyMart – Ampang Point
FamilyMart – Shah Alam Seksyen 7
FamilyMart – Summit USJ
FamilyMart – Taman Danau Desa
FamilyMart – Mid Valley
FamilyMart – Old Street, BP
FamilyMart – D' Garden
FamilyMart – Taman Ungku Tun Aminah
FamilyMart – KSL City
FamilyMart – Nusa Bestari
FamilyMart – Taman Molek
FamilyMart – Taman Adda
FamilyMart – Caltex Taman Impian Emas
FamilyMart – Gravity Green
FamilyMart – Centerpoint Seremban
FamilyMart – Austin Heights
FamilyMart – JB City Square
FamilyMart – Senai Centrepoint
FamilyMart – Paradigm Mall JB
FamilyMart – Desa Cemerlang
FamilyMart – Caltex Taman Puteri Wangsa
FamilyMart – Toppen
FamilyMart – Caltex Jalan Skudai
FamilyMart – Seremban Gateway
FamilyMart – Rasah Prima
FamilyMart – Taman Setia Indah
FamilyMart – Setia Tropika
FamilyMart – Taman Mount Austin
FamilyMart – Petron Rasah Kemayan
FamilyMart – Caltex Taman Daya
FamilyMart – Taman University
FamilyMart – Ctx Taman Perling
FamilyMart – Taman Johor Jaya
FamilyMart – Caltex Mukim Tebrau
FamilyMart – Indahpura
FamilyMart – Mutiara Mas
FamilyMart – Taman Sutera
FamilyMart – Plaza Sentosa
FamilyMart – Permas Jaya
FamilyMart – Eco Botanic
FamilyMart – Taman Gaya
FamilyMart – Mid Valley Southkey
FamilyMart – Kebun Teh
FamilyMart – Mesamall
FamilyMart – Jalan Serampang
FamilyMart – Bukit Dahlia
FamilyMart – Gelang Patah
FamilyMart – P.PerniagaanHj.Manan
Famosa Sate Celup – Taman Pelangi Indah [Non-Halal]
FamosNisha – Perdana Industrial Park
Famous Bazaar – Inanam Kapital
Famous BBQ Venture's – Limbongan
Famous Chicken Rice – Kedai Makanan Yang Kuang Yen [Non-Halal]
Famous Claycup Lassi – Campbell Street
Famous Flower Pot Roasted Chicken – Jalan Fettes
Famous Flower Pot Roasted Chicken – Fisherman's Wharf Food Corner
Famous Jawa Mee – Pangsapuri Jalan Tengah
Famous Noora's – EVO Mall
Famous Rojak & Cendol – USJ 3
Famous Roti Bakar Bangkok Lane – Jalan Awam
Famous Tako – Taman Murai Jaya
Famous Umi's – Taman Orkid
Fan Cai Xiang Vegetarian Restaurant – Plaza Danau 2
Fan Cham Mei [Non-Halal]
Fan Hou Tian Dian – Tingkat Mahsuri 5
Fan Ye Nasi Lemak – Taman Ungku Tun Aminah
Fancy Mee – Taman Bandar Baru [Non-Halal]
F&F Kitchen – Medan Selera Dataran Mat Riau
Fandy Satar – Telok Baru
Fang Fang Gui Lin Bee Hoon – KSL City [Non-Halal]
Fang Fang Village Flavour – All Five Restaurant
Fang Wei Coffee Shop – Taman Selasih
Fang Yuan Kopitiam – Taman Nusa Bestari 2
Fantastic – Stesen Monorail Tun Ali
Fanye Nasi Lemak – Restoran Roda Tiga
Far East Coconut Shop – Bandar Utama
Farah Nasi Lemak Berlauk – Taman Puchong Perdana
Farah Tomyam – Taman Sri Jelok
Fareez Corner – Taman Pelangi
Farel Burger – Kg Malaysia Tambahan
Farich Food House – Kota Warisan
Farid Satay House Restaurant – Setapak
Faris Chong & Lina – Lebuh AMJ
Fariz Cafe – Unitar
Farlim Fried Rice – Farlim Kopitiam Ayer Itam [Non-Halal]
Farm Chicken Rice – Salak South Baru [Non-Halal]
Farmers Corner – Pusat Dagangan NZX
FC Lite by Farmer's Crib – Plaza Merdeka
Farmer's Crib – Vivacity Megamall
Farmer's Crib – CityONE Megamall
Farmer's Crib – Summermall
Farmer's Market – The Promenade
Farmers Street – Main Place
Farmers Street – Tropicana City Mall
Farmers Street – Jaya Shopping Centre
Farmers Street – Paradigm Mall
Farra Ikan Bakar & Western – Medan Selera Ibumie
Farrizz Chicken Chop – Jalan Langgar
Fasha D Cafe – Medan Selera Jarola
Fast Food – Loong Coffee Shop [Non-Halal]
Fast Food – Tah San Yuan Cafe [Non-Halal]
Fat Bird Ramen – Wisma Dicor
Fat Boy Cafe – Annex Building A [Non-Halal]
Fat Boy Homemade Burger – Taman Che Mei
Fat Cat & Tea – Bandar Medini Iskandar
Fat Cat Nasi Lemak – Restoran Perling 81
Fat Cork Wine Bar – Taman Pelangi [Non-Halal]
Fat Daddy Catering – Jalan Sakeh 1 [Non-Halal]
Fat Fat Chicken – Sri Petaling
Fat Fat Chicken – Fortune Perdana Lakeside
Fat Fat Sushi Bar & Thirteen Coconut Sister 十三妹香椰 – Kampung Baru Gunu Rapat
Fat Fook Inn – Shoplex Kiara [Non-Halal]
Fat Girl BBQ – Lorong Pasar [Non-Halal]
Fat Girl Fried Chicken – Restoran Hao Tack Fook [Non-Halal]
Fat Ma – Segambut [Non-Halal]
Fat Moo Sabah Famous Beef Noodles – W.J Cafe [Non-Halal]
Fat Niu Satay – Restoran Roda Tiga [Non-Halal]
Fat Zai Little Wok – Restoran Chit Chat [Non-Halal]
Fatboi Kitchen – Taman Eko Botani
FatBoi Tavern – SS2 [Non-Halal]
Fatboi Wings -SS2
Fatboy BBQ Pork & Mee Sup KB Lomog – Kepayan Ridge [Non-Halal]
Fathima Food Corner – Bandar Tun Hussein Onn
Fatima Cendol – Taman Impian Emas
Fatima Tomyam Seafood – Taman Zamrud
Fatima Tomyam Seafood 2 – Taman Permai
Fatimah Kitchen – Coco Cabana
Fatimah Product – Jalan Bukit Cina
Fatin Kitchen – Platinum Walk
Fatir Bistro – Kota Warisan
Fatir Briyani House – Cyber Valley
Fatkidz Patisserie – Jalan Samak
Fatman Laksa & Burger – Kedai Kopi 126
Fatt Kee Roast Duck & Chicken Rice Shop – Bandar Mahkota Cheras [Non-Halal]
Fatt Kee Roast Duck & Chicken Rice Shop – Bandar Baru Sri Petaling [Non-Halal]
Fatt Kee Roast Duck & Chicken Rice Shop – Bandar Puteri [Non-Halal]
Fatt Kee Roast Duck & Chicken Rice Shop – Cheras Trader Square [Non-Halal]
Fatt Kee Roast Duck & Chicken Rice Stall – Jalan Pudu [Non-Halal]
Fatt Kee Seafood Restaurant – Suria Sabah
Fatt Kei – Penang Times Square [Non-Halal]
Fatt Som Tum Thai Tom Yum Restaurant – Taman Melaka Raya [Non-Halal]
Fatty Bak Kut Teh – Jalan Klang Lama [Non-Halal]
Fatty Black Char Siew – Restoran 28 [Non-Halal]
Fatty Curry Rice – Taman Seri Juru [Non-Halal]
Fatty Curry Rice – Pusat Perniagaan Star Avenue [Non-Halal]
Fatty Kitchen – Tunku Corner Cafe [Non-Halal]
Fatty Kitchen – ITCC Mall [Non-Halal]
Fatty Lan Chicken Rice – Restoran Hock Thai SS2 [Non-Halal]
Fatty Matty – Taman Bukit Jambul
Fatty Mok Hakka Yong Tau Foo Seafood Restaurant – Salak South Garden [Non-Halal]
Fatty Noodles House – Pusat Perdagangan Mega [Non-Halal]
Fatty Seafood – Heng Park Food Court [Non-Halal]
Fattyburger 46 – Kampung Lindungan
Favourite Recipe Restaurant
FBC Burger Corner – Subang Bestari
FBI Tea Bar – Taman Pelangi
FBI Tea Bar – Kota Southkey
FC11 Nasi Ayam Penyet – Giant Hypermarket Shah Alam
FC12 Ikan Bakar Portugis – Giant Seksyen 13
Feebay.Co – Sunway Nexis
Feebay.Co – Avenue K
Feebay.Co – Publika
Feebay.Co – Jalan Dutamas
Feed Me Miri – Jalan Miri-Pujut
Feeka Coffee Roasters – Jalan Mesui
Fei Ba Burger – Taman Impian Emas [Non-Halal]
Fei Fan Hotpot – Setia City Mall [Non-Halal]
Fei Fei Bak Kut Teh – Restoran 911 [Non-Halal]
Fei Fei Chicken Rice – Restoran Chon Sai Kei [Non-Halal]
Fei Fei Fish – Damansara Kim [Non-Halal]
Fei Foo HK Dim Sum – Bandar Cyber [Non-Halal]
Fei Kee Roast Fish – Taman Sentosa Perdana [Non-Halal]
Fei Yen Char Kuey Teow – Kedai Makanan Wei Zi Ge [Non-Halal]
Fei Zai Coffee Shop – Desa Rishah Indah [Non-Halal]
Fei Zai Noodle House – USJ3 [Non-Halal]
Fei Zai Noodle House – Restoran Yat Pat Hoe [Non-Halal]
Feikee BBQ Chicken Rice – Kampung Baru Sri Kembangan [Non-Halal]
Feikway Food Station 肥鬼食站 – Kafe One Two Six [Non-Halal]
Feilou Hakka Fun Mee 肥佬客家粉面 – Taman Anggerik [Non-Halal]
Felice Delight – One Precinct
FeliMio – The Spring
Feline D Home Cafe – Taman Abad [Non-Halal]
Felix Stir Fried – Gala Street Mall [Non-Halal]
Femes Coconut Shake – Jalan Perak
Fendys Burger Station
Fendy's Nasi Ayam Hainan – Anjung Selera Cempaka
Feng Cha – Sunsuria Forum
Feng Cha – Bandar Sunway
Feng Cha – Bandar Manjalara
Feng Cha – Lorong Batu Nilam
Feng Cha – SS2
Feng Cha – Ipoh SOHO
Feng Cha – Plaza 333
Feng Ji – Lau Yew Food Court
Feng Ming 70'S Taiwan Kochabi Tea – Jalan Tanjung Tokong
Feng Wei Bak Kut Teh 峰味⾁⻣茶 – Saradise [Non-Halal]
Feng Wei Hotpot – Saradise [Non-Halal]
Feng Ye Penang Food – The Food Station
Feng Yuan Home Restaurant – Taman Selayang Jaya [Non-Halal]
Fenomena – Desa Pinggiran Putra
Fen's Kitchen – Taman Galing [Non-Halal]
Fettuccine Pasta Bar – Brickfields
Fez Kitchen – Kg Baung Bayam
FF Facefood – Taman Sri Kluang
Ffloraison Cafe – Lobby Menara Mitraland
FGJB – Jalan Bukit Meldrum
Fia Corner – Kg. Pasir Pekan
Fiction Food – Bangsar Baru [Non-Halal]
Ficus Bistro – TTDI
Fiera Kitchen – Uptown Kota Dame
Fifty's Mama Kitchen 50's妈妈厨房 – Bandar Seri Botani [Non-Halal]
FIG Cafe – Taman Molek [Non-Halal]
Fika Farmhouse ⼩⽥⻝光 – Horizon Hills [Non-Halal]
Filipino Goods & Foods – Taman Daya [Non-Halal]
Fin The Poke Bar – Publika
CocoJello Finger Food Bites
Finns Cafe – Jalan Temenggung 11 [Non-Halal]
Fino Piza – DPulze
Fino Piza – Subang Parade
Fino Piza – TTDI
Fiqrizamri Kitchen – Taman Cahaya Masai
Firas Ultimate Corner – The Shore Shopping Gallery
Firda Master Char Kueh Tiaw – Uptown Metrocity Matang
Firdausi Catering – Kota Damansara
Fire Ass Thai – The Sphere [Non-Halal]
Fire Ass Thai – Seapark [Non-Halal]
Fire Chicken Ant'Z Recipe – 88 MarketPlace
Fire Chicken Rice – Taman Bandar Baru [Non-Halal]
Fire Tiger – Mid Valley
Firna Cafe & Catering – Bandar Baru Batu Kawa
First Club Coffee – Taman Sutera Utama [Non-Halal]
Fish & Chips By. Bareeseta – Medan Ipoh Bestari [Non-Halal]
Fish Corner – Pinn Xiang [Non-Halal]
Fish Head and Seafood Noodles – O & S Restaurant [Non-Halal]
Fish Head Noodle House – Bandar Puteri
Fish Head Noodle – So Good Cafe
Fish Head Noodle/Curry Noodle – Kepong Food Court [Non-Halal]
Fish Paste Noodles – Food Street at Rock Cafe [Non-Halal]
Fish Slice Bihun – Medan Selera Malim
Fish Soup – Taman Bukit Indah
Fish Tomato Noodles – Mutiara Mas [Non-Halal]
Fisherman's Fish Soup Noodles – Restoran Roda Tiga
Fisherman's Kitchen – Teluk Kumbar
Fisherman's Wharf Penang – Sungai Pinang [Non-Halal]
Fishing Village Yong Tau Foo – Publika [Non-Halal]
Fiske Steakhouse – Taman Desa Keramat
Five Degrees Celsius – Jalan Lintas
Five O'Clock Brasserie – The Sphere
Five Star – Taman Teknologi Cheng
Five Star Chicken – Mydin Semenyih
Five Star Chicken Rice – SK Group Food & Beverage Sdn Bhd [Non-Halal]
Five Star Gourmet Sdn Bhd – Bandar Sri Damansara
Five Star Kitchen – Menggatal Township [Non-Halal]
Fiveruse Burger Bakar – Perkampungan Bukit Ubi
Fiza Western Food – Sri Impian Apartment
Fiza's Nasi Arab – Taman Desa Pinji Lahat
Fizzy Cafe – Kampung Bukit
FJ Kafe – Jalan Bendahara
FK Fresh Drink – Bandar Sungai Long
FLA Bakery – The Pinnacle
Flaco Food – Taman Daya
Flakes – The Hub SS2
Flame – Taman Putra Sulaiman
Flaming Pan – Ramal Junction Food Court
Flaming Wok Cuisine – Taman Pelangi [Non-Halal]
Flamingoh – Jalan Pelangi 2
Flam's & Route 66 – TREC
Flavor Cafe – USJ21
Flavored Stir Fry – WJ Cafe [Non-Halal]
Flavours [Non-Halal]
Flavours Kitchen – Plaza Crystavilla 1
Flavva Kitchen – Taman Daya
Flo's Kitchen – Taman Seri Hartamans
Flower Girl Coffee – Sunway Geo
Flowers and Coffee – Jalan Langkawi
Floyds Kitchen – Taman Wangsa Jaya
Fluffy Time – Kim Teng Park
Fly Cafe & Tomyam – Kg Sungai Merab Ulu
Flypod Restaurant – Aeropod
FM Cafe – Damansara Jaya
FN Briyani Gam – Medan Selera USJ 7
Fn Mart & Cafe – Jalan Tun Dr Awang
FnB Aemoi – Anjung Selera Cempaka
Fo Cheng Restaurant – Kampung Tengah [Non-Halal]
Fock Hoi Enterprise – Jln Tun Jugah [Non-Halal]
Foi Mom Chicken Rice – Sri Petaling [Non-Halal]
Fonce Desert & Pastry – Taman Datuk Palembang
Fong Oriental Vegetarian – Seri Tanjung Pinang
Fong Taste Trading – Limbongan Food Court [Non-Halal]
Fong Wah Teochew Porridge – Pudu [Non-Halal]
Fong Yuan Steamboat Restaurant – Sri Petaling [Non-Halal]
Fong's Kitchen – Pusat Bandar Rawang [Non-Halal]
Foo Chee Lam Hainanese Chicken Rice – Rawang
Foo Chow Food – Hua San Court [Non-Halal]
Foo Chow Special – CCS One Cafe [Non-Halal]
Foo Chow Special – Ah Liong Cafe [Non-Halal]
Foo Chow Special 罗记福州特⾊ – Fu Yu Kopi Shop [Non-Halal]
Foo Chow Special – Premier Food Republic [Non-Halal]
Foo Fee – Fortune Perdana Lakeside [Non-Halal]
Foo Fee – Bandar Menjalara [Non-Halal]
Foo Fee – Sri Petaling [Non-Halal]
Foo Hai Kon Lau Mee – Pinn Xiang [Non-Halal]
Foo House Restaurant – Shamelin Perkasa [Non-Halal]
Foo Kee Restaurant – Desa Sri Hartamas [Non-Halal]
Foo Moon Dim Sum – Jalan Cm Yusuff [Non-Halal]
Foo Xiang Restaurant – Royal Plaza [Non-Halal]
Foochow – CityONE Megamall [Non-Halal]
Foochow Estay – Jln Padungan [Non-Halal]
Foochow Kampua 福州干盘面 – Dar Zen Food Centre [Non-Halal]
Foochow Special – Coffee Talk [Non-Halal]
Foochow Special – C Three Food Cafe
Foochow Special – Peach Garden Food Centre
Foochow Special – Yes Cafe [Non-Halal]
Foochow Specialty – Gala Food Court [Non-Halal]
Foochow Stir Fried – Yes Cafe [Non-Halal]
Foochow Stir – Peaches Garden Food Court Centre [Non-Halal]
Food & Drink 2 – Megalong Mall
Food Avenue – Jalan Istana Larut [Non-Halal]
Food Avenue – AEON Kuching
Food Avenue Kepong – Kepong Baru
Food Can Teen Corner – Jalan Radin Bagus 7 [Non-Halal]
Food Chemistry – Ara Damansara
Food City Kolombong Mix & Match – [Non-Halal]
Food City Kolombong Mix & Match
Food Clans – GTower
Food Court DimsumKing – East Coast Food Court [Non-Halal]
Food Craze – Grand Merdeka
Food Destination Cafe Mix & Match
Food Destination Cafe Mix & Match – [Non-Halal]
Food Destination Cafe (Main Cafe) – Food Destination Cafe [Non-Halal]
Food Diary Cafe – Jalan Simpang Tiga [Non-Halal]
Food Dimension – Jalan Thean Teik
Food Express – Jalan Song [Non-Halal]
Food Express 2 – Jalan Song [Non-Halal]
Food Factory Bakery Canteen – Glenmarie
Food Haven Beverage – The Hills
Food House Al-Raudhah – Kampung Sri Langkas
Food Hunter D'Damai
Food Jam Restaurant – Bukit Rahman Putra
Food Junction IOI City Mall I Mix & Match
Food Junction Mid Valley I Mix & Match
Food Junction Mid Valley II Mix & Match
Food Map Mix & Match
Food Paradise Drink Store
Food Rhepublik – Taman Tas
Food Store – DoubleTree by Hilton Kuala Lumpur
Food Street 1 at Rock Cafe Mix & Match – [Non-Halal]
Food Street 2 at Rock Cafe Mix & Match
Food Street 3 at Rock Cafe Mix & Match
Food Town Cafe – Tanjung Bungah [Non-Halal]
Food Tree Cafe – Glenmarie
Food Truck Mat Rock Ayam Goreng Kunyit – Shah Alam
Food Truck Sup Utara – Centrio Seremban 2
Food Tunnel – Chow Kit
Foodbae – Desa Sri Hartamas
Foodbae – Bandar 16 Sierra
Foodbulous – Tingkat Eco Meadows 1
Foodfashion – Taman Dataran Larkin
Foodfeels Cafe – Taman Adda Heights
FoodHeart Kitchen – Kawasan Industrial Park [Non-Halal]
Foodie 2 U Kitchen – Restaurant Ko Zai Like [Non-Halal]
Foodie Foodie – Educity
Foodie House – Jalan Jenjarum
Foodie Lab – Bundusan [Non-Halal]
Foodie Noodles Restaurant – Elit Avenue [Non-Halal]
Foodienator – Hawker Ave @ The Rock Place
Foodies Gourmet – Bandar Kinrara
Foodies Heng – Pekan Ampang [Non-Halal]
Foodkaki Restaurant – Menara U
Foodlab Mix and Match
Foodland – USJ19
Foodloft Penang – Lorong Permatang Pauh
FoodLove Cafe – Tabuan Heights [Non-Halal]
Foodmonger – Tamarind Square
Foodsbury – Seksyen 9
Foodscapes – TTDI
Foodspot Mix & Match
Foodstory – Bandaran Berjaya
Foodtopia Production – Kanvas @ Prima 15
Foodtruck Kuning Takoyaki Chef Tako – Pearl Avenue
Foody Goody Cafe Mix & Match
Foody Goody Cafe Mix & Match – [Non-Halal]
Foody Goody Cafe (Main Cafe) – Jalan Setia Raya [Non-Halal]
Foodzania Johor Bahru – Taman Setia Tropika
Fook Fah Restaurant – Plaza Kingfisher [Non-Halal]
Fook Fah Restaurant 2 – 1Borneo Hypermarket [Non-Halal]
Fook Noodles – Xin Daren Coffee Shop [Non-Halal]
Fook Siang Cafe 福香茶室 – Tabuan Desa Commercial Centre [Non-Halal]
Fook Xing Seafood Sdn Bhd – Jalan Sekama [Non-Halal]
Fook Yin Lau – Bandar Sri Damansara [Non-Halal]
Foon Hei Hot Pot – Auto-City [Non-Halal]
Football Western Cafe – Jalan Teluk Wanjah
Forebidden – Dana 1 Commercial Centre [Non-Halal]
Foremula – Dana 1 Commercial Centre
Forest Brew – Kuantan City Mall
Forest City – Jalan Juru Sentral
Forest Vegetarian – Kg Dimbuakon
Forestree Cafe – Aiman Mall
Foret 33 – Balakong [Non-Halal]
Forever 520 Restaurant [Non-Halal]
Formosa 台灣風味館 – Plaza Bukit Jalil [Non-Halal]
Fortuna Dumpling 富都园锅贴水饺 – Fortuna Commercial Centre [Non-Halal]
Fortuna Palace – Taman Kajang Prima [Non-Halal]
Fortune Coffee Bar – Taman Kota Laksamana [Non-Halal]
Fortune Pot Wanton Noodle – Taman Mount Austin
Fortune Snack House – Back Street Kopitiam [Non-Halal]
Fortyone Cafe – Jalan Lazat 1 [Non-Halal]
Fotea – SS2
Four Happiness – Fu Hua Cafe [Non-Halal]
Four Season Noodle House – Jalan Mutiara [Non-Halal]
Four Season Porridge – Restoran 777 [Non-Halal]
四季苑素食之家 Four Season Vegetarian Corner – Medan Angsana 4
Four Seasons – Bandar Mahkota Cheras [Non-Halal]
Four Seasons Dim Sum House – Bandar Mahkota Cheras [Non-Halal]
Four Seasons Restaurant – Cyber 10
Four Seasons Tea Restaurant – Sunway Tunas [Non-Halal]
Four Seasons Tea Restaurant – Jalan Trengganu [Non-Halal]
Four Spoons – Jalan Icon City
Four Wheel Cafe – Kepong Entreprenurs Park
Four Z Restaurant & Catering – Perkampungan Sungai Isap Jaya
Fowlboys – Plaza Mont Kiara
Fox Paradox – The Grange
Foxhole Bakery Cafe – SS18
Foxy Lady Cafe & Bar – Padimas Point 2 [Non-Halal]
FR Shellout – Larkin Jaya
Fragrance Kitchen – Taman Universiti [Non-Halal]
Fragrance Noodles Restaurant – Fadason Business Centre [Non-Halal]
Franco – Sunway Putra
Franco – Nu Sentral
Frangipaani – The Republik
Frank Laurent Coffee Roasters – Udini Square
Frank Laurent Coffee Roasters – Southbay Plaza
Frank Laurent Coffee Roasters – Jalan Macalister
Frankie's Corner Western Food – Khiong BBQ [Non-Halal]
Franky Fresh – Hulu Kelang
Free School Hokkien Mee & Loh Mee – Taman Free School [Non-Halal]
French Cafe – Sejati Walk
Frens Corner – Jalan Tun Sambanthan [Non-Halal]
Frenz – Lido Square
Fresca Mexican
Fresh Beancurd – So Good 2 Cafe
Fresh Beancurd Dou Dou Soya Custard – Kempas Heights
Fresh Cendol – Kampung Baru
Fresh Chat 果汁黄 – Jalan Pasir Pelangi [Non-Halal]
Fresh Claypot Restaurant – Taman Malim Jaya [Non-Halal]
Fresh Fruit – Restoran Yong Chun Ramen
Fresh Fruit – Pusat Makanan Cedar Point
Fresh Fruit & Rojak – Restaurant Sin Yong Kee
Fresh Fruit Delicious Dessert – Lotus's Sungai Petani
Fresh Fruit Stall – Lido Square
Fresh Juice Garden – Taman Kluang Indah
Fresh Juice – The Garden
Fresh Nature Vegetarian Restaurant – SS14
Fresh Point – Wangsa Maju
Fried – Seksyen 15
Fried – Wangsa Walk
Fried – Seksyen 13
Fried – Bandar Kinrara
Fried – Plaza Mont Kiara
Fried – RH Plaza [Non-Halal]
Fried 2 – Tah San Yuan Cafe [Non-Halal]
Fried & Cook – Dai Pai Dong Cafe [Non-Halal]
Fried Banana – 1Borneo
Fried Banana – Taman Grand
Fried Carrot Cake – Restoran Jolibee [Non-Halal]
Fried Carrot Cake – Restoran Sheng Heng [Non-Halal]
Fried Chicken – Pusat Bandar Puchong
Fried Chicken & Burger – The Garden
Fried Chicken Brother Ash's – Taman Desa Setapak
Fried Chicken Chop Rice – Kepong Food Court [Non-Halal]
Fried Chicken Chop Rice @Restoran Tien Tien Lai – Ara Damansara
Fried Chicken in Ramen House – Next Food Avenue @ Ipoh Parade
Fried Chicken King – Pandan Indah
Fried Chicken King – Kampung Baru
Fried Chicken King – Kuchai Entrepreneurs Park
Fried Chicken King – Taman Oversea Union
Fried Chicken Master – City Junction
Fried Chicken Master – Suntech Penang Cybercity
Fried Chicken Master – Jalan Hutton
Fried Chicken Master – Jalan Sultan Iskandar Shah
Fried Chicken Master – Jalan Teluk Wanjah
Fried Chicken Master – Jalan Ismail
Fried Chicken Ong 大街炸鸡 – Pekan Melayu [Non-Halal]
Fried Chicken Rice – S11 Kopitiam
Fried Chicken Rice Stall – Uncle Te Kopitiam [Non-Halal]
Fried Chicken – Thian You Food Court Corner
Fried Chicken Wing – Limbongan Food Court
Fried – Farley Foodcourt Medan [Non-Halal]
Fried King 炸王 – Menglembu [Non-Halal]
Fried Kuay Teow – Taman Seri Orkid Skudai
Fried Kueh Teow – Food Street at Rock Cafe
Fried Kueh Tiaw / Noodle – Xin Daren Coffee Shop
Fried Kuey Teow – Jalan Jaya Mas 4
Fried Kuey Teow – Kepong Food Court
Fried Kuey Teow @ Restoran Keng Nam Hai – Kampung Batu
Fried Kuo Tiao – Jalan Sulaiman
Fried Kway Teow – Restoran Wan Xi Heng
Fried Kweh Tiao/Mee – Restoran 777
Fried Mee Rice – Hock Seng Kopitiam [Non-Halal]
Fried Mee – Ting Cafe [Non-Halal]
Fried – New Wonderful Place [Non-Halal]
Fried Noodles Rice Rojak – AEON BiG Falim
Fried Noodles Stall – Uncle Te Kopitiam [Non-Halal]
Fried – Northern Delicacies Restaurant [Non-Halal]
Fried Oyster/Char Koay Teow – Fisherman Food Court [Non-Halal]
Fried Prawn Mee – Jalan Hashim
Fried Prawn Mee – Jalan Bunga Mawar
Fried Raddish Cake – New Lungmeng Enterprise [Non Halal]
Fried Radish Cake – Jingwood Cafe
Fried Rice – Restoran New Hong Tu [Non-Halal]
Fried Rice – Sungai Pinang Food Court [Non-Halal]
Fried Rice and Noodle – Design Village Outlet Mall
Fried Rice King – Lebuh Pekaka Satu [Non-Halal]
Fried Rice King – Taman Pekan Baru [Non-Halal]
Fried Rice Specialist – S11 Kopitiam [Non-Halal]
Fried Rice.Nasi Goreng – Pusat Makanan L Dan L [Non-Halal]
Fried Snacks – Plaza Metro Kajang
Fried Special – Xing Xing Wang Cafe [Non-Halal]
Fried – Tah San Yuan Cafe [Non-Halal]
Friend Fries – Bayu Sentul Condominium
Friend Fries – Brickfields
Friend Mo Mo Tea – Taman Bunga Raya
Friend Stations – Jalan Sultan Yahya Petra
Friends & Fig – Komersil Southkey Mozek JB
Friends Cafe
Friend's Home Cafe – Lorong 10 Krokop [Non-Halal]
Friends Kitchen and Bar – SS15
Friends Of Mine – Vista Shoppe
Friends Perk – Wisma AVS
Friendscino – Damansara Perdana
Friendscino – Taman Sri Tebrau
Friendship Tribe Senai JW – Jalan Seni
Friendster Hub – Kepong [Non-Halal]
Friendwish – Restoran Lai Lai Square
Fries Time – Restoran Barra
Fries Time – Flea Market
Fries Time – Reko Sentral
Frisky Goat Cafe – TTDI
Friz & Fry Food Industries – Taman Dagang Jaya
Frizzes Lab – Taman Setiawangsa
FROSTEA Cafe – Jalan Reko
Frostea Cafe – Bangi Avenue
Frozen Desserts Corner – Uptown Santai Setia Alam
Frozen Frog's Western Food – Super Tanker Food Court [Non-Halal]
Frozen Garden – Jalan Lembah Permai 4
Frozen Ice Cream – Paradigm Mall
Frozen Ice Cream – SS2
Frozen Ice Cream – Bangsar
Fruiceland – Tanjung Lobang
Fruiceland – Jalan North Yun Seng
Fruit Platter – Peach Garden Food Centre
Fruit Point – Taman Salak South
Fruitful Yogurt Ice Cream – Beach Park
Fruitlala – Central i-City
Fruits & Rojak – Premier Food Republic Samarahan
Fruits Monster Cafe – Beverly Hills Apartment
FruitShop – Subang Parade
Fruitti Bowl Iced – Lorong Shahbandar 3
Fruktbar – Miri Times Square
Fruktbar – Saradise
Fry King Korean Fried Chicken – Makan Avenue
Fry the Rice – Sunway Geo Avenue
Fry the Rice – Publika
Fry the Rice – Bandar Saujana Putra
Fry the Rice – Dataran Ara Damansara
Fry the Rice – Bandar Seri Putra
Fry the Rice – Bandar Tasik Kesuma
Fry The Rice – Wisma Tanjung Balai
Fry the Rice – Kampung Sri Langkas
Fry The Rice – Kawasan Desa Ria
Fry The Rice – Taman Reko Sentral
Fry The Rice – Jalan Tengku Kelana
Fry The Rice – Seksyen 3
Fry the Rice – Seksyen 19
Fry the Rice – Bandar Sri Permaisuri
Fry the Rice – Balakong Jaya
Fry The Rice – Bandar Puchong Jaya
Fry the Rice – Dataran Cheras
Fry the Rice – Glomac
Fry The Rice – Seksyen 15
Fry The Rice – Jalan Jelok 6
Fry The Rice – PJ Centrestage
Fry The Rice – Menara Ikhlas
Fry The Rice – Jalan Anggerik Vanilla
Fry the Rice – TTDI
Fry The Rice – Seksyen 8
Fry The Rice – Jalan Metro Avenue
Fry The Rice – Sha Food Court
Fry the Rice – Taman Setia Balakong
Fry the Rice – Seksyen 7
FS Seafood Restaurant – Taman Damai Utama [Non-Halal]
FTWL Little Gerai – Medan Kamunting
Fu Hiang Bak Kut Teh – Medan Sunshine [Non-Halal]
Fu Hua 富華樓 -Taman Ungku Tun Aminah [Non-Halal]
Fu Lim Restaurant – Perindustrian Bandar Baru [Non-Halal]
Fu Lin Yuan – Good Timing Food Village [Non-Halal]
Fu Lok Noodle House – Jalan Canna [Non-Halal]
Fu Man Yuan Dumpling City – Sri Petaling [Non-Halal]
Fu Rong Pan Mee Kopitiam – Batu Kawa
Fu Sen Court Mix & Match – [Non-Halal]
Fu Tang Dao Huo – Taman Emas [Non-Halal]
Fu Tea – Jalan Zainal Abidin
Fu Tea – Gurney Plaza
Fu Xin Lai – Tmn Kit Fah [Non-Halal]
Fu Yu Cafe Mix & Match
Fu Zhou Food – FGJB [Non-Halal]
Fucha – Taman Adda Height
Fudo Mart – Pusat Perdagangan Bukit Jalil [Non-Halal]
Fuel Shack – Pavilion Elite
Fuel Shack – Seksyen 9
Fuel Shack – Subang Jaya
Fuel Shack – Aquaria KLCC
Fuel Shack – SS19
Fuel Shack – IOI City Mall
Fuel Shack – Petronas Karak Gombak
Fuel Shack – Quill City Mall
Fuel Shack – Kota Damansara
Fuel Shack – AEON Shah Alam
Fuel Shack – TBS
Fuel Shack Signature – Nexus Bangsar
Fuel Shack Signature – Plaza Lowyat
Fugu – Damansara Jaya
Fuhh Char Kuey Teow – Kajang
FuhLemak Kitchen – Medan Connaught
FujiYama Japanese Restaurant – Damansara Utama
Fuku Eatery & Desserts – Lebuh Pantai
Fulamak Cafe – Taman Bukit Rambai
Fulin Fastfood – Everwin Kopitiam Samarahan [Non-Halal]
Full Bliss Cafe – Taman Setia Tropika [Non-Halal]
Full House – Lido Square [Non-Halal]
Full House Cafe – Lintas Jaya Uptownship [Non-Halal]
Full of Beans – Straits Quay
Fullest Kitchen – Triple 3 Foodcourt [Non-Halal]
Fully Loaded – Bandar Botanic
Fun Hut – IOI Puchong
Fun Hut – Emart Batu Kawa
Fun Hut – MJC
Fun Hut – Boulevard Mall
Fung Lai Seafood Restaurant – Taman Putra Prima [Non-Halal]
FungNCo – Taman Mesra [Non-Halal]
Funky Farm Food Court Mix & Match – Kampung Kepayan
Funky Food Fusion Cuisine – Funky Farm Food Court
Funny Western Food – Restoran Chong Xing [Non-Halal]
Funtasia – Bangi Resort Hotel
Furui Michi Ramen [Non-Halal]
Fushou Lou Nyonya Curry Mee – USJ 2 [Non-Halal]
Fusilli Fusilli – Plaza Mont Kiara
Fusilli Fusilli – Centro Mall
Fusion Inc Restaurant – Suria Shop Apartment [Non-Halal]
Fusion Kitchen – Bandar Sungai Long
Fuyoh – Jln Perda Utama
Fuyyoo Best Fried Chicken – Argomall
Fuziah Kafe – Worldwide Business Centre
Fuzza's Kitchen – Taman Johor Jaya
FWF Hotpot – The Landmark [Non-Halal]
FWF Hotpot – 1Utama [Non-Halal]
FWF Hotpot Fahrenheit – KL Plaza [Non-Halal]
FY Lunch & Break – Taman Overseas Union [Non-Halal]
Fyaaz Buger Padu – Jalan Bunga Raya
Fyf Kopitiam – Taman Orkid
FYF Kopitiam – Jalan Austin Heights 3
FZ Ayam Pasu – Mainroad Jalan Ampang
FZ Cafe
FZ Cameron – Cameron Fair
FZ Cendol Special – Taman Cempaka
FZ Chicken Chop – Taman Pulai Utama
Fz Rizqi – Port Laypark D'Polo
FZ Warisan Bistro – Presint 8
G Cafe – Kota Kinabalu
G Letchumitrah Curry House
G Lotas Foodstop – Taman Delima 2
G-Zeek Bar – KDCA
G-Zeek Bar Delicious Satay Stall – Hongkod Koisan KDCA
G-Zeek Bar Seafood Bakar 海鲜铁板烧 – Hongkod Koisan KDCA
G-Zeek Juice Stall – Hongkod Koisan (KDCA)
G-Zeek Seafood Stall – Hongkod Koisan (KDCA) [Non-Halal]
Gaban Burger – Taman Sri Stulang
Gaban Grilled Burger – Persiaran Greentown 7
Gabion Bistro – Ibis Hotel
Gabriel's Recipe – Lorong Tun Abang Haji Openg
Gadis Keju Stall – Taman Dato Senu
Gado Gado – Jln Tun Haji Openg
Gaffe Eateries – Ulu Kelang Hillview
Gaga Western & Eastern Corner – Sri Petaling [Non-Halal]
Gaia Bistro – Taman Alam
Gajaa at 8
Gajah Mada by The Majapahit – PJ222
Gajah Mada by The Majapahit – NU Sentral
Gajah Mada by The Majapahit – Melawati Mall
Gajah Mada by The Majapahit – Sunway Geo
Galabites – TTDI Jaya
Galaxy Sniper Snooker and Cafe – Taman Bayu Puteri
Gallerie Gold Cafe – Jalan Empayar
Gallery Burger (Kampung Laksamana) – Jalan Besar Kampung Laksamana
Galley Cafe – Pusat Industri Taman Sri Rampai
Gambier Burger & Western Cuisine – Jalan Utama
Gan Gan Shi – Jalan Kempas [Non-Halal]
Gan Hiong Fresh Seafood Noodles – Taman Johor Jaya [Non-Halal]
Gana Garden Bistro – Crown Square Shopping Centre [Non-Halal]
Gandhi's Vegetarian Restaurant – Scoot Sentral Service
Gangnam 88 – Bandar Puteri [Non-Halal]
Gangnam 88 – Soho Ipoh [Non-Halal]
Gangnam 88 – Solaris Mont Kiara [Non-Halal]
Gangnam 88 – Sunway Giza [Non-Halal]
Gangnam BBQ – Lintas Plaza [Non-Halal]
Gangwan Restaurant – Wisma Conlay [Non-Halal]
Ganshik77 – Medan Selera Majlis
Gao Enough Tea – Lebuh Pantai
Garage 51
Garage Cafe ApexEin – Taman Mirindi
Garage Kitchen – Kompleks Kubika
Garam Masala North Indian Restaurant – Bandar Bukit Tinggi
Garden Cafe – Taman Usahawan [Non-Halal]
Garden Cottage – Taman Berpadu
Garden Western Grill – Selera Wawasan
Garfu Place – Assam Kumbang
Garpu Char Kuey Teow – Kuchai Entrepreneur Park
Garsa Kitchen – Bangi
Garsa Kitchen
Garsa Kitchen – Shah Alam
Gaspacho Food – Jalan Tun Ali
Gastro Kitchen – Jalan Masjid
Gastro Mania – Kajang
Gastro Pub – Centro Mall
Gastronomy Inc Cafe
Gatao Fried Chickens – Taman Mount Austin
Gather Gather Kitchen – Jalan Anggerik Vanilla [Non-Halal]
Gathered Cafe & Lounge – Taman Mutiara Melaka
Gathering – 88 Marketplace [Non-Halal]
Gathering 2 – 88 Marketplace [Non-Halal]
Gathers In – Sunway Prima
Gaul Express – Plaza Mont Kiara
Gaul Warung Indonesia – Jalan Pahang
Gaya Coconut Shake – Jalan Pantai
Gaya Vegetarian Food – Jalan Gaya
Gayah Tomyam – Astaka Kampung Melayu
Gazebo Abg Nash – Taman Cyber
Gazoline – Jalan Kota
GB Curry Bun – Ipoh SOHO
GB Venus Cafe – Taman Impian Emas [Non-Halal]
GC Good Coffee – Paradigm Mall JB
GC Good Coffee – Jalan Kenanga
GC Good Coffee – Taman Pelangi
GC Good Coffee – Austin 18
GC Good Coffee – Taman Sutera Utama
GC Good Coffee – Taman Bukit Indah
Gd Corner – Taman Seri Ketiau
GD Lacto Aroma – Jalan Pinang 52
GD1 Western Food – Good One Kopitiam [Non-Halal]
Gedabucks Aneka Sup Utara – Taman Sri Pulai 3
Gedabucks Asam Pedas Sunti – Taman Sri Pulai 3
Gedabucks Ayam Penyet – Taman Sri Pulai
Gedabucks Ayed Satay – Taman Sri Pulai
Gedabucks Cafe – Taman Sri Pulai 3
Gedabucks D' Mama Kitchen – Taman Sri Pulai
Gedabucks Foodstation I Mix & Match
Gedabucks Foodstation II Mix & Match
Gedabucks Nasi Arab Alyat – Taman Sri Pulai 3
Gedabucks Shell Off – Taman Sri Pulai
Gedabucks Steak House – Taman Sri Pulai 3
Gedabucks Yong Tou Foo Kak Long Wati – Taman Sri Pulai 3
Gee's Turon – Kampung Bayam
Gegelicious Kitchen – Taman Mawar
Gelaihh Cafe – Jalan Sultan Azlan Shah
Gelas Besar Corner – Persiaran Iskandar Perdana
Gelato Fruity – Taman Industri Bukit Permai
Gelato Fruity – Sunway Pyramid
Gelato Fruity – Setapak Central
Gelato Fruity – Mid Valley
Gelato Fruity – Sunway Velocity
Gelato Fruity – Pavilion
Gelato Fruity – Fahrenheit 88
Gelato Fruity – 1Utama
Gelato Lab – Imago Shopping Mall
Gem Noodles House – Sunway Velocity [Non-Halal]
GEM Restaurant – Brickfields
GEM Restaurant – Lebuh Bishop
GEM Restaurant – Juru Auto City
GEM Restaurant – Klang
GEM Restaurant – Petaling Jaya
Gembira Xiao Chao – Taman Molek [Non-Halal]
GEMOR – Taman Danau Kota
Gemporr Char Kuey Tiow – Ipoh Walk Night Bazaar
Gen 2 Gen – Jalan Airport
Gen Don Restaurant – Dataran Sunway [Non-Halal]
Gen Z – Lintas Plaza
Gen Z – Damai Plaza
GenBlu Cafe – Kompleks Hong Leong Yamaha
General Wow's Chinese – Cottage Walk
Genghis Khan's Bibimbap – Kota Damansara
Genghis Khan's Bibimbap – Kayu Ara
Genghis Khan's Bibimbap – Bangsar
Geng's Corner – Seksyen 13
Genie Coffee – Lorong Permai
Genie Coffee – Taman Green Lane
Genki Japanese Restaurant – Jalan Tun Sambathan
Genki Sushi – Sunway Pyramid
Genki Sushi – Suria KLCC
Genting Corner Chicken Rice – Wisma Genting
Genting House – Jalan Ibrahim Sultan [Non-Halal]
Geo Wine Nat – Pavilion Elite
Geographic Adventurer – Wisma Fiamma [Non-Halal]
Geographic Explorer – Ikon Connaught [Non-Halal]
George's Special Chicken Rice – Rox Cafe
Geo's
Geprek – Sejati Commercial
Geprek Kitchen – Medan Selera Mutiara Damansara
Geprek Pak Boss – Taman Kota Masai
Gerai – KSL Avenue
Gerai 48 Wing Kee – Medan Selera Stadium [Non-Halal]
Gerai 49 Nasi Pandan Ayam Berempah – Kompleks Sukan Ipoh
Gerai Adi – Medan Selera Tepian Tebrau
Gerai Adura – Wisma Sri Taiping
Gerai Ais Kacang Dan Laksa – Pangsapuri Taman Bagan Jaya
Gerai Aisha & Shah – Medan Selera Greentown
Gerai Al Qudwah – Seremban 2
Gerai Along – Taman Dahlia
Gerai Atok – Salai Master @ Damansara
Gerai Ba Bao Bing Ice Kacang – Taman Sri Kulai Baru
Gerai Bakar-Bakar Rahim Koboi – Jalan Tembikai 7
Gerai Bakar-Bakar Rahim Koboi – Jalan Dukong 9
Gerai Breakfast & Nasi Kuning – Kampung Tunoh
Gerai Bunga Melur – Bandar Baru Tanah Rata
Gerai Burger Coconut Shake – Chabang Tiga Berangan
Gerai Chah Sabar Menunggu – Gerai PLB
Gerai Coffee Mommy Farra Sani No 7 – Wisma Sri Taiping
Gerai D Mantap – Kg Kurnia
Gerai Dapur ChikTha – Wangsa Maju
Gerai Delishah – Kampung Melayu Majidee
Gerai Din Lincun – Medan Selera Tasek
Gerai English Western – Taman Keramat
Gerai GM2 Abang Zan – Medan Perhentian Medan Kidd
Gerai Haji Din Briyani – Kampung Tersusun
Gerai Hajjah Kasma H.S – Medan Niaga Satok
Gerai Hameed Stadium – Medan Selera Stadium
Gerai Hasnah Daud – Medan Mak Intan
Gerai Hj Ishak – Jalan Taman Sri Sentosa
Gerai Hjh Rabiah Nasi Campur – Anjung Selera Cempaka
Gerai Ibu – PPR Hiliran Ampang
Gerai Ikan Bakar Sinar Arisha – Taman Orkid
Gerai Ikan Bawal Nieta – Persiaran Meranti
Gerai Ilyani – Medan Selera Pokok Asam
Gerai Isna – Shah Alam
Gerai Kak Asz – Medan Selera Menara Condong
Gerai Kak Aye – Medan Selera MPTI Mini Stadium
Gerai Kak Ida – Medan Selera Pokok Asam
Gerai Kak Ita – Kg Manjoi Baru Tambahan
Gerai Kak Jah – Plaza Zurich
Gerai Kak Liza – Taman Jubli Perak
Gerai Kak Long – Persiaran Rapat Baru
Gerai Kak Nam – Medan Selera Seksyen 10
Gerai Kak Pah – Big Fan Cafe
Gerai Kak Su Blok G – PPR Kampung Muhibbah
Gerai Kak Zu – Bukit Mertajam
Gerai Kelapa niLAKITO – Kepayan
Gerai Kita @ Sri Damak – Taman Sri Andalas
Gerai Lahar – Kubota Square
Gerai Liana – Medan Selera MBMB
Gerai Limau Bali Wak Puji – Pusat Limau Bali
Gerai Mak Mia – Medan Selera Taman Sri Cempaka
Gerai Makan – Next Food Avenue @ Ipoh Parade
Gerai Makan Dan Minuman Mahyah Binti Mansor
Gerai Makan Hijas – Jalan Cheras Batu 9
Gerai Makan MZK – Taman Bukit Angkasa
Gerai Makan Tapuk Dada Tanya Selera – Medan Selera Putatan
Gerai Makanan Along – Taman Johor Jaya
Gerai Makanan & Minuman Amirah – Terminal Bas Masai
Gerai Makanan Chi – Restaurant Pedas Sedap [Non-Halal]
Gerai Makanan Hot & Cold Drinks – Design Village
Gerai Makanan Ieka – Gerai Majlis Kulaijaya
Gerai Makanan Mee Combat – Wisma Sri Taiping
Gerai Makanan Ru Yi – Jalan Indah [Non-Halal]
Gerai Makanan Sivagamy
Gerai Makanan TTL Rasa Balik – Ambok Corner [Non-Halal]
Gerai Makanan Usha – Taman Selera
Gerai Mama – Medan Selera Tasek
Gerai Mama Lynda – Taman Pulai Indah
Gerai Mama Prima – Gerai MPS
Gerai Mana Lagi Zam – Jalan Raja Dr Nazrin Shah
Gerai Mansor Nasi Ayam – Jalan Acheh
Gerai Mawar Nasi Ayam Lake Garden – Station FMS
Gerai Menara Sizzling – Medan Mak Intan
Gerai Minuman ABC Taiping – Larut Matang Food Court
Gerai Minuman Fatihah Abdullah – Medan Niaga Satok
Gerai Minuman Lin Kee – Jalan Lee Sam
Gerai Mohd Hadzrul Fisal Bin Md Akhir – Taman Baiduri
Gerai Muafakat Johor – Tampoi
Gerai Nasi Arab Mandy Kak Jai – Taman Puncak Jalil
Gerai Nasi Ayam Istimewa – Taman Bunga Ros
Gerai No 3 – Casual Market
Gerai No 4 – Wisma Sri Taiping
Gerai No 5 – Casual Market
Gerai No 77 Aliffullah – Medan Selera Greentown Utama
Gerai No.7 Warung J&R – Medan Selera MPSPK
Gerai Nuri – Taman Desa
Gerai Oh Chee Kea – Jalan Lapangan Siber [Non-Halal]
Gerai Oren Kueh Tiaw Klang – Jalan Sri Sarawak
Gerai Owl Luat Kee 发记面档 – Kepong Baru [Non-Halal]
Gerai Oyam – Medan Selera Dato Sagor
Gerai Pak Andak – Medan Mak Intan
Gerai Pak Deris – Jalan Mahkota
Gerai Pak Usop Target – Pasar Pengkalan Ipoh
Gerai Penyet Nurhanan – Popular Food Court
Gerai Persila – Kampung Melayu
Gerai P.J Senang Nasi Ambang No.1 – Tmn Dahlia
Gerai Poh Kee – Kg Pandan Baru [Non-Halal]
Gerai Rozie Pokok Rendang – Taman Puteri Gunung
Gerai Sukaoneng – Medan Selera Dato Tahwil Azar
Gerai Sup & Ayam Goreng Berapi – Meru
Gerai The Loft – Setia Alam [Non-Halal]
Gerai The Loft – Centrepoint [Non-Halal]
Gerai Tok Ayah – Gerai Makanan Bumiputra
Gerai Wahi – Medan Mak Intan
Gerai Western Papar – Jalan Takis Majakir
Gerai Xiang Ju – Plaza Pandan Malim [Non-Halal]
Gerai Yang Kwang – F&B Restaurant [Non-Halal]
Gerey Sarawak – Taman Tuanku Jaafar
Germaine Dessert – Persiaran Sungai Ara
Gerobak Sate – OTK Gombak
Gerobak Sate – Kepong
Gerobak Sate – AI Ayam Berempah – Kota Damansara
Gerobak Sate – Sriaman Food Centre – Bukit Jelutong
Gerobak Sate – Qaseh Mama – Seksyen 13
Gerobak Sate – Tompek Makan
Gerobak Sate – Damansara Damai
Gerobak Sate – Penchala
Gerobak Sate – Desa Setapak
Gerobak Sate – Bandar Sri Damansara
Gerobak Sate – Kilang Kitchen
Gerobak Sate – Shaftsbury Putrajaya
Gerobak Sate – Denai Alam
Gerobak Sate – Kilang Kitchen Setapak
Gerobak Sate – Laili & Zamree Corner
Gerobak Sate – D'Tomyam – Damansara Perdana
Gerobak Sate – Che Mat Corner
Gerobak Sate – Restoran OK – TTDI
Gerobak Sate @ AK Bistro Nasi Kandar – Saujana Utama 3
Gerobak Sate @ Naili's Sentul – Taman Sentul Utama
Gerobak Sate @ Rencah Utaqa – Kampung Baru
Gerobak Sate @ Restoran Kampung Cili Padi – Seksyen 9
Gerobak Sate @ Sha Foodcourt Kandar – Taman Melati
Gerobak Sate @ Syahmee Cafe – Ara Damansara
Gerobak Sate @ Ubi Muslim Seafood – Putra Permai
Gerobak Sate @ Warung Tomoi – Bandar Baru Sungai Buloh
Gerobak Sate @ Yuki Corner – Taman Batu Caves
Gesuto – Lorong Datuk Sulaiman 1
Getto – Kubota Sentral
Geylang Lor 9 – Taman Sutera Utama
Geylang Seafood 芽笼海鲜 – Jln Sekama [Non-Halal]
Ghalit Steak Hub – Jalan Dagang 1
Ghani Corner – Jalan PJS 2/3
Ghani Corner – Nilai
Ghareeb Nawaz Restaurant – Jalan Sultan Azlan Shah
Ghee Hong Vegetarian House – Jalan Tan Sri Teh Ewe Lim
Ghost Pizza KL – Sungai Buloh
Ghost Pizza KL – Bangsar
Giant Bowl Vegetarian Restaurant – Jalan Klang Lama [Non-Halal]
Gift Tart Cafe – Bandar Puteri
Gift's Kitchen – Jalan Concord 15 [Non-Halal]
Gigi Coffee – Mid Valley
Gigi Coffee – KL Gateway
Gigi Coffee – Pavilion
Gigi Coffee – NU Sentral
Gigi Coffee – Avenue K
Gigi Coffee – Top Glove Tower
Gigi Coffee – Nouvelle Industrial Park 2
Gigi Coffee – 1Utama
Gim Ho Kitchen – Lorong Kinta [Non-Halal]
Gimbap Story – Bandar Sunway
Gim's Burger – Jalan Song
Gimsa Pasir Emas Cafe – Sandy Plain Flat
Gindaco – Pavilion
Gindaco – AEON Shah Alam
Gindaco – Publika
Gindaco – 1Utama
Gindaco – Shell NKVE
Gindaco – Star Boulevard KLCC
Gindaco – IOI City Mall
Gindaco – Sunway Pyramid
Gindaco – AEON Tebrau
Gindaco – Paradigm JB
Ginger Forever Thai – Paradigm Mall
Ginger Forever Thai – Central Market
Ginger Noi – Central Market
Ginger Noi – Alam Damai
Ginger Roots Restaurant
Ginger Thai Express – PJ222
Ginger Thai Express – NU Sentral
Ginger Thai Express – Sunway Geo
Ginger Thai Express – Melawati Mall
Ginger (Thai Kitchen) – Mydin USJ
Ginger (Thai Kitchen) – MesaMall
Ginger (Thai Kitchen) – DPulze
Gingetsu – Century Street Food
Gino Burger – Jalan Pengkalan Chepa
Ginza Koju – AEON BiG Falim [Non-Halal]
Give Me 5 Cafe – Riam Emart Commercial Centre
G.K. Happy Home Restaurant – Taman Bukit Indah [Non-Halal]
GL Food – Crane City Cafe [Non-Halal]
Glacier – Sunway Damansara
GLASS Tartines & Tipples – St Mary's Place
Glaze Eatery – Tamarind Square
Gloria Jean's Coffees – KPJ Kajang
Gloria Jean's Coffees – Menara SSM
Gloria Jean's Coffees – Presint 2
Gloria Jean's Coffees – PPUKM
Gloria Jean's Coffees – HKL
Gloria Jean's Coffees – Mahkamah Tinggi KL
Gloria Jean's Coffees – KPT
Gloria Jean's Coffees – Menara Takaful Malaysia
Gloria Jean's Coffees – KPJ Pahang
Gloria Jean's Coffees – Plaza Merdeka
Glow Smoothie Bar – The Linc KL
Glow & Glow Bakery – Karamunsing Basement Food Court
GM Burger – Kg Kelibang
GM Farm Seafood Restaurant – Bukit Buluh Penyumpit
Gmart – Jalan Dato Ismail Hashim
Gmart – Farlim Square
Gmp Bistro & Bar – Fortuna Commercial
Go 2 Pan Mee – SS2 [Non-Halal]
Go Espresso – USJ 9
Go Fun Kee Bak Kut Teh – Jalan Bako [Non-Halal]
Go Fun Kee Bak Kut Teh – Morsjaya [Non-Halal]
Go Fun Kee Bak Kut Teh – Boulevard [Non-Halal]
Go Fun Kee Bak Kut Teh – Faradale Garden [Non-Halal]
Go Fun Kee Bak Kut Teh – Setia Commercial Centre [Non-Halal]
Go Fun Kee Bak Kut Teh 吴方记肉骨茶 – Jalan Ban Hock [Non-Halal]
Go Fun Kee Bak Kut Teh – Jalan Batu Kawa [Non-Halal]
Go Fun Kee Bak Kut Teh – Jalan Tun Ahmad Zaidi Adruce [Non-Halal]
Go Fun Kee Bak Kut Teh – Jalan Datuk Wee Kheng Chiang [Non-Halal]
Go Fun Kee Bak Kut Teh 吴方记肉骨茶 – Jalan Rock 2 1/2 [Non-Halal]
Go Geena Cafe – Lorong Rubber 9
Go-Getter Cafe
Go Lokal Hut – Presint 10
Go Lokal Hut – Tamarind Square
GO Street Noodles – South Cheras [Non-Halal]
Go Tarbush – Jalan Bukit Bintang
Go Thai – SS2 [Non-Halal]
Go Tony Wellness Solution – Bandar Sri Permaisuri
Goat 2 Go Farm – Seri Kembangan
Gobi House Restaurant – Taman Lembah Maju [Non-Halal]
Gobo Chit Chat – Traders Hotel KL
Gobok Abang – Taman Desa Cemerlang
Gocha Bar – R&F Mall
Godek Cheese Kitchen – Taman Ungku Tun Aminah
God's Delicious Food In Malaysia – Dataran Sunway [Non-Halal]
Gogigo Korean BBQ – Kota Damansara [Non-Halal]
Gogigo Korean BBQ – Bandar Puteri Puchong [Non-Halal]
Gogirou Korean BBQ – Toppen Shopping Centre
GoGo 酸辣粉 – Jalan Prima Setapak 7 [Non-Halal]
GoGo Breakfast – Jalan Pengkalan [Non-Halal]
Gogopot – SS6
Goh Ipoh Road Mixed Rice Restaurant – Jalan Tiong [Non-Halal]
Goh Kee Bak Kut Teh 吴记肉骨茶 – TT3 Commercial Centre [Non-Halal]
Goh Kee Bak Kut Teh 吴记肉骨茶 (3rd Mile) – Central Park Commercial Centre [Non-Halal]
Goh Za Lang Restoran Taiwan Sdn Bhd – Taman Sentosa [Non-Halal]
Gojade Catering Services – Taman Kepong
Gok Gok Gek – Taman Nusa Bestari [Non-Halal]
Goku Mozza Cheese Corndog & Boba Brown Sugar – Taman Lt Jaya
Gold Eagle Set Rice [Non-Halal] – Medan Angsana
Gold Lions Global – Taman Peringgit Jaya
Gold Lotus Vegetarian Restaurant – Lebuh Presgrave
Gold Standard Pho – Hartamas
Gold Taste Enterprise – Jalan Dedap
Gold Tea – Bandar Puteri Puchong
Gold Tea Cafe – Kota Damansara [Non-Halal]
Golden And Prosperity – Kampung Malabar [Non-Halal]
Golden Arch Big Prawn's Kolo Mee – Koufu Food Court [Non-Halal]
Golden Bell Hong Kong Cafe – Ipoh SOHO [Non-Halal]
Golden Bons – GM Klang
Golden Box – Komplex Karamunsing
Golden Chicken Chop – Kopitiam Tong Nam
Golden Chicken Rice – Paradigm Mall
Golden Chicken Rice – Sing Garden Cafe
Golden Corn Marketing Sdn Bhd – Taman Industri Angkasa Nuri
Golden Cuisine – Setia Alam [Non-Halal]
Golden Curry – Bandar Mahkota Cheras [Non-Halal]
Golden Curry – Sunway Pyramid [Non-Halal]
Golden Dragon 88 – Hakka Mee & Yong Tau Food – Tg Bungah [Non-Halal]
Golden Fish – KK Taipan
Golden Fish – Citymall
Golden Fried Dumpling – Expert Food Court [Non-Halal]
Golden Fried Kuey Teow – Jalan Panglima
Golden Full Cafe Vegetarian – Jalan Merdeka
Golden Full Cafe Xiao Di – Jalan Merdeka
Golden Gate – Jalan Cantonment [Non-Halal]
Golden Jade Kitchen – Happy Rich Kopitiam Ban Hock [Non-Halal]
Golden-Mah Swiftlet Cafe – Taman Sri Batu Caves [Non-Halal]
Golden Moon Cafe & Mart – Jalan Meru
Golden Nest Burger & Western – Ulu Kinta
Golden Ocean Seafood Restaurant – Seri Kembangan [Non-Halal]
Golden Phoenix – Hotel Equatorial Penang
Golden Phoenix Food Court – Taman Pekaka Desa University [Non-Halal]
Golden Sands – Jalan Eko Botani [Non-Halal]
Golden Soon Restaurant – Jalan Bukit Cina [Non-Halal]
Tasty Biryani – SS19
Golden Steam Fish Restaurant – Jalan Aman [Non-Halal]
Golden Stick – Pandai Dalam
Golden Taste – Taman Sri Changkat Jong
Golden Taste Restaurant – Putra Heights [Non-Halal]
Golden Thai Seafood Restaurant [Non-Halal]
Goldhill Walet Experts – Lorong Hang Jebat
Goldtea – All Season Place
Golek Golek Keramat – Downtown Selayang
Golek Golek Keramat – Carnival Night Market
Golfers' Cafe – Kelab Golf Sultan Ahmad Shah
Golly Gosh! British Pie & Mash – Damansara Utama
Golly Gosh! British Pie & Mash – Subang Jaya
Golly Gosh! British Pie & Mash – Sri Hartamas
Gombak Hokkien Mee – Meranti Jaya [Non-Halal]
Gombak Hokkien Mee – Puchong [Non-Halal]
Gombak's Corner – Jalan Gombak
Gong Cha – Tropicana Gardens Mall
Gong Cha – USJ 9
Gong Teng Dim Sum Sdn Bhd – Kuchai Lama [Non-Halal]
Gong Waan Bing Teng – Lebuh King [Non-Halal]
GongJu Roll
Good 83 – Lau Yew Food Court [Non-Halal]
Good Burger – Taman Cempaka
Good Choice Noodle Station – Prangin Mall [Non-Halal]
Good Day Good Time – Nagore Square
Good Food – Kampung Tengah Puchong
Good Food & Co – Jaya Shopping Centre
Good Friends Restaurant & Cafe – SS15 Subang Jaya
Good Good Not Bad – Bandar Sri Damansara
Good Good Seafood – Foody Goody Cafe [Non-Halal]
Good Good Wan Tan Mee – SS2 [Non-Halal]
Good Good Wan Tan Mee @ Restoran DU Cafe – Dataran Sunway [Non-Halal]
Good Luck Coffee House – Taman Adda
Good Luck Dim Sum – Restoran Fa Cai [Non-Halal]
Good Luck Dim Sum – Yee Huat Food Court [Non-Halal]
Good Porridge Restaurant – Bandar Bukit Tinggi [Non-Halal]
Good Porridge Restaurant – Jalan Lang, Taman Berkeley [Non-Halal]
Good Snackey – Kompleks Yik Foong [Non-Halal]
Good Social Party – Jalan Sri Purnama 2/3
Good Taste Food Court – Taman Hui Sing [Non-Halal]
Good Taste Restaurant – Damansara Jaya [Non-Halal]
Good Taste Restaurant – Kota Damansara [Non-Halal]
Good Taste Restaurant – KL Gateway [Non-Halal]
Good Taste Restaurant – Bandar Bukit Tinggi [Non-Halal]
Good Taste Restaurant – Setia Alam [Non-Halal]
Good Taste Restaurant – Balakong [Non-Halal]
Good Taste Restaurant – Bandar Puchong Jaya [Non-Halal]
Good Taste Restaurant – Bandar Puteri Puchong [Non-Halal]
Good Taste Restaurant – Viva Shopping Mall [Non-Halal]
Good Taste Restaurant – Sunway Geo Avenue [Non-Halal]
Good Taste Restaurant – Bandar Menjalara [Non-Halal]
Good Taste Roasted 好味烧味 – 88 Market [Non-Halal]
Good Times – Dataran Pahlawan Melaka Megamall
Good View Noodle House – Vista Mutiara [Non-Halal]
Gooday – Jalan Padungan
Goodday Western Food – Kedai Makanan Heng Leong [Non-Halal]
Goodman Chicken Rice – 7 Days Food Court
Goodtaste Cafe (Main) – Goodtaste Cafe Sekama
Goreng Goreng – River Park Food Court [Non-Halal]
Goreng-Goreng Selera Nyonya – City Plaza
Goreng – Goreng – Xing Xing Kafeteria
Goreng – Goreng – Z.Z Corner
Goreng Pisang Crispy – RTC Gopeng
Goreng Pisang Crispy – Seri Manjung
Goreng Pisang Crispy – Taman Desa Harmoni
Goreng Pisang Crispy (GPC) – Kampung Batu 10
Goreng Pisang Crispy (GPC) – Jalan Bukit Sekilau
Goreng Pisang Nurul Faqar – Taman Universiti
Goreng Starz Ayam Goreng – Jalan Setia Raja
GORKUN Ayam Goreng Kunyit – Medan Selera Pasar Moden
Gotcha – Harbour Mall
Gotcha Fresh Tea – SS15
Gotcha Sejati – Sejati Walk
Gourmet Dining Cafe – Lutong Bazaar [Non-Halal]
Gourmet Street Café
Gowdel Grill Western – Medan Selera D`Tasik
Goya Cafe – Marina Park City
GP Restaurant – Bandar Mahkota Cheras [Non-Halal]
GPC Seri Botani Ipoh – Bandar Cyber
Grab A Bite – Taman Ria
Grab & Go – Pinetree Marina Resort
Grab Fresh – The Boardwalk
Grabatus – Lorong Tun Ismail 6
GrabKitchen Hartamas Mix & Match
Grabox Cafe
Grace Tree Vegetarian Restaurant – Kota Kemuning
Grace's Mama Nyonya – Taman Desa Tebrau
Grain Modern Food – Lorong Ciku [Non-Halal]
Granada – Grace Junction
Grand Baron Hotel – Jalan Bukit Larut
Grand Castella – Vivacity Megamall
Grand Happiness – Jalan Maju [Non-Halal]
Grand Harbour Restauarant & Banquet – Fahrenheit 88 [Non-Halal]
Grand Harbour Restaurant & Banquet – DaMen Mall [Non-Halal]
Grand Indians Kitchen (M) Sdn Bhd – Taman Perling
Grand Old Lady – Taman Nusa Bestari [Non-Halal]
Grand Papa – Fajar Complex
Grand Sari Ratu Prima – Persiaran Arked
Grand Sugar – Star Megamall
Grand Taipei – Kota Damansara [Non-Halal]
Grand Taipei – Equine Park [Non-Halal]
Grand Vege – Lorong Abu Siti
Grandma Bak Kut Teh 外婆⾁⻣茶 – Jalan Rock [Non-Halal]
Grandma Ong – Taman Maju Jaya [Non-Halal]
Grandma Ong – Taman Sutera Utama [Non-Halal]
Grandma Ong – KSL City Mall [Non-Halal]
Grandma Ong – Paradigm Mall JB [Non-Halal]
Grandma Ong – Taman Nusa Bestari [Non-Halal]
Grandma Ong – Taman Gaya [Non-Halal]
Grandma Ong – Taman Mutiara [Non-Halal]
Grandma Ong (Eco Botanic) Sdn Bhd – Jalan Eko Botani 3/5 [Non-Halal]
Grandma Ong (M) Sdn Bhd – Bandar Indahpura [Non-Halal]
Grandma Ong (Setia Indah) Sdn Bhd – Taman Setia Indah [Non-Halal]
Grandma Pan Mee- Kafe Baobao Ais Kacang 2 [Non-Halal]
Grandma Pork Noodles – Xin Daren Coffee Shop [Non-Halal]
Grandma Waffle & Sweetcorn
Grandmama's – Intermark
Grandmama's – Pavillion
Grandmother Chicken Rice Restaurant – Pandan Jaya [Non-Halal]
Grandpa Cafe – Bandar Baru Permas Jaya [Non-Halal]
Grandpa's Dimsum & Pau – Jalan Raja Uda [Non-Halal]
Grandpa's Fishball Noodles House – Dataran Cheras [Non-Halal]
Grandpot by De Hunan – Crystalville [Non-Halal]
Granite Kitchen & Lounge Bar – Centrepoint Bandar Utama [Non-Halal]
Granny Fusion Cuisine – Sungai Ara [Non-Halal]
Granny Shepherd Pie – Jesselton Mall
Granny's Hokkien Mee 奶奶福建面 – Taman Lipsin [Non-Halal]
Grano Pasta Bar – APW [Non-Halal]
Grasso Burger Joint – Town Square Plaza
Grasso Burger Joint – Jalan Piasau Jaya 1A
Grasso Burger Joint – Marina Phase 2
Greasy Spoon @ My Friends Cafe – Taman Delima
Great One Restaurant – Taman Bercham Aman [Non-Halal]
Great Taste 4289 (Hock Lai Food Centre) – Taman Bukit Indah 2 [Non-Halal]
Great Taste Noodles House – Taman Serdang Perdana [Non-Halal]
Green Bamboo Organic – Taman Desa
Green Box – AEON Seremban 2
Green Crab Seafood Hutz – Taman Sri Sentosa
Green Element Veggie – Sun Sun Cafe
Green Fresh Station – Bandar Baru Sentul
Green Garden – Kg Dambai
Green Garden Veggie – Taman Ungku Tun Aminah [Non-Halal]
Green Hill Corner – Temple Street
Green House Dining – Taman Impiana II
Green Island Western Food – Icon City
Green Island Western Food – Bayan Baru
Green Kitchen – Jubilee New Market
Green Knight – Kawasan Perindustrian Kampung Baru Balakong
Green Lane Noodles – Bandar Sri Petaling [Non-Halal]
Green Life Cafe – Kampung Abdullah [Non-Halal]
Green Master (Food) – Kg Cheras Baru
Green Mug – Lintas Plaza
Green Mug – EG Mall
Green Mug – Plaza Kingfisher
Green Mug – Gaya Street
Green Talk – Jalan Temenggung
Green Treasure – Hutton Lane [Non-Halal]
Green Tree Cafe – Kota Laksamana
Green World – Taman Melaka Raya [Non-Halal]
Green World Food Court – Kompleks Perniagaan Kota Syahbandar [Non-Halal]
Green World Food Court Mix & Match – [Non-Halal]
Greenland Ice & Tea House – Jalan Sulaiman
Greenlane Pan Mee – Lorong Delima 3
GrettFood – Jalan Sultan Idris Shah
Grettfood – Foodspot
GrettFood – SS15
Greycious Dessert & Coffee Bar
Gridiron Sports Cafe & Lounge – Bangsar
Grill & Pasta – Kenanga Food Court
Grill Chill Western – S11 Kopitiam
Grill Crab And Prawn – Kepong Food Court [Non-Halal]
Grill Daily & Co – Taman Setiawangsa
Grill Daily & Co – PJ 14
Grill Fish & Fried Seafood – Taman Impian Emas
Grill Heaven – FGJB
Grillax (Shawarma & Kebab) – Suria Jelutong 1
Grille Tous – B5 Street Market
Grilled & Cheesy – Mont' Kiara Banyan
Grilled & Cheesy – Atria Shopping Gallery
Grilled & Cheesy – Jaya One
Grilled & Cheesy – Seksyen 51A
Grilled & Cheesy – Bangsar Baru
Grilled & Cheesy – Tropicana Avenue
Grilled Fish – 63 Food Court
Griller Lah Nasi Kambing Bakar – Taman Cheras Perdana
Grilltime – Taman Pantai Dalam
Grind Shack – Taman Lagenda
Grinderbox Kitchen – Hangout Bukit Antarabangsa
Gringo's
GRIT – Taipan Damansara [Non-Halal]
Grizzly – The Intermark
Grobok Kitchen – Taman Kota Masai
Groovy Island Pizza Co. Gluten Free Pizza – Bangsar
Groovy Island Pizza Co. Gluten Free Pizza – PJ Centrestage
Ground – Damansara Utama
Grove Diner – Jalan Tambun [Non-Halal]
GS Cafe – Kelab Golf Sultan Ahmad Shah
GSC – Paradigm Mall JB
GSC – CityONE Megamall
GT Corner – Taman Merdeka Permai
GTC Good Times Cafe
Gu Chuan Claypot – Momo Food Court [Non-Halal]
Gu Xiang Nong BKT Restaurant – Kuchai Entrepreneurs Park [Non-Halal]
Gu Yue Vege Lohas – S&J Group Food Beverage Sdn Bhd [Non-Halal]
Gu Yue Vege Lohas – Lot 19 Kopitiam [Non-Halal]
Guan Ming Vege Restaurant – Putra Majestik
Guan Yin Vegetarian – Jalan Indah [Non-Halal]
Guang Ghee Roast Duck – Old Street Mount Austin [Non-Halal]
Guangxi Luosifen – Taman Seri Orkid Skudai
Gudang Station Café – Jalan Tanjung Lipat
Gui Gui BBQ [Non-Halal]
Guizhou Flavor Kitchen – Restoran Station 8 [Non-Halal]
Guizhou Flavor Kitchen – Restoran How Yekee [Non-Halal]
Gula Cakery – Tropicana Gardens Mall
Gula Cakery – Kota Kemuning
Gula Petite – IOI City Mall
Gulai Claypot Sungai Petani – Taman Palma Aman
Gulai Masak Lomak Ciliapi Dek Dayang – Taman Sri Antan
Gulai Sembilang – Jelutong Expressway
Gulawe Kafe – Taman Sri Gombak
Guna's Kitchen – Flexible Restoran
Gunting – Gunting Legend – Jalan Tampoi
Guo Fresh – Sri Petaling
Guo Pin Tian Xiang – Lorong Wong King Huo 3 [Non-Halal]
Gupis Crunch – Taman Tasik Taiping
Gurtzilla Yogurt – Bandar Meru Raya
Gyoza Gai – Dinasti Sentral
Gyoza Gai – Vista Magna
Gyu King – Main Road
GZL Sweet Hunter [Non-Halal]
H & K Fried Kuey Teow – Ipoh Food Court [Non-Halal]
H & L Retail Sdn Bhd (Food) – Aiman Mall
H & L Retail Sdn Bhd (Food) – Eastern Mall
H Bistro (Mamak On The Go) – Go Kitchens
H Coffee- Pekan Sibu
H Deens Corner – Taman Sri Bahagia
H Deens Corner – Jalan Permas
(H) Saujana Satay – Jiki Food Court Bukit Baru
H. W. B Burger – Jalan Stutong [Non-Halal]
Ha Ha Fried Chicken – Taman Bukit Indah
Ha Noi Cafe – Taman Equine [Non-Halal]
Haajo Cafe – Kiaramas Sutera Condominium
Habee's Kitchen – Nagore Square [Non-Halal]
Habib Elbie Restaurant – Kedai Makan Bazar Pechong
Habibi Shawerma – Khora Business Park
Habil Nasi Lemak – Jalan Bagan Luar
Habits Juice Bars – Bukit Jelutong
Hachi Izakaya – Damai Point
Hachiban Izakaya – Jalan Kelawai [Non-Halal]
Hadi Char Koay Teow
Hadi Tamit Enterprise – Taman Matang Jaya
Hadippa – Kepayan Point
Hadji Ice Cream – Taman Sri Batu Caves
Hadramawt – Mutiara Homes
Hadramawt – Pantai Cenang
Hadramawt – Langkawi Mall
Hadramawt – Bandar Baru Nilai
Hadramawt – Jalan Trus
Hadramawt – Paradigm Mall JB
Hadramawt Express – Melati Tanjung Mali
Hadramawt Grill – Taman OUG Parklane
Hadramawt Kitchen – Wangsa Maju
Hadramawt Kitchen – KL Traders Square
Hadramawt Kitchen – Jalan Ampang
Hadramawt Kitchen – Kawasan Perindustrian Temasya
Hadramawt Palace Restaurant – Jalan Bukit Bintang
Hadramawt PJ – Paradigm Mall
Hady Snack – Medan Selera Protec
Haelicious Ice Blend – Jalan Sungai Siput
Hafiz Coconut Shake – Bandar Prima Senawang
Hafiz Corner – Ampang
Hafizz Bubur Meletop! – Bandar Seri Putra
Hah Tomyam – Kampung Datuk Keramat
Haha Kitchen Ala Thai & Western – Bandar Sri Damansara
Haha Kitchen Ala Thai & Western – Jalan Gombak
Hai Bee Restaurant – Lebuh Pekaka [Non-Halal]
Hai Chu 嗨厨 – Dataran C180 [Non-Halal]
Hai Nan Town – Pengkalan Weld
Hai Peng Crab House Restaurant – Taman Evergreen
Hai San Pork Noodle – Taman Mutiara Barat [Non-Halal]
Hai San Pork Noodle – SS13 [Non-Halal]
Hai Siang Kopitiam – Bandar Puteri
Hai Tien Di Hot Pot – Kampung Cina [Non-Halal]
Hai Wei Seafood Restaurant – Precinct 10 [Non-Halal]
Hai Zhong Bao Seafood Restaurant – Puchong [Non-Halal]
Haida Kitchen & Catering – Bandar Indah
Haikal Burger Street – Bandar Tasik Kesuma
Hailam Coffee Express – Jalan Seri Bintang
Hailam Kopitiam – Wangsa Maju
Hailam Kopitiam – Sri Serdang
Hailam Kopitiam – Bukit Jalil
Hailam Kopitiam – SS2
Hailam Kopitiam Ekspress – Neo Cyberjaya
Hailam Kopitiam Klang – Taman Bayu Perdana
Hailam Toast 1935 – Bandar Metro Sunway
Hailam Toast 1935 – Bandar Metro Sunway
Hailam Toast 1935 – Bandar Mahkota Cheras
Hailam Vege Kopitiam – Jalan Kuchai Maju
Hainam Jit Chicken Rice
Hainam N Coffee – Danga Bay
Hainamko Chicken Rice Cafe – Jalan Bendahara
Hainan Chicken Rice – So Good Cafe
Hainan Chicken Rice – Xing Xing Wang Cafe
Hainan Island – IPC
Hainan Kitchen 海南中西餐 – Jalan Firuz
Hainan Lao Wang Laksa – Chai Leng Park
Hainan Street Restaurant – RH Plaza [Non-Halal]
Hainan Western – Jalan Mount Erskine [Non-Halal]
Hainanese Chicken Rice – Dar Zen Food Centre
Hainanese Chicken Rice YT – Jalan Ipoh [Non-Halal]
Hainanese Restaurant – Simpang Pulai Business Centre
Hainanese Tengkera Kopitiam – Tengkera
Hainanku Chicken Rice (Food Truck) – Rampai Business South Park
Hainanku Chicken Rice Shop – Taman Keramat Permai
Haitianlao Chongqing Hotpot & BBQ – Tabuan Tranquility
Haiyaa Breakfast – Siang Siang Food & Drinks Centre [Non-Halal]
Haji Aris Satay – Medan Selera Mergong
Haji Dhum Biryani – Plaza Idaman
Haji Gany – Jalan Yang Kalsom
Haji Jali Ayam Bakar – Taman Sierra Perdana
Hajja Food E-Western Cafe – Jalan Rehang
Hakka 31 Restaurant – Taman Cahaya Kota Putri [Non-Halal]
Hakka BBQ Roasted – Jalan Jee Foh Utama [Non-Halal]
Hakka Chicken Rice – Siang Siang Food & Drinks Centre [Non-Halal]
Hakka Delight – Xin Daren Coffee Shop [Non-Halal]
Hakka Lei Cha – Taman Gaya
Hakka Lei Cha – Taman Setia Indah
Hakka Lei Cha – Jalan Hang Tuah
Hakka Lei Cha – Taman Desa Cemerlang
Hakka Lei Cha – Bestari Bestmart
Hakka Loh Mei – Taman Merdeka Jaya [Non-Halal]
Hakka Lui Cha – Jia Jia Court
Hakka Lui Cha – Koufu Food Court
Hakka Mama Noodle House – Kg Cempaka [Non-Halal]
Hakka Niang Tou Fu – Thian You Food Court Corner
Hakka Niang Toufu – Taman Bukit Indah [Non-Halal]
Hakka Noodles – Taman Ipoh Selatan [Non-Halal]
Hakka Sang Nyuk Mee – Kedai Pekan Koidupan [Non-Halal]
Hakka Tea Rice – Heng Park Food Court
Halab KL – Bukit Bintang
Halab Express – Bukit Bintang
Halab KL Beremi – Bukit Bintang
Halab Penang – Lebuh Chulia
Halab Restaurant – Bukit Bintang
Halal Malay & Champa Kitchen – Saujana Impian
Halalroastduck by Duckout – Putra Majestik
Halanesaq Food – Taman Nirwana
Halaveg – Empire Damansara
Halia By Fazie – Makan Sari Food Street
Halia Kitchen – Prima Setapak Food Corner
Halim King Corner – Taman Daya
Halimah Nasi Kandar Royal – Harbour City
Halim's Western Corner – Damansara Utama
Halley – Bukit Damansara
Hallo Enterprise – Puchong Prima
Hallo Kitchen – Taman Sri Sentosa [Non-Halal]
Halo Chicken – Taman Sutera Utama
Halo – Halo – Jalan Tunku Abdul Rahman
Halogen Hotpot – Bandar Mahkota Cheras [Non-Halal]
Halwaa Dim Sum – 88 Marketplace
Hama Hama – Toppen Shopping Centre
Hameed Food Corner – Bukit Padang
Hameed Pata Mee – Jalan Padang Kota Lama
Hameediyah Bistro – Jln Kolam Air Lama
Hamid Capati – Medan Selera Mak Intan
Han Food Trading – Taman Sakeh Baru
Han Ma Kitchen – Taman Putera Indah
Restoran Han Woo Ri [Non-Halal]
Hana Bi Japanese Restaurant – Udini Square [Non-Halal]
Hana Cafe Shellout – Metro City
Hana Dining Sake Bar – Sunway Pyramid
Hana Japanese Restaurant – IPC
Hana Japanese Teishoku Meals – Nu Sentral
Hana Japanese Teishoku Meals – KLCC
Hana Japanese Teishoku Meals – Pavilion
Hana Kitchen – Taman Pauh Jaya
Hana Tei Restaurant – Bangsar
Hana Tei Restaurant – Cheras
Hana Tei Restaurant – Kajang
Hana Vietnam Kitchen – Medan Ipoh Bestari [Non-Halal]
Hanaa Almasyhur – Jalan BBI 1
Hanakoya 花小屋 – Lebuh Muntri
Hanaya – Bercham
Hanaya Tea Roastery & Cafe – Sri Petaling
Hanayuzen – SS15
Hanazen Japanese Restaurant – Jaya One [Non-Halal]
Hanbing Korean Dessert Cafe – Nu Sentral
Hanbing Korean Dessert Cafe – IOI City Mall
Hanbing Korean Dessert Cafe – SS15
Hanburger – Wisma Genting
Handciken Cafe – Taman Sri Selayang
H&L Retail Sdn Bhd (Food) – Kuching Sentral
Handmade Mee – Yes Cafe [Non-Halal]
Handmade Noodle – On3 Kopitiam [Non-Halal]
Handmade Noodle – Icom Square [Non-Halal]
Handmade Noodle – Xin Daren Coffee Shop [Non-Halal]
Handmade Noodles Goh – Pusat Niaga Maong Tengah [Non-Halal]
Handmade Pau From Balik Pulau – Kompleks Makanan Pasar Batu Lancang [Non-Halal]
Handsome Roon Cafe – Lebuh Presgrave [Non-Halal]
H&W Lau Yew Char Hor Fun – Lorong Impian Jaya 4 [Non-Halal]
Haney Kitchen – Seksyen 11
Hang Boba – Jalan Hang Tuah
Hang Lapo' Kedai Kopi – Platinum Walk
Hang Out Coffee Hub – Taman Utama
Hangout – Taman Jubilee
Hangover – Dataran 3 Two
Hangrill Steamboat & Grill – Junction 11
Hangrill Steamboat & Grill – Bandar Setia Alam
Hanis Lovendure Cafe – Denai Nusantara
Hanna Kitchen – Kg Damai
Hannaza Legacy Enterprise – Jalan Sri Putri
Hanora Kitchen – Plaza Alam Sentral
Han's Burger – Desa Senadin
Han's Gourmet Grill – Kota Damansara
Hantu Satay – Taman Komersial Senawang
Hanz Kchix Korean Chicken
Hanzaal Spice Garden – One Avenue Ampang
Hao Chi Ji Western Food – Jalan Ali
Hao Hao Chi Hong Kong Style Polo Bun – Jalan Desa Botani
Hao Ji Bakuteh – Bukit Cina [Non-Halal]
Hao Ji Kau Yu – The Garden
Hao Jie Wan Tan Mee – Taman Anggerik [Non-Halal]
Hao Jie Wan Tan Mee – Restoran Qing Feng Huat [Non-Halal]
Hao Kee Seafood Restaurant – Taman Mikamas [Non-Halal]
Hao Liang Xia – Kedai Kopi Pak Loke
Hao Liang Xia – Taman Melor
Hao Mei Wei – Gao Lao Mamak
Hao Shang Yin – Taman Selasih [Non-Halal]
Hao Shi Liang Cha Trading – Taman Indah Baru
Hao Wei Curry Restaurant – Taman Ungku Tun Aminah [Non-Halal]
Hao Wei Lou Kopitiam – TT3 Commercial Centre [Non-Halal]
Hao Xian Wei Restaurant – Lintang Angsana 1 [Non-Halal]
Hap Dessert & Toast – Lebuh Naning
Happetite In A Box [Non-Halal] – Solok Evergreen
Happiness Food Restaurant – KBLD [Non-Halal]
Happy – Gopeng Hawker Center [Non-Halal]
Happy 126 Restaurant – Sentul Raya Boulevard [Non-Halal]
Happy 3 Vege Cafe – Central Park Commercial Centre
Happy Bear Kafe – Taman Cegar
Happy Bento – Bandar Country Homes
Happy Cafe – Menara Polo Residence
Happy Cafe – Sungai Dua [Non-Halal]
Happy Cafe – OUG
Happy Cafe – Megalong Mall [Non-Halal]
Happy City Food Centre – Kepong [Non-Halal]
Happy Dragon Cafe Lkh Seafood – Kpg Nyabor [Non-Halal]
Happy Egg Waffle – AEON Kinta City
Happy Egg Waffle – Aneka Selera Restaurant Kam Wan
Happy Egg Waffle – Taman Jubilee
Happy Family Food Court – Taman Pelangi Indah [Non-Halal]
Happy Guava King – Kepong Baru
Happy Guava King – Dataran Perniagaan Cheras
Happy Happy Breakfast – Kedai Kopi Joo Hong [Non-Halal]
Happy Harmony Catering [Non-Halal]
Happy Hour Cafe 欢乐茶室 (Main Cafe) – Uni Capital Expressway [Non-Halal]
Happy La Tea – Queensbay Mall
Happy Lemon – Lot 10 Bintang Terrace
Happy Lemon – IOI City Mall
Happy Lemon – Mid Valley
Happy Lemon – EkoCheras Mall
Happy Lemon – United Point
Happy Lemon – Sunway Pyramid
Happy Lemon – KIPMall Kota Warisan
Happy Life Cafe – Tmn Seremban Jaya [Non-Halal]
Happy Mee San Restaurant – Union Commercial Centre
Happy Noodle – Phang Choon Foh Coffee Shop [Non-Halal]
Happy Noodles/ Cakoi – Capital Garden [Non-Halal]
Happy Oyster – Happy House Food Court
Happy Potato – 1Borneo
Happy Realm Vegetarian Food Centre – Jalan Mandalay
Happy Sambodi Vege Restaurant – Jalan Tun Perak
Happy Time Food Delight – Wisma Menjalara [Non-Halal]
Happy Times WTS Restaurant – Jalan Prima 3
Happy To Eat – Lido Square
Happy Toast – Xin Daren Coffee Shop
Happy Valley Chicken Rice – Parkcity Commerce Square
Happy Village Cafe – Bukit Tinggi 2
Happy Western Food – Restoran Jolibee [Non-Halal]
Haqi Char Koay Teow – Sungai Pinang
Har Jeh Noodle House – Taman Intan Baiduri
Har Jeh Noodle House – Intermark
Har Jeh Noodle House – Damansara Utama
Har Jie Cafe – Taman Tiara [Non-Halal]
Har Jie Drinks – Har Jie Cafe
Harbour Garden Cafe – Harbour Square
Hard Rock Cafe – Jalan Sultan Ismail
Hard Rock Cafe – Lorong Hang Jebat
Hard Work – Wisma Damai
Hardy Restaurant – Betaria Business Centre
Hari Hari Nanyang Kopitiam – Jalan Eko Botani
Hari Hari Nanyang Kopitiam – Taman Setia Tropika
Hari Hari Nanyang Kopitiam – Taman Daya
Hari Hari Nanyang Kopitiam – Taman Impian Emas
Hari Hari Tea House – Lorong Inanam Baru
Harimou Marina – Marina Parkcity
Harmony Wrap – NU Sentral Mall
Harriston Cafe – Jalan Kelawai
Harry Potter Cafe – Jalan Burma
Hartton Kitchen – Damansara Utama
Hartz Kitchen – Balakong [Non-Halal]
Haru – Damansara Perdana [Non-Halal]
Haru Cafe – Seri Gembira Avenue [Non-Halal]
Haru Coffee – Taman Adda Heights
Haru Ice Dessert House – Pusat Komersial Sri Utama
Haru Stationery Cafe – Lebuh Campbell [Non-Halal]
Haru Tei [Non-Halal]
Harum Kuini – The Strand
Harum Manis – Alam Damai
Harum Manis (a truly Indonesian food chain) – DPulze
Harum Manis (a truly Indonesian food chain) – Paradigm Mall
Harum Manis (a truly Indonesian food chain) – MesaMalll
Harum Manis (Truly Indonesian Food Chain) – Central Market
Harumi Fried Chicken – Jalan Theatre
Harvest Cafe – Lingkaran Cyber Point Barat
Harvest Ground – Sunway Geo [Non-Halal]
Harvest28 – Taman Mutiara Barat
Harvests Bar & Grill – Teluk Senibong [Non-Halal]
Has Kitchen – Taman Bukit Serdang
Has Mas Kenyalang Burger – Piasau Industrial Estate
Has Mas Taman Burger – Taman Tunku
Has Yong Tau Foo & Aneka Nasi – Padang Hiliran
Hasan's Rojak & Cendol
Hashtag 90s Cafe – Bandar Tasek Mutiara
Hashtag Lapar Cafe – Taman Maluri
Haslina Ayam Penyet – Kg Baru
Hasnah Restaurant & Catering – Utama Place 1
Hasniff Cafe – Taman Sri Gombak
Hasnol & Yatie No 1 Corner – Aneka Selera Wangsa Maju
Hassan Laksa – Kg Jawa
Hastag Ice Cream – Pusat Perdagangan Kota Tinggi
Hasyim Cafe' – Likas
Hathija Maju Bistro – Jalan Pulau Kempas
Hathija Maju Bistro – Zenith Corporate Park
Hau Food Station – Taman Ekoperniagaan [Non-Halal]
Hau Hau Yu Restoran – Jalan Macalister [Non-Halal]
Hau Ji Chicken Rice – Jalan Kampung Baru [Non-Halal]
Haura Nasi Kukus – Taman Rapat Setia
Haus Bah Kitchen – Bandar Utama
HausFood – Menggatal
Hauslah – Jalan Sultanah
Hausss – Wireless Walk
Havana – Nu Sentral
Havelly Kuala Lumpur – Jalan Tun Razak
Haven's Steakhouse – Bandar Puchong Jaya
Havoc Burger – Jalan Seri Rama
Hawaii – Jalan Mah Pooi Soo
Hawina Seafood – Taman Dato Ahmad Razali
Hawker Delights – Lido Square
Hawker Hall Bazaar – TTDI
Hawker Hall Bazaar – Main Place
Hawker Times – Trinity Hub [Non-Halal]
Hayla Cafe – Kuching Town Land District
Hayyan Garden Cafe Ipoh – Bandar Meru Raya
Hayyan Garden Cafe Manjung – Pusat Bandar Seksyen 3
Hayyan Garden Cafe Sungai Petani – Bandar Laguna Merbok
Hazelnut Cafe – Bandar Baru Klang
Hazizah Kitchen – Medan Selera Bentayan
Hazuki – Wisma MPL
Hazukido – Gurney Plaza
HB 1988 Cafe – Jalan Suria 1
HB Mille Crepe – Dataran Puchong
HBR Cafe – Jalan Haji Eusoff [Non-Halal]
HBR Cafe – Bandar Baru Medan Ipoh [Non-Halal]
HBR Hashimburgerramly – Bandar Putatan
HCR – Taman Eko Botani [Non-Halal]
He.Art Restaurant & Bar – Sunway Geo Avenue [Non-Halal]
He Brews – Taman Pauh Jaya
He Wei Wu – Cedar Point Food Centre [Non-Halal]
Hea Cafe – Berjaya Megamall
Hea Tea – Taman Bunga Raja
Health Food Vegetarian Cafe – Jalan Rock
Healthy Bite KK – Kampung Air
Healthy Bowl – Bagan Specialist Centre
Healthy Bowl – Bagan Jermal
Healthy Food & Soup – MS 26 Kopitiam [Non-Halal]
Healthy Heroes – Bangsar
Healthy Option – KL Gateway
Healy Mac's – Jalan P Ramlee [Non-Halal]
Healy Mac's – Publika [Non-Halal]
Healy Macs Irish Pub & Restaurant – Bangsar Baru [Non-Halal]
Heap Seng at 29 – Lebuh China [Non-Halal]
Heart & Soul – Jalan 5
Heart Storm 糖心风暴糖水铺 – Persiaran Wira Jaya Timur 23 [Non-Halal]
Heartbeans Coffee – Pandan Indah
Hearty Market – Plaza Mont Kiara
Hearty Market – KLCC
Hearty Market – Wisma Lim Foo Yong
Hearty Market – Bangsar Village 1
Heat Kitchen – SS21 [Non-Halal]
Heaven – Butterworth Business City Centre
Heaven Coffee and Tea – Taman Cahaya Alam
Heaven Eat – 10 Boulevard
Hee Ji Pan Mee – Xin Cheng Kopitiam [Non-Halal]
Hee Lai Ton Restaurant – Bandar Puchong Jaya [Non-Halal]
Hee Salad Chicken – Kafe Baobao Ais Kacang 1
Heeran Street Taiku Wantan Mee – Huang Du Food Court [Non-Halal]
Heeren Kopitiam – Jalan Tun Tan Cheng Lock
Heeretea – Taman Kota Laksamana Jaya
Heero Box – Tropics Perdana Shopping Centre
Heesan Chatei – Jalan KPKS 7
Hehe Haha Cafe – Lorong Pahlawan [Non-Halal]
Hei Heng – Sunway Nexis [Non-Halal]
Hei Jing Gang – CityOne Megamall
Hei Yeong Seng Chinese Restaurant – Penang Plaza [Non-Halal]
Heji Homemade Yong Taufu – Taman Putra Impiana [Non-Halal]
Heji Homemade Yong Taufu – Restoran Hoo Yee Kee [Non-Halal]
Hekaya Shamia Restaurant – Ampang Putra Residensi
Helados – Mydin Pulau Sebang
Helados – KIPMall Melaka
Helados – Jalan Ong Kim Wee
Heliconia Garden Cafe – Sungai Maong
Helixuan – Taman Mount Austin [Non-Halal]
Hellen Stall – Kampung Lubok Peringgi [Non-Halal]
Helmi's Kitchen – Jalan Matang
Heng Claypot – FGJB
Heng Heng Ikan Bakar – FGJB
Heng Hong Tin Kee (Hainanese) Restaurant – Sunway Velocity [Non-Halal]
Heng Hua Food – Xiang Xiang Food Court [Non-Halal]
Heng Hua Pa Mee – Dai Pai Dong [Non-Halal]
Heng Hua Pa Mee – Foody Goofy Cafe [Non-Halal]
Heng Japanese Restaurant – The Garden Residences
Heng Kee Delights Bak Kut Teh – Bandar Menjalara [Non Halal]
Heng Kee Seafood 王记海鲜 – Gala Food Court [Non-Halal]
Heng Kee Stall – Kafe Little Nam Yeong [Non-Halal]
Heng Kee Wan Ton Mee – GP Food Court Bercham [Non-Halal]
Heng Kee Wan Ton Mee – Family Food Court [Non-Halal]
Heng Kee Wan Ton Mee – GP Food Court First Garden [Non-Halal]
Heng Kei Homemade Wan Tan Mee. Tom Yam Mee – Jalan Pasar [Non-Halal]
Heng Lee Restaurant – Kolombong [Non-Halal]
Heng Loong Restaurant – Taman Gembira [Non-Halal]
Heng Noodles – Restoran Heng Park [Non-Halal]
Heong Bee Bak Kut Teh – Pandamaran [Non-Halal]
Her Yuan Chicken Rice – Taman Indah
Her Yuan Mi Hun Kuih – Taman Indah [Non-Halal]
Heras Cafe – Medan Selera Taman Perindustrian Puchong Utama
Herbal Chicken – Restoran One Plus Eight Kopitiam
Herbal Mushroom Chicken Noodle – Jln Masjid Negeri
Herbal Soup – Pandan Malim Foodcourt [Non-Halal]
Herbal Soup – Restoran One Plus Eight Kopitiam [Non-Halal]
Hercaa – Eko Cheras
Hercaa – Tamarind Square
Hercaa – Bandar Bestari
Hercaa – Tropicana Gardens Mall
Hercaa – Central i-City
Here's A Toast – Fauziah Family Cafe
Heritage Cafe – Jalan Pintal Tali
Heritage Central Cafe – Bangunan Yayasan Sarawak
Heritage Nyonya – Central i-City
Heritage Nyonya – Sunsuria Forum
Heritage Pizza – Jalan Doraisamy [Non-Halal]
Heritage Signature Fusion Restaurant – Taman Molek
Heritage Village – SJMC
Herman Ayam Kampung – Publika
Hermanos – Seksyen 9
Hernan Food – Taman Perindustrian Jaya
Heroes Cafe – Axiata Arena
Heun Kee Claypot Chicken Rice – Jalan Yew [Non-Halal]
Heun Kee Claypot Chicken rice [Non-Halal]
Hey ! I Am Yogost – Taman Flora Utama
Hey Boba – CityONE Megamall
Hey! I Am Yogost – Sunway Pyramid
Hey! I am Yogost – Taman Kota Laksamana Jaya
Hey! I Am Yogost – Sunway Nexis
Hey! I Am Yogost – Sunway Velocity
Hey! I Am Yogost – Jalan Radin Bagus
Hey! I Am Yogost – De Garden
Hey! I Am Yogost – PV128
Hey! I Am Yogost – The Landmark
Hey! I Am Yogost – 1Utama
Hey! I Am Yogost – Kuchai Entrepreneur Park
Hey! I Am Yogost – IOI City Mall
Hey! I Am Yogost – Pavilion Elite
Hey! I Am Yogost – Uptown Avenue Seremban 2
Hey! I Am Yogost – Taman Mount Austin
Hey! I Am Yogost – Seremban Gateway
Hey! I Am Yogost – Taman Sutera Utama
Hey Look Hainanese Chicken Rice – Restoran N-Kee [Non-Halal]
Hey Tea – Taman Desa Cemerlang
Hey Thai – Jalan Hutton [Non-Halal]
Hi-Fi – Likas Square Complex
Hi Kek Bakery – Jalan Pusat Komersial Saujana
HiBye 之间 – Taman Overseas Union [Non-Halal]
Hidangan Marina – Medan Selera Prisent 9
Hidden Lok – D'Piazza Mall
Hidden T – Pusat Perniagaan Pertama [Non-Halal]
Hideout – Jln Semarak
Hideout Cafe – Gurney Plaza [Non-Halal]
Hielo Bite – Seksyen 17
High 5 Boba – Taman Sri Aman
High School Kopitiam – Taman Mount Austin [Non-Halal]
High Street Kopitiam – Jalan Tasik Pekan Gopeng [Non-Halal]
High Ton Cafe – Bandar Mahkota Cheras [Non-Halal]
Highland Viet Cafe – Taman Mayang [Non-Halal]
Highway Cafe – Serdang Raya
Hijao Coffee – UCSI
Hijrah Station – Masjid Bandar Bukit Puchong
Hillal Restaurant – Seri Kembangan
Hill & Chill Cafe – Kampung Sungai Merab Luar
Hillkoff – Jalan Macalister
Hillside Cafe – Putra Heights
Hilltop House Western Cuisine – Park Lane
Hilltop Little Kitchen – Jalan Riam [Non-Halal]
Hin Pin Pisang Goreng – Taman Tanjung Bungah
Hing Fatt Vegetables & Taufu – Aneka Selera Ipoh Garden [Non-Halal]
Hinode Bento – Bukit Jalil [Non-Halal]
Hinz Cafe – Bandar Menjalara
Hiong Hiong Kopitiam Yip Noodle – Lido Square
Hip-Hop Prawn Noodles – Taman Universiti
HiPro – Bangsar Village
HiPro – Wisma Lim Foo Yoong
HiPro – Plaza Mont Kiara
Hiroshi Yakiniku – Lorong Bayan Indah 2 [Non-Halal]
Hirup Hirup Asam Pedas – Medan Niaga Kg Melayu Majidee
Hirupsup Gombak – Gerai MPS Wira Damai Fasa 1
Hisho Japanese Cuisine
Hj Abdul Mutaliff Mee Derga No 1 – Taman Rakyat Mergong
Hj Abdul Mutaliff Mee Derga No 1 – Jalan Langgar
Hj Abu Soto Power – Taman Scientex
HJ Penang Laksa – Taman Nusa Bestari [Non-Halal]
HK Lou Gai Fong – Bandar Puchong Jaya [Non-Halal]
HK Porky Noodle House – SS2 [Non-Halal]
HK Seafood Restaurant Sdn Bhd – One Place Mall
HK Share Ye 港烧夜 – Bandar Sunway Industrial Park [Non-Halal]
HKM Nasi Ayam Penyet – MCH Bistro
HNR Nasi Lemak & Ikan Bakar – Gerai Muafakat Johor
Ho Ciak Kopitiam – Damai Point [Non-Halal]
Ho Family Kitchen – Bandar Baru Sri Petaling [Non-Halal]
Ho G Food Trading – Batu Berendam [Non-Halal]
Ho Ga Pang Laksa – Medan Kopitiam
Ho Jia Chicken – Austin International Convention Center
Ho Kee Hainamese Chicken Rice – Jalan Kolombong
Ho Kee Noodles – Grace Cafe [Non-Halal]
Ho Kong BBQ – Permyjaya Food Centre [Non-Halal]
Ho Ma Restaurant – Taman Boon Bak [Non-Halal]
Ho Poh Lei Cha – Peaches Garden Food Court Centre
Ho Poh Lui Cha – Thian You Food Court Corner
Ho Seng Kee – JB City Square [Non-Halal]
Ho-V Chicken Rice – Jalan Bakariah
Ho Vegetarian Restaurant – Chai Leng Park
Hobin Cafe – Tingkat Tenang [Non-Halal]
Hochiak Mala – Gala City [Non-Halal]
Hock & Ong Restaurant – Taman Desa Cemerlang [Non-Halal]
Hock Chuan Drinks – Hock Chuan Food Court
Hock Chuan Hiong – Kedai Makan Sri Kota [Non-Halal]
Hock Chuan Hiong – Bukit Tinggi [Non-Halal]
Hock Chuan Hiong – Pandamaran [Non-Halal]
Hock Hai Dim Sum – Jalan Padungan [Non-Halal]
Hock Kee Kopitiam – Toppen Shopping Centre
Hock Kee Ulu Yam Loh Mee – Dataran Sunway [Non-Halal]
Hock Lai Barbeque- Tabuan Jaya [Non-Halal]
Hock Moon Hiong – Jalan Mahkota [Non-Halal]
Hock Moon Hiong – Taman Serindit [Non-Halal]
Hock Moon Hiong Dried Meat King – Jalan Radin Bagus [Non-Halal]
Hock Seafood Garden – Jalan Suria [Non-Halal]
Hock Seng – Kedai Makanan Seong Huat [Non-Halal]
Hock Seng Lor Mee – Kedai Makanan Seong Huat [Non-Halal]
Hodi – Taman Ria Jaya
Hoe Seng Chicken Leg Lor Mee – Jalan Masjid Negeri [Non-Halal]
Hoe Seng Hainan Chicken Rice – Jalan Masjid Negeri [Non-Halal]
Hoe Thai Food – MS 26 Kopitiam [Non-Halal]
Hog Rock – Sri Petaling [Non-Halal]
Hojushe Bistro Cafe – Glomac Cyberjaya
Hokkaido Ice Cream Puff – Jalan Manggis
Hokkaido Pafu – Seksyen 13
Hokkien Mee – Taman Merdeka Permai [Non-Halal]
Hokkien Mee – Jalan Masjid Negeri
Hokkien Mee – Kuta Bali Cafe [Non-Halal]
Hokkien Mee – Mandarin Cafe [Non-Halal]
Hokkien Mee & Loh Mee – Restoran Sing Li [Non-Halal]
Hokkien Mee & Special Rice – Kepong Food Court [Non-Halal]
Hokkien Mee/Loh Mee – Tambun Star Food Court
Hokkien Prawn Mee – Jalan Sungai Dua [Non-Halal]
Hola Tea – Bandar Sunway
Hold Up! – Jalan Kuala Kangsar [Non-Halal]
Holiday Fast Food Express – Lorong Kurau 25 [Non-Halal]
Holiday Inn Resort – Jalan Batu Ferringhi
Holiday's Kitchen – Taman Ehsan
Hollin – Taman Mount Austin
Hollywood Coffee – i-City
Hollywood Dim Sum – Miker & Deme
Hollywood Dim Sum – Restoran New Hollywood
Holy Smokes – Lintas Square [Non-Halal]
Holy Smokes – Bevely Hills [Non-Halal]
Homade Fried Meatball Noodle – 66 Food Court [Non-Halal]
Home & Kitchen Kopitiam – Sungai Chua [Non-Halal]
Home Cafe Penang – Jalan Sungai Kelian [Non-Halal]
Home Chef – Senadin Gateway [Non-Halal]
Home Coffee 88 Kopitiam – Taman Murai Jaya [Non-Halal]
Home Kitchen – Taman View Point
Home Kitchen – Rox Cafe [Non Halal]
Home Made DimSum – 168 Kopitiam [Non-Halal]
Home Made Steam Rice & Soup – 63 Food Station [Non-Halal]
Home Made Steam Rice & Soup – Restoran New Ocean [Non-Halal]
Home Mate Food – Taman Gembira
Home Noodle – SS2 [Non-Halal]
Home Noodle – The Sphere [Non-Halal]
Home Noodle – Bandar Baru Sri Petaling [Non-Halal]
Home Noodle – Jalan Brighton [Non-Halal]
Home Noodle Express – The Starling Mall [Non-Halal]
Home Recipe – Taman Mas
Home Secrets Cafe
Home Style Economy Rice – Jalan Irrawaddi [Non-Halal]
Home Sweet Home Dessert – Taman Desa [Non-Halal]
Home Taste – D'Tank Paradise [Non-Halal]
Home Thai Sawatdee – Taman Kajang Prima [Non-Halal]
Home Town Cafe – Dataran C180 [Non-Halal]
Fish Town Raw Shrimp Restaurant – Jalan Lazat 1 [Non-Halal]
Home Town Yong Tow Foo – Wangsa Melawati
Home Town Yong Tow Foo – Ampang
Home Western Food – Restaurant Hock Seng Kopitiam [Non-Halal]
Homecook Ayam Penyet – I.P.H Roasted Cafe
Homemade Bak Kut Teh – Kobusak [Non-Halal]
Homemade Fish Noodle – Fu Yu Kopi Shop [Non-Halal]
Homemade Indian Briyani – Ninety Nine Station
Homemade Marudi Kuey Teow – Bandar Jaya Phase 2
Homemade Niang Tau Fu – Indahpura [Non-Halal]
Homemade Wantan Mak Jah – Servay Putatan
Home's Kitchen – SS21 [Non-Halal]
Homestyle Pan Mee (S16) – Food Junction Mid Valley II
Hometaste Chicken Rice – JB City Square [Non-Halal]
Hometown Fish Head Noodle – Taman Desa Bukit Cahaya [Non-Halal]
Hometown GP Restaurant – Taman Dato Syed Mohd Idrus [Non-Halal]
Hometown Hainan Coffee – Bukit Tinggi Klang
Hometown Hainan Coffee – Tropicana Avenue
Hometown Hainan Coffee – Puchong
Hometown Hainan Coffee – Empire Damansara
Hometown Hainan Coffee – Sunway Velocity
Hometown Hainan Coffee – Plaza Low Yat
Hometown Hainan Coffee – Bandar Baru Klang
Hometown Hainan Coffee – Desa Petaling
Hometown Hainan Coffee – Berjaya Times Square
Hometown Hainan Coffee – 3 Damansara
Hometown Hainan Coffee – Taman Sea
Hometown Hainan Coffee – Seapark
Hometown Hainan Coffee – USJ21
Hometown Hainan Coffee – Quill City Mall
Hometown Kitchen – Taman Selayang Jaya [Non-Halal]
Hometown Kolo Mee – Happy Hour Cafe [Non-Halal]
Hometown Kway Teow – Taman Semarak [Non-Halal]
Hometown Mee Hoon Kueh -Taman Bukit Indah [Non-Halal]
Hometown Pork Leg – Kampung Atap [Non-Halal]
Hometown Sang Nyuk Mian – Taman Setia Indah [Non-Halal]
Hometown Steamboat – Kota Damansara [Non-Halal]
Hometown Steamboat – Bandar Menjalara [Non-Halal]
Hometown Wan Tan Mee – Bob Kopitiam [Non-Halal]
Homez Food Bar – Dataran Sunway [Non-Halal]
Homie – Jalan Todak
Homie Foods – Taman Melaka Perdana
Homie Yogurt X Salad Farm – Jalan Kebun Bunga
Homie's Burger Co. – Bandar Sunway
Homie's Burger Co. – Metropolitan Square
Homie's Burger Co – Mont Kiara Meridin
HoMinSan – Queensbay Mall [Non-Halal]
Homst – DPulze
Homst – Seksyen 13
Homst – Taman Prima Saujana
Homst – Kg Baru
Homst – Ayer 8
Homst – Setia Alam
Homst – Bangi Gateway
Homst – TTDI
Hon Ang Restaurant Sdn Bhd – Jalan Simpang Tiga [Non-Halal]
Hon Hin Cafe – Jln Tunku Abdul Rahman [Non-Halal]
Honest Bakery Cafe – Taman Peridustrian UEP
Honey Probiotic The Blue Juice Company – Bandar Sri Damansara
Honeybees – Cookhouse
Honeydew Nasi Lemak – Taman Pakatan
Hong Chao Restaurant – Taman Impian Emas [Non-Halal]
Hong Chicken Rice Shop – Bukit Rahman Putra
Hong Chuan Mala 红川麻辣 – The Food Station [Non-Halal]
Hong Chuan Mala 红川麻辣 – Pusat Makanan Millions House Food Centre [Non-Halal]
Hong Chuan Mala 红川麻辣 – Family Food Court [Non-Halal]
Hong Jie Curry Mee – Jalan Asam Kumbang [Non-Halal]
Hong Kang Vegetarian Cafe – Jalan Batu Kawa
Hong Kee Claypot Chicken Rice & Portuguese Grilled Fish – Jalan Sultan [Non-Halal]
Hong Kee Dessert – Kepong Baru
Hong Kee Nasi Ayam – Jalan Sakeh [Non-Halal]
Hong Kin 33 Trading – Lengkok Kelicap
Hong Kong Chee Cheong Fun – Jalan Ujong Pasir [Non-Halal]
Hong Kong Chee Cheong Fun – Aneka Selera Ipoh Garden [Non-Halal]
Hong Kong Chee Cheong Fun – Taman Ipoh Permai [Non-Halal]
Hong Kong Chicken Pot – SS2 [Non-Halal]
Hong Kong Cuisine Restaurant – Jln Datuk Tawi Sli [Non Halal]
Hong Kong Kim Gary Restaurant – 1 Utama [Non-Halal]
Hong Kong Kim Gary Restaurant – Berjaya Times Square [Non-Halal]
Hong Kong Kim Gary Restaurant – Queensbay Mall [Non-Halal]
Hong Kong Kim Gary Restaurant – Sunway Carnival [Non-Halal]
Hong Kong Kim Gary Restaurant – Mid Valley [Non-Halal]
Hong Kong Kim Gary Restaurant – AEON Bukit Tinggi [Non-Halal]
Hong Kong Kim Gary Restaurant – AEON Ipoh Station 18 [Non-Halal]
Hong Kong Kitchen – Krystal Point
Hong Kong Noodle House – Jalan Padungan [Non-Halal]
Hong Kong Noodle House – Wisma Saberkas [Non-Halal]
Hong Kong Porridge – Taman Cheng Baru
Hong Kong Porridge – Pandan Malim Food Court [Non-Halal]
Hong Kong Porridge – Restoran One Plus Eight Kopitiam [Non-Halal]
Hong Kong Roast – Berjaya Times Square
Hong Kong Roaster 7 記燒臘 – Bandar Baru Sri Petaling [Non-Halal]
Hong Kong Sheng Kee Dessert – Star Mega Mall [Non-Halal]
Hong Kong Style Chee Cheong Fun + Dim Sum – Kedai Makan 1189 [Non-Halal]
Hong Kong Style Chu Cheong Fun – GP Food Court First Garden [Non-Halal]
Hong Kong Style Roast Meat – Aneka Selera Restaurant Kam Wan [Non-Halal]
Hong Kong Style Zhu Chang Fen – Jalan Penjaja Bentayan [Non-Halal]
Hong Lou Bistro – Bishopgate Road [Non-Halal]
Hong Peng Private Kitchen – Pusat Komersia Sinar Sentul
Hong Sim Seafood Restaurant – Taman Nusa Idaman [Non-Halal]
Hong Sing Roast Duck – Taman Johor Jaya [Non-Halal]
Hong Xiang Bak Kut Teh – Jalan Macalister [Non-Halal]
Hong Xiang Cafe – Lintas Jaya
Hong Yung Kolomee – Hong Yung Cafe [Non-Halal]
Hongdae Ipgu Korean Restaurant – Taman Sutera Utama [Non-Halal]
HongQiGong – Anson Cube [Non-Halal]
Hong's Porridge – Permyjaya Food Centre [Non-Halal]
Hoo Bian Bak Kut Teh – Seri Kembangan [Non-Halal]
Hoo Kee Food Stall – Maluri Hawker Centre [Non-Halal]
Hoo Kee Seafood Restaurant – Taman Bukit Baru [Non-Halal]
Hooi Fook Duck Rice [Seven Stars Food Garden] – Jalan Suria Bandar Seri Alam [Non-Halal]
Hooi Ma Kitchen – Bandar Mahkota Cheras [Non-Halal]
Hookie Dookie Bar & Grill – Plaza Arkadia
Hoola Hoop Cafe – Lintas Uptownship
Hoong Kee Seafood Noodle House – Taman Maluri [Non-Halal]
Hoong Pan Mee 俺来拌香辣面 – Stesen 18 [Non-Halal]
Hoong Shang Cai – Sunway Tunas [Non-Halal]
Hooni Rice Cake Shop – Lintas Square
Hope Vegetarian Stall – Gala Street Mall
Hopefully Kafe – Taman Malim Jaya [Non-Halal]
Hopewestern – Taman Pakatan Bercham [Non-Halal]
Hor Hun Koay Teow Dry N Soup – Pengkalan Weld [Non-Halal]
Hor Poh Restaurant – Segambut [Non-Halal]
Horizon Coffee House – Bespoke Hotel
Horizon Garden – Pusat Bandar Seksyen 3
Horizon Seafood – Merbau Road [Non-Halal]
Hornbill Cafe – Piasau Nature Reserve
Horns Coffee – Arked Esplaned
Hoseh Liao – 66 Food Court [Non-Halal]
Hoshino Coffee – Queensbay Mall
Hoshino Coffee – Gurney Plaza
Hoshino Coffee – Mid Valley
Hoshino Coffee – Empire Shopping Gallery
Hot & Roll – Sunway Putra
Hot & Roll – Publika
Hot & Roll – Mydin USJ
Hot & Roll – KL Gateway Mall
Hot & Roll – Melawati Mall
Hot & Roll – Wangsa Walk
Hot & Roll – Ole Ole
Hot & Roll – Central i-City
Hot & Roll – Paradigm Mall
Hot & Roll – The Curve
Hot & Roll – Kafe JPN
Hot & Roll – GM Klang
Hot & Roll – Pantai Hospital KL
Hot & Roll – Kenanga Wholesale City
Hot & Roll – Hospital Fatimah
Hot & Roll – Alam Perdana
Hot & Roll – BMC Mall
Hot & Roll – Metro Point Complex
Hot & Roll – Oriental Melaka Medical Centre
Hot & Roll – Setia City Mall
Hot & Roll – Menara TM
Hot & Roll – Lotus's Teluk Intan
Hot & Roll – Giant Bukit Tinggi
Hot & Roll – Menara Celcom
Hot & Roll – Pantai Hospital Cheras
Hot & Roll – AEON AU2
Hot & Roll – Putrajaya Sentral
Hot & Roll – Citta Mall
Hot & Roll – Selayang Mall
Hot & Roll – TBS
Hot & Roll – Hospital Assunta
Hot & Roll – Central Market
Hot & Roll – IJN
Hot & Roll – Gamuda Walk
Hot & Roll – Setapak Central
Hot & Roll – AEON Big Bandar Tun Hussein Onn
Hot & Roll – KPJ Shah Alam
Hot & Roll – Sunway Pyramid
Hot & Roll – SJMC
Hot & Roll – KL East Mall
Hot & Roll – Berjaya Times Square
Hot & Roll – Complex SG Buloh
Hot & Roll – Plaza Alam Sentral
Hot & Roll – Plaza Shah Alam
Hot & Roll – East Coast Mall
Hot & Roll – IIUM
Hot & Roll – KTCC Mall
Hot & Roll – HUSM
Hot & Roll – KB Mall
Hot & Roll – Pantai Timur Hypermarket
Hot & Roll – AEON Kota Bharu
Hot & Spicy Nasi Lemak – KSL
Hot Burger – Kg Balok
Hot Burger Ukay Perdana – Ampang
Hot Cafe: House Of Noodles – Putra Permai
Hot Chicken Chop – Taman Teknologi Cheng
Hot Delis Cafe – Medan Meru Bestari
Hot dog Parade – TTDI
Hot Grillz & Chill – Damas 118 Plaza
Hot KB Mee Sup – Kobusak
Hot Kitchen Nasi Putih Sambal Merecik – Jalan Pengkalan
Hot Kurry Indian Dhaba – Bukit Bintang
Hot Kurry Indian Dhaba – Hartamas Shopping Centre
Hot Kurry Indian Dhaba – Lorong Maarof
Hot Kurry Indian Dhaba – Hotel Flamingo Tasik Ampang
Hot Meal Bah – CBD Perdana 2
Hot Meal Bar – UKM
Hot Pindang Kitchen – Seksyen 10
Hot Plate & Claypot – NSK Kota Damansara
Hot Plate Noodles 汉仔铁板面 – Taman Impian Emas
Hot Plate Siang Siang Corner – Jalan Penrissen [Non-Halal]
Hot Pot King – Jalan Kuching
Hot Pot King – Prima Sri Gombak
Hot Pot King – Shah Alam
Hot Pot Shabu Shabu – Taman Anggerik Emas [Non-Halal]
Hot Takoyaki – Taman Pengkalan Jaya
Hot Wings & Seaweed Club – 163 Retail Park
Hot Y'Marz Baiee – Pantai Tanjung Batu
Hotcikiwings – Prima Saujana
Hotdog Parade – Plaza Mont Kiara
Hotplate & Clayport – Suria Bangsar
Hotpot 1 – Starling Mall
Hotpot Kitchen – Lot 10 [Non-Halal]
Hotpot Kitchen – Mid Valley [Non-Halal]
Hotpot Kitchen – Sunway Pyramid [Non-Halal]
Hotpot Kitchen – Sunway Velocity [Non-Halal]
Hotpot Kitchen – 1Utama [Non-Halal]
Hotpot Kitchen – Mid Valley Southkey [Non-Halal]
Hotroost – S1 Seri Kembangan [Non-Halal]
Hottz Pizza – Kampung Pohon Tanjung
Hottz Pizza Wakaf Siku – Jalan Sultan Yahya Petra
Hot'z Char Kuey Teow – Setia Alam
Hou Choi Yuen – The Garden [Non-Halal]
Hou Fatt Restaurant – Taman Bercham Heights [Non-Halal]
Hou Hou Sandwich Bar – Jalan Lembah Permai
Hou Mee – Jalan Tunku Abdul Halim [Non-Halal]
Hou Mei Wo Steamboat – Bandar Baru Medan Ipoh [Non-Halal]
Hou Peng Yu Cafe – Desa Senadin [Non-Halal]
Houf Cafe – Taman Sitiawan Maju
Hougang Satay – FGJB [Non-Halal]
Hou's Kopitiam – Bandar Damai Perdana [Non-Halal]
House of Adeena – Jalan Sejati Suria
House of Asam Pedas JB – KWSP
House Of Chicken Rice – Taman Maluri
House of Claypot & Sizzling – Publika [Non-Halal]
House of Croissant – Pangsapuri Cahaya Permai
House Of Fish Head Curry By Ratha's Kitchen – Jalan Yap Kwan Seng
House Of Fishball – Jalan Radin Anum [Non-Halal]
House of Grilled – Medan Selera MPKS Uni Garden
House of Kambing Terbang – Jalan Bunga Raya 8
House Of Laksa – Mali's Corner
House of Malaya – Sunway Geo
House Of Malaya – NU Sentral
House of Malaya – Melawati Mall
House of Malaya – PJ222
House Of Mee Rebus Syed Johor – Bandar Baru Nilai
House of Moods – Gong Badak
House of Nasi Lemak – Lotus's Desa Tebrau
House of Pakeeza – The Right Angle
House of Tomyam – Anjung Selera
How Bak Kut Teh – Jalan Perak [Non-Halal]
How Ji Kali Noodle – Restoran Ma Zi C180 [Non-Halal]
How Yee Kee Restaurant – Taman Gembira [Non-Halal]
How Yee Kee Restaurant – Bandar Baru Sri Petaling [Non-Halal]
HR Harmony Resources – Dataran Villa Putra
HRC Sky Lounge – NU Sentral
HS Cafe – Kampung Tunku Petra Jaya
Hs Malay Goreng Legacy – Desa Pengkalan Bandaraya
HS Takoyaki – B5 Johor Street Market
HSBC Restaurant – Bangsar Park
Hua An Roast Chicken – 66 Food Court [Non-Halal]
Hua San Court Mix & Match – [Non-Halal]
Hua Wang Steamed Fish Head – Pelangi Avenue [Non-Halal]
Hua Yang Popiah – Jalan Danga
Hua Yang Popiah – Taman Century
Hua Yang Popiah – Jalan Perkasa 4
Huah Xi Cheak – Sungai Ara [Non-Halal]
Huan Ju Kopitiam – KPKS [Non-Halal]
Huang Chao Fish Pot – Taman Bukit Indah
Huang Shang Huang Seafood – RH Commercial Centre [Non-Halal]
Huangfei Foods – Taman Mount Austin
Huasin Food Industries Sdn Bhd – West Industrial Area
Huat Huat Huat Seafood 888 – Taman Sri Tebrau [Non-Halal]
Huckleberry Food & Fare
Huckleberry – BSC
Hud Cafe – Plaza Shopping Center
Huddle Cafe – Kondominium Kristal
Huey & Wah Cafe
Hugs With Mugs Cafe – Bandar Botanik
Hui Cheng Vegetarian – Bukit Minyak Food Court
Hui Huang Catering – Jalan Shahbandar [Non-Halal]
Hui Lau Shan – Balakong
Hui Lau Shan – Times Square
Hui Lau Shan – KLCC
Hui Lau Shan – Sunway Pyramid
Hui Lau Shan – 1Utama
Hui Lau Shan – Pavilion
Hui Shang Ying – Desa University Commercial Complex [Non-Halal]
Hui Yuan Noodles 回缘小面 – Dar Zen Food Centre [Non-Halal]
Hui Yuan Vegetarian Restaurant
Hui Zai Lai Mee Huen Kuek – Taman Marin [Non-Halal]
Hulala Cafe – Plaza Pandan Malim
Hulya Lenosor – Lengkok Cempaka 1
Humah Nibong Samarahan – Jalan Dato Mohd Musa [Non-Halal]
Humairah Kitchens – Bandar Baru Enstek
Humble Chef – Mont Kiara
Humble Ground Cafe – Kampung Pantai
Hung Kee – FriendShip Cafe [Non-Halal]
Hung Kee – Restoran New Apollos [Non-Halal]
New Street Noodle & Rice – Taman Seri Sentosa [Non-Halal]
Hung Sifu Seafood – Jalan Stutong
Hung Xing Seafood Restaurant – Jalan Kobusak
Hungary Bone – Taman Abad [Non-Halal]
Hunger's Kitchen – Taman Mayang Jaya [Non-Halal]
Hungri Lah – Ampang
Hungry Chef – Love Lane
Hungry Elephant
Hungry Kitchen – Jalan Penampang
Hungry Ranch – Lebuh Melayu [Non-Halal]
Hungry Wrap – Bangsar Park
Hunney Ice-Cream – Pandan Perdana
Huo Ji Kitchen – Taman Gaya [Non-Halal]
Huo La La Spicy Pot – Sunway Velocity [Non-Halal]
Huo La La Spicy Pot – Jalan Tun Jugah
Hup Heng Good Features – Taman Impian Emas
Hup Kee Roasted Chicken & Duck Rice – Restoran ShiYue Tian [Non-Halal]
Hup Sin Vegetarian – Jalan Sakeh
Husen Cafe – Brickfields
Husen Cafe – Jalan Kenanga
Husin Fried Chicken – Jalan Telipot
Husma Cafe – Jalan Penghulu Kassim
Hussain Nasi Kandar – Taman Pekan Baru
Hussain Pasembur – Jalan Tun Syed Sheh Barakbah
Hwa Li Foochow Delicacy – 123 Family Cafe [Non-Halal]
Hyderabad Recipes
the Good Table – Puchong [Non-Halal]
Hype Concept Cafe – SS15
Hype Motosport Hotel – Putra Nilai
I Am Geprek Bensu – Seksyen 7
I Am Geprek Bensu – Fair Park
I Am Singer / BP – Taman Desa Botani [Non-Halal]
I Am Singer / Muar – Taman Pusat Perniagaan Bakri [Non-Halal]
i BBQ 爱烧烤 – Junction 5 Commercial Centre [Non-Halal]
I Cafe One – Taman Pengkalan Jaya [Non-Halal]
i Caffe Smoke Hauz – Times Square Megamall [Non-Halal]
i Degree Cafe & Restaurant – Teck Guan Villa
I Drink Coffee – Taman Ponderosa
I Kitchen – Taman Melaka Raya
I-Kopitiam – Queensbay Mall
I Love Hokkien Mee – Puchong Jaya [Non-Halal]
I Love Hokkien Mee – Taman Meranti Jaya [Non-Halal]
I Love Hokkien Mee – Balakong [Non-Halal]
I Love Topokki – KL Gateway
I Love Yoo! – Bandar Sungai Long
I Love Yoo! – MyTown
I Love Yoo! – DC Mall
I Love Yoo! – Jaya Shopping Centre
I Love Yoo! – 1Utama
I Love Yoo! – Central i-City
I Love Yoo! – Sunway Velocity
I Love Yoo! – Equine
I Love Yoo! – Bandar Kajang
I Love Yoo! – Starling Mall
I Love Yoo! – Wetex Parade
I Love Yoo! – AEON Bandaraya Melaka
I Love Yoo! – Design Village Outlet Mall
I Love Yoo! – Star Megamall
I Love Yoo! – Dataran Pahlawan
I Love Yoo! – IPC
I Love Yoo! – Setapak Central
I Love Yoo! – IOI City Mall
I Love Yoo! – KL Sentral
I Love Yoo! – Lotus's Ampang
I Love Yoo! – Eko Cheras Mall
I Love Yoo! – AEON Big Bukit Rimau
I Love Yoo! – The Sphere
I Love Yoo! – Publika
I Love Yoo! – The Gardens
I Love Yoo! – Putrajaya Sentral
I Love Yoo! – Hock Choon Supermarket
I Love Yoo! – Lotus's Kepong
I Love Yoo! – Plaza Mont Kiara
I Love Yoo! – Paradigm Mall
I Love Yoo! – Jalan Air Putih
I Love Yoo! – Toppen Shopping Centre
I Love Yoo! – KSL City Mall
I Love Yoo! – AEON Kuching
I Love Yoo! – Vivacity Megamall
I Love You Rojak Buah – 66 Food Court
I Mum Mum – Taman Desa Green [Non-Halal]
I Mum Mum – All Season Place [Non-Halal]
I Mum Mum – Pusat Perniagaan Gemilang [Non-Halal]
I Mum Mum – Persiaran Seri Impian [Non-Halal]
I Mum Mum – Jalan Todak [Non-Halal]
I One – Jalan Jintan
I Stay Cafe – I-Plaza
i-Sushi & Takoyaki – Mydin USJ
i-Sushiyaki – The Mines
I Want Roti Boyan by Izyan – Quayside Seafront Resort Condo
Iban Restaurant – Taman Plentong Baru [Non-Halal]
Ibrahim Albar Hainan Chicken Rice – Plaza Damas
Ibu Lis Ayam Penyet – Taman Pelangi
Ice Bing Cafe – Taman Paya Rumput
Ice Coffee – Taman Perling
Ice Cool – Jalan Perniagaan
Ice Cream Cafe House – Taman Batu Gajah Perdana
Ice Melon Uncle – Jalan Sierra Perdana
Ice Queen – One TJ Shopping Complex
Ice Queen Dessert Cafe – Bukit Tinggi
Ice Queen Dessert Cafe – Setia Alam
Ice Shack – Bukit Jelutong
Iceyoo – Paradigm Mall JB
Iceyoo – Taman Gaya
Iceyoo Dessert Cafe – Medan Niaga 2
Iceyoo Dessert Cafe – Kota Masai
Iceyoo Korean Street Food & Bingsu – KSL City Mall
Ichi Ban Noodles House – Taman Maluri [Non-Halal]
Ichi Tong 一桐 – Lorong Prangin [Non-Halal]
Ichi Zen Japanese Restaurant – Taman Kota Syahbandar [Non-Halal]
Ichi Zen Japanese Restaurant – Pavilion [Non-Halal]
Ichiban Boshi – Sunway Giza
Ichiban Boshi – Pavilion
Ichiban Boshi – Publika
Ichiban Ramen – Plaza Low Yat
Ichiban Ramen – IOI City Mall
Ichiban Ramen – IPC
Ichiban Ramen – Paradigm Mall
Ichiban Ramen – AEON Bandaraya Melaka
Ichiban Ramen – AEON Bukit Mertajam
Ichiban Ramen – AEON Kinta City
Ichiban Ramen – BMC Mall
Ichiban Ramen – Sunway Pyramid
Ichiban Ramen – AEON Maluri
Ichiban Ramen – 163 Retail Park
Ichiban Ramen – Sunway Velocity
Ichiban Ramen – AEON Cheras Selatan
Ichiban Ramen – AEON Seremban 2
Ichiban Ramen – Mid Valley Southkey
Ichiban Ramen – AEON Tebrau City
Ichiban Ramen – Paradigm Mall JB
Ichiban Ramen Restaurant – Setia City Mall 2
Ichiban Zushi Japanese & Western Delight – Taman Keladi
Ichikakuya – UOA Business Park [Non-Halal]
Ichikakuya Ramen – Shoplex [Non-Halal]
Ichiraku Ramen & Grill – Jalan Kapor Pandamaran [Non-Halal]
Ichiro Sushi Bar – 1Utama
Icon Brewings – Taman Segar
Iconic Food – Little Susan
Iconpot Steamboat Station – Swamp Road Bundusan
ICT IN KL (Pisang Cheese) – MCH Bistro
IDC Ice Dreams Cafe
Ideal Hainan Chicken Rice – New King Wood Cafe
Ideal Hainan Chicken Rice – Bintulu Sentral
Ideal Hainan Chicken Rice – Junction 5 Shophouse
Idealite – Queensbay Mall
Idealite – Gurney Plaza
Idealite – Sunway Carnival Mall
Idealite – Auto City
Idealite – E-Gate
Idli Only Cafe – Jalan Maarof
Idrink – Bandar Indah
Idrink – Canaan Square
IFFA CORNER – Kampung Pandan
IG Ais Krim – Eco Mall
IG Ais Krim – Emart Batu Kawa
IG Gula Apong – Jalan Gambir
Igauan – Alam Idaman Service Apartment
Igg Masakan Panas – Kota Jembal
Iggo Cafe – Setia Alam
ihave – Kompleks Perniagaan Al Azim [Non-Halal]
I'ina Enterprise Sup Tom Yam & Sup Ikan Goreng Viral – Menggatal
Ikan Bakaq Street – Bandar Baru Perda
Ikan Bakar – DTank Paradise [Non-Halal]
Ikan Bakar – Limbongan Food Court
Ikan Bakar – Tkt Mayang Pasir
Ikan Bakar – Food City Kolombong
Ikan Bakar – Kedai Makanan dan Minuman BR
Ikan Bakar – Taman Megah Ria
Ikan Bakar Abe Ori Ganu – Kampung Sungai Penchala
Ikan Bakar Daun Pisang – Universiti Utama Square
Ikan Bakar Enterprise – Taman Bukit Kepayang
Ikan Bakar Kampung – Gerai MDKT Sanggar Kota
Ikan Bakar Kuala Perlis – Sunsuria Avenue
Ikan Bakar Pok Ya – Uptown Pandan
Ikan Bakar Putatan – Plaza Mahkota
Ikan Bakar Sabah – Jalan Tulangis
Ikan Bakar Stadium – Stadium Likas
Ikan Bakar Station – Kopitiam 2 Cinta
Ikan Bakar Usop Keramat – Taman Keramat
Ikan Bakar Versi Utara – Jln Ban Hock
Ikan Bakar Vivi – Vivi Food Court
Ikan Emas – Kampung Jawa
Ikar – Nusa Bestari [Non-Halal]
Ikar – Eco Botanic [Non-Halal]
Ikar Gourment Fish Noodle – Taman Ekoflora [Non-Halal]
Ikat – Sunway Kayangan
Ikat – Shell USJ 6
Ikat – Shell Taman Bidara
Ikat – Shell Seksyen 9 Bangi
Ikat – Petronas Jalan Balakong
Ikat Tepi by Timez – Paradigm Mall
Ikat Tepi Kopi – Jalan Bangsar Utama
Ikat Tepi Kopi – Sungai Wang
Ikigai Cafe – Jalan Raja Uda [Non-Halal]
Ikiyoyo – Jalan Permas [Non-Halal]
Ikraq Kitchen
Ikutsuka – Tamarind Square
IL Bacaro – Lebuh Campbell
Ila Kedai Makan – Bazar Tok Guru
Ilham Farm Fresh Penang – Taman Sri Idaman
Illa Aniq's Catering – Bandar Baru Uda
illy Caffe – Pavilion
illy Caffe – Naza Tower
Image Cooker – Taman Desa Tebrau
Imagine Chapfun Cafe – Bukit Jalil
Imah Chocolike Cafe – Batu Caves
I.Make.Eat – Taman Meranti Jaya
Iman Ayam Kampung Madu – Kampung Panji
Iman Kitchen Food – Jalan Suakasih
Iman Tomyam & Western Food – Pusat Komersial Tasek Mutiara
Imano's Cafe
Iman's Burger Shop – Jalan Kemacahaya
Iman's Cafe – Kg. Sg. Ramal
Imanur Syuhda – Karamunsing Road Side Foodcourt
Imbi Ming Kee Pork Noodles – ICC Pudu [Non-Halal]
Imbi Ming Kee Pork Noodles – Jalan Imbi [Non-Halal]
Imbi Road Hokkien Mee Stall – Kepong [Non-Halal]
Imbi Road Sam Kan Chong – Kompleks Bersepadu ICC [Non-Halal]
IMC Cafeteria – Jalan Damai
iMi Purple Rice Yogurt – Plaza Bukit Jalil
I'Milky – Mount Austin
Immiqa – Amanjaya
Imperial Art Cottage – Sri Petaling [Non-Halal]
Imperial Bak Kut Teh – Jalan Stutong [Non-Halal]
Imperial Chinese Cuisine – Prangin Mall [Non-Halal]
Imperial Duck – Jln Chan Bee Kiew [Non-Halal]
Imperial Duck – Tabuan Jaya [Non-Halal]
Imperial Seafood Restaurant – Asia City
Imperial Taste 帝王味 – Kuchai Entrepreneurs Park [Non-Halal]
Impian Tea House – Jalan Datuk Mohammad Musa
Impiana Rasa Restoran – Taman Lembah Impian Indah
Imran Maju Corner – Winner Restaurant
Imran Maju Corner – First Garden Food Court
In House – Bandar Puchong Jaya [Non-Halal]
In House Signature – Kuchai Entrepreneurs Park [Non-Halal]
In Out Cafe & Lounge – Bandaran Berjaya
In Taiwan – Bandar Puchong Jaya [Non-Halal]
Ina Rosli Corner – Malay Town
Inami's Kitchen – Bandar Tasek Mutiara
Inang Street Deli & Cakes – Paya Rumput Utama
Inara – Jalan Harmoni
Incha – Menara Majestic Ipoh
Incheon Jomin – Setia Alam
Indah Cafe – Upper China Street
Inderawasih Koay Teow Soup – Jalan Bayu Mutiara [Non-Halal]
India Palace – Jln Pantai Cenang
Indian Claypot Rice – Jalan Munshi Abdullah
Indian Claypot Seafood – Jalan Seni Senai
Indian Economy Rice – Bayan Baru
Indian Empire – Plaza Mont' Kiara
Indian Food – 33 VIP Food Court
Indian Food – Hong Yun Food Corner
Indian Kitchen – Bangsar
Indian Kitchen – Bukit Bintang
Indian Kitchen – TTDI
Indian Palace Penang – Solok Mayang Pasir
Indian Spices Village – Lorong Maarof
Indigo – The Blue Mansion
Indo Cafe II – Unijaya Komesil
Indo Deli – Food Street at Rock Cafe
Indo Padang Indonesia Restoran – Kolombong
Indo Padang Restoran Indonesia – ITCC Mall
Indo Recipe – Pusat Bandar Kota Kinabalu
Indo Taste – Bundusan
IndoAsli – Central i-City
IndoAsli – IOI City Mall
IndoBowl – Jalan Negara Taman Melawati
IndoBowl – Taman Ampang Hilir
IndoCorner – Kubota Square
Indomee Isabella – Kayu Ara
Indomee Isabella – Kota Damansara
Indomee Isabella – Bangsar
Indonesia BBQ – Cedar Point
Indonesian Corner Fast Food – Jalan Bayu 2
Indra Fruits Stall – Pengkalan Lama
Infasha Maju Corner – Taman Mutiara Melaka
Infinitea – Dah Yeh Villa
Infinito – Taman Kota Laksamana Jaya [Non-Halal]
Infinity Burgers – Desa Setapak
Inheritance Noodle House [Non-Halal]
Ink Fried Chicken – Garden Ville Shop Lot
Innbar – Sri Petaling [Non-Halal]
Innbar – SOHO KL [Non-Halal]
Innbar – Plaza Arkadia [Non-Halal]
Innland Bakery Butterworth – Kim Chui Restoran [Non Halal]
Inom Nasi Kak Wok – Medan Selera Flat Hijau
Insfood – Jalan Gaya
Inside Ipoh – Damansara Uptown
Inside Scoop (Whole Cakes) – Klang
Inspektor Salai – Jalan Balok Darat 13
Inspire Cafe – Jalan Robertson
Instant Cook Koay Teow Soup 现煮粿条汤 – Symphony Park [Non-Halal]
Instea – SS2
Instea – Taman Bukit Serdang
Instea – Dataran Perniagaan Cheras
Instea – Setapak
Instea – EkoCheras Mall
Instea – Jalan Macalister
Instea – 1Utama
Instea – Sri Petaling
Instea – Sunway Geo Avenue 2
Instea – IOI Boulevard
Instea – Jalan Austin Heights
Instea – Jalan Stutong Baru
Intan Kitchen – Bandar Baru Ampangan
Intan Lemang Putu Manjoi – Jelapang Baru
Intan Nasi Ayam – Jalan Hj Abdullah Sg Abong
Inver Cafe – Jalan Permaisuri
Ipang Tomyam – Jalan Pengkalan Chepa
I.P.H. Roasted Cafe – Jalan Sekama [Non-Halal]
Iping Ice Kacang – Lintang Batu Maung
IPIQA Cafe – Jalan Eillis
Ipoh – Medan Selera Lorong Sri Kuantan 21 [Non-Halal]
Ipoh Ais Kopi – AEON Bukit Tinggi [Non-Halal]
Ipoh Ais Kopi – Paradigm Mall [Non-Halal]
Ipoh Ais Kopi – AEON Maluri [Non-Halal]
Ipoh Ais Kopi – EkoCheras [Non-Halal]
Ipoh – Angsana Mall Mix & Match
Ipoh BBQ – Jalan Sekama [Non-Halal]
Ipoh BBQ – Jalan Canna [Non-Halal]
Ipoh Bean Bar – Taman Jubilee
Ipoh Bean Sprout Chicken Rice – New Lucky Restaurant [Non-Halal]
Ipoh Bean Sprouts Chicken – New Li Garden Foodcourt [Non-Halal]
Ipoh Chee Cheong Fun – Jolibee Restaurant [Non-Halal]
Ipoh Chicken Rice – Plaza Pandan Malim
Ipoh Cuisine – Taman Mount Austin [Non-Halal]
Ipoh Curry Monster – Taman Ipoh [Non-Halal]
Ipoh Duck Rice & Chicken Rice – Taman Alkaff
Ipoh Garden Homemade Yee Mee – Restoran Delicious Recipe [Non-Halal]
Ipoh Grass Jelly – Mayfair Park
Ipoh Hainan Chop – Taman Pengkalan Jaya [Non-Halal]
Ipoh Hor Fun Bean Sprout Chicken Rice – Bayan Baru Food Court
Ipoh Kai Si Hor Fun & Curry Mee – Hock Sheng Kopitiam [Non-Halal]
Ipoh Kopitiam – The Right Angel
Ipoh – Medan Selera Dato Sagor Mix & Match
Ipoh Old Town Famous Fried Kueh Teow – 63 Food Court [Non-Halal]
Ipoh Onn Kee Tauge Ayam – Tingkat Mahsuri [Non-Halal]
Ipoh – Public House Food Court Mix & Match
Ipoh Road Meng Hoe Hokkien Mee – Taman Wahyu [Non-Halal]
Ipoh Road Tong Shui – Jalan Suppiah Pillay [Non-Halal]
Ipoh Station Cafe – Stesen 18
Ipoh Zhuang Yuan Noodle – Taman Bukit Indah [Non-Halal]
IpohIpoh Cafe – Taman Chateau [Non-Halal]
IR Ayam Cucuk – Kampung Sentosa
Irene Mee Jawa (Hui Sing) – Fu Sen Court
Irfan – Taman Johor Jaya
Irfan Nasi Ayam – Mydin Manjoi
Iris Cafe – Avenue Garden Hotel
IRMA (Naeb) Restaurant – Taman Dato Ahmad Razali
Iron House Kopitiam – Taman Seri Orkid
Is Kitchen's – Taman Desa Baiduri
IS Station House – Bukit mertajam
Isa Nasi Ayam – Medan Selera Jalan Travers
Isaac Korean Kitchen – Apartment Cybercity
Isaac Toast & Heuk Hwa Dang – Leboh Ampang
Isaac Toast & Heuk Hwa Dang – Taylor
Isaac Toast x Heuk Hwa Dang – 10 Boulevard
Isabella Kitchen – Grace Park
Isan Thai Tomyam – Jalan Air Putih [Non-Halal]
Ishake – Bandar Kajang
Ishake – Sg Merab
Ishake – KIPMall Bangi
Ishimura [Non-Halal]
ishtaKOYAKi – Santai Setia Alam
ishtaKOYAKI – Lapar Betul.Co
Isibsam Little Korea – Bukit Damansara
Islam Pizza – Chendering
Islam Pizza – Kampung Kedai Manir
Islamic Restaurant – Taman Penampang
Island Glades Claypot Chicken Rice – Sunshine Farlim [Non-Halal]
Ismail Cafe – Taman Suria Shop Apartment
Ismail Catering (Western Briyani) – Seksyen 23
Ismail Tan Legacy – Medan Selera Jalan Usahawan
Iso Veggie – Central Shopping Plaza
Istana Sangkut Kitchen – Taman Melodies
Istanbul Corner – IIUM
Itaderis – Jalan Selat
Itaewon Chicken – Kopitiam 2 Cinta
Italia & Ribs Gastronomia – Plaza Damaz [Non-Halal]
Italian Kitchen – Merbau Road
Italian Pizza & Pasta – Everyday Foodcourt
Italiannies – The Curve
Itik Salai – Mainroad Foodcourt Ampang
It's Burger Time
It's Kopi – Taman Kota Laksamana Jaya
It's Pecktime – Winnie Plaza
It's Pho Girls – Damansara Kim
It's Pho Girls – The Sphere
It's Tea & Coffee – Taman Cheng Baru
Itsudemo – Sunsuria Forum
Itsudemo Eats – Changkat Thambi Dollah
Itsudemo Eats – Glomac Cyberjaya
Ivy Corner – Jalan Sultan
IWA Kushiyaki – Jalan Perusahaan [Non-Halal]
Iwan Lamian – Icom Square
Iwan Nasi Kukus – Puchong Utama Court 1
Iwan Tombo Luwe – Bandar Putra
Iyakimono – Citta Mall
Izakaya Flamingo – Wisma Cosway [Non-Halal]
Izakaya Niwa – Ara Damansara [Non-Halal]
Izan Food House – Seksyen 30
Ize Ikan Bakar Portugis – Teluk Gadong
Izi Stesen – Seksyen U19
Iztanburg Grill – Pavillion Bundusan
J & J Cafeteria – Jalan Setia Raja
J & J Cafeteria – Salak Land District
J & J Cafeteria – Desa Ilmu
J & K Legend (Jagung Bakar) – Aqilah Corner
J & S Restaurant – Jalan Raja Uda [Non-Halal]
J Empress Baking DIY & Tearoom – Taman Austin Perdana [Non-Halal]
J-Kissa Cafe – AEON BiG Subang Jaya
J.Long Corner – Lembah Keramat
J.M. Bistro – Bukit Jalil
J'PIOR – Lorong Sg Karang Darat
J Simple Cafe – Jalan Ah Siang
J5 Tasty Corner – J5 Commercial Centre
Ja Nasi Ayam Kampung – Kampung Jaya
Jaa By Annasuz86 – Mak Tam Station
Jacc Recipe – Cheng Height Resort Condo [Non-Halal]
Jack 7 Burger – Shah Alam
Jack & Steve – Taman Equine [Non-Halal]
Jack Bakuteh Restaurant – Taman Galing [Non-Halal]
Jack N Grills Cafe & Steak House – Bandar Baru Medan Ipoh [Non-Halal]
Jack Sifu – Bundusan
Jacknife Bar & Grill – Plaza 333 [Non-Halal]
Jackson Porridge – Foody Goody Cafe [Non-Halal]
Jackx Kitchen – 77 Food Court
Jacky Chicken Rice & Fried Cook – S & S Corner [Non-Halal]
Jacs N Spice – Jalan Ampang
Jade Garden Restaurant – Bukit Bintang [Non-Halal]
Jade Nyonya Cafe – Jalan Ibrahim [Non-Halal]
Jaffna Curry House – Lebuh Ampang
Jaged – Sunway Wellesley Precint 1
Jagung & Apam Balik Wak – Taman Bukit Indah
Jagung Cik Nurul – Kampung Pintu Padang
Jahua Kopitiam – Metro Town
Jaiho Burger No 1 – Jalan Waja
Jal Dae Ji Korean BBQ Restaurant – Plaza Arkadia [Non-Halal]
Jalal Corner – Technoflex Food Court
Jalud Char @ D' Jerat 44 – Taman Tawas Permai
Jamaica Blue – AVISENA Specialist Hospital
Jamaica Blue Cafe – Beletime
Jamaica Blue Coffee – Paradigm Mall JB
Jamaica Blue Fine Coffee – Mid Valley
Jamaica Blue Fine Coffee – Setia City Mall
Jamaica Blue Fine Coffee – Melawati Mall
Jamaica Blue Fine Coffees – The Robertson
Jamal Rojak – Taman Bersatu
Jamal Salim Curry House & Catering – Bandar Sierra
Jamal Salim Curry House & Catering (2) – Karamunsing Capital
Jaman Tory Signatures – Taman Kota Ria
James Brooke Bistro & Cafe – Jalan Tunku Abdul Rahman
James Claypot – New Big One Food Court [Non-Halal]
James Foo Western Food – Jalan Seraya [Non-Halal]
James Foo Western Food – Elite Height [Non-Halal]
James Foo Western Food – Precinct 10 [Non-Halal]
James Food – Restoran Chang He [Non-Halal]
Jamilah Pairan Enterprise – Kubah Ria Baru
J&C – Jln Palma
J&G Fried Chicken – The Alley Bukit Tinggi
J&G Fried Chicken – SS2
J&G Fried Chicken – Centrepoint
J&G Fried Chicken – IOI Puchong
J&G Fried Chicken – Sunway Velocity
J&G Fried Chicken – Mid Valley
J&J Cafe – Pangsapuri Bukit Beruang
J&O Porridge – Taman Melaka Raya [Non-Halal]
Jane's Nem – Jalan 17/27
Jang & Jones Dining – Kawasan Perindustrian Temasya
Jang Jang Fusion Korean [Non-Halal]
Jannath Curry House – Bandar Sierra Telipok
Jannath Curry House – Menggatal
Jan's Baking Studio – Taman Malim Jaya [Non-Halal]
Janwa Thai Restaurant
Janxden Greenlife – Jalan Chow Thye
Japan Boat Takoyaki – Bangunan Servey
Japanese Corner – Food Street at Rock Cafe
Japanese Cruise Donburi – Restoran Hoo Yee Kee
Japanese Cuisine – Limbongan Food Court
Japanese Cuisine – Kepong Food Court
Japanese Cuisine – The Garden
Japanese Curry King – Pangsapuri Bukit Beruang
Japanese Curry Rice – Food Street at Rock Cafe
Japanese Popiah – Jalan Parameswara
Japanese Style Spicy Grilled Seafood – Kepong Food Court
Japangi 2D – Kampung Won
Japangi Cafe – Saradise
Japanita Vegetarian Cuisine – Bundusan Commercial Centre
Japas By Jeff Ramsey – Work @ Clearwater
Jar Kitchen – Hartamas
Jarimas Kiosk – Pudu Sentral
Jas Chicken Rice – Jalan Hashim Jafaar
Jas Chicken Rice – Jalan Matang
Jas Yummy Corner – The Garden [Non-Halal]
Jascha's Kitchen – Taman Meru Suria
Jasin Hailam Beef Noodles – Puchong
Jasin Hailam Beef Noodles – Jalan Kuchai Lama
Jasin Hailam Beef Noodles – Kota Damansara
Jasir Bistro – Taman Puncak Jalil
Jason Nyonya House – Lebuh King [Non-Halal]
Jason's Food & Drinks Corner – Medan Selera Stadium
Jatika Cafe – Jalan Bukit Minyak
Jauza Yong Tau Fu – IPD Sepang
Javu Cafe – Lebuh Lembah Permai 4 [Non-Halal]
Jawa Cafe – Taman Maluri
Jawa Mee Pasembur – Tambun Star Food Court
Jaws' Shack – City Square Pending Heights [Non-Halal]
Jax's Kitchen – Seasons Food Court [Non-Halal]
Jay Aloki Bhavan – Menara Flexus
Jay Yong Tau Foo – Bandar Baru Bangi
Jaya Bobby Catering – Taman Kota Permai
Jaya Kopitiam – Kawasan Perniagaan Sg Rambai
JayC Taroice – Taman Tun Perak
JayC Taroice – BMC Mall
Jaycco Burger – Jalan 3A Piasau Utara
Jaz Nasi Lemak 7E – Kampung Cheras Baru
Jazmina Bistro – Bandar Bukit Puchong
Jazz Cafe – Sri Petaling [Non-Halal]
Jazz Feast
JB Hand Made Noodles – Tai Ka Huat Food Court [Non-Halal]
JB Pork Noodle -Taman Bukit Indah [Non-Halal]
JB Satay House – Kg Baru Pandan
J'Bal Paradise Enterprise – Taman Putra Prima
JC Espresso Coffee – Bandar Sri Damansara
JC Homemade Food – Taman Sentosa [Non-Halal]
J.C Phang Chicken Rice – Thian You Food Court Corner
JC Restaurant – Casa Residenza
JD Hakka Braised Pork Belly Rice – Cheng Garden Avenue [Non-Halal]
JD Nice Cafe – Taman Machang Bubok
JD Wan Tan Mee – Taman Mount Austin [Non-Halal]
Jde Western Food – Tambun Star Food Court
JDF Meet Again Noodles House – Tanming Boulevard [Non-Halal]
JDT Kitchen – Kampung Sentosa
JE Fried Chicken – Pangsa Tanjung Jaya
Jebat Burger – Kampung Pengkalan
Jebat CKT Char Koay Teow – Taman Kajang Sentral
Jeemay Kitchen – Putrajaya Food Truck Hotspot
Jehan Bakery & Food – Kampung Dusun Muda
Jeju Black Korean Noodle Restaurant – Taman Bukit Indah [Non-Halal]
Jeligho Laksa Bersarang – Jalan Kuala Krai
Jeligho Molek Restaurant – Jalan Setia Perdana
JéLITA Cafe – Jalan Haji Abdul Aziz
Jelly Bar (Mart) – Concubine Lane
Jelly Beancurd – Jalan Song
Jelly Nyor Ori – Taman Kg Padang
Jemah Popia – Cheras Baru
Jemi Cafe
Jen Cafe – Taman Segar
Jengs's Homemade – Centre Point
Jennifer Bui Cafe – Taman Perwira Indah [Non-Halal]
Jenny Chicken Rice – Double Happiness Cafe [Non-Halal]
Jenny Kolo Mee – On3 Kopitiam [Non-Halal]
Jenny Little Vietname Cafe – Jln Stutong Baru [Non-Halal]
Jens
Jeram Nasi Lui Cha – Restoran Fair Mart (M) Sdn Bhd
Jerry G's – Plaza Damas 3
Jersey Jack Gelato – Bukit Bintang
Jeruk Madu Pak Ali – Stadium MPS
Jeruk Pelam Asamboi Spicy – Lorong Sakuan
Jesselball Cafe – Jalan Seladang
Jetty Food Court Char Hor Fun – The Jetty Food Court [Non-Halal]
Jf Borneo Sinalau – Plaza 333 [Non-Halal]
JF Char Kuey Teow – Taman Desa Permai
JF Western – Yummy Yummy Bakery House & Kopitiam [Non-Halal]
JH Toast House – Medan Bercham Bistari
Jhann – Plaza Damansara
JH's Breakfast – Everwin Kopitiam [Non-Halal]
Ji Jie Kopitiam Sri Cemerlang – Jalan Sri Cemerlang
JLD Dragon – Taman Kota Laksamana Jaya
JLD Dragon – Sunsuria Forum
Ji Sheng Kopitiam – Taman Universiti [Non-Halal]
Ji Xiang 101 Cafe Mix & Match – [Non-Halal]
Ji Xiang 101 Cafe (Main) – Ji Xiang 101 Cafe
Jia Fook Food Cafe (Main) – Jia Fook Food Cafe
Jia Jia Cafe 佳佳私房面馆 – Jalan Bharu [Non-Halal]
Jia Jia Court Mix & Match – [Non-Halal]
Jia Jia Noodle House – Taman Megah Jaya
Jia Kopitiam – Danau Kota
Jia Soon Single Style Noodle – Ampang [Non-Halal]
Jia Xiang Kan Lou Mee – The Garden [Non-Halal]
Jia Xiang Sarawak Kolo Mee – Today Market [Non-Halal]
Jia Xiang Wei Popiah and Rojak – FGJB
Jiak Beng Restaurant – Bandar Baru Sri Petaling [Non-Halal]
Jiang Tai Gong – Taman Desa Impian [Non-Halal]
Jianghe Restaurant – Bukit Bintang [Non-Halal]
Jianxi Rice Vermiceli – Gala Food Court [Non-Halal]
Jiao Jiao Vegetarian – Taman Merdeka Jaya
Jiao Wo Wan Tan Me Restaurant – Taman Nusa Bestari [Non-Halal]
Jiashi Cafe Sdn Bhd – Lebuh Lembah Permai [Non-Halal]
Jiayi Milk Tea – Jalan Permas 11/1A
Jiayi Milk Tea – Jalan Sutera Tanjung 8/4
Jiayi Milk Tea – Pusat Perniagaan Taman Daya
Jiddah's Kitchen – Pusat Perdagangan Kempas
Jie Ge Soup – Jalan Dedap [Non-Halal]
Jie Mei Fan Guan Mala Hotpot – D'Piazza Mall [Non-Halal]
Jie Mei Fan Guan Mala Hotpot BM – Taman Lembah Permai [Non-Halal]
Jie Mei Soya – Bandar Puteri
Jie Tou Mien – Jalan Besar Kepong Baru
Jie's Kolo Mee – Ji Xiang 101 Cafe [Non-Halal]
Jiffi's Deli – Taman Pusat Kepong
Jijah Satay – Jalan Abu Samah Ampang
Jikaya Jikasei Noodles – Medan Angsana [Non-Halal]
Jiki 9 – Jalan Penghulu Abbas
Jim's Cottage Bistro – Taman Melaka Raya
Jim's Pan Steakhouse – Taman Equine [Non-Halal]
Jin Ba Vegetarian Corner – Taman Impian Emas
Jin Dian Restaurant – Taiping Business Centre
Jin Gastrobar – Aurum Theatre The Gardens
Jin Gastrobar – Aurum Theatre Mid Valley Southkey
Jin Jin Foods – Bundusan [Non-Halal]
Jin Jin Foods Lintas – Lintas Square [Non-Halal]
Jin Man – Kota Kemuning
Jin Man Noodle House – Taman Equine
Jin Man Noodle House – Seksyen 9
Jin Man Restaurant – Taman Mutiara [Non-Halal]
Jin Pan Restaurant – Taman Daya [Non-Halal]
Jin Shun Chwee Kueh – Taman Mutiara Mas
Jin Shun Chwee Kuih – Restoran Wan Xi Heng
Jin Wang Kitchen – Taman Daya [Non-Halal]
Jin Xiang Hainan Chicken Rice – Restoran Sheng Heng [Non-Halal]
Jing Cheng Tea Cafe – Jalan Muhibbah
Jing Hwa Restaurant – Taipan Business Centre [Non-Halal]
Jing Jing Pork Mee – Taman Wangsa Permai [Non-Halal]
Jing Tea – Imago Shopping Mall
Jing Tea – T1 Bundusan
Jing Tea – Lintas Square
Jing Xin Vegetarian Cuisine – Taman Bukit Melaka
Jing Zai Lala 劲仔上汤啦啦 – 33 Food Court
Jing Ze Contemporary Asian Restaurant – Seksyen 17 [Non-Halal]
Jingwood Cafe Mix & Match – [Non-Halal]
Jinjjayoo Korean Food – Kampung Attap
Jinju Cafe – Bandar Bukit Tinggi 2
Jinva Seafood – GP Foodcourt [Non-Halal]
JioKopi – KL City Walk
Jisoo Korean Fried Chicken – Greentown
Jisoo Korean Fried Chicken – Bukit Tinggi Klang
Jisoo Korean Fried Chicken – Bukit Tinggi
Jisoo Korean Fried Chicken – Taipan Business Centre
Jit Fan Chicken Rice Ball – Bukit Baru
Jiupin Hotpot 九品芝麻煲 – Bandar Cyber [Non-Halal]
Jiwa Kubang Kerian – Jalan Raja Perempuan Zainab II
Jiwa Lembah Sireh – Jalan Jambatan Sultan Yahya Petra
Jiwa Telipot – Jalan Kota Darul Naim
JJ Chilli Pan Mee – Suria KLCC
JJ Dessert – Lotus's Station 18
JJ Happiness Cafe – Taman Johor Jaya
J.J Popiah – Limbongan Food Court
JJ Pork Noodle – My Kopitiam [Non-Halal]
JJ Satay Trading – Taman Mastiara
JJ Teratai Corner – Jalan Kota Tinggi
JJF's Kitchen – Bulatan Park Commercial Centre [Non-Halal]
JJJ Ya – Taman Desa [Non-Halal]
JJL Steamboat Restaurant – Taman Mutiara Mas [Non-Halal]
JL Food Store Enterprise – Kampung Baru Pandan [Non-Halal]
JLD Dragon – Kompleks Kenari [Non-Halal]
JLD Dragon – Intermark
JLD Dragon – Taman Desa Botani
JLD Dragon – Taman Indahpura [Non-Halal]
JLD Dragon – KSL City Mall [Non-Halal]
JLD Dragon – Vivacity Megamall
JLD Dragon – Paragon Market Place
JM Beriani – Lotus's Ampang
JM Corner Kopitiam – Taman Petaling Utama [Non-Halal]
JM Hawker Stall – Bandar Tasek Mutiara [Non-Halal]
J'mie Nasi Kukus – Taman Rapat Setia
JMM Cookies – AEON Bandaraya
JMM Cookies – Mahkota Parade
JMM Cookies – AEON Bukit Tinggi
JMM Cookies – City Mall
JMM Cookies – City Square
JMP Burger Petak Padu – Taman Pulai Indah
JMT Restoran Maju – NeoCyber
JnH Cafe – Ipoh Parade
Jnie Kampua – Fu Yu Cafe Satok
Joanne's Recipes – Taman Pandan Perdana [Non-Halal]
Joan's Receipe – Central Shopping Plaza[Non-Halal]
Joe's Coffee & Pastries – Plaza Damas
Joe's Grill – Seksyen 15
Joey Lee's Recipe – Tingkat Lembah Ria 2 [Non-Halal]
Jogentor – Taman Tasek Damai
Johan Selera – Setapak
John – Restoran Wan Shoon [Non-Halal]
John & Tommy Italian Western Kitchen – Jln North Yu Seng
John Burger – Hartamas
John Burger – Brickfields
John Burger – Bangsar
John Kolo Noodles 1 – Popular Food Garden [Non-Halal]
John Satay – Cheras
John Satay – Taman Tenaga
Johnny's Restaurant – Berjaya Times Square
Johnny's Restaurant – Dataran Pahlawan
Johnny's Restaurant – Queensbay Mall
Johnny's Restaurant – AEON Melaka
Johnny's Restaurant – Sunway Pyramid
Johnny's Restaurant – Setia City Mall
Johnny's Restaurant – AEON Cheras Selatan
Johnny's Restaurant – AEON Ipoh Klebang
Johnny's Restaurant – Sunway Velocity
Johnny's Restaurant – 1Utama
Johnny's Restaurant – AEON Kinta City
Johnny's Restaurant – AEON AU2
Johnny's Restaurant – AEON Taiping
Johnny's Restaurant – Central i-City
Johnny's Restaurant – AEON Bukit Tinggi
Johnny's Restaurant – IOI City Mall
Johnny's Restaurant – Melawati Mall
Johnny's Restaurant – AEON Maluri
Johnny's Restaurant – Summit USJ
Johnny's Restaurant – Selayang Mall
Johnny's Restaurant – AEON Alpha Angle
Johnny's Restaurant – AEON Bukit Raja
Johnny's Restaurant – Alamanda Putrajaya
Johnny's Restaurant – AEON Seri Manjung
Johnny's Restaurant – East Coast Mall
Johnny's Restaurant – Kuantan City Mall
Johnny's Restaurant – Aman Central
Johnny's Restaurant – AEON Seremban 2
Johnny's Restaurant – AEON Taman University
Johnny's Restaurant – AEON Nilai
Johnny's Restaurant – AEON Tebrau City
Johnny's Restaurant – AEON Kota Bahru
Johnny's Restaurant – AEON Kuching
Johnny's Restaurant – AEON Bukit Indah
Johnny's Restaurant – Palm Mall
Johnny's Restaurant – Toppen Shopping Centre
John's Dumpling – N95 Cafe [Non-Halal]
John's Pie – The Spring
John's Pie – Jalan Song
John's Pie – MJC
John's Sambal Laksa – Chai Shu Cafe
Johny Ais Kepal – Jalan AU3/12
Johor BBQ – Fu Sen Court [Non-Halal]
Johor Mini Steamboat – Sunway Pyramid
Johor Sam Kam Zhuang – Taman Desa Cemerlang [Non-Halal]
Johore Laksa (Lee Kee) – Restoran One Plus Eight Kopitiam
Jojo J.R Kitchen – Donggongon Square [Non-Halal]
Jojo Little Kitchen – The Strand [Non-Halal]
Jojo Little Kitchen – SS15 [Non-Halal]
JoJo Little Kitchen Pan Mee – SS2 [Non-Halal]
Jojo Little Kitchen – Bandar Puteri Puchong [Non-Halal]
Jojo Little Kitchen – Sri Petaling [Non-Halal]
Jojo Little Kitchen – Desa Sri Hartamas [Non-Halal]
Jojo Little Kitchen – Taman Serdang Perdana [Non-Halal]
Jojo Little Kitchen – Bandar Puchong Jaya [Non-Halal]
Jojo Little Kitchen – Bandar Mahkota Cheras [Non-Halal]
Jojo Little Kitchen – Kuchai Lama [Non-Halal]
Jojo Well Choice – Kg Lakut [Non-Halal]
Jojo's By Joloko – Jalan Kamunting [Non-Halal]
Jollibee – Centre Point Sabah
Jom Bento – Wisma Rampai
Jom ! Boba – Garden Homes Seremban
Jom Dim Sum – Bintulu Sentral
Jom Dim Sum – Pusat Perdagangan Greentown
Jom Jom – Changkat
Jom La Pizzeria – Bandar Sri Damansara
Jom Laksa – Kompleks Permaisuri Queensville
Jom Laksa – Arkadia
Jom Laksa – IPC
Jom Laksa – Citta Mall
Jom Laksa – Tropicana Garden Mall
Jom Laksa – Central i-City
Jom Laksa – IOI City Mall
Jom Lepak – Jalan Alma [Non-Halal]
Jom Lunch Nasi Badjet @ SR Truck – Section 51A
Jom Makan – Jalan Selat
Jom Makan – Menara Hap Seng
Jom Makan – Kampung Lereng Bukit
Jom Makan – Taman Anggerik
Jom Makan Bajet² @ SR Bistro – Seksyen 17/1A
Jom Makan Place – Pandan Perdana
Jom Mangan – Taman Sri Amar
Jom Ngeteh Cafe – Jalan Matang
Jom Ngeteh Cafe -Jalan Keruing
Jom Rasa – Kampung Dato Ahmad Said Tambahan II
Jom Satay – Kawasan Perindustrian Kampung Baru Balakong
Jom Sate Maharaja – Shah Alam
Jom Singgah – Pangsapuri Putra Selesa
Jom Singgah Tomyam Special – Pusat Komersil Swan
Jomla Makan – Lebuhraya Maktab
Jong Sheng BBQ – Tong Fung Cafe [Non-Halal]
Jong's Mix Pork Soup – Dar Zen Food Centre [Non-Halal]
Jonker Walk Poh Keong Enterprise – Jalan Hang Jebat
Jonkers – Nyonya Kuih – Kitchen Co
Joob Joob Mookata & Thai Cuisine 泰式炭烧⽕锅餐厅 – Taman Nusa Bestari [Non-Halal]
Jook Joint Bistro – Bandar Puchong Jaya
Jordan Hong Kong Restaurant – Taman Usahawan Kepong [Non-Halal]
Jo's Cafe – Bangsar South
Jo's Street Restaurant – Jalan Kebun
Joshijosh Catering – Ara Damansara
Joshua Food Catering – Taman Maxwell
Joyah Patin Tempoyak @ 96 Corner – Boutique Hotel
Joyce's Noodle – Cheras Trader Square [Non-Halal]
Joyous Drink Shop – Jalan Khalidi
Joyous Shanghai Restaurant – Jalan Chan Bee Kiew [Non-Halal]
Joyous Tea – Jalan Tokong
Joy's Cafe – Taman Sunrise [Non-Halal]
JP Crispy Corner
J'Queen – Taman Park
JR Laksa – Jalan Parameswara
Jr Mart – Jalan Kulim
J's Biryani – Medan Selera USJ 1
JS Cafe – Lot 10
JS Canai Corner – Permyjaya
JS Fish Head Mihun Soup – Bandar Baru Air Itam [Non-Halal]
JS Ninetys Enterprise – Taman Ungku Tun Aminah [Non-Halal]
JS Small Fry – Bandar Tasek Mutiara [Non-Halal]
JS Tai Feng Cafe [Non-Halal]
J.S Tasty Noodle House – Taman Happy Garden [Non-Halal]
J.S Tasty Restaurant – Taman Bukit Serdang [Non-Halal]
JT Western Food – Taman Sutera Utama [Non-Halal]
JTauke Waffle – Jalan Pedada
JTW Cafeteria – Tropicana Avenue
Ju Sahari Well Best Kitchen – Metrocity Square
Ju Takoyaki – BeeliFood
Ju Xiang Yuan – Pusat Komersil 88
Ju Yuan Seafood – Jia Jia Court [Non-Halal]
Juan Valdez Cafe at Jumpa Mall @ Sungei Wang – Sungei Wang Plaza
Juara Ikan Bakar Perupok – Jalan Pasir Putih
Juara Tom Yam Seafood – Jalan Marang
Juara Tomyam – Kampung Baru
Jubilee Restaurant – India Street
Judy's Hakka Lei Cha & Cuisine – Restaurant 111 Bee Fatt [Non-Halal]
Jue 77 Cafe – Rapat Setia
Jue Wei Spicy Pot – Pusat Makanan L & L [Non-Halal]
Jugos – Taman Pelangi
Jugos – Taman Mount Austin
Juice & Coffee Maker – Plaza Pantai
Juice Cubi – Gala City
Juice Junction – Midlands OneStop [Non-Halal]
Juice-Ly – Jalan Mega
Juice To-Go – Mid Valley Southkey
Juice Works – Gamuda Walk
Juice Works – Quill City Mall
Juice Works – Empire Shopping Gallery
Juice Works – Sunway Pyramid
Juice Works – The Curve
Juice Works – Taman Rasa Sayang
Juice Works – Setapak Central
Juice Works – Plaza Mont Kiara
Juice Works – Lotus's Kepong
Juice Works – IOI City Mall
Juice Works – Central i-City
Juice Works – Sunway Putra
Juice Works – Pavillion
Juice Works – KLCC
Juice Works – DC Mall
Juice Works – MyTown
Juice Works – Paradigm Mall
Juice Works – AEON Shah Alam
Juice Works – 1Utama
Juice Works – Mid Valley
Juice Works – Publika
Juice Works – Eko Cheras Mall
Juice Works – Tropicana Gardens Mall
Juice Works – Da Men Mall
Juice Works – Sunway Velocity
Juice Works – Setia City Mall
Juice Works – Mid Valley Southkey
Juice Works – Toppen Shopping Centre
Juice Works – City Square
Juice World – Inanam Baru
Juicelab – Menara Hap Seng
Juicelab – Bangsar South
Juicelab – Pearl Shopping Gallery
Juicelab – Sunway College
Juicelab – Sunway Medical
Juicy Baby – Taman Pulau Melaka
Juicy Cuties – Wisma Rampai
Juicy Fresh Juice Bar – G Tower
Juicy Fresh Juice Bar – Sunway Pyramid
Juicy Fresh Juice Bar – Telok Panglima Garang
Juicy Fresh Juice Bar – Quayside Mall
Juicy Fresh Juice Bar – Berjaya Times Square
Juicy Fresh Juice Bar – Gurney Paragon
Juicy Fresh Juice Bar – Utropolis Marketplace
Juicy Fresh Juice Bar – Taman Connaught
Juicy Fresh Juice Bar – Subang Parade
Juicy Fresh Juice Bar – Paradigm Mall
Juicy Fresh Juice Bar – Ansa Hotel
Juicy Fresh Juice Bar – Sunway Velocity
Juicy Fresh Juice Bar – Plaza Zurich
Juicy Fresh Juice Bar – Toppen Shopping Centre
Juicy Fresh Juice Bar – Paradigm Mall JB
Juju Street Food – Jalan Gombak
Juju Street Food – Taman Melawati
Jujube Vegetarian House – Bandar Menjalara [Non-Halal]
Jujube Vegetarian House – Taman Fadason [Non-Halal]
Julie Pan Mee – Taman Bukit Maluri [Non-Halal]
Juliet Noodle House 猪丽叶与⽜郎粉⾯家 – Taman Bukit Pasir [Non-Halal]
Julius Ayam Penyet – Bandar Seri Alam
Jum Kupi Kupi – Jalan Tuaran
Jumadir Stall – V.C Kopitiam
Jumbo Cafe – Khoo Hun Yeang Street [Non-Halal]
Jumbo Curry Mee & Prawn Mee – Berkeley Kampung Food Court [Non-Halal]
Jumbo Garden – Lorong Kubang Buaya 8
Jump Bistro – Jalan Chan Chin Ann
Jumpa Food Court – Malay Town
Jun Western Food – Lebuh Leith [Non-Halal]
Junction Cafe – Taman Sentosa [Non-Halal]
Juneda Cafe – Paya Jara Tengah
Jungle House – Pavillion
Jungle House – Central i-City
Jungle House – DPulze
Jungle House – Queensbay Mall
Jungle House – Mid Valley
Jungle House – IOI City Mall
Jungle House – Sunway Pyramid
Junkies – Petra Jaya
Juno's Cafe – Bandar Kim Fung
Junoz Pub & Grill – Phileo Damansara 2 [Non-Halal]
Jupeng Chinese Restaurant – Bandar Puteri [Non-Halal]
Jupiter Juice – Kampung Sri Langkas
Jupiter Juice – Damansara Damai
Jupiter Juice – Bangsar
Jupiter Juice – Taman Sri Hartamas
Jupiter Juice – PJ Centrestage
Jupiter Juice – Hotel Flamingo Tasik Ampang
Jupiter Juice – Cottage Walk
Jupiter Juice – Bandar Puchong Jaya
Jupiter Juice – Centrepoint
Juriah Chicken Rice – Warong Makan Makan
Juriah Chicken Rice – D'Aisyah Cafe
Juriah Nasi Kukus – Jalan Wakaf Mek Zainab
Jus Jambu Asam Boi Special Humaira Ent – Jalan Merpati
Just 4You – FGJB
Just A Sip – Uptown Avenue
Just Do Eat- Wheel Cake- Jalan Seldah off Jalan Song [Non-Halal]
Just Laksa – Suria Bangsar
Just Say Cafe – Jalan Lau Ek Ching [Non-Halal]
Just Tasty Kitchen – Jalan Toman 5
Just Tea – Suria Shop/Apartment
Just Tea – Cyber Square 2
Just Teddy – Food City Kolombong
Just Wing it – Brickfields
Just Wing It – Bangsar Park
Just You Dessert Cafe – Klang Parade
Just You Dessert Cafe (Whole Cakes) – Klang Parade
Justberrys – Jalan KL
Justberrys Dessert House – Taman Air Keroh Height
Jusu – Bukit Bintang
Jusu Bar – Saradise
Jusu Korean Dessert – Taman Mutiara Mas
Jusu Korean Dessert Cafe – Mount Austin
Juu Juu Box – NU Sentral
Juu Juu Box – Pavilion
Juu Juu Box – KLCC
JVV Joyful – Kompleks Perniagaan Kota Syahbandar
JW Roti John – Taman Keramat Permai
JWC Coffee Bar 酉 – Taman Sutera Utama [Non-Halal]
JWC Homies Molek – Jalan Molek
JWC The Factory 30 – Taman Mount Austin
Jyu Raku Restaurant – SS15
JyuJyu-Tei – MyTown
Jyunzen Japanese Restaurant – Jalan Pertama 1 [Non-Halal]
JZ Oriental Delight – TSI Business Industrial Park
K-Bites – Jalan Lintas [Non-Halal]
K Kitchen – Taman Nusa Sentral [Non-Halal]
K M M Tomyam – Kampung Kepayang
K One Kopitiam Mix & Match – [Non-Halal]
K Pap Catering – Ipoh Perdana
K-Pop Bibimbap – Kayu Ara
K-Pop Bibimbap – Jalan Radin Bagus [Non-Halal]
K-Pop Bibimbap – Bandar Puteri [Non-Halal]
K-Pop Bibimbap – Bangsar
K-Pop Bibimbap – Kota Damansara
K-PoPo Korean Food – Taman Suria [Non-Halal]
K-Pork BBQ – Bundusan [Non-Halal]
K Street – SS15
(K) Wan Tan Mee – Jiki Food Court Bukit Baru [Non-Halal]
K1 Kopitiam – Jln Wan Alwi
K11 Karaoke – AEON Mall Kuching
K2's Steamed Chicken – Taman Sri Rampai
K3N Ayam Berempah Addicted – Taman Tasik Titiwangsa
K8 Xpress – Bandar Puteri
K8 Xpress – SS2
Ka Bee Cafe – Seh Chew Jetty Weld Quay [Non-Halal]
Ka-Chick – Taman Johor Jaya
Ka Mei Kitchen – Tingkat Mahsuri [Non-Halal]
Ka Sao Noodles – Grand Industrial Centre [Non-Halal]
Ka Yuan Pork Noodle – Kepayan Point [Non-Halal]
Kabab Hadramawt Kitchen – Seksyen U13
Kabayan BBQ – Century Street Food Court [Non-Halal]
Kabi Food Corner – Ez 988 Cafe [Non-Halal]
Kabul Hadramawt Restaurant – Jalan Batu Caves
Kacaks Burger Bakar – Medan Selera Musang King
Kacang Phool D Berkat – Kampung Bukit Baru
Kacang Pool – Kg Melayu Majidi
Kacang Pool AjakBoss – Jalan Johan Setia
Kacang Soya Lai Kee – Jalan Theatre
Kadei by Manchula – Taman Megah
Kafe 1964 – Platinum Walk
Kafe A Yogurt Cow – Jalan Radin Bagus
Kafe Abah Wan – Jalan Haji Taha
About Mee Cafe – Desa Aman Puri [Non-Halal]
Kafe A'Boys Empire – Pekan Tampin
Kafe Agus Roti John – Jalan Istana
Kafe Aida Rich – Taman Tasik Utama
Kafe Aladdinti – Seri Alam
Kafe All Victory F&B – Pusat Bandar Puchong
Kafe Aroma Selera – Seberkas Commercial Centre
Kafe Asam Pedas 69 – Taman Kajang Utama
Kafe Avenue – Giant Kota Damansara
Kafe Ayam Bakar B – Demak Laut
Kafe Bangsawan (Rolpis Penang) – Lebuh Nipah
Kafe Baobao Ais Kacang (Main Cafe) – Kafe Baobao Ais Kacang 2
Kafe Bendi – Bandar Bukit Tinggi [Non-Halal]
Kafe Benjiro – Taman Lestari Perdana
Kafe Beriani Gam Putrajaya – Taman Desa Pinggiran Putra
Kafe Beriani Gam Putrajaya Cawangan Cyberjaya -Persiaran Perdana
Kafe Best Hillview @ Loong Kee 龍記 – Taman Jubilee
Kafe Bismillah – Jalan Hang Lekir
Kafe Border's Tea – Jalan Tanjung Bungah
Kafe Bull Street – Selangor Mansion
Kafe Cha Yu Ya – Seberang Perai Tengah [Non-Halal]
Kafe Che Ma – Kampung Gunung Sali
Kafe CheeseU – 3B Business Park
Kafe CheeseU – Jalan Manggis
Kafe Chendana – Kampung Setia
Kafe Chendana – INTAN Bukit Kiara
Kafe Che'Tembon Berapi – Jalan Tampoi Susur
Kafe Coffee Mood – Fair Park
Kafe D' Bonda – Kampung Melayu
Kafe D Manggis – Kuang
Kafe Destar – Jalan Hospital Paya Bemban
Kafe D'evergreen – Arked Mara
Kafe Dhoby Ghaut – Jalan Sultan Azlan Shah [Non-Halal]
Kafe d'Marmalade – Greentown Nova
Kafe Dua Benua – Lrg Metrocity Height
Kafe Embun25 Coffee & Kuih – Melawati Square
Kafe Estima – Taman Austin Perdana
Kafe Fumino Pan – Taman Maluri
Kafe Fun Taste – Taman Bandar Baru [Non-Halal]
Kafe Fusion at 21 – USJ 21/8
Kafe Garpu & Camca – Kepong
Kafe Gerbabboom – Uptown Puchong Night Bazaar
Kafe Hanaya – Lorong Perusahaan Menglembu 1
Kafe Heng Woh – Taman Fu Onn [Non-Halal]
Kafe Home Recipe – Medan Ipoh Bistari
Kafe Hou Hing – Jalan Dato Tahwil Azar
Kafe Impian Resipi – Taman Molek
Kafe Impianku – Jalan Matang Hub
Kafe In @ KL Trillion – KL Trillion
Kafe Intan Zaharah – Petagas
Kafe Ipoh Ipoh – SS2 [Non-Halal]
Kafe Just A Meal – Taman Tasek Jaya
Kafe Kacang Keladi – Rubber Road
Kafe Kampung Dusun – Jalan Dusun Muda
Kafe Kampung Vege – Kompleks Kesidang Bachang
Kafe Kerabu Keramat
Kafe Kim Keei – Hala Bendahara 1 [Non-Halal]
Kafe Kim's Western Food – Lapangan Perdana 39 [Non-Halal]
Kafe Kiri Kanan – Toppen Shopping Centre
Kafe Kopi Mesin KB – Jalan Sultan Yahya Petra
Kafe Kueh Melake
Kafe Kuehpedia – Emporium
Kafe La Kiosk – Jalan Abdullah
La Promise Bakery and Cafe – Jalan Istana Larut Business Park
Kafe Lim Ko Pi – Sunway Geo Avenue [Non-Halal]
Kafe Mak O Mak – Melawati Square
Kafe Makanan dan Minuman Yee Heng – Taman Ipoh Selatan [Non-Halal]
Kafe Makanan Tradisional – Taman Ungku Tun Aminah [Non-Halal]
Kafe Makuk – Taman Bendahara
Kafe Mangoshake – Setia Ecohill
Kafe Mas Wangi – Lebuh Khoo Hun Yeang
Kafe Masakan Terengganu Asli – Taman Lestari Perdana
Kafe Michelin – Taman Mount Austin
Kafe Miyakori Coffee – Taman Eco Botani
Kafe Miyakori Coffee – Sunway Iskandar
Kafe Miyakori Coffee – JB City Square
Kafe Moge Tee – Taman Sutera Utama
Kafe MokMeals – Taman Keramat
Kafe Mr Pau Tim Sum – Taman Kota Laksamana [Non-Halal]
Kafe Najwa Mix & Match
Kafe Naning – Kampung Manjoi
Kafe Nasi Kerabu Dskudai – Taman Universiti
Kafe Niu Niu – Taman Molek [Non-Halal]
Kafe Pak Su – Taman Kenanga
Kafe Paparonis – UIA
Kafe Parimpan – Metro City Square
Kafe Pondok Kita – Kampung Abdullah
Kafe Purba – Bandar Cyber
Kafe Q Q Ice – Bandar Indah
Kafe Qaseh – Taman Perpaduan
Kafe Qisha Amanda – Lebuhraya Segamat-Kuantan
Kafe Redchillies – Chowkit
Kafe Riceboy Yogurt – Taman Sutera Utama
Kafe RL – Metro City
Kafe RL – Jalan Satok
Kafe RNS – Plaza Angsana
Kafe Sarawak Johor – Damansara Perdana
Kafe Se'eh Sokmo – Taman Sri Gombak
Kafe Selatan – Taman Perling
Kafe Selera Johor
Kafe Selera Mama – Jalan Astana
Kafe Selera Rika – Putra Indah
Kafe Sembang Spontan – Persiaran MPAJ
Kafe Semerah Padi – Jalan Depo
Kafe Serambi Rizqi – Chan Chin Ann Road
Kafe Swatow Lane Ice Kacang – Jalan Burma
Kafe The Bencoolen Coffee – Jln Raja Perempuan Zainab II
Kafe Tie Fan Won – Taman Kota Masai
Kafe Tok Ali – Plaza Taragon
Kafe Tok Imam – Bandar Baru Ampang
Kafe Trigger – Jalan Syed Abu Bakar
Kafe Tunas Serai – Taman Tiara
Kafe Tuuu…Dia Pak Tam – PPUM
Kafe Tuuu… Dia Pak Tam – Vista Alam
Kafe Tuuu…Dia Pak Tam – Hospital Putrajaya
Kafe Tuuu… Dia Pak Tam – Klinik Kesihatan KL
Kafe UFB – Kluang [Non-Halal]
Kafe Umie – Jalan Depo
Kafe Vanilla Mille Crepe – Ipoh SOHO
Kafe Wak J's Diner – Jalan Datin Halimah
Kafe Wan Chee Beancurd – Jalan Yang Kalsom
Kafe Wow!Tea Premium – Jalan Sentral Jaya
Kafe Xiao Cha Qu – Lintang Slim
Kafe Xiao Xiong Xiong – Jalan SK
Kafe Yomie's Rice X Yogurt – Ipoh SOHO
Kafe Yoyo Flavor – Taman Medan Bercham [Non-Halal]
Kafe Zapbalangs – Taman Kota Laksamana Jaya
Kafei Dian – Jalan Panggung
Kafetaria APBM – Akedemi Pembangunan Belia Malaysia Batu Gajah
Kafeteria – Hospital Mersing
Kafeteria Di Resam – Bandar Sri Permaisuri
Kafeteria Star Anise – Jalan Kampung Cina
Kafka – Jalan Kelawai [Non-Halal]
Kage Sushi [Non-Halal]
Kagura Tokyo Chicken Ramen – Suria KLCC
Kah Heong Chai Vegetarian – Avelon Tower
Kah Hiong Chu Chap – 88 Marketplace [Non-Halal]
Kah Hiong Chu Chap 家鄉豬什 – Inanam [Non-Halal]
Kah Hiong Ngiu Chap – Jalan Kampung Nyabor [Non-Halal]
Kah Hiong Ngiu Chap – Jalan Lintas
Kahfi Tomyam Seafood – Depan Klinik Kesihatan
Kai Kai Xin Cafe – Kampung Ampang Baru [Non-Halal]
Kai Kai Xin Chee Cheong Fun – Kai Kai Xin Cafe [Non-Halal]
Kai Kai Xin Mee Sup Noodle – Kai Kai Xin Cafe [Non-Halal]
Kai Kai Xin Prawn Mee – Kai Kai Xin Cafe [Non-Halal]
Kai Sheng Restaurant – Goldhill Complex
Kaiju – APW
Kaiju Kare – Zenith Corporate Park
Kaiju Kare – KL Eco City
Kaipulla Burger – Cottage Walk
Kaisen Fusion Restaurant
Kaitai – Wakaf Siku
Kaizen Coffee – SS15
Kak Ani Nasi Air & Mee Celup – Jalan Hulu Stesen Kereta Api
Kak Ani Nasi Ayam & Nasi Itik – Medan Selera Mualaf
Kak Ani Nasi Dagang – Seksyen 7
Kak Ani Nasi Kukus Ayam Berempah – Kg Pandan
Kak Ani Seafood – Komplex Bayu Senja
Kak Anie Nasi Kerabu Kelantan – Medan Selera Wangsa Maju
Kak Atik Corner – Jalan Chester
Kak Bedah Cafe – Jalan Tun Ahmad Zaidi Adruce
Kak Cik Nasi Lemak Panas – Kopitiam Wawasan
Kak Dah Colek Campur – Kampung Bayam
Kak Dah Family Cafe / Restaurant – Kampung Dangar
Kak Dah Nasi Kukus – Simpang Tiga
Kak Eda Kitchen – Kampung Dodol
Kak Gee Kitchen – Esplanade
Kak Ila Nasi Sup – Jalan Maktab Perguruan Pengkalan Chepa
Kak Izah Nasi Ayam – Kompleks Medan Suri
Kak Jah – Pusat Bandar Kuah
Kak Jah Nasi Kukus – Hicom-Glenmarie Industrial Park
Kak Kiah Coffee House – Putatan
Kak Laa Nasi Dagang Banggol – Kg Kijang Daerah Badang
Kak Leeza Ayam Penyet Stadium – Medan Selera Stadium
Kak Lisa Yong Tau Fu Mangkuk Besar – Taman Selayang Utama
Kak Long Corner – Jalan Gelang Patah
Kak Long Kitchen – Kompleks PKNS
Kak Long Nasi Sup Daging Bakar – Lorong Taman Sayang
Kak Ma Nasi Kerabu – Pandan Mewah
Kak Mah Nasi Campur – Taman Setapak
Kak Manja Cafe – Cyber Square 2
Kak Mas Bihun Sup – Taman Perpaduan
Kak Moy Foodie – Pekan Koidupan
Kak Na Nasi Sup Paloh – Kg Paloh
Kak Nah Nasi Kukus – Kg Petaling Bahagia
Kak Ngah Western Food – Kampung Kurnia
Kak Nina Station – Seksyen 1
Kak Nina Station – Seksyen 3
Kak Nor – Seven On Seven Cafe
Kak Pah Ayam Penyet Baiduri – Taman Desa Baiduri
Kak Pah Kitchen – Bandar Mahkota Cheras
Kak Rugak Cafe – Sabindo Square
Kak Sal Dapur Panas – Kompleks Chowrasta
Kak Seri Honeyoven – Taman Rinting
Kak Shaz's Kitchen – Taman Pulai Indah
Kak Su Dua Menu – Taman Sri Kota Pasir Pekan
Kak Su Nasi Kerabu Narak – Jalan Cheras
Kak Wan's Kitchen – Glomac Centro
Kak Wany Muslim Food – Happy Rich Kopitiam
Kak Yah Mee Sup – Kompleks Hentian Bas MBKT
Kak Yah Seafood & Ikan Bakar – Bangunan Trimula
Kak Yan Corner – Jalan Pekeliling Lama
Kak Yan Corner – Jalan Nenas
Kak Yang Resepi Kampung – Jalan Buli Sim Sim
Kak Yong – Anjung Selera
Kak Za Laksa & Laksam – Jalan Tok Kenali
Kak Zan Laksa & Laksam Beris – Sungai Buloh
Kak Zee Nasi Sup – Kg Demit
Kakak Bun – Beverly Plaza
Kakatoo – IOI City Mall
Kakatoo – Bdr Sri D'sara
Kakatoo – NU Sentral
Kakatoo – Starling Mall
KakDa 56 Corner – Perhentian Bas MPKT
Kaki Lang Homes Kitchen – Taman Melawati [Non-Halal]
Kaki Lima – NU Sentral
KAKIYUKI – Taman Paramount
KAKIYUKI – Pavilion
KAKIYUKI – Cheras Business Centre
KAKIYUKI – The Gardens
KAKIYUKI – Taman Mount Austin
Kakzu Nasi Lemak Kukus Ayam Berempah – Setapak Jaya
Kalbo's Burger – Taman Cheras Idaman
Kaliph Kebab & Grill – Taman Bukit Beruang Utama
Kallie's Kitchen @ Restoran One2Eight – Jalan PJS 11
Kaloori – Taman Desa Tebrau
Kam Lun Tai – Sunway Giza [Non-Halal]
Kam Yat Restaurant – Pusat Perdagangan Seri Kembangan [Non-Halal]
Kamal Burger – Medan Selera Stadium Sultan Mohd Ke IV
Kambing Bakaq Tuk Hang – Jalan Paya Terubong
Kambing Bakar & Nasi Lemak Aroma – Kg Simpang Pulai
Kambing Bakar Azzain – Pangsapuri Angsana
Kambing Bakar @ Bigg Grill – Winnie Plaza
Kambing Bakar Station – Bandar Saujana Putra
Kambing Bakar Terima Kasih Ibu – Jalan Kapar
Kambing King Cafe – New Family Food Court
Kambing Station Cafe – Medan Selera Rumbia
Kambing Terbang Pasir Gudang – Taman Pasir Putih
Kamelia Grill Portugese & Western – Taman Prima Tropika
Kamilah's Lifestyle Cafe – Putra Heights
Kampar Chee Cheong Fun – Taman Shamelin Perkasa [Non-Halal]
Kampar Homemake Zhu Chang Fen – Restoran 89 Kopitiam [Non-Halal]
Kampar Hotplate & Ikan Bakar Gombak – Taman Desa Temenggong
Kampar Noodle/Huadiao Mee Shua – Taman Meranti Jaya
Kampar Rojak – Taman Nusa Bestari
Kampong Dry Mee – Eng Loh Kopitiam
Kampua @ Dapur Neng Lenny Bandung – Kunyap-Kunyap Cafe
Kampua Bibi – Kafe Najwa
Kampua Bibi – Qims Cafe
Kampua Mee – Ah Liong Cafe [Non-Halal]
Kampua Mee – Hock Chuan Food Court [Non-Halal]
Kampua Mee Kolo Mee – C3 Food Cafe [Non-Halal]
Kampua Mee – River Park Food Court [Non-Halal]
Kampua Mee – Tah San Yuan Cafe [Non-Halal]
Kampua Mee – Thian You Food Court Corner [Non-Halal]
Kampua Sibu – Everfull Kopitiam [Non-Halal]
Kampua/Kolo Mee – Big Thumbs Cafe [Non-Halal]
Kampung Bi 古香 – Permatang Tinggi [Non-Halal]
Kampung Boy – KK Plaza
Kampung Briyani – Plaza Mont Kiara
Kampung Briyani – SS 15
Kampung Carabao – Jalan Dato Abdullah Tahir
Kampung Contemporary Dining – Seksyen 17 [Non-Halal]
Kampung Fried Chicken – Taman Putra Kajang
Kampung Kafe – Kampung Abdullah
Kampung Lapan Branch Chicken Wing – Jalan Tengkera
Kampung Otak-Otak – Tambun Star Food Court
Kampung Snowice Food & Dessert House – Bandar Baru Uda
Kampung Style Cafe – Pusat Bandar Putra Permai
Kampungku – Plaza Metro Kajang
Kam's Nasi Lemak – G-Tower
Kam's Roast – Pavilion [Non-Halal]
Kanagawa Japanese Restaurant [Non-Halal]
Kana's Poke Nachos – Sunway Future X Farm
Kancil Kiosk – D' Tank Paradise
Kancil Raja Patin – Bukit Desa Semantan
Kanda Kulai – Sulaman Sentral
Kandi 5 Cafe – Metro Town
K&Q Restaurant – Plaza 333 [Non-Halal]
K&Q Western Food – Bandar Baru Seri Alam
Kang Won Herbal Tea – OUG [Non-Halal]
Kanji Fusion Dining & Sake Bar – Jalan Magazine
Kannaas Bamboo Masala Briyani – Taman Aman Muhibbah
Kannaas Bamboo Masalla Briyani – Taman Kinrara
Kannaas Bamboo Masalla Briyani – China Street
Kannaas Bamboo Masalla Briyani – Taman Bayam Indah Paya Besar
Kannaa's Banana Leaf – Medan Kidd
Kanteen – Mont Kiara
Kanteen
Kantin Kome – Medan Acheh
Kantin Mek Rah – Jalan Tong Shin
#kantin3 – Pasar Awam Sementara Seberang Jaya
Kaozy – Jalan Dr Lim Chwee Leong [Non-Halal]
Kapalaya Tomyam – Kampung Pandan
Kapas Tree Cafe – Riverside Complex
Kapitan – Persiaran Bayan Indah
Kapitan – Jalan Macalister
Kapitan – Chulia St
Kapitan – Seri Tanjung Pinang
Kapitan Chicken With Fried Bread – Coco Island FoodCourt [Non-Halal]
Kapsule Koffee – Bandar Baru Bangi
Kapten Corner – USJ 11
Kapten Malaya Cafe – Suria Jelutong
Kaq Cake & Kueh – Zetapark
KAR-FE – LIKAS
Kar Pin Eating Shop – Jalan Bendahara [Non-Halal]
Karaikudi Chettinadu Restaurant – Jalan Bunus
Karamell Almondo – Imago Shopping Mall
Karamell Almondo – Metrotown
Karamell Almondo – Lintas Plaza
Karamell Almondo – 1Borneo
Karamell Almondo – Suria Sabah
Karamell Almondo – Penampang
Karamunsing Basement Food Court Mix & Match – [Non-Halal]
Karamunsing Road Side Food Court Mix & Match
Karamusing Basement Food Court Mix & Match
Karen & Soon Cafe – Jalan Harmonium [Non-Halal]
Karen Veggies Kitchen – Kompleks Desiran Tanjung
Kari Kambing Abahang Thai Food – Rampai Idaman
Karipap Sambal Legend – Taman Intan Setia
Karisk Kitchen – Taman Seremban Jaya
Kart Cafe – Jalan Setia Raja
Karumba KL
Kashif Pakistani Food Restaurant – Taman Connaught
Kashima's Taiwan Food Monopoly – Jalan Ujong Pasir
Kashmir Restaurant & Bistro – Penang Road
Kashmiri Briyani – Angsana Mall
Kasih Fatin – Plaza R&R Batu 5
Kasih Sayang 313 @ Two Brother – Taman Universiti
Kassim Baba Roti Tempayan Cheese – BIM Point Commercial Centre
Kassim Nasi Kandar – Jalan Magazine
Kasturi 89 – Kampung Melayu Batu 13
Kasturi Cafe – Hang Tuah Mall
Katoy Burgers – Brickfields
Katsu Matsuri – Taman Kheng Tian
Katsunoya – Taman Ungku Tun Aminah
Kavitha Banana Leaf – Taman Selera
Kaw Kaw Burger – Taman Tasik Prima
Kaw Kaw Burger – Billboard
Kaw Kaw Burger – Seksyen 2
Kaw Kaw Burger – Ampang Waterfront 3
Kawan Kawan Restaurant – Gamuda Walk
Kawan2 – Paradigm Mall
Kawan2 – Zenith Corporate Park
Kawan2 – KL Eco City
Kawang Bistro – Rose Garden Plaza Kinarut
Kawang Bistro Crazy Hot Burgers – Rose Garden Plaza Kinarut
Kawang Bistro Ikan Bakar – Rose Garden Plaza Kinarut
Kawd – Ampang Waterfront 3
KAWD JB – Taman Sri Pulai Perdana
Kayan Cafe – Bangi Square
Kayla's Kitchen – Jalan Tiara South
Kayra – Bangsar Village
Kay's Kitchen – Go Kitchens
Kay's Recipe – Medan Selera Primawalk
Kayu Manis Cafe – Putatan
Kaze Japanese Restaurant – Promenade [Non-Halal]
Kaze Japanese Restaurant – Jalan Icon City [Non-Halal]
Kb Crispy Burger – Gasing Indah
KB Thai Restoran – Jalan Yaakobiah
KB Village – Jalan Sultan Ibrahim
KBOX – Ipoh Parade
KC Food Fried Oyster – Jalan Kampung Baru
KD Food Truck – Taman Putra Perdana
KD Hong Kong – Setia City Mall [Non-Halal]
KD Hong Kong – Pavilion [Non-Halal]
KD Hong Kong – Paradigm Mall [Non-Halal]
KDCA G Zeek Bar 香记肉骨茶 Hiong Kee Bah Kut Teh – Hongkod Koisan KDCA [Non-Halal]
KDK Kuala Pari – Kampung Kuala Pari Hulu
Ke Ren Lai – Mall Midvalley Southkey [Non-Halal]
Kean Seng Kopitiam – Sunway Geo Avenue [Non-Halal]
Keat Xiang Vegetarian – Jalan Temenggung [Non-Halal]
kEATchen – Taman Perindustrian Jaya
Kebab Bowl – Setia Alam
Kebayan Corner – Kg Pulau Meranti
Kedah Nyonya Nasi Lemak – NZX[Non-Halal]
Kedai Asam Pedas – Jalan Ismail
Kedai Atas – Medan Selera SS15
Kedai Ayam Settan – Taman Johor Jaya
Kedai Bahulu Pasir Hor – Kampung Pasir Hor
Kedai Bakeri Dan Kafe Girlie's Cafe – Jalan Market
Kedai Bakso Putri – Bandar Sri Damansara
Kedai Buah-Buahan Loong Seng 隆城水果店 – Taman Song Choon [Non-Halal]
Kedai Burger Mamu Penang Mai – Jalan Selangor
Kedai Cake Ming Jelly Cake – Kompleks Sri Wonder
Kedai Kak Ni Belakang Bank Islam – Gerai Bazar Pasir Mas
Kedai Kek & Roti – Kg Pasir Pekan
Kedai Kek & Roti ChiaLee – Simpang Kuala
Kedai Kek Shah Alam – Ole-Ole Shopping Centre
Kedai Keropok Lekor Kajang – Cheras Batu 13
Kedai Keropok Lekor Terengganu – Kg Permatang Badak
Kedai Kopi – Jalan Masjid Langgar
Kedai Kopi 38 – Grand Plaza [Non-Halal]
Kedai Kopi Abe Mey – Jalan Lundang
Kedai Kopi Abe Mey Cawangan 2 – Rumah Kedai Lembah Sireh
Kedai Kopi Abe Yie – Jalan Mahmood Stadium Sultan Mohd IV
Kedai Kopi Ah Huat – Plaza 333 [Non-Halal]
Kedai Kopi Cai Heng – Jalan Bukit Cina [Non-Halal]
Kedai Kopi Chang Jiang – Jalan Pasir Puteh
Kedai Kopi Chau Yang – Kampung Koh [Non-Halal]
Kedai Kopi Chor Kee – Taman Ipoh Selatan [Non-Halal]
Kedai Kopi Dan Restoran Mewa – Taman Jumbo [Non-Halal]
Kedai Kopi Emas Helang – Taman Foh Sang [Non-Halal]
Kedai Kopi Fan Hing – Taman Foh Sang [Non-Halal]
Kedai Kopi Feng Yi – Taman Permata [Non-Halal]
Kedai Kopi Guang Kee – Kedai Bundusan Plaza [Non-Halal]
Kedai Kopi Heng Hoe – Jalan Lim Hoe Lek [Non-Halal]
Kedai Kopi Hilltop – Taman Uni-Park
Kedai Kopi Hin Loi – Tanjung Aru [Non-Halal]
Kedai Kopi Hing Leong – Tanjung Aru
Kedai Kopi Hj Zul – Taman Melawati
Kedai Kopi How Kee – Jalan Bundusan
Kedai Kopi Hung Seng – Kepayan Perdana [Non-Halal]
Kedai Kopi Jafre Mee Tauhu II – Bandar Hotspring
Kedai Kopi Jeng Guang – Dah Yeh Villa [Non-Halal]
Kedai Kopi Ji Tiau Loh – Off Jalan Putra [Non-Halal]
Kedai Kopi Jin Siang – Damai Point [Non-Halal]
Kedai Kopi Kassim – Pitt Street
Kedai Kopi Keawta – Pusat Mas Nagoya
Kedai Kopi Kenon – Golden Plaza [Non-Halal]
Kedai Kopi Keow Keow – Kepong
Kedai Kopi Kim Hock Lin – Hui Sing Garden [Non-Halal]
Kedai Kopi Kon Dung Chai – Taman Bunga Raja Shopping Complex [Non-Halal]
Kedai Kopi Kristal Seafood – Jalan Burmah [Non-Halal]
Kedai Kopi K.S. 坤城 – Taman Cantek
Kedai Kopi Laksa Pan Mee Dan Makanan – Inanam [Non-Halal]
Kedai Kopi Lido Baru – Chanyai Villa [Non-Halal]
Kedai Kopi Lim Kee [Non-Halal]
Kedai Kopi Luyang Baru – Foh Sang [Non-Halal]
Kedai Kopi Mahlee – Tmn Seremban Jaya [Non-Halal]
Kedai Kopi Malaya – Damansara Uptown
Kedai Kopi Malaya – Mid Valley
Kedai Kopi Malaya – KL Gateway Mall
Kedai Kopi Man Kai Hiong – Jalan Tuaran [Non-Halal]
Kedai Kopi Man Li Hiong Bak Kut Teh Mix & Match – [Non-Halal]
Kedai Kopi Mat Jasak – Jalan Sultan Iskandar
Kedai Kopi Mee Bon – Jalan Ipoh [Non-Halal]
Kedai Kopi Melanian 2 – Inanam Business Centre [Non-Halal]
Kedai Kopi Melanian 3 – Jalan Pantai [Non-Halal]
Kedai Kopi Meng (PKP) – Taman Cantek
Kedai Kopi Nam Yen – Inanam
Kedai Kopi Ngabang – Kampung Wakaf Tengah
Kedai Kopi Nussuk – Jalan Besar Paka
Kedai Kopi Pan Mee Lido – Taman Che Mai [Non-Halal]
Kedai Kopi Peringat – Taman Puncak Jalil
Kedai Kopi Pin Wei – Utama Place [Non-Halal]
Kedai Kopi Pin Wei – Menggatal Square [Non-Halal]
Kedai Kopi Pinn Xiang – Pinn Xiang [Non-Halal]
Kedai Kopi Pinn Xiang – Pinn Xiang Mix & Match – [Non-Halal]
Kedai Kopi Pow Kee – Kepayan Point
Kedai Kopi Puchong – Puchong [Non-Halal]
Kedai Kopi Quan Sengroumian – Suria Inanam
Kedai Kopi Rasa Sedap – Donggongon Square
顺顺茶餐室 Kedai Kopi Shun Shun – Bundusan Square
Kedai Kopi Sin Hin – Kedai Kopi Sin Hin 3 Food Court [Non-Halal]
Kedai Kopi Sin Hin Mix & Match – [Non-Halal]
Kedai Kopi Sin Hwa – Jalan Burma [Non-Halal]
Kedai Kopi Sin Yong – Bandar Baru Permas Jaya [Non-Halal]
Kedai Kopi Soon Hin – Tanjung Aru [Non-Halal]
Kedai Kopi Sun Foo San – Taman Sri Intan Menglembu [Non-Halal]
Kedai Kopi Sunflower – Plaza Menggatal [Non-Halal]
Kedai Kopi Tao Siang – Taman Sri Kepayan
Kedai Kopi Tian Xiang – Beverly Hills
Kedai Kopi Towering Baru – Penampang
Kedai Kopi Voon Kee – Kemayan Square [Non-Halal]
Kedai Kopi Wan Seng – Penampang [Non-Halal]
Kedai Kopi Weng Hing – Batu 14 [Non-Halal]
Kedai Kopi Yeop – Taman Meru
Kedai Kopi Yi Fong – Taman Hoover [Non-Halal]
Kedai Kopi Yuan Siang – 88 Market Place [Non-Halal]
Kedai Ma Ribu Ribu – Lorong Tanjung Api 1
Kedai Makan Abang Tukang Masak – Damansara Damai
Kedai Makan Alia – Taman Kuhara Jaya
Kedai Makan & Minum Mei Ngar 美雅小食店 – Bandar Kim Fung [Non-Halal]
Kedai Makan Andalas – Taman Sri Andalas
Kedai Makan Arz – Jalan Kuala Krai
Kedai Makan Balqhiss – Pusat Jaja Sg Isap Jaya
Kedai Makan Balqhiss – Lorong Sungai Isap Damai 2
Kedai Makan Bara Char Kuey Teow – Medan Usahawan
Kedai Makan Bismi Maju – Medan Selera Lembah Impiana
Kedai Makan Brother Kiey's Burger – Seksyen 27
Kedai Makan Cendol Pulut Tapai Wakaf Mek Zainab – Taman Bahagia
Kedai Makan Che Mad – Bandar Seri Putra Bangi
Kedai Makan Cik Ah – Batu 7
Kedai Makan Cik Yam – Kampung Tersusun Tasek
Kedai Makan Cita Rasa Mamazah – Medan Selera Teluk Puteri
Kedai Makan D Merah – Jalan Bukit Marak
Kedai Makan Dapo Restu – Jalan Syed Hussin
Kedai Makan Fei & Ali – Seksyen 9
Kedai Makan Haji Salleh – Medan Selera USJ 1
Kedai Makan Harum Manis – Setia Alam
Kedai Makan Hijau Nasi Daun Pisang – Sebelah Kilang Bata
Kedai Makan Hong Seng – Taman Rambai Jaya [Non-Halal]
Kedai Makan Indomal – Chabang Empat
Kedai Makan Islamic Restoran – Centre Point Sabah
Kedai Makan JR Maju – Pusat Niaga Gangsa
Kedai Makan Kak Aya – Kampung Paya Keranji
Kedai Makan Kak Esah – Taman Emas
Kedai Makan Kak Pah – Mini Stadium Pasir Mas
Kedai Makan Kak Ros – Depan Petronas Padang Tembak
Kedai Makan Kak Su (La) – Paya Bemban Jalan Hospital
Kedai Makan Kak Yah Ikan Bekok – Medan Usahawan
Kedai Makan Kiasatina – Kg Jaya Pasir Hor
Kedai Makan Laila – Kg. Air
Kedai Makan Masakan India Utara – Menara Kembar Bank Rakyat
Kedai Makan Mohd Suhaimi – Kg. Kedondong Kedai Lalat
Kedai Makan Nasi Air Klasik Kak Cik – Jalan Padang Garong
Kedai Makan Nasi Ayam Cincang SAS – Jln Kuala Krai
Kedai Makan Nasi Ayam Kak Zan – Jalan Masjid
Kedai Makan Nasi Bunian – Plaza Paragon Point
Kedai Makan Nasi Sup Tulang – Kampung Dusun Raja
Kedai Makan Norihan – Depan HUSM
Kedai Makan Noriza – Kampung Masjid Kota
Kedai Makan Norlela – Jalan Kapar Batu 1
Kedai Makan Pak Agus Indonesian Food – Jalan Matang
Kedai Makan Pak Uda – Bachang
Kedai Makan Pok Nik – Taman Ramal Indah
Kedai Makan Poksu – Desa Tun Razak
Kedai Makan Rasa Sayang – Jalan Merbau
Kedai Makan Santubong & Kek Lapis Sarawak – Kepayan Perdana Commercial Centre
Kedai Makan Sarip Dol – Taman Perindustrian Plentong
Kedai Makan Sempoi – Taman Muzaffar Syah
Kedai Makan Shahidin – Depan Mahkamah Sungai Siput
Kedai Makan Smile – Jalan Masjid Lama
Kedai Makan #Supportorangkita – Jalan Sri Cheras
Kedai Makan Syahirah – Apartment Mesra Ria
Kedai Makan Syn Nam Choon 2 – Bandar Pasaraya
Kedai Makan Syukur – Tmn Indah Jaya
Kedai Makan Tai Thong – Taman Ungku Tun Aminah [Non-Halal]
Kedai Makan Tech Kee – Jalan Undan [Non-Halal]
Kedai Makan Telok – Jalan Abdul Kadir Adabi
Kedai Makan TheCabin & TheFamily – Taman Melawati
Kedai Makan Wan Telur Berlada – Kg Kuantan
Kedai Makanan 5566 – Taman Setia Indah
Kedai Makanan Ah Loys – OUG [Non-Halal]
Kedai Makanan & Minuman Coffee-Tiam – Union Commercial Centre [Non-Halal]
Kedai Makanan & Minuman Kak Noor – Menara Mutiara Bangsar
Kedai Makanan & Minuman Poh Kee – Taman Desa Tebrau [Non-Halal]
Kedai Makanan Ayam Nanas Mong – Malim Jaya
Kedai Makanan Boon Kee – Taman Pulai Utama [Non-Halal]
Kedai Makanan Cathay – Taman Sutera [Non-Halal]
Kedai Makanan Dan Minuman – Taman Indah [Non-Halal]
Kedai Makanan Dan Minuman – Jalan Perkasa 3
Kedai Makanan dan Minuman 100 – Pusat Perniagaan Seri Juru [Non-Halal]
Kedai Makanan dan Minuman Aunt June (Uncle Bob) – Jalan Perhentian Bas Pulau Sebang
Kedai Makanan Dan Minuman Br – Jalan Permas
Kedai Makanan Dan Minuman Choy Kee – Taman Century [Non-Halal]
Kedai Makanan dan Minuman CLIN – Taman Jalong Utara [Non-Halal]
Kedai Makanan Dan Minuman HNS – Melaka Sentral
Kedai Makanan Dan Minuman Intan Nasi Ayam – Jalan Kurniawan
Kedai Makanan Dan Minuman Kam Seng – Taman IKS Rembia [Non-Halal]
Kedai Makanan Dan Minuman Mohamad Ali Bin Abdul Kafoor – Jalan Semabok
Kedai Makanan Dan Minuman Ngoh Juan Yong – Jalan Besar
Kedai Makanan Dan Minuman Quan Xin – Taman Setia Indah [Non-Halal]
Kedai Makanan Dan Minuman Sin Yong Seng – Jalan Laksamana Cheng Ho [Non-Halal]
Kedai Makanan dan Minuman Sungai Siput – Taman Jalong Baru [Non-Halal]
Kedai Makanan Dan Minuman Wei Kee – Taman Indah
Kedai Makanan Dan Minuman Weyes – Jalan Abdul Razak [Non-Halal]
Kedai Makanan Dan Minuman Woon Peng – Oakland Commerce Square [Non-Halal]
Kedai Makanan Dan Minuman Yeap – Jalan Laksamana Cheng Ho [Non-Halal]
Kedai Makanan dan Minuman Yung Lee – Taman Lintang
Kedai Makanan Dan Minuman Zainah Bte Ahmad – Jalan Tun Ali
Kedai Makanan Dan Minuman Zin Pai Lok – Jalan Besar Lukut [Non-Halal]
Kedai Makanan Hoei Kee – Jalan Pantai Jerjak [Non-Halal]
Kedai Makanan Hou Mei Yuen – Taman Bukit Jambul [Non-Halal]
Kedai Makanan Ikan GP Tan – Taman Sentosa [Non-Halal]
Kedai Makanan Kak Lya – Plaza Pandan Malim Business Park
Kedai Makanan Kim Loy – Pusat Perdagangan Seri Kembangan [Non-Halal]
Kedai Makanan Kwee Kee 贵记酿豆腐 – Lorong 2
Kedai Makanan Laut Sungai Yu Baru – Bandar Bukit Tinggi [Non-Halal]
Kedai Makanan Lian Cheong
Kedai Makanan Long Fong – Taman Sri Skudai [Non-Halal]
Kedai Makanan Mee Hoon Kueh – Taman Molek [Non-Halal]
Kedai Makanan MWX 美味⾹ ⾯ 家 – Taman Perling
Kedai Makan Pak Agus Indonesian Food – Icom Square
Kedai Makanan Paszz – Taman Nusa Perintis
Kedai Makanan SB Corner – Jalan Padang Walter Grenier
Kedai Makanan Sedap Goh – Tmn Selayang Jaya [Non-Halal]
Kedai Makanan Singgah Sebentar – Jalan Makloom
Kedai Makanan Sithique – Jalan Tunku Abdul Rahman
Citarasa Sri Ketapang
Kedai Makanan Wong – Atas Bazaar MPS
Kedai Makanan Yong He – Century Garden
Kedai Mama Tomyam – Kampung Jawa
Kedai M&M Tiong Hwa – Lorong Impan Ria 4
Kedai Mee Celup Kelate – Kg Kenangan
Kedai Mek Mee Celup – Jalan Telipot
Kedai Meogda – Denai Alam
Kedai Merah Mee Celup – Jln Pasir Mas Salor
Kedai Minum Seri Hajah Durna – Jalan Buli Sim-Sim
Kedai Minuman & Makanan Yui Seen – Taman Bayu Putri [Non-Halal]
Kedai Minuman No 28 – Casual Market
Kedai Nasi Ayam Wangi – Kajang
Kedai Nasi Berlauk Pasir Gudang – Taman Bukit Dahlia
Kedai Nasi Kerabu Kampung Sireh – Jalan Kampung Sireh
Kedai Ninie's Western – Taman Bercham Idaman
Kedai Ppati – Jalan Sultanah Zainab
Kedai Roti Goreng & Cakoi Sedap – Taman Sri Sentosa
Kedai Sebelah – Bandar Sri Permaisuri
Kedai Sue & Family – Siang Food Court
Kedai Sup Herba Tradisi – Sungai Pasir
KedePink (Laksa Sarawak) – MakanSari Food Street
Kedey Kamek – EkoCheras Mall
Kedey Kamek – SS2
Kedey Kamek – TTDI
Kedey Kamek – Taman Bangi Avenue
Kedey Kamek – Satok
Kedey Kamek – Metrocity
Kedey Minum Al-Hafiz – Petra Jaya
Kee Dinner Set – Taman Sentosa [Non-Halal]
Kee Hiong Klang Bak Kut Teh – SS2 [Non-Halal]
Kee Hiong Klang Bak Kut Teh – SS14 [Non-Halal]
Kee Mei Siew Pow – Kompleks Of ICC Pudu [Non-Halal]
Kee Mei Siew Pow – Taman Indah [Non-Halal]
Kee Mei Siew Pow – TJ Mart [Non-Halal]
Keeper's Ground (Whole Cakes) – The Spring
Keev – Taman Kempas
Keikeu – 1Utama
Keikeu – IOI City Mall
Kejap Food @ Caltex Setiawangsa – Taman Setiawangsa
Kejora – Jalan Pekan Melayu
Kejora Ayam Goreng Berempah – Jalan Lagenda
Kejora Ayam Goreng Berempah – Medan Selera Tun Ali
Kelantan Kitchen – Kg Kerinchi
Kelapa Oasis
Kelapa Oasis SJ – Subang Jaya
Kelas 1 Kopi – Bandar Baru Tumpat
Kelate Rich Corner – Bangi Square Foodcourt
Kelly's Cuisine – Taman Seri Kepayan
Kelupis Y'tie – Kg Putatan
Kemuning Spice Masala Restaurant – Jalan Bukit Kemuning
Ken-Chan Chicken – Pavilion
Ken-Chan Chicken – KLCC
Ken-Chan Chicken – NU Sentral
Ken Chan Curry – KLCC
Ken-Chan Curry – NU Sentral
Ken Muii 面粉糕 – Restoran Sheng Heng [Non-Halal]
Kenalanmu Steamboat Sdn Bhd – Bandar Indah Jaya
Kenanga Food Court Mix & Match
Kenangan +62 – Zest Point
Keng Lok – Pekan Koidupan [Non-Halal]
Kenkou Sushi – New Li Garden
Kennie Cafe – Jalan Batu Kawa [Non-Halal]
Kennoya Japanese Food – Taman Universiti
Kenny Fried – Bandar Park
Kenny Fried (Penang Koay Teow) – OUG Lucky Restaurant
Kenny Fried (Penang Koay Teow) – Restoran Soon Foong
Kenny Kitchen – Taman Mount Austin [Non-Halal]
Kenny Rogers Roasters – AEON Shah Alam
Kenny Rogers Roasters – Hartamas
Kenny Rogers Roasters – AEON Ipoh Station 18
Kenny Rogers Roasters – Shaftsbury Square
Kenny Rogers Roasters – IOI City Mall
Kenny Rogers Roasters – TBS
Kenny Rogers Roasters – IOI Puchong
Kenny Rogers Roasters – Tropicana Garden Mall
Kenny Rogers Roasters – AEON Seri Manjung
KRR Express – Subang Parade Food Hall
Kenny Rogers Roasters – AEON Cheras Selatan
Kenny Rogers Roasters – Lotus's Setia Alam
KRR Express – Plaza Shah Alam
Kenny Rogers Roasters – NU Sentral
Kenny Rogers Roasters – 1Utama
Kenny Rogers Roasters – Mahkota Parade
Kenny Rogers Roasters – AEON Bandaraya Melaka
Kenny Rogers Roasters – Bintulu Times Square
Kenny Rogers Roasters – The Mines
Kenny Rogers Roasters – 1st Avenue
Kenny Rogers Roasters – Juru DT
Kenny Rogers Roasters – AEON Bukit Mertajam
Kenny Rogers Roasters – Sunway Carnival
Kenny Rogers Roasters – Berjaya Waterfront JB
Kenny Rogers Roasters – AEON Bukit Tinggi
Kenny Rogers Roasters – Metropoint Kajang
Kenny Rogers Roasters – AEON Anggun Rawang
Kenny Rogers Roasters – AEON Kinta City
Kenny Rogers Roasters – Bangi Gateway
Kenny Rogers Roasters – Jaya Shopping Centre
KRR Express – Caltex Puchong Permai
Kenny Rogers Roasters – AEON Taman Equine
KRR Express – Caltex Putrajaya
Kenny Rogers Roasters – AEON AU2
Kenny Rogers Roasters – Berjaya Times Square
Kenny Rogers Roasters – Setapak Central
Kenny Rogers Roasters – KLCC
Kenny Rogers Roasters – AEON Ipoh Klebang
Kenny Rogers Roasters – Sunway Putra
Kenny Rogers Roasters – Sunway Velocity Mall
Kenny Rogers Roasters – Paradigm Mall
Kenny Rogers Roasters – The Curve
Kenny Rogers Roasters – Permaisuri Imperial City
Kenny Rogers Roasters – Bintang Miri
Kenny Rogers Roasters – Lagenda Village Mall
Kenny Rogers Roasters – Berjaya Megamall Kuantan
Kenny Rogers Roasters – Jetty Point Complex
Kenny Rogers Roasters – East Coast Mall
Kenny Rogers Roasters – Suria Sabah Mall
Kenny Rogers Roasters – Imago Shopping Mall
Kenny Rogers Roasters – Aman Central
Kenny Rogers Roasters – Harbour Mall
Kenny Rogers Roasters – Angsana Mall
Kenny Rogers Roasters – Mid Valley Southkey
Kenny Rogers Roasters – Seremban Prima
Kenny Rogers Roasters – AEON Seremban 2
Kenny Rogers Roasters – JPO
Kenny Rogers Roasters – Sunway Big Box
Kenny Rogers Roasters – KIPMall Kota Warisan
Kenny Rogers Roasters – KTCC Mall
Kenny Rogers Roasters – Kluang Mall
Kenny Rogers Roasters – AEON Kuching
Kenny Rogers Roasters – The Spring
Kenny Rogers Roasters – Vivacity Megamall
Kenny Rogers Roasters – AEON Kota Bharu
Kenny Rogers Roasters – Lotus's Kota Bharu
Kenny Rogers Roasters – PD Waterfront
Kenny Rogers Roasters – Lotus's Tebrau City
Kenny's Food Cart – Aman Suria [Non-Halal]
Ken's Gallery – Xin Daren Coffee Shop [Non-Halal]
Ken's Kitchen – Saradise
Kentang Spring – Taman Limbongan Permai
Kentang Spring – IPPM Durian Daun
Kento Eatery – Taman Western
Kenyalang Kafe – Jalan Penjara Lara
Keong Kee 强记 – Taman Puteri Wangsa [Non-Halal]
Kepak Ayam – Restoran 777
Kepayan Dumpling – Taman Evercklied [Non-Halal]
Kepayan Dumpling – Kepayan Ridge [Non-Halal]
Kepayan Klasik Tomyam – Kepayan
Kepong Chinese Cuisine – Kepong Baru [Non-Halal]
Kepong Food Court I Mix & Match
Kepong Food Court II Mix & Match
Kepong Food Court III Mix & Match [Non-Halal]
Kepong Food Court IV Mix & Match [Non-Halal]
Kepong Mountain Noodle – Jalan Lang Kuning
Kepong Street Bak Kut Teh – Plaza Pandan Balai Panjang [Non-Halal]
Ker Yuan Kitchen [Non-Halal]
Kerabu Maggi Viral Meksue – Taman Seri Impian
Keria Gula Melaka – Lengkok Perpaduan 1
Keria House – Taman Suria
Kerisek – Pacific Place Commercial Centre
Keropok Lekor Cap Ikang – Putatan
Keropok Lekor Cheese Kak Nor – Taman Bukit Indah
Keropok Lekor Kubo – Jalan Mersing
Keropok Mokku – Taman Desa Pusu Tiga
Kerry's Florist Cafe – Bangsar South City
Kerutuk – Kg Ujong Pulau Palekbang
Kesum
Kesum Art Restaurant – Georgetown
Ketam Manis Seafood Restaurant – Cottage Walk
Ketapang Nasi Campur – Bayan Baru Food Court
Ketchup Bangi Resources – IPG Kampus Pendidikan Islam
Keto Kebabs – Taman Sri Hartamas
Kettlebell – Mont Kiara
Ketupat Station Muar – Bazar Muar
Key Noodle House – Kepong [Non-Halal]
Kg 8 Corner – Kampung Lapan [Non-Halal]
Kg.Baru Share Out & Shout Out – Kampung Baru
KG Gegar
KG Korean Charcoal BBQ – Da Men Mall
KGB Kamal Burger – Kepayan
Khai & Rose Hot's – Medan Selera Rumbia
Khai Shin Hokkien Mee – Jalan Jelutong [Non-Halal]
Khair Cendol Pulut Tapai Dan Laksa – Pangsapuri Medan Indah
Khairil Kitchen – Selayang Baru
Khalifah Bistro – USJ8
Khalifah Bistro – Kota Damansara
Khan's Indian Cuisine – The Sphere
Khan's Islamic Restaurant – Blok 9 MCLD
Khan's Taj Restaurant – Jln Pasar Lutong
Khaomok Kai Taman Uda – Taman Uda Murni
Khee Hiang – Jalan Padungan
Khengs Kopitiam BBT – Bukit Tinggi
Kheong Ji Chicken Rice – Taman Kempas Utama [Non-Halal]
KhidThung Mookata Authentic Thai Bbq – SS15
Khiong BBQ (Main) – Khiong BBQ [Non-Halal]
Khiong Kitchen – Khiong BBQ [Non-Halal]
Khon Kee Bak Kut Teh – Kedai Kopi Ye Ye Fatt [Non-Halal]
Khong Foodie – Lebuh Kimberly [Non-Halal]
Khoon Pastry House – Jalan Argyll
Khuan Western Food – Restoran Sin Yong Kee [Non-Halal]
Khulafa Signature Restaurant – Seksyen 14
Khun Thai Tea – KSL Mall
Khunya Thai Kitchen – Taman Nusa Bestari 2 [Non-Halal]
Khunyai Thai BBQ Mookata – Taman Desa Petaling [Non-Halal]
Khurasan Crispy Unclefatt – Taman Bukit Teratai
Khurasan Crispy Unclefatt – Seksyen 4 Bangi
Khye Cheang Seafood – Jalan Ibrahim Sultan [Non-Halal]
Kia Chicken Rice – Season Square
Kiah On Board – Burooj Cafe
Kiah On Board – Damansara Perdana
Kichi Cha – Seapark
Kidayah Cafe – Lebuh Dickens Penang Road
Kidsrock Kitchen – Kampung Pak Damat
KIf Qasya Ais Blend – Sungai Ara
Kijana Fried Chicken – Kepayan
Kiki Jawa Mee – Taman Industri Cengal
Kiko's Bakery – Jalan Ipoh Batu 6
Kiku Japanese Restaurant – Taman Bunga Raya
Kilang Baulu & Kueh – Taman Berjaya Permai
Killa Dilla – Tropicana Gardens Mall
Killa Dilla – Danau Kota
Killer Wings – Casa Tropicana
Killer Wings – Cottage Walk
Killer Wings – Centro Mall
Killer Wings – Bayu Sentul Condominium
Killer Wings – Bangsar Park
Kim Bau Zai – Taman Batu Gajah Perdana
Kim Da Braised Pork Rice – Style Food Court [Non-Halal]
Kim Fah (Beaufort) Restaurant – WK Commercial Centre [Non-Halal]
Kim Fah Beaufort Restaurant 3 – Jalan Damai [Non-Halal]
Kim Gary – Hartamas Shopping Centre [Non-Halal]
Kim Gary – The Mall, Mid Valley Southkey [Non-Halal]
Kim Gary Restaurant – Sunway Pyramid [Non-Halal]
Kim Gary Restaurant – Gurney Plaza [Non-Halal]
Kim Gary Restaurant – AEON Taman Maluri [Non-Halal]
Kim Gary Restaurant – The Curve [Non-Halal]
Kim Haus – Lebuh Campbell
Kim Jang Restaurant – Fraser Business Park
Kim Kee Noodle – Taman Selayang [Non-Halal]
Kim Kee Noodles – Bandar Sri Damansara [Non-Halal]
Kim Lian Kee – Jalan Petaling [Non-Halal]
Kim Lian Kee – Petaling Street [Non-Halal]
Kim M Long Restaurant – Taman Impian Senai [Non-Halal]
Kim Pai Restaurant – Taman Industri Jaya [Non-Halal]
Kim Papa Curry Seafood – Juru Auto City
Kim Poh Roasted Chicken & Duck Rice – Farlim Square [Non-Halal]
Kim Poh Roasted Chicken & Duck Rice – Lintang Batu Maung [Non-Halal]
Kim Poh Roasted Chicken & Duck Rice – Golden Triangle [Non-Halal]
Kim Thai 京泰 – Taman Kledang Permai [Non-Halal]
Kimbab Restaurant – 1Borneo
Kimchi & BBQ – Taman Pelangi [Non-Halal]
Kimchi Queen – IOI Puchong
Kimdo BBQ – JB City Square
Kimiya – Avantas Residence
Kimkim – Bandar Cyber
Kimme Korean Fried Chicken – Wisma Rampai
Kimo Ge – Taman Overseas Union
Kimpo Famous Roasted – Coco Island Foodcourt [Non-Halal]
Kim's BBQ – Straits Garden Commercial [Non-Halal]
Kim's BBQ – All Seasons Place [Non-Halal]
Kim's Donut – KL East Mall
Kim's Donuts – Setapak Central
Kim's Donuts – Kelana Jaya
Kim's Kitchen – Pelabuhan Klang
Kim's Kopitiam – Medan Perdagangan Kepayang [Non-Halal]
Kimui's Sarawak Kitchen – Vivi Food Court [Non-Halal]
Kimukatsu – KL East Mall
Kimukatsu – IOI City Mall
Kimukatsu – Zenith Corporate Park
Kimukatsu – Da Men Mall
Kin-D Authentic Thai Food – Golden Phoenix Food Court [Non-Halal]
Kin Fatt Kitchen – Jalan Datuk Mohd Musa
Kin Kee Kopitiam – Taman Gembira [Non-Halal]
Kin-Khaw Taste of Thai – Siang Siang Food Court [Non-Halal]
Kin Kin Kitchen – Chow Kit [Non-Halal]
Kin Kin Kitchen – Publika [Non-Halal]
Kin San Kichi Japanese Restaurant [Non-Halal]
Kind Kones – Plaza Damansara
Kind Kones – Mid Valley
Kind Kones – Mont Kiara
Kind Kones – Bangsar Village I
Kindori Moments – Taman Gembira
King Ais Kepal – Bandar Puteri Jaya
King Boyak Char Kue Tiaw – Salleh Corner Cafe
King Crab – Kampung Muhibbah
King Fried Chicken – Seaview Kopitiam
King Kong Bubble Tea – C180
King Kong Bubble Tea – SS2
King Kong Bubble Tea – SS15
King Kong Ramen – Jalan Raja Uda [Non-Halal]
King Kong Ramen – Persiaran Bayan Indah [Non-Halal]
King Kong Ramen – CMart Kompleks Industri Cenderawasih [Non-Halal]
King Kong Ramen – Tamen Pekan Baru [Non-Halal]
King Kong Ramen – Taman Gunung Indah [Non-Halal]
King Kong Steamboat & BBQ Buffet – Bandar Baru Permas Jaya [Non-Halal]
King Kunyit (Kampung Hulu) – Jalan Kampung Hulu
King Laksa Sarawak – ICOM Square
King Laksa Sarawak – Samarahan
King Nasi Lemak Lobster – Taman Adda Heights
King of Fried Chicken – Tmn Tunku
King of Thai & Malay Food – Aladdins Bistro
King Satay Kajang – Jalan Tun Jugah
King Takoyaki – Taman Dato' Senu
King Tomyam – Taman Tenaga
King Tomyam 2 – Jalan Pudu Ulu
King's Ais Kepal – Medan Selera USJ 7
King's Bakery (Whole Cakes) – Lotus's Ipoh
King's Bakery (Whole Cakes) – Lotus's Kampar
King's Bakery (Whole Cakes) -Kamunting Taiping
King's Bakery (Whole Cakes) – C Mart Alor Setar
King's Chic – Taman Sierra Perdana
Kings Fried Chicken Malaysia – Taman Puchong Intan
King's Friend Chicken Malaysia (Seri Kembangan) – Taman Suria Tropika
Kin's Cafe – Taman Tunku [Non-Halal]
Kio-Ka Noodles – Lebuh Bishop [Non-Halal]
Kio Yong Tau Fu Restaurant – Bandar Baru Sri Klebang [Non-Halal]
Kiong Kee Kopitiam – Taman Mutiara Mas [Non-Halal]
Kiosk Chombie – Pusat Komersial Bg Perdana
Kiosk Gerbabboom – M3 Shopping Mall
Kiosk Nyamann – Taman Cempaka
Kiraku Japanese Restaurant – Shaftsbury Square
Kirin Sushi – Jalan Magazine [Non-Halal]
Kirindo – Harbour Mall Sandakan
Kirtiga Meals Restaurant – Pusat Perniagaan Sentral Jaya
Kit Siang Seafood – Old City Food Court [Non-Halal]
Kitano @ Jazz
Kitaro Japanese Ramen – Suria Sabah [Non-Halal]
Kitchen Chen – Taman Ipoh Jaya [Non-Halal]
Kitchen Co Mix & Match
Kitchen Goheung – Solaris Mont Kiara [Non-Halal]
Kitchen Kopetro – Petronas Alam Sutera
Kitchen Kopetro – Megan Avenue 2
Kitchen Kopetro – Petronas Twin Tower
Kitchen Kopetro – Taman Bukit Serdang
Kitchen Mummy – Hoe Kee Kopitiam
Kitchen Project – Kampung Sungai Tapah
Kitchen Village – Cyberjaya
Kitchenis – Persiaran Mayang Sari 1
Kitea – Central i-City
Kitea – Ipoh Parade
Kitea – East Coast Mall
Kitea – KB Mall
Kitty Cafe – Kampung Beris Jambu
Kittyz Kitchen – Bandar Puchong Jaya
Kiyahe – Jalan Bendahara
Kizzu Cafe – Desa Alam
KJ – Arked Teratai
KK Chick – T1 Bundusan
KK Concept Store – Setapak Central
KK Food Street
KK Nasi Lemak – MBPJ Food Court [Non-Halal]
Kk Restaurant – Kg Air [Non-Halal]
KK See You Seafood Restaurant – Kepayan Point
KK Soup – S11 Kopitiam [Non-Halal]
KKB Food Catering – Taman Desawan
K.K.S. Indian Hot & Spicy Corner – Bandar Seri Alam
KL Bistro – Jalan Pekeliling
KL Char Kuay Teaw – Pusat Penjaja Danau Kota
KL Curry Mee – Taman Bukit Indah [Non-Halal]
KL Hokkien Mee – Taman Desa Cemerlang [Non-Halal]
KL Lou Sifu Pork Noodles – Icon City [Non-Halal]
KL Rojak Buah – Suria Sabah
KL Style Noodle – Medan Selera WR
Klang Bak Kut Teh – Bai-Le Cafe [Non-Halal]
Klang Boston Steam Lala – Kepong Food Court
Klang Claypot Bak Kut Teh (Kho Poh Hin) Sdn Bhd – Parkcity Commerce Square [Non-Halal]
Klang Claypot Bak Kut Teh (Kho Poh Hin) Sdn Bhd – Jalan Tanjung Kidurong [Non-Halal]
Klang Claypot Bak Kut Teh (Kho Poh Hin) Sdn Bhd – Bintulu Sentral [Non-Halal]
Klang Claypot Bak Kut Teh (Kho Poh Hin) Sdn Bhd – Junction 5 [Non-Halal]
Klang Claypot Bak kut Teh (Kho Poh Hin) Sdn Bhd – Survey Lot 8517 [Non-Halal]
Klang Claypot Bak Kut Teh (Kho Poh Hin) Sdn Bhd – Jalan Permaisuri [Non-Halal]
Klasik Burger – Kampung Likas
Klasik Utara Cafe – Kampong Landak
KLB Crab Supply 蟹蟹您 – Kawasan Perniagaan Arowana
Klebang Claypot Rice – Taman Klebang Restu
Klebang Original Coconut Shake – Solok Kampung Bahagia
Klekor – Lotus's Bagan Ajam
Klekor – Lotus's Bukit Mertajam
Klekor – Amanjaya Mall
Klekor – Lotus's Sungai Petani Selatan
Klekor – Lotus's Sungai Petani Utara
KLG Fried Chicken – Sri Nibong
Klias Kitchen – Putatan Platinium Plaza
Kloud Kitchen Mix & Match
Kluang 916 Coffee Shop
Kluang Corner Restaurant – Kampung Masjid Lama
Kluang Kopi – Taman Molek
Kluang Station – 1Utama
Kluang Station – BU11
Kluang Station – Waterfront Desa Park City
Kluang Station – Lotus's Kepong
Kluang Station – Quill City Mall
Kluang Station – Lotus's Ampang
Kluang Station – 3 Damansara
Kluang Station – IPC Shopping Centre
Knor Catering – Taman Equine
Knowhere – Bangsar
Ko Cha Bi Sizzling Noodles – Restoran Xing Seong Yuan
Ko Hijrah Maya Catering and Services – Seksyen 32
Ko Hyang – Setia City Mall
Ko Ko Kai Chicken Rice – Kota Damansara
Ko Ko Kai Chicken Rice – Mutiara Damansara
Ko Vegetarian – Chatter Box Dessert & Cafe [Non-Halal]
Ko Zha Bee Popiah And Singapore Popiah – Fisherman Wharf Food Court
Ko Zhui Tea House – Taman Pusat Perniagaan Bakri [Non-Halal]
Koay Teow King [Non-Halal]
Koay Teow Soup Dry Koay Teow – Lorong Delima 6 [Non-Halal]
Koay Teow Thng – Ju Ke Cafe [Non-Halal]
Koay Teow Th'ng – Sri Aman Food Court
Koay Teow Th'ng – Seri Tanjung Pinang [Non-Halal]
Kobe – Sitiawan Sentral
Kobe – Jalan Raja Omar
Kobo Bakery – Ara Damansara
Kochabi Handmade Dim Sum – Kuta Bali Cafe [Non-Halal]
Kochabi Tong Sui – Jalan Kuantan
Kofee Brew – Bandar Sri Permaisuri
Kofee Brew – Jalan Masjid Kota
Koffee by Don Cortez – Bukit Jalil
Koffeholics – Dialog Tower
Koffiehouz – Juru Auto City [Non-Halal]
Kofi by 77 – Vista Kiara Shoppe
Kofuku Art & Craft Cafe – Taman Merdeka Permai [Non-Halal]
Kohtenhep Cafe by Javu – Jalan Macalister [Non-Halal]
Kohzhabee Restaurant – Taman Perling [Non-Halal]
Kohzhabee Restaurant – Taman Nusa Bayu [Non-Halal]
Koi Kitchen – Jalan Galing
Kojo Cafe – Town Square Bintulu
Kok Hing Chicken Rice And Noodle – Plaza Mont' Kiara
Kok Thai Tasek – Kawasan Perindustrian Tasek [Non-Halal]
Kokee Won Ton Mee – Jalan Yau Tet Shin [Non-Halal]
Koki – Pavilion Foodcourt [Non-Halal]
Koko – Jalan Air Putih
Koko – Bandar Kota Bharu
Kokoberry – Bintang Megamall
Kokoberry – Friendship Garden
Kokobin Waffles – Kuchai Entrepreneurs Park
Kokodak – AEON BiG BP
Kokomo Kitchen – Lintas Square [Non-Halal]
Kokoro Cafe – Bandar Puchong Jaya [Non-Halal]
Kokuho Cafe by Koho Hotel – Jalan Kamunting
Kolo Mee – The Best Corner [Non-Halal]
Kolo Mee – NJOY Cafe [Non-Halal]
Kolo Mee – 777 Kopitiam [Non-Halal]
Kolo Mee – Ah Liong Cafe [Non-Halal]
Kolo Mee – Cafe 101 [Non-Halal]
Kolo Mee – CCS One Cafe [Non-Halal]
Kolo Mee – Dai Pai Dong [Non-Halal]
Kolo Mee – Fu Xiang Lai Cafe [Non-Halal]
Kolo Mee – Hua San Court [Non-Halal]
Kolo Mee – Jalan Canna [Non-Halal]
Kolo Mee – Jia Jia Court [Non-Halal]
Kolo Mee – Kafe Baobao Ais Kacang 2 [Non-Halal]
Kolo Mee / Kari Mee / Mala Mee / Bayam Mee – Jalan Sultanah Zainab [Non-Halal]
Kolo Mee – Plaza Merdeka
Kolo Mee – Premier Food Republic [Non-Halal]
Kolo Mee – Premier Food Republic Samarahan [Non-Halal]
Kolo Mee – Siang Siang Corner [Non-Halal]
Kolo Mee – Siang Siang Food & Drinks Centre [Non-Halal]
Kolo Mee Special – Love Chopstick Garden [Non-Halal]
Kolo Mee – Tah San Yuan Cafe [Non-Halal]
Kolo Mee – Thom Sheng Corner [Non-Halal]
Kolo Mee – Ting Cafe [Non-Halal]
Kolo Mee – Xin Xiang Xiang Cafe [Non-Halal]
Kolo Mee – Xing Xing Wang Cafe [Non-Halal]
Kolo Mee – Yes Cafe [Non-Halal]
Kolok Mee – Salleh Corner Cafe
Kolombong 88 Kopitiam – Inanam Kapital [Non-Halal]
Kolombong Dumplings – Kolombong [Non-Halal]
Kolombong Fish Head Curry And Cafe – Plaza Kingfisher
Kolombong Fish Head Curry Cafe – Kolombong
Kolomee 福州路干捞面 阿KY – WJ Cafe [Non-Halal]
Komathy Vilas – Klang
Komo Cafe – TTDI
Komo+ Café – Residensi Harmoni 2
KomPassion Thai Fusion [Non-Halal]
Komtar Nasi Kandar – Jalan Ria
Komugi (Whole Cakes) – Main Place Mall
Komugi (Whole Cakes) – Subang Parade
Komugi (Whole Cakes) – AEON Shah Alam
Komugi (Whole Cakes) – Paradigm Mall
Konda Kondi Cafe and Bistro – Jalan Sultan Idris Shah
Konee Cafe – Taman Sultan Badlishah
Kong Fo Cha – Jalan Ixora
Kong Fo Cha – SS2
Kong Fo Cha – Bandar Menjalara
Kong Fo Cha – Jalan Austin Height
Kong Fo Cha – Jalan Sutera Tanjung
Kong Fo Cha – Saradise
Kong Zai Pork Noodle – Jalan BS [Non-Halal]
Kong's Kitchen Rice & Toast – Beware Cafe [Non-Halal]
Kontiki Restaurant – The Federal Bukit Bintang
Kontiki Restaurant – The Federal Kuala Lumpur
Koo Kee Charcoal Fried Hokkien Mee – Desa Aman Puri [Non-Halal]
Koo Zai Pan Mee – Bandar Baru Penampang [Non-Halal]
Koomi – Mid Valley
Koomi – SS15
Koomi – Sunway Pyramid
Koon Kee – Petaling Street [Non-Halal]
Koon Kee – Taman Taynton View [Non-Halal]
Koong Woh Tong – Tropicana Gardens Mall
Koong Woh Tong – BMC Mall
Koong Woh Tong – The Summit
Koong Woh Tong – The Mines
Koong Woh Tong – AEON Rawang
Koong Woh Tong – Pudu Plaza
Koong Woh Tong – Sunway Velocity
Koong Woh Tong – AEON Bukit Tinggi
Koong Woh Tong – AEON BiG Kepong
Koong Woh Tong – 3 Damansara
Koong Woh Tong – Pearl Point
Koong Woh Tong – Sunway Pyramid
Koong Woh Tong – Jonker Street
Koong Woh Tong – Dataran Pahlawan
Koong Woh Tong – AEON Bukit Mertajam
Koong Woh Tong – Gurney Paragon
Koong Woh Tong – Queensbay Mall
Koong Woh Tong – Sunway Carnival
Koong Woh Tong – Setapak Central
Koong Woh Tong – Setia City Mall
Koong Woh Tong – EkoCheras Mall
Koong Woh Tong – Lotus's Kepong
Koong Woh Tong – Berjaya Times Square
Koong Woh Tong – AEON Cheras Selatan
Koong Woh Tong – IOI City Mall
Koong Woh Tong – AEON Ipoh Station 18
Koong Woh Tong – Paradigm Mall
Koong Woh Tong – Ipoh Parade
Koong Woh Tong – Mid Valley
Koong Woh Tong – 1Utama
Koong Woh Tong – IOI Puchong
Koong Woh Tong – Klang Parade
Koong Woh Tong – Central i-City
Koong Woh Tong – AEON Maluri
Koong Woh Tong – AEON Nilai
Koong Woh Tong – Paradigm Mall JB
Koong Woh Tong – Palm Mall
Koong Woh Tong – AEON Seremban 2
Koong Woh Tong – AEON Kulai
Koong Woh Tong – Toppen Shopping Centre
Kopee Paste – Pusat Perniagaan Manjung Point 3
Kopenhagen Coffee – KL Eco City
Kopenhagen Coffee – Mont Kiara
Kopi & Co – Chulia Street
Kopi & Teh – Jalan Besar
Kopi & Wrap – Tamarind Square
Kopi Cafe
Kopi Express – Mont Kiara
Kopi Garden – Taman Usahawan Kepong
Kopi Home – Bandar Puteri
Kopi Mesin – Jalan Kebun Sultan
Kopi O Corner – Jalan Satok
Kopi Oh Kaw – Aurora Place Bukit Jalil
Kopi Sentral Kafe (Main Cafe) – Kopi Sentral Cafe
Kopi Sham Corner – Karamunsing Road Side Foodcourt
Kopi SRS – Menara U
Kopi Street – Taman Usahawan Kepong
Kopi Street – Wisma Manjalara
Kopi Street – Kota Damansara
Kopi Tiam Tanka – Kota Laksamana
Kopi Toast – Taman Seputeh
Kopiah Merah – Kg Paya Bemban
Kopiboy – Jalan Damai [Non-Halal]
Kopicat Cafe (Main) – Kopicat Cafe [Non-Halal]
KopiClub – Sungei Wang Plaza
KopiClub – Plaza Lowyat
KopiClub – Ampang Point
Kopiesatu – Presint 2
Kopiesatu – Menara Ansar
Kopikawkaw – Residensi UTMKL
KOPILEHDHIA – Jalan Pengkalan Kundang
Kopilicious – Taman Molek
Kopishake Cafe – Tacoln Commercial
Kopitan Classic – Maluri
Kopitan Classic – AEON Mall Taiping
Kopitan Classic – MKH Boulevard
Kopitan Classic – Amanjaya Mall
Kopitan Classic Penang Delight – Jalan Perda Jaya
Kopitan Restaurant – Georgetown
Kopitiam – Giant Seksyen 13
Kopitiam 2 Cinta Mix & Match
Kopitiam 729 – Taman Merdeka Permai [Non-Halal]
Kopitiam & Co – Kitchen Co
Kopitiam Batu Tiga Jalan Ipoh (Cafe) – Kopitiam Batu Tiga Jalan Ipoh [Non-Halal]
Kopitiam BT 3 Jalan Ipoh Mix & Match – [Non-Halal]
Kopitiam By Razma – Seksyen 7
Kopitiam Heung Kee – Pacific Place Commercial Centre [Non-Halal]
Kopitiam Ming Feng – Bandar Cyber
Kopitiam Nelayan II – Nountun Industrial Estate
Kopitiam Number 5 – Damansara Utama
Kopitiam Pak Antar – Donggongon Square
Kopitiam (S2) – Food Junction IOI City Mall I
Kopitiam Sum Ho Lok – Persiaran Greenhill [Non-Halal]
Kopitiam Tiga Tiga Tiga – Taman Malim Jaya
Kopitiam Xiang Wei – Taman Tawas Idaman [Non-Halal]
Kopitime Cafe – Atria Shopping
Kopitime Cafe – Subang Parade
Kopitime Cafe – 3 Damansara
Koppi Cup – Bandar Baru Teluk Intan
Kor-BQ – Kepayan Ridge [Non-Halal]
Kor3an Fried Chicken – Pusat Perniagaan Maju Utama
Kor.B Korean Restaurant – Shaftsbury Square
Korea BBQ – FGJB [Non-Halal]
Korean BBQ – Uncle Wang Foodcourt [Non-Halal]
Korean BBQ House – PV128 [Non-Halal]
Korean BBQ House – The Strand [Non-Halal]
Korean BBQ House – Atria Shopping Gallery [Non-Halal]
Korean BBQ House – VIVA Home [Non-Halal]
Korean BBQ House – BMC Mall [Non-Halal]
Korean BBQ Restaurant – Jalan Pendekar [Non-Halal]
Korean B.B.Q Ssambap – Icon City [Non-Halal]
Korean Cafe Shwimpyo – Ivory Plaza
Korean Cheezy CornDog – Salut KKIP
Korean Cheezy CornDog – Country Height
Korean Food Cafe B.Station – Ampang
Korean Fried Chicken – FGJB
Korean Mozarella Cheese Roll – MPTI
Korean Mozzarella Cheese Sausage Stick – Bandar Cyber [Non-Halal]
Korean Street Cheese – Taman Indah Permai
Koreana Cafe – TT3 Commercial Centre [Non-Halal]
Koreana Restaurant – Jln Tun Jugah [Non-Halal]
Koridor Pancakes – USJ 11
Kosa Coffee – Saradise
Koslo Mookata Thai BBQ Restaurant – Jalan Senawi [Non-Halal]
Kosma Business Hotel – Kuantan Perdana
Kotak Ayumm – Damansara Uptown
Kota Kinabalu City Café 2 – Centre Point Sabah Basement Foodcourt
Kota Kinabalu City Café – Centre Point Sabah Basement Foodcourt
Kota Zheng Zong Bak Kut Teh – Taman Bukit Indah [Non-Halal]
Kotak
Kotakkalam – Bangunan LKNP
Koufu Food Court – Jalan Penrissen
Koufu Food Court Mix & Match – [Non-Halal]
Kowloon Bubble Waffle – Taman Utama
Kowloon Bubble Waffle – Up Grade Restaurant
Kowloon Bubble Waffle – FGJB
Kowloon Char Chan Teng – Taman Usahawan Kepong [Non-Halal]
Koyaku – Tropicana
Koyaku – Faber Towers
Koyell Kitchen – Taman Bercham Raya
Kozi F&B – Kozi Square
KPop Chicken X – Bangsar
Kpop Chicken X – Kayu Ara
Kpop Chicken X – Kota Damansara
Kposana Thai Food – Taman Nusa Sentral [Non-Halal]
Kraffmen – Jalan Zainal Abidin [Non-Halal]
Kraft Dining – Mont Kiara
Krate – Taman Bukit Beruang
Krave Koffee – Taman Desa
Krave Koffee – Lot 10
Krave Koffee – Tropicana Gardens Mall
Kravee Banana Leaf – Seksyen 8 PJ
KrayZ Kitchen – Dataran Dwitasik
Kreate Takeout – Prince Court
Kreatif Nyonya – Taman Jubilee
Krishna Curry House – Seri Setia Sunway
Krishna's Fish Head Restaurant – Plaza Utama
Krispy Kreme – Skypark Terminal
Krispy Kreme – Sunway Putra
Krispy Kreme – Mid Valley
Krispy Kreme – Subang Parade
Krispy Kreme – Sungai Buloh OBR
Krispy Kreme – 1Utama
Krispy Kreme – The Sphere
Krispy Kreme – Alamanda Putrajaya
Krispy Kreme – Kiara 163
Krispy Kreme – Pavilion
Krispy Kreme – Avenue K
Krispy Kreme – Desa Parkcity
Krispy Kreme – Paradigm Mall
Krispy Kreme – Sunway Pyramid
Krispy Kreme – Sunway Velocity
Krispy Kreme – Berjaya Times Square
Krispy Kreme – Wangsa Maju
Krispy Kreme – KL East Mall
Krispy Kreme – SOGO
Krispy Kreme – DPulze
Krung Thep – Lorong Selamat [Non-Halal]
KS BriyaniFood – Taman Puncak Jalil
KS Corner – Jalan Pisang
K.S Katering – Jalan Tunku Abdul Rahman
K.S. Tea Rice 河婆蕾茶饭 – Taman Cantek
KSMR Restaurant – Bandar Sultan Sulaiman
Ku Cha Bi Satay Celup – Taman Malim Jaya [Non-Halal]
Ku Siang – Six Star Food Court Sdn Bhd
Kuala Perlis Foodhut – Vista Impiana
Kuala Perlis Foodhut – Impian Sri Setia
Kuali Bocor – Cafe Muhammad Sayang
Kuan Kei Roasted Rice and Eateries – Kampung Baru Seri Kembangan [Non-Halal]
Kuan Nan – Lebuh Kurau [Non-Halal]
Kuan Onn Dim Sum – Lintas Plaza [Non-Halal]
Kuay Tiao Kia – Restoran Perling 81 [Non-Halal]
Kuay Tiaw Zabb – Taman Kota Laksamana Jaya [Non-Halal]
Kubis & Kale – Bandar Sunway
Kubu Cafe – Kampung Tiga [Non-Halal]
Kucei's Kitchen – Kota Sentosa
Kuchabe – Taman Kota Laksamana
Kuchabe Kopi Malaya – Taman Danau Desa
Kuching Grilled Burger #Batu 3 – Jalan Tun Ahmad Zaidi Adruce
Kuching Grilled Burger #Samarahan – Lorong Desa Ilmu 22
Kuching Hometown Food – Taman Setia Indah [Non-Halal]
Kuching Kolo Mee – My Kopitiam
Kuching Laksa – Kedai Kopi Man Li Hiong Bak Kut Teh [Non-Halal]
Kuching Park Hotel – Jalan Padungan
Kuching Style – Permas Jaya [Non-Halal]
Kuching Style Restaurant – Taman Nusa Bestari [Non-Halal]
Kueh Cafe – Seksyen 13
Kueh Chap – Xin Daren Coffee Shop [Non-Halal]
Kueh Chap – CCS One Cafe [Non-Halal]
Kueh Chap / Pork Leg Rice – YS Food Court [Non-Halal]
Kueh Chap – CS Food Court [Non-Halal]
Kueh Chap – Pearls Park Food Centre [Non-Halal]
Kueh Chap Syiook- Jln Dtk Stephen Kalong Ningkan [Non-Halal]
Kueh Chap/Pork Leg Rice – So Good Cafe [Non-Halal]
Kueh Fah Cafe – Jalan Satok
Kueh Mika – Lorong Satok 5
Kueh Mika – Jalan Satok
Kueh Tiaw Soup – Peaches Garden Food Court Centre [Non-Halal]
Kuetiow Kerang Tanjung Penang – Port Laypark D'Polo
Kuew Teow TSR – Taman Sri Raya
Kuey Teon Siham – Taman Kota Laksamana
Kuey Teow Zi – Jalan Tengkera [Non-Halal]
Kuey Tiao Kia – Restoran Wan Xi Heng [Non-Halal]
Kuffee Cafe – TMG Mall
Kuih & Masakan Melayu #BYNA – Taman Indah Sakti
Kuih Culture – Georgetown
Kuih Inn – Bandar Bukit Raja
Kuih Kamek By Novi – Jln Lapangan Terbang
Kuih Keria Bang Botek – Batu Berendam
Kuih Muih – Karamunsing Road Side Foodcourt
Kuih Teow Soup – Taman Selamat
Kuih Teow Sup (5) – Jalan Lencong Barat
Kuihinn – SS15
Kuihinn – Kota Kemuning
Kukus Corner – Medan Selera Sagor
Kulai Home Chicken Chop – Taman Gunung Pulai 2
Kuma Rainbow Cheese Toast – Lorong Panglima
Kumaran Catering Service – Medan Selera Taman Angkasa Nuri
Kumar's – Mont Kiara
Kung Fu Crab 功夫螃蟹 – Batu Unjur [Non-Halal]
Kung Fu Dim Sum Sdn Bhd – Golden Arch Mall [Non-Halal]
Kung Fu Restaurant – Shaftsbury Cyberjaya [Non-Halal]
Kung Jung Korean Grill Dining – PNB Perdana
Kungfu Crab – SS2 [Non-Halal]
Kungfu Crab@Kaki Station – Pusat Dagangan NZX [Non-Halal]
Kungfu Hokkien Mee – Pusat Dagangan Seremban 2 [Non-Halal]
Kungfu Master – FGJB
Kungfu Ramen – Taman Connaught
Kungfu Ramen – Summit USJ
Kungfu Ramen – Sunway Mentari
Kungfu Soup – Taman Danau Kota [Non-Halal]
Kungfu Sushi – Sunway Pyramid
Kungfu Sushi – AEON Taman Maluri
Kungfu Sushi – GM Klang
Kungfu Sushi – Mydin MITC
Kungfu Sushi – Taman Teknologi Cheng
Kungfu Sushi – Ampang Point
Kungfu Sushi – East Coast Mall
Kungfu Sushi – AEON Nilai
Kunpin – Tri Pinnacle
Kunyap-Kunyap Cafe Mix & Match
Kunyit Spicy – Aeon Big Tun Hussin Onn
Kuo Man Restaurant – Taman Fu Yen [Non-Halal]
Kupi Kupi Caffe & Restro – Beverly Hills
kupitella – Lok Kawi Height
Kuqin – Kampung Sg Putat
Kurau Jawa Mee – Medan Angsana
Kuri Sashimi Bowl – Dinasti Sentral
Kuri Sashimi Bowls – Vista Magna
Kuriya Japanese Restaurant – BSC
Kuro Japanese Steamboat – Plaza Arkadia [Non-Halal]
Kuro Japanese Steamboat – Damansara Utama [Non-Halal]
Kuro Teppanyaki – Bandar Sunway
Kuro Teppanyaki – Central i-City
Kushiya Japanese Bistro – Sunway Geo Avenue
Kusino Food – Seri Insan Borneo School
Kuu by Tea Garden – AEON Tebrau City
Kuu by Tea Garden – Taman Eko Botani
Kuu by Tea Garden – Paradigm Mall JB
Kuu Kopitiam – Taman JP Perdana
Kuu Kopitiam – Taman Perindustrian i-Park SAC
Kuu Kopitiam – Puteri Cove Quayside
KuuVanCha – Taman Kota Masai
KuuVanCha – Taman Perling
KuuVanCha – Taman Molek
Kuwin Burger Street – Milan Square [Non-Halal]
Kuya Bbq & Grill – Millenium Centre [Non-Halal]
Kwang Noodles & Rice Station – Meika Cafe [Non-Halal]
Kway Teow Kai – Kopitiam Tong Nam [Non-Halal]
Kway Teow Kia – Johor Jaya [Non-Halal]
Kwe Mwe Cafe – D'Rimba Damansara Club House
Kweh – Sunway Pyramid
Kwong Cheung Loong Kopitiam Bar – Jalan Doraisamy
Kwong Hup Cafe – Jalan Tun Ahmad Zaidi Adruce [Non-Halal]
Kwong Sup Ikan – Taman Villa Tropicana
KyaKushi Japanese Restaurant – The Palette
Kyrul's Stall – Seksyen 32
Kyung Joo Korean Restaurant – Bangsar South City [Non-Halal]
L & S Food Corner – 3 Avenue
L Eden Cafe – Taman Sri Rampai [Non-Halal]
La Aroma – Lotus's Kulim
La Belle Saison – Bukit Rimau
La Boca Latino – Pavilion
La Bodega – Empire Shopping Gallery
La Bodega – Pavilion
LA Breakfast Club – Mont' Kiara Banyan
LA Breakfast Club – Tropicana Avenue
LA Breakfast Club – Jalan Thambipillay
La Casa – Verve Shops
La Cucur – Suria KLCC
La Familia Fries – Medan Selera Jaya
La Familia Takoyaki – Durian Tunggal
La Feys Brew & Yum – One Soho
La Galaxie Cafe – Pulau Melaka
La Gourmet Dessert – Taman Pelangi
La Mimos Western Food – Taman Alma [Non-Halal]
La Oombah2 Restaurant – Cyber 6
La Pasta – Taman Bukit Indah
La Pasta – Taman Desa Skudai
La Risata – Desa Pahlawan
La Risata – Medan Damansara
La Salle Hall
La' Shawarma – Bandar Sungai Long
La' Shawarma – Restoran Erfan Food Corner
La' Shawarma – PJ33 Cybercentre 3
La Vista Bistro – Pujut-Lutong Road [Non-Halal]
Laboy – Laboy Burger – Jalan Sri Dagang
Labu Cafe – Jalan Transfer
Labu Labi Café – Jalan Garuda
Lady Levis Corner – Bandar Sibuga Jaya
Lady Levis Corner Bandar Sandakan – Pusat Bandar
Lagenda Corner – Kajang Food Station
Lahari Kitchen – Millennium Square
Lahory Nasi Beryani – Seksyen 3
Lai Ching Yuen – Grand Millennium [Non-Halal]
Lai Choon Bah Kut Teh – Jalan Meru [Non-Halal]
Lai Hoe Tom Yum – Kompleks Sri Selera Bayan Baru [Non-Halal]
Lai Kah Voon – Pasar Besar Ipoh
Lai Kee Chop Rice-Medan Selera UTC [Non-Halal]
Lai Lai Nasi Ayam – Bandar Seri Alam [Non-Halal]
Lai Lai Roast – Bandar Puchong Jaya [Non-Halal]
Lai Lok Cafe – Carpenter Street [Non-Halal]
Lai Shun 168 Kopitiam – Taman Nusa Puncak [Non-Halal]
Laila Food Corner – Taman Pauh Jaya
Lailersss Burger – Taman Kota Cheras
Laksa – Sungai Ara
Laksa – Jln Batu Kawa
Laksa & Bubur – CCS One Cafe
Laksa & Bubur by Sia Sineq – Kafe Najwa
Laksa & Bubur by Sia Sineq – Qims Cafe
Laksa & Cendol Ko'diang – Seksyen 3
Laksa Boy – Grand Industrial Centre
Laksa Buyung Emas – Taman Okid
Laksa Byte – Kayu Ara
Laksa Byte – Bangsar
Laksa Byte – Kota Damansara
Laksa – Cafe 101
Laksa Dan Nasi Lemak – Belly Good Cafe
Laksa – Dragon Village Cafe
Laksa – Food Destination Cafe [Non-Halal]
Laksa – Fu Yu Kopi Shop
Laksa Goreng – New Lungmeng Enterprise [Non Halal]
Laksa – Hua San Court
Laksa – Jia Jia Court [Non-Halal]
Laksa Kedah – Pusat Penjaja Danau Kota
Laksa Kee Poh 驰名基婆叻沙 – Kampung Gunung Rapat
Laksa – Kopi Sentral Cafe
Laksa – Lot 89 Cafe [Non-Halal]
Laksa Malam – Kampung Baru Larut Tin
Laksa Power – Medan Klebang Restu
Laksa – Restoran Wan Xi Heng
Laksa Sarang Burung – B5 Street Market Food Court
Laksa Sarang Cempaka – Taman Cempaka
Laksa Sarawak – Pusat Penjaja Taman Wirawati
Laksa Sarawak – Kota Padawan
Laksa Sarawak – Kunyap-kunyap Cafe
Laksa Sarawak & Mee Belacan – Kopitiam 2 Cinta
Laksa Sarawak – Qaseh Sumayyah Cafe
Laksa Sarawak – Z.Z Corner
Laksa Terbang & Snow Iced Cik Siti – BeeliFood
Laksa – The Best Corner
Laksa – Thian You Food Court Corner
Laksa Town – Bandar Baru Menglembu [Non-Halal]
Laksa, Yong Dau Hu – Jalan Sakeh
Laksalicious – Jalan Hutton
Laksamama Anson Town – Medan Selera Taman Indah Jaya
Laksatime – Medan Selera Presint 9
LaLa Chong Seafood Restaurant – Bandar Sunway
Lala Chong Seafood Village – Ara Damansara
Lala John Restaurant – Bandar Hilir [Non-Halal]
Lala Soup – Kawasan Perindustrian SME
Lalapan Ayam – Megabite Cafe Sentosa Parade
Lalapan Ayam Penyet – Lee Tak Street
Lalapan Seroja – LB Cafe
Lale Cafe & Restaurant – Sime UEP Industrial Park
Lale Cafe & Restaurant – USJ Heights
Lalista Fast Food – Menara City One
Lalqila Restaurant & Catering – Jalan Toh Puan Chah
Lam Mee – Restoran Mage
Lam Mee/Hokkien Mee – Kedai Kopi & Makanan Lao Yu
Lam Sek Weng Fusion Roasted Delight – Taman Ungku Tun Aminah [Non-Halal]
Laman Melati Ikan Bakar – Jalan Melati
Laman Putra Cafe – Jalan Putra
Lamarsa Coffee Machine Company – 10 Boulevard
Sri Ledang Briyani Gam
Lamb Story – Taman Bangsar
Lamburngenie – Bandar Setia Alam
Lameizi Steamboat – Bandar Baru Medan Ipoh [Non-Halal]
Lameizi Steamboat – Krystal Point [Non-Halal]
Lamian Mi Tarik – Lorong Menggris
Lammeeya – Jaya One [Non-Halal]
Lam's Kitchen – Genesis Parade [Non-Halal]
Lan Burger – Jalan Bukit Ubi
Lan Canai – Bandar Baru Samariang
Lan Je Tilapia – Mid Valley
Lan Jie Pork Offal Soup – Jalan Parameswara [Non-Halal]
Lan Kwai Fong – Jalan Bakri [Non-Halal]
Lan Kwai Fong Hong Kong Stlye Chop Rice – Taman Seri Bercham [Non-Halal]
Lan Nasi Beryani & Nasi Kandar Kedah – Permatang Pauh
Lan Soya – Lorong Anggerik
Lancang Kuning Melaka – Batu Berendam
Lang Authentic Homemade – Hillview Estate
Langgaq Bihun Sup Utara – Taman Seri Keramat
Langgaq Bihun Sup Utara – Taman Melawati
Langgaq Bihun Sup Utara – Go Kitchens
Lanina Foods – Tmn Beringin
Lankan Cafe
Lann Corner – Pasir Pekan
Lanun Cafe – Utama Place
Lao Ban Niang Xiao Chao – Seven Stars Food Garden Sdn Bhd [Non-Halal]
Lao Chai Sesame Chicken – Taman Merdeka Jaya [Non-Halal]
Lao Chai Sesame Chicken – Taman Merdeka Permai [Non-Halal]
Lao Di Fang – Bandar Tiram [Non-Halal]
Lao Gang Restaurant – O & S Restaurant [Non-Halal]
Lao Guang Street Food – Taman Jubilee [Non-Halal]
Lao Huang Bakuteh (Restoran Hai Lam) – Taman Aman Perdana [Non-Halal]
Lao Huang Bakuteh (Tiam Fu Kopitiam) – Setia Alam [Non-Halal]
Lao Jia Huo Shao La – Jalan Danga [Non-Halal]
Lao Jie Jia Xiang Wei Restaurant – Jonker Street [Non-Halal]
Lao Lin Curry Mee – A One Laksa Cafe [Non-Halal]
Lao Ma Zi – Taman Bukit Teratai [Non-Halal]
Lao Ma Zi Chee Cheong Fun – Restoran Desa Villa [Non-Halal]
Lao Ma Zi Chee Cheong Fun – Kedai Kopi Pan Yau [Non-Halal]
Lao Mu Zi Curry Mee – Jalan Paya Terubong [Non-Halal]
Lao Pa Sat – Taman Mount Austin
Lao Pa Sat – Taman Bukit Indah
Lao Pa Sat – Tropika Welcome Centre
Lao Pa Sat – Taman Gaya
Lao Pa Sat – Taman Eko Botani
Lao Pa Sat Signature – R&F Mall
Lao Tee Kue Teow – Taman Sentosa [Non-Halal]
Laoditan Fung Kee Stall -Taman Setia Tropika [Non-Halal]
Laosi Jiaozi – Jalan Ong Kim Wee [Non-Halal]
Lapado'oh
Lapar Dan Dahaga – Wangsa Maju
Laparina – Setia Alam
LapaSoho Cafe – Jalan Matang Baru
Lapo Wey!!! – Bandar Pinggiran Subang
Lapoo Cafe – Bandar Seri Iskandar
Lareve Patisserie – Taman Tawas Idaman
Lartisana Cucina – 1st Avenue Mall
Larut Matang Food Court Mix & Match
Las Vacas – Mont Kiara
LasPeg Kitchen – Bandar Botanic
Lat Tali Lat Cafe [Non-Halal]
Latte Be Light – Berkeley Complex [Non-Halal]
Lau Di Fong Vegetarian Restaurant – Grand Industrial Centre [Non-Halal]
Lau Hakka Loh Wei – Jalan Batu Berendam [Non-Halal]
Lau Yau Soya Bean – Lorong Tokong
Lau Yew Char Hor Fun – Bukit Mertajam Foodcity [Non-Halal]
Lau You Soup – Restaurant 63 [Non-Halal]
Laughing Lion Cafe – Kedai Pintas Avenue
Lauk Kitchen – Zenith Corporate Park
Laundroluxe Cafe – Api-Api Centre
Laura Medina Cafe – Subang Bestari
Lautan Kopitiam – Taman Molek [Non-Halal]
Lava Shack – Sadong Jaya
LAVAA RestoBar – Seksyen 17 [Non-Halal]
Lavo – Menara Lien Hoe
Law Mai Kai – Arang Road [Non-Halal]
Laxmana Kitchen – Bangunan Bagus
Layali El Sham Restaurant – Bukit Bintang
Lazeez Hadhramout Restaurant – Plaza Crystal Villa
Lazeez Kitchen – TTDI Jaya
Lazy Breakfast – Lorong Kota Permai [Non-Halal]
Lazy Day Steamboat – Pusat Perniagaan Falim [Non-Halal]
Lazyman Hot Pot – Aneka Selera Ipoh Garden [Non-Halal]
Lazz Kitchen – Stutong Community Market
LB Food Restoran – Taman Kota Laksamana Jaya [Non-Halal]
LBQ – Restoran 777 [Non-Halal]
LC Half Kopitiam 半间咖啡店 – Taman Perling
LCR Hai Nam Chicken Rice – Jln Miri Pujut [Non-Halal]
Le' Addon White Coffee – Kompleks Silveritage
Le Bread Days – Beach Street
Le Caffe & Salato – Karamunsing Kapital
Le' Chef – Menara Rajawali
Le Cottage Cafe – Perdana Jaya
Le Creme Cafe – Pasir Pinji
Le De' House – Jalan Jalil Perkasal Bukit Jalil [Non-Halal]
Le Food – Bandar Koidupan [Non-Halal]
Le French Tacos – TTDI
Le Fu Double Hot Pot – Saradise [Non-Halal]
Le Gardenz Cafe – Kampung Baru Balakong
Le Montana Cafe & Lounge – Seberang Jaya [Non-Halal]
Le Palace – Bandar Selesa Jaya
Le Parlour Cafe Studio – Tabuan Laru
Le Pen Frozen Yogurt – Sunway Giza
Le Pont Boulangerie Et Cafe – Jalan Kelang Lama
LE PORC Restaurant – Soho West Upper Road [Non-Halal]
LE-Q Cafe 樂秋 – Bandar Indahpura [Non-Halal]
Leaf – Kampung Bukit Angin
Leaf & Co Cafe – Jalan Sultan
Leaf Dining
Leaf On Bowl – Ativo Plaza
Leaf Vegetarian – Jalan Tiara 1
Lean & Rush – NU Sentral
Lee Cha – Taman Eko Botani [Non-Halal]
Lee Home Taste Restaurant – Kepong
Lee Lam Huat Roasted Chicken & Duck Rice – Georgetown [Non-Halal]
Lee Noodle Cuisine – Taman Kota Laksamana [Non-Halal]
Lee Ong Cafe – Everbright Park [Non-Halal]
Lee Popiah – Kepong Baru
Lee Yuan Cafe – Taman Ungku Tun Aminah [Non-Halal]
Leek Kitchen – Mahkota Point [Non-Halal]
Lee's Burger – Jalan Damai Perdana 5/1A
Lee's Family Traditional Lei Cha – Dai Pai Dong
Lee's Family Traditional Lei Cha – Gala Street
Lee's Family Traditional Lei Cha – Dai Pai Dong Stapok
Lee's Kitchen – Sentrio Pandan
Leezo Restaurant – Taman Kurnia
LeFood – Subang SS18
Legasi Nasi Lemak 1996 – Taman Puchong Utama
Legasi Nasi Lemak 1996 – Setia Alam
Legasi Nasi Lemak 1996 – Taman Dutamas
Legasi Wak Radol – Medan Selera Wakaf
Legend Banquet Hall – Taman Teknologi Cheng [Non-Halal]
Legend Coffee Tea – Suria Sabah [Non-Halal]
Legend Coffee Tea – Imago Shopping Mall [Non-Halal]
Legend Salai – Taman Nahkoda
Legend Seafood Restaurant – Bandar Mahkota Cheras [Non-Halal]
Legenda Sup Utara – Bandar Universiti
Legend's Claypot Briyani
Legumes Kitchen – Taman Perindustrian Puchong
Lehanis Cafe
Lei Cha Malim – Taman Malim Jaya [Non-Halal]
Lei Cha OTS – Taman Merdeka Permai
Leisure Cafe – Lintas Square
Lejen Char Kuey Teow – Pusat Perniagaan Desa Cahaya
Leko 7Cafe – Hicom
Leko 7Cafe – Sungei Wang
Leko Leko 7cafe – Putrajaya Sentral
Lekoi Lekoi – Taman Chandan Putri Fasa 3
Lekor Shempoi – D'Piazza Mall
Lele Noodles Shop – Taman Johor Jaya [Non-Halal]
Lele Noodles Soup – Taman Ehsan Jaya [Non-Halal]
Leleh – M Square
Leleh – Central i-City
Lemon 3 Cafe – Jalan Datuk Abang Abdul Rahim
Lemon Tree – Toppen Shopping Centre
Lemon Tree – Taman Ekobotani
Lemon Tree – Desa Jaya
Lemon Tree – Taman Molek
Lemon Tree – Taman Impian Emas
Lemon Tree – Jalan Kenanga
Lemon Tree – Taman Bukit Indah
Lemon Tree – Taman Handal
Lemon Tree – Taman Melodies
Lemon Tree – Taman Mutiara Rini
Lemon Tree – Taman Setia Eco Cascadia
Lemonade Cafe – Jalan Ong Kim Wee [Non-Halal]
Lemongrass Coffee House @ WP Hotel – Jalan Tuanku Abdul Rahman
Lempera – Kampung Sri Damai
Lenang Jawa – Taman Pengkalan Jaya
Lenara – Mont Kiara
Lendy's Kitchen -Taman Permatang Tinggi Indah [Non-Halal]
Leng Zai Bak Kut Teh [Non-Halal]
Lengkuas Cafe – Putrajaya Sentral
Leny Bersaudara – Part of Grace Junction
Leo Corner – Jalan Rahmat
Leomag Waffle – Lotus's Sg Dua
Leomag Waffle – Sunway Carnival
Leomag Waffle – Billion
Leomag Waffle – Gurney Paragon
Leong Cafe – Taman Tunku [Non-Halal]
Leong Fried Kuey Teow – Medan Selera Ibumie
Leong Hee Seafood – Lebuh Paya Terubong [Non-Halal]
Leong Hin Cafe – Sunshine Square [Non-Halal]
Leong Kee – 88 Market Place [Non-Halal]
Leong Kee – Expert Food Court [Non-Halal]
Leong Kee Steam Rice & Steam Soup – Jalan Puteri 5/5 [Non-Halal]
Leong Ming Kee Restaurant – Oakland Commercial Centre [Non-Halal]
Leong Porridge House – Damai Point Luyang[Non-Halal]
Leong Ya Kitchen – Taipan USJ [Non-Halal]
Leongmom Bao Dian – Taman Lip Sin [Non-Halal]
Leong's Sweet Dessert – Setia Alam
Leopard Sugar – BM City Mall
Lepak D' Lang – Desa Lang Indah
Lepak Dins Corner – Diamond Square
Lepak Joi Burger – Apartment Lili
Le'pak Kitchen – Taman Sungai Mas
Lepak Makan – Metro City
Lepak Makan BB – Perkampungan Indera Sempurna
Lepak Western – Pasar Moden SS15
Lerz – Kota Damansara
Lerz – Rawang Idaman
Les Bouchons – Jalan Lebuh Laksamana [Non-Halal]
Leslie Cafe – Kepayan Ridge [Non-Halal]
Lesung Batu – SS3
Lesung Toknek – UA
Lesung Toknek – Kg Dimbuakon
Lesung Toknek – Bandaran Berjaya
Let's Joy @ Hotpot Spicy – Bukit Serdang [Non-Halal]
Let's Make Friends – Jalan Samak [Non-Halal]
Let's Veggie – Vista Mutiara
Letsmakanbycas
Level Up Bistro – Damansara Utama [Non-Halal]
Lewine Steak & Wine Bar – Designer Office
Ley's Breakfast/Chicken Rice – Siang Siang Food & Drinks Centre
Lezzetli – Bursa Malaysia
LGrande Hookah Lounge – Jalan Kapar
LHT Herbal Tea – Johor Bahru City Square
LHT Herbal Tea – KSL City Mall
Li Garden Masai Restaurant – Taman Bukit Dahlia
Li Garden Restaurant – CityONE Megamall [Non-Halal]
Li Kee Chicken Rice 吕记芽菜鸡饭 – Jalan Ayer Itam [Non-Halal]
Li Shan Jawa Mee – Jalan Goh Swee Huat
Li Sheng F&B Enterprise – Taman Jaya Mas [Non-Halal]
Lian Chen Shop – Mutiara Mas [Non-Halal]
Lian Jie Noodle House – Pudu Plaza Shopping Centre [Non-Halal]
Lian Jie Noodle House – Taman Danau Kota [Non-Halal]
Liang Cha Tang – Taman Perpaduan Ria
Liang Cha Time – Johbase City Square
Liang Crispy Roll – Vivacity Megamall
Liang Dou – Taman Connaught
Liang Khee Tomyam – Pusat Perniagaan Seri Tanjung [Non-Halal]
Liang Khee Tomyam Noodle – Jalan Radin Tengah [Non-Halal]
Liang Khee Tomyam Noodle – Dataran Sunway [Non-Halal]
Liang Khee Tomyam Noodle – Taman Mount Austin [Non-Halal]
Liang Sandwich Bar – Taman Seri Tanjung
Liang Sandwich Bar – Ipoh Parade
Liang Sandwich Bar – Lotus's Kepong
Liang Sandwich Bar – Paradigm Mall JB
Liang Sandwich Bar – The Spring
Liang Tang Steam Soup – Viva Local Food Haven [Non-Halal]
Liao Fan Hawker Chan – Jalan Raja Dr. Nazrin Shah [Non-Halal]
Lia's Spices – Metro Town
Libta Coffee – Jalan Naib Piee
Licha Tea – Queensbay Mall
Lick Point – Sunway Carnival
Lick Point – Automall
Lido Claypot Chicken Rice – East Coast Food Court [Non-Halal]
Lido Dumpling – Lido Square [Non-Halal]
Lido (Night) Gong Lao Mee – Taman Che Mei [Non-Halal]
Lido Pizza – Lido Square
Lido Seafood Restaurant – Jalan Mohamad [Non-Halal]
Lido Square Mix & Match – [Non-Halal]
Lido Square Mix & Match
Lido Xiang Xiang Squid – Lido Square
Lieong Kee Bae Good Teh – Taman Kepong [Non-Halal]
Liew Chai Vegetarian – Centre Point Sabah Basement Foodcourt
Liew Chicken Rice – Hong Siang Cafe
Liew Economy Rice – Restaurant Sin Yong Kee
Life – Taman Desa Cemerlang
Life Cafe x Love18c – Taman Sutera Utama
Life Deli – Komplek Alor Setar
Life House Restaurant – Lorong Selamat [Non-Halal]
Life Ricette Cafe Patisserie -Twin Galaxy Residences
Liga Maju Nasi Dalca Ayam Negro – Jalan Hutton
Light and Salt Cafe
Light Cafe – Asia City Complex
Light Up – Bangsar Trade Centre
Ligo Sushi – Taman Krubong Utama [Non-Halal]
LiHO Tea – PJ SS2
LiHO Tea – Mid Valley
LiHO Tea – R&F Mall
Like Me Kitchen – Jalan Austin [Non-Halal]
Like Mee Noodle House – Bukit Jalil [Non-Halal]
Like Mee Noodle House – One City [Non-Halal]
Like Mee Noodle House – Puchong Jaya [Non-Halal]
Liking Vs Terubuk – Bandar Baru Bangi
Liks Sate Cheese – Taman Dato Seri Razak
Liks Sate Cheese – Kampung Jambu
Lile Food Corner – Jalan Klang Lama
Lile's Kitchen – Puchong Jaya [Non-Halal]
Lili Corner – Medan Usahawan
Lillies Kitchen – Taman Melawati
Lily Pork Chop Noodle – Golden Circle Food Court [Non-Halal]
Lily Western Food – Taman Bukit Maluri [Non-Halal]
Lily's Vegetarian Kitchen – Lorong Madras
Lim Brothers – Kampung Suok
Lim Chicken Rice – Xiang Xiang Seafood Restaurant [Non-Halal]
Lim Coffee Bar – Jalan Datuk Ooh Chooi Cheng
Lim Ho Pan Mee – Uptown Avenue Seremban 2 [Non-Halal]
Lim Ji – Prangin Mall [Non-Halal]
Lim Kee Fried Noodle – Tai Ka Huat Food Court
Lim Western Food – Taman Nusa Bestari
Lima Tujoh Cafe – Upper China Street
Limapulo – Taman Shanghai
Limbehsoup – Jalan Munshi Abdullah [Non-Halal]
Limbongan Station Restaurant – Jalan Kota Laksamana
Limkopi Homebrew – Taman Connaught
Limong Cafe – Taman Bukit Melaka
Lim's Beverage – icom Square
Lim's Fooditude 林北⼩吃馆- Taman Setia Indah [Non-Halal]
Lim's Kitchen – Bandar Menjalara [Non-Halal]
Lin Chee Kang & ABC Angsana – Angsana Mall
Lin Yong Tau Foo – Jalan Landai Permai
Linda Corner – Inanam Kapital
Linda Homemade Kuching – Taman Flora Indah [Non-Halal]
Linda Rojak Ayam – Jalan Bayam
Linda's Nasi Lemak Kukus – EE Corner Taman Cheng Baru
Ling Foodies Cafe – Jalan Tun H. S. Lee
Ling Long White Coffee – Miri [Non-Halal]
Lion Boba – Damansara Utama
Lion Clear Nasi Kandar – Jalan River
Litte Ipoh – Popular Food Garden [Non-Halal]
Little Arsh Kitchen – Kg Sungai Ramal Dalam
Little Bally Cafe – SS15 [Non-Halal]
Little Bing – Jalan Radin Bagus [Non-Halal]
Little Boss Roasted Duck Eating House – Jalan Pulai [Non-Halal]
Little Boss Western Cuisine – Taman Pulai Mutiara
Little Boston – Saradise
Little Cake – Cyber Square
Little Castle Cafe – Lintang Batu Maung
Little Castles Restaurant – Taman Sejati
Little Caterers – Puchong
Little Chicky 鸡仔 – FoodLove Cafe
Little Claypot Restaurant – Jalan Sultan Ahmad Shah [Non-Halal]
Little Cloud Cafe – Taman Ipoh Timur [Non-Halal]
Little Collins Cakery & Cafe – Solaris Mont Kiara
Little Cuisine – Medan Soon Choon [Non-Halal]
Little Eat Shop – Atria Shopping Gallery [Non-Halal]
Little Eat Shop – USJ 19 City Mall [Non-Halal]
Little Fat Duck – Bangsar
Little Fat Duck – 1Utama
Little Fat Duck – Tropicana
Little Fat Duck – Kota Damansara
Little Fei Long – Taman Sentosa [Non-Halal]
Little Fish Village – Imago
Little Fisherman Kitchen – Taman Setia Rawang [Non-Halal]
Little G Curry – Lorong Galing 46 [Non-Halal]
Little Garden Cafe – Taman Usahawan [Non-Halal]
Little Garden Cafe – Sri Bintang [Non-Halal]
Little Glutton Canteen – Bandar Mahkota Cheras [Non-Halal]
Little Hainan – Jln Padungan [Non-Halal]
Little Hanoi Dine & Bar – TREC [Non-Halal]
Little Ipoh Cafe – Bandar Seri Iskandar
Little Jakarta Restaurant – Pearl Point
Little Jetty Cafe – Jalan Paboi Bukit Tambun [Non-Halal]
Little June – Pusat Perniagaan Raja Uda
Little Kitchen Cafe – Taman Tawas Idaman [Non-Halal]
Little Lady Boss – Keng Nam Hai Restoran [Non-Halal]
Little Masters – Premier Food Republic [Non-Halal]
Little Meet Fresh – Jalan Medan Ipoh 6 [Non-Halal]
Little Melbourn – Kg Dimbuakon
Little Mi Cafe – Plaza Semabok
Little Ms Sunshine – Chulia Lane [Non-Halal]
Little Muar – Wetex Parade
Little Nanyang – Bandar Indah
Little Neighbour Restaurant – Elite Avenue [Non-Halal]
Little Nyonya – Taman Seputeh
Little Nyonya 小娘惹 – Back Street Kopitiam
Little Nyonya Cuisine – Setia City Mall
Little Nyonya Cuisine – Metro Prima Kepong
Little Nyonya Cuisine – AEON Bukit Raja
Little Nyonya Cuisine – Queensbay Mall
Little Nyonya Cuisine – Gurney Plaza
Little Nyonya Cuisine – Central i-City
Little Nyonya House – Taman Kerjasama
Little Oasis – Prangin Mall
Little Penang Kafe – Tropicana Gardens Mall
Little Rabbit Cafe – Inanam
Little Rimba – TTDI
Little Salty Cafe – Bukit Ampang
Little Seed Eatery – New World Park [Non-Halal]
Little Seoul Korean Kitchen – Bandar Puteri [Non-Halal]
Little Seoul Korean Kitchen – Jalan Radin Bagus [Non-Halal]
Little Sheep Cafe – Bintang Jaya [Non-Halal]
Little Sky Cafe – Jalan Song
Little Spicy Noodle House – Lorong Teras Jaya 9
Little Spoon – Jalan Rotan Kong
Little Star Cafe – Seri Kembangan [Non-Halal]
Little Sulap
Little Thailand De Tomyam – Pusat Perniagaan Raja Uda
Little Three – Wangsa Maju
Little Tiger Char Koey Teow – Jalan Raja Ekram [Non-Halal]
Little Time Coffee – Gurney Paragon
Little Uncle J Cookbook – Maritime Piazza [Non-Halal]
Little Warm Cafe – Medan Seri Impian 2
Little White – Utama Place
Little Wok – AEON Ipoh
Little Wok – SOGO KL
Little Wok – Lotus's Kepong
Little Wok & Grill – Berjaya Times Square
Little Wok & Grill – KLCC
Little Wok & Grill – Mid Valley
Little Wok & Grill – Pavillion
Little Wok & Grill – Alamanda
Little Wok & Grill – AEON BiG Ampang
Little Wok & Grill (S7) – Food Junction IOI City Mall II
Little Wok Kitchen – Kepong
Little Wonders – SS18
Little Yong Sing Restaurant – Lebuh Melayu [Non-Halal]
Littlepeople – Jalan Klang Lama
Liu Chicken Rice 刘鸡饭 – Jia Fook Food Cafe
Liu Liu Tang – Kk Times Square
Liver Pool Western Food – Coco Island Street Food [Non-Halal]
Living Water Kopitiam – Jalan Ong Kim Wee [Non-Halal]
Lizman Corner – Seri Selera MPS Gombak
LJ Noodle Cafe- Jalan Rubber
LK Tomyam – Lebuh Kampung Benggali
LK Western & Fruit Tea Cafe – Jalan Macalister
LK Western Cafe – Jalan Ayer Itam
LK Western Cafe – Plaza Ivory
LKT Best Food – Dataran Pahlawan Melaka Megamall
LKY Western Food – Taman Sri Gombak [Non-Halal]
LL Banana Leaf – Jalan Rubber
Llao Llao – Sunway Putra Mall
Llao Llao – AEON Rawang
Llao Llao – AEON Cheras Selatan
Llao Llao – IOI Puchong
Llao Llao – Mahkota Parade
Llao Llao – AEON Bukit Tinggi
Llao Llao – Quayside Mall
Llao Llao – Pearl Point
Llao Llao – Empire Shopping Gallery
Llao Llao – Setia City Mall
Llao Llao – The Sphere
Llao Llao – KL East Mall
Llao Llao – Eco Ardence
Llao Llao – Jalan Tun Mohd Fuad 1
Llao Llao – SS15
Llao Llao – Sunway Giza
Llao Llao – Starling Mall
Llao Llao – Miri Times Square
Llao Llao – Suria Sabah
Llao Llao – Aman Central
Llao Llao – KTCC Mall
Llao Llao – The Spring
Llao Llao – AEON Kuching
Lloyd's Pizza – Tiara Kelana Condominium
LN Fortunate Coffee – Sunway Geo
LN Fortunate Coffee – Solaris Mont Kiara
Lo Bak – YS Food Court [Non-Halal]
Lo Bak Rice/Pork Leg Rice – Everfull Kopitiam [Non-Halal]
Lo Faro Caffe – Medan Ramah
Lo Fu Zi Bak Kut Teh – Big Fan Cafe [Non-Halal]
Lo Fu Zi Johor Pan Mee – Big Fan Cafe [Non-Halal]
Loaded Chicken Tenders – Brickfields
Loaded Chicken Tenders – Ampang Putra Residensi
Loaf Story Bakery – Taman Teratai Jingga
Loaf U Asia – Bangsar
Loaves & Bites – Ara Damansara LRT Station
Lobak King [Non-Halal]
Lobak Rice – Limbongan Food Court [Non-Halal]
Lobbee – Thai Connection – Empire Damansara
Lobo Rice Set – Restaurant Tim Won [Non-Halal]
Lobster Empire – Butterworth Business City Centre
Lobster Empire – Taman Pekan Baru
Local Delight – Kubota Square
Local Delight – Taman Jaya Mas
Local Food – Jalan Lambak
Local Food Cafe Steamboat & Grill – Kampung Kelibang
Local Street Kitchen – Taman Saujana
Locality Food – Plaza Mont' Kiara
Location Cafe & Bistro – Lorong Pahlawan 7A2 [Non-Halal]
Lock Ann Cafe – Wisma Sandhu
Lock Luck Ckt – Bandar Universiti Lakeville
Locker & Loft – SS20 [Non-Halal]
Loft 67 – Jalan Raya
Loh Bah Since 2020 – BBT Kopitiam [Non-Halal]
Loh Bak – Lorong Baru
Loh Bak – Hwa Ren Jie Food Court [Non-Halal]
Loh Mee & Hokkien Mee – Taman Seri Juru [Non-Halal]
Lojing Coffee – Kampung Kota
Lok Bak – Tambun Star Food Court [Non-Halal]
Lok Garden Noodles House – Taman Mount Austin [Non-Halal]
Lok Lok – Taman Cegar [Non-Halal]
Lok Lok Abang Steamboat Sate – Jalan Beserah
Lok Lok & Waffle – Laksa House
Lok Lok Blup Blup – Taman Universiti
Lok Lok King on Wheels – USJ Heights
Lok – Lok (Main) – Jalan Ban Hock
Lok-Lok – Premier Food Republic [Non-Halal]
Lok Thian Restaurant – Jalan Pending [Non-Halal]
Lok Thien Western Food – Bukit Minyak Food Court
Lok2 Ing 串串王 – 7 Stars Cafe The Laksamana Commercial Suites [Non-Halal]
Lokal Resto
Lokan Cafe Bistro – Ulu Kelang
Lokching & Sosej Bakar – Taman Daya
Lokcing DH Burn – Taman Bukit Mewah
Loke Yun Chicken Rice – Ampang
Lokl Coffee Co. – Jalan Tun H.S. Lee
LOL Cafe – Sky Awani II
Lol Soon Kee Desserts – EkoCheras Mall [Non-Halal]
Lol Soon Kee Desserts – Dataran Sunway [Non-Halal]
Lol Soon Kee Desserts – The Waterfront @ ParkCity [Non-Halal]
Lol Soon Kee Desserts – Plaza Prima Setapak [Non-Halal]
Lol Soon Kee Desserts – Solaris Mont Kiara [Non-Halal]
Lol Soon Kee Desserts – Berjaya Megamall [Non-Halal]
Lombi Cafe – Pekan Donggongon Phase 3
London Sandwich Co – Wisma Laxton
Long Chiks Burger – Jalan TTDI Grove
Long Fong Roaster Duck Rice – OUG [Non-Halal]
Long Kee Braised Duck Noodle & Rice 隆吉卤鸭面和饭 – Taman Kota Permai 1 [Non-Halal]
Long Kee Chicken Rice – Taman Nusa Bestari 2 [Non-Halal]
Long Live The Tea – Cheras
Long Noodles – Restoran Xin Di Fang [Non-Halal]
Long Sheng Kopitiam – Jalan Tanjung Bunga [Non-Halal]
Long Ting Chicken Rice – GP Food Court Batu Gajah [Non-Halal]
Long Xing – 007 Relax Times Food Court [Non-Halal]
Longchen Toast House – Jalan Wawasan Ampang [Non-Halal]
Longchen Toast House – Bukit Anggerik [Non-Halal]
Lontong & Such – SS9
Loo Kee Chicken Rice – Jalan Seang Tek [Non-Halal]
Look 467 – Taman Gaya [Non-Halal]
Look Yuen Restaurant – Tingkat Kerjasama 4 [Non-Halal]
Loong Kee – Jalan Yau Tet Shin [Non-Halal]
Loong Kee – Jalan Kebun Sultan [Non-Halal]
Loong Seng Restoran – Taman Bukit Indah [Non-Halal]
Loong Sifu Bamboo Noodles House – Taman Gembira [Non-Halal]
Loong Yan Mala Hot Pot 龍焱麻辣香锅 – Pusat Perdagangan Seri Kembangan [Non-Halal]
Loop House Cafe – City Mall
Loopawang Stall – Station 18 [Non-Halal]
Loptako – Puchong Indah
Lorbak – Jalan Kampung Baru [Non-Halal]
Lori Laksa Mak Bedah – Hicom-Glenmarie Industrial Park
Lorong 7 Cafe – Kampung Merbau Sempak
Lorong Kia Prawn Mee – Sea Park [Non-Halal]
Lorong Pandan Hailam Kopitiam – Taman Kenanga
Lorong Seratus Tahun – SS2
Lorong Seratus Tahun – Sunway Putra
Lorong Seratus Tahun – Publika
Lot 1 Cafe – Jalan Market
Lot 10 – Bukit Ceylon
Lot 10 Hutong – Lot 10 [Non-Halal]
Lot 19 Kopitiam – Taman Kampar Barat [Non-Halal]
Lot 1M Cafe – Jalan Airport
Lot 37 – Parkcity Commerce Square
Lot 89 Cafe Manalagi Nasi Lemak – Lot 89 Cafe [Non-Halal]
Lot 89 Cafe Mei Xin Kitchen – Lot 89 Cafe [Non-Halal]
Lot 89 Cafe Ping Noodles – Lot 89 Cafe [Non-Halal]
Lotus Curry House- Ang Cheng Ho Road
Lou B Fried Food – Taman Sri Tebrau [Non-Halal]
Lou Che Fong Hokkien Mee – Lou Che Fong Kopitiam
Lou Yao Lat Thong – SS2 [Non-Halal]
Loudon Chop & Rice – Juru Tiga Kopitiam [Non-Halal]
Loudon Chop & Rice – 923 Food Court [Non-Halal]
Loudon Chop & Rice – Fresh Food Court [Non-Halal]
Louis Nasi Kukus – O&N Kopitiam
Luojia Stinky Tofu 羅家臭豆腐 – Sunway
Luojia Stinky Tofu 羅家臭豆腐 – Ampang
Luojia Stinky Tofu 羅家臭豆腐 – Kuchai Lama
Luojia Stinky Tofu 羅家臭豆腐 – SS2
Love 21 Eating House – Horizon Hills [Non-Halal]
Love Corner – Lebuh Chulia
Love Desserts – Restoran Tai Zhong
Love Earth Cafe – Desa Aman Puri
Love Ice (Aiman) Sarawak Delites – Aiman Mall
Love Western Food – YMY Food Court
Lovefull Home Cafe – Taman Abad
Lovely Juice – Taman Bukit Serdang [Non-Halal]
Loveone Kelate – Kg Wakaf Stan
Lover Kopitiam – St. Patrcik
Loving Heart Vegetarian Restaurant – Bandar Mahkota Cheras
Loving Hut
Low Wee Seong – Taman Ungku Tun Aminah
Loyalty Chicken Rice – Taman Mount Austin [Non-Halal]
Loyalty Chicken Rice – Taman Johor Jaya [Non-Halal]
Loyalty Chicken Rice – Taman Ehsan Jaya [Non-Halal]
LRTea Kiosk – Stesen LRT USJ 7
LTW Food – Pusat Penjaja Bentayan MCA Bakri [Non-Halal]
Lu Chuan – Taman Ungku Tun Aminah [Non-Halal]
Lu Wei 1128 – Kopitiam Yat Yat Yit Fatt [Non-Halal]
Lu Ye Yuan Vegetarian Restaurant – Taman Desa Damai
Lubiantan 路邊攤 – Taman Jubilee [Non-Halal]
Luck Luck Restaurant – Bandar Indah
Luckin Kopi – Jalan Panggong
Lucky – Karamunsing Basement Food Court [Non-Halal]
Lucky – Love Chopstick Garden [Non-Halal]
Lucky 21 – Taman Megah Ria [Non-Halal]
Lucky 99 Larkin Kopitiam – Larkin Perdana
Lucky Bak Kut Teh 2 – Kedai Donggongon Point [Non-Halal]
Lucky Bowl – Lorong Selamat [Non-Halal]
Lucky Char Kuey Teow – New Lucky Restaurant [Non-Halal]
Lucky Chicken – Taman Sri Serdang
Lucky Fried Rice Set & Noodle – New Lucky Restaurant [Non-Halal]
Lucky Mala Noodle – Sunway Velocity [Non-Halal]
Lucky Point Store – I-Plaza Commercial Centre
Lucky Quan Vietnam Restaurant [Non-Halal]
Lucky Restaurant 幸运茶餐厅 – South Yu Seng Road [Non-Halal]
Lucky – Restoran 777
Lucky Seven Sandwich – MCLD [Non-Halal]
Lucky Star Kitchen 虾面云吞面 – DM Food Court [Non-Halal]
Lucky Western Food – New Lucky Restaurant [Non-Halal]
Lucy's Homemade – Kedai Kopi Man Li Hiong Bak Kut Teh [Non-Halal]
Ludi Foodie – Restoran Gulai Kawah Cikda
Lui Cha King Restaurant – Kepong Baru [Non-Halal]
Lui Ho Western Cuisine – Taman Mutiara Mas
Luigi's Ristorante Italiano – Kitchen Co
Lujia House of Braised Pork – Bangsar South [Non-Halal]
Luk Luk King – Lido Square
Luk Luk Sadong – Taman Penampang
Luk Luk Sadong – Sadong Jaya
Luk Luk Sadong – Putatan
Lulu's Lechon – Hot Kitchen [Non-Halal]
Luna Luna – Bandar Sunway
Lunabarcoffee – Jalan Clove Hall
Lunarich Pizza & Pasta – Gurney Paragon
Lundus Beef Noodles – Taman Luyang
Lung Kee Trading – OUG Parklane [Non-Halal]
Luojia Stinky Tofu 羅家臭豆腐 – Jam Factory Puchong
Luojia Stinky Tofu 羅家臭豆腐 – Malacca Kota Laksamana
Luojia Stinky Tofu 羅家臭豆腐 – Taman Malim Jaya
Luojia Stinky Tofu 羅家臭豆腐 – Bandar Sri Damansara
Luojia Stinky Tofu 羅家臭豆腐 – Mahkota Cheras
Luojia Stinky Tofu 羅家臭豆腐 – Ipoh
Lush Cafe
Lushbowl – Plaza Damas
Lutan 21 – Taman Melaka Raya
Luxe Banana Leaf Delights – Jalan Trus
Lychee Kang – Medan Selera Jalan Dewa
Lye Lye Sugar Cane – Penang Hill
Lyffa – Jalan Market
Lygon Bistro – Sunway Putra Mall
LYM Tea – Taman Eko Botani
Lynda's Corner – Kampung Melayu
M & A Western food – Pusat Perniagaan Rishah
M & H Klasik Tomyam – Lintas Jaya Uptownship
M & M – Jalan Dedap [Non-Halal]
M & M Spaghetti House – Bandar Mahkota Cheras [Non-Halal]
M & N Kitchen – Jalan Permas [Non-Halal]
M&W Healthy Vegetarian Restaurant
M Corner – Vivacity
M Corner Express – Kozi Square
M Cuisine – Plaza Arkadia [Non-Halal]
M Eighty Eight Food Court – Jalan Air Putih
M Fastfood (MFF) – Taman Bukit Mutiara
M Fried Chicken – Subang Jaya
M Fried Chicken – Damansara Utama
M Fried Chicken – Sri Hartamas
M Grill
(M) JR Mahkota – Jiki Food Court Bukit Baru
M Pan Mee And Western Food – Bunga Raya [Non-Halal]
M Three Western Food – Pusat Makanan Millions House [Non-Halal]
M-Top Roti John – Taman Johor Jaya
M Two Vegetarian – Taman Bukit Maluri Kepong
M20 Mansion Twenty – Persiaran Bayan Indah [Non-Halal]
M20 Mansion Twenty – Jalan Anson [Non-Halal]
M6 Cafe – Taman Maluri
Ma Bro麻哥哥(麻辣香锅) – Kepong Food Court [Non-Halal]
Ma Bro 麻哥哥 (麻辣香锅) – Pusat Bandar Puchong [Non-Halal]
Ma Bro麻哥哥(麻辣香锅) – Taman Goodwood [Non-Halal]
Ma Ge Ma La Hot-Pot – FGJB [Non-Halal]
Ma Ruay Thaifood – Jalan Masjid Wakaf Bharu [Non-Halal]
Ma Zi Pan Mee – Bandar Puteri [Non-Halal]
Ma Zi Yong Tou Fu – Sri Petaling [Non-Halal]
Ma Zi Yong Tou Fu – Pandan Indah [Non-Halal]
Ma Zi Yong Tou Fu – Kota Damansara [Non-Halal]
Maa Nasi Kukus – Medan Selera Mpkb Sebelah Rohm Wako
Maalini Curry House – Jalan Puteri
Maboba Cafe – Kampung Jalan Kebun
Maboro Steak House – Putra Nilai
Mac Deluxe (Jayzan Burger) -Kampung Won
MAC Kitchen – TTDI Jaya
Mac Restaurant – Telipok
Mac Shack – Uptown Ampang
Macama cafe – Seksyen 7
Macao Imperial Tea – Bandar Utama
Macao Imperial Tea – T1 @ Bundusan
Macao Imperial Tea – Imago Mall
Macao Imperial Tea – Saradise
Macao Imperial Tea – City One
Macaroni – Faber Towers
Macau Fish Ball Noodle – Kenyalang Food Centre [Non-Halal]
Maccha Iki – EkoCheras Mall
Maccha Iki – Pandan Indah
Mac'd & Cheesy – Brickfields
Mac'd & Cheesy – Solaris Dutamas
Mac'd & Chessy – Glomac
Macgregor's – Bandar Johor Bahru [Non-Halal]
Macham Tea Signature Cafe by KBH – Star Regency Hotel
Machan Burger – Kawasan Perniagaan Nilam
Machan Burger – Taman Zamrud
Macha's Biryani – Desa Mentari [Non-Halal]
Machino Bakery – Mount Austin
Mackerel Fish Ball Mee Kolo Mee – Jln Batu Kawa [Non-Halal]
Maco Cafe – Taman Sutera Utama
Maco Cafe – Taman Mutiara Rini
Macology – Plaza Mont Kiara
Macology – Pusat Perdangangan Dana 1
Macology – KLCC
Macology – Bangsar Village 1
Macology – Wisma Lim Foo Yong
Macology – Brickfields
Mad – Kepong Baru [Non-Halal]
Mad Adam's Station – Jalan Pengkalan Chepa
Mad Eddy Kafe – Tanjong Tokong
Mad Eddy Street Burger – Tanjong Tokong
Mad Mango – Grand Plaza
Mad Miles – Ampang
Mad Plate – Jalan Austin Height
Mad Ramen Bar – Jalan Panglima [Non-Halal]
Madam Chong's Prawn Noodles House [Non-Halal]
Madam Choo's Kitchen – Pusat Pengkalan Enam Enam [Non-Halal]
Madam Chun – Taman Danau Kota [Non-Halal]
Madam Grace Kitchen – Semenyih Sentral
Madam Grace Kitchen – Wisma UOA II
Madam Hang Restaurant – Desa Aman Puri [Non-Halal]
Madam Hans – Bandar Baru Teluk Intan
Madam Kim [Penang Street Food] – Batu Caves
Madam Koor Kitchen – Taman Indah [Non-Halal]
Madam Kwan's – 1Utama
Madam Kwan's – Pavillion
Madam Kwan's – BSC
Madam Kwan's – Mid Valley
Madam Kwan's – Empire Subang
Madam Kwan's – Kiara 163
Madam Kwan's – KLCC
Madam Kwan's – Shaftbury Square
Madam Kwan's – Sunway Pyramid
Madam Kwan's – Imago Shopping Mall
Madam Lau Raisin Rice – Hock Xiang Coffee Shop
Madam Leelas Kitchen & Catering – Jalan Anggerik Vanilla
Madam Lim's Pork Noodle – Restaurant Tim Won [Non-Halal]
Madam Prawn – Kompleks Perniagaan dan Komuniti [Non-Halal]
Madam Thai – Mid Valley [Non-Halal]
Madam Yap – Jonker Walk
Madam Yee Kitchen – Riam Corner Food Court [Non-Halal]
Madame Kim – Taman Gaya [Non-Halal]
MADD Chicken Cutlet – Taman Universiti
Made in Lan Burger – Taman Subang Perdana
Madeleine Cafe – Sunway Univesity College
Madeleine Cafe Patisserie – Starling Mall
Madeleine Patisserie – Ara Damansara
Mader Kitchen – Jalan Telipot
Madfoon Palace – Bukit Bintang
Madhani Tomyam – Bandar Baru Bangi
Madi Lekor – Taman Suria
Madi Lekor – Bandar Baru Uda
Madi Lekor – Taman Nusantara
Madinah Cafe
Madmen – Tropicana Avenue [Non-Halal]
Madras Cafe – Jalan Ipoh
Madu Tiga Bistro – Tmn Air Biru
Madurai Muniyandi Villas – Kompleks Tun Sambanthan
Madurey Spice Shack – Kg Pendamar
Mae Noodle – Jalan Prima Selayang 10
Mag & Co – Arena Curve
Maggie's Cafe – Central Shopping Plaza [Non-Halal]
MaggyMe – NU Sentral
MaggyMe – Sunway Geo
MaggyMe – Melawati Mall
MaggyMe – PJ222
Magic Bites – The Spring Bintulu
Magic Bites – Boulevard Mall Bintulu
Magic Bites – Eco Mall
Magic Bites @ Fingers – Bintulu Times Square
Magic Moggy
Magic Waffle – Aeroville Mall
Magic Waffle – AEON Kuching
Magic Waffle – Kuching Sentral
Magic Waffle – Mydin Samariang Hypermarket
Magic Waffle – BDC
Magical Beans Express – Pusing
Mahalo Kasih Poke – Bangsar Village
Mahalo Kasih Poke – Wisma Lim Foo Yong
Mahalo Kasih Poke Bowl – Mont Kiara
Mahalo Kasih Poke Bowl – KLCC
Mahanum Stall – Taman Bukit Rambai
Maharaj Restaurant – Jalan Gasing
Maharaja Mala – Bangsar
Maharaja Mala – Kayu Ara
Maharaja Mala – Kota Damansara
Maharani Cafe – Seksyen 6
Maharani Sambal Lado Kitchen – Medan Selera Danau Kota
Maheran Laksa 5 – Taman Tanjung Chat
Maheran Nasi Ulam – Kampung Pintu Geng Hulu
Mahi Mahi Cafe – Plaza Bukit Jalil
Mahraj's Kitchen – Little India
Mai Ain's Street Food – Pusat Bandar
Mai Pondok Cafe – Solok Tengku
Mai Restoran – Taman Medan
Mai Wawa Corner – Changkat Jong
Maidelizo Stall – TF Vaue Mart
Maidinsa MG – Taman Sri Muda
Maii Corndog – Pasar Seni
Maii Meatballs – Metrocity
Maika Cafe 麦客 – Pelita Commercial Centre [Non-Halal]
Mail Mee Rebus & Nasi Kandar Penang Special – Bazar Melawati
Mail Mee Rebus Penang – Kampung Puah Bahagia
Maimoon Mee Goreng Classic – Kawasan Perkilangan Jelapang
Maimunah Curry House – Penampang
Maimunah Curry House – Bandaran Berjaya
Mai's Red Kitchen – Kompleks Sukan Pandamaran
Maison – Pavillion
Maison Au Choux – Sutera Mall
Maison Au Choux – Toppen Shopping Centre
Majaja Cafe & Catering – Tacoln Commercial
Majeed Cafe – Taman Sri Sinar
Majez Chix – Lintas Plaza
Majeztea – Inanam Taipan
Majeztea – Centre Point Sabah Basement
Majeztea – Taman Indah Permai
Majeztea – Marketplace 88
Majeztea – Damai Plaza
Majeztea – Menggatal
Majeztea – Lintas Plaza
Majeztea – Centre Point Sabah 5th Floor
Majeztea – One Place
Major Cafe – Pusat Dagangan Seremban 2
Mak Enon's Kitchen – Taman Medan
Mak Koi Kitchen – Lorong Mat Kilau 20
Mak Long Kitchen – Bandar Seri Putra
Mak Mah Cafe – Taman Pandan Ria 2
Soto Bonda Rominah
Mak Noni Nasi Lemak – Jalan Mayang Pasir
Mak Nurul Corner – Gerai Taman Bukit Tiram
Mak Siti Ori Cafe – Bandar Indera Mahkota
Mak Teh – Kompleks Makanan dan Pasar
Mak Teh Nasi Kukus Ayam Goreng Berempah – Taman Sejati Indah
Mak Uda Tomyam – Kompleks Makanan Bukit Gedung
Mak Yam Itik Salai – Fasa 1C3 Seri Manjung
Makan Avenue – Jalan Kg Hulu
Makan Bubur – Medan Masria
Makan Bubur – Menara U2
Makan Chee Cheong Fun – Damansara Perdana [Non-Halal]
Makan Culture – GM Klang
Makan Culture – Ampang Point
Makan Culture – Mydin Mall
Makan Heritage – Kota Damansara
Makan Jalan – Pusat Bandar Senawang
Makan Klimaks – Taman Scientex
Makan-Makan – Ara Damansara
Makan Makan Zesty – Taman Kajang Utama
Makan Restaurant – Seksyen 7
Makan2u – Bandar Pinggiran Subang
Makanan Arab Yemen – Bukit Dukong
Makanan Islam Gerai Kak Su – Big Fan Cafe
Makanan Jus Buah Dan Kuih Muih Mujarap Enterprise – Kg Sinduou Kepayan
Makanan Laut Mewahria – Jalan Mewah Ria [Non-Halal]
Makanan Warisan Jalan Lama 旧街摊 – Taman Gaya
Makane Ngosekk – Bandar Putra
Makang D' Cascadia – Taman Setia Indah
Makann @ Li Villas Condominium
Makanria – Alam Budiman
MakanSari Food Street – Aiman Mall
Makhan By Kitchen Mafia – The Gasket Alley
Makkah Restaurant Arab Food – Taman Nasalim
Makmoi Kitchen – Majma Mall
Mako Chocolate Kafe – Taman Equine
Mako Sambal Cafe – Taman Puncak Bertam
Mak's – Meranti Jaya [Non-Halal]
Mak's Chee Authentic Wonton – 1Utama [Non-Halal]
Mak's Chee Authentic Wonton – Mid Valley [Non-Halal]
Mak's Kitchen – Taman Malim Jaya [Non-Halal]
Maktabah Nursalam – Lorong Tun Ismail 6
Maktok Kita Kitchen – Seksyen 19
Makwa Corner – Kopiplus Cafe Jalan Hospital
Makwa's Kitchen – Taman Kemuning
Mala Cantine – Taman Megah [Non-Halal]
Mala Curry Corner – Taman Equine
Mala Mala – Wangsa Maju
Mala Mala – Mid Valley
Mala Mala – IOI City Mall
Mala Paradise Restaurant – SS15 [Non-Halal]
Mala Spicy Hot Pot – Jalan Raja Uda [Non-Halal]
Mala Temptation – SummerSkye Residences [Non-Halal]
Malabar Palace – Bukit Bintang
Malabar Palace – Hartamas Shopping Centre
Malacca Fried Prawn Oyster – Kota Syahbandar
Malacca Style – Seksyen 17
Malai Curry House – Jalan Utama
Malajiang Noodle – SS 2 [Non-Halal]
Malaka Favourite – Jalan Lapangan Terbang
Malaqat barkat Roti John – Taman Kenanga
Malatoop Restaurant – TTDI
Malay & Indo Food – Taman Perling
Malay Fast Food – Premier Food Republic Samarahan
Malay Food – On3 Kopitiam
Malay Goreng (S5) – Food Junction IOI City Mall II
Malay Station – Bandar Baru Nilai
Malaya Ceylon Kitchen – Leisure Commerce Square
Malaya Food 1948 – Mutiara Damansara
Malaya Grill – TSB
Malaysia Curry House – Fortuna
Malaysian Kitchen – Subang Jaya
Malaysia's Famous Goreng Goreng – JB City Square [Non-Halal]
MalayThai Catering Outlet -Taman Tempua [Non-Halal]
Malek Ryan Enterprise – Taman Irama Villa
Malgudi Classic Indian Cuisine
Maliki Nasi Kukus – Dataran Mentari
Malim Chicken Rice – Plaza Pandan Malim
Malim Claypot Sesame Chicken – Malim Jaya
Malindo Western – Jalan Imam
Malis Corner – Platinum Walk
Mallar Bistro – Desa Sri Hartamas
Malls Cafe – Prangin Mall [Non-Halal]
Maluri Tomyam
Maluri Tomyam 2 – Pandan Mewah
Mama Bistro Cafe – UniKL
Mama Bowl – Taman Mawar [Non-Halal]
Mama Burger – Pusat Limau Bali
Mama Burger – Bandar Baru Seri Petaling
Mama Cafe – Golden Royal Villa [Non-Halal]
Mama Cooking – Restoran Kuchai Lama [Non-Halal]
Mama Corner – Medan Selera Bumbung Biru
Mama Dessert [Non-Halal]
Mama Dessert – Wisma Cosway [Non-Halal]
Mama-Fish Rawang Signature Steamed Fish – Taman Meranti Jaya [Non-Halal]
Mama-Fish Rawang Signature Steamed Fish – Taman Danau Kota [Non-Halal]
Mama-Fish Rawang Signature Steamed Fish – Pusat Bandar Puchong [Non-Halal]
Mama Gojes Kitchen – Kampung Kubang Batang
Mama Hana Kitchen – Seven On Seven Cafe
Mama Hand Pancake – Pekan Klebang
Mama Home Steamboat – Jalan Mutiara
Mama Homecook Mixed Rice – Jalan GC7 Glomac [Non-Halal]
Mama House – Taman Lembah Permai [Non-Halal]
Mama Ilham Cafe – Jalan Pintu Pong
Mama Jade Fish Noodle – Lintas Square
Mama Jie's – Seksyen 16
Mama Kim Sauna Mee – Bandar Puchong Jaya
Mama Kim Sauna Mee – Green Town
Mama Kim Sauna Mee – Desa Sri Hartamas
Mama Kim Sauna Mee – Taman Perindustrian Puchong Utama
Mama Kim Sauna Mee – Bandar Botanic
Mama Kim Sauna Mee – Kota Kemuning
Mama Kim Sauna Mee – Jalan Ipoh
Mama Kim Sauna Mee – The Settlement Hotel
Mama Kim Sauna Mee – Golden View Services Apartment
Mama Kim Sauna Mee – Dataran Perniagaan Cheras
Mama Kim Sauna Mee – Jalan Pahang
Mama Kim Sauna Mee – Pandan Indah
Mama Kim Sauna Mee – Kuala Ibai
Mama Kim Sauna Mee – Seremban 2
Mama Kim's Corner – Centrepoint [Non-Halal]
Mama Kitchen Nasi Ayam – Taman Berkeley [Non-Halal]
Mama Kwong – Kampung Sungai Kayu Ara [Non-Halal]
Mama Lian's Kitchen – PJS 11
Mama Mee Tulang – Medan Selera MPKK
Mama Noli Hainan Chicken Rice – Jalan Kampung Attap
Mama Nor Cafe – Taman Setapak Indah
Mama One Stop Bakery & Cafe – Kampung Sentosa
Mama Ooi Laksa – Jalan Kulim
MAMA Q – Tabuan Tranquility 3 Commercial Hub [Non-Halal]
Mama Rozita Restaurant
Mama Salmi Kopitiam – Seria 88 Business Centre
Mama Stall – Dk Senza
Mama Tako & Sushi – The Shore Shopping Gallery
Mama Tako & Sushi – Mahkota Parade
Mama Taste Cafe – Jalan Hang Kasturi
Mama Thai Restaurant – Sungai Long
Mama Vege – Taman Bayu Mutiara
Mama Vege – The Strand
Mama Vege – Jalan Medan Ipoh 1B
Mama Yong (Big Tea Rice) – Taman Persiaran Subang [Non-Halal]
Mama Yu Corner – Pasar Bandar Ampang
Mamacina – Bukit Damansara [Non-Halal]
Mamacita – Publika [Non-Halal]
Mamacita Pizza & Pasta – Bandar Bukit Tinggi
MamaDiet Premium – Kimberley Street
Mamafaa Kitchen – Kampung Padang Bongor
Mamagoose Cabin Kitchen – Jalan Gurdwara
Mamah Dede Shell Out King Crab Char Kuey Teow – Kampung Melayu Majidee
Mamak AD Cuisine – Putra Nilai
Mamak Corner
Mamak Curry House – Jalan Wakaf Stan
Mamak Mia – Bandar Bukit Raja
Mamak Station – Melaka Mall
Mamala – Saradise [Non-Halal]
Mamalee
Mamaletops Burger Crispy – Lebuh Bandar Utama
Mamaliza Kitchen – Menara Yayasan
Mamalove Simunjan/Lundu BBQ – Rumah Asap Dayak Samarahan [Non-Halal]
Mamam – Lintas Square
Mamanza Bersatu Enterprise – Pusat Dagangan Seremban 2
Mamapai Homemade – Jalan Satok [Non-Halal]
Mamarizz Kitchen – Bandar Baru Sungai Buloh
Mama's – Taman Setia Tropika
Mama's Brand – Inanam Kapital
Mama's Cuisines – Kepayan Point [Non-Halal]
Mama's Kitchen – Bukit Gasing
Mama's Pizza – Taman Kota Syahbandar
Mama's Recipe – Central I-City
Mamas Recipe Venture – Kampung Melayu Subang
Mama's Roasted Chicken Rice – Kubota Square
Mama's Taste – Bandar Kinrara
Mamat Padang Kota Western Food – Kompleks Makanan Medan Renong
Mamawan Kitchen – One Place Mall
Mamayan Kitchen – Taman Keramat
Mamazira's Kitchen – USJ 16
Mamee Jonker House – Jalan Hang Jebat
Mameen Medan Selera – Jalan Kebun
Mame's Pizza Cafe – Golden Triangle
Mami Kitchen – Malakat Mall
Mami Penang Kitchen – Jalan Burhanuddin Helmi 1
Mami Sambal Restaurant – Miri Times Square
Mami Su Kitchen – KTCC Mall
Mami Tanjung Corner – Astaka Taman Tun Sardun
Mamma Bunz – Billion Seri Iskandar
Mamma Mia Restaurant – Fortune Avenue [Non-Halal]
Mammy's Kitchen – Taman Sumber Alam Sanctuary
Mamu – Taman Pahlawan
Mamu Briyani House – Kemaris Avenue
Mamu Jabar Rojak Cendol – Bandar Baru Ampang
Mamu Junction Restaurant – Taman Eko Botani
Mamu Mee Goreng – Kompleks Pasar dan Makanan Paya Terubong
Mamu Nasi Ganja – Bandar Sri Damansara
Mamu Old Style – Lebuh Acheh
Mamu Spot Cafe – Jalan Anson
Mamy Kitchen – Flat Medan Tengku
Mamy World Cube – Taman Tanjung Aman
Mamz Kitchen – Taman Cahaya Kota Puteri
Man & The Chicken by Polpetta – 10 Boulevard
Man Bubur – Terminal Bentayan
Man Burger Homemade Burger Bakar – Taman Darius 1
Man Cendol Tehah Cendol – Kg Jijan
Man Char Koay Teow – Desiran Tanjung
Man.Co Bangi – Seksyen 9
Man Hup Cafe – Taman Sri Pengkalan [Non-Halal]
Man Leb – KL City Centre
Man Leb – Mont Kiara
Man Leb Cookhouse – Petaling Jaya
Man Li Hiong Bak Kut Teh – Damai Plaza [Non-Halal]
Man Man Cafe [Non-Halal]
Man Satay Termiang – Sri Setia Way
Man Suzi Enterprise – Food Court Medan Niaga Kompleks
Man Tian D Restaurant – Kampung Baru Ampang [Non-Halal]
Man Tomyam – Jalan Klang Lama
Man Tong Healthy Corner – Jalan Dato Haji Mohd Noah
Man Tou Pu – Taman Sentosa [Non-Halal]
满香鸡饭 Man Xiang Ji Fan – Kolombong [Non-Halal]
Mandarin Roasted Chicken/ Duck Rice – Taman Island Glades [Non-Halal]
M&M Crispy Chicken – The Garden
M&M Tuah Cafe – Jalan Mayang Pasir
M&M's Burger – Tapak Pasar Malam Permatang Tinggi
Mandurah Nasi Lemak Beach Cafe
Mangga Leleh Puchong – Batu 14
Mangga Road Beriani – Jalan Pokok Mangga
Mangga Vegetarian Cafe – Serdang Raya
Mangiare 21 – Jalan Bangsar
Mangkuk Ayam – DPulze
Mango Bite – Melaka Raya
Mango Blend Ori – Kubang Kerian
Mango Float Brothers – Taman Pandan Jaya
Mango Juice 14 – Section 14
Mango Smoothies – Kayu Ara
Mangolicious – Taman Nusa Bestari
MangoShake Senawang – Senawang
Mani Curry House – Seri Kembangan
Manja Cafe – IIUM
Manjoe Taiwanese Dumplings – Taipan
Manjoe Taiwanese Dumplings – The Gardens Mall
Manjoi Satay – Kampung Sungai Tapah
Manna – Taman Pulai Flora
Mannas Kitchen – Taman Nuri
Manpaanai Kitchen – Church Street
Mansor Famous Penang Mee Sotong – Jalan Perak
Manten Delights Restaurant – Jalan Tuanku Hassan
Mantra – Bayview Hotel
Mantra Caterer & Party Planer – Bandar Botanic
Mantra Indian Cuisine – Sunway Pyramid
Mantra Indian Cuisine – Sungai Gelugor
Manuel Kee Noodles House – Taman Megah Jaya [Non-Halal]
Manuk – Funky Farm Food Court
Manuqlicious Hauz
Manzur Capati – Jalan Nagore
Mao Shan Wang Dessert
Mao Zhong Drink Stall – Song Kheng Hai Hawker Centre
Maple Cafe – Damai Plaza
Maple Cafe – Bandar Baru Penampang
Maple Panmee Restaurant – Taman Bukit Indah [Non-Halal]
Maple Sky Cafe – Pusat Perdagangan Kampar [Non-Halal]
Mar & Mie Nasi Ayam – Taman Dimensi
Mar Rashid Enterprise – Arked Senawang
Maraj – Kelana Mall
Marble_recipe – Kota Warisan
Marco Polo – Bintulu Sentral
Mardiana Binti Jasmin – Medan Selera Ampangan
Margaret T – Taman Kota Shahbandar [Non-Halal]
Margaret.T – Sri Petaling [Non-Halal]
Marhaban Nasi Dalca – Kampung Melayu
Mari Makan – Bangunan ECM Libra
Mari Makan – Rasta TTDI
Marialuvcakes – Jalan Sulaiman
Mariam Legacy – Bandar Bukit Puchong
Mariam Rojak – Siang Food Court
Mariam Seafood Restoran – Daerah Limbat
Mariana Tomyam – Taman Sri Sentosa
Maria's Signature – KLCC
Marigold – Kuantan Star City
Marigold Palace – Kuantan Star City
Marikan's Bistro – Jalan Kuching
Marion Crepes – Lot 10
Marisa's Cafe – Bukit Jelutong
Marissa Corner – Kampung Batu 10
Marjorina Cafe – Prima Saujana
Market Lane Cafe – Jalan Sultan Iskandar
Markonah – Padang Jawa
Markonah Food & Co – Subang Jaya
Markonah Food & Co – Shah Alam
Markonah Kitchen – Tun Hussein Onn
Marlene's Kitchen – FoodLove Cafe [Non-Halal]
Marmalade – Bangsar Village II
Marmolada Thai Food – Century Garden [Non-Halal]
Marqas Kitchen – Plaza Usahawan
Marquis – G Tower
Marrybrown – Bandar Baru Bangi
Marrybrown – Bayu Tinggi
Marrybrown – Prima Saujana
Marrybrown – Tan Hiok Nee
Marrybrown – Mydin Senawang
Marrybrown – Oasis Seremban
MARSHALL's Co – Jalan SS15
Marshall's Co – Jln Ampang
Marshall's Co – Raja Uda
Marshall's Co – Summerton
Marshall's Co – Greenlane
Marshall's Co – Bukit Mertajam
Marshall's Co – Sri Petaling
Marshall's Co – Station 18
Marshall's Co – Arena Niaga Simee
Marshall's Co – SS2
Marshall's Co – Seremban 2
Marshall's Co – Skudai
Marshall's Co – Mount Austin
Marsya Burger – Taman Kota Masai
Marsya Burger – Taman Air Biru
Martabak Bang! – Uptown Puchong Night Bazaar
Martabak Bang! – Prinze Corner
Martabak Bang! – Bandar Sunway
Martabak Bang! – Kampung Baru
Martabak Bang! – Kg Sungai Penchala
Martabak Bang! – Taman Gombak
Martabak Bang! – Prima Damansara
Martabak Bang! – Chetz Chillax Cyberjaya
Martabak Bang! – Bangi Square
Martabak Bang! – Kota Bharu
Marthas Corner – Jalan Raja Perempuan Muzwin
Martin & Warm Cafe – Jalan KPKS 5
Marudi Kueh Tiaw – Jalan Sena [Non-Halal]
Maruki Ramen – The Linc
Marvel Coffee – Setia Triangle
Mary Satay & Oyster – Persiaran Lapangan Perdana 4 [Non-Halal]
Mary Wan Tan Mee – Jalan Bentayan
Maryam Restaurant Arabic Food – Taman Dato Ahmad Razali
Mas Bro – Bandar Utama
Ma's Meatballs – Bangsar
Ma's Meatballs – Taman Dagang Jaya
Ma's Meatballs – The Mines
Ma's Meatballs – Evolve Concept
Ma's Meatballs – Ampang Putra Residensi
Ma's Meatballs – Kayu Ara
Ma's Meatballs – Kota Damansara
Masakan Ala Thai & Makanan Laut – Bayan Baru Food Court
Masakan Indonesia – Langkawi Fair Shopping Mall
Masakan Kampung – Kampung Kepayan
Masakan Melayu @ The Spring Foodbazaar – The Spring
Masakan Pantai Timur – Mydin Mutiara Rini
Masakan Pantai Timur Cek Yah – Jalan Tampoi
Masakan Ringan & Dessert – Langkawi Fair Shopping Mall
Masakan Thai – Pasaraya CS
Masakan Yan – Jalan Raja Musa Aziz
Masala Darbar – Cyberjaya
Masala Grill Cuisine – Johor Cultural And Sport Club
Masala Roll – Bangsar Park
Masala Wheels – Petaling Jaya
Masali 20 Laksa – TT3 Corner
Masba Western Food – Taman Komersial Senawang
MasBro – University Plaza Sulaman
Mash Kitchen Baking Studio – Taman Pelindung Maju
Mashal Cafe by Muslim Kitchen
Mashh Up – Bandar Puchong Jaya
Mashigetta.Koreanfood – Bandar Baru Bangi
Mashisoyo By Jinjjayoo – Kampung Attap
Masih Kopitiam – Jalan Dedap [Non-Halal]
Masisseoyo – Jalan Mega Pusat Perdagangan
Masita Steak House – Taman Puncak Jalil
Masna HM Burger – Taman Uni Central
Maso Makan – Taman Putra Perdana
Masrinas O'Lan – Taman Bukit Tiram
Mastan Villa's Restaurant – Taman Angsana Jaya
Master Blend – Taman Markisah
Master Burger Mobile
Master Char Kueh Tiaw – Fauziah Family Cafe
Master Chef – Bukit Rimau [Non-Halal]
Master Chef – Restoran Sheng Heng
Master Chicken Rice – Taman Perindustrian Puchong Utama
Master G Noodle House – Publika [Non-Halal]
Master Grill – Persiaran Sibc 14
Master Hsu Taiwan Xiao Chi – Taman Maju Jaya [Non-Halal]
Master – Lot 89 Cafe [Non-Halal]
Master P Burger – Newton Hawker Centre [Non-Halal]
Master Tai Canteen – Bandar Baru Medan Ipoh [Non-Halal]
Master Tako – Pusat Komuniti
Master Tangshui Restaurant – Kawasan Perindustrian SILC [Non-Halal]
Master Thim Curry – Kopitiam Tong Nam [Non-Halal]
Master Waffle – Pasar Selayang Baru
Master Wang 王师傅 – Medan Ipoh Bestari [Non-Halal]
Master Wong Bbq Expert – Taman Hing [Non-Halal]
Master Wong Famous Roasted Chicken Rice – Garden Food Court [Non-Halal]
Master Yong Food Venture – Farlim [Non-Halal]
Master – Jingwood Cafe [Non-Halal]
Masthar Eco Sanctuary – Telok Panglima Garang
Mastiara Tomyam
Masyhur Cafe – Sulaman
Mat Burger – Jalan Pasir Puteh
Mat Cucur Udang – Medan Selera PKNK
Mat D Kepoq Celup Tepung – Kg Duyong
Mat Din Ayam Bakar Madu – Taman Bernam
Mat Nasir's Kitchen – Wisma Sri Taiping
Mat Rock Ayam Goreng Kunyit – Medan Selera Presint 9
Mat Rock Ayam Goreng Kunyit – Kelana Jaya
Mat Rock Ayam Goreng Kunyit – Bandar Sunway
Mat Rock Ayam Goreng Kunyit – Subang Perdana
Mat Rock Ayam Goreng Kunyit – Bandar Sri Permaisuri
Mat Rock Ayam Goreng Kunyit – Pandan Indah Industrial Park
Mat Rock Ayam Goreng Kunyit – Jalan Kampung Pandan
Mat Rock Ayam Goreng Kunyit – Medan Niaga Rampai
Mat Rock Ayam Goreng Kunyit – Kota Damansara
Mat Rock Ayam Goreng Kunyit – China Town
Mat Sentul Ayam Goreng Kunyit Dendeng – Sentul Raya Boulevard
Mat Tohid Ayam Goreng RM 1 – Lembah Keramat
Matahari Claypot Corner
Matahariis Banana Leaf – Serdang Jaya
Mataji's Vegetarian Corner – PJ Old Town
Matang BBQ Rice – Everfull Kopitiam [Non-Halal]
Matang BBQ Rice – Everwin Kopitiam Samarahan [Non-Halal]
Matchstick Masala – Hartamas Shopping Centre
Matchstick Masala – Bukit Bintang
Matchstick Masala – Hotel Flamingo Tasik Ampang
Matlibas – Taman Bercham Raya
Mato Station @ Satay Jawa Tulen – Jalan Kuala Krai
Matsumi Cafe – Desa Aman Puri [Non-Halal]
Matterhon Bistro – Taman Johor Jaya
Mattop Style – Bandar Putra
Mau Lagi Nasi Lemak – Jalan Kilang Nenas
Mau Lagi Nasi Lemak – Taman Ungku Tun Aminah
Maverlicious Cafe – Taman Anggerik Perdana
Mawar D'Corner – Taman Rasa Sayang
Mawar Food Court – Bunut Payong
Max Gourmet – Gurney Plaza [Non-Halal]
Maxim Dim Sum Concept Sdn Bhd – Lintang Paya Terubong 1 [Non-Halal]
Maxim Dim Sum Restaurant – Bangunan Lip Sin [Non-Halal]
May & May Sandwich House – Lintas Square
May Best Kitchen – Taman Kempas Utama
May Shiang Restaurant – Prominence [Non-Halal]
May Snack Corner – Skypod Residence
May Tip Thai Food – Taman Mutiara [Non-Halal]
May Wok Fried – Taman Jati [Non-Halal]
MaYa CaFe – Taman Desa Relau
Maya's Corner – Medan Selera JPJ Wangsa Maju
Maybo – Pusat Komersial Saujana
Mayonk Station – Pantai Tanjung Batu
Mayric's BBQ House – Inanam [Non Halal]
Maysan Coffee & Laundry – SetiaCity
Mayura Kitchen – Lebuh China
Mayzi Noodle House @ 3 Man Restaurant – Pusat Perdagangan Alam Jaya [Non-Halal]
Maz Burger House – Kampung Baharu Sungai Buloh
Maze Eatery & Bar – Jalan Medan Ipoh 2 [Non-Halal]
Maznah Cafe – Wisma TNB
Mazni FB-39 – Pasar Awam Sementara Seberang Jaya
MaZry Vietnamese Cuisine – Permas Jaya [Non-Halal]
Mazuinmas – Golden Royal Villa
MBLover & Burg's – Taman Austin Perdana
MC Curry Noodles Restaurant – Seksyen U1 [Non-Halal]
Mc'Chili – Seksyen 13
MCH Mala Restaurant – Taman Ungku Tun Aminah [Non-Halal]
McKee Dried Meat Bread – Sri Petaling [Non-Halal]
MCO Burger – Batu Caves
McQuek's Satay Celup – Banda Hilir [Non-Halal]
MCX Chicken Rice Shop 满城香鸡饭 – Jalan Tun Ahmad Zaidi Adruce
MD Briyani – Jalan Lebuh Ampang
MD. Dom – Medan Selera Pasar Menggong
Md Nor Soup Gearbox (Alas Meja Pink) – Taman Sri Bahagia
MD Putu Bambu World – Kampung Sg Udang
MD Rahmat Ala Carte – Flat Seri Siantan Bukit Baru
MD S Bistro – Paradigm Mall JB
MD Zain Cendol – Giant Hypermarket Southern City
Mdm. Kiow Cendol – Bukit Rambai
Mdm Lim Taiwanese Snacks – Chai Shu Cafe [Non-Halal]
Mdm Toh Kitchen – Permyjaya Food Centre [Non-Halal]
MDR Cafe (C/O TSM Red Bricks Coffee House) – Taman Sentosa
MDT Kape – 1Utama
MDT Kape – Sunway Pyramid
MDT Kape – Sunway Putra
MDT Kape – OUG Parklane
MDT Kape – Paradigm Mall
MDT Kape – IOI City Mall
MDT Kape – The Mines
MDT Kape – MesaMall
MDT Kape – KIPMall Kota Warisan
MDZ Kitchen – Taman Jumbo
ME Drinking Café – TPS MBPP Jalan Larut
Me Owl Cafe – SS15
Meai Beauty House – Lorong Peramu Baru 27
Meal Art Cafe – Jalan Song [Non-Halal]
Meal2U – Taman Perindustrian OUG
Meals Plus – Menara Shell
Meals Station – Wisma UOA II
Meals Station – Menara Hap Seng
Meals Station – Intermark
Meals Station – KL Sentral
Mean Mince
Meat & Co. [Non-Halal]
Meat and Match – Amcorp Mall
Meat Cartel – SS15
Meat Cartel – Bandar Baru Bangi
Meat Cartel – Jalan Ipoh
Meat Cartel BBQ
Meat Cartel – Seksyen 13
Meat Cartel – Ayer@8
Meat Cartel – Medan Meru
Meat Cartel – Bandar Botanic
Meat Cartel – TTDI
Meat Cartel – Bandar Prima
Meat Hunger – Taman Equine
Meat N Bun – Puchong Jaya
Meat N' Greet – Taman Sutera Utama
Meat One Cuisine – Bandar Puchong Jaya [Non-Halal]
Meat One Cuisine – Wisma Menjalara [Non-Halal]
Meat The Porkers – Plaza Damansara [Non-Halal]
MeatBall AjakBoss – Jalan Johan Setia
Meatology – TTDI [Non-Halal]
Meaty Grill Western Corner – EaTea Cafe [Non-Halal]
Medal Mad Cafe [Non-Halal]
Medan Homestay – Sungai Ara
Medan Mak Intan Mix & Match
Medan Malim Drinks – Taman Malim Jaya
Medan Selera 333 Sister Handmade Noodle Stall [Non-Halal]
Medan Selera 88 – Jalan Sultanah Zainab
Medan Selera Anjung Kasih – Tasik Titiwangsa
Medan Selera Dataran Mat Riau Mix & Match
Medan Selera Malim Jaya Mix & Match – [Non-Halal]
Medan Selera Newton Mix & Match – [Non-Halal]
Medan Selera Stadium Mix & Match
Medan Selera WDS Mix & Match – [Non-Halal]
Medan Selera WR – Jalan Raja Uda [Non-Halal]
Medifoods – Damansara Kim
Medina Food – Persiaran Meru Utama
Mediteranean Rice Bowls – Ampang Putra Residensi
Mediteranean Rice Bowls – Taman Sri Hartamas
Mediteranean Rice Bowls – Bukit Bintang
Medley – Lorong Maju Utama
Mee Abu – Jalan Teluk Wanjah
Mee & Yong Tau Foo – Giant Hypermarket Setapak
Mee Bakso Pedes – Taman Meru Perdana
Mee Bandung Abu Bakar Hanipah – Tanjung Emas
Mee Bandung Gerai Bonda – Gerai Makan Perhentian Bas & Teksi
Mee Bandung Hjh Milah – Tanjung Agas
Mee Bandung Kak Eiyla – Medan Selera Ayer Keroh
Mee Bandung Muar – Taman Watan
Mee Bandung Muar A Plus – Aki Food Court
Mee Bandung Muar Char Kuey Teow – Jalan Masjid
Mee Bandung Muar Haji Masjuki – Presint 15
Mee Bandung Merecik Hawau – Dataran Bukit Baru
Mee Cambol Telur Ala Thai – Kampung Tanjung Chat
Mee Celup A&F – Taman Desa Cemerlang
Mee Celup Otai – Jalan Beris Banggu
Mee Celup Special 30 & Nasi Kerabu Warisan Bonda – BeeliFood
Mee Celup Wangsa – Wangsa Melawati
Mee Daud Mat Jasak – Jalan Datuk Onn Jaafar
Mee Goreng – Pasar & Kompleks Makanan Taman Terubong Jaya
Mee Goreng & Clam Fried Kway Teow – Green World Food Court
Mee Goreng & Rojak Silibin – Taman Malcop
Mee Goreng Mamak – Casual Market
Mee Goreng Mamak – Taman Desa Cempaka
Mee Goreng Mamak Daun Pisang – Larut Matang Food Court
Mee Goreng Mamak Special – Jalan Paya Terubong
Mee Goreng Pasembur – Sungai Pinang Food Court
Mee Goreng Penang – Amandesa Resort Condominium
Mee Hailam Ang Ang – Taman Boon Bak
Mee Hong Kong – Restoran Chang He [Non-Halal]
Mee Hoon Koay – Restoran Starfood Corner [Non-Halal]
Mee Hoon Kuih – 63 Food Court
Mee Hoon Kuih – Restoran One Plus Eight Kopitiam
Mee Hoon Sup Ikan Muzium & Mee Brunei – Kafe Najwa
Mee Hoon Sup Ikan Muzium & Mee Brunei – Menara Pelita
Mee Hoon Sup Ikan Muzium & Mee Brunei – Qims Cafe
Mee Hun Kuih – MS 26 Kopitiam [Non-Halal]
Mee Hun Kuih – Restoran 89 Kopitiam [Non-Halal]
Mee Hun Kuih – Restoran Wan Xi Heng
Mee Jalil Original Penang Taste – KL
Mee Jawa – Medan Selera WR
Mee Jawa & Nasi Lemak – Warung Dapur Bagus
Mee Jawa & Rojak Ayam – Cafe Mak Jannah
Mee Jawa & Rojak Ayam – Kopitiam 2 Cinta
Mee Jawa Bunda – Rend Burger Cafe
Mee Jawa – Fu Yu Cafe Satok
Mee Jawa Mak Siti City Park – Seremban 2
Mee Jawa Mak Siti Lukut – Kuala Lukut
Mee Jawa Mak Siti Penghulu Cantik – Medan Selera Penghulu Cantik
Mee Jawa – My Kopitiam
Mee Jawa Nasi Lemak – Kafe Baobao Ais Kacang 1
Mee Jawa Padang Tembak – Pusat Ekonomi Padang Tembak
Mee Jawa Satay & Rojak Ayam – Kafe Najwa
Mee Kambing – Ting Cafe
Mee Kari & Rojak Ayam – Kunyap-kunyap Cafe
Mee Kari Daud Mat Jasak – Angsana Mall
Mee Kari Mama – Kampung Dato Ahmad Said Tambahan 2
Mee Kari MJGK – Jalan Sultan Mohamad
Mee Kari Padu Noraziz – Taman Seri Dermawan
Mee Kari Power – Taman Bunga Kantan
Mee Kari Railway Rasah – Lake View SQ
Mee Kari Sungai Putat – Sungai Putat
Mee Ketam Viral Crab.com – Medan Angsana
Mee Kicap & Co – Medan Selera SS15
Mee Kicap Special – Medan Selera SS15
Mee Kolok – Fuyu Cafe Satok
Mee Kolok Mail Sirat – Z.Z Corner
Mee Kolok Pokodot – Kota Samarahan
Mee Kolok Sego Mamajue – Kafe Najwa
Mee Kolok Semerah Padi – Fauziah Family Cafe
Mee Kolok Semerah Padi – Kafe Semerah Padi
Mee Mamak – CCS One Cafe
Mee Racun – Kampung Lubok Buaya
Mee Racun Titan – Sungai Buloh
Mee Rebus Angsana – Angsana Mall
Mee Rebus Champion – Jalan Camar
Mee Rebus Haji Wahid – Bandar Indera Mahkota
Mee Rebus Haji Wahid – IOI Puchong
Mee Rebus Haji Wahid – Shaftsbury Putrajaya
Mee Rebus Kak Ita 2G – Seri Manjung
Mee Rebus Lejen – Seri Manjung
Mee Rebus | Mee Goreng – Pusat Perniagaan Alma
Mee Rebus Sahabat – Gerai Statik Jalan Tun Teja
Mee Rebus Selera Johor – Medan Selera Presint 9
Mee Rebus Selera Stulang Laut – Johor Street Market
Mee Rebus Stulang Laut – Plaza Larkin
Mee Rebus Stulang Laut – Paragon Market Place
Mee Rebus TC – Taman Cempaka
Mee Roket – Taman Gedung Heights
Mee Sahul Siti – Kopitiam Ukir Mall
Mee Sapi, Duck Porridge Duck Noodle – YS Food Court
Mee Sapi Kuching – Jalan Rice Mill
Mee Sapi Lijot – Warung Dapur Bagus
Mee Stall – Tong Fung Cafe [Non-Halal]
Mee Sup KB Newon – Funky Farm Food Court
Mee Tarik Warisan Asli – AEON Rawang
Mee Tarik Warisan Asli – Mahkota Parade
Mee Tarik Warisan Asli – Sunway Carnival
Mee Tarik Warisan Asli – Mydin Meru Raya
Mee Tarik Warisan Asli – Metro Point Complex
Mee Tarik Warisan Asli – IOI City Mall
Mee Tarik Warisan Asli – Bangi Sentral
Mee Tarik Warisan Asli – Paradigm Mall JB
Mee Tarik Warisan Asli – KIP Sentral
Mee Tarik Warisan Asli – KTCC Mall
Mee Tarik Warisan Asli – AEON Mall Kota Bharu
Mee Tauhu Corner – Karamunsing Capital
Mee Too – Jalan Sim Kheng Hong [Non-Halal]
Mee Udang – Sungai Ara Food Court
Mee Udang Galah Sempoi – Jalan Bakar Kapor
Mee Udang Ketam Sempoiii Diraja – Taman Tanjung Perdana
Mee Udang Selambak – Jalan Sungai Korok
Mee Udang Sotong Crispy / Linut (Umie Iman) – Qims Cafe – Kampung Tupong Hulu
Mee Udang Taiping Mai – Lorong Melati
Meei Shih Seafood Restaurant – Taman Kulai Utama [Non-Halal]
Meek Wook Corner – Sunway Nexis
Meeno Kitchen – Pandan Nasi Lemak Station
Meepo Charcoal Roasted Pork – Soon Li Cafe [Non-Halal]
Meera Kafe – Arked Mara
Meeraa Cafe – Taman Kajang Utama
Meershaz Rojak N Cendol – Taman Setapak Jaya
Meet Joe – Bangsar Baru
Meet @ Max – Pusat Perniagaan Alma
Meet Mee – Danau Kota [Non-Halal]
Meet Mee – Danau Kota [Non-Halal]
Meet Tea – Bandar Mahkota Cheras
Meet You Grilled Fish – Pusat Perniagaan Olive Hill
Meet You Western Food – Pusat Makanan Gunung Rapat Enam Enam
Meeting Music Restaurant Bar – Pearl Avenue [Non-Halal]
Mefa Kopitiam
Mega Bite Box – Jalan North Yun Seng
Mega Cornshake Durian Tunggal – Pekan Durian Tunggal
Megah Taiwan Sausage – Rock Cafe [Non-Halal]
Megamas Curry House – Megamas Business Centre
Meg's Cafe – SS15
Mei Hao Stir-Fried – Restoran Wan Xi Heng [Non-Halal]
Mei Hou Cafe – IOI Boulevard Puchong [Non-Halal]
Mei Hou Cafe – Sunway Nexis [Non-Halal]
Mei Lin Healthy Vegetarian Restaurant – Taman Melaka Raya
Mei Man Cafe – Jalan Lai Chee
Mei Mei Braised Pork Rice – 298 Kopitiam [Non-Halal]
Mei Mei Chicken Rice – Mei Mei Food Centre [Non-Halal]
Mei Mei Claypot Porridge 砂锅粥 – Mei Mei Food Centre [Non-Halal]
Mei Mei Food Centre Mix & Match – [Non-Halal]
Mei Wei – Taman Universiti [Non-Halal]
Mei Wei Hin Restaurant – Bandar Puteri [Non-Halal]
Mei Wei Little Kitchen – Seksyen 17 [Non-Halal]
Mei Wei Xiang – BB Corner Malim
Mei Ying Curry Mee – Taman Johor Jaya [Non-Halal]
MeiYueLe Cafe – Lorong Maju Jaya 2 [Non-Halal]
Meizen Kitchen – 1Shamelin [Non-Halal]
Meji – Dataran Perniagaan Cheras
Meji – MyTown
Mek Chicken – Taman Ampangan
Mek Lrt Sentul Timur Station – Lrt Sentul Timur Station
Mek Tomyam – Bazaria Pantai Dalam
Mekar Restaurant – Wisma Merdeka
Melaka Nyonya Village – Jalan Parameswara
Melalak – Laman Glenmarie
Melano Sate KL – Wangsa Maju
Melati Mekar – Medan Selera Batu Buruk
Melawati Nasi Ayam Singapore – Taman Melawati
Melia Corner – Stutong Community Market
Mellowcup Coffee
Meloris Cafe – Jalan Dato Kramat
Mel's – Smk Sultan Ibrahim Satu
Mel's – Sebelah Masjid Mukim Belimbing
Mel's Burger – Jalan Jelebu
Melt Me – Taman Melaka Raya
Melur & Thyme – KLCC
Mem Corner – Sri Desa Tanah Hitam
Mem Wedding Cafe – Jalan Taming Jaya 2A
Memang Meow – MyTown
Memang Meow – Sungai Besi
Memang Meow – AEON BiG Wangsa Maju
Memang Meow – The Mines
Memang Meow – Lotus's Ampang
Memang Meow – Spectrum Shopping Mall
Memang Meow – Melawati Mall
Memang Meow – Lotus's Klang
Memang Meow – Plaza Lowyat
Memang Meow – SOGO KL
Memang Meow – Plaza Metro Kajang
Memang Meow – Taman Selayang Utama
Memang Meow – Matahari Mall
Memang Meow – KIP Mall Kota Warisan
Membawang Cafe – Jalan Bunga Raya
Membawang Corner – Jalan Pantai Tengah
Membawang Kafe – Intana Ria
Memexpress – Gurney Plaza
Memphis Bistro – Petaling Jaya
Menako Takoyaki – The Port
Menako Takoyaki – Twin Garden Food Court
Menako Takoyaki – Uptown Kota Damansara
Menako Takoyaki – Kampung Baru
Me'nate Steak Hub – Taman Shuet Liang
Me'nate Steak Hub – Seksyen 14
Me'nate Steak Hub – Jalan Genting Klang
Me'nate Steak Hub – Seksyen 9
Me'nate Steak Hub – Taman Tasek
Me'nate Steak Hub – Seremban
Meng Delicious – Evolve Concept
Meng Kee Grill Fish – Jalan Alor
Meng Liang Cafe – Taman Cheng Baru [Non-Halal]
Meng Meng Curry Noodle @ SFS Kopitiam 747 – Sunwaymas [Non-Halal]
Meng Meng Roasted Duck – Austin Heights [Non-Halal]
Meng Meng Roasted Duck – Mid Valley Southkey [Non-Halal]
Meng Wa Seafood – Aneka Selera Ipoh Garden
Mengan Cafe – One Avenue 9
Menggatal Ngiu Chap – Penampang
Menglembu East Ocean Restaurant – Hala Perusahaan Menglembu 17 [Non-Halal]
Meng's Kitchen – Taman Pertama [Non-Halal]
Mentari Kopitiam – Jalan Pasir Puteh
Mentega Keju – Desa Ilmu
Menu By Chef Imran – Bandar Puteri Puchong
Menuscript Restaurant – SS2 [Non-Halal]
Menya Daruma – Taman Mount Austin [Non-Halal]
Menya Miyabi Hokkaido Ramen – Prima Tanjung [Non-Halal]
Menya Miyabi Hokkaido Ramen – Queensbay Mall [Non-Halal]
Menya Musashi – 1Utama [Non-Halal]
Meo Meet Each Other – Taman Eko Botani [Non-Halal]
Merah Kitchen & Bar – Jalan Ibrahim
Meraki Coffee – Island Plaza [Non-Halal]
Mercat Barcelona Gastrobar – Mont Kiara [Non-Halal]
Mercat Barcelona Gastrobar – Bangsar [Non-Halal]
Mercato – Jalan Rangoon [Non-Halal]
Merecik Western – Bandar Seri Alam
Meriam Tomyam – Kampung Kuala Sungai Baru
Merican Kembali – Kedai Kopi Melo
Merket – Wangsa Maju
Mermaid Cafe – Desa Kiara Condominium
Mermoy's – University Plaza
Mersal Claypot Curry Rice – Taman Merdeka
Merseyside Cafe – Plaza Kelana Jaya
Meru Stations – Pekan Meru
Mesra – Petronas Samarahan Expressway
Meteora Cafe – USJ 9
Metro Tomyam – Taman Melawati
Metropot Bistro – Metrotown
Meun Cafe 心煮意 – Bandar Cyber [Non-Halal]
Mew Cha – Summerskye
Mew Cha – Gurney Paragon
Mew Kee Cafe – Parent Lot [Non-Halal]
Mew Kee Stall No 1 – Parent Lot [Non-Halal]
Mews Cafe – Lebuh Muntri
Mexican Food – Taman Komersial Senawang
Mexigogo – Centro Mall
Mey Dumpling – Kepayan Ridge [Non-Halal]
Mezban n' Grills – Bukit Bintang
Mezocaa – Taman Bukit Indah
Mezocaa – Taman Sutera Utama
Mezze Bistro – Medan Damansara [Non-Halal]
MFC Mama Fried Chicken – Taman Setia Indah
MFF Fast Food – Jalan Besar Pekan Tampin
MFF Fast Food & Cafe – Taman Aked Ayer Leleh
MFF Fast Food Kafe – Jalan Kelochor
M.Firdaus Corndog – Taman Bukit Dahlia
MG 83 Cafe 糖⽔美 ⻝馆 – Kampung Masjid Lama [Non-Halal]
Mg Coconutshake – Jalan Hospital
MHZ Kitchen – Taman Cheras Jaya
Mi Bandung Udang Galah – Medan Selera Iskandar Malaysia
Mi Hotplate – TF Value-Mart Sunway City
Mi Hun Kueh / Mochi – Jalan Bentayan
Mi Hun Kueh/ Tomyam – Pusat Penjaja Bentayan [Non-Halal]
Mi Hun Kuey – Bestmart 077 Food Court
Mi Jawa Mak Uteh – Kafe Mas Wangi
Mi Tarik Silu – Dataran Putrajaya
Mi Taufu Organic – Pusat Perniagaan Lukut Utama
Mia Boat Noodle – Imago Shopping Mall
Miao Cha – Dataran Cheras 8
Mia's – Karamunsing Basement Food Court
Michael Kong Ice – Larut Matang Food Court
Michelangelo's Restaurant & Bar – Solaris Mont Kiara
Michelangelo's Restaurant & Bar – Pavilion
Michele's Kitchen – Damansara Jaya [Non-Halal]
Nasi Lemak Peel Road 啤律椰浆饭 – Jalan Peel [Non-Halal]
Michi Michi – Arena Curve [Non-Halal]
Mich'sology – Shah Alam
Mich'sology – Uptown Damansara
Mickey Western Food – Taman Mutiara Mas [Non-Halal]
Midam Korean BBQ Restaurant – Sri Petaling [Non-Halal]
Midat Cake . Western – Langkawi Mall
Midnight Cat Noodle – Jalan Thai Pak Koong [Non-Halal]
Mido Korean BBQ – SS2 [Non-Halal]
Mido Restaurant – Donggongon [Non-Halal]
Mie Lao Huang – Restoran Sheng Heng
MieLer Healthy Yogurt – Jalan Zainal Abidin
MieLer Healthy Yogurt – SS21
Mie Roti Canai – Jalan Rajawali
Mieler Healthy Yogurt – Jalan Mega
Mieza D'Sha – Subree Kopitiam
Miga Korea Bbq – Persiaran Bayan Indah [Non-Halal]
Mighty Monster – MyTown
Migo Onigiri – Plaza Melaka
Mih. Oreo 1019 Cafe – Desa Tambun Indah
Mihimihi – Sunway Velocity
Mii 2 Noodles – Solaris [Non-Halal]
Mii's Kitchen – Taman Mesra Permai
Mijies Cafe – Jalan Sekerat
Mikado – Bandar Puteri Puchong
Mikael Cafe – Jalan Cengkerik
Mikail Muslim Chinese Kitchen – Taman Kinrara
Mikaisuki Ramen – FGJB
Mika's Crispy Corner – Kota Kemuning
Mikayla Isna Restaurant – Jalan Matang
Miker Pizza – Gunung Rapat
Miker Pizza Padang Ipoh – Jalan Tun Sambanthan
Mike's Kitchen – Taman Merdeka Permai [Non-Halal]
Mikey's Original New York Pizza – PJ222 – Petaling Jaya
Mikhail Western Cuisine – Kemena Land District
Mikhuzasushi – Pekan Meru
Mila Kitchens – Taman Tasik Puchong
Milano Cake House – Taman Utama
Milk & Honey Cafe – Greenlane Heights [Non-Halal]
Milk & Honey Cafe – Jalan Pahang [Non-Halal]
Milk Bar – Wisma Langat
Milk Cafe – Taman Putra Kajang
Milky Farm – KSL City Mall
Milky Farm – Eko Botani
Mill Bakery Cafe – Desa Sri Hartamas
Mille Caffe – Bandar Menjalara
Milligram Cafe [Non-Halal]
Million Ocean Restaurant – Taman Salak South [Non-Halal]
Milwaukee Steak Corner – Plaza Kasturi
Mimi Cafe – Perkampungan Sungai Isap 3
Mimi Hai Nan Chicken Rice – Beverly Hill
Mimi Kitchen – Jalan North Yun Seng
Mimicking – Jalan Teluk Burau
Mimicking – Jalan Pandak Mayah
Mimosa Crepe – Taman Sri Tebrau
Min Feng Restaurant – Pavilion Bundusan [Non-Halal]
Min Hong Kee 居豐民 – Jalan Padungan [Non-Halal]
Min Satay Corner – Taman Nasalim
Mina Wantan- Taman Surabaya Indah
Minah Cafe – Jalan Rakyat [Non-Halal]
Mincha – Dah Yeh Villa
Mine Mine – Riverfront City
Mine Yogurt ⻨酸奶 – Tabuan Tranquility 3
Minf Houze Vegan Cafe – Wisma Cosway
Ming Chinese Restaurant – Sabah Hotel
Ming Fresh Juices – Kedai Kopi Man Li Hiong Bak Kut Teh [Non-Halal]
Ming Gu Restaurant – Grand Plaza Putatan [Non-Halal]
Ming Hin Restaurant – Bukit Jalil [Non-Halal]
Ming Hoe Hokkien Mee Restaurant – Viva Business Center [Non-Halal]
Ming Inn Cuisine – Jalan Radin Tengah [Non-Halal]
Ming Ji Enterprise – Cangkat Sungai Ara [Non-Halal]
Ming Ji Restaurant – Taman Johor Jaya [Non-Halal]
Ming Kee Bak Kut Teh [Non-Halal]
Ming Kee Claypot – iCom Square [Non-Halal]
Ming Kee Duck Shop – iCom Square [Non-Halal]
Ming Kee Hokkien Mee – You & Mee Food Court [Non-Halal]
Ming Kee Steam / Salad Chicken Rice – Everwin Kopitiam Samarahan
Ming Lu Chicken Rice – 116 Kopitiam [Non-Halal]
Ming Ren Xuan – Avenue K [Non-Halal]
Ming Si Vegetarian Restaurant – Taman Segar
Ming Sing Seafood Coconut – Taman Nusa Bestari 2 [Non-Halal]
Ming Wei – Restoran Wang Kim [Non-Halal]
Ming Yang – Setia Alam [Non-Halal]
Ming Zai Set Rice – Jalan Bukit Kecil
Mingle Cafe – City Centre
Mingmom Home Cook – Taman Bukit Mutiara [Non-Halal]
Ming's Chicken Rice – Hai Ching Cafe [Non-Halal]
Mini Nasi Lemak Tepi Jalan 1996 Sdn Bhd – Jalan Suadamai
Minie's Restaurant – Lorong Batu Nilam 15A
Minimalist – Jalan Aston [Non-Halal]
Ministry Of Chicken – Technoflex Food Court
Minnal Restoran – Twin Galaxy Residence
Mint Light – Pusat Perdagangan Greentown
Mint Peppermint – Karamunsing Capital
Mint Pizza – Lorong Seri Kuantan
Minuman – TF Value-Mart Sunway City
Minuman Kim City – Taman Pelangi
Mios Kitchen – Putrajaya
Mios Kitchen – Seksyen 13
Mios Kitchen – Bandar Kinrara
Mios Kitchen – Seksyen 15
Mios Munch – Wangsa Walk
Mios Munch – Seksyen 13
Mios Munch – Bandar Kinrara
Mios Munch – Presint 15
Mios Munch – Jalan Tukul
MiPablo Fried Laksa – Suria Jelutong
Miraca Corner – Riverside
Miracle Kitchen – Jalan Terus
Miracle Orca Burger & Rooster Chicken – Kepayan Ridge
Mirani Cafe & Hotel – Taman Melawati
Mirathun Caterers Sentral Kitchen – Taman Cempaka
Mirchi Spices – Taman Wee & Wee
Miri Food Restaurant – Pelita Commercial Centre
Miri Kimchii Cafe – Lutong [Non-Halal]
Miru Dessert Cafe – SS21
Miru Dessert Cafe – Pavilion
Mirza Thai Kitchen – Jalan Masjid
MIS ⼠古来鸭⾁ – Taman Sri Skudai [Non-Halal]
Misai Mee Jawa Pasembur – Jalan Raja Uda
Misela Cafe – Kampung Pasir
Mish Mash – Muntri Street [Non-Halal]
Mishaltit – Kajang De Centrum
Mishaltit – Sri Petaling
Mishaltit – Persiaran Serdang Perdana
Mishaltit – PV7
Mishary Kitchen – One Place
Miso BBQ Korean Restaurant – Jalan Ampang Utama [Non-Halal]
Miso Korean Restaurant – Bandar Damai Perdana
Miss Carol Kitchen – Humah Nibong Samarahan [Non-Halal]
Miss Martabucks – Grace Junction
Miss Mi Yogurt – Jalan Raja Uda
Miss Mi Yogurt – Elit Avenue
Miss Mi Yogurt – Bandar Sri Petaling
Miss Tan Oriental Cuisine – Residensi Harmoni 1 [Non-Halal]
Miss X Cafe – Kompleks Perniagaan Kota Syahbandar [Non-Halal]
Mist Hookah Lounge – Taman Abad
Mister Beef Cafe ⽜哥⽜腩⾯(東甲) – Jalan Permas
Mister Misai – AEON Ipoh Klebang
Mister Roboto – Kelana Square
MiTo 米多 – Kuching Sentral
miwan & co – Bandar Baru Teluk Intan
Mix & Fuse Restaurant – Taman Connaught
Mix & Yes – Jalan Guntong
Mix Rice @ 126 PSK Restaurant – Seri Kembangan [Non-Halal]
Mix Soup & Tauhu Soup – Hua San Court [Non-Halal]
Mix Up Waffle – Spectrum
MixDe Kitchen – Lorong Seri Alma [Non-Halal]
Mixed Cuisine – Season Food Court
Mixed Rice – Good Timing Food Village [Non-Halal]
Mixed Vegetable Rice 杂菜饭 – Taman Impian Emas [Non-Halal]
Mixiang Kitchen [Non-Halal]
Miyakori Coffee – Pusat Komersial Sri Utama
Miyatake Sanuki Udon – 1Utama [Non-Halal]
Miyo Boy – Taman Rapat Setia Baru
Mizi Bistro – Lotus's Tanjung Pinang
Mizi Cafe – Jalan Dewan
Mizu – Johor Jaya [Non-Halal]
Mizuya Japanese Cuisine and Cafe – Jalan Dataran Marvelane [Non-Halal]
MJ BBQ Pork – Food City Kolombong [Non-Halal]
MJ Bistro Shell-Out & Western – Jalan Pandan Prima
MJ Cafe & Restaurant – Casa Tropicana
MJ Kitchen – Jalan Dato Permaisuri 5B
Mj Pasembur Rojak Mee Rebus Corner – Jalan Kledang
MJ Salted Chicken – Kampung Baru Sungai Buloh
M.Jays Cafe – Bangunan Ichi
MJ's Corner Nasi Lemak – Kota Kemuning [Non-Halal]
MJ's Family Restaurant & Catering – Taman Anggerik Emas
MJuice – Pending Commercial Centre
MJYS Mapun Café – Alam Mesra Plaza Utama
MK Ayam Bakar – Fauziah Family Cafe
MK Dot Trading – Taman Bukit Kempas [Non-Halal]
Mk Foodie Station – Cheras Traders Square
Mk Foodie Station – Sri Petaling
Mk Foodie Station – Kuchai Entrepreneurs Park
Mk Foodie Station – Pusat Perniagaan Maju Utama
MK Izakaya – Sri Petaling [Non-Halal]
Mk Kingfisher Dim Sum – Pavilion Foodcourt [Non-Halal]
MK Kolo Mee – Yong Kwang Kedai Kopi [Non-Halal]
MK Krua Teerak Thai Food – Sri Petaling
MK Lou Fo Bak Kut Teh – Sri Petaling [Non-Halal]
MK Porridge [Non-Halal]
MK Porridge – Dataran Sunway [Non-Halal]
MK Porridge – SS2 [Non-Halal]
MK Village Clay Pot Rice – Taman Industry Jaya
ML Bubble Tea – Telok Gadung Besar
M'Laboori (Murni Discovery) – SS2
MM Dhivya Sweets – Batu Caves
MM Fat Cat Restaurant – OUG Parklane [Non-Halal]
MM Mee Hun Kueh – Restoran Lion Boy [Non-Halal]
MMA Nilai Shelloff – MMA Santai Corner
MMU Lepak Haus – Jalan Raya
MMY Golden Fresh Sugarcane – Taman Mount Austin
MMZ Bistro Sup Haji Abu
MNK Roti John – Gombak
MOB Ministry of Burger – Kip Utama Bachang
Mochee Dimsum House – Bukit Katil
Modern Baba Nyonya – Jalan PSK6 [Non-Halal]
Modern Curry House – Prima Square
Modern World – Taman Kota Syahbandar [Non-Halal]
Moge Tee – Bandar Puteri
Moge Tee – Taman Usahawan Kepong
Moge Tee – Bandar Botanik
Moge Tee – Taman Sutera Utama
Moge Tee – Gala City
Moghul Mahal Restaurant – KL Tower
Moghul Mahal Restaurant – Glomac Cyberjaya
Moghul Mahal Restaurant – Brickfields
Mohamad Amin Roti Canai – Jalan Larut
Mohd Chan – Taman Dato Ahmad Razali
Mohd Chan – Seksyen 15
Mohd Chan – Bandar Baru Bangi
Mohd Chan – Bukit Beruntung
Mohd Chan – Glenmarie
Mohd Chan – Dataran Glomac
Mohd Chan – Taman Melawati
Mohd Chan – Pusat Bandar Rawang
Mohd Chan – Klang Central
Mohd Chan – Sunway Geo Avenue
Mohd Chan – Subang Parade
Mohd Chan – MyTown
Mohd Chan – Kota Kemuning
Mohd Chan – Ara Damansara
Mohd Chan – Presint 15
Mohd Chan – Taman Indera Mahkota
Mohd Chan Dim Sum & Express – Pantai Hospital
Moi Jie Nasi Lemak – Taman Desa Bercham
Mojo Jojo Cafe – Menara Paragon
Mojojo Western Food – Taman Bukit Indah
Mojos Kitchen – Menara Olympia
Mok Corner – EG Mall
Mok Corner – Taman Sinar Baru
Mok Corner – Megalong
Mok Naa – Jalan Peramu
Mok Teh Nasi Dagang – Jalan Wangsa Delima
Mok Thai – Jalan Changkat Permata
Moka Kafe – Jalan Hospital
Mokde Kitchen – Uptown Puchong Night Bazaar
Mokisq Banana Mazita D'Mokisq Banana – Jalan Pantai
Mokisq Banana Steak Hub – Jelebu Ampangan
Mokka Cafe – Bukit Jalil
Mokmok Brunch And Bistro – Taman Pelangi
Moks Chicken – Platinum Walk
Mok's Singgong – Taman Anda
Mokti's Kampung Baru – Kampung Baru
Mokz Burger – Subang Bestari
Molaha Station – Taman Paroi Jaya
Mollagaa Restaurant – Lebuh Ampang
Molly's Dayak Food – Rumah Asap Dayak Samarahan [Non-Halal]
Molly's Tea House – Jalan Utara
Molten Chocolate Cafe – MyTown
Molten Chocolate Cafe – Lot 10
Molten Chocolate Cafe – Setia City Mall
Molten Chocolate Cafe – Paradigm Mall
Molten Chocolate Cafe – Dataran Pahlawan
Molten Chocolate Cafe – Melawati Mall
Molten Chocolate Cafe – Central i-City
Molten Chocolate Cafe – Uptown
Molten Chocolate Cafe – AEON Tebrau City
Molten Chocolate Cafe – Toppen Shopping Centre
Mom Curry Mee – BL Business Centre [Non-Halal]
Mom Mom Cafe – Taman Rainfield
Moment Cuisine – Laman Rimbunan Kepong [Non-Halal]
Moments of Spices – Pusat Perdagangan Bandar Bukit Jalil
Momentz Music Restaurant & Bar -Taman Perindustrian Puchong Utama [Non-Halal]
Momiji Japanese Restaurant – Marina Square Phase 2 [Non-Halal]
Momosan Donburi @ 33 Food Court – Taman Klang Utama [Non-Halal]
Momosan Donburi @ Jin Hochiak Kopitiam – Setia Alam [Non-Halal]
Mom's Cucur Campur Kafe 63 – Kampung Gita
Mom's Laksa – Astana
Mon Mon Corner – Food City Kolombong
MONA by Jibril
Monday Buddies – Penang Hill
Mondo Burger – Kitchen Co
Mondrian Restaurant & Cafe – Taman Delima Raya
Mong A Chinese BBQ & Snacks – Brighton Square [Non-Halal]
Mong Cafe – Inanam
Monga Fried Chicken – Pusat Perdagangan Mega
Monga Fried Chicken – Spa City Mall
Monga Fried Chicken – Pusat Perniagaan Raja Uda
Monga Fried Chicken – Jalan Bawasah
Monga Fried Chicken – Damansara Uptown
Monggo Talam Kampung – Taman Matang Jaya
Mongimbayat Cafe – Plaza Utama [Non-Halal]
Mongolia BBQ – Bukit Bintang
Mongolian Barbeque – Fisherman's Wharf Food Corner
Mongolian Master – Jalan Foochow 2 [Non-Halal]
Monique Ayam Penyet & Tomyam – Taman Desa
Monjo Coffee – Shaftsbury Square
Monroe – Jalan Bukit Bintang
Monsieur Toast – Damai Plaza [Non-Halal]
Monster Pig – Limbongan Food Court [Non-Halal]
Monster Sweet – Taman Johor
Monster Tea House – Persiaran Hampshire
MonsterChef – Prima Tiara 2
Monsterpig Ah How's Pork Burgers – Taman Ungku Tun Aminah [Non-Halal]
Monsterpig Ah How's Pork Burgers – Kopitiam Fei Zai 99 [Non-Halal]
Monsterpig Ah Seng Burger – Old Street Mount Austin [Non-Halal]
Monsterpig Western Food – Wu Pang Kopitiam [Non-Halal]
Mont Kiah Nasi Ayam Mi Wan Tan – Plaza Mont' Kiara
Monte Cafe – Taman Kota Laksamana Jaya
Monte Coffee – Jalan Canna
Montel Tauhu Begedil BySoullyha – Kenari Apartment
Monzarella Burger – SS15
Moo Auan Thai Restaurant – Jalan Pudu Ulu [Non-Halal]
Moo Cow – Publika
Moo-Ka-Ta Thai BBQ Steamboat – Taman Connaught [Non-Halal]
Moo-Ka-Ta Thai BBQ Steamboat – Jalan Vista Mutiara [Non-Halal]
Moo-Ka-Ta Thai BBQ Steamboat – Dataran Sunway [Non-Halal]
Moo-Ka-Ta Thai BBQ Steamboat – SS15 [Non-Halal]
Moo Noi Mookata & BBQ – Off Jalan Genting Kelang [Non-Halal]
Mooban – SS15 [Non-Halal]
Mooghurt – Ipoh
Mooji 無印良食- Jalan Batu Kawa [Non-Halal]
Mookata Palace Restaurant – Auto City [Non-Halal]
Mookata Thai BBQ – Marina Square [Non-Halal]
Mookathai – Setapak Village [Non-Halal]
Mookrathai – TT3 Commercial Centre [Non-Halal]
Moon Homemade – Pasar Awam Kampung Baru [Non-Halal]
Moon Kee Sprout Chicken Rice – Restoran Chit Chat [Non-Halal]
Moongrind Kingdom – Jalan Brighton
Moonkissed Fusion Bowls – Sea Park
Moonlight Cake House – Sri Petaling
Moonlight Cake House – Bandar Puchong Jaya
Moonlight Cake House – Taman Danau Kota
Moonlight Masala – Cottage Walk
MoonTree47 – Muntri Street
Moorthy's Mathai – Brickfields
Moorun Burger – Taman Song Choon
Moq Qu Bakery – Kampung Gong Pasir
Morbites – Plaza Mont' Kiara
More By Arang Coffee
More Space 坊间 – Taman Ekoflora [Non-Halal]
Morgan Pork Soup – Geylang [Non-Halal]
Mori – Kampung Banggul
Mori Kitchen – Jalan Pending [Non-Halal]
Mori Tea House & Residence – Jalan Kampung Kuli
Morning Breakie – Plaza Mont' Kiara
Morning Peeps – Jalan CY Choy [Non-Halal]
Morrow Cafe – Taman OUG [Non-Halal]
King Kong Bubble Tea – Bandar Puteri Puchong
Moss – Indahpura
Mossarium Cafe – 1Utama
Most Wanted Creaminal – Jalan Burma [Non-Halal]
Mother Porridge – C180 [Non-Halal]
Mother Porridge – PV128 [Non-Halal]
Mothers Sweet Porridge – Bandar Sunway
Mothership Pizza – Ampang Putra Residensi
Motobatt Cafe – Setia Alam
Mou Ding Ding & Mee Hoon Kueh – Taman Desa Cemerlang [Non-Halal]
Mount Erskine Road Ah Siang Chicken Rice – Jalan Halia [Non-Halal]
Mount Kinabalu Coffee – Bandaran Berjaya
Mountain Tofufa 山水豆花 – Jalan SS15/4D
Move Canteen – Kondo Kota Laksamana Jaya
Moza Crunch – Aman Central
Mozacrunch – AEON Taiping
Mozer's – Bukit Jelutong
Mozer's Cuisine – Plaza Damas
Mozzarella Cheese Corndog Recipe – Wisma CKS
Mozzarella Corndog By 3 Dapur – Beverly Hill Apartment
Mozzarellaaa – Citta Mall [Non-Halal]
Mozzarellaaa – Gurney Plaza [Non-Halal]
Mozzarellaaa – 1 Mont Kiara [Non-Halal]
Mozzarellaaa – Pavilion [Non-Halal]
Mozzarellaaa – Mid Valley [Non-Halal]
Mozzarellaaa – Desa Parkcity [Non-Halal]
Mozzarellaaa – IOI City Mall [Non-Halal]
Mozzarellaaa – Sunway Pyramid [Non-Halal]
Mr. 18 Paramount Corner – Kampung Bercham
Mr. A Burger & Roti John – Kampung Baru
Mr and Mrs Kukus – KL City Walk
Mr. & Ms. Cafe – Oasis Square
Mr Asampedas Cafe & Restaurant – Langkawi Mall
Mr B – Bandar Prima Senawang
Mr Baba Chicken Rice – Taman Kajang Utama
Mr Baba Chicken Rice – Bandar Baru Bangi
Mr Baba Chicken Rice – Bandar Teknologi Kajang
Mr Bang Bang 炮爷上海啦啦 – Taman Desa Cemerlang [Non-Halal]
Mr. Bao – ITCC Mall [Non-Halal]
Mr BBQ Cafe – Taman Kar King [Non-Halal]
Mr BBQ Cafe – Festival Walk [Non-Halal]
Mr BBQ Steamboat Enterprise – Bandar Baru Nilai
Mr. Bean Cafe – Jalan Seng Meng Lee
Mr Bee – Likas Bay
Mr Biryani
Mr.Biryani – Boulevard Business Park
Mr Briyani by Legends – Taman Seraya
Mr Bob Burger & Pasta – Mont Kiara
Mr Burn Satay – Taman Seri Rapat
Mr Burn Satay House – Pekan Razaki
Mr Burn Satay Kiosk – Pekan Razaki
Mr Celopps – Seksyen U19
Mr Char Koay Teow – Jaya Shopping Centre
Mr Char Siu Restaurant – Bandar Baru Permas Jaya [Non-Halal]
Mr. Cheezy – UPSI
Mr Chicken Restaurant – Bandar Puteri [Non-Halal]
Mr Choor Ala Cafe – Lorong Melor 1
Mr Chop Western Food – Bandar Indahpura [Non-Halal]
Mr Chua Laksa – Ting's Cafe Two
Mr Crab BBQ Seafood – Jalan Raja Uda
Mr. Dakgalbi – PV128
Mr. Dakgalbi – Setiawalk
Mr. Dakgalbi – DPulze
Mr. Dakgalbi – Setia City Mall
Mr. Dakgalbi – Queensbay Mall
Mr. Dakgalbi – AEON Bukit Tinggi
Mr. Dakgalbi – Melawati
Mr. Dakgalbi – MyTown
Mr. Dakgalbi – Toppen Shopping Centre
Mr. Dakgalbi – Vivacity Megamall
Mr. Dakgalbi – Plaza Merdeka
Mr Domus – The Laksamana Commercial Suites
Mr Dumpling 水饺先生 – Sri Petaling [Non-Halal]
Mr DY Char Kuey Tiaw – Taman Bukit Mewah
Mr Eat Station – Pusat Dagangan Seremban 2
Mr. Fatty Premium Burger – Jalan Van Praagh [Non-Halal]
Mr Fish – Jalan Kelab Cina
Mr Fish & Friends – MyTown
Mr Fish & Friends – Sunway Geo Avenue
Mr Fish & Friends – Citta Mall
Mr Fish & Friends – Jalan 222
Mr Fish & Friends – Melawati Mall
Mr Fish Fish & Seafood Noodle – Da Men Mall [Non-Halal]
Mr Fish Fish & Seafood Noodle – Gamuda Walk Mall
Mr Fish Fishhead Noodle – The Starling Mall
Mr Fish & Friends – The Curve
Mr. Goreng – Jalan Yaakobiah
Mr. Kabab & Biryani – Neocyber
Mr. Kabab & Biryani – Presint 15
Mr Kebab – Lengkok Perpaduan 1
Mr Kitchen – Taman Saujana Indah
Mr Kopitiam – Taman Mutiara Mas
Mr Legend Muslim Western & Cafe – Jalan Mahkota
Mr Lekor Cafe – Jalan Kangkar Tebrau
Mr. Lim Western Food – Taman Bukit Indah
Mr Mac – Setia Alam
Mr Mac – Rasta TTDI
Mr Mac – Seksyen 13 Shah Alam
Mr Mac Cafe – USJ 1
Mr Mac The Port @ Bandar Utama – Bandar Utama
Mr Mala – Jalan Salleh [Non-Halal]
Mr MaMa – Vista Shoppe
Mr Mamak Bistro – Taman Lestari Putra
Mr Mamak Corner – Taman Ehsan Jaya
Mr Mamak Street Food Corner – Bandar Utama
Mr. Mang – UMS
Mr. Mang – UA1
Mr. Mang – Jalan Sulaman
Mr Marinade – Taman Universiti
Mr. Nasey – Da Men Mall
Mr. Nasey – Kelana Jaya
Mr Nasi Lemak Corner – Kota Kemuning
Mr. Nyo Homemade Burger – Jalan Kampung Datu
Mr. Owl Food & Beverage – 1Borneo
Mr Pieman – Taman Desaria
Mr Pisang – Taman Perpaduan
Mr Pot Hotpot [Non-Halal]
Mr Putu Mayam's – Taman Equine
Mr. Rice Corner – SS 15 [Non-Halal]
Mr. Rice Guy – Subang Jaya Industrial Estate [Non-Halal]
Mr Road Kitchen – B5 Johor Street Market
Mr Roti Canai – Main Place
Mr Shawerma – University Place
Mr Shawerma – Gurney Plaza
Mr Siew – Hung Hung Garden [Non-Halal]
Mr Singh Roti Canai Corner – 123 Family Cafe
Mr Specky Thaifood Restaurant – Jalan Beserah [Non-Halal]
Mr Steak House – Komplek Mutiara Pernama
MR Steak House – Pusat Bandar Senawang
Mr. Sushi – 63 Food Court [Non-Halal]
Mr Tako – Mydin Bukit Mertajam
Mr Tako Kiosk Bus Batu 16 – Kiosk Perhentian Bas Batu
Mr Takoyaki – Seksyen 7
Mr Takoyaki
Mr Teppan – Lotus's Setia Alam
Mr Teppanyaki – Gurney Plaza
Mr Teppanyaki – Summit USJ
Mr Teppanyaki – Lotus's Kepong
Mr Teppanyaki – E-Curve
Mr Teppanyaki – Sunway Pyramid
Mr Teppanyaki – Alpha Angle
Mr Thai Street Food – Bukit Rahman Putra
Mr Tuk Tuk – Setia City Mall
Mr Tuk Tuk – The Gardens
Mr Tuk Tuk – Gamuda Walk
Mr Tuk Tuk – Starling Mall
Mr Tuk Tuk – Nu Sentral
Mr Tuk Tuk – Sunway Pyramid
Mr Tuk Tuk – Sunway Velocity
Mr Tuk Tuk – Empire City
Mr Tuk Tuk – IOI City Mall
Mr Wu – Jalan Setia Utama [Non-Halal]
Mr Wu Taiwan Restaurant- Jalan Kenari 9 [Non-Halal]
Mr Wu Taiwan Restaurant – Sri Petaling [Non-Halal]
Mr Wu Taiwan Restaurant – MKH Boulevard [Non-Halal]
Mr Wu Taiwan Restaurant – Damansara Uptown [Non-Halal]
Mr. You Bao – Gerai Makan Perhentian Bas Dan Teksi Kluang [Non-Halal]
Mr.Chew Bak Kut Teh – Pekan Lama [Non-Halal]
Mr.J Kitchen – SS14 [Non-Halal]
Mr.J Kitchen – Laman Rimbunan [Non-Halal]
Mr.J Kitchen – Paramount Garden [Non-Halal]
Mrs. Wan Mixed Rice/ Porridge – Taman Cattleya [Non-Halal]
Mrs Who
Mrs Yau Canteen – Taman Danau Kota [Non-Halal]
Mrs Yau Canteen – Bandar Sg Long [Non-Halal]
Mr.Tako – Azhaar Maju Sri Gombak
Mr.Tasty Beansprout Chicken Rice& Noodles – Sunway GEO [Non-Halal]
MS 26 Kopitiam – Bandar Dato Onn
MS 26 Wan Tun Mee & Dumpling Noodles – MS 26 Kopitiam
Ms Faye's Secret – Taman Tun Dr Ismail
Ms.Lime – Kota Damansara
Ms.Lime – Kayu Ara
Ms.Lime – Bangsar
MS Tomyam 4 – Jaya Gading
MS Vegetarian Food Supply – Taman Nusa Bestari
Msi Juicy – Batu Kawa
MSI Juicy (Muslim Food) – Aeroville Mall
Msjojo Waffle Shop – Bandar Putra Permai
MSR Tomyam – Medan Selera Rumbia
Mssugar Geranium Cafe – Season Garden Residence
M.T.G Allan Satay – Jln Setia Raja [Non-Halal]
MTR 1924
MU Claypot – Quan Yuan Cafe [Non-Halal]
Mu Kratha Charcoal Bbq Steamboat – Bandar Puteri [Non-Halal]
Mua Mua Tea – Bandar Baru
Muallim Frozen – Jalan Permai
Muar Art Cafe – Jalan Junid
Muar Chicken Rice 麻坡鸡饭 – Kota Sentosa
Muar E – Jalan Haji Ahmad 7
Muar E Kopitiam – Jalan Beserah
Muar Soup House – Jalan Sisi
Muar Street Kopitiam
Muara Asam Pedas – Bandar Sultan Suleiman
Muara Bariani House – Taman Tun Dr Ismail
Muazzam's Corner – Royal Plaza Putatan
Mudd Cafe – Taman Batu Gajah Perdana
Mughal Kitchen – Kepong Baru
Mugsta – Damai
Muhamid Bandung – Taman Melati
Mui Hiong Mui Chicken Rice – Hua Wei Yuan
Mui Hiong Roasted Shop – Bundusan Commerial Centre [Non-Halal]
Mui Jie Pan Mee – Niu Niu Beef Noodle House
Mui Tea – Aeroville Mall
Mui Yin Segambut Yong Tau Foo – Taman Mayang Jaya
Muito Bom Brazilian BBQ Restaurant – Nexus Bangsar
Muiz Hot Chicken – Taman Sri Sentosa
Muk Bang – Tanjung Aru
Muk Kee Pork Porridge 木记肉粥 – Open Air Market Hawker Centre [Non-Halal]
Muk ó – USJ 10
Multi Taste – Jalan Sulaman
Mulut Cafe & Dessert – Jalan Bunga Tanjung
Mum Mum Food Bar – Pusat Komersial Oakland [Non-Halal]
Mum Myra Bakery – Taman Samudra
Mumchy Cafe – Wetex Parade
Mummy Char Kueh (Traditional) – Peach Garden Food Centre
Mummy Wisia Kitchen – Taman Molek [Non-Halal]
Mummy Yuss – Jalan Taman Ciku
Mummyah – Taman Molek [Non-Halal]
Mummy's Cook – Taman Midah
Mummy's Kebab – Lido Four Season
Mummy's Noodles House – Pandan Indah [Non-Halal]
Mummy's Noodles House – Setapak [Non-Halal]
Mum's Kitchen – KKIP
Mum's Nyonya Cuisine – Georgetown [Non-Halal]
Mum's Place – Damansara Perdana
Mun Thung – Lebuh Campbell [Non-Halal]
Mun Tong Hong Dessert – Jalan Wong Ah Jang
Munah Binti Rahim – Arked Dataran Senawang
Munah Homecooked – Jalan Cahaya
Munahafieya Mee Kolok – Kopitiam 2 Cinta
Munchen – Taman Austin Perdana
MunchiesKK – Penampang
Munching Mob – Aked Esplanad [Non-Halal]
Munchy Munchy – Taman Bukit Dahlia
Munshine Rojak & ABC – Connaught Coffee Shop
Murni Discovery – Empire Damansara
Murni Warisan – Fair Park
Murtabak Boo – Garden Homes
Murtabak Cheese Special No 1 Kg Kurnia – Kampung Kurnia
Murtabak Jawa & Mee Wantan Borneo – Bandar Bukit Tinggi
Murtabak Wan – Medan Selera Greentown Utama
Muruvaali Corner – Bandar Pinggiran Subang
Mus Burger & Tomyam – Taman Universiti
Musang King Beverage – Mukim Lumut
Museo Café – Muzium Seni
Mushroom Panda Xiao Chao [Non-Halal]
Musliha Tomyam & Seafood – Taman Klebang Perdana
Muslim Food – Top 1 Food Court
Muslim Food – Food Destination Cafe
Muslim Murtabak – Jalan Demit HUSM Kubang Kerian
Musu – Taman Sri Hartamas
Mutiara Nasi Padang – Tanjung Tokong
Mutiara Tom Yam – Harbour City
Muzeum – Sri Petaling [Non-Halal]
MY Ayam Ketuk – Bandar Tun Hussein Onn
MY Ayam Ketuk – Danau Kota
MY Ayam Ketuk – Seksyen 16
MY Ayam Ketuk – Bandar Prima Senawang
My Best Western Cafe – Bandar Meru Raya
My Best Western Cafe – Sunway City Ipoh
My Breakfast – River Park Food Court [Non-Halal]
My Burgrill – Anjung Selera
My Cabik – Jalan Saberkas Utama
My Cafe – Beverly Hills Plaza
My Cafe – Jalan Eko Botani [Non-Halal]
My Cafe Jitra Mai – Taman Bunga Kantan
My Cafe Restaurant – Taman Anggerik Emas [Non-Halal]
My Chef – Putatan
My Claypot Rice – Peach Garden Food Centre [Non-Halal]
My Coffee People – Taman Seri Mas
My Cravings – Taman Sri Sinar
My Cravings – Dataran Sunway
My Cup – Kuching Sentral Mall
My Cup – Aiman Mall
My Delivery Stations @ Gastronomic Adventures – Keramat Wangsa
My Eating Monster Kitchen – Platinum Lake Condo
My Es Corner – PJS 3/52
My Fair Lady – Jalan Seri Orkid
My Fame D'Cafe – Wisma City Kingdom
My Family Kitchen – Jalan Piasau Jaya 3C [Non-Halal]
My Favourite Nasi Lemak – Taman Sri Muda
My Food D'Johor – The Gardens
My French Factory – Laguna Baron Resort
My Ghost Kitchen Mix & Match – Citta Mall
My Gourmet 我家美食 – Gala Food Court [Non-Halal]
My Gourmets Kitchen – Riana Green Plaza [Non-Halal]
My Halal Snack Pack – Kayu Ara
My Halal Snack Pack – Bangsar
My Hawker – Solaris Mont Kiara [Non-Halal]
My Home Economy Rice – Summerton [Non-Halal]
My Home Recipe – City Mall
My Juice – Aeropod
My Kampung Chicken Curry Rice – Pandan Malim Food Court [Non-Halal]
My Kandar Bistro – Pacific Place Commercial Centre
My Kluang @ Seri Alam – Jalan Suria
My Kopitiam – Kelana Square
My Kopitiam Mix & Match – [Non-Halal]
My Laksa – Xing Xing Wang Cafe
My Little Cottage Hotpot 江記火锅 – Kampung Koh [Non-Halal]
My Little Dapoq – Bukit Jelutong
My Little Herbal Tea – Taman Megah [Non-Halal]
My Little Herbal Tea – Sea Park [Non-Halal]
My Ma Ma Fast Food – C Three Food Cafe [Non-Halal]
My Mama's Kitchen Sdn Bhd – Happy Garden
My Mom's Chicken Rice Citarasa Linda Onn – Lotus's Ampang
My Nasi Kandar – AEON BiG Subang Jaya
My Nasi Kandar – AEON Big Subang Jaya
My Nasi Lemak Istimewa – Jalan Guchil Bayam
My Native – Plaza 333
My Office – Plaza 333 [Non-Halal]
My Paperbowl – Kawasan 6
My Siakap – Setapak
My Sushi Time – Taman Johor Jaya
My Sweet Heart – Imago Shopping Mall
My Taiwan Secret Braised Chicken – Kayu Ara
My Taiwan Secret Braised Chicken – Kota Damansara
My Taiwan Secret Braised Chicken – Bangsar
My Takoyaki – Bandar Meru Raya
My Teppanyaki – Plaza Pelangi
My Thai – Bandar Baru Bangi
My Thai Coffee – Kompleks Makanan Ocean View
My Treats – Leisure Mall
my Tuk Tuk Thai Cuisine (S12) – Food Junction IOI City Mall II
my Tuk Tuk Thai Cuisine (S4) – Food Junction Mid Valley I
My Western – Kafe Baobao Ais Kacang 2 [Non-Halal]
My Western Food – Dai Pai Dong
My Wok Station – Dataran Mentari
Mya Kitchen – Dash Box Hotel
Mya Kitchen & Cocktails – Pantai Tengah
Myarte Cafe – Lebuh Bishop
MYC Western – Premier Food Republic [Non-Halal]
myCafe by HajiSharinLow – Armanee Condominium
MyCanteen – Komersial Southkey Mozek [Non-Halal]
MyCookieDough – Pavilion
Mydin Cendol Special – Taman Ipoh Jaya
Mydream Happy Kitchen – Lebuh Bercham Selatan
Myeatsjb – Taman Perling
Myeongdong Topokki – Taman Sri Gombak
Myeongdong Topokki – Tapak Urban Street Dining @ KLCC
MyeongDong Topokki – Sunway Pyramid
Myeongdong Topokki – IOI City Mall
MyeongDong Topokki – IPC Shopping Centre
MyeongDong Topokki – Paradigm Mall
MyeongDong Topokki – Taman Lagenda
MyeongDong Topokki – Lebuh Tenggiri 2
MyeongDong Topokki – 1Utama
MyeongDong Topokki – SS15
Myeongdong Topokki – Cyberjaya
MyeongDong Topokki – Central i-City
MyeongDong Topokki – Sunway Putra
MyeongDong Topokki – The Mines
MyeongDong Topokki – Sunway Velocity
MyeongDong Topokki – Bangi Gateway
MyeongDong Topokki – Setia City Mall
MyeongDong Topokki – Metro Point Kajang
Myeongdong Topokki – Amanjaya Mall
MyeongDong Topokki – Kuantan City Mall
MyeongDong Topokki – Palm Mall
MyeongDong Topokki – KIPMall Kota Warisan
MyeongDong Topokki – Paradigm Mall JB
MyeongDong Topokki – Toppen Shopping Centre
MyeongDong Topokki – MesaMall
MyeongDong Topokki – Jalan Batas Baru
MyeongDong Topokki Express – OUG Parklane
MyeongDong Topokki Express – AEON Maluri
Myeongdong Topokki Express – KL East Mall
MyeongDong Topokki Express – Setapak Central
Myfitmealz – Stadium Likas
Myfroyoland – Jalan Gottlieb
MyHalal Dimsum – Taman Maju Jaya
Myking Cafe – Pusat Perniagaan Manjung Point 3
myKitchen – USJ 3
MyKluang – Bandar Indahpura
Mykopiesatu Sdn Bhd – Paragon Utama Batu Caves
Mykori Dessert Cafe – Mahkota Cheras
Mykori Dessert Cafe – Setia Alam
Mykori Dessert Cafe – Sungai Besi
Mykori Dessert Cafe – Kota Damansara
Mykori Dessert Cafe – Cyberjaya
Mykori Dessert Cafe – Equine Park
Mykori Dessert Cafe – Seksyen 18
Mykori Dessert Cafe – Putrajaya
Mykori Dessert Cafe – Kota Kemuning
Mykori Dessert Cafe – Bukit Tinggi
Mykori Dessert Cafe – Desa Pandan
Mykori Dessert Cafe – Bandar Baru Medan
Mykori Dessert Cafe – Bandar Saujana Putra
Mykori Dessert Cafe – Pandan Indah
Mykori Dessert Cafe – Selayang
Mykori Dessert Cafe – MyTown
Mykori Dessert Cafe – Bayan Lepas
Mykori Dessert Cafe – Muar
Mykori Dessert Cafe – Taman Duyong Bestari
Mykori Dessert Cafe – Seberang Jaya
Mykori Dessert Cafe – SS2
Mykori Dessert Cafe – SS15
Mykori Dessert Cafe – Kepong
Mykori Dessert Cafe – Setapak
Mykori Dessert Cafe – Seksyen 7
Mykori Dessert Cafe – Sri Gombak
Mykori Dessert Cafe – Sungai Buloh
Mykori Dessert Cafe – Subang Perdana
Mykori Dessert Cafe – Rawang
Mykori Dessert Cafe – Southville City
MyKori Dessert Cafe – Bandar Muallim
MyKori Dessert Cafe – Kajang
MyKori Dessert Cafe – Presint 8
Mykori Dessert Cafe – Sungai Petani
Mykori Dessert Cafe – Bandar Indera Mahkota
Mykori Dessert Cafe – Batu Pahat
Mykori Dessert Cafe – Alor Setar
Mykori Dessert Cafe – Nilai
Mykori Dessert Cafe – Centrio Seremban 2
Mykori Dessert Cafe – Senawang
Mykori Dessert Cafe – Kota Bharu
Mykori Dessert Cafe – Kuala Terengganu
Mykori Dessert Cafe – Gong Badak
MyKuali Kitchen – Bandar Baru Sentul
MyLaksa – KTCC Mall
MyLaksa – Mydin Bukit Mertajam
MyLaksa – Lotus's Shah Alam
MyLaksa – AEON Seri Manjung
MyLaksa – Wangsa Walk
MyLaksa – East Coast Mall
MyLaksa – Aman Central
MyLaksa – KB Mall
Mylinna Cafe – Pasaraya U Mall
MyNasgor – Bangsar
MyNasgor – SS15
Myone Cafe – Presint Alami
Myprintcafe' – Savanna Lifestyle Retail
Mystery Kitchen – Kitchen Co
MyTakoyaki – Ipoh Walk Night Bazaar
My.Velous Kitchen – Lepaklu Cafe
MZ Cafe 03 – Jalan Bayam
N Ai Time – Utama Place
(n) Tea – Bandar Sungai Long
N3 Station – Pandan Jaya
N9 Stick Factory – Persiaran S2 B1
N.95 Kolo Mee – N95 Cafe
Na Sook Thai Kitchen – Taman Cahaya
Na Sri Payung – Medan Usahawan Stadium Sultan Muhammad Ke 4
Naa Ikan Bakar – Jalan Gombak Batu 4
Naa Kitchen – BeeliFood
Nabilla Tomyam – Kompleks Bukit Gedung
Nachiar Authentic Mix Rice – Taman United
Nachos Muchachos – Taman Dagang Jaya
Nachos Muchachos – TTDI
Nachos Muchacos – Tropicana Gardens Mall
Nachos Muchacos – Danau Kota
Nadhisyaz Kitchen – SS15
Nadia Cafe – Wisma Leopad
Nadia's Kitchen – Seri Mutiara Apartment
Nadien Yong Tau Foo – Tapak Ekspo Bandar Universiti
Nadiman Char Kuey Teow – Seksyen 7
Nadiman Char Kuey Teow – Bandar Manjalara
Nadiman Char Kuey Teow – Seksyen 13
Nadine Enterprise – Lorong Metrocity Boulevard 10
Nafeesa Beriyani House – Jalan Masjid Tawau
Nafis Kitchen – Bangunan Rumah UMNO
Nagomi Teppanyaki & Okonomiyaki [Non-Halal]
Nagoya Paradise Steamboat Restaurant – Pusat Mas
Naili's Place – Ampang Point
Naina Tomyam – Setapak
Najaco Sandwich Hut – TTDI Jaya
Najah Food Kiosk – Leera Light Industrial Estate
Najia's Pakistani Tawa & Grill – Solaris Mont Kiara
Nakamura Bashi Restaurant – AEON Maluri [Non-Halal]
Nakamura Bashi Restaurant – The Sphere [Non-Halal]
Naked Restaurant – Plaza Damas
Nakhon Thai Food – Lagenda Heights
N.A.K.K Street Restoran – Taman Meru Perdana
Nakon Thai – Plaza Mont' Kiara
Nakon Thai – Medan Niaga Tasik Damai
Nal Restaurant & Catering – Taman Tenaga
Nallammah Indian Food Stall – Taman Nusa Bestari 2
Nam Fatt Fishball Noodle House – Jalan Raja Permaisuri Bainun [Non-Halal]
Nam Joo Set Rice – 37 Food Street [Non-Halal]
Nam Kee Food Enterprise – Kafe Ksk Kim San Kok [Non-Halal]
Nam San Seoul Korean BBQ – Bandar Baru Permas Jaya [Non-Halal]
Namaste India – Hartamas
Namaste India – Bangsar
Namaste Indian Cuisine – TTDI
Nami KFood – Taman Perindu
Namma Kadai – Kim Teng Park
Namu Cafe – Lintas Plaza
Namyang Kopitiam – SS14 [Non-Halal]
Nan Ko Bak Kut Teh – Taman Merdeka Permai [Non-Halal]
Nan Ru Pork Rice – Peach Garden Food Centre [Non-Halal]
Nan Yang Bah Kut Teh – Taman Setapak [Non-Halal]
Nan Yang Delight – Sri Petaling [Non-Halal]
Nana Ala Carte – Selera Kenyalang Cafe
Nana Cafe- Axis Atrium Mall
Nana Recipes House – Aeropod [Non-Halal]
Nana Secret Food – Chandan Puteri
Nana Shake – Jalan KLJ
Nana Town – Pasar Moden SS15
Nana Vietnam Kitchen – Public House Food Court [Non-Halal]
Nanda Chicken – Sri Petaling
Nanda Chicken – Kuantan City Mall
Nando's – Subang Parade
Nando's – Ampang Point
Nando's – Kompleks Pernas Sogo
Nando's – USJ Taipan
Nando's – Bangsar Village
Nando's – 1Utama
Nando's – Sunway Putra
Nando's – Berjaya Times Square
Nando's – Nu Sentral
Nando's – MyTown
Nando's – Setapak Central
Nando's – Gamuda Walk
Nando's – AEON Ipoh Klebang
Nando's – 1 Mont Kiara
Nando's – IPC
Nando's – Avenue K
Nando's – Alpha Angle
Nando's – Mahkota Parade
Nando's – AEON Bandaraya Melaka
Nando's – The Shore
Nando's – AEON Ayer Keroh
Nando's – Gurney Plaza
Nando's – Sunway Carnival
Nando's – Juru Auto City
Nando's – Queensbay Mall
Nando's – AEON Bukit Mertajam
Nando's – Plaza Pelangi
Nando's – AEON Taiping
Nando's – AEON Ipoh Station 18
Nando's – Citta Mall
Nando's – Paradigm
Nando's – DPulze
Nando's – Intermark Mall
Nando's – AEON Bukit Raja
Nando's – IOI City Mall
Nando's – Sunway Pyramid
Nando's – Publika
Nando's – Central i-City
Nando's – Pavilion
Nando's – IOI Puchong
Nando's – Jaya One
Nando's – Sunway Giza
Nando's – SACC Mall
Nando's – AEON Rawang
Nando's – Setia City Mall
Nando's – 3 Damansara
Nando's – Desa Park City
Nando's – Atria Shopping Gallery
Nando's – Pearl Point
Nando's – Mahkota Cheras
Nando's – AEON Bukit Tinggi
Nando's – Mid Valley
Nando's – AEON Taman Maluri
Nando's – Main Place
Nando's – AEON AU2
Nando's – The Mines
Nando's – Alamanda Putrajaya
Nando's – AEON Shah Alam
Nando's – KLCC
Nando's – East Coast Mall
Nando's – Aman Central
Nando's – Imago Shopping Mall
Nando's – AEON Bukit Indah
Nando's – Palm Mall
Nando's – 9 Avenue Nilai
Nando's – AEON Tebrau City
Nando's – JB City Square
Nando's – Mid Valley Southkey
Nando's – AEON Kota Bharu
Nando's – The Spring
Nando's – Vivacity Megamall
Nando's – AEON Mall Kuching
Nano Delights – Jalan Air Itam [Non-Halal]
Nanpengyou Hotpot & Bubble Tea – Parklane OUG Servie Apartment [Non-Halal]
Nanyang Cafe – EkoCheras Mall [Non-Halal]
Nanyang Cafe – Pavilion Elite [Non-Halal]
Nanyang Cafe – Cheras Traders Square [Non-Halal]
Nanyang Cafe – Sunway Velocity Mall [Non-Halal]
Nanyang Kopitiam – Plaza Bukit Jalil
Narrow Marrow – Lebuh Pantai
Nas Bistro – Taman Sri Gombak
Nasadia Restoran – Pusat Komersial Cendana
Nash Cendol – Ujong Pasir
Nash Curry House – Taman Pulai Mutiara
Nashida Burger Banjir Meru Permai – Lengkok Meru Permai 2
Nasi' – Dataran Ipoh
Nasi Abe Rus – Jalan Pujut 1B
Nasi Ahmad – Jalan Teknologi 3
Nasi Air Dingin Original Tumpat – Jalan Telipot
Nasi Ambeng Kak Habibah
Nasi Ambeng Simple Delight – Jalan Garuda
Nasi Arab – Mydin USJ 1
Nasi Arab Abu Aish – Taman Indera Sempurna
Nasi Arab & Beriani Ustaz Khairul – Pak Amit Cafe
Nasi Arab & Kebab – Lotus's Mutiara Damansara
Nasi Arab Hadramawt – N9 Food Court
Nasi Arab Kambing Kilo – Jalan Kenanga
Nasi Arab Mahabbah – Kopitiam 2 Cinta
Nasi Arab Mandy Palestin (Ori) Shawarma (Kebab) – Medan Selera 1 Batu Buruk
Nasi Arab Mya Mya – Jln P.Ramlee
Nasi Arab Rayyan Hadramawt – Bandar Baru Lembah Selatan
Nasi Arab Sahara – Pangsapuri Desa Lembah Permai
Nasi Arab Ta'if – Subang Bestari
Nasi Arab Ta'if – Dataran Sunway
Nasi Arab Ta'if – Denai Alam
Nasi Ayam – TF Value-Mart Sunway City
Nasi Ayam – Sunway Velocity
Nasi Ayam – Taman Kosas
Nasi Ayam – Angsana Mall
Nasi Ayam – Kunyap-kunyap Cafe
Nasi Ayam 3 Rasa – Pusat Penjaja Bandar Sri Permaisuri
Nasi Ayam 3 Rasa – Karamunsing Basement Food Court
Nasi Ayam Abang Wan – Monorail Food Village
Nasi Ayam Aisy – A One Laksa Cafe
Nasi Ayam & Cucur Arjuna Station – Nice Day Food Cafe
Nasi Ayam & Nasi Campur – Pasaraya CS
Nasi Ayam Ayieqa – Jalan Baiduri
Nasi Ayam Baba – Taman Merdeka
Nasi Ayam Baba – Jalan Hang Tuah
Nasi Ayam Bakar Madu #dapurkome – Kampung Rapat Jaya
Nasi Ayam Bakar Mak Uteh – Mameen Medan Selera
Nasi Ayam Berempah – Kampung Laksamana
Nasi Ayam Berempah – Jalan Bayu Puteri
Nasi Ayam Berempah Afa – Medan Selera UTC Perak
Nasi Ayam Cenoni Kangkar Tebrau – Medan Selera Taman Bunga Ros
Nasi Ayam dan Ayam Penyek Alleena – Taman Kota Masai
Nasi Ayam Duyong (Peah) – Taman Delima Raya
Nasi Ayam Gemas Kak Siti – Prima Segamat Business Park
Nasi Ayam Gemas Mustafah – Kompleks Perniagaan Musai Bestari
Nasi Ayam Gemas Mustafah – Bukit Rambai
Nasi Ayam Gemas Mustafah – Bandar Baru Nilai
Nasi Ayam Giant Tambun – Sunway City Ipoh
Nasi Ayam Golek – Kampung Didik
Nasi Ayam Golek Percik – Taman Bersatu
Nasi Ayam Goreng Kunyit – Mydin Mall
Nasi Ayam Hailam – PJ New Town
Nasi Ayam Hainan
Nasi Ayam Hainan – Komplek Kejiranan Presint 11
Nasi Ayam Hainan – Plaza Larkin
Nasi Ayam Hainan & Char Kuey Teow – Arked Sri Kemunting
Nasi Ayam Hainan Guan Sheng – KL Citywalk
Nasi Ayam Hainan Haliza – Medan Purnama Gopeng
Nasi Ayam Hainan Khairunisak – Gerai Setara MDKT Jalan Niaga
Nasi Ayam Hainan Marvelous – Medan Selera Bumbung Biru
Nasi Ayam Hainan Nurul – Bandar Bukit Puchong
Nasi Ayam Hainan Putrajaya – Presint 8
Nasi Ayam Hainan Sue's Style – Jalan Sura Jeti
Nasi Ayam Ho Chiak – Megalong [Non-Halal]
Nasi Ayam Hong Ji – Taman Indah [Non-Halal]
Nasi Ayam Hzz – Jalan Lencongan
Nasi Ayam Ibu – Wangsa Maju
Nasi Ayam Izzul – Taman Cheng Indah
Nasi Ayam Kampung Hainan – Jalan Lim Hoe Lek Transit Point
Nasi Ayam Kapak – Taman Melor
Nasi Ayam – Kenanga Food Court
Nasi Ayam Kg Padang – Pandan Perdana
Nasi Ayam Kok Hing – Taman Bukit Maluri [Non-Halal]
Nasi Ayam Kunyit – Suria Bangsar
Nasi Ayam Kunyit Ipoh – Bandar Meru Raya
Nasi Ayam Lembah Keramat – Lembah Keramat
Nasi Ayam Madu Ruslina – Kompleks C Emporium Makan
Nasi Ayam Mafia
Nasi Ayam Maharaja
Nasi Ayam Malaya – Taman Puchong Prima
Nasi Ayam Mama – Pusat Perniagaan Manjung Point 3
Nasi Ayam Mama Intan – Taman Dato Shahbandar
Nasi Ayam Mamalicious – Maps Republic
Nasi Ayam Maria – Taman Sri Gombak
Nasi Ayam Melaka Kak Sham – Pasaraya CS
Nasi Ayam Nadia – Kg Baru
Nasi Ayam Nan An – SS2
Nasi Ayam Nekmi – Medan Selera Bandar Satelit Pasir Tumboh
Nasi Ayam Nombor Wan – Taman Bayu Puteri
Nasi Ayam Nur – KK Times Square
Nasi Ayam Nuryn Seri Pengkalan – Taman Sri Sutera
Nasi Ayam Ong-Gak Setesen – Gombak
Nasi Ayam Ori Kampung Baru – Popular Food Court
Nasi Ayam Original Penang – Nafisa SWC Food Junction
Nasi Ayam Padu S2 – Dataran Centrio
Nasi Ayam Pak Mus – Pusat Komersial Yayasan
Nasi Ayam Pak Mus – Desa Setapak
Nasi Ayam Panggang Oasis – Tampin
Nasi Ayam Panggang Pasu FRD – Taman Sri Muda
Nasi Ayam Penyet – Rasa Tropika Food Court
Nasi Ayam Penyet – Fuyu Cafe Satok
Nasi Ayam Penyet – Kunyap-kunyap Cafe
Nasi Ayam Penyet Berempah – Z.Z Corner
Nasi Ayam Penyet – Kafe Baobao Ais Kacang 3
Nasi Ayam Penyet Kak Ton – Medan Selera Shahab Perdana
Nasi Ayam Penyet – Kopitiam 2 Cinta
Nasi Ayam Penyet Padu – Pekan Razaki
Nasi Ayam Penyet Scha – Taman Komersial Senawang
Nasi Ayam Razak – Kampung Melayu Majidi
Nasi Ayam Resepi Abah Original Ipoh – Larkin Jaya
Nasi Ayam Restomuo – Terminal Bas Bentayan
Nasi Ayam Restomuo – Medan Selera Pesta Baru
Nasi Ayam Restomuo – Wisma BSN
Nasi Ayam Restomuo – Jalan Ampang
Nasi Ayam Salai – Bandar Baru Uda
Nasi Ayam Salai – Taman Universiti
Nasi Ayam Salai – Jalan Austin Heights
Nasi Ayam Samudra – Setapak
Nasi Ayam Sedap – Medan Selera Damai
Nasi Ayam Singapore – Kemena Land District
Nasi Ayam Singapore – Jalan Summerville
Nasi Ayam Singapore – Parkcity Commercial Square
Nasi Ayam Singapore – Medan Jaya Commercial Centre
Nasi Ayam Siti Khadijah – Taman Mewah
Nasi Ayam Sungai Buloh – Seksyen U19 [Non-Halal]
Nasi Ayam Suria – MITC
Nasi Ayam Syaiful – Jalan Pantai Dalam
Nasi Ayam Tajmiera – Jalan Pari Off Jalan Tun Abdul Razak
Nasi Ayam Umi – Taman Tasik Puchong
Nasi Ayam Wa Doris – Seven On Seven Cafe
Nasi Ayam Warisan Ibunda – Bangi Gateway
Nasi Ayam Yi Sen – Taman Perling [Non-Halal]
Nasi Ayam Zul & Mee Bandung – Lorong Haider
Nasi Ayam Zzul – Persiaran Wira Jaya
Nasi Bajet – Selera Johor Food Court
Nasi Bajet Syakirtini – Seksyen 30
Nasi Bakaq Berantu – Kayu Manis Cafe Wisma Ali Bawal
Nasi Bakar Berapi Kambing Paprika – Jalan Rawang
Nasi Bakar Sunan Drajat
Nasi Bani Melayu – R&R Kampung Dew
Nasi Beriani Gam 606 – Bandar Meru Raya
Nasi Beriani Haji Tamby – Taman Pertam Jaya
Nasi Beriani Kukus Ayam Dara – Bandar Sunggala
Nasi Beriani Roket DT – Durian Tunggal
Nasi Beriani Telor Citarasa Utara – Taman Desa Cheras
Nasi Beriyani – Kunyap-Kunyap Cafe
Nasi Beriyani Johor – Wangsa Maju
Nasi Berlauk D Ambo – Kg Sireh
Nasi Berlauk Kelate – Shiok Kopitiam
Nasi Berlauk Ngusik – Jalan S2 B21
Nasi Bodek – Apartment Sri Hijauan
Nasi Briyani Batu Pahat – Jalan Padang Keladi
Nasi Briyani BBQ Australia – Taman Permai Jaya
Nasi Briyani Bertelur – Bandar Sri Damansara
Nasi Briyani Gam An Nur
Nasi Briyani Kukus Padu – Tun Hussien Onn
Nasi Briyani Mama Tomyam Tebauk – Jalan Bukit Tunggal
Nasi Budak Mox – Jalan Petri
Nasi Budak Mox – Jalan Taman Melati
Nasi Bukhari Mendi Sajid Khan – Universiti Place
Nasi Buloh Gulai Kawah – Halaman Meru Permai
Nasi Campur
Nasi Campur – Today Market [Non-Halal]
Nasi Campur & Mee Jawa- Z.Z Corner
Nasi Campur Anjung Salju – Angsana Mall
Nasi Campur Kafeteria Sinar Cahaya – Plaza Larkin
Nasi Campur Kampung Sungai Dua – Gelugor
Nasi Campur Suria (S9) – Food Junction IOI City Mall I
Nasi Claypot Merecik-Hot2Pot – Taman Meru
Nasi Dagang Corner Maggi Ketam Tomyam & Seafood – Selayang
Nasi Dagang Ramlah – Taman Melawati
Nasi Dagang Warisan Tok Ma – Sungai Ramal
Nasi Daging Bakaq Danok – Bazar Mara Medan Jaya
Nasi Daging Kedah Kahaq – Jalan Gombak
Nasi Daging Kedah Kahaq – Ampang
Nasi Daging Pinggan Besar – Taman Ciku
Nasi Daging Utara – Bandar Seri Iskandar
Nasi Daging Utara Lang Merah – Restoran Nasi Kukus Kak Nora
Nasi Daging Vietnam – Medan Selera Mualaf
Nasi Dalca Mamu Idris – Taman Mewah
Nasi Dalca Mamu Tanjong – Ampang
Nasi Dalca Station – Bandar Seri Botani
Nasi Dalcha & Briyani Fathima – Giant Klang
Nasi Dulang Pyorr – Lorong Melor 1
Nasi Ganja Ampang – Medan Selera Seksyen 10
Nasi Ganja Ampang – Ukay Spring Ville
Nasi Goreng Ayam
Nasi Goreng Minang – Salero Galuang – Medan Selera Presint 8
Nasi Goreng Udang Banjir – Persimpangan Saujana Permai
Nasi Haji Ali – SS17
Nasi Kak Enab – Jalan Kenari 3
Nasi Kak Wok Dihadapan Kolej Picoms – Taman Batu Muda
Nasi Kak Wook Dan Kacang Pool – Gerai Setara MDKT
Nasi Kak Wook Selayang
Nasi Kakwok Manjung – Taman Samudera
Nasi Kambing Abam Botak – Seksyen U19
Nasi Kambing Bakar Bezulicious – Kampung Paya Jaras Dalam
Nasi Kandaq Azeem Padupoikk – Lorong Bukit Jana 2
Nasi Kandaq Melayu @ Warong Nano – Seksyen U5
Nasi Kandaq Uncle Botak – Sungai Ramal
Nasi Kandar AD – Kawasan Perindustrian Ringan Bercham
Nasi Kandar Ajmal – Taman Jaya
Nasi Kandar Al Shiffa – Taman Tuanku Haminah
Nasi Kandar Aladdins – Chow Kit
Nasi Kandar Ali Bistro – Lengkok Perpaduan 1
Nasi Kandar Ali Bistro – Jalan Lee Meng Hin
Nasi Kandar Ali Bistro – Jalan Besar Tambun
Nasi Kandar Ali Bistro – Petaling Utama
Nasi Kandar Ali Bistro – Regat Sri Cempaka
Nasi Kandar Ali Bistro – Jalan Stesen Perusahaan
Nasi Kandar Ali Bistro – Jalan Pantai Cenang
Nasi Kandar Ali Ipd – Kampung Makam
Nasi Kandar Angau – Garden Homes
Nasi Kandar Ar Maju – Taman Bersatu
Nasi Kandar Ar Maju – Taman Jana Mulia
Nasi Kandar Ayam Bawang – Jalan Tengah
Nasi Kandar Basikal – Taman Lestari Perdana
Nasi Kandar Bawah Pokok – Jalan Telekom
Nasi Kandar Beratur 786 – Summerskye Residences
Nasi Kandar Bintang – Jalan Air Itam
Nasi Kandar dan Beriani Meera – Kompleks Muhibah
Nasi Kandar D'Arab – Jalan Meru Bestari
Nasi Kandar Dato Sagor – Medan Selera Dato Sagor
Nasi Kandar Deen Bistro – Desa Sri Hartamas
Nasi Kandar Fiza – Gerai JKKK Simpang Ampat
Nasi Kandar FN Bistro – Presint 9
Nasi Kandar Gani Maju – Bukit Jalil
Nasi Kandar Hafeeza Maju – Taman Mas
Nasi Kandar Hajah Mydin – Lebuh Tye Sin
Nasi Kandar Hidayah – Taman Wakaf Seetee Aisah
Nasi Kandar Hidayah – Jalan Todak 4
Nasi Kandar Ikram – Jalan Veterinari
Nasi Kandar Jamal Mohamed – Jalan Kampung Benggali
Nasi Kandar JK Pekan Lama – Jalan Bijeh Timah
Nasi Kandar Karim – Taman Desa Kencana
Nasi Kandar KB Selera Melayu – Jalan Kebun Sultan
Nasi Kandar Kelana – Taman Klang Utama
Nasi Kandar Kelana – Giant Kelana Jaya
Nasi Kandar Khulafa – SS15
Nasi Kandar Khulafa – Jalan Singa C20
Nasi Kandar Khulafa – Damansara Utama
Nasi Kandar Khulafa – Vista Alam
Restoran Khulafa Bistro – Jalan Kristal L7
Nasi Kandar Kris – Jln Changkat Jong
Nasi Kandar Lorong Kubur – Taman Mekasar
Nasi Kandar M Abdullah – Medan Selera Stadium
Nasi Kandar Mazlina Maju – Taman Majlis Jaya
Nasi Kandar Melayu – Kg Bahagia
Restoran Mr Mamak – Klang
Nasi Kandar Norvaazilla – Taman Pertama
Nasi Kandar Norvaazilla – Persiaran TBS Taiping Business Centre
Nasi Kandar Nuur Rezeki – Pusat Komersial Permatang Pauh
Nasi Kandar Padang Kota – Taman Rinting
Nasi Kandar Penang Kapitan – Glenmarie
Nasi Kandar Penang Sentral – De Centrum Mall
Nasi Kandar Penang Town – Dataran Glomac
Nasi Kandar Raihana – Residensi Damai Meriah
Nasi Kandar Ramli – Jalan Bijeh Timah
Nasi Kandar Royale Amirah – Bukit Jelutong
Nasi Kandar Royale Amirah – Seksyen 9
Nasi Kandar Royale Azraa – Menara U2
Nasi Kandar Seri Mutiara – 1 Tebrau
Nasi Kandar Seri Mutiara – Sri Pulai
Nasi Kandar Shaaz – Sunway Putra Mall
Nasi Kandar Shaaz – Bandar Sunway
Nasi Kandar Siti Aisyah – Jalan Lintang P. Ramlee
Nasi Kandar Tayub – Taman Tasek Damai
Nasi Kandar Titi Papan – Jalan Perniagaan Gemilang 1
Nasi Kandar Wira (Hieshani) – Taman Wira Mergong
Nasi Katok Kuah Kari – Funky Farm Food Court
Nasi Kaw Kaw – IOI City Mall
Nasi Kaw Kaw – Bangsar Park
Nasi Kaw Kaw – Central i-City
Nasi Kerabu Alya – Jalan Sultanah Zainab
Nasi Kerabu Ayam Madu North Kiara – Segambut
Nasi Kerabu Berasap – Jalan Hospital
Nasi Kerabu Kak Dayah – Keramat Mall
Nasi Kerabu Kak Nur's – Restoran Taman Sajian Malaysia
Nasi Kerabu Kelantan – Bandar Menjalara [Non-Halal]
Nasi Kerabu Madu HF – Kg Mahkota
Nasi Kerabu Mashwi – Taman Tekah Jaya
Nasi Kerabu Mek Comey – Taman Meru Ria
Nasi Kerabu Mek Shima – Seksyen 2
Nasi Kerabu Mekla – Kampung Permatang Badak
Nasi Kerabu Meksha – Taman Lee Ling
Nasi Kerabu Meletup – Bandar Meru Jaya
Nasi Kerabu Pak Ya – Sejati Walk
Nasi Kerabu Panji – Depan Caltex Panji Kg Pauh
Nasi Kerabu Pattani – Dewan Badminton Taman Polo
Nasi Kerabu Resipi Kak Noor – Jln Wakaf Stan Kubang Kerian
Nasi Kerabu Sedap Sengoti Nasi Ayam Goreng Berempah – Pengkalan Chepa
Nasi Kerabu Sofia – Halaman Meru Permai
Nasi Kerabu Tumis – Jalan Masjid Kota
Nasi Kerabu Tumis Bunut Payong – Kampung Bunut Payong
Nasi Kerabu Warisan Kelate – Kg Petaling Bahagia
Nasi Kerabu Warisan Nusantara Patani – Jalan Gong Badak
Nasi Kismis u-ul – Makan Sari Food Court
Nasi Kok Kok – Kelana Jaya
Nasi Kotak Awang Solo – Taman Kajang Impian
Nasi Kotak Bangi – Seksyen 3
Nasi Kukus – 1 Borneo Hypermall
Nasi Kukus ADJ – Restoran Foh Foh
Nasi Kukus ADJ – Restorant Tai Ma
Nasi Kukus ADJ – Kopitiam 95
Nasi Kukus ADJ – Restorant Golden Kimwah
Nasi Kukus Antarabangsa – Presint 8
Nasi Kukus Ayam Berempah CK – Taman Sri Ampang
Nasi Kukus Ayam Berempah D'Harraz – Kg Gunung Rapat
Nasi Kukus Ayam Berempah Haiza – Segambut
Nasi Kukus Ayam Berempah Kak Amy – Vivi Food Court
Nasi Kukus Ayam Berempah Kak Ina – Taman Park View Villa IJM
Nasi Kukus Ayam Berempah Kak Nora – Seksyen 7
Nasi Kukus Ayam Berempah Kak Nora – Bandar Setia Alam
Nasi Kukus Ayam Berempah Kak Zu – Paya Rambai
Nasi Kukus Ayam Berempah Pok Ya – Manjung Point 3
Nasi Kukus Ayam Dara Kota Bharu – Bandar Tasik Permaisuri
Nasi Kukus Ayam Dara Meletop – Taman Pinggiran USJ
Nasi Kukus Ayam Dara Original 2004 – Taman Melati
Nasi Kukus Ayam Dara Resepi Mak Uda – Kiosk MBSJ Begonia
Nasi Kukus Ayam Goreng Berempah – Persiaran Bayan Indah
Nasi Kukus Ayam Planta – Bandar Baru Sentul
Nasi Kukus Ayam Planta
Nasi Kukus Ayam Planta – Pertama Complex
Nasi Kukus Ayam Rempah YALLAH AQIL – Taman Song Choon
Nasi Kukus Ayam Tonggek Siblings Kitchen – Taman Airport
Nasi Kukus Bamboo – Kampung Kubu Gajah
Nasi Kukus Boss – Jalan Setia Gemilang
Nasi Kukus Boss – Jalan Anggerik Eria
Nasi Kukus Boss – Jalan Astaka
Nasi Kukus Boss – Elmina East
Nasi Kukus Chef Shahrul – Taman Meru 2B
Nasi Kukus Daun Pisang – Flat Sri Mawar
Nasi Kukus Gempaq – Summer Mall
Nasi Kukus Kak Ma – Bandar Teknologi Kajang
Nasi Kukus Kambing Bakar – Pusat Industri Taman Sri Rampai
Nasi Kukus KLS – TBS
Nasi Kukus KLS – KL Sentral
Nasi Kukus Majestic – Eco Majestic
Nasi Kukus Mak Pah – Kg Bahagia
Nasi Kukus Malaya Ayam Cincang – Pusat Komersial Seksyen 7
Nasi Kukus Malaya Ayam Cincang – Taman Putra Perdana
Nasi Kukus Malaya Ayam Cincang – Persiaran Puchong Prima
Nasi Kukus Malaya Best – Kiosk MPSJ
Nasi Kukus Nurfa – Jalan Kuala Krai
Nasi Kukus Pak De – Taman Sungai Isap Jaya
Nasi Kukus Pak Din – Damai Point
Nasi Kukus Pak Din – Jalan Kebun Sultan
Nasi Kukus Place – Vivacity Megamall
Nasi Kukus Pohon Besar – Kampung Sirih
Nasi Kukus Putra – Taman Putra Perdana
Nasi Kukus R.O.B – Kampung Sungai Merab
Nasi Kukus Sejati 2 – Bandar Pinggiran Subang
Nasi Kukus Seri Nini – Jalan Bandar Baru Kubang Kerian
Nasi Kukus Super – Plaza Kingfisher
Nasi Kukus Termerlove – Suria KLCC
Nasi Kukus Tonggek – Mid Valley
Nasi Kukus Tonggek – Kantin@Setor Gombak
Nasi Kukus Tonggek – AEON Food Court, Sunway Pyramid
Nasi Kukus Tonggek – Central i-City
Nasi Kukus Tonggek – IPC
Nasi Kukus Tonggek – AEON Bandaraya Melaka
Nasi Kukus Tonggek – AEON Bukit Mertajam
Nasi Kukus Tonggek – AEON Queensbay
Nasi Kukus Tonggek – AEON Taman Maluri
Nasi Kukus Tonggek – AEON Seri Manjung
Nasi Kukus Tonggek – AEON Kinta City
Nasi Kukus Tonggek – Mydin Mall Subang Jaya
Nasi Kukus Tonggek – SOGO KL
Nasi Kukus Tonggek – AEON Food Court, IOI Puchong
Nasi Kukus Tonggek – AEON Food Court, AEON Shah Alam
Nasi Kukus Tonggek – The Port
Nasi Kukus Tonggek – DPulze
Nasi Kukus Tonggek – Bangi Square
Nasi Kukus Tonggek – AEON Tebrau City
Nasi Kukus Tonggek – AEON Nilai
Nasi Kukus Tonggek – AEON Kulaijaya
Nasi Kukus Tonggek – Aeon Food Court Seremban 2
Nasi Kukus Tonggek – Mydin Mall Mutiara Rini
Nasi Kukus Tonggek – AEON Kota Bharu
Nasi Kukus Ulek Mayang – Pusat Perniagaan Reef
Nasi Kukus Walah – A Market Square Pasir Mas
Nasi Kukus Wan Man – USJ 18
Nasi Kukus Wan Man – Bandar Bukit Puchong
Nasi Kukus WMS – Taman Dato Tamby Chik
Nasi Kuning Judes – NZX Commercial Center
Nasi Kuning Kota – Perniagaan Cheras Maju
Nasi Kuning Samurai – Medan Selera Seksyen 10
Nasi Kuning Tawau – Street Food
Nasi Lemak – Restaurant Wei Ling
Nasi Lemak – Restoran Chen Fong
Nasi Lemak – 888 Food Court
Nasi Lemak – Xin Daren Coffee Shop
Nasi Lemak @ Onn Coffee – Taman Putra Prima [Non-Halal]
Nasi Lemak Ah Beng – Taman Overseas Union
Nasi Lemak & Co – Glenmarie
Nasi Lemak & Co – LRT Abdullah Hukum
Nasi Lemak & Laksa Jee – Bandar Prima Senawang
Nasi Lemak & Roti Canai – Premier Food Republic Samarahan
Nasi Lemak & Roti John – Taman Ipoh Jaya Timur 1
Nasi Lemak Andy Brava – Jalan Austin Height 3
Nasi Lemak Antu Desa Ilmu – Taman Desa Ilmu
Nasi Lemak Ayam Berempah – Lorong Shahbandar 3
Nasi Lemak Ayam Berempah – Pelita Commercial Centre
Nasi Lemak Ayam Goreng – Taman ipeng
Nasi Lemak Ayam Wangi Penang – Taman Tun Sardon
Nasi Lemak Bamboo – SS2
Nasi Lemak Bamboo – Lintas Square
Nasi Lemak Bamboo – Imago Shopping Mall
Nasi Lemak Bamboo – Megalong Complex
Nasi Lemak Bamboo – Putatan
Nasi Lemak Bamboo – Inanam
Nasi Lemak Bamboo – Segama Complex
Nasi Lemak Banana Leaf (Kedai Kopi Tiga Lima) – Jalan Metro Perdana Kepong
Nasi Lemak Berlauk – CCS One Cafe
Nasi Lemak Berlauk Anie – Taman Zamrud
Nasi Lemak Berlauk GKD Kitchen – Ipoh Walk Night Bazaar
Nasi Lemak Berlauk Kamalkamalia – Taman Matang Jaya
Nasi Lemak Berlauk – One Nice Cafe [Non-Halal]
Nasi Lemak Berlauk Seri Alam – Pudu
Nasi Lemak Bertelur – TTDI
Nasi Lemak bk4 – Taman Lestari Perdana
Nasi Lemak Bollywood – Taman Saujana Puchong
Nasi Lemak Bonda – Bukit Rangin Perdana 2
Nasi Lemak BSP – Bandar Seri Putra
Nasi Lemak Bus Stop 'The Cafe' – Taman Mutiara Mas
Nasi Lemak, by Rumah Nasi – Nasi Kandar Khulafa Damansara Utama
Nasi Lemak, by Rumah Nasi – Restoran Khulafa Signature Seksyen 14
Nasi Lemak, by Rumah Nasi – Nasi Kandar Khulafa SS15
Nasi Lemak, by Rumah Nasi – Khulafa One Bistro Seksyen 15
Nasi Lemak, by Rumah Nasi – Khulafa Bistro Seksyen 7
Nasi Lemak, by Rumah Nasi – Nasi Kandar Khulafa Vista Alam
Nasi Lemak, by Rumah Nasi – Bintang Side Walk
Nasi Lemak, by Rumah Nasi – Restoran Khulafa Seksyen 20
Nasi Lemak Cakcibor – Taman Bercham Jaya
Nasi Lemak Capati Tosai – Chai Leng Park Seaview Kopitiam
Nasi Lemak Cik Mok – J Avenue
Nasi Lemak Cik Mok Sungai Sekamat – Kajang
Nasi Lemak Cincai – Bandar Baru Uda
Nasi Lemak Cinta Sayang – Seksyen 7
Nasi Lemak Cinta Sayang – Seksyen 13
Nasi Lemak – CS Food Court
Nasi Lemak Cyber – Cyber Square
Nasi Lemak D' Cherry – Taman Tupai Mas
Nasi Lemak Daging Kicap Ibu Legend – Kampung Pasir
Nasi Lemak Dateen – Pandan Perdana
Nasi Lemak Daun Pisang Lizza Empire – Taman Wangsa Ukay
Nasi Lemak Daun Pisang Lizza Empire – Taman Melawati
Nasi Lemak Delima Mambo – Jalan Pinang
Nasi Lemak FC Giant – Giant Hypermarket
Nasi Lemak – FoodLove Cafe [Non-Halal]
Nasi Lemak Fried Chicken – Kampung Cherang
Nasi Lemak Goreng Chef Fauzey
Nasi Lemak Gugup – Persiaran Bandar Pulai Jaya
Nasi Lemak Guru Besar – Jalan Kelapa
Nasi Lemak Hana Atin – Double Happiness Cafe
Nasi Lemak Hasnor – Lapar Betul.Co
Nasi Lemak Hasnor – Seksyen 7
Nasi Lemak – Hua San Court
Nasi Lemak Jalan Cantik – Taman Pelangi Indah
Nasi Lemak Kak Dee – Kunyap-kunyap Cafe
Nasi Lemak Kak Yam – D'Harmoni@9
Nasi Lemak Kakak Manis – Taman Sukma
Nasi Lemak Kaki Lima – Taman Dai Ming
Nasi Lemak Kambing – Chulia Street
Nasi Lemak Kampung Hulu – Jalan Kampung Hulu
Nasi Lemak Kasih Mama & Papa Burger – Taman Tanjung Agas
Nasi Lemak Kedah – Taman Tampoi Indah
Nasi Lemak Kembara Bukit Tiram – Taman Tan Sri Yaakob
Nasi Lemak Kuala Lumpur – Pusat Penjaja Danau Kota
Nasi Lemak Kukus – Taman Jati
Nasi Lemak Kukus Berlauk – Cheng Garden Avenue
Nasi Lemak Kukus Kak Dah Cd – Kg Bukit Bayas
Nasi Lemak Kukus – Kenanga Food Court
Nasi Lemak Kukus SS2 – Medan Selera MBPJ
Nasi Lemak Kween – Taman Sri Sentosa
Nasi Lemak Lagenda – Bandar Putra
Nasi Lemak Lah! – SS2
Nasi Lemak Lanca – Jalan Sungai Pinang
Nasi Lemak Ling – Restoran Roda Tiga
Nasi Lemak Ling II – Restoran Roda Tiga
Nasi Lemak Liverpool Cafe – Flat Batu Lanchang
Nasi Lemak Lobster@Aisyah Cafe – Jalan Bagan Dalam
Nasi Lemak Lori Ujang Keramat – Taman Keramat Permai
Nasi Lemak Lorong – Lorong A5 RPR Sebiew
Nasi Lemak Macam macam – Taman Bukit Indah
Nasi Lemak Mak Kaw – Taman Taynton
Nasi Lemak Mak Ngah – Platinum Lake Condominium
Nasi Lemak Mak Ngah – Empire Damansara
Nasi Lemak Matang Jaya (MJ) – Taman Matang Jaya
Nasi Lemak Mee Jawa – A One Laksa Cafe
Nasi Lemak Melaka – Taman Ungku Tun Aminah [Non-Halal]
Nasi Lemak Nek Sila – Klang
Nasi Lemak Nusantara Ayam Berempah – Taman Suria
Nasi Lemak Nyonya Meleleh – Limbongan
Nasi Lemak Pandan Tampoi – Taman Tampoi Indah
Nasi Lemak Park – Taman Nusantara
Nasi Lemak Pasar Bercham – Restoran Sin Heng Fatt
Nasi Lemak Pasar Bercham – Mao Fong Food Station
Nasi Lemak Pelangi – Jalan Istana
Nasi Lemak Pendekar Mustar – Kg Tersusun Sg Ara
Nasi Lemak Pendekar Mustar – Lebuh Campbell
Nasi Lemak Pok Loh – BeeliFood
Nasi Lemak – Premier Food Republic
Nasi Lemak Pulau Gadong – Taman Gadong Perdana
Nasi Lemak Qabella – Presint 14
Nasi Lemak Qabella – Cyberjaya
Nasi Lemak Queen – Taman Delima
Nasi Lemak Recipe – M3 Shopping Mall
Nasi Lemak Rendang Oma – Harbour City
Nasi Lemak – Restoran Wan Xi Heng [Non-Halal]
Nasi Lemak Roha Pk – Jalan Bandar Baru Pulau Kambing
Nasi Lemak Royal – Berjaya Times Square
Nasi Lemak Royal – Cheras Leisure Mall
Nasi Lemak Royal – Sri Petaling
Nasi Lemak Royal – Kota Damansara
Nasi Lemak Royale Ibrahim -USJ 9
Nasi Lemak Royale Kedah – Presint 8
Nasi Lemak Royale Kedah – Jalan Hang Tuah
Nasi Lemak Royale Kedah – Taman Tasek
Nasi Lemak Royale Kedah – Vista Alam
Nasi Lemak Royale Kedah Ampang – Taman Putra Sulaiman
Nasi Lemak Royale Kedah (Gombak) – Kampung Kuantan
Nasi Lemak – S11 Kopitiam
Nasi Lemak Saleha On The Go – LRT SS15
Nasi Lemak Saleha On The Go – LRT Bangsar
Nasi Lemak Saleha On The Go – LRT Pasar Seni
Nasi Lemak Salmah – Seksyen 7
Nasi Lemak Salmah Ujang – Medan Selera D'Tasik
Nasi Lemak Sedaap – Flat Taman Public
Nasi Lemak Sedaap – Kolombong
Nasi Lemak Sedaap – Taman Suria
Nasi Lemak Serai Wangi – Jalan SS15/8A
Nasi Lemak Simple – KPKS
Nasi Lemak Siti Asilah – Bukit Jalil
Nasi Lemak Sohoo – Perkampungan Bukit Ubi
Nasi Lemak Special Selera Medan – Taman Selera Jaya
Nasi Lemak Superman – Taman Selayang Jaya
Nasi Lemak Suzie's Kitchen – Kampung Teras Jernang
Nasi Lemak Tanglin – Kompleks Makan Tanglin
Nasi Lemak Tanglin (Food Truck) – TTDI
Nasi Lemak Taza's – PJ33
Nasi Lemak Teluk Cempedak (TC) – Pengkalan Chepa
Nasi Lemak Tepi Jalan 1996 – Taman Desa Petaling
Nasi Lemak – Thian You Food Court Corner
Nasi Lemak Triple A – Cheras
Nasi Lemak Turbo – Plaza Wangsa Maju
Nasi Lemak Ujong Pasir Dua – Jalan Ujong Pasir
Nasi Lemak Umi – Gombak Setia
Nasi Lemak Utara – Taman Utara
Nasi Lemak Wak Kentut – Bangi Square
Nasi Lemak Wak Kentut KTM – Taman Kulai Utama
Nasi Lemak Wakatatika – Taman Dahlia
Nasi Lemak Warigh – Taman Danau Kota
Nasi Lemak Warisan – Bachang
Nasi Lemak Warisan Omak by Rose – Kg Pandan Dalam
Nasi Lemak Warung Cik Mah @ Pak Dollah – Kampung Tersusun Pengkalan Pegoh
Nasi Lemak Western – Taman Pulai Perdana 2
Nasi Lemak Wild Boar – Puchong [Non-Halal]
Nasi Lemak Zayyan – Restoran Nasi Kandar Belanga Maju
Nasi Lemak/Nasi Kari Ayam/Tom Yam – Xing Xing Kafeteria
Nasi Lomak Milah Bestari – Jalan Bestari
Nasi Majlis Kapitan – Bandar Bayan Baru
Nasi Malam Gulai Rempah Giling – Taman Pelangi
Nasi Mandi – Plaza Kingfisher
Nasi Mandy Arab – Likas
Nasi Mandy Hamzah – Jalan Pasir Panjang
Nasi Melaya JB – Taman Perling
Nasi Minyak Gulai Power – Setia Alam
Nasi Nakoba Kamal – Belakang Pejabat Pos
Nasi Netup Kak Ku – Jalan Kuala Krai
Nasi Pablo – Plaza Mont Kiara
Nasi Padang Gaya – Taman Gaya
Nasi Padang JJ – Taman Johor Jaya
Nasi Padang Nasi Lemak – Paragon Mall
Nasi Pak Man – Kota Damansara
Nasi Pak Man – Seksyen 14
Nasi Pandan Pantai – Jalan Leong Boon Swee [Non-Halal]
Nasi Pengilan Bajet – Taman Mas Pertama
Nasi Petir – Jalan Ayer Hangat
Nasi Pok Lang – Putra Business Centre
Nasi Pok Lang – Jalan Dato' Bahaman
Nasi Pops Geprek – Tropics Perdana Shopping Centre
Nasi Raja Kambing – Medan Selera Tanjong Malim
Nasi Royale – Rends Burger Cafe
Nasi Royale Tanjung Bendahara – Jalan Tanjung Bendahara
Nasi Sambal Tonggek – Kota Warisan
Nasi Stim Beratoq – Taman Samudera
Nasi Sup Air Nyior Depan Penjara – Masjid Pengkalan Chepa
Nasi Sup Chedin – Kg Belukar
Nasi Sup Legend – Tingkat Bawah Bangunan Maik
Nasi Talam Pahang – Kuala Lumpur
Nasi Ulam Ikan Pangggang Soto Johor – Qims Cafe
Nasi Umi Stall – Kampung Kubang Panjang
Nasi Urap – Sri Aman
Nasi Vanggey – Green Town Business Centre
Nasi Vanggey – Sri Gombak
Nasi Vanggey – Ukay Perdana
Nasi Vanggey – Bandar Indera Makota
Nasi Vanggey – Jalan Teluk Sisek
Nasiayampapa – Bandar Indera Mahkota 6
Nasiayampapa – Jalan Kuantan
NasiiKarii – Infinity Tower
Nasikukus2u – N9 Food Court
Nasir Rojak & Cendol Stall – Bukit Mahkota
Nasken Coffee Pengkalan Chepa – Jalan Pengkalan Chepa
Nata D' Cafe – Korean Cuisine – Jalan Piasau Utara 1A
Nata D' Cafe – Malaysian Cuisine – Jalan Piasau Utara 1A
Nat's Borneo Delight – Plaza Shell
Natural Sivagamyanais Cafe – Flora Damansara
Natural Vegetarian Food – Jalan Gajah Mati
Nature Desserts House – Taman Pulai Utama [Non-Halal]
Nature Vegetarian Cafe – Taman Cahaya Tasek
Nature Vegetarian Restaurant – Bangsar
Naufas Kopitiam – Kota Samarahan
Naughty Nelly – USJ 9 [Non-Halal]
Naughty Nelly – SS15 [Non-Halal]
Nautica Kitchen – Wisma Central
Navigators – Jaya One [Non-Halal]
Navin's Curry House – Jalan Tan Sri Teh Ewe
Navy Cafe – Jalan Kubu
NAVY Specialty Coffee – Arena Curve [Non-Halal]
Nayagam – Jalan Paya Terubong
Nazah Cendol & Rojak – Taman Setia Tropika
Nazarani Catering – Lembah Permai 7
Nazaria Corner – Medan Selera Menara Condong
Naziha's Kebab Station – Seksyen 24
Nazmida Satay Pagi – Medan Selera Pasar Peladang
Nazz Classic Burger – Taman Tasek Indra
Nazzeeras Kacang Phool – Design Village Outlet Mall
NB Corner's – Penampang Baru
NBS – Taman Sri Tanjung
Nct Crew @ Taiko Cafe – Jalan Astana
Ndang's Kitchen – Likas
Nee Western Food – 123 Family Cafe [Non-Halal]
Neek Restaurant – Cabang Tiga Pengkalan Chepa
Neeranyas Claypot Satti Sorru – Pusat Dagangan Seremban
Neh Neh Ball – Taman Kota Laksamana Jaya
Neighbour BBQ – Jalan Indah Permai [Non-Halal]
Neighbourhood Foodcourt – Pork Mee Fish Noodle – Jalan PJU 5 [Non-Halal]
Neighbourhood Foodcourt – Steamed Chicken – Jalan PJU 5 [Non-Halal]
Neighbourhood Foodcourt – Thai Pork – Jalan PJU 5 [Non-Halal]
Neighbourhood Foodcourt – Asam Laksa – Jalan PJU 5 [Non-Halal]
Neighbourhood Foodcourt – Penang Prawn Mee – Jalan PJU 5 [Non-Halal]
Neighbourhood Kitchen – Kampung Jelatang
Neighbowl – Plaza Damansara
Nek Datin's Kitchen – Lorong Cederawasih 6
Nekara Burger – Kelana Idaman
Neknor Express – Taman Puchong Prima
Neknor Kitchen & Cafe – PSK 9
Neko Boba – Jalan Matang
Nelayan Sri Jerjak – Jln Dr Lim Chong Eu
Nellharr Indian Cuisine – Medan Selera Bandar Alor Gajah
Nellis – Jalan Sultan Yusuf
Nelson's – Sunway Pyramid
Nelson's – KL Gateway
Nelson's – Jaya Shopping Centre
Nelson's – Eko Cheras Mall
Nelson's – Sunway Velocity
Nelson's – 1Utama
Nelson's – University Malaya
Nelson's – Jakel Mall
Nelson's – 1Borneo
Nelta Café & Catering – Centre Point Sabah
Nemo's Nachos – Kayu Ara
Nemo's Nachos – Bangsar
Nemo's Nachos – Kota Damansara
Nenda's Kitchen – Jalan Kampung Jawa
Ne.Nenebubu Cuisine – Sri Petaling [Non-Halal]
Neng Geulis Cafe – Taman Bintang Utama
Neo Kitchen – Medan Pengkalan Damai
Nestle Ice Cream – Jalan Tepi Sungai
Nestle Ice Cream – Pandamaran
Nestle Ice Cream – Sungai Chua
Nestle Ice Cream – Muar
Nestle Ice Cream – Melaka
Nestle Ice Cream – Mak Madin
Nestle Ice Cream – Sungai Merah
Nestle Ice Cream – Jelutong
Nestle Ice Cream – Taman Industrial Megah
Nestle Ice Cream – Permatang Tinggi
Nestle Ice Cream – Taman Medan
Nestle Ice Cream – Taiping
Nestle Ice Cream – Taman Perindustrian UEP
Nestle Ice Cream – Taman Wahyu
Nestle Ice Cream – Jalan Theatre
Nestle Ice Cream – Menglembu
Nestle Ice Cream – Kampung Baru
Nestle Ice Cream – Pujut 6
Nestle Ice Cream – Sungai Petani
Nestle Ice Cream – Taman Seri Pelindung 1
Nestle Ice Cream – Bandar Letat Jaya
Nestle Ice Cream – Indera Mahkota
Nestle Ice Cream – Kawasan Perindustrian Mergong
Nestle Ice Cream – HS Industrial Park
Nestle Ice Cream – Johor Bharu
Nestle Ice Cream – Seremban
Nestle Ice Cream – Kuala Terengganu
Nestle Ice Cream – Jalan Ong Tiang Swee
Nestle Ice Cream – Pengkalan Chepa
Netverk Bar & Restaurant – Oval Damansara
Neu Restoran Sayur Sayuran
Neu Xinmin Vegetarian Restaurant – PJ New Town
Never Give Up Cafe – Kajang Plaza
New Ampang Traditional Yong Tau Foo – SS2
New Atmosferah Restaurant 1 – Simpang Tiga
New Atmosferah Restaurant 2 – King Centre
New Atmosferah Restaurant 3 – Abel Road
New Atmosferah Restaurant 4 – Batu 7
New Begin 新啟點茶餐室 – Taman Bukit Indah [Non-Halal]
New Chan Kee Chee Cheong Fun – Kedai Makanan dan Minuman Yee Heng [Non-Halal]
New Era Restaurant – Pandan Jaya [Non-Halal]
New Fair Garden Restaurant – Taman Pertama [Non-Halal]
New Fook Lim Cafe – Pusat Komersil 88
New Gaya Seafood – Shell Plaza
New Gaya Seafood – Wisma Lucy
New Gold Leaf Cafe – Inanam [Non-Halal]
New Happy Cafe 新快乐园茶室 – Jalan Ang Cheng Ho [Non-Halal]
New Happy Garden SeaFood Restaurant – Jalan Sultan Iskandar [Non-Halal]
New Hollywood Chicken Rice – Taman Canning
New Hong Kong BBQ – Thian You Food Court Corner [Non-Halal]
New Hong Seafood – Premier Food Republic [Non-Halal]
New Jia Hua – Bundusan
New Kai Seafood Restaurant – Pudu [Non-Halal]
New King City Seafood Restaurant – Bandar Utama
New Lane Beef Ball Soup – Jalan Macalister
New Leong Kee – Bandar Baru [Non-Halal]
New Lungmeng Enterprise Mix & Match – [Non-Halal]
New Lungmeng Enterprise (Main) – New Lungmeng Enterprise [Non Halal]
New Petaling Kam Kee Seafood Restaurant – Petaling Jaya [Non-Halal]
New Receipe Restaurant – Jalan Datuk Keramat [Non-Halal]
New Sister Cafe – Palm Road [Non-Halal]
New Star – Karamunsing Basement Food Court [Non-Halal]
New T S Vip Restaurant Sdn Bhd – Ipoh City and Country Club [Non-Halal]
New Tian Tian Chicken Rice – TT3 Corner
New Top Rock Restaurant – Jalan Shantung [Non-Halal]
New TS Vip Restaurant (Grand Ballroom) – Kawasan Perindustrian Menglembu [Non-Halal]
New Wan Soon Hin Restaurant – Inanam [Non-Halal]
New Winter Time Dessert – UEP Subang Jaya [Non-Halal]
New World Park Food City – Jalan Burma [Non-Halal]
New Yong Seng – Bandar Baru Permyjaya [Non-Halal]
New York Pizza – Desa Sri Hartamas
New York Sushi & Cafe – Bandar Baru Medan Ipoh [Non-Halal]
New York Wings – Desa Sri Hartamas
Neway Karaoke Box – Cheras Plaza
Next Station – Kota Bharu
Next To Mee Noodle House – Glomac [Non-Halal]
Nexus Hub & CoffeeHouse – Jalan Bagan Jermal
Nezua Nasi Ayam Taman Arked – Taman Arked
Ng Noodles Stall – Medan Selera 333 [Non-Halal]
Ngai Seng Kopitiam – Medan Bendahara 2 [Non-Halal]
Ngam Jerung – Taman Sri Andalas
Ngencess – Pusat Penjaja Usentral @ Masai Night Market
Ngiu Chap Penampang – Padimas
Ngonyel-Ngonyel by Haziq – Kampung Melayu Majidee
Ngow Family Kopitiam – Taman Malim Jaya
Nguyen's – Kiara 163 [Non-Halal]
Nian Dai Kopidiam – Jalan Genting Kelang [Non-Halal]
Nian Larut Malam – Pasar Peladang Skudai
Niang Niang Fried Chicken – KSL City Mall
Nibblyeats
Nice – Saradise
N.ICE Cereal Ice Cream & Milkshake – Pusat Perdagangan Bandar Bukit Jalil
N.ICE Cereal Ice Cream & Milkshake – Jaya One
N.ICE Cereal Ice Cream & Milkshake – Sunway Pyramid
Nice Soup Restaurant – Taman Daya [Non-Halal]
Nice Tea – Jalan Datuk Tawi Sli
Nice To Eat Kopitiam – Taman Cheng Perdana
Niche Vegan Kitchen – Seksyen 14
Nick Cafe – UTC Keramat Mall
Nicks Restaurant & Bar – Jalan Raja Chulan
Nicsmann 1940s By Lewre – Starling Mall
Nida Catering – Jalan Jelapang-Chemor
Niewin Spice Kitchen – Taman Rinting
Nifayyi Warung & Cafe – Fair Park
Night Cat Dumpling – Taman Impian Emas
Night Shadow – Cheras
Nigiri Sushi Kitchen – OUG Parklane [Non-Halal]
Nik Adam Tomyam – Taman Ampang
Nik Simple – Jalan Darat Makbar
Nikko – Taman Kota Laksamana Jaya
Niko Niko Onigiri – Alamesra
Nilai Fruits And Juices Enterprise – Jalan BBN1/3C
Nim Ra Ayam Goreng Spicy – PPR Taman Wahyu 2
Nim's Bakery – Jalan Ipoh
Nineteen61.Cafe – Lorong Seri Kuantan
Ninety Nine Food Court – Tan Ming Boulevard [Non-Halal]
Ninety's – Beware Cafe
Ning Ning Rice Shop – Kampung Pegawai [Non-Halal]
Nings Hainam Noodle – Taman Melaka Raya [Non-Halal]
Nini High Tea – Restoran Yi Lu Fa [Non-Halal]
Ninie Western – Ipoh Night Market
Ninja Chicken BK1 Puchong – Restoran Maxis
Ninja Chicken Cheras – Taman Desa Aman
Ninja Chicken Pandan Perdana – Restoran Good Friend
Ninja Chicken Setapak – Lucky Star
Ninja Chicken Subang SS15 – Restaurant Kwai Sun
Ninja Mango Shake – Kampung Dato Ahmad Said Tambahan 2
Ninting Lemai BBQ – Rumah Asap Dayak Samarahan [Non-Halal]
Nipis.Co – Damansara Perdana
Nipis.Co – SS15
Nipis.Co – Taman Bukit Serdang
Nipis.Co – EkoCheras Mall
Nipis.Co – Starling Mall
Nippon Syokudo – Danau Business Centre
Nippori Cafe – Empire Damansara
Nirawan 9 Royal Thai Cuisine – Jalan Tabuan
Nisha Signature – Happy Cafe
Nishraan Curry House – Inanam
Nitro KL – Enjoys Corner
Niveatha Curry House – Taman Emas
Nizam's A Royal Hyderabadi Biryani – Jalan Puteri
Nizam's Biryani – Go Kitchen
NJOY Cafe – Jalan Satok [Non-Halal]
NK Food Network – Jalan Tun Ahmad Zaidi Adruce
NMSS Corner – Pasar Borong Kuala Lumpur
NN Pakistani Food & Catering – City One Plaza
No 1 Chadon – Pusat Perniagaan Gemilang [Non-Halal]
No 10 Wan Ton Mee – Tong Sui Kai [Non-Halal]
No 11 Asam Laksa – Pusat Penjaja Anjung Gurney
No 11 Curry Mee – Tong Sui Kai [Non-Halal]
No 15 Medan Selera Bendang Baru – Medan Selera Bendang Baru
No 19 – Wisma Sri Taiping
No 32 Boutique Cafe – Barrington Square Apartment
No 48 Set Meal Soup – Bayan Baru Food Court
No 5 – Casual Market
No 69 Eddie Sweet Corn Cheese – Bayan Baru Food Court
No 9 – Wisma Sri Taiping
No Brand Station – Sandakan Harbour Square
No Meat Ok Mou? – Tkt Maju Perniagaan Maju Jaya
No Na Me – Bandar Sri Petaling [Non-Halal]
No Name Cafe – Dayang Walk Commercial Square
No1 Rojak – Taman Seri Gemilang
Noah Foods – Flora Damansara
Noah Foods – Taman Putra Perdana
Nobicha – Jalan Sisi
Nobita Burger & Chips – A One Laksa Cafe
Noh Burger – Taman Pulai Utama
Noisy Chapati House – Jaya One
Nok Nok Enterprise – Taman Sri Jelok
Nom Nom Cafe – Bandar Botanik [Non-Halal]
Nomi Tomo – Jalan Medan Setia 2 [Non-Halal]
Nomms – SS15
Nomms Kota Kemuning – Jalan Anggerik Vanilla
Nong Khai – Sutera Utama [Non-Halal]
Nong Xiang Claypot Bak Kut Teh – Kompleks Bandar Batu 5 [Non-Halal]
Nonie Ayam Percik – Jln Wakaf Stan
Nonie's Recipe – Pusat Perniagaan Lapangan Jaya
Noodiy @ Foodstarted – Setia Alam
Noodle Cafe – Gat Lebuh Macallum [Non-Halal]
Noodle History – New World Park [Non-Halal]
Noodle Shack – 1Utama
Noodle Shack – Paradigm Mall
Noodle Shack – IPC
Noodle Shack – Avenue K
Noodleface A Meatless Cuisine – Pusat Pedagangan Mega
Noodleface A Meatless Cuisine – Taman Mount Austin
Noodleking House – AEON Metro Prima [Non-Halal]
Noodleking House – AEON Maluri [Non-Halal]
Noodles – Restoran Hao Kee [Non-Halal]
Noodles 面食 – Restoran Good Luck [Non-Halal]
Noodles & Seafood – Medan Selera Malim Jaya
Noodles Claypot & Sizzling – Kampung Paya Jaras
Noodles – First Cafe [Non-Halal]
Noodles – Kenanga Food Court
Noodles – Soon Joo Cafe [Non-Halal]
Noodles Soup Stall – Uncle Te Kopitiam [Non-Halal]
Noodles Stall – Next Food Avenue @ Ipoh Parade
Noodles – Summer Cafe [Non-Halal]
Nookiah Rojak Pasembor & Cendol – Kota Kemuning
Noooodles – Taman Industri Bolton
Noor Deen Curry Hous – Tmn Cantek
Noor Kitchen – Bandar Permyjaya
Noor Nasi Ambeng – Taman Daya
Noor Setia (M) Sdn Bhd – Persiaran Pusat Bandar Putra Point
Noor Tomyam – Jalan Ayer Keroh
Noorjahan Putu Mayong – Lebuh Queen
Noorjahan Putu Mayong – Jalan Jelutong
NoorulZam Burger & Roti John – Bandar Baru Seri Manjung
Nooshi Kitchen – Jalan KLJ
Nor Alwani & Atifah Tomyam & Seafood – Bandar Putra
Nor Colek Pasir Mas – Mini Stadium
Noraina Cafe – Taman Suria Shop Apartment
Nordic Kitchen – TREC KL
Nordic Steak House – Bandar Baru Medan Ipoh [Non-Halal]
Norie Mee Kari – Kopitiam Ukir Mall
Norie Mee Kari – Kompleks Kanchut
Norlisa Indo Taste & Catering – Prima Square
Norly Cendol Pandan Wangi – Kampung Sentosa
North East Chinese Cuisine – Icon City [Non-Halal]
North East Chinese Cuisine – Jalan Zainal Abidin [Non-Halal]
North East Recipe – Kafe Bercham Point [Non-Halal]
North Spicy – Taman Scientex
North Village Malaysia – MH Avenue
Northeast China Dumpling – Jalan C Y Choy [Non-Halal]
Noryangjin Cupbob – Metropolitan Square
Noryangjin Cupbob – Mont Kiara Meridin
Noryangjin Cupbob – Bandar Sunway
Norzie Pisang Cheese – Jalan Sri Putri
Nosh & Co – Bangunan Ming
Nosh By Poke Twins – Permas Jaya
Nosoob Fish Noodles – Penampang Baru
November House Cafe & Lodge – Georgetown
Nowa's Kitchen – Taman Setapak Indah Jaya
NR Corner – Inanam Business Centre
NS Cafe@ Mamak Style – Queensbay Mall
Ns_Family – Taman Hilltop
NS Grill Bike – Bandar Baru Samariang
NS JOY Snacks – Taman Kajang Perdana
Ns Rojak Specialist – Pusat Makanan Millions House Food Centre
Ns Yaya Kitchen – Kg Binjai Banggu
NSI Dessert's – Ipoh Walk Night Bazaar
NT Cafe – Persiaran Bandar Cassia
Nu Wang Mageswari Restaurant – Bandar Lahat Mines
Nuevo Cafe – The Everly Putrajaya
Nuin Kafe – Seksyen 9
Number 3 Bakery & Cafe – Platinum Hill Condo
Number One Kuetiau – Jalan Sultan Badlishah
Nur Bistro – Pusat Dagangan Seremban 2
Nur Dapur (Ben Seafood) – Jalan Gaya
Nur Guan's Kitchen – Kucei's Kitchen
Nur Hasanah Enterprise – Kg Likas
Nur Maaz Food & Catering – Medan MARA
Nur Mayaaian – Karamunsing Road Side Foodcourt
Nur Mee Jawa – Tah San Yuan Cafe
Nur Nilam Cafe & Catering – Jalan Teo Chew
Nur Sakira Cafe (Keningau Ngau Chap) – Kedai Lintas Jaya
Nur Zizi Co. – Taman Matang Jaya
Nurafiq Corner – Taman Indah Permai
Nurhas Restaurant – Alor Malai
Nurhuda Western & Thai Tomyam – Seksyen 7
Nuriman Sweet Bakery – Bandar Baru Uda
Nurlia Goreng Pisang Cheese – Kg Melayu Majidee
Nurliey Burger – Sri Petaling
Nurliey Burger – Salak South Garden
Nurmala Sari Restoran & Catering – Bandar Baru Permyjaya
Nurmala Sari Western – Chacha Cafe
Nur's Kitchen – Fuyu Cafe Satok
Nurzie Chicken Chop – Anjung Bemban Maju
Nusya Satay & Ayam Penyet – Komplek Keramat Mall
Nutmeg – Bangsar Village II
NVE Food & Co – Jalan Semarak
NY Burger Co. – PJ222 – Petaling Jaya
NY Steak Shack – IOI City Mall
NY Steak Shack – AEON Shah Alam
NY Steak Shack – Subang Parade
NYC Dining Bar – Centre Point [Non-Halal]
Nyems Sekal Kafe – Jalan Haji Taha
Nyior Gegor – Taman Gelora
Nyonya & Thai – Damai Point [Non-Halal]
Nyonya Cendol – Tropicana Gardens Mall
Nyonya Cendol – Main Place USJ
Nyonya Cendol – Jonker Walk
Nyonya Cuisine
Nyonya Heritage
Nyonya Heritage – Damansara Jaya
Nyonya Home Cooked – Lotus's Tanjung Pinang
Nyonya Kafe Kueh Bibik's Kitchen – Lebuh Clarke
Nyonya Kitchen & Caterers Sdn Bhd – Taman Bayu Perdana
Nyonya Kueh – Premier Food Republic Samarahan [Non-Halal]
Nyonya Kuih – CCS One Cafe [Non-Halal]
Nyonya Laksa – Coco Island
Nyonya Laksa Empire – Jalan Laksamana Cheng Ho
Nyonya Leaf – JB City Square
Nyonya Leaf – Taman Tebrau Jaya
Nyonya Leaf – AEON Tebrau City
Nyonya Manis Cafe – Taman Bunga Raya
Nyonya Noodle – Main Place
Nyonya Otak-Otak – Pusat Perdagangan Mega
Nyonya Palace – Taman Melati Jaya [Non-Halal]
Nyonya Platter – Maxim Residences
Nyonya Steamboat – 1Borneo
Nyonya Tingkat – AEON Taman Equine Park
Nyonya Tingkat – Menara UOA
Nyonya Tingkat – NU Sentral
Nyonya Tingkat Signature – Bangsar South
Nyonya Treats Cuisine – Taman Perling
Nyonya Village Cafe – GM Klang
Nyum Nyum Takoyaki – Hadapan Pertronas Seri Manjung
Nyum Nyum Takoyaki – Taman Samudera
NZ Ali Bistro – Jalan SS15/5A
NZ Bread Station – Kompleks Medan Suri
NZ Chanis Corner – Segamat
NZ Roti John Putrajaya – Mydin USJ 1
NZ Unlimited Cafe – Oasia Suites KL
O Baby Restaurant – Kuchai Entrepreneurs Park [Non-Halal]
O Chuan Mala – Pusat Makanan Gunung Rapat Enam Enam [Non-Halal]
(O) Claypot Sup – Jiki Food Court Bukit Baru
O For U Kitchen – JM Corner Kopitiam [Non-Halal]
O House Station – Jalan Bukit Tambun [Non-Halal]
O' Jai's Fried Chicken – Bandar Baru Putra
O-Kome Cafe – Kg Sungai Tapah
O-Torii Sushi Express – Lintas Plaza
O2 Coffea – Lotus's Store Bukit Mertajam
O2 Coffea – Lotus's Store Seberang Prai
O2Marry – Jalan Satok
Oak Garden Dine & Bar – Taman Eko Botani
Oasis Dimsum – Bandar Baru Salak Tinggi
O'Briens Irish Sandwich – Gleneagles Hospital Medini
Ocam The Coffee Factory – Jakel Mall
Oc'daka – Mount Austin [Non-Halal]
Ocean 36 Bar & Bistro – WK Commercial Centre
Ocean Blue – Sri Petaling [Non-Halal]
Ocean Cafe – Jalan Mahogani 1
Ocean Eight 8 鲜楼 – Kawasan Perindustrian Kampung Baru Balakong
Ocean Green Restaurant – Jalan Sultan Ahmad Shah
Ocean Laksa – Hilltop Little Kitchen [Non-Halal]
Ocean Restuarant (Bintulu) Sdn Bhd – Jalan Tanjung Batu
Ocean's Catch – Jalan Perusahaan Jelutong
Ochaking – Damai Plaza
Ochaking – Imago Shopping Mall
October Coffee – The Peak Vista
October Coffee House – Lorong Dewan
October Cups – Pusat Perniagaan Vorteks
Octomin Recipe Shah Alam – Seksyen 19
Oden Kaw – Taman Cempaka
Oden Mangkuk – Jalan Penampang
Oden Meletup Siti – Jalan Padang Matsirat
Oden Tomyam Kaw – Jalan Taman Ciku
OE Kopitiam – Taiping
Official Street Burger – Taman Klebang Utama
O'Galito
OGOKCHA – Mytown
Ogsang Korean Stew Pot – Ipoh SOHO [Non-Halal]
Oh Cha Matcha – Vipod Business Centre
Oh Juice – Universiti Malaya
Oh Juice – LRT Asia Jaya
Oh My Cafe – Jalan Rozhan
Oh My Kebab – UTC Sentul
Oh Yeah Food & Beverage – Jalan Damai
Ohana Restaurant – Ladang Sitiawan
Ohana360 – Bukit Jalil [Non-Halal]
OhChaCha – Da Men Mall
oh!tea – Jalan Rimbunan Raya
O.I.C Cafe – Medan Ipoh Bestari
Oice by 939 – Jalan SK 6
Oinks! – Tabuan Heights [Non-Halal]
Oishi Japanese Restaurant – Jalan Rock Road
Oishi Sushi – Aeroville Mall
Oishii Grilled Pork Rice – Peach Garden Food Centre [Non-Halal]
Oishii Takoyaki – Sidec Seri Iskandar
Oishiidon Japanese Food – Kampung Attap
Oishinabe – Butterworth Business City Centre [Non-Halal]
Oiso – IOI City Mall
Oiso Traditional Korean Restaurant – DC Mall
Oiso Traditional Korean Restaurant – Petaling Jaya
Oiso Traditional Korean Restaurant – Shah Alam
Oiso – Leisure Mall
Oiso – The Curve
Oiso – East Coast Mall
Oiso – Da Men Mall
Oitom – 88 Marketplace
Ojie Food Delivery Services – Kampung Simpang Tiga
OJ'S Kitchen – Foodlove Cafe [Non-Halal]
Ok Sarawak Kampua Mee – Leong Heng 2 Restaurant [Non-Halal]
Ok Sarawak Kampua Mee – M88 Food Court [Non-Halal]
OK Wantan Mee – Plaza Angsana
Okawari Malaysia @ New Pheonix Restaurant – Taman Salak Selatan [Non-Halal]
Okay Juice – Beverly Hills Fasa 2
Okid Kopitiam – Jalan Tambatan
Ola Bola Food – Taman Rambai Jaya
Ola Lavanderia Cafe – Jalan Tukang Besi
Olaa Restaurant & Cafe – Langkawi Fair Shopping Mall
Olala Sg Ujong Walk – Bandar Seremban [Non-Halal]
Old 3 Cafe – Jalan Phuah Hin Leong [Non-Halal]
Old Asia – 1Utama
Old Beach – FGJB [Non-Halal]
Old Beach Pastries Shop – Taman Ungku Tun Aminah [Non-Halal]
Old Chang Kee – Avenue K
Old Chang Kee – 1Utama
Old Chang Kee – Setia Business Park
Old Chen Braised Meat Rice – Restoran Roda Tiga [Non-Halal]
Old China Cafe – Kuala Lumpur [Non-Halal]
Old Cowboy Western Steak House – Taman Desa Petaling
Old Forest – Taman Sri Kuantan 3
Old Forest – Lorong Seri Kuantan 25
Old Hainam Chicken Rice Ball – Jalan Baiduri
Old Hong Kong Restaurant – Jalan Labuk
Old KL Bak Kut Teh – KLSCAH [Non-Halal]
Old KL Kopitiam – Taman Maluri
Old Klang Road Kopitiam – Giant Hypermarket Bandar Kinrara
Old Malaya Kopitiam – Jalan Plumbum N7/N
Old Malaya Kopitiam – Jalan Kuala Krai
Old Mom Enterprise – Taman Perdana [Non-Halal]
Old Papa Kopitiam – Taman Setia Indah [Non-Halal]
Old Partner Noodle – TKH Food Court [Non-Halal]
Old School Cafe – Jln Cantonment [Non-Halal]
Old Signature Chicken Rice – Taman Setia Indah [Non-Halal]
Old Soon Kee – Lebuh Kimberly [Non-Halal]
Old Street Crispy Chicken Rice – CS Food Court
Old Street Food Centre Mix & Match – Taman Suria Shop Apartment [Non-Halal]
Old Taste Recipe – Foh Sang [Non-Halal]
Old Town Nasi Kandar – PJ Oldtown
Old Town On The Go – MesaMall
Old Town White Coffee – Greentown
Old Town White Coffee – Ampang Point
Old Town White Coffee – Plaza Puchong
Old Town White Coffee – Kompleks Kenari
Old Town White Coffee – Leisure Mall
Old Town White Coffee – Sungai Long
Old Town White Coffee – BMC Mall
Old Town White Coffee – AEON Metro Prima
Old Town White Coffee – Ampang Waterfront
Old Town White Coffee – Jalan Kuching
Old Town White Coffee – UOA Bangsar
Old Town White Coffee – Pandamaran
Old Town White Coffee – KL Eco City
Old Town White Coffee – Ativo Plaza
Old Town White Coffee – Gunung Rapat
Old Town White Coffee – AEON Rawang
Old Town White Coffee – Jelapang
Old Town White Coffee – Pandan Indah
Old Town White Coffee – USJ Taipan
Old Town White Coffee – Cheras Midah
Old Town White Coffee – AEON Sunway Pyramid
Old Town White Coffee – Sri Rampai
Old Town White Coffee – Bandar Baru Bangi
Old Town White Coffee – Pusat Komersial Sri Utama
Old Town White Coffee – KIP Mart
Old Town White Coffee – Melaka Raya
Old Town White Coffee – Tampin
Old Town White Coffee – AEON Ayer Keroh
Old Town White Coffee – AEON Cheras Selatan
Old Town White Coffee – Bayan Baru
Old Town White Coffee – Maju Utama
Old Town White Coffee – Juru Auto City
Old Town White Coffee – Bandar Sunway
Old Town White Coffee – 1st Avenue
Old Town White Coffee – Jelutong
Old Town White Coffee – E-Gate
Old Town White Coffee – Gurney Plaza
Old Town White Coffee – Tawau
Old Town White Coffee – All Season Place
Old Town White Coffee – Queensbay Mall
Old Town White Coffee – Lotus's Bagan Ajam
Old Town White Coffee – Kulim
Old Town White Coffee – AEON Melaka
Old Town White Coffee – Taman Permata
Old Town White Coffee – Bandar Kinrara
Old Town White Coffee – AEON Station 18
Old Town White Coffee – KK Road
Old Town White Coffee – Grand M Roof
Old Town White Coffee – AEON Bukit Tinggi
Old Town White Coffee – Klang Parade
Old Town White Coffee – AEON Bukit Raja
Old Town White Coffee – AEON Equine
Old Town White Coffee – KIP Park Selayang
Old Town White Coffee – Sunsuria Forum
Old Town White Coffee – Bandar Puteri
Old Town White Coffee – DPulze
Old Town White Coffee – Kota Kemuning
Old Town White Coffee – Setia Alam
Old Town White Coffee – South City Plaza
Old Town White Coffee – Metro Point
Old Town White Coffee – AEON Taiping
Old Town White Coffee – Taiping Sentral
Old Town White Coffee – Sungai Buloh 2
Old Town White Coffee – Sunway Mentari
Old Town White Coffee – Pearl Avenue
Old Town White Coffee – Cheras Sentral
Old Town White Coffee – Ikon Connaught
Old Town White Coffee – Pearl Point
Old Town White Coffee – Kuchai Lama 2
Old Town White Coffee – Menara Commerce
Old Town White Coffee – 1Utama
Old Town White Coffee – Cameron Fair
Old Town White Coffee – One City
Old Town White Coffee – AEON Alpha Angle
Old Town White Coffee – Shamelin
Old Town White Coffee – Falim
Old Town White Coffee – The Peak
Old Town White Coffee – V Hotel
Old Town White Coffee – Lotus's Semenyih
Old Town White Coffee – KL8
Old Town White Coffee – Ipoh Jaya
Old Town White Coffee – M Boutique
Old Town White Coffee – The Mines
Old Town White Coffee – Lagenda Heights
Old Town White Coffee – East Coast Mall
Old Town White Coffee – Sandakan
Old Town White Coffee – Karamunsing
Old Town White Coffee – Batu Pahat
Old Town White Coffee – Menara Jubili
Old Town White Coffee – AEON Bukit Indah
Old Town White Coffee – Seremban Prima
Old Town White Coffee – Mid Valley Southkey
Old Town White Coffee – Toppen
Old Town White Coffee – Lien Hoe
Old Town White Coffee – Taman University 2
Old Town White Coffee – Lotus's Kulai
Old Town White Coffee – Setia Tropika
Old Town White Coffee – G-Orange Mall
Old Trafford Burger – Chulia St
Old Village Restaurant – Kampung Baharu [Non-Halal]
Oldmaster New – Nanyang Coffee – 1 Utama
Oldskool – Taman Dataran Larkin
Oldtown Chee Cheong Fun – Kedai Kopi Kin Kok [Non-Halal]
Olive Kitchen + Bar – Georgetown
Olive Musicafe – Nongchik Heights
Olivenz Cafe – Bandar Baru Medan Ipoh [Non-Halal]
Ombak Cafe – Taman Cempaka
Ombak Cafe – Jalan Gambang
Ombak Kitchen – Bangsar
OMG BBQ LOL – Jalan Perdana
OMG Pizza Pasta – Bangunan Ming
Ompai Lei Cha (Kedai Kopi dan Makanan Uncle Lim) – Taman Meranti Jaya
Omulab – Jalan 17/45
On Kee Restaurant Sdn Bhd – Bandar Baru Permas Jaya [Non-Halal]
On On Night Market – Foh Sang [Non-Halal]
On The Way Cafe – Plaza Kingfisher
On3 Kopitiam Sdn Bhd Mix & Match – [Non-Halal]
ONB Claypot Rice – ONB
ONB Goreng Goreng – ONB
Once More Claypot Restaurant – Puchong
One Chopati – Keramat Mall
One Chopati – Jelatek Business Park
One Day One Day – Kedai Makanan dan Minuman Yee Heng [Non-Halal]
One Dim Sum – Best Corner Four Cafe [Non-Halal]
One Family Restaurant – Perumahan Seri Setali [Non-Halal]
One Fine Bowl – Bangunan Ming
One Laksa House – Sunway
One Nice Cafe (Main) – One Nice Cafe
One Nice Kitchen – One Nice Cafe [Non-Halal]
One Noodle House – Bandar Sunway [Non-Halal]
One Noodle House – Bandar Puteri [Non-Halal]
One One One Cafe – Jalan Lintang 4 [Non-Halal]
One Piece Onigirazu – 1 Utama
One Plus Eight Bao Dian – Restoran One Plus Eight Kopitiam [Non-Halal]
One Plus One Kitchen – Stampin [Non-Halal]
One Pot – Plaza Arkadia [Non-Halal]
One Rice Bowl – Taman Industries [Non-Halal]
One Roof – Luyang Perdana
One Roof – Asia City
One Roof Cafe – Tabuan Heights [Non-Halal]
One Shelly Shop – Cheras
One Stall Cafe Fried Chicken – Tabuan Jaya
One Stop Satay – Jln Astana
One To Six Seafood Restaurant – Asia City
One Top Burger – Jalan Sembilang
One Two Eat Cafe – Bandar Permas Jaya [Non-Halal]
One Two Eat Cafe – Taman Mount Austin [Non-Halal]
One Two Nine Cafe – Taman Ipoh Permai
One Two Tea – Bandar Puteri Jaya
One Two Three Coffee & Tea – Taman Universiti
One Yong Tau Foo Gam – Jalan Pari Off Jalan Tun Abdul Razak
One Zo – Jalan Tun Jugah
One Zo – Jalan Kenanga Indahpura
Onebuck Café II – Jalan Tawau Lama
OneDeLand – E-Gate Gelugor [Non-Halal]
Onedis – Permas City Walk
Onefifteen – Taman Mutiara Mas
Onel Burger – Medan Selera Ixora
Onex JW Enterprise – Taman Ungku Tun Aminah [Non-Halal]
Onfire Kitchen – Bandar Baru Uda
Onfire Kitchen – Larkin Jaya
Ong Lai Dim Sum House – Da Men Mall [Non-Halal]
Ong Ong Lye – Kompleks Sultan Abdul Hamid
Ong Zean Peng – Taman Mutiara Mas [Non-Halal]
Only Mee – The Top Komtar Jalan Penang
Only U Restaurant – Shah Alam [Non-Halal]
Onn Kitchen – Kampong Tarom
Onsemiro Restaurant – Intermark Mall [Non-Halal]
Ontheway8761 – Taman Wangi
Ontheway8761 – Ambang Botanik
Ontheway8761 – Taman Sentosa
OO Burger Trading – ONB
Oochid – Pacific Express Hotel
Ooh Pedas – Jalan Raja Chulan
Ooi Tabao – Taman Mount Austin [Non-Halal]
Open Air No 34 – Jalan Power [Non-Halal]
Opodos Spice – Taman University Indah
Oppa & Onni Cafe – Taman University
Oppa Chicken – Putatan Platinum Apartment
Oppa Chikin – Bataras Putatan
Oppa Korean BBQ – Armenian Heritage Hotel [Non-Halal]
Oppa Nasi Lemak Fried Chicken – Bukit Indah2
Oppa Wingman – Laman Granview
Oppadak Oven Baked Chicken – IOI City Mall
Ops Kitchen – Taman Gaya [Non-Halal]
Opy Mart (Coffee Shop) – Radia Business Centre
orang-orang Veggie – Seksyen U13
Orange Burger – Jalan Apas
Orange Kitchen Asian Cuisine – University Plaza
Orchid Bistro – AEON Mall Shah Alam
Orchid Bistro – AEON Rawang
Orchid Bistro – AEON BiG Wangsa Maju
Orchid Bistro – IOI City Mall
Orchid Bistro – Central i-City
Orchid Bistro – AEON Cheras Selatan Shopping Centre
Orchid Bistro – Setapak Central
Orchid Bistro – AEON Ipoh Station 18
Orchid Bistro – AEON AU2
Orchid Bistro – Subang Parade
Orchid Bistro – East Coast Mall
Orchid Delights Restaurant – Taman Orkid [Non-Halal]
Orchid Ipoh – Bandar Baru Medan [Non-Halal]
Orchid Restaurant – Lorong Raja Uda 1
Order66 – Publika
Oregano Kitchen – Ara Damansara
Oren 19 – Putra Heights
Oren Kitchen – Taman Desa
Oresaaa Port – Tampoi
Organic Beancurd – Taman Malim Jaya
Organic Beancurd – Jalan Gajah Berang
Organic Recipe – Casa Utama
ORI Juice-Salad – Bandar Botanic
Ori Tea- Jalan Wan Alwi
Oriental – Lotus's Sungai Petani (U)
Oriental – Amanjaya Mall
Oriental 611 Restaurant – Lintas Square [Non-Halal]
Oriental Bridge Cafe – RH Park [Non-Halal]
Oriental Kopitiam – Johor Jaya
Oriental Muzeum – Atria Shopping Gallery [Non-Halal]
Oriental Seafood – Gurney Dr
Oriental Tea – Saradise
Orientalpro Restaurant Sdn Bhd – Jalan Bunga Tanjung 7 [Non-Halal]
Origin Brunch – Taman Merdeka Permai
Origin Cafe – Oasis Commercial Centre
Origin Taste 安邦Kopi茶铺 – Kampung Baru Ampang
Original Banana Leaf – IOI City Mall
Original Banana Leaf – Plaza Mont Kiara
Original Coconut Juice – Jalan Bulatan Krokop
Original Fried Rice Char Kuey Teow – Golden Point Food Court
Original Old Peking Porridge – Koufu Food Court [Non-Halal]
Original Penang Char Kuey Teow – Bandar Puteri [Non-Halal]
Original Penang Charcoal Char Kway Teow – Sri Sinar [Non-Halal]
Original Penang Kayu Nasi Kandar – Citta Mall
正宗砂捞越干捞面 Original Sarawak Kolo Mee – Bundusan [Non-Halal]
Original Sia Sineq – Kampung Tupong Tengah
Original Taste Burger Syokkk Weiiiii!!! – Ada's Restaurant
Orked Cafe – Wisma Hamidah
Orked Kitchen – Taman Idaman
Orkid Tom Yam – Putatan Central Plaza
ORRE – Station 18
Os Cafe – Taman Sejati Indah
Osaka Bento – Menara AIA
Osaka Kitchen – Suria Sabah
Osaka Restoran Since 1983 – Old Culture Cafe
Osaka Restoran Since 1983 – Jalan Permas [Non-Halal]
Osaka Takoyaki – Jalan Radin
Osaka Takoyaki – Restoran Asam Pedas Selera Melayu Melaka
Osama Tomyam – Bazaria Pantai
Oscar's – Damansara Uptown
OSEP Restoran – Taman Molek
Osmanthus Alley – Jalan Gurdwara [Non-Halal]
Osmanthus HK Desserts House Cafe – New Lane [Non-Halal]
Osong Haimin Bak Kut Teh – Donggongon Point [Non-Halal]
Osuda – OUG
Otak-Otak – Taman Sri Terap
Otak-Otak Muar – Jalan Ali
OTea A Taste Of Drinks – Jalan Cerdas
Other Half Cafe – Tanjung Aru
Oto Fried Chicken – Annie Kopitiam
OTS Nasi Lemak – Taman Merdeka Permai
OTS Trading Mix & Match – [Non-Halal]
OTS Wu Xiang – Taman Perindustrian Merdeka Permai [Non-Halal]
Ottos Pizzas – SS19
Otto Pizza – Chulia Street
Ottoman Cube – Jalan Kampung Datu
OTW Other Than Water – Plaza Damas
Ouga Korean BBQ – Maritime Piazza [Non-Halal]
Ounces and Grams Cafe – Jalan Gottlieb
Our Nyonya Restaurant – Jalan Hang Lekir [Non-Halal]
Out Of Concept – Laman Rimbunan
Outlaw Ranch – Jalan Kulai Besar
Outskirts Eatery – Putatan
Overflow – Taman Hing [Non-Halal]
Overstepped Cafe – Jalan Indah 2
Overstepped Cafe – Perdana Heights
Owl Cafe & Owl Coffee – Jalan Belibis
Owl City Cafe – Bukit Beruang [Non-Halal]
Owlganic Cafe – SS2
Owl's Nest – Dataran Perniagaan Cheras [Non-Halal]
Owl's Tea – Kuchai Lama
OwnChef – Segar Perdana Avenue [Non-Halal]
Ox Enorme Supply – Taman Perindustrian JB Perdana [Non-Halal]
Oyes Food Corner (Main) – Oyes Food Corner [Non-Halal]
Oyezi Coffee – MyTown
Oyster – Jalan Ali
Oyster King – Courtyard SS15
Oyster Omelette – Taman Cheng Baru
Oyster Omelette – East Coast Food Court [Non-Halal]
Oyster Omelette 小彬蚝煎 – CS Food Court [Non-Halal]
Oyster Omelette – The Garden [Non-Halal]
Oysters Omelette – So Good Cafe
Oziano Spice BBQ – FGJB [Non-Halal]
Ozone Cafe – Setia Alam
P & L – Gopeng Hawker Center
P & S Restaurant – Taman Intan 2
(P) Masakan Panas Seng – Jiki Food Court Bukit Baru
Pablo's Fried Chicken – Kitchen Co
Pachem Thai Food – Johor Jaya [Non-Halal]
Pacific Cafe – KK Times Square
Pacific Coffee – 1st Avenue
Pack Zack Tomyam – Astaka Kampung Melayu
Pad Thai Guy – Mayang Oasis Food Court [Non-Halal]
Pad Thai Guy – Seapark [Non-Halal]
Pad Thai Guy – Mont' Kiara Banyan
Pad Thai Guy – Tropicana Avenue
Pad Thai Guy – The Sphere [Non-Halal]
Pad Thai Guy – TTDI
Padangs On Wheels Nusantara – Subang Bestari
Paddy Express – Symphony House
Paddy Restaurant – D'Bayu Business Centre
Padu Char Koay Teow – Jalan Sungai Nyior
Paella Spanish – Taman Ungku Tun Aminah
Pagansakan Tokou – Kg. Nosoob Baru [Non-Halal]
Pagansakan Tokou – Penampang Baru
Atap By Pagi Coffee Co. – SS15
Pagi Place by Pagi Cakes – Taman Sentosa Mekar
Pahit – Jalan Sin Chew Kee
Pahlung Cafe Orang Ulu Cuisine – Lutong Baru Shophouse [Non-Halal]
Pai Jia Le – Taman Ungku Tun Aminah [Non-Halal]
Pak Abu Putu Mayung – Petra Jaya
Pak Abu Putu Mayung – Plaza Merdeka
Pak Ali Nasi Kandar – Jalan Pantai Cenang
Pak Ali Roti Canai Medan Kidd – Bazaar Medan Kidd
Pak Andi's Seafood Restaurant – Plaza Tanjung Aru
Pak Bakar Burger – Kota Damansara
Pak Busu Burger 'n' Grill – Taman Adda Heights
Pak Chu Ayam Crispy – Ulu Kinta
Pak Cocok – Platinum Walk Danau Kota
Pak Dhee Ayam Penyet @ Truffle – Qims Cafe
Pak Dhee Ayam Penyet@Truffle – Kafe Najwa
Pak Din Nasi Dalca – Jalan Jelutong
Pak Dollah Nasi Ayam – Pasir Gudang
Pak Hailam – Gamuda Quayside
Pak Hailam Kopitiam – Metro Kajang
Pak Hailam Kopitiam – Lotus's Kajang
Pak Hailam Kopitiam – AEON BiG Cheras Selatan
Pak Hailam Kopitiam – AEON BiG Bukit Rimau
Pak Hailam Kopitiam – Bandar Tasik Selatan
Pak Hailam Kopitiam – Lotus's Rawang
Pak Hailam Kopitiam – Lotus's Cheras
Pak Hailam Kopitiam – Lotus's Shah Alam
Pak Hailam Kopitiam – Lotus's Senawang
Pak Hailam Kopitiam – Mydin Seremban 2
Pak Hamid Satay & Sayap – Menggatal
Pak Hamid Satay & Sayap – Putatan
Pak Imran Nasi Lemak – Bintulu Sentral
Pak Jen Gulai Panas Langkawi – Sunway Putra Mall
Pak Jim Tom Yam – Greentown
Pak Johnny Ayam Bakar – Taman Sentosa
Pak Ku Char Koey Teow – Kubang Kerian
Pak Ku Char Kuey Teow – Ukay Perdana
Pak Ku Char Kuey Teow – Bandar Baru Wangsa Maju
Pak Lah Food Truck – TAPAK
Pak Lan Cafe – Desa Permai Indah
Pak Lan Cafe – Jalan Sungai Dua
Pak Lang Sup Warisan Utara – Pandan Uptown
Pak Lang's Kitchen – Season Food Court
Pak Li Kopitiam Sdn Bhd – Jalan Kristal Seksyen 7
Pak Li Kopitiam Sdn Bhd – Bandar Bukit Tinggi
Pak Li Kopitiam Sdn Bhd – Ole Ole Shopping Centre
Pak Li Kopitiam Sdn Bhd – Jalan Balapan Seksyen 13
Pak Li Kopitiam Sdn Bhd – Giant Klang Sentral 4
Pak Li Kopitiam Sdn Bhd – Giant Seksyen 33
Pak Liew Restaurant – Jalan Kampung Baru
Pak Lim Kopitiam – The Landmark
Pak Lim Kopitiam – Setia Alam
Pak Long Kopitiam – Plaza Shah Alam
Pak Long Satay Shah Alam – Seksyen 7
Pak Mid Nasi Minyak Utara – Bandar Mahkota Cheras
Pak Mid Nasi Minyak Utara – Bandar Sri Permaisuri
Pak Nazri Nasi Kukus – AEON Mall Kuching
Pak Ngah Cyber Kopitiam – Fiesta Cybersquare
Pak Nik Burger – Sunway Putra Mall
Pak Punjab Restaurant
Pak Sawadee – Seksyen 7
Pak Sheikh Murtabak Cheese – Taman Pulai Indah
Pak Somet – Fauziah Family Cafe
Pak Syed Desserts – Taman Bukit Indah
Pak Tam Char Kuey Teow – Taman Tambun Jaya
Pak Tam Kopitiam – Oakland Commercial Center
Pak Uda Corner (Batu Berendam) – Taman Melaka Baru
Pak Uda Corner (UITM Alor Gajah) – Taman Dimensi
Pak Uda Kitchen & Grill
Pak Ya Seafood Restaurant
Pak Yem – Kg Bendahara
Pak Yus Burger – Rampai Business Park
Pak Yus Burger – Seasons Garden Residence
Pak' Yus Roti John – Ipoh Walk Night Bazaar
Pak' Yus Roti John – Kampung Manjoi Baru
Pak Zo – 88 Marketplace
Pak Zul Western – Kampung Petagas
Pakar Air Bubble – Taman Pelangi Semenyih
Pakcik Wong Makanan Cina Muslim – Persiaran Greentown
Paklang Kopitiam – Jalan Raja Aman Shah
Pakman Satay (Asam Pedas Melayu Melaka) – Medan Selera Ayer Keroh
Pakmaon Western – Taman Senai Utama
Pakma'r Western – Jalan Pipit Off
Pakmus BBQ – Bangi Square
Pakmus BBQ – Lepaking 2.0
Paksu Coconut Shake – Jalan Gangsa
Paksu Nasi Kandar Utara – Seksyen U20
Pala Loco Fry – Taman Bukit Belimbing
Palace d India – King Street
Palate – SS15
Pale Blue Smoke Shack – Bandar Menjalara [Non-Halal]
Palestine's Restaurant – Chillex Park
Paling Muo – Bandar Baru Kangkar Pulai
Pallet Cafe – Pusat Komersil Sri Utama
Pallet Cafe – Jalan Lagenda 6
Pallet Garden Cafe – Lebuh Carnarvon [Non-Halal]
Pallets & Pans Restaurant and Bar – Damansara Jaya [Non-Halal]
Palm Cafe – Hotel Sandakan
Palm Garden Chinese Restaurant – Hotel Sandakan [Non-Halal]
Palma Cafe – SACC Mall
Palma Signature Restaurant – PKNS
Paman Mango Float – Kg Seri Gambut
Pan & Grill by Ellzeem Kitchen – Z.Z Corner
Pan & Wine Restaurant – Setia Alam [Non-Halal]
Pan Heong Bak Kut Teh Restoran [Non-Halal]
Pan Heong Restaurant – Medan Batu Caves [Non-Halal]
Pan Mee – O & S Restaurant [Non-Halal]
Pan Mee – Kompleks Medan Angsana [Non-Halal]
Pan Mee – Tai Ka Huat Food Court
Pan Mee – Restoran U Say Yes [Non-Halal]
Pan Mee – Restoran Chit Chat [Non-Halal]
Pan Mee – United Point Kepong [Non-Halal]
Pan Mee – Kota Southkey [Non-Halal]
Pan Mee & Claypot Rice/Mee – Premier Food Republic Samarahan [Non-Halal]
Pan Mee & Rice Vermicelli – Restoran Good Friends [Non-Halal]
Pan Mee – Dar Zen Food Centre [Non-Halal]
Pan Mee – Food Street at Rock Cafe
Pan Mee Night – BBT Kopitiam [Non-Halal]
Pan Mee/Noodles – The Food Station [Non-Halal]
Pan Mee/Yee Mee – Kepong Food Court [Non-Halal]
Pan Soon Ji – Fresh Food Court [Non-Halal]
Panang Panang! Thai Curry! – Publika
Panang Panang Thai Curry! – Kayu Ara
Pancake House International – Karamunsing
Pancake Tembam – Cyberjaya
Pancake Tembam – Hartamas
Pancake Tembam – Kelana Jaya
Panda Corner – Fatt Kee Food & Drinks Shop
Panda Corner Chee Cheong Fun – Fatt Kee Food & Drinks Shop [Non-Halal]
Panda Sugarcane – Lebuh Armenian Street
Panda Vegetarian – Kim Tan Garden Cafe
Pandan Cendol – Taman Bandar Baru Selayang FASA 2A
Pandan Cendol – Lorong Rahim Kajai 14
Pandan Cendol – Plaza Tol Hospital Sungai Buloh
Pandan Cendol – Taman Jasa
Pandan Cendol – Taman Pelangi
Pandan Cendol – Kepong
Pandan Food 7 Stars Cafe – The Laksamana Commercial Suites
Pandan Kambing Soup – Kampung Pandan
Pandan Malim Food Court Mix & Match – [Non-Halal]
Pando Cafe Goodang – Jalan Gaya
Pang Doo Doo Steamboat – Jalan PJU 3 [Non-Halal]
Pangea Banquet – Taman Sri Hartamas
Panggang and Sambal – Jalan Tun Razak
Pangkor Curry Fish Head Restaurant – SS15
Panntea – Sri Petaling
Panntea – Jalan Juru Sentral
Panntea – Karpal Singh
Panntea – Mount Austin
Panntea – Puchong
Panntea – Jalan Batu Nilam
Panntea – Setapak
Panorama Cafe – Jalan Kota
Pantai Bersih Ikan Panggang – Medan Selera WR
海乐轩海鲜酒楼 Pantai Ria Seafood Restaurant – Kemena Commercial Centre [Non-Halal]
Pantai Seafood – Kayu Ara [Non-Halal]
Pantai Timur – Mydin MITC
Pantai Timur Tomyam – Taman Maju
Pantas Cafe & Bakery – Machang Bubok
Pao Xiang Bah Kut Teh – Main Place [Non-Halal]
Pao Xiang Bah Kut Teh – Taman Berkeley [Non-Halal]
Papa & Son Coffee Shop – Lorong Mulia 2
Papa Aril Station Stall – Kampung Dangar
Papa Burger – Bandar Baru Kangkar Pulai
Papa Fried Chicken – Seri Kembangan
Papa Kitchen – Taman Maluri
Papa Kitchen – MCH Bistro
Papa Kitchen Online – Bukit Pandan 2 Kondominium
Papa Kitchen – Restoran 777 [Non-Halal]
Papa Popia – Taman Putra
Papa Popia @ Masok – Kampung Baru
Papa Sushi – Ipoh SOHO
Papa Sushi – Taman Pelangi Semenyih
Papa Sushi – Kuantan City Mall
Papa Tako – Kampung Desa Melayu
Papa Tomyam Seafood – Desa Cempaka 2
Papa Yiee River Side – Gerai Benteng
Papadums Curry House – Seksyen 25
Paparo – Galacity
Papa's Briyani – Restoran Hock Hin [Non-Halal]
Papa's Cafe – 3 Damansara Mall
Papa's Recipe Express – Taman Dataran Larkin
Paper – Taman Mount Austin
Paper – Taman Bukit Indah
Paper Lobster – Olive Tree Commercial Lots
Paper Lobster – Maritime Piazza
Paperoger Bistro & Delivery – Persiaran Tenggiri
Papito Pizza – Hampshire Park
Pappa Grill – KIP Sentral
Pappa Marts Trading – Taman Permata Pundut
Pappa Roti – AEON BiG BP
Pappa Roti – BP Mall
Pappa Roti – Angsana JB
Pappa Roti – Galleria @ Kotaraya
Pappa Sandwich – South City
Pappagrill – Plaza Mont Kiara
PappaRich – The Gardens
PappaRich – Town Square
Papparich – E Gate
PappaRich – Bukit Jelutong
PappaRich – DPulze
Papparich – Bandar Sri Permaisuri
PappaRich – Ampang Point
Papparoti – Mydin Meru Mall
Papparoti – Lotus's Kajang
Parabella Ice Cream
Paradize Restaurant – Bandar Indahpura [Non-Halal]
Paragon 18 – Paragon Valley
Paramount Coffee House – Vista Alam
Paramount Coffee House – Bangi Sentral
Paramount Coffee House – Conezion IOI Resort City
Paramount Kopitiam – Seapark Dessert [Non-Halal]
Park-In – Subang Jaya Industrial Estate [Non-Halal]
Park-In – Jaya One [Non-Halal]
Park's Kitchen – Gurney Plaza [Non-Halal]
Partea & ParEat – Bell Avenue
Partea Moment – Jalan Permai 1
Pasadena California Burger – Star Boulevard
Pasar Bahru Food Court – Jalan Pasar Bahru [Non-Halal]
Pascucci – Menara LGB
Pasembor Corner – Gerai MPKK
Pasembor Hussin – Taman Pucak Jalil
Pasembor Rojak Abe Koboi – Jalan Pintu Geng
Pasembur – Bandar Baru Putra
Pasembur Astaka Stadium – Astaka Stadium
Passer Kitchen Restaurant – Fortune Avenue [Non-Halal]
Passionate Cafe – Taman Tasek Utama
Passione Ristorante Italiano – Jalan Radin Bagus 9 [Non-Halal]
Passions of Kerala – New World Park
Pasta & Burger – Big Crab Street Food [Non-Halal]
Pasta & Burger – GoodAll Cafe [Non-Halal]
Pasta & Burger – New World Park [Non-Halal]
Pasta De Coco – Empire Damansara
Pasta De Coco – Platinum Lake Condominium
Pasta D'one – Taman Desa Ros
Pasta Fusilli – Kayu Ara
Pasta Fusilli – Kota Damansara
Pasta Fusilli – PJ Centrestage
Pasta Fusilli – Evolve Concept
Pasta Fusilli – The Mines
Pasta Fusilli – Bangsar
Pasta GG – Platinum Lake Condominium
Pasta GG – Empire Damansara
Pasta Glory – Seksyen 15
Pasta Glory – Presint 15
Pasta Glory – Wangsa Walk
Pasta Glory – Wisma Lim Foo Yong
Pasta Glory – Jaya Shopping Centre
Pasta Glory – Taman Dagang Jaya
Pasta Glory – Pusat Perdangangan Dana 1
Pasta Glory – Bangsar Village 1
Pasta Glory – Plaza Mont Kiara
Pasta Glory – KLTS
Pasta Glory – KLCC
Pasta Glory – Bandar Kinrara
Pasta King – Bandar Sunway
Pasta King – Mont Kiara Meridin
Pasta King – Metropolitan Square
Pasta La Pasta – Tapak Urban Street Dining
Pasta-Licious
Pasta Malaya & Co – Taman Setapak Indah
Pasta Mammamia – One Avenue
Pasta Me Up! – Brickfields
Pasta n Go – Setapak
Pasta n Go – Sri Petaling
Pasta n Go – NU Sentral
Pasta Ohsem – Bandar Puchong Jaya
Pasta Ohsem – Kuchai Business Centre
Pasta Ohsem – SS14
Pasta Panas – USJ
Pasta Panas – KL City Walk
Pasta Panas – HQ Shah Alam
Pasta Panas – Mid Valley
Pasta Panas – IOI Puchong
Pasta Panas – Mont Kiara
Pasta Panas – Bangi
Pasta Panas – Sri Petaling
Pasta Panas – Petronas Station Kota Kemuning
Pasta Panas – Bandar Sunway
Pasta Papa – Terminal Bus Bentayan
Pasta Papa – R&H Cafe
Pasta Papa – Medan Selera Pesta Baru
Pasta Pasta – Jalan Gaya
Pasta Pedas Power – Bangsar
Pasta Pedas Power – Kayu Ara
Pasta Pedas Power – Kota Damansara
Pasta People – Pusat Perdagangan Dana 1
Pasta Pirozzi – Casa Tropicana
Pasta Pirozzi – Bangsar
Pasta Pirozzi – Lestari Perdana
Pasta Recik's – Jalan Kg Hulu
Pasta Ria – Plaza Mont Kiara
Pasta The Street – Jalan Tenggiri
Pasta x Fried Chicken By Luna Luna – Bandar Sunway
Pasta x Fried Chicken by Luna Luna – Setia City Mall
Pasta Xpress – Lido Plaza
Pastalicious – Taman Bukit Mewah
Pastalogy – Brickfields
PastaRia – Wisma Lim Foo Yoong
Pastaria – Perdana Exclusive Condo
PastaRia – KLCC
PastaRia Village Pantry – Bangsar Village
PastryVille – Lebuh Lasam
PastryVille – Seksyen 17
PastryVille – Quill City Mall
PastryVille – Ipoh Parade
PastryVille – BU4 Oasis Complex
PastryVille – 1 Mont Kiara
PastryVille – Wisma Cosway
PastryVille – Wangsa Walk
Pat Kin Pat Sun Cafe – Taman Shamelin Perkasa [Non-Halal]
Pat Kin Pat Sun Cafe – PV128 [Non-Halal]
Pat Kin Pat Sun – Bandar Damai Perdana [Non-Halal]
Pat Kin Pat Sun Cafe – Klang Parade [Non-Halal]
Pat Kin Pat Sun Cafe – Sunway Velocity [Non-Halal]
Pat Kin Pat Sun Cafe – Kepong [Non-Halal]
Patchouli Patisserie – M City
Patin Sado Wan Aziz – Jalan Bakawali
Patin Tempoyak – Alamanda Putrajaya
Patin Tempoyak Pak Ngah – Jalan Paprika
Patio – Taman Kg Kenangan Tun Dr Ismail
Patisserie Royale – Plaza Arkadia
Pattaya Laksa – Food Destination Cafe
Pattaya Thai Food – SKS Mart
Pau – Restoran Chen Fong [Non-Halal]
Pau Pak Ngah – Kota Damansara
Pau Pak Ngah – Taman Tun Dr. Ismail
Pau Pak Ngah – Taman Greenwood
Pau Sedap – Da Men Mall
Paul – Pin Hao [Non-Halal]
Paul Kitchen – Bandar Sunway
Pauls Corner – Tasek Tambahan
Pause Cafe – Kampung Attap [Non-Halal]
Pavilion Foodcourt Beverage – Pavilion Foodcourt
Pavilion Foodcourt Food – Pavilion Foodcourt [Non-Halal]
Paw Kee (HK) Roasted – Season Food Court [Non-Halal]
Paw Kee – Lido Square [Non-Halal]
PBS Studio Cafe – Jalan Sungai Merab Luar Bangi
PC Studio Cafe – SS20
PCLO Cafe – Bandar Sri Permaisuri
PCS Crispy Popiah – Taman Bukit Indah
PD Famous Cendol Coconut Shake – Dataran Telok Kampung
PD Snack Food Corner – Billion PD
Peabica Cafe – Taman Molek
Peach Garden Food Centre Mix & Match – [Non-Halal]
Peaches Garden Food Court Centre Mix & Match – [Non-Halal]
Peak Village Cafe – Jalan Lapangan Suria [Non-Halal]
Peanuts and Anchovies Nasi Lemak – Food Emporium CityOne
Pearls Park Food Centre (Main) – Pearls Park Food Centre
Pebble – SS15
Pebble – TTDI
Pedas Curry Kitchen – Taman Sri Andalas
Pedaslah – Bukit Jelutong
Pee Chai Thai Kitchen [Non-Halal]
Peekaboo Coffee – Arked Esplanad
Pegaga Dessert King – Medan Selera Prima 2
Pei Wei – Medan Mall Shopping Complex [Non-Halal]
Pek' Nga – Taman Alam Shah
Pekan Cina Mookata – Persiaran Sultan Abdul Hamid [Non-Halal]
Peking Noodle House – Taman Perak [Non-Halal]
Peko Peko – TTDI
Pelita Cendol House – Jalan Cosmos
Pen & Nics Kitchen – Lorong Seri Juru
Pen Thai Tom Yam – Jalan Meranti Jaya [Non-Halal]
Penampang Food Street – Taman Suria
Penampang Ngiu Chap 3 – Putatan Jaya
Penampang Pork Burger – Penampang Baru [Non-Halal]
Penang – Taman Fortuna [Non-Halal]
Penang Asam House – The Summit Subang
Penang Barbecue Rice – Hua San Court [Non-Halal]
Penang Batu Lanchang Hainanese Chicken Rice – Lintang Batu Lancang [Non-Halal]
Penang Batu Lanchang Hainanese Chicken Rice – Jalan Bagan Lalang [Non-Halal]
Penang Batu Lanchang Hainanese Chicken Rice – Medan Kampung Relau [Non-Halal]
Penang Batu Lanchang Hainanese Chicken Rice – Lintang Merak [Non-Halal]
Penang Bayan Tree – Jalan Dato Ismail Hashim [Non-Halal]
Penang Chao Kuey Tiao – FGJB
Penang Char Koay Teow – GP Food Court
Penang Char Koay Teow – Taman Cheng Baru
Penang Char Koay Teow . Fried Rice – WR Medan Selera
Penang Char Kuay Teaw – Taman Danau Kota
Penang Char Kueh Teow – All Five Restaurant & Food Court Centre
Penang Char Kuew Teow – Jalan Bundusan
Penang Char Kuey Teow – Restaurant le kwang [Non-Halal]
Penang Char Kway Teow – Taman Impian Emas [Non-Halal]
Penang Char Kway Teow – Jalan Indah
Penang Charcoal Fried Kuey Teow – USJ 1 [Non-Halal]
Penang Charcoal Fried Kuey Teow – Sri Hartamas [Non-Halal]
Penang Chee Cheong Fun – O & S Restaurant [Non-Halal]
Penang Chendul – Jelutong
Penang Chendul – 1Utama
Penang Cuisine (S11) – Food Junction Mid Valley II
Penang Duck Egg Fried Kueh Tiao – Koufu Food Court
Penang Famous Ah Niu Wantan Mee – Jalan SS22 [Non-Halal]
Penang Famous Anson Road Laksa – Jalan Anson
Penang Famous Goreng Pisang & Vadai – Jalan Dato Keramat
Penang Famous Laksa – Solok Gurney 1
Penang Famous Putumayum – Medan Tengku
Penang Flavours – Starling Mall
Penang Food – Giant Hypermarket Setapak
Penang Food – MYTown
Penang Fried Kueh Teow – Taman Jati [Non-Halal]
Penang Fried Kueh Teow – New Lungmeng Enterprise [Non-Halal]
Penang Fried Kueh Tiaw – Premier Food Republic Samarahan
Penang Fried Kuey Teow – Centrepoint [Non-Halal]
Penang Fried Kuey Tew – Food City Kolombong
Penang Fried Kway Teow – Limbongan [Non-Halal]
Penang Fried Kway Teow – Pandan Malim
Penang Fried Rice Station – Pengkalan Weld [Non-Halal]
Penang Hong Zhai – Gurney Plaza Food Hall
Penang Kuey Teow Soup – O & S Restaurant [Non-Halal]
Penang Mee Udang Mee Rebus 陽光軒 – Taman Ehsan Jaya [Non-Halal]
Penang Mee York – New Lucky Restaurant [Non-Halal]
Penang Mummy Bah Khu Teh – Taman Bukit Indah [Non-Halal]
Penang Nyonya – Subang Parade
Penang Nyonya – 163 Retail Park
Penang Nyonya Curry Flavour – Jalan Dedap [Non-Halal]
Penang Oyster – Medan Selera WR
Penang Prawn Mee & Loh Mee – Bandar Bukit Tinggi [Non-Halal]
Penang Prawn Noodles – Restoran Wan Xi Heng [Non-Halal]
Penang Road Famous Chao Kuey Teow – Joo Hooi Cafe
Penang Road Famous Laksa – Lebuh Keng Kwee
Penang Road Famous Rojak & Cendol – SS18
Penang Road Famous TeoChew Chendul – IOI City Mall
Penang Road Famous TeoChew Chendul – The Mines
Penang Road Famous TeoChew Chendul – Paradigm
Penang Road Famous TeoChew Chendul – Nu Sentral
Penang Road Famous TeoChew Chendul – Gurney Plaza
Penang Road Famous TeoChew Chendul – Queensbay Mall
Penang Road Famous TeoChew Chendul – Leisure Mall
Penang Road Famous TeoChew Chendul – Sunway Pyramid
Penang Road Famous TeoChew Chendul – Ipoh Parade
Penang Road Famous TeoChew Chendul – Melawati Mall
Penang Road Famous TeoChew Chendul – Imago Shopping Mall
Penang Road Famous TeoChew Chendul – Suria Sabah
Penang Chendul – Mid Valley Southkey
Penang Road Famous TeoChew Chendul – City Square
Penang Road Famous TeoChew Chendul – AEON Tebrau
Penang Chendul – Paradigm Mall JB
Penang Chendul – KSL City Mall
Penang Rojak – S11 Kopitiam
Penang Snack Stall – All Five Restaurant & Food Court Centre [Non-Halal]
Penang Station – Bandar Tun Hussein Onn
Penang Street Famous Mee Goreng – Taman Malcof
Penang Style – Restoran 777
Penang Town – Metro Point Kajang
Penang Town – Plaza Metro Kajang
Penang White Curry Corner – Lintang Merak [Non-Halal]
Penang Wok – Queensbay Mall
Penang Yuan Yuan Pork Noodle – Restoran Sheng Heng [Non-Halal]
Peng Leng Zheng Restaurant – Jalan PJS 11
Pengkalan Ikan Bakar S.P – Taman Pekan Baru
Peniel Delicacy – KK Times Square
Penne & Spaghetti – Lorong Teras Jaya 2 [Non-Halal]
Penn's Pantry – Gala City [Non-Halal]
Penny Homecook – Sun Sun Cafe [Non-Halal]
Pentaran Sri Ejuk – Karamunsing Road Side Foodcourt
Pentas & Co – Kampung Baru
Penyet Express – Citta Mall
Penyet Express – MyTown
Penyet Express – Sunway Geo
Penyet Express – Melawati Mall
Penyet Express – Arcoris Mont Kiara
Penyet House – Kampung Oren
Penyet Lab – Go Kitchen
Penyetan Pak Han – Bandar Indera Mahkota
Penyetan Pak Han – Tanah Putih
PenyetPenyet.Com – Sunway Carnival
PenyetPenyet.Com – Mydin Penang
PenyetPenyet.Com – Presint 15
PenyetPenyet.Com – Cyberjaya
PenyetPenyet.Com – Plaza Alam Sentral
PenyetPenyet.Com – Ampang
PenyetPenyet.Com – AEON Shah Alam
PenyetPenyet.Com – Giant Batu Caves
PenyetPenyet.Com – Alam Damai
PenyetPenyet.Com – IOI City Mall
PenyetPenyet.Com – Plaza Lowyat
PenyetPenyet.Com – Mydin Seremban 2
PenyetPenyet.Com – Palm Mall
PenyetPenyet.com (S3) – Food Junction Mid Valley II
Pepo Pizza – Seksyen 51A
Pepper Lunch Express (S13) – Food Junction IOI City Mall I
Pepper Lunch Express (S14) – Food Junction Mid Valley I
Peppino Pizza – Shangri-La's Tanjung Aru And Spa
Peranakan Place – Jalan Hang Jebat
Peranakan Place – IOI City Mall
Peranakan Place – NU Sentral
Peranakan Place – 1Utama
Perdana Tomyam – Off Genting Klang
Perdu Bistro – Jalan Padungan
Perfec Time – 1 Borneo Hypermall
Perfect Brew – Bandar Seri Putra
Perfect Cup – Taman Pulai Perdana
Perfect Ice – Auto City [Non-Halal]
Perfect Modern Chinese Cuisine – Pusat Perniagaan Alma [Non-Halal]
Perfect Tang – R&F Mall [Non-Halal]
Peridot- Ewe Hai Street
Periuk Bujang – Publika
Periuk Emas Global – Taman Desa Mutiara
Periuk Panas Cafe & Catering – Taman Desa Senadin
Perniagaan Bebola Ikan Weng Khuang – Laluan Kangsar 5 [Non-Halal]
Pertama Foods & Beverages Enterprise – Mid Valley Southkey [Non-Halal]
Perwira Corner – Kg Perwira Jaya
Pesto Cafe – Jalan Cempaka
Pesto Pizza – Jalan Stesen
Petai King – Bandar Mahkota Cheras
Petai Rice – Jalan Sekerat
Petaling Street Hokkien Mee 茨廠街福建⾯ – Taman Mount Austin [Non-Halal]
Peter's Special – Queen Tower [Non-Halal]
Petit Corner Cafe – Pusat Perkhidmatan Balok
Petite Shay's Cafe & Cakes – Taman Gombak Ria
Petty & Mayo Burger – Tanjung Tokong
Pey Teik Vegetarian House – Jalan Tupai
Pezzo – Setapak Central
Pezzo – BP Mall
Pezzo – Taman Ekoflora
Pezzo – Seri Alam
Pezzo – Kluang Mall
Phang Choon Foh Coffee Shop 彭春和茶室 (Main) – Phang Choon Foh Coffee Shop [Non-Halal]
Phang Kee Restaurant – Sri Petaling [Non-Halal]
Pheonix Noodle House – SS15 [Non-Halal]
Philippines Crispy Pata – The Garden [Non-Halal]
Pho Ga Noodle Cafe – Olive Hill
Pho Master – Vivacity [Non-Halal]
Pho Ngon Restaurant – Ara Damansara [Non-Halal]
Pho Viet – Lebuh Pantai [Non-Halal]
Pho Vietz – Queensbay Mall [Non-Halal]
Pho Vietz – Pearl Point [Non-Halal]
Pho Vietz – Starling Mall [Non-Halal]
Pho Vietz – 1Utama [Non-Halal]
Pho Vietz – Empire Shopping Gallery [Non-Halal]
Pho Vietz – Mid Valley [Non-Halal]
Pho Vietz – Pavilion [Non-Halal]
Phoenix Belacan Chicken – Jalan Rohzan
Phoenix Star Cafe – Grand Millenium [Non-Halal]
Phoon Cafe – Jalan Hussein [Non-Halal]
Phyo Tham Kywe Restaurant – Permas Jaya [Non-Halal]
Piatto Melodia Kitchen – Kampung Baru
Pic Burger Station – Taman Brown
Piccolo Cafe – Taman Equine
Piccolo Cafe Dining – Udini Square [Non-Halal]
Pick A Brew Cafe – Pusat Perniagaan Maju
Pick Mee Go – Jalan Persiaran Jalil 3 [Non-Halal]
Pick n' Brew – Hicom Glenmarie
Pickle & Fig – TTDI
PickMe – Wisma Rampai
Picnic – Intermark Mall
Pie Action
Pie Kingdom – Bangsar South
Pie Tea Cafe – Jalan Air Putih
Pietro Cafe – Damansara Heights
Pig Brother House – SS13 [Non-Halal]
Piggy Lok Lok – Taman Sri Tebrau [Non-Halal]
Pijor Kome – Jalan Gombak
Pik Nik – Jalan Nagore [Non-Halal]
Pik Wah Bar & Cafe – Jalan Petaling [Non-Halal]
Pimp My Pasta – Wisma Lim Foo Yong
Pimp My Pasta – Bangsar Village 1
Pimp My Pasta – Bayu Sentul Condominium
Pim's & The Rama – Aman Suria [Non-Halal]
Pim's Thai – Bukit Tinggi 2 [Non-Halal]
Pin Chen Hainanese Chicken Rice – Jalan Alor [Non-Halal]
Pin Hao Ah Chin Hakka Food – Piasau Industrial [Non-Halal]
Pin Hao Beverage – Jalan Piasau Utara 4
Pin Hao Desa Kitchen – Jln Piasau Utara
Pin Hao Kiki & Jiji – Jln Piasau Utara [Non-Halal]
Pin Hao Mee Kolok – Piasau Industrial [Non-Halal]
Pin Ji Food Catering – Jalan Hijau Empat [Non-Halal]
Pin Tea – Pusat Komersial Sri Utama
Pin Tea – Subang Jaya
Pin Tea – Kuchai Lama
Pin Wu Dessert – Jalan Mahsuri
Pin Xiang – Tmn Mutiara Rini [Non-Halal]
Pin Xuan Zhu Chang Fun – FGJB [Non-Halal]
Pinang Bistro Kuching – Samarahan Expressway
Pinang Restaurant – Taman Lensen [Non-Halal]
Pinch – Bukit Bandaraya [Non-Halal]
Pinchos Tapas Bar – Changkat [Non-Halal]
Pine 3 Vegetarian Restaurant – Taman Sri Gombak
Pine 38 Restaurant – Seksyen 9
Pine Cafe – The Pavilion Hotel
Pinecone – Soho East
Ping Fried Chicken Wing – Peach Garden Food Centre
Ping Hwa Lok Lok – Taman Ria
Ping Jie Claypot Chicken Rice – Jalan Beserah Kubang Buaya [Non-Halal]
Ping Yi Feng – Pusat Perdagangan Danga Utama [Non-Halal]
Ping Yuan – Jln Batu Kawa [Non-Halal]
Pinggai Cafe – Upper China Street [Non-Halal]
Pinggan Puteh – Jalan Kristal K7/K
Pinju – Taman Ipoh Selatan [Non-Halal]
Pink Purple D' Santai Cafe – Bangunan Arked Mara
Pink Tomyam Restaurant – Taman Melaka Raya [Non-Halal]
Pinoy Cuisine – East Coast Food Court [Non-Halal]
Pinto Thai Rice Pot – Seasons Garden Residence
Pinwheel Resto Cafe – Chulia Street
Pirate Coffee – Taman Perpaduan Ria
PiringMu – Taman Eko Botani
PiringMu – Taman Bukit Indah
Piri's Kitchen – Inanam [Non-Halal]
Pisang Cheese – Anjung Selera
Pisang Cheese Mama Melampau – Persiaran Desa Rhu 2
Pisang Goreng – Thian You Food Court Corner
Pisang Goreng Crispy – USJ 14
Pisang Goreng Crispy – Taman Pulai Indah
Pisang Goreng Crispy Cheese – USJ 18
Pisang Goreng Resipi Tok Mak – Parit Tiram
Pisang Hutan Bandar Putra – Jalan Kenanga
Pisang Pasir Nabila – Hang Tuah Jaya
Pisco – Bukit Bintang [Non-Halal]
Pishanggg Cheeze – Cyberjaya
Pistachio Cafe – Damai Perdana [Non-Halal]
Pit Stop Food And Beverage – Jalan Heights
Pit Stop Food and Beverage Center – Central Square
Pitaya – Lebuh Chulia [Non-Halal]
Pizza Anytime Legacy – Sunway Geo Avenue
Pizza Bean – Lorong Cempening
Pizza Bos – Bandar Baru Kubang Kerian
Pizza Cottage – Taylor's Lakeside
Pizza Express – Sunway
Pizza House
Pizza Mansion – Bukit Bintang
Pizza Mansion – Happy Mansion
Pizza On Fire – TTDI
Pizza On Fire Langkawi – Bangunan Melati Tanjung
Pizza Roma – Medan Putra Business Centre
Pizza Roma – Jalan Ampang
Pizza San Francisco – Wangsa Maju
Pizza San Francisco – Seksyen 8, Bangi
Pizza San Francisco – Bukit Jelutong
Pizza Station – Sunshine Farlim
Pizzaiola Italiano Pizza – Prangin Mall
Pizzalicious – Central i-City
Pizzazone & Tapasta – MyTown
Pizzazone & Tapasta – Melawati Mall
Pizzazone & Tapasta – Sunway Geo
Pizzazone & Tapasta – Citta Mall
PJ Old Town Fried Bihun – Jalan Penchala Baru [Non-Halal]
PJ Paramount Garden Hokkien Mee – Bandar Sri Manjalara [Non-Halal]
PJ SS Two Asam Laksa- Jalan D/A 8
PK Tempayan & Biryani House – Jalan Bayam
PKB Port Kambing Bakaq – Taman Ria
P'Kent 泰国猪脚饭 – Be Happy Kopitiam [Non-Halal]
Planet Amore Restaurant – Golden Arch Mall [Non-Halal]
Planet Curry – Lorong Kubang Buaya 48
Planet Nasi Kukus – Taman Desa Petaling
Planet Nasi Kukus Shah Alam – Seksyen 13
Planet&Co – Medan Selera Benteng
Planetz Burger – Taman Nusa Sentral
Plantation Cafe – Sabah Hotel
Plat De Aimi – Laurel Laman View
Plat Du Jour – Jalan Teknokrat 6
Plate D Meal Restaurant – Seksyen 31 [Non-Halal]
Platonic Kitchen – Sidec Sri Iskandar
Platter – Taman Suria Pendamar
Playground Coffeery – Taman Melawati
PLK Warong Kopi – Taman Pertama
Plonxbox – Jalan Perusahaan 2
Ploy – Work @ Clearwater
Plus One – Centre Point Sabah Basement Foodcourt
PM Cafe – Jalan Danau 32
P'Matambai Cafe – Kampung Nosoob Penampang [Non-Halal]
PO-G Nasi Kukus Ayam Berempah – Taman Bukit Mutiara
Po Lin Ying Lulu Bak Kut Teh – PJ 988 Food Court [Non-Halal]
Po. Pishang & Western Roll – Taman Tun Sardon
Po Po Mee Hun Kueh – Restoran 777 [Non-Halal]
Poh Catering – Taman Indah [Non-Halal]
Poh Hock Cafe – Bayan Baru Food Court
Poh Kee Seafood – Taman Seri Orkid [Non-Halal]
Poh Lam Laksa 寶蘭叻沙 – Jalan Abell
Poh Paleh Patin Tempoyak – The Lubokx Klang
Poh Piah – Lorong Baru
Pohonmas – Jalan Dato Mohd Musa
Poise by J – Jalan Roda
Pok Jue Masakan Panas – Medan Selera Sultan Muhamad
Pok Loh Milo Tunggeng Kota Bharu – Jalan Bayam Lama
Pok Nik Nasi Kukus Ayam Goreng Berempah – Kota Damansara
Pok Sey Nasi Kerabu – Taman Cempaka
Pokcik Colek Perut – Medan Usahawan
Pokde Burger Bakar – Bandar Baru Uda
Poke Bro – Taman Kota Laksamana
Poké Twins – Taman Mount Austin
Poke Village – Tamarind Square
Poke Village – Village Grocer
Pokkem Fruits & Juice – Foodspot
Pokmat Kitchen Enterprise – Masreca 19
Poksen – Medan Mak Intan
Poksey Nasi Kerabu Seri Iskandar – Seri Iskandar
Poksuawang Bakar & Grill – Jalan Ampang
Polar Ice Cream – Jesselton Mall
Polperro Express – Setia Alam
Polperro Steak House – Seksyen 13 Shah Alam
Polperro Steak House – Seksyen 18 Shah Alam
Polperro Steak House – Seksyen 7 Shah Alam
Polperro Steak House – Bandar Sri Permaisuri
Polperro Steak House – Seremban 2
Pommes Frites – Sunway Pyramid
Pompom Cafe – Country Heights Plaza
Pondok Bangku – Kampung Alor Tempoyak
Pondok Ceri – Kangkar Tebrau
Pondok Jawa Restoran – Jln Padungan
Pondok Manis – Mydin USJ
Pondok Minang – Taman Sri Desa Jenaris
Pony Ice Blended and Snacks – Taman Lembah Maju
Pooja Enterprise – Gunung Rapat
Poon Kee Restaurant – Taman Sutera Utama [Non-Halal]
Popeye Loklok – Jalan Bentara [Non-Halal]
Popia Paya Jaras – Kg Paya Jaras Hulu
Popia Penang – Taman Che Mei
Popiacrunchbanana – Jalan Gombak
Popiah – Taman Cheng Baru
Popiah – Restoran Abundance U Corner
Popiah Basah Crispy – Kampung Merbau Sempak
Popiah S. S. Ali – Ulu Kinta
Popiah S.S Ali Ipoh T.K.K – Medan Selera Dato Tahwil Azar
Popiah Ujong Pasir – Pulau Melaka
Popiah Ujong Pasir – Bandar Hilir
Popiah Yah Ali Ipoh – Fair Park
Popis – Jalan Sultan Zainal Abidin
Popis – Batu Rakit
Popi's Ganu – Kuala Ibai
Popish Popia Pisang Crunchy – Taman Prima
Popo Kitchen 1.0 – Bawah Jalan Taman Tengku Ahmad Panglima
Popojia – Cheras [Non-Halal]
Popo's Porridge And Local Delights – Sunway Geo Avenune
Poppo Kanteen – Jalan Pandan Indah
Poppo Kanteen – Jalan Manis 4
Poppo Kanteen – Jalan Radin Anum 1
Poppo Kanteen – Jalan Puteri
Pops Eatery Bangsar – Jalan Kapas
Poptee – Langkawi Mall
Popular Vegetarian – Lorong Abang Abdul Rahim
Pork Burger Homemade – Humah Nibong Samarahah [Non-Halal]
Pork Burgers 猪乸汉堡包 – Restoran Good Taste Food House [Non-Halal]
Pork Burgers 猪乸汉堡包 – One Family [Non-Halal]
Pork Chop Bun/ Rice – The Best Corner [Non-Halal] (xGF)
Pork Chop Ma-La Rice Noodles – FGJB [Non-Halal]
Pork Chop Ma-La Rice Noodle – Taman Impian Emas [Non-Halal]
Pork Fanz Noodle – Good Day Food Court [Non-Halal]
Pork Fat Rules 猪博士 – Pavilion [Non-Halal]
Pork Fat Rules 猪博士 – Desa Parkcity [Non-Halal]
Pork Fat Rules 猪博士 – Gurney Plaza [Non-Halal]
Pork Fat Rules 猪博士 – Citta Mall [Non-Halal]
Pork Fat Rules 猪博士 – Sunway Pyramid [Non-Halal]
Pork Fat Rules 猪博士 – IOI City Mall [Non-Halal]
Pork Fat Rules 猪博士 – Mid Valley [Non-Halal]
Pork Fat Rules 猪博士 – 1 Mont Kiara [Non-Halal]
Pork Leg Rice / Kueh Chap – Yes Cafe [Non-Halal]
Pork Leg Rice & Kolomee – Big Boss Food Corner [Non-Halal]
Pork Leg Rice Kueh Chap – Jln Datuk Stephen Yong [Non-Halal]
Pork Leg Rice – Premier Food Republic [Non-Halal]
Pork Leg Rice – Premier Food Republic Samarahan [Non-Halal]
Pork Leg Rice – Siang Siang Food & Drinks Centre [Non-Halal]
Pork Mee – Kepong Food Court [Non-Halal]
Pork Mixed Noodle – New Wonderful Place [Non-Halal]
Pork Noodle – Taman Miharja [Non-Halal]
Pork Noodle @ Restoran Local Best – Puchong [Non-Halal]
Pork Noodle – Restoran MJ Wang [Non-Halal]
Pork Noodle – Restoran Hao Kee [Non-Halal]
Pork Noodle Soup – New Wonderful Place [Non-Halal]
Pork Noodles – Tambun Star Food Court [Non-Halal]
Pork Noodles – Restoran Roda Tiga [Non-Halal]
Pork Noodles – 777 Kopitiam [Non-Halal]
Pork Noodles Soup Lozuko – Sing Garden Cafe [Non-Halal]
Pork Noodles Zhu Rou Fen – Taman Impian Emas [Non-Halal]
Pork Pork Chui – SS15 [Non-Halal]
The Porki Society [Non-Halal]
Porkkima – Kobusak [Non-Halal]
Porky Burger – FGJB [Non-Halal]
Porky Cafe – Pandan Perdana [Non-Halal]
Porky Pig Burger – Peach Garden Food Centre [Non-Halal]
Porridge – Taman Marin [Non-Halal]
Porridge – Jalan Parameswara [Non-Halal]
Porridge – Sun Sun Lei Yen [Non-Halal]
Porridge – Taman Daya [Non-Halal]
Porridge – Taman Abad
Porridge 粥 – Yi Ann Coffee Shop [Non-Halal]
Porridge – Ah Liong Cafe [Non-Halal]
Porridge & Pepper Rib Soup – Seaview Kopitiam [Non-Halal]
Porridge – Chinatown Food Court – Kampung Atap [Non-Halal]
Porridge 清粥小菜 – Gala Food Court [Non-Halal]
Porridge House – Taman Saga [Non-Halal]
Porridge House Sentul Ah Yap – Publika [Non-Halal]
Porridge – Jln Batu Kawa [Non-Halal]
Porridge – Premier Food Republic Samarahan [Non-Halal]
Porridge – Restoran Wan Xi Heng [Non-Halal]
Porridge Time – Sunway Pyramid [Non-Halal]
Porridge Time – 1Utama [Non-Halal]
Porridge Time – AEON Bukit Tinggi [Non-Halal]
Porridge Time – Sunway Velocity [Non-Halal]
Porridge with Minced Pork – Restoran Starfood Corner [Non-Halal]
Porridge/Fish Head Noodles – Premier Food Republic [Non-Halal]
Porridge/Fish Meat Bee Hoon Soup/Seafood Bee Hoon Soup – Tong Oh Kopitiam [Non-Halal]
Porridge/Pork Rice – Dar Zen Food Centre [Non-Halal]
Porridge/Stew Soup – YS Food Court [Non-Halal]
Porrige Stall – Public Food Court [Non-Halal]
Port Abg Sado – Medan Selera SS15
Port Jebat – Bandar Cyber
Port Makan 30′ – Bandar Seri Iskandar
Port Ngombey – Jalan Kampung Bandar Dalam
Port Orang Kampung – Jalan Taubat
Port Stim Cafe – Jalan Perniagaan Ceria
Portico Restaurant – Lorong Park Lane
Portofino – The Sphere
Portofino – Bangsar Lucky Garden
Portugis Ikan Bakar – Kenanga Food Court
Portuguese Baked Fish – Cheng Garden Avenue
Portuguese Fish Grill – Mid Valley
Portuguese Grill – KTCC Mall
Portuguese Grill Fish – NSV Restaurant
Portuguese Grilled Fish @ Berkeley – Taman Berkeley
Poseidon Coffee – Kelana Square
Positano Risto
Post Kopitiam – Taman Perindustrian Puchong
Pot Makan – Taman Universiti
Pot Rice – Medan Penjaja [Non-Halal]
Potata Enterprise – Jalan Eko Botani 3
Potato King – Plaza Merdeka
Potato King – Boulevard Mall
Potato King – Vivacity Megamall
Potato King – CityOne Megamall
Potayto Potahto – Bayu Sentul Condominium
Power Lunch – Plaza Mont Kiara
Power Lunch – KLCC
Powerplant – Pearl Shopping Gallery [Non-Halal]
Powerplant – 3 Damansara [Non-Halal]
Powerplant – Ekocheras [Non-Halal]
Powerplant – Seksyen 25 [Non-Halal]
PP Cafe – Pelita Commercial Centre Miri
PP You Pick, We Pack – Tabuan Tranquility
Prairie Cafe & Grill – Jalan Song
Prankfries – Pekan Muar
Prankfries – Jalan Bunga Raya
Prankfries – Jalan Metro Wangsa
Prankfries – Kompleks Muhibbah
Prawn Hub – Taman Sutera Utama [Non-Halal]
Prawn Mee – O & S Restaurant [Non-Halal]
Prawn Mee – Lorong Seri Kuantan
Prawn Mee – Heng Park Food Court [Non-Halal]
Prawn Mee – Restoran New Fook Lim [Non-Halal]
Prawn mee & Koey Teow Soup – SS13 [Non-Halal]
Prawn Noodle – Restoran U Say Yes [Non-Halal]
Prawn Noodle King – Sunway Velocity [Non-Halal]
Prawn Noodle King – OUG [Non-Halal]
Pre Tea Q – Jalan Mas Mulia
Pre Tea Q – Taman Kota Syahbandar
Pre-Tea Q – Bandar Sungai Long
Pre-Tea Q – Batu Pahat
Pre-Tea Q – Toppen Shopping Centre
Pre Tea Q – Skudai
Pre-Tea Q – Pusat Komersial Oakland 2
Pre Tea Q – Mount Austin
Pre-view Seafood Restaurant – Taman Puteri Wangsa [Non-Halal]
Precious Cube – Puncak Bestari
Precious Old China Restaurant & Bar – Central Market
Pregio by Barista Caffe – Plaza Shell
Prelex Cafe – Gerai Majlis Bandaraya
Prema's UrbanSpices – Taman Mutiara Rini
Premier Food Republic Mix & Match – [Non-Halal]
Premier Food Republic Mix & Match
Premier Food Republic Samarahan Mix & Match – [Non-Halal]
Premium Bubble Waffle – Sutera Mall
Presotea – SS2
Prestige Cafe
Prima Ipoh Fried Chicken – Kafe Fooh Singh
Prime – Pusat Perniagaan Manjung Point 3
Prince Cuisine – Scott Garden [Non-Halal]
Prince Cuisine – Solaris Dutamas
Prince of Mixed Rice – Taman Bukit Indah [Non-Halal]
Prince Valley – Damansara Utama
Princess Cheese Potato – Jln Datuk Tawi Sli
Princess Chicken Rice – Restoran 126 Kopitiam [Non-Halal]
Pro Claypot Noodle – Greentown Corner [Non-Halal]
Project 1.0 – Sunsuria Forum @ 7th Avenue
Project 703 Roastery Cafe – Taman Kota Laksamana
Project Bakar-bakar by Chef Daddy – Uptown Puchong Night Bazaar
Project Banana Cheese – Kompleks Bukit Jambul
Project Banana Cheese – Universiti Sains Malaysia
Project Burger – Heights Avenue [Non-Halal]
Project Can – Lebuh Glugor
Project First Shot – Taman Medan
Project Happiness – Dataran C180
Project Pasta
Project Western
Promised Garden – Taman Kulai Permai
Prosperity Bowl – SS2 [Non-Halal]
Protec Barat's Kitchen (Western Food) – Medan Selera Protec Ampangan
Protein Zone – Plaza Mont' Kiara
Pruba Cafe – Temasek Hotel Melaka
P.S. Tokyo Cafe – EkoCheras Mall
PS Western Food – Jalan Raja Uda
Psunk/Come Bing – Funky Farm Food Court
Pt Mee Celup Telur Gedik – Taman Desa Kemumin
Pu Kitchen Cafe – Jalan Bukit C
Puan Samiah Catering – Taman Johor
Public Chef Kitchen – Jalan Sri Bintang [Non-Halal]
Public Corner Cafe Mee Goreng – Jalan Jelutong
Public Food Court – Pusat Komersil [Non-Halal]
Public Food Court Mix & Match – [Non-Halal]
Public Organic Health Recourse – Taman Midah
Publika Kopitiam – Bandar Kinrara [Non-Halal]
Pudu Chef Leong – Jalan Petaling [Non-Halal]
Pudu ICC Foodcourt Mix & Match – [Non-Halal]
Pudu Tai Bu Noodle – Taman Sri Merdeka [Non-Halal]
Pudu Tai Bu Noodle – Gerai Pudu [Non-Halal]
Pudu Tai Bu Noodle – Damai Perdana [Non-Halal]
Pudu Tai Bu Noodle – Taman Bukit Anggerik [Non-Halal]
Puffy Buffy – CBD Perdana 2
Pulau Ketam Cuisine – Ambang Botanic [Non-Halal]
Pulau Ketam Cuisine – Taman Klang Utama [Non-Halal]
Pulau Ketam Cuisine – 33 Food Station [Non-Halal]
Pulau Ketam Yong Tau Foo – KL Gateway
Pulau Ketam Yong Tau Foo – Dataran Sunway
Pulau Mutiara Char Keow Teow – Saujana Impian
Pulau Redang Vegetarian Food Supply – Bandar Indahpura
Pulau Tikus Kitchen – Jalan Burma [Non-Halal]
Pull A Shot – Jalan Air Putih
Pulp – Jalan Riong
Pulut Panggang Platinum – Palm Square
Pulut Panggang Rancak – Kg. Teguli
Pun Chun Noodle House – Taman Midah [Non-Halal]
Pung Kyung – Menara Hap Seng
Pung Kyung – Calvary Convention Centre [Non-Halal]
Punjabi Chapati House – Bandar Bayan Baru
Punjabi Rasoi
Pupu Cafe – Bandar Botanic
Pure Fish Ball Cafe – Jalan Padungan
Pure 9 Juices – Saradise
Puree Juice – Jalan Sekolah
PureTech Fresh Juice – Kompleks Penjaja
Purple Cane Signature Kitchen – The KL & Selangor Chinese Assembly Hall [Non-Halal]
Purple Cane Tea Cuisine – The Gardens [Non-Halal]
Purple Cane Tea Cuisine – Shaw Parade [Non-Halal]
Purple Monkey – PJ
Purple Monkey – Kuchai Lama
Purple Monkey – Tropicana Garden Mall
Purple Monkey – SS14
Purple Monkey – Puchong
Purple Rain Aroy – Batu 9 Cheras
Pusat Makanan Gunung Rapat Enam Enam Mix & Match – [Non-Halal]
Pusat Makanan Kin Fatt – Jalan Sultan Pasir Pinji [Non-Halal]
Pusat Makanan Nur & Iskandar – Jalan Besar Pekan Tambun
Putatan Seafood Restaurant – Grand Plaza
Puteh Kitchen – Mak Tam Station
Putera Burger – TTDI
Putien – Pavilion [Non-Halal]
Putien – IOI Puchong [Non-Halal]
Putien – Sunway Pyramid [Non-Halal]
Putien – Gurney Paragon [Non-Halal]
Putien – 1Utama [Non-Halal]
Putien – The Gardens [Non-Halal]
Putien – Sunway Velocity [Non-Halal]
Putien – SS15 Courtyard [Non-Halal]
Putien – Atria Shopping Centre [Non-Halal]
Putra 1 Corner – Bandar Seri Putra
Putrajaya Original Coconut Shake – Medan Selera Presint 8
Putri Alesha Cafe – Bandar Nusa Rhu
Putu & Rod – Plaza Mont Kiara
Putu Bamboo World Medan Gopeng – Jalan Lapangan Terbang
Putu Bambu World – Jalan Kampung Hulu
Putu Bambu World Senawang – Tigo Ompek Foodstation
Putu Mayam Faiz – Lorong Melor 1
Putu Mayam Melayu – Jalan Panji Alam
Putu Panda – Taman Universiti
Putu Perak Zul – Kampung Melayu Subang
Putu Piring Hijrah – Uptown Sri Gombak
Putu Piring – Jonker Walk
Putu Piring My Mom – Seksyen 19
Putu Piring Rizqie – Wangsa Maju
Putu Piring Rizqie – Taman Permata
Putu Piring Warisan – Taman Ciku
Putu Piring Warisan – Jalan Tenggiri
Puzzini Swedish Pizza
Pyorr Ayam Gunting – Taman Cicely
PYORR Teh Ais Confirm Sedap – Tmn Fajar
Q BBQ Steamboat Mix & Match – [Non-Halal]
Q BBQ Steamboat No. 2 – Q BBQ Steamboat [Non-Halal]
Q BBQ Steamboat No.1 – Q BBQ Steamboat [Non-Halal]
Q BBQ Steamboat SSS – Q BBQ Steamboat [Non-Halal]
Q House – Jalan Austin Height [Non-Halal]
Q House – Taman Gaya [Non-Halal]
Q House – Taman Ungku Tun Aminah [Non-Halal]
Q House – Sutera Utama [Non-Halal]
Q-Little Thai Food – OUG Plaza
Q Restaurant – Bukit Beruang
Q Satay Food Enterprise – Kampung Giching Salak
Q Zai Hong Kong Eggette – Jalan Ong Kim Wee
Qaans Kitchen – Jalan Kuning
Qadra Doner Kebab PJ – Kampung Lindungan
Qadra Donner Kebab Shah Alam – Seksyen 7
Qaizers Coffee Food Tea – Taman Kota Cheras
Qamri Briyani – Restoran Vegas
Qarenaz Cookies – Medan Kota Bandar
Qaseef Restaurant – Kg Belukar
Qaseh Café – Kedai Vista Minintod
Qaseh D' Café – Kampung Berangan
Qaseh Sumayyah Cafe – Jalan Menggris
Qayyum Burger – Batu Muda
QB BBQ Team – Queen Bee Food Paradise [Non-Halal]
QB Burger Leleh – Taman Sri Muda
QBean – Plaza Melaka
Qbean – Queensbay Mall
Q'Bistro – TTDI
Q'Bistro – Bangsar
Q'Bistro – Setiawalk
Q'Bistro – DBKL
Q'Bistro – SS15
Q'Bistro – Cheras
Q'Bistro – Mutiara Damansara
Q'Bistro – Ampang
Qeena Choice – Taman Industri Bolton
Qh Cafe – Kampung Tok Kaya
QHD Little Kitchen – Taman Merak Mas
Qi Yuan Chuan Kwong – Pusat Perdagangan Greentown [Non-Halal]
Qian Tang Fu – Likas [Non-Halal]
Qissara Restoran – Taman Sri Pengkalan Chepa
Qisya Cafe – Gerai Statik Jalan Tun Teja
QisZa Burger – Jalan Tanjung Tokong Lama
QK Tomyam Seafood – Jalan Bayam
QNasi Lemak – Kampung Bukit Kapar
QQ Ban Mee – Taman Galing [Non-Halal]
QQ Bingsu Cafe – Bandar Baru Seri Alam
QQ Claypot Rice – Jingwood Cafe [Non-Halal]
QQ Delight – One Borneo Hypermall
Qq Fresh Market – Taman Fortuna [Non-Halal]
QQ Fried Chicken – Selection 929 Food Court [Non-Halal]
QQ Pan Mee – Taman Indan Baiduri [Non-Halal]
QQ Pan Mee – GP Food Court Bercham [Non-Halal]
QQ Pastry (Whole Cakes) – Dataran Pahlawan
QQ Restaurant – Jalan Kwangtung [Non-Halal]
QQ Station – Taman Ampang [Non-Halal]
QQ Tea House – Kajang
QQ Wantan Mee – Jalan SME
QR Factory Cafe & Bistro – Kota Southkey
QT Chick Western Food & Fried Chicken – Vista Food Court
Quackteow – Empire Damansara
Quackteow – Platinum Lake Condominium
Quan Hainanese Kopi – Taman Seputeh
Quan Ice Cream & Coffee House – Desa Pandan
Quan Ice Cream & Coffee House – Jalan Pandan Indah
Quan Yuan Cafe (Main) – Quan Yuan Cafe [Non-Halal]
Quartet – TTDI
Queen Chicken Rice – Nusajaya
Queen Corner – Taman Johor Jaya
Queen Delizioso – Senawang
Queens Fruit Store – Summerton
Queen's Kitchen – Gerai MPS Bukit Rawang Jaya
Queenz Burger – Taman Laman Setia
Queenz Burger – Taman Universiti
Quickie – Gurney Plaza [Non-Halal]
Quin-Wow! – NU Sentral Mall
Quince Restaurant – Jalan Stutong [Non-Halal]
Quinn Bee Food Paradise – Central Park
Qul Ma'ana Kitchen – Kantin @ Setor Gombak
Qulu Qulu – Menara TM
Qulu Qulu – Dataran Cascades
Ququs Geril – Kampung Suluk
Ququs Geril – Penang Street
Qureshi Restaurant – TPCKL
Qx Hainan Chicken Rice – Taman Suria
Qz Cafe – Persiaran SIBC 1
R & M Enterprise Best'T Burger – Taman Merpati Shophouse
R Eat, Feel & Tasty – Bandar Seberang
Ra-Men Bankara – Avenue K [Non-Halal]
Ra-Men Bankara – Tropicana Gardens Mall [Non-Halal]
Ra-Men Bankara – Mid Valley [Non-Halal]
Ra-Men Bankara – Mid Valley Southkey [Non-Halal]
Ra-Ra Ramen – Dinasti Sentral
Ra-Ra Ramen – Changkat Thambi Dollah
Ra-Ra-Ramen – Taman Sri Hartamas [Non-Halal]
Ra-Ra-Ramen – Damansara Jaya [Non-Halal]
Ra-Ra Ramen – Vista Magna
Ra-Ra-Ramen – Faber Tower [Non-Halal]
Rabbit House – City Mall
Rabbit Rabbit Tea – Bukit Rimau
Rabbit Rabbit Tea – Setapak Central
Rabbit Rabbit Tea – Lorong Pahlawan
Rabbit Softserve & Matcha Bar – Jalan Sutera
Radden's – Bandar Baru Nilai
Radi Corner (Kuey Teow Kerang) – USJ 4
Radi Corner (Nasi Ayam) – USJ 4
Radzidah Hokkien Mee – Bukit Jambul
Rafai – 88 MarketPlace
Rafanda Kafe – Seksyen 13
Rafizul Jaya Enterprise – Jalan Eu Kang
RAGE Coffee – Mid Valley
Rahman's Corner
Rahmat Satay – Shah Alam
Rahmat Satay – USJ 9
Rahmath Taukua Rendang – Paya Terubong
Raihan Chicken Rice – Centre Point
Rail Canteen – Sunway Nexis
Railway Burger Taiping – Jalan Stesen
Rain & Co. Cafe – Taman Muhibbah
Rain Cafe
Rainbow – Gurney Plaza
Rainbow – Gat Lebuh Gereja
Rainbow Cafe – Pelangi Damansara
Rainbow Fried Chicken – Restaurant Tim Won
Rainbow Yong Tauhu – S11 Kopitiam
Rainbowger – Taman Perling
Raini's Kitchen – Jalan Astana
Raintown Beancurd – Jalan Taming Sari
Raintown Food Stall – Jin Dian Restaurant [Non-Halal]
Rainy Corner – Jalan Maharaja Lela [Non-Halal]
Raion – Ipoh
Raion – Taman East Coast
Raion – Uptown Avenue Seremban 2
Raisa Restaurant – Jalan Kulas
Raise The Bar – Taman Megah
Raj Crispy Burger – Bandar Baru Selayang
Raja Asam Pedas 1984 – Driving Range Stadium Likas
Raja Baso (Sup & Mee) – Plaza Mont' Kiara
Raja Burger – Jalan Indera Sempurna 1
Raja Dim Sum – Taman Likas Jaya
Raja Dim Sum – Putatan
Raja Nasi Kukus – Kampung Merbau Sempak
Raja Patin Malaya – Puchong Prima
Raja Salai Nismilan – Putra Nilai
Raja Tomyum Corner – Petra Jaya
Rajo Aye – Jalan Lemal
Raju's Banana Leaf – Bukit Gasing
Rakki – The Linc KL
Rak's Thai Mookata – The Nest@Imbi Jalan Imbi [Non-Halal]
Ram Cafe – Lorong Hang Jebat
Ram Corner – Kedai Pintas Square
Ramah Nasi Campur Beraneka Lauk – Pusat Penjaja MBPJ
Rambai Klasik – Kuala Kangsar Prima
Ramen – Bandar Indahpura [Non-Halal]
Ramen Izakaya Kazushi – Solaris Mont Kiara [Non-Halal]
Ramen San – Taman Nusa Bestari 2 [Non-Halal]
Ramen Stall by EC Gourmet – Sunway Geo Avenue [Non-Halal]
Ramen Station@Kafe Sumatera – 1 Shamelin Mall
Ramen Village – IOI City Mall
Ramen Village – NU Sentral
Ramen Wafu – Jalan Mayang Pasir [Non-Halal]
Ramly – Kampung Batu Muda
Ramly – Axiata Arena
Ramly – AEON BiG Wangsa Maju
Ramly – Taman Sri Rampai 2
Ramly Burger – Taman Danau Kota
Ramly Burger – Taman Bukit Mewah
Ramly Burger – Pasar Moden SS15
Ramly Burger – Taman Rambai Utama
Ramly Burger – Dataran Sunway
Ramly Burger – USJ 14
Ramly Burger – Jalan Semarak
Ramly Burger – Bandar Sri Permaisuri
Ramly Burger – Jalan Stesen
Ramly Burger – Taman Subang Perdana
Ramly Burger Cafe – SS15
Ramly Burger Lindungan – Kampung Lindungan
Ramly Burger Sentosa – Taman Sri Sentosa
Ramly Burger Shop – Pasar Moden SS15
Ramly Burger Solo – Taman Sri Sentosa
Ramly Burger Stall – Pusat Penjaja Danau Kota
Ramly Burger Stall – Jalan SS14/1
Ramly Burger Stall – Jalan Johan Setia
Ramly Burger Stall – SS15
Ramly Burger U19 – Jalan Kuala Selangor
Ramly Burger USJ – Persiaran Mulia
Ramly Conner – Pusat Penjaja Kampung Pandan
Ramly Halal Mart Sdn Bhd – Bandar Tun Razak
Ramly Halal Mart Sdn Bhd – Putrajaya
Ramly Halal Mart Sdn Bhd – Bandar Baru Bangi
Ramly Halal Mart Sdn Bhd – Botanik Klang
Ramly Halal Mart Sdn Bhd – Mukim Batu
Ran Cafe – The Canvas Hotel
R&B Toasted Sandwiches – Taman Sri Sentosa
R&R Roaster – Taman Jalong Baru [Non-Halal]
Rangup's Restaurant – Glenmarie
Rani Nasi Campur – Seksyen 18
Rani Vilas Restaurant Shop – Batu Caves
Rapat Setia Corner – Bandar Baru Uda
Rapida Cafe – Taman Ungku Tun Aminah [Non-Halal]
Rapla Crispy Burger – Tapak Penjaja Taman Pertama
Rara D' Salai – Imbi
Rara Lekor – Jalan Aman
Ras Balouch Restaurant – Jalan Ipoh
Rasa Ayam Kampung by Rak Kitchen – Medan Selera Wawasan
Rasa Ayam Penyet Yogjakarta – Donggongon
Rasa Ayam Penyet Yogjakarta – Taman Jumbo
Rasa Cakes – Kampung Dato Abdul Rahman Yassin
Rasa Cun – Puchong
Rasa Kapitan – Riverson
Rasa Lama – SS15
Rasa Malaya Cafe – Bukit Rahman Putra
Rasa Ore Kampung – Presint 9
Rasa Rasa – Lebuh Chulia
Rasa Satay – Beverly Hill Apartment
Rasa Satay – Beverly Hill Phase 1
Rasa Satay – Taman Seni Bena
Rasa Sayang Coffee Shop – Jalan Seri Kuantan
Rasa Sayang Kopitiam – Taman Kulai
Rasa Serantau – Kilang Kitchen
Rasa Seri Alamanda – Cyberjaya
Rasa Viet – The Sphere
Rasa Viet Kitchen – Damansara Kim
RasaDesa – Bukit Damansara
Rasai Machan
Rasai Machan – Medan Rock Cafe
Rasapyro – Kg Padang Balang
Rasidah Begum Restaurant – Jalan Air Itam
Rasik Bistro – Ara Damansara
Rassta Grill Burger – Kg. Tabor Rampayan
Rastaaa Burger – Taman Sri Layang
RastaBurger – Taman Johan Setia
Ratha Banana Leaf Cuisine – Jalan Jelita 1
Rattan Café by The Garden – Kampung Pagar Buluh
Ratu Risoles – Uptown Kota Damansara
Rave Bar – Jalan Jee Foh Utama
Ravi's Banana Leaf – Kota Damansara
Ravi's Banana Leaf – Mont Kiara
Raw Brew & Dine – Taman Pelangi
R.A.W Juicery & Eatery – Avenue K
R.A.W Juicery & Eatery – Jalan Tun Perak
Rawang Steam Fish – Kepong Food Court
Rawk Kitchen Western Food – Taman Koperasi Jelutong
Rawsome – Melawati Mall
Rawsome – Avenue K
Rawsome – TTDI
Rawsome @ MGK – Sunway Geo
Rawsome – MyTown
Rawsome @ MGK – The Curve
Rawsome @ MGK – Citta Mall
Rawsome @ MGK – PJ222 – Petaling Jaya
Ray Brothers – Bandar Baru Permas Jaya
Rayhan Bistro – TTDI Grove
Raymie Station – Taman Shamelin Perkasa
Raysha Nasi Kukus Ayam Berempah – Jalan Pengkalan Utama 1
Rayung Thai Restaurant – Taman Danau Desa
Rayyan Warisan – Jalan Kemajuan Wisma Pahlawan
Razak Roti Canai – Medan Selera Taman Perpaduan
RB Kafe & Katering – Jalan Parry
RBTS Burger Crispy – Downtown Selayang
RC Deaf Missions Malaysia – SS25
RCD Rojak & Cendol Deen – Taman Bayu Perdana
Rdd Western – Lintang Mayang Pasir
RE BAR – Taman Sutera Utama [Non-Halal]
Re Lala Thai Food Restaurant – Jalan Haji Ahmad [Non-Halal]
Re Trozza Cafe – Persiaran Greenhill
Re Yuan Wan Tan Mee – Malim Jaya [Non-Halal]
Read Cafe – Taman Cempaka
Real Food – Straits Quay
Real Penang Restoran [Non-Halal]
Reaz Corner – Jalan Dhoby
Rebulblic – Beletime [Non-Halal]
REC Burger – A One Laksa Cafe
Recco Coffee – Taman Universiti
Recharge – Sunway Nexis [Non-Halal]
Recharge – Saradise [Non-Halal]
Recipes House – Damai Plaza
Recipes House – Kompleks Karamunsing
Red Box – Gurney Plaza
Red Box – 1st Avenue
Red Box – The Curve
Red Box – The Gardens
Red Card Café – Tropics Perdana Shopping Centre
Red Chilli Little Bowls 红辣椒小碗菜 – Sri Petaling [Non-Halal]
Red Chilli Restaurant – Bandar Bukit Tinggi 1
Red Chopstick – Jalan Tun Dr Awang [Non-Halal]
Red Heart Cafe – Bundusan Square
Red House Bakery & Cafe – Taman Lavender Heights
Red Kettle – Starling Mall [Non-Halal]
Red Kettle – Taman Bukit Desa [Non-Halal]
Red Kitchen – Taman Prima Saujana
Red Kitchen Senawang – Taman Cattleya
Red Leaf Coffee – AEON BiG Falim
Red Noodle House (Tom Yum Mee Clear Soup Tomato Soup Mee) – Kompleks Makanan Taman Lavender [Non-Halal]
Red Pot Mala Snack – FGJB
Red Sun – Sunway Pyramid
Red Tea – Taman Siok Thong [Non-Halal]
Red Yeast Restaurant – Bukit Bintang [Non-Halal]
Redpapa Mart – Jalan Satok
Red's Corner – Seksyen 13
Reen's Soup Station – Lilitan Sungai Ara
Reframe Coffee Roasters Cafe – Arena Curve
Regiustea – Bandar Mahkota Cheras
Regiustea – Pusat Perdagangan Mega
Reinbo Sushi – Fajar Complex
Rejoice Corner – Tmn Tunku [Non-Halal]
Rejoice Pork Burger – Tmn Tunku [Non-Halal]
Relau Bamboo Cafe – Golden Triangle [Non-Halal]
Relax Cafe – Taman Scientex Senai
Relish The Moment – Jalan Kampung Pantai
Remembrance Cafe – Panorama Lapangan Perdana
Rempa Food Power – Taman Tasik Utama
Rempit JB Burger & Western – Flat Larkin
Ren – Suria KLCC
Renata Recipe Kitchen – Bandar Baru Sri Petaling
Rendy Kitchen – Kafe Najwa
Rendy Kitchen (Nasi Ayam Penyet) – Matang Corner
Rendy Kitchen – Qims Cafe
Renee Yong Tau Fu & Rojak Special – Bukit Siput
Renz Hazel – Fajar Commercial Complex
Republik DNC – Taman Putera
Resepi Angkol Goggles – Pinn Xiang
Resepi Ibunda Mek Sal – Taman Mutiara Rini
Resepi Kak Nor – Medan Mak Intan
Resepi Laoleeko's Delicious Kitchen – Pekan Menggatal
Resepi Selera Kampung – Best Time Cafe
Reshlin Lok Lok And Satay – Persiaran Raja Perempuan Mazwin
Resing Trading Sdn Bhd – Jalan Petaling
Rest Station – Jalan Metro Prima 7
Restauran Ching Tung II – Grand Plaza Putatan [Non-Halal]
Restaurant 1991 – Jalan Yew [Non-Halal]
Restaurant 2020 – Beverly Hills
Restaurant Ah Chien – Jalan Seremban [Non-Halal]
Restaurant Ali Bistro
Restaurant Alwira – Taman Segar
Restaurant ASV Bawah Pokok Malim – Taman Malim Jaya
Restaurant Awwal Maju
Restaurant Baba Ho Liao – TTDI
Restaurant Ban Heong – Taman Bunga Raya [Non-Halal]
Restoran Bananabro – Sri Petaling
Restaurant Bananabro – Berjaya Times Square
BigTree LinKee Fish Head – Cheras [Non-Halal]
Restaurant Black & White – The Summit Subang
Restaurant Chai Por Hu – Medan Putra Seberang Jalan Putra [Non-Halal]
Restaurant Chef Uni @ Brewster – Jalan Sultan Idris Shah
Restaurant Chefxbox – Tropicana Merchant Square
Restaurant Chetty's Daun Pisang – Bukit Tinggi
Restaurant Chok Kar Chong 粥家庄 – Taman Gembira [Non-Halal]
Restaurant Chok Kar Chong 粥家庄 – Taman Sungai Besi [Non-Halal]
Restaurant Chok Kar Chong 粥家庄 – Tabuan Heights [Non-Halal]
Restaurant Chok Kar Chong (粥家庄) – Taman Desa Bumiko [Non-Halal]
Restaurant Chok Kar Chong 粥家庄 – Tabuan Jaya [Non-Halal]
Restaurant City Center Sdn Bhd – Taman Senai Jaya [Non-Halal]
Restaurant Cordon Bleu – Taman Paramount [Non-Halal]
Restaurant Crab Dynasty – Fraser Business Park
Restaurant D' 18 Lepak Santai – Station 18
Restaurant Dinosaur – Jalan Perang [Non-Halal]
Restaurant D'Nenas – Kompleks Damai
Restaurant Food & T – Pavilion Foodcourt [Non-Halal]
Restaurant Food Taiwan – Bandar Teknologi [Non-Halal]
Restaurant Good Friend – Pandan Perdana [Non-Halal]
Good Taste Seafood Restaurant – Taman Connaught [Non-Halal]
Char Kway Teow Goyang Bibir – Jalan Cochrane Perkasa
Restaurant Hadramawt Kingdom – Plaza Wangsa Maju
Restaurant Hadramawt Kingdom – Jalan Jelatek
Restaurant Hadramawt Kingdom
Restaurant Hakka Ren – Pasar Ampang [Non-Halal]
Restaurant Happy – Kingfisher [Non-Halal]
Restaurant Hathijamaju – Taman Sea
Restaurant Heng Loong – Hicom Industrial Park [Non-Halal]
Restaurant Hometown Seven – Tampoi Indah
Restaurant Hometown Seven – Sutera Mall
Restaurant Hometown Seven – Taman Ungku Tun Aminah
Restaurant Hometown Seven – Tasek Central
Restaurant Hong Ji – Taman Ehsan Jaya [Non-Halal]
Restaurant Hong Kong Seafood Hotpot – Taman Ampang Hilir [Non-Halal]
Restaurant Inji – Dataran Cheras
Restaurant Jaipur Mahal – Maxim Citylights Sentul
Restaurant Jamal Salim – Grace Square
Restaurant Jin Xiang – Kepong [Non-Halal]
Restaurant Jing He – Taman Ungku Tun Aminah [Non-Halal]
Restaurant Johan Seafood – Taman Kinrara 4
Restaurant Kafe Cheras – Jalan Cheras [Non-Halal]
Restaurant Kazi – Sejati Walk
Restaurant Kemayan – Kemayan Square [Non-Halal]
Restaurant Ker Jia Zhuang – Taman Equine [Non-Halal]
Restaurant Kertang – Sadong Jaya
Restaurant Khunthai – Taman Perindustrian Cheras Jaya
Restaurant Kim Fah – City Mall [Non-Halal]
Restaurant Kim Fah – Lintas Square [Non-Halal]
Restaurant Kita – Cyberjaya
Restaurant Kok Kee Hawker – Pandan Cahaya [Non-Halal]
Restaurant Lao De Qi 捞得起 – Taman Mount Austin [Non-Halal]
Restaurant Leng Kee Claypot and Bak Kut Teh Centre – Jalan Ipoh [Non-Halal]
Restaurant Lin Li Xiang – SS22 [Non-Halal]
Restaurant Lou Kai Fong – Jalan Klang Lama [Non-Halal]
Restaurant Mable Vege
Restaurant Maluri D'Maju – Taman Maluri
Restaurant Mandy's Delight – Bandar Sri Damansara [Non-Halal]
Restaurant Meetogether – Setia Alam [Non-Halal]
Restaurant Meng Fong – Bandar Puteri [Non-Halal]
Restaurant MKAK – Taman Bintang Utama
Restaurant MKAK Indian Cuisine – Taman Molek
Restaurant MKAK South Indian Cuisine – Taman Nusa Bayu
Restaurant My Moon – Taman Kampung Atap
Restaurant Nasi Bekwoh Tokma – Kampung Padang Demit
Restaurant Nasi Lemak Bow – Bukit Jalil
Restaurant Ocean – Dataran Sunway [Non-Halal]
Restaurant Ocean Seafood Steamboat Kak Jue – Taman Fajar Perdana
Restaurant Pandan – Taman Melawati
Restaurant Pedas Sedap – Kuchai Entrepreneurs Park
Restaurant Pin Xiang – Jalan Changkat Thambi Dollah [Non-Halal]
QThai – The Weld
Restaurant Rice Best Station – Petaling Jaya [Non-Halal]
Restaurant Rice Bowl Kitchen – Oug Plaza [Non-Halal]
Restaurant Sam Kong – Kampung Ungku Mohsin [Non-Halal]
Restaurant Sangitha – Likas Plaza
Restaurant Sawarabina – Menara U
Restaurant Sekmechoy – Salak Selatan [Non-Halal]
Restaurant Shuang Xi Lou – Wisma MKH [Non-Halal]
Restaurant Sin Xiang Yuan – Taman Danau Kota [Non-Halal]
Restaurant SMK Corner – Taman Sentosa
Restaurant SS RAI [Non-Halal]
Restaurant Sumairu – SS15 [Non-Halal]
Restaurant Taj Point – Bandar Indera Mahkota
Restaurant The Wok – Bandar Puteri [Non-Halal]
Restaurant TheJo – Off Jalan Othman
Restaurant Tim Won Mix & Match – [Non-Halal]
Restaurant Tinsum Chang Kee – USJ14 [Non-Halal]
Restaurant T.T.K – Pandan Jaya [Non-Halal]
Restaurant United Nations Economy Rice – Jalan Aziz Ibrahim [Non-Halal]
Restaurant VRN Uncle Muniz – Taman Danau Kota
Restaurant Wah Chai – Jalan Taman Bertuah [Non-Halal]
Restaurant Wang City – Bunga Raja Shopping Complex [Non-Halal]
Restaurant Wong Tian Kee – Taman Jinjang Baru [Non-Halal]
Restaurant Xin Hai Yan – Jalan Pudu [Non-Halal]
Restaurant XLL Malahotpot – Dataran Perniagaan Cheras [Non-Halal]
Restaurant XLL Malahotpot – IOI Boulevard [Non-Halal]
Restaurant XLL Malahotpot – Jalan Duku [Non-Halal]
Restaurant Yap Beng Bah Kut Teh – Pandamaran [Non-Halal]
Restaurant Yasin Curry House – Taman Anggerik
Yee Kee Porridge Restaurant – Seri Kembangan [Non-Halal]
Restaurant Yuang Yuang Vegetarian – Pengkalan Jaya
Restaurant Yuet Jia Yong Tau Foo – The Strand [Non-Halal]
Restaurant Yun Heng Baru – Bornion Centre [Non-Halal]
Restaurants Liang Khee – Jalan Kenari 7 [Non-Halal]
Resto Ala Kampung – Desa Ilmu
Restoo Cafe – Taman Idaman
Restoran – Langkawi Mall
Restoran 2008 Snow Beer – Cheras Business Centre [Non-Halal]
Restoran 2013 – Taman Bayu Tinggi [Non-Halal]
Restoran 2222 – Pandan Indah [Non-Halal]
Restoran 2Beens – Taman Daya [Non-Halal]
Restoran 3 Rasa Bistro – Taman Dataran Larkin
Restoran 33 – Taman Kolej Perdana [Non-Halal]
Restoran 331 – Taman Sentosa Perdana
Restoran 331 – Taman Pusing Mutiara [Non-Halal]
Restoran 339 – Kawasan Ringan Tupai
Restoran 42 Halal Dim Sum – Taman Kebun Teh
Restoran 5 Beradik – Dana 1 Commercial Center
Restoran 5 Loaves 2 Fish – Krystal Point
Restoran 5th Mile Cafe – Pusat Komersil Rasah
Restoran 6886 – Bandar Baru Menglembu [Non-Halal]
Restoran 777 – Taman Ungku Tun Aminah
Restoran 8 1/2 – Taman Ipoh Timur Baru [Non-Halal]
Restoran 8 Fresh Seafood – USJ21 [Non-Halal]
Restoran 8 Road – Bandar Puchong Jaya [Non-Halal]
Restoran 828 Rodney Wong Curry Leaf Crab – Komersial Sentral [Non-Halal]
Restoran 83 – Bandar Sri Petaling [Non-Halal]
Restoran 88 Tong Sui – Taman Gembira [Non-Halal]
Restoran 89 Kopitiam – Taman Johor Jaya
Restoran A 1 Maju – Bandar Indera Mahkota
Restoran A Ajmal – Bandar Baru
Restoran A Ajmal – Taman Perindustrian Anson
Restoran A2 Bistro – Dataran Selayang
Restoran Aafira Curry House – Taman Fulliwa
Restoran A&J Yoosoof – Bandar Uda Utama
Restoran Abe Man – Prima Damansara
Restoran Abirami – SS15
Restoran Abs Mukmin – Permas Jaya
Restoran Abs Mukmin – Pasir Gudang
Restoran Abu & Co 1959 – Taman Bukit Alif
Restoran Abu Salam – Kampung Tersusun Jelapang Jaya
Restoran Abu Ziyad – Jalan Kolam Air
Restoran Ad Adrieana – Bandar Satelit Islam
Restoran Adam Al Jama Maju – Bandar Indera Mahkota
Restoran Adam Boy – Vista Shop
Restoran Adam Lai – Taman Kota Perdana
Restoran Adam Lai – Taman Sri Serdang
Restoran Adda Seafood – Taman Adda
Restoran Adily – Kawasan Perindustrian Ringan Gopeng
Restoran Adily Kampar – Taman Kampar Jaya
Restoran Affrin Maju Bistro – Jalan Welfare
Restoran Afsiya – Lintas Square
Restoran Agus – Taman Pulai Utama
Restoran Ah Ho 新青山阿华福建面 – Jalan Radin Anum 1 [Non-Halal]
Restoran Ah Hong – Taman Mount Austin [Non-Halal]
Restoran Ah Loi 莱记芽菜鸡 – Taman Shatin Baru [Non-Halal]
Restoran Ah Ma Si Ya Chi – Bandar Baru Permas Jaya [Non-Halal]
Restoran Ah Meng – Taman Iskandar [Non-Halal]
Restoran Ah Peng Bak Kut Teh – Taman Setia Indah [Non-Halal]
Restoran Ah Piu – Taman Bayu Puteri [Non-Halal]
Restoran Ah Wa 新青山阿华福建面 – Seksyen 14 [Non-Halal]
Restoran Ahamedia – Jalan Pasir Puteh
Restoran Ahmad Khan – Permas Jaya
Restoran Ahsina Curry House – Taman Satria
Restoran Aida Seafood – Jalan Sungai Lalang
Restoran Aidan Nasi Kukus – Taman Mutiara Rini
Restoran Ain'z Corner – Garden Avenue
Restoran Aiza Hassan Ayam Kampung Cyberjaya – Plaza Crystalville
Restoran AJ Bistro Elite – Puchong Jaya
Restoran AJ Bistro Elite – Bandar Putra Permai
Restoran AJ Maju – Medan Niaga Tasik Damai
Restoran AJ Maju – Bandar Damai Perdana
Restoran Aji Corner – Bandar Manjalara
Restoran Ajmal Maju – 1Borneo
Restoran Al Ali Nasi Kandar – Seksyen 13
Restoran Al Ali Nasi Kandar – Utropolis Marketplace
Restoran Al Ali Nasi Kandar – Jalan NU8/N
Restoran Al Amal – Taman Midah
Restoran Al-Ansaar – Bercham Raya
Restoran Al-Asna – Bandar Baru Permyjaya
Restoran Al-Asna – Jalan Asmara
Restoran Al-Asna – Morsjaya Commercial Centre
Restoran Al-Asna – Pelita Commercial Centre
Restoran Al Awwal Maju – Rampai Business Park
Restoran Al Awwal Maju – Seasons Garden Residensi
Restoran Al Azwath Maju – Seri Kembangan
Restoran AL Baik – Jalan Hang Lekhir
Restoran Al-Bidayah – Taman Setiawangsa
Restoran Al-Bidayah – KL Traders Square
Restoran Al-Bidayah – Taman Sri Andalas
Restoran Al-Bidayah – TTDI
Restoran Al-Bidayah – Bandar Baru Selayang
Restoran Al-Bidayah – Jalan Masjid India
Restoran Al-Ehsan – Bandar Permaisuri
Restoran Al-Ehsan – Petaling Jaya
Restoran Al Ehsan – Lestari Putra
Restoran Al Faizal – Alam Avenue
Restoran Al Fariz Maju – Seksyen 15
Restoran Al Fariz Maju – Seksyen 23
Restoran Al Fariz Maju – OUG Parklane
Restoran Al Fariz Maju – Kelana Jaya
Restoran Al Fariz Maju – Setapak
Restoran Al Fateh – Jalan Setia Jaya
Restoran Al Fayhaa – PJS 11
Restoran Al Fayhaa – USJ 21
Restoran Al-Gemilang – Taman Gemilang
Restoran Al Hafsa
Restoran Al Haji Bistro – Taman Tasik Prima
Restoran Al-Hameeds – Bandar Putra Permai
Restoran Al Ikhwan – Berjaya Park
Restoran Al Kader Curry House – Taman Sri Keramat
Restoran Al Khail Sdn Bhd – Mutiara Avenue
Restoran Al-Khair – Taman Cendara
Restoran Al Khalish – Kampung Parit
Restoran Al-Majunas – Setapak
Restoran Al-Majunas – Serdang
Restoran Al Mubin – Taman Nusa Bestari
Restoran Al-Nainas Corner – Jalan Tempua 2A
Restoran Al-Najum – Taman TTDI Grove
Restoran Al Naz Maju – Publika
Restoran Al Naz Maju – Presint 15
Restoran Al Naz Maju – Cyberjaya
Restoran Al Naz Maju – Presint 11
Restoran Al-Noor – Jln Dato Sheikh Ahmad
Restoran Al Rafi – Jalan Keruing
Restoran Al Reesuan – Medan Klebang Restu
Restoran Al Saf Nasi Kandar – Jalan Muhibbah
Restoran Al Safuan – 3 Two Square
Restoran Al Samir – Taman Desa Bakti
Restoran Al Sarifa – Bandar Utama
Restoran Al Sarifa – Bukit Bintang
Restoran Al Sarifa – Taman Kajang Sentral
Restoran Al Sarifa – Taman Danau Desa
Restoran Al Sarifa – Pandan Jaya
Restoran Al Shafa Corner – Taman Tasik Prima
Restoran Al Shariff – TTDI Jaya
Restoran Al Sharjah – Taman Sri Murni
Restoran Al Wadud – Seksyen 7
Restoran Al Yusof – Sungai Besi
Restoran Al Zafir Maju – Kg Mahkota
Restoran Alani – Bandar Cyber
Restoran Albader Aldimashqi – Taman Danau Kota
Restoran Alfa Anugerah – Jalan Sentul
Restoran Alfa Maju – Puchong Jaya
Restoran Ali Baba – Jalan BK5/12A
Restoran Ali Baba – Jalan BK5A/2D
Restoran Ali Baba – Bandar Damai Perdana
Restoran Ali Bidayah – Medan Maju Jaya
Restoran Ali Food Corner – Taman Tun Perak
Restoran Ali Food Corner – Maluri
Restoran Ali Food Corner – Bandar Sri Damansara
Restoran Aliff – Taman Suria
Restoran Aliff One Bistro – Emira Residence
Restoran Alkaff Manjoi – Taman Alkaff
Restoran Amanee Seafood – Damai Komplek
Restoran Amanli – Kedai Taman Suria Shop
Restoran AMBC (Aneka Makanan Bumiputera Corner) – Taman Prominence
Restoran Ameer Ehsan – Maluri
Restoran Ameer Ehsan – Kota Kemuning
Restoran Ami Maju – Jalan Laman Delfina
Restoran Amiemorita – Harbour Square
Restoran Amin – Heritage Plaza
Restoran Amin – Taman Nusa Sentral
Restoran Amin – Jalan Nusaria
Restoran Amir Tomyam – Seksyen 9
Restoran Amjal – Jalan Pantai Baru
Restoran Amra Maju – Shah Alam
Restoran AMS Legacy – Prima Damansara
Restoran AMS Smart – Bandar Sri Damansara
Restoran An Nass – Seremban 2
Restoran Anak Baba – Jalan Sultan Abdul Samad
Restoran & Dan Katering Kambing Terbang – Vision Homes Seremban 2
Restoran & Kafe Santai – Jalan Tanjong Lumpur
Restoran & Kafe Sudi Sudi – Pusat Perniagaan Ampang
Restoran & Katering Barakat Hadramawt – Taman 1 Lagenda
Restoran & Katering Beriyani Arab Ammie – Jalan Abd. Kadir Adabi
Restoran & Katering Wow – Taman Ungku Tun Aminah [Non-Halal]
Restoran Aneka Rasa – Harbour City
Restoran Aniez – Pertama Comercial Centre
Restoran Anjung Dinda Atas Tubir Tomyam – Medan Meru Bestari
Restoran Anjung Nipah "Ainsya" – Jalan Pulau Melaka
Restoran Anjung Serata – Taman Alam Jaya
Restoran Ankee Yong Tauhu – Taman Ungku Tun Aminah [Non-Halal]
Restoran Ann Kee Hong Kong Style Roasted Meat – Jalan Bachang [Non-Halal]
Restoran Annapoorani Curry House – Taman Cahaya Kota Putri
Restoran Annuar Maju – Jalan Pasar
Restoran Anwaar Al Yaman 2 Makanan Arab – Jalan Tok Jembal
Restoran Anwar Maju – Subang Jaya
Restoran Aqiza – Taman Cahaya
Restoran AR Assalam
Restaurant Arab Oasis – Kota Damansara
Restoran Arafa Bistro – Taman Teratai Mewah
Restoran Arafa Maju Nasi Kandar – Jalan Hentian
Restoran Arafah – Kampung Subang Baru
Restoran Arafah – Jalan Pluto, Shah Alam
Restoran Arafah Curry And Catering (2) – Koidupan
Restoran Arafah Maju Bistro – Kepong
Restoran Aramas – Setia Walk Puchong
Restoran Arfas – Taman Pelangi Indah
Restoran Arfin (Berek 12 Roti Canai) – Jalan Hospital
Restoran Ariffin Maju – Taman Anggerik
Restoran Ariffin Maju – Kempas Utama
Restoran Arifin Maju – Taman Gembira
Restoran Aroma Halwa – Jalan Nova
Restoran Arsad – Bandar Seri Putra
Restoran Arsad – Kulai
Restoran Arsad – Taman Jaya
Restoran Arsad – Taman Ungku Tun Aminah
Restoran Arsyad – Taman Equine
Restoran Artiland – Taman Bukit Indah [Non-Halal]
Restoran AS Bismi Maju – Taman Pelangi
Restoran AS Bismi Maju – Jalan Dato Senu 20
Restoran AS Bismi Maju – Jalan Dato Senu 26
Restoran As Subuh – Saujana Puchong
Restoran Asam Pedas Claypot Dahliea Ria – Jalan Laksamana
Restoran Asam Pedas Kambing Terbang – Taman Nusantara
Restoran Asam Pedas Selera Melayu Melaka – Kampung Matang Pagar
Restoran Asam Pedas Utara – Panorama Lapangan Perdana
Restoran Asfar Maju – Seri Petaling
Restoran Asian Chicken Rice – Putatan
Restoran Asli Kampung Siam – Seksyen 13
Restoran Asri Rosmerah – Jalan Bukit Mutiara
Restoran Asri Rosmerah – Taman Desa Cemerlang
Restoran Asri Rosmerah – Taman Putri Wangsa
Restoran Asri Rosmerah – Taman Kota Masai
Restoran Atas Tubir – Kampung Pandan
Restoran Ateh Corner Baru – Taman Universiti
Restoran Atira – Jalan Cengal 2
Restoran Awe Rs Nasi Kukus – Seksyen 34
Restoran Awwal Maju – Shamelin
Restoran Awwal Maju – Desa Melawati
Restoran Awwal Maju – Gombak
Restoran Awwal Maju – Ampang
Restoran Ayam Geprek Kak Norry – New Fajar Complex
Restoran Ayam Geprek Paragon – Jalan Pandan Indah
Restoran Ayam Geprek Resipi – Diamond Regency Condominium
Restoran Ayam Geprek Resipi – Jalan Gombak
Restoran Ayam Geprek Sambal Setan – Kuala Selangor
Restoran Ayam Gepuk Dapoq Campoq By Korn Kitchen – Nong Chik
Restoran Ayam Gepuk Dapoq Campoq By Korn Kitchen – Bandar Baru Uda
Restoran Ayam Gepuk Jogja Pak Ery – Kampung Baru
Restoran Ayam Gepuk Jogja Pak Ery – Taman Komersil Senawang
Restoran Ayam Gepuk Pedas Berapi – Kampung Chicha
Restoran Ayam Golek Mummy's Roaster – Jalan Pusat Bandar Senawang 2
Restoran Ayam Jerit – Andamy Square
Restoran Ayam Kampong Kita – Bangi Business Park
Restoran Ayam Kampung & Gulai Kawah – Metro Avenue
Restoran Ayam Lenyek Merengek – Jalan Pantai Permai 2
Restoran Ayam Pandan Katering – Bandar Utama
Restoran Ayam Penyet – GM Klang
Restoran Ayam Penyet Asli Dari Bandung – Bandar Baru
Restoran Ayam Penyet House – Taman Ehsan Jaya
Restoran Ayam Penyet Jawa Timur – Manjung Point 1
Restoran Ayam Penyet Jie – Batu Caves
Restoran Ayam Penyet Simpang 3 – Batu 18
Restoran Ayam Pop Kapau
Restoran Ayang 3 Citarasa – Taman Bacang Utama
Restoran Ayer Keroh Height – Jalan Utama Ayer Keroh Height
Restoran Ayoob – Taman Arked Sutera Jaya
Restoran Ayub – Jalan Sri Pelangi
Restoran Ayza's – Seksyen 8
Restoran Ayza's – Metro Avenue 2
Restoran Ayza's – Bangi Gateway
Restoran Ayza's – Metro Point
Restoran Azaz – Jalan Bunga Raya Utama
Restoran Azhaar Maju – Taman Sg Besi Indah
Restoran Azhaar Maju – Bandar Sri Permaisuri
Restoran Azhaar Maju – Jalan Tuanku Munawir
Restoran Azraa Maju – Seksyen 13
Restoran Azura – Seksyen 3
Restoran B Bismi Bistro – Bandar D'Alpinia
Restoran B Jing Stall Front – Next Food Avenue @ Ipoh Parade [Non-Halal]
Restoran Baba Albert – Taman Malim Jaya
Restoran Baba Nasi Paku Ayam Kampung – Jalan Merbau
Restoran Bah Kut Teh Yap Meng – Setia Alam [Non-Halal]
Restoran Bak Kut Teh – Cheras Business Centre [Non-Halal]
Restoran Bakso Mak Ayu – Sg Way
Restoran Ban Kee – Taman Ungku Tun Aminah [Non-Halal]
Restoran Barakah Al-Haramain – Kg Pintu Gang
Restoran Barakath – Pusat Perdagangan Kampar
Restoran Baraketh Asrin – Taman Putra Perdana
Restoran Bariani Desa – Taman Desa
Restoran Barjana – Taman Alam Megah
Restoran Barra – Bandar Baru Bangi
Restoran Baru – KLCW
Restoran Bawal Corner – Tengkera
Restoran Bayang Kara – Jalan Permas
Restoran Beaufort – Taman Land Breeze [Non-Halal]
Restoran Bee Hooi – Jalan Burma [Non-Halal]
Restoran Bee Xiang – Jalan Laksamana Cheng Ho [Non-Halal]
Restoran Beeken Yen – Taman Molek [Non-Halal]
Restoran Belangkas
Restoran Belly Bar – Taman Molek [Non-Halal]
Restoran Belly Bar – Taman Sutera Utama [Non-Halal]
Restoran Bendang Eco Ardene – Setia Alam
Restoran Berageh – Taman Lestari Perdana
Restoran Beriani Ipoh – Jalan Kolam Air Lama
Restoran Beryani Gam Johor – Pusat Dagangan Seremban 2
Restoran Beserah House – Jalan Damai Niaga
Restoran Bff – Tacoln Commercial Complex
Restoran Biao Mei Liang – Jalan Industri Galla 6
Restoran Big Corner 新旺角飮食餐廳 – BDC Shophouse
Restoran Binjai
Restoran Bintang Bistro – Bandar Putra Permai
Restoran Bintang Bistro – Cyberjaya
Restoran Biriyani – Pusat Perniagaan Manjung Point 3
Restoran Bismi Ank Maju – Taman Lagenda Putra
Restoran Bismi Bistro – Muhibbah Square
Restoran Bismi Shereen – Kampung Jawa
Restoran Bismillah – Jalan Semarak
Restoran Bismillah – Lembaga Padi Sabah
Restoran Bismillah – Taman Ungku Tun Aminah
Restoran Bismillah Curry House – Likas Plaza
Restoran Bohari – Taman Bachang Utama
Restoran Bohari – Taman Kota Laksamana Seksyen 3
Restoran Bok's Kito – TTDI
Restoran Bonda – Kepong Ulu
Restoran Borhan Tomyam – Taman Seri Bayan
Restoran BPK S Milala – Jalan Kampung Relau
Restoran Brewdawn – Taman Mount Austin
Restoran BRS Maju – Taman Lawa
Restoran Budiman – Bandar Sibuga Jaya Batu 8
Restoran Budu – Jalan Slim Baru
Restoran Budu Tempoyak – Bandar Tasik Kesuma
Restoran Bukit Baru Corner – Taman Harta Pertama
Restoran Bunga Cengkih – Cyber Valley
Restoran Bunga Jasmin – Pusat Perniagaan Lapangan Jaya
Restoran Burger Bakar Abang Burn – Bandar Botanic
Restoran Burger Bakar Abang Burn – Dagang Avenue Food Stalls
Restoran Cakoi Corner – Shopping Arked Tunas Manja Berserah
Restoran CAMCA – Hicom-Glenmarie Industrial Park
Restoran Canteen – Bandar Botanik [Non-Halal]
Restoran Cellam – Taman Bangsar Park
Restoran Cempaka Kueh Tiaw Kia Eating House – Taman Anggerik [Non-Halal]
Restoran Cendol & Rojak Taman Kosas – Taman Kosas
Restoran Ceo Pan Mee – Jalan Damai Perdana 1 [Non-Halal]
Restoran Cerok Dapor – Bandar Indera Mahkota
Restoran Chang He – Taman Ungku Tun Aminah
Restoran Chang Sheng – Bandar Bukit Tinggi [Non-Halal]
Restoran Changman Dim Sum – Taman Nusa Bestari [Non-Halal]
Restoran Channa BLR – Brickfields
Restoran Chat Masala – Brickfields
Restoran Che Mudo Tomyam – Kampung Seri Aman
Restoran Cheese Prata – Taman Austin Perdana
Restoran Chef Gemok – Bandar Bukit Puchong
Restoran Chef Wong 王师傅饭店 – Pudu Plaza [Non-Halal]
Restoran Chen Fong – Taman Pusing Baru
Restoran Chennai Home Food – Mutiara Complex
Restoran Chennai Spice – Neo Cyber
Restoran Chennai Spice – Glomac Cyberjaya
Restoran Chennai Spice – Taman Seri Serdang
Cheong Hoong Mixed Rice – Taman Pandan Cahaya [Non-Halal]
Restoran Cheow Sang – Petaling Jaya [Non-Halal]
Restoran Chez Frieda – Taman Sri Rampai
Restoran Chiam Hua – Taman Sri Tebrau [Non-Halal]
Restoran Chicken & Duck Rice Kuan Kee – Taman Muda [Non-Halal]
Restoran Chicky Don Ayam Goreng Paprika – Bandar Putra
Restoran Chiew Kee Seafood – Pusat Komersial Anggun City [Non-Halal]
Restoran Chiji – The Palette
Restoran Chin Ji – Taman Ungku Tun Aminah [Non-Halal]
Restoran Choice – Taman Melawati
Restoran Chong Qin 88 – Taman Kheng Tian [Non-Halal]
Restoran Choon Kian – Taman Berjaya [Non-Halal]
Restoran Choy 96 – Restoran Skudai [Non-Halal]
Restoran Choy Kee – Taman Impian Emas [Non-Halal]
Restoran Chuan Hian – Jalan Harmonium [Non-Halal]
Restoran Chuan Klang Bak Kut Teh [Non-Halal]
Restoran Chuang Ran – Cahaya Kota Puteri [Non-Halal]
Restoran Cik Sitie – Chendering
Restoran Cili Hijau BSB – Desa Tasik
Restoran Cina Muslim Nor Jalilah – Medan Meru Bestari
Restoran Cinta Aku – Jalan Setia Perdana
Restoran Cita Rasa Bonda Maju – Medan Niaga Tasik Damai
Restoran Citra Maju – Jalan Ciku
Restoran Cittakoko – BDC Shophouse
Restoran CL Cafe – Pinji Center Point [Non-Halal]
Restoran Claypot 168 – Taman Desa Cemerlang [Non-Halal]
Restoran Claypot Raja Patin – Fair Park
Restoran Coconut Steamboat – Taman Eko Botani [Non-Halal]
Restoran Cordon Bleu – Medan Ipoh Bestari [Non-Halal]
Restoran Cravings – Ativo Plaza
Restoran Cuba Rasa – Taman Semenyih Sentral
Restoran Cuba Rasa – Taman Flora Utama
Restoran Cuba Rasa – Tanjung Labuh
Restoran Cuba Rasa Ramlee Bistro – Taman Melati Utama
Restoran Cuba Rasa SSS – Taman Budaya
Restoran D & D – Bandar Baru Uda
Restoran D & T – Jalan Datoh [Non-Halal]
Restoran D Bunga Raya – Taman Ipoh Jaya
Restoran D' Laila – Jalan Putra Square 6
Restoran D Maju Selera – FAS Business Avenue
Restoran D One Steak – Seksyen 6
Restoran D Shiraj Curry House – Subang
Restoran Daging Bakar Asam Boi – Kg Khatib Ali
Restoran Daging Salai Cik Yah – The H Hartamas
Restoran Dai Sam Yun – Taman Million [Non-Halal]
Restoran Dan Katering Pak Musa – Permas Jaya
Restoran D'anggerik – Taman Putri Wangsa
Restoran Dao Ma Qie – Jalan Kenari 22 [Non-Halal]
Restoran Dapokayu – Platinum Walk
Restoran Dapotendong – Taman Lestari Perdana
Restoran Dapur Abe – Alam Avenue 2
Restoran Dapur DD – Sungai Buloh
Restoran Dapur DD – Kompleks PKNS
Restoran Dapur Ibu – Greentown Nova
Restoran Dapur Ikan Bakar Eman – Biz Avenue 2
Restoran Dapur Kak' Bad – Pusat Dagangan PJS
Restoran Dapur Malaya – Diamond Square
Restoran Dapur Nadia – Taman Hillview
Restoran Dapur Sarawak – Shah Alam
Restoran Dapur Sarawak
Restoran Dapurku – Fajar Complex
Restoran Daun Hijau – Sejati Walk
Restoran Daun Pisang Al-Arisaan Maju – Jaya One
Restoran Davood – Jalan Haji Abdul Rahman
Restoran Davood – Jalan Dato' Wong Ah Jang
Restoran Dayamas – Taman Daya [Non-Halal]
Restoran De Bunga Lawang – Taman Bercham Raya
Restoran De Hunan – Off Jalan Kuchai Lama [Non-Halal]
Restoran De Hunan – Bandar Puteri [Non-Halal]
Restoran De Hunan – Laman Rimbunan [Non-Halal]
Restoran De Hunan – Bandar Mahkota Cheras [Non-Halal]
Restoran deDulang – Masai
Restoran Dee Nasi Ayam – Jalan Pandan Indah
Restoran Deen Claypot Briyani – Chulia Street
Restoran Deli Thai – Seksyen 7
Restoran Delicious Recipe – Taman Ipoh Selatan
Restoran Desa – SS19
Restoran Desa Setapak Tomyam – Taman Desa Setapak
Restoran Desa Setapak Tomyam – Kampung Ampang Campuran
Restoran Dian Dianxin – Jalan Harmonium [Non-Halal]
Restoran Dim Sum 好想食点心粥之家 – Lorong Durian [Non-Halal]
Restoran Dim Sum – Pandan Indah [Non-Halal]
Restoran Dim Sum Huang Yuan – Taman Bandar Baru [Non-Halal]
Restoran Dim Sum Jin Xuan – Jalan Bestari [Non-Halal]
Restoran Din Laksa Sarawak – Taman Majidee
Restoran DiTengah – Central i-City
Restoran Diva – Taman Setiawangsa
Restoran D'Loyang – Wangsa Maju
Restoran D'Maju Corner – Taman Maluri Cheras
Restoran Do Re Mi – Jalan Teratai
Restoran D'Pinggans – Pusat Komersial Polytecnic KKIP
Restoran D'RPR Ria – Columbia Asia Shophouse
Restoran D'Saujana – Saujana Impian
Restoran D'Selera Kampung – Likas Plaza
Restoran D'Serai Corner
Restoran DST – Batu Unjur [Non-Halal]
Restoran DST – Bandar Baru Klang [Non-Halal]
Restoran D'Surabaya – Lorong Selangor
Restoran Dsyasya – Kampung Medah
Restoran Dusit Thai – Uptown Avenue
Restoran D'Warung Mak Idah – Taman Kempas Lama
Restoran Dz Tomyam – Pusat Perniagaan Ampang
Restoran E & Y Harmonium – Taman Daya
Restoran E & Y Maju – Stulang Laut
Restoran E So Yong Tou Foo – Bandar Sri Menjalara [Non-Halal]
Restoran E&Y Signature – Jalan Tebrau
Restoran Eat & Chat – Taman Bukit Beruang Indah
Eat & Co [Non-Halal]
Restoran Eat N Go – Sky Park Cyberjaya
Restoran Eataste – Kawasan Perindustrian SME [Non-Halal]
Restoran Eco Coffee – Taman Ekoperniagaan
Restoran Ed Caterers Sdn Bhd – Putra Square
Restoran Edde – Taman Indera Sempurna
Restoran Efa Western – Jalan Setia Perdana
Restoran Eighty Six Beverage – Jalan Kulim
Restoran El Wafa Kitchen – Kg Dusun Muda
Restoran Embun – Medan Stesen 18/3
Restoran Empat Belas Sembilan Selera Timur – Impian Avenue
Restoran Empat Belas Sembilan Selera Timur – Bdr Baru Nilai
Restoran Enjoy Happy Five – Persiaran Taiping [Non-Halal]
Restoran Era – Tanjung Aru
Restoran Fa Ge Steamboat – Jalan Pasir Pelangi [Non-Halal]
Restoran Faaz Maju – Taman Maju Jaya
Restoran Facefood – Taman Bandar Baru [Non-Halal]
Restoran Fais Bistro – Icon City
Restoran Family Seafood – Cheras
Restoran Fang Fang – Taman Melaka Baru [Non-Halal]
Restoran Farhan Tomyam – Bandar Universiti
Restoran Farouk Maju – Kampung Jambu
Restoran Farsal – Jalan Utama
Restoran Farsal – Bayan Baru Food Court
Restoran Fathima – Jalan Bangsar Utama 1
Restoran Fatt Kee Kepong – Bandar Menjalara [Non-Halal]
Restoran Fatty Chicken – The Core
Restoran Fatty Mixed Rice – Bandar Baru Sri Petaling [Non-Halal]
Restoran Fatty Sang – Kepong Baru [Non-Halal]
Restoran FC – Kompleks PKNS
Restoran Fei Fei Crab – Taman Merdeka Permai [Non-Halal]
Restoran Fei Poh Curry Mee – Taynton View [Non-Halal]
Restoran Fei Por – Jalan Pudu [Non-Halal]
Restoran Feng Hai – Taman Bandar Cemerlang [Non-Halal]
Restoran Feng Ling – Bandar Botanic [Non-Halal]
Restoran Feng Yang – Pudu [Non-Halal]
Restoran Fion – Taman Bayu Tinggi [Non-Halal]
Restoran Fo Cheng – Taman Kota Masai [Non-Halal]
Restoran Foh Chuan – Beverly Hill Plaza [Non-Halal]
Restoran Fok Mun – Jinjang Utara [Non-Halal]
Restoran Fok Qi – Taman Gaya [Non-Halal]
Restoran Fong Kee – USJ 1 [Non-Halal]
Restoran Food Degil Erny – Taman Rinting
Restoran Food To Home – Taman Bukit Indah [Non-Halal]
Restoran Food Village – Bandar Teknologi Kajang [Non-Halal]
Restoran Fook Dek Sing – Taman Gaya [Non-Halal]
Restoran Foong Foong – Saujana Puchong [Non-Halal]
Restoran Fortuna – Fortuna Commercial Centre [Non-Halal]
Restoran Four You To See – Fair Park
Restoran FR Kitchen – Dataran Pandan Prima
Restoran Fry King – Taman Kelebang Utama
Restoran FS – Jalan Seremban [Non-Halal]
Restoran Ft Mingle House – Pusat Dagangan Centrio Seremban 2
Restoran Fu Jee Ulu Yam Loh Mee – Jalan Setia Alam [Non-Halal]
Restoran Fu Jee Ulu Yam Loh Mee – The Strand [Non-Halal]
Restoran Ful Lai – Bandar Sri Menjalara [Non-Halal]
Restoran Full Yuen – Damai Plaza
Restoran Fung Lam Ipoh 丰林什饭店 – Pusat Bandar Baru Bercham [Non-Halal]
Restoran Fung Sheng – Taman Ipoh Jaya Timur 2 [Non-Halal]
Restoran Fuziah Ayam Bazar Bulat 1980 – Kampung Dato Ahmad Said Tambahan II
Restoran Gafan – Jalan Cerdas [Non-Halal]
Restoran Gamelan – Dataran PHB
Restoran Gamelan – Plaza Mont Kiara
Restoran Gao Ren Guan – SS15 [Non-Halal]
Restoran Gathelicious – Taman Sutera Utama [Non-Halal]
Restoran Gaya – Taman Gaya
Restoran Gee Ann – Sungai Long [Non-Halal]
Restoran Gembira Ria – Taman Molek [Non-Halal]
Restoran Gerbabboom – Taman Sri Manja
Restoran Ghany Corner – Bandar Baru
Restoran Ghuhan – Klang
Restoran Giant Kitchen – Taman Tampoi Indah
Restoran Ginza Curry House – Desa Pandan
Restoran Gold Chili – SS15
Restoran Gold Chili – USJ 21
Restoran Gold Chili – Bandar Sunway
Restoran Gold Gold Food Garden – Taman Dahlia [Non-Halal]
Restoran Golden Cool House – Jalan Mutiara [Non-Halal]
Restoran Golek Golek Suasana Kampung – Jalan Lingkaran Tengah 2
Restoran Gong Xi Cuisine – Medan Imbi [Non-Halal]
Restoran Good Family Steamboat – Taman Pelangi [Non-Halal]
Restoran Good Family Steamboat – Taman Molek [Non-Halal]
Restoran Good Family Steamboat – Taman Bukit Indah [Non-Halal]
Restoran Good Family Steamboat – Taman Mount Austin [Non-Halal]
Restoran Good Friend – Pandan Perdana [Non-Halal]
Restoran Good Friends – Pandan Perdana [Non-Halal]
Restoran Good Luck – Medan Connaught [Non-Halal]
Restoran Good Luck Dim Sum – Kampung Baru Seri Kembangan [Non-Halal]
Restoran Gooday – Jalan Lembah Permai [Non-Halal]
Restoran Goon Wah – Taman Kuchai Jaya [Non-Halal]
Restoran Gou Wei Wang – Dataran Perniagaan Cheras [Non-Halal]
Restoran Grandma Tang – Taman Bukit Indah [Non-Halal]
Restoran Grandpa – Sunway Metro [Non-Halal]
Restoran Green Fragrance Vegetarian – Taman Ungku Tun Aminah
Restoran Green View – Seksyen 19 [Non-Halal]
Restoran Guang Zong Tai – Taman Eko Botani [Non-Halal]
Restoran Gulai – Wisma Sri Kajura
Restoran Gulai Kawah Cikda (Main) – Restoran Gulai Kawah Cikda
Restoran Gulai Panas Che Su – Lengkok Cempaka 1
Restoran Gulai Sembilang Kajang – Reko Sentral
Restoran H M Gani F – Jalan Permata
Restoran H M Gani H – Sungai Besi
Restoran H M Gani Y – Kompleks Electronic ACE
Restoran H M Gani Z – Jalan Pahang
Restoran H-Maidin – Taman Damai Jaya
Restoran Habib – Seri Alam
Restoran Habib – Bandar Baru Uda
Restoran Habib – Johor Jaya
Restoran Habib – Desa Jaya
Restoran Habib – Taman Tampoi Utama
Restoran Habib – Jalan Permas
Restoran Habib – Pelangi Indah
Restoran Habib – Jalan Padi Emas
Restoran Habib – Taman Nusa Bestari
Restoran Habib – Jalan Pasir Pelangi
Restoran Hadhramautland – Perdana Business Centre
Restoran Hadramawt Castle – Seksyen 23
Restoran Hadramount Paradise – Kinta Riverfront
Restoran Hadramout Paradise – Gunung Rapat
Restoran Hafila Maju – Southgate Commercial Centre
Restoran Hafila Maju – Megan Avenue II
Restoran Hafila Maju – Wisma HB
Restoran Hafiz Bistro – Taman Mutiara Mas
Restoran Hafiz Sentosa – Jalan Klang Lama
Restoran Hainam Chaffee – Taman Midah
Restoran Hajara Curry House 24 Jam – Taman Che Mei Shophouse
Restoran Haji Briyani & Ambang – Taman Kempas
Restoran Haji Imran – Taman Permata
Restoran Haji Imran – Taman Koperasi Polis Fasa 1
Restoran Haji Shahul – Chow Kit
Restoran Haji Sharin Low – Muar
Restoran Haji Sharin Low Seafood – Dataran Templer
Restoran Haji Sharin Low Seafood – Taman Sri Gombak
Restoran Haji Sulaiman Nasi Kandar – Jalan Sentul Raya
Restoran Haji Sulaiman Nasi Kandar – Jalan Rahmat
Restoran Haji Tamrin – Jalan Kuhara
Restoran Haji Tamrin Nasi Kuning Tawau – Prima Square
Restoran Haji Tapah – Bandar Seri Putra
Restoran Haji Tapah – Jalan Gombak
Restoran Haji Zaini – Kak Zah Kg Pasir
Restoran Hakim – Jalan Kristal
Restoran Hakim – Jalan Zirkon
Restoran Hakka Tin Road 锡客楼客家美食馆 – Jalan Gopeng [Non-Halal]
Restoran Halifah – Inanam Kapital
Restoran Hameed Maju 24 jam – Aeropod
Restoran Hameed Maju 24 jam – Suria Inanam
Restoran Hamidia – Jalan Kamaruddin Isa
Restoran Hamidia – Medan Lapangan Legenda
Restoran Hao Bi – Taman Century [Non-Halal]
Restoran Hao Bi – Taman Molek [Non-Halal]
Restoran Hao Bi – Taman Bukit Indah [Non-Halal]
Restoran Hao Bi – Jalan Meldrum [Non-Halal]
Restoran Hao Kee – Angkasa Condominium [Non-Halal]
Restoran Hao Mei Wei – Taman Merdeka Permai [Non-Halal]
Restoran Hao Tack Fook – Bandar Baru Menglembu
Restoran Hao Xian Wei – Jalan Medan Ipoh 6 [Non-Halal]
Restoran Hao Zhu Yee – Iskandar Puteri [Non-Halal]
Restoran Happy Customer – Taman Gadong Perdana [Non-Halal]
Restoran Happy Family Kopitiam – Mutiara Rini
Restoran Happy House Cafe – Taman Pelangi Indah [Non-Halal]
Restoran Happy Wei Wei Kitchen – Kawasan Perusahaan Menglembu [Non-Halal]
Restoran Hari Aum – Jalan Semabok
Restoran Hari Aum – Taman Kota Laksamana
Restoran Harish Curry House – Lrg Kolam
Murtabak Factory – Glomac
Restoran Hassan Bistro – Seksyen U13
Restoran Hasyima – Taman Megah Ria
Restoran Hathija Maju – SS7 Kelana Jaya
Restoran Hau Way – Kampung Baru Skudai [Non-Halal]
Restoran Havva – Shamelinstar Residence
Restoran Hayath Nasi Kandar – Leeka Garden
Restoran Hayatt – Jalan Labrooy
Restoran Hazim – Taman Putra Perdana
Restoran Heng Heng – Bandar Sunway [Non-Halal]
Restoran Heng Hwat – Taman Selayang Jaya [Non-Halal]
Restoran Heng Kee Bercham – Bercham Height [Non-Halal]
Restoran Heng Loong – Bandar Pasaraya [Non-Halal]
Restoran Hi Wan – Taman Pelangi [Non-Halal]
Restoran Hidangan Ara Meranti – Ara Damansara
Restoran Hidangan Glenmarie – Jalan Peniaga U1/34
Restoran Hidayah Maju – Ukay Perdana
Restoran Hidayah Maju – Bukit Indah
Restoran Hin Hin 666 – Jalan Zamrud [Non-Halal]
Restoran Hiong Pan – Pandan Indah [Non-Halal]
Restoran Hj Sharin Low – The Strand
Restoran Ho Poh – Bandar Puteri [Non-Halal]
Restoran Ho Xing – Lorong Permatang Tinggi Indah 1 [Non-Halal]
Restoran Hock Gee Ulu Yam Loh Mee – Setia Alam [Non-Halal]
Restoran Hock Gee Ulu Yam Loh Mee – Bukit Tinggi [Non-Halal]
Restoran Hock Kee Bak Kut Teh Dan Seafood – Taman Sri Langat [Non-Halal]
Restoran Hock Lai – Taman Megah Ria [Non-Halal]
Restoran Hockgee – Taman Seri Mangga [Non-Halal]
Restoran Hoi Kee – Taman Melaka Raya [Non-Halal]
Nyonya HomeTaste Restaurant
Restoran Hon Kee – Taman Kolej Perdana [Non-Halal]
Restoran Hong Cha – OUG [Non-Halal]
Restoran Hong Dae Korea BBQ – Bandar Baru Permas Jaya [Non-Halal]
Restoran Hoo Ming Foong 好明峰美食軒 – Jalan Leong Tian [Non-Halal]
Restoran Hoo Yee – Taman Desa Aman [Non-Halal]
Restoran Hook Yee – Taman Usahawan Kepong [Non-Halal]
Restoran Hooray Seafood – Medan Lapangan Lagenda [Non-Halal]
Restoran Hot Plate – Taman Universiti
Restoran How Kee – Jalan Tok Hakim – [Non-Halal]
Restoran HTY – Taman Puncak Jalil [Non-Halal]
Restoran Hua Wei [Non-Halal]
Restoran Huang Soon – Taman Punca Emas [Non-Halal]
Restoran Huat Lai – Kawasan Industri Ringan Asas Jaya [Non-Halal]
Restoran Hup Ye – Taman Ungku Tun Aminah [Non-Halal]
Restoran HW – Taman Maju Jaya [Non-Halal]
Restoran Hwa Wei Xuan – Taman Limbonan Indah [Non-Halal]
Restoran Hyderabad Receipe's House – Jalan Sultan Abdul Jalil
Restoran Ibrahim Maju – Taman Reko Sentral
Restoran Ibrahim Maju – Seksyen 3
Restoran Idaman – Mutiara Damansara
Restoran Idaman Village – Damansara Damai
Restoran Idamans – Taman Nusa Idaman
Restoran Ihsan Sup Kawah – Sunsuria Avenue
Restoran Ikan Bakar Arinee – The Atmosphere
Restoran Ikan Bakar Kayu Arang – Taman Rinting
Restoran Ikan Bakar Tok Abah – Kampung Khatib Ali
Restoran Ikan Singgang – Apartment Impian Baiduri
Restoran Ilham – Menggatal
Restoran Ilham 2 Penampang – Donggongon
Restoran Ilyas Maju – De Centrum Mall
Restoran Impian Maju – Balakong
Restoran Imran Rezeki – Taman Mas Sepang
Restoran Indorosso – Rumah Pangsa Bachang Permai
Restoran Infasha Maju – Taman Merak Mas
Restoran Ipoh Fai Kee 5 – Taman Molek [Non-Halal]
Restoran Ipoh Kheng Lim Salted Chicken – Bandar Mahkota Cheras [Non-Halal]
Restoran Ipoh Kong Heng – Jalan Bandar Timah [Non-Halal]
Restoran Ipoh Lucky – Jalan Pasir Putih [Non-Halal]
Restoran Ipoh Padang Curry House – Jalan Raja Ekram
Restoran Ipoh Raya Dr – Bandar Ipoh Raya
Restoran Ipoh Road Yong Tow Foo – SS2 Taman Bahagia
Restoran Ipoh Road Yong Tow Foo – Jalan PJU 8
Restoran Iqbal Since 1936 – Penang Central
Restoran Iqlim Hadramout – Lavender Heights
Restoran Irfan CKT & WF
Restoran Ishal Zam Zam – Jalan Bukit Galena 1
Restoran Istilah – Taman Mastiara
Restoran ITF – Taman Desa Cemerlang [Non-Halal]
Restoran Itik Salai Mashtar – Saujana Impian
Iyara Nyonya Thai Cuisine – Pekaka [Non-Halal]
Restoran J One Bistro – Jalan Tuanku Abdul Rahman
Restoran Jaipur Mahal – Glomac Cyberjaya
Restoran Jalan Jalan Udang Karang – Taman Pertama
Restoran Jamal Mohamed
Restoran Jamal Salim 2 – The Palm Square Kinarut
Restoran Jang Won – Taman Gaya [Non-Halal]
Restoran Jannat Saba – Taman Ampang Hilir
Restoran Jastayu – SS13
Restoran Jawa An-Nur – Jalan Chow Kit
Restoran Jawa An-Nur – Jalan Tuanku Abdul Rahman
Restoran Jaya – Jalan Gottlieb
Restoran Jaya – Jalan Penang
Restoran Jaya – Seberang Jaya
Restoran Jaya – Taman Sri Tunas
Restoran Jaya – Gelugor
Restoran Jaya – Jalan Dato Keramat
Restoran Jaya – Seksyen 8
Restoran Jaya – Jalan Thambipillai
Restoran Jaya Spicy House – Bandar Rawang
Restoran Jayam – Kota Laksamana
Restoran Jayamas – Jalan Krishnan
Restoran Jazmina – Abadi Heights
Restoran Jeliro Kitchen – Bandar Putra Permai
Restoran Jen Jen – Jalan Baru off Jalan Tokong [Non-Halal]
Restoran Jepun Matsuki – Jalan Pemenang
Restoran Ji Sen – Taman Desa Tebrau [Non-Halal]
Restoran Ji Wang – Taman Mount Austin [Non-Halal]
Restoran Jia Bao Bak Kut Teh – SS21 [Non-Halal]
Restoran Jia Xiang – Taman Bandar Baru Kampar [Non-Halal]
Restoran Jia Xiang Niang Tou Fu – Taman Mas Indah [Non-Halal]
Restoran Jiang Man – Taman Nam Tak
Restoran Jien Jien – Wisma Central [Non-Halal]
Restoran Jihan Maju – Bukit Jalil
Restoran Jin Dong Fang – Puchong [Non-Halal]
Restoran Jin Sui – Taman Gembira [Non-Halal]
Restoran JJ Bistro – Kampung Laksamana
Restoran JJ Fatt – Lawan Kuda [Non-Halal]
Restoran JJ Nasi Penyek & Catering – Country Garden
Restoran JKF 聚客坊 燒臘粥飯麵家 – Taman Bersatu [Non-Halal]
Restoran Joho Lama – Aeropod
Restoran Jom Dim Sum – TTCC
Restoran Jom Makan – Larkin Perdana
Restoran Josh & Jana's – Giant Hypermatket
Restoran JR Ehsan – Kajang
Restoran Ju Heng – Jalan Raja Uda [Non-Halal]
Restoran Jumbo – Taman Bukit Kuchai
Restoran Jun Hui – Taman Daya [Non-Halal]
Restoran K Corner [Non-Halal]
Restoran K Intan – Seksyen 17 [Non-Halal]
Restoran Kababku – Seksyen U13
Restoran Kabir – Jalan Utama
Restoran Kabul – Taman Melawati
Restoran Kadir Bistro – Taman Mount Austin
Restoran Kah Kah Loke – Taman Adda [Non-Halal]
Restoran Kak Ani
Restoran Kak Ar Kelate – Taman Mas
Restoran Kak Aya – Seberang Jaya
Restoran Kak Dah – Bukit Rimau
Restoran Kak Gee – Taman Sepakat
Restoran Kak Leha – RPS Corner
Restoran Kak Lia – Bangunan MPSPK
Restoran Kak Mar – Taman Rinting
Restoran Kak Ngah – Taman Kemuning
Restoran Kak Rose – Medan Idaman Business Centre
Restoran Kak Rose – Medan Perdagangan Kepayang
Restoran Kak Sue – Bandar Meru Raya
Restoran Kam Wan Aneka Selera 冬菇亭美食中心 Mix & Match – [Non-Halal]
Restoran Kam Wan Aneka Selera 冬菇亭美食中 Mix & Match
Restoran Kamaliya Maju – Jalan Kota
Restoran Kampung Corner – Plaza Alam Sentral
Restoran Kapital Kafe – Pandan Kapital
Restoran Kapitan – Persiaran Arked
Restoran Karaikudi – Jalan Mayang Pasir 3
Restoran Karaikudi Chettinad – Jalan Munshi Abdullah
Restoran Kari Kepala Ikan Deen – Pulai Business Centre
Restoran Kari Kepala Ikan MM – Jalan Limbongan
Restoran Karim Tandoori CT House – Melaka
Restoran Karya Rasa – Bandar Ramai ramai
Restoran Kashmir – Jalan Besar
Restoran Kasmina – Kg Sungai Rapat
Restoran AS Chew Loong S/B – Kampung Perak [Non-Halal]
Restoran KB Corner – Glomac Cyberjaya
Restoran KD – Bandar Baru Uda
Restoran Ke Ren Lai – Taman Sri Pelangi [Non-Halal]
Restoran Ke Ren Lai – Sutera Mall [Non-Halal]
Restoran Kean Fatt – Damansara Jaya [Non-Halal]
Restoran Kedai Papan – Subang Business Centre
Restoran Kee Guan – Taman Semarak [Non-Halal]
Restoran Kela Vegetarian – Taman Ekoflora [Non-Halal]
Restoran Kelapa Muda – Kg. Baru
Restoran Kelate Kitchen – Plaza Prima Setapak
Restoran Kelisa Corner – Medan Pb1 Seksyen 9
Restoran Kembara Kenari – Jalan Besar
Restoran Keong Kee – Ampang [Non-Halal]
Restoran Kepong Heng Bak Kut Teh – Jalan Penchala [Non-Halal]
Restoran Khalisah – Sinsuran Complex
Restoran Khan Dada – Jalan Prima Saujana
Restoran Khanjee – Jalan Ipoh
Restoran Kharifa – Jalan Panji
Restoran Khas 268 – Jalan Kebun Sultan [Non-Halal]
Restoran Khoh Foong – Taman Sri Kulai Baru [Non-Halal]
Restoran Khunthai – Klang
Restoran Kien Fui – Seri Kembangan [Non-Halal]
Restoran Kikel & Tetel – Damai Perdana
Restoran Kim Kee – Taman Rapat Setia [Non-Halal]
Restoran Kim Lee – Bandar Seri Alam [Non-Halal]
Restoran Kimlin – Taman Pulai Utama [Non-Halal]
Restoran Kin Thai – OUG [Non-Halal]
Restoran Kip – Taman Nusa Bestari
Restoran Kitchen Rice Bowl S/B – Jalan Bercham [Non-Halal]
Restoran KJP Maju – Taman Pandan Perdana
Restoran Klang Yi Siang Bak Kut Teh – Taman Tan Sri Yacob [Non-Halal]
Restoran Klasik Hijau
Restoran Klasik Maju – Taman Cempaka
Restoran KMK – Taman Usahawan [Non-Halal]
Restoran Ko Zai Like – Taman Intan Baiduri [Non-Halal]
Restoran Kok Fu – Taman Mutiara Rini [Non-Halal]
Restoran Kong Kee – Johor Jaya
Restoran Kopi Tea Kong Seng – Bandar Bukit Puchong [Non-Halal]
Restoran Kopilicious.Inc – Taman Sentosa
Restoran Kopitiam 868 – Pandan Mewah
Restoran Kopitiam Tong Nam – Taman Bukit Indah
Restoran Korean – Taman Pelangi [Non-Halal]
Restoran Koryo-Won – Fahrenheit 88
Restoran Kosen Tomyam – Taman Rinting
Restoran Kou Shui – Bandar Baru Sri Petaling [Non-Halal]
Restoran Kou Shui – Jalan Batu Cheras [Non-Halal]
Restoran Kou Wei – Taman Sri Tebrau [Non-Halal]
Restoran KS – Taman Midah [Non-Halal]
Restoran KS Mastan Ghani – Pusat Komersial Sentral Intan
Restoran KSB Cahaya Maju – Lorong Macalister
Restoran Kuali Emas – Taman Mawar
Restoran 宽窄巷子 成都串串香 Kuanzhai Alley – Bandar Sri Petaling [Non-Halal]
Restoran Kuching Style Sarawak Cuisine – Bandar Seri Alam [Non-Halal]
Restoran Kwong Long – Taman Lapangan Permai [Non-Halal]
Restoran La Delima – Bukit Jalil
Restoran LaiHeng – Jalan Chan Ah Choo [Non-Halal]
Restoran Laksasa – NSK Kota Damansara
Restoran Lan Chey – Plaza Kasturi
Restoran Lan Chey – Jalan Taman Tan Yew Lai [Non-Halal]
Restoran Lan Je – Seksyen 31
Restoran Lan Je – Jalan Raja Uda
Restoran Lan Je – Taman Setia Rawang
Restoran Lan Je – USJ 1
Restoran Lan Je – Bandar Puteri Puchong
Restoran Lan Je – Kota Damansara
Restoran Lan Je – Desa Aman Puri
Restoran Lan Je – Jalan Setia Prima S
Restoran Lan Je – Setapak Village
Restoran Lan Je – Taman Bayu Tinggi [Non-Halal]
Restoran Lan Je Klang – Jalan Pekan Baru
Restoran Lao Dou Pork Noodle – SS2 [Non-Halal]
Restoran Lap Lap Heong – Jalan Chung Ah Ming [Non-Halal]
Restoran Laris Qaseh Bonda – Jalan Adda
Restoran Lau Ma Zi – Bandar Indahpura
Restaurant Kambing Ke Langit
Restoran Lebanon – Jalan Tanjung Bungah
Lee Home Cook Cuisine – Taman Pinji Seni [Non-Halal]
Restoran Lee House 家丽糖水铺 – Gunung Rapat [Non-Halal]
Restoran Legen – Jalan Sultan Yussuf
Restoran Leh Pak – Jalan Yam Tuan
Restoran Leha World – Taman Paroi Jaya
Restoran Lek Yean – Taman Cheng Baru [Non-Halal]
Restoran Lemak Chili's – Seksyen U13
Restoran Lemang LTKL – Taman Sri Rampai
Restoran Lembing – Taman Nusantara [Non-Halal]
Restoran Lenggong – Seksyen 20
Restoran Lengkuas – Seksyen 7
Restoran Leong Enam Satu – Taman Setia Indah
Restoran Lesung Ibu Mak Jah – Taman Universiti
Restoran Li Heng Fatt – Jalan Panglima [Non-Halal]
Restoran Liang Khee – Taman Pekan Baru [Non-Halal]
Restoran Liang Tang – Taman Ipoh Jaya [Non-Halal]
Restoran Lim Hui Xian – Taman Batik [Non-Halal]
Restoran Lim Kee Pan Mee – Taynton View [Non-Halal]
Restoran Limau Bali Wak Puji – Jalan Dr Nazrin Shah
Restoran Lin He Shun – Fortuna Commercial Centre [Non-Halal]
Restoran Lin Ming – Taman Universiti [Non-Halal]
Restoran Little Chennai Darbar – Jalan Puchong
Restoran Little Fusion – Bukit Horizon
Restoran Little Yunan Masakan Cina Muslim – Taman Adda Heights
Restoran Liu Xiao Fu – Taman Bauhinia [Non-Halal]
Restoran Loke & Son – Taman Cheng Bestari [Non-Halal]
Restoran Loke Yun Publika – Publika
Restoran Loong Hwa Seafood – Taman Adda Height [Non-Halal]
Restoran Loong Kee – Jalan Pahang [Non-Halal]
Restoran Lucky Chicken Rice – Pusat Komercial Saujana [Non-Halal]
Restoran M M – Taman Gaya [Non-Halal]
Restoran Ma Zi – C180 [Non-Halal]
Restoran Ma Zi C180 Mix & Match – [Non-Halal]
Restoran Maabob – Jalan Pasir Puteh
Restoran Maaidah Uptown – Jalan Kamaruddin
Restoran Mabeles – Jalan Hamzah
Restoran Mackenzie Fried Chicken – Taman Daya [Non-Halal]
Restoran Mad Ayam Kampung – NeoCyber
Restoran Madani – Jalan Pcb
Restoran Madeena Bistro – Kubota Sentral
Restoran Madina Seafood – Kota Warisan Selayang Bahagia
Restoran Magalir Villas – Taman Chai Leng
Restoran Mahbub – Bangsar
Restoran Mahbub – Damansara Damai
Restoran Mahesha – TTDI
Restoran Mahmudah Maju – Jalan Tiara 4
Restoran Mahmudah Maju – Taman Prima Selayang
Restoran Mai Thai – Taman Desa
Restoran Mai Trai – Bandar Kinrara
Restoran Maimunah – Segama
Restoran Maimunah Cafe – KK Taipan
Restoran Maimunah Curry House – Kepayan
Restoran Maimunah Maju – Inanam
Restoran Maimunah Maju – 88 MarketPlace
Restoran Maimunah Maju – Plaza Kivatu
Restoran Maimunah Maju – Kepayan Perdana
Restoran Maju Bistro – Jalan Masjid
Restoran Maju Enterprise – Hang Tuah Mall
Restoran Maju Maju
Restoran Maju Utama – PU 7
Restoran Maju Utama – CBD Perdana 2
Restoran Mak Bedah – Hicom-Glenmarie Industrial Park
Restoran Mak Cik Po – Taman Seri Austin
Restoran Makan – Taman Perindustrian IKS
Restoran Makan Nasi Hari-Hari – Pusat Perniagaan Oren
Restoran Makanan Cina – Bandar Baru Permas Jaya [Non-Halal]
Restoran Makanan Laut Lee Teochew – Taman Ipoh Jaya [Non-Halal]
Restoran Makanan Laut Sun Wen Cau – Desa Rishah [Non-Halal]
Restoran Makanan Laut Threeble Three 333海鲜食坊 – Taman Ipoh Jaya [Non-Halal]
Restoran Makanan Laut Wan Long – Taman Johor Jaya [Non-Halal]
Restoran Makanan Laut Wong Kok – Pasir Pinji [Non-Halal]
Restoran Makanan Sayur Sayuran Gsy – Lintang Merak
Restoran Makanan Tien Xia – Jalan Megah 29 [Non-Halal]
Restoran Makmur – Taman Sri Sinar
Restoran Makmur Intan – Jalan Sungai Nibong
Restoran Malabar – Perdana Square
Restoran Malakca – Anjung Delima
Restoran Malaysia – Bandar Putatan
Restoran Mama An – Taman Perling
Restoran Mama Hazif – Taman Industri Angkasa Nuri
Restoran Mama Kitchen – Maxwell Road
Restoran Mama Mia Intanova – Pusat Perniagaan Intan Flora
Restoran Mama Tomyam Bukit Tunggal – Kampung Tebauk
Restoran Mama World – Garden Homes Seremban 2
Restoran Mamak Village – The Summit USJ
Restoran Mamu AK Bistro – Bandar Bukit Raja
Restoran Man Asam Pedas – Taman Kota Laksamana
Restoran Man Man – Taman Universiti [Non-Halal]
Restoran Mandala – Jalan Medan Pasar
Restoran Mandalika – Giant Plentong
Restoran Mandarin Kitchen – Kawasan Perusahaan Menglembu [Non-Halal]
Restoran Mangan Mangan – Bandar Sandakan
Restoran Mangkuk Besar – Jalan Jambatan Sultan Yahya Petra
Restoran Mango Tomyam – Jalan Mangga
Restoran Mantul Cafe – Taman Ketiau
Restoran Mapit Muyu – Hilltop
Restoran Mapit Muyu – Jalan Masjid
Restoran Marhaba Hadramawt – Jalan Dataran Larkin
Restoran Mas Seafood – Taman Putra Perdana
Restoran Masakan Cina – Taman Pekan Baru
Restoran Masakan Kampung Bahagia – Taman Melor
Restoran Mashyur – Damansara Damai
Restoran Maskur II – Jalan Apas
Restoran Maskur Uni Villa – Jalan Kuhara
Restoran Masthan Maju – Cheras Perdana
Restoran Mat Kilau – Jalan Bandar Putra
Restoran Maulana Ali – Kampung Tasek Tambahan
Restoran Mawar Gembira [Non-Halal]
Restoran Mawar Nasi Ayam – Taman Bendahara
Restoran May Sim – Jalan Wira Jaya [Non-Halal]
Restoran May Wah Bercham – Taman Mewah [Non-Halal]
Restoran Mc Station – Terminal Melaka Sentral
Restoran MDS – Pusat Perdagangan Danga Utama
Restoran MDS – TJ Mart
Restoran Mee Goreng Kar Seng 佳成炒粉麺檔 – Taman Ipoh Jaya [Non-Halal]
Restoran Mee Hamid – Jalan Tanjung Bendahara
Restoran Mee Jia – Taman Cahaya [Non-Halal]
Restoran Mee Rebus Ramli – Taman Tasek Jaya
Restoran Mee Rebus Ramli – Taman Pengkalan Utama
Restoran Mee Rebus Ramli – Taman Bercham Raya
Restoran Mee Warisan – Jalan Sultanah Zainab
Restoran Meeran Maju – Luyang Commercial Centre
Restoran Meeran Maju – Plaza Kingfisher
Restoran Mega Rasa – Jalan Pantai Telok Kemang
Restoran Meggi Tiram Samme – Hadapan SMK. Pengkalan Chepa
Restoran Mei Kheng [Non-Halal]
Restoran Mei Sek – Taman Lintang [Non-Halal]
Restoran Mei Sek Wan – Taman Panglima [Non-Halal]
Restoran Mei Yen – Taman Paramount [Non-Halal]
Restoran Mek Awe – Lundang
Restoran Mek Na – Jalan Utama Bintawa Industrial
Restoran Mek Rah Klasik – Pandan Utama
Restoran Mek Tomyam – Lengkok Raja Laut
Restoran Melaka Steamboat – Jalan PNG Pusat Perniagaan Gangsa
Restoran Menara Mekah – Sitiawan
Restoran Menara Mekah – Medan Meru Bestari
Restoran Meng Kee – Dataran Mentari [Non-Halal]
Restoran Meng Kee 88 铭记大炒 – Bandar Sunway [Non-Halal]
Restoran Menggatal FC – Telipok [Non-Halal]
Restoran Mercu Rasa – Metro Town
Restoran Mergastua – Zoo Taiping & Night Safari
Restoran Mesra Nasi Padang – Bandar Baru Uda
Restoran Mezie Gegar Char Koew Teow – Jalan Pengkalan Chepa
Restoran Mile Vegetarian – Taman Setia Tropika
Restoran Millah – Ambar Park
Restoran Ming Heang – Taman Mastiara [Non-Halal]
Restoran Ming Hoe Kopitiam – Bandar Baru Klang [Non-Halal]
Restoran Minha Maju – Taman Seri Orkid
Restoran MinMax – PNB Darby Park
Restoran Mint Peppermint – Asia City
Restoran Miria Seafood – Kampung Pasir Pekan
Restoran Miyagi – Seksyen 9
Restoran Mizzi Seafood – Damansara Damai
Restoran Mklong Kitchen – Kawasan Perniagaan Permatang
Restoran MKTS – Taman Abad [Non-Halal]
Restoran MMCI S – Taman Bukit Beruang Indah
Restoran MMZ – Bukit Jelutong
Restoran MMZ Dua – D'Bayu
Restoran Mohamed Rafi – Jalan Kay Long
Restoran Molana – Taman Adda Height
Taiwan Railway Bento – Persiaran Bayan Indah [Non-Halal]
Restoran Monkey Boy – Pengkalan Emas Mall [Non-Halal]
Restoran Monzara – Taman Ciku
Restoran Mosin – TTDI
Restoran Mou Dek Ding – Taipan Business Centre [Non-Halal]
Restoran Mr BBQ – Jalan Maharajalela [Non-Halal]
Restoran Mr Botak Nasi Kukus – Jalan Tun Razak
Restoran Mr Mamak – Bandar Bukit Tinggi
Restoran Mr Prata – Centromall 8
Restoran Muar Home Cooked Cuisine – Tengkat Tong Shin
Restoran Mu'den – Bercham Height
Restoran Mudirah – Taman Seri Sentosa
Restoran Mulia Maju – Wisma Indah
Restoran Mun Hin – Taman Midah [Non-Halal]
Restoran Munawarah – Taman Bukit Rangin
Restoran Munirah Catering – Kg Baru Hicom
Restoran Musa – Bandar Baru Permas Jaya
Restoran Muse Pakistani Food – Plaza Masalam
Restoran Muslim Mee Tarik – Pandan Indah
Restoran Mustafa Tomyam – Fraser Business Park
Restoran Muthu – Taman Tampoi Indah
Restoran Muthu – Jalan Trus
Restoran Mutiara Abadi – Jalan Bayu Puteri
Restoran Mutiara Corner 2 – Jalan Dato Pati
Restoran My Kandar Bistro – Pacific Place Commercial Center
Restoran My Lah – Pusat Perniagaan Jelatang
Restoran My Nasi Kandar – Mydin Hypermarket
Restoran My Resepi – Jalan TTC
Restoran Mydeen Curry House – Jalan Tuaran
Restoran Nadia Alihsan – Medan Selera Bukit Beruang
Restoran Naium Maju – Plaza Pelangi Astana
Restoran Naium Maju – Bandar Sunway
Restoran Namirah – Pusat Dagangan Sendayan
Restoran Namma Veedu Vasantha Bhavan – Brickfields
Restoran Nan Fong – Aroma Park
Restoran Nandu's Curry House – Taman Dato Yahya Shaban
Restoran Nasi Arab – Pekan Alor Gajah
Restoran Nasi Arab – Bangi
Restoran Nasi Arab Al Hajj 115 MITC – Kompleks Perniagaan MITC
Restoran Nasi Arab Al Iqram – Taman Rinting
Restoran Nasi Arab Nur Al-Islam – Taman Idaman
Restoran Nasi Ayam Ah Huat – Taman Setia Indah [Non-Halal]
Restoran Nasi Ayam Cili Hijau Ipoh – Taman Pengkalan Jaya
Restoran Nasi Ayam Gemas Mustafah – Taman Melaka Raya
Restoran Nasi Ayam Hainan Dengkee – Taman Tan Sri Yacob
Restoran Nasi Ayam Hock Kee Bak Kut Teh – GP Food Court First Garden [Non-Halal]
Restoran Nasi Ayam IOI – Taman Bandar Putra
Restoran Nasi Ayam Kak Yah – Medan Usahawan Stadium Mohd IV
Restoran Nasi Ayam Kam Kee – Jalan Sultan [Non-Halal]
Restoran Nasi Ayam Kampung Simpang 3 Pasir Mas – Jalan Jkr
Restoran Nasi Ayam Ling Long – Seapark
Restoran Nasi Ayam Madu Bakar – Jalan Kubang Kacang
Restoran Nasi Ayam Mewangi Azeem – Kota Damansara
Restoran Nasi Ayam Rindu – Batu Caves
Restoran Nasi Beriani Gam – Jalan Dahlia
Restoran Nasi Bonda – Bandar Seri Alam
Restoran Nasi Bukhari – Taman Seremban Jaya
Restoran Nasi Campur & Bubur Hor You Kee – Pusat Perdagangan Tasek Indra [Non-Halal]
Restoran Nasi Dagang – Wisma MGU
Restoran Nasi Dagang Tok Raja – Taman Bukit Permai
Restoran Nasi Dalcha Kassim Mustafa – Chulia Street
Restoran Nasi Goreng Power – Taman Sri Mawar
Restoran Nasi Kandar Ahlam Maju – Taman Serdang Perdana
Restoran Nasi Kandar Al Falah – Sejati Commercial
Restoran Nasi Kandar Ali Younus – Sunway Wellesley
Restoran Nasi Kandar Ameen Maju – Taman Impian Ria
Restoran Nasi Kandar Apollo – Jalan Reko
Restoran Nasi Kandar AR Belanga – Taman Putra Permai
Restoran Nasi Kandar Arr Khann – Pusat Perniagaan Maju Jaya
Restoran Nasi Kandar As-Safa – Jalan Loke Yew
Restoran Nasi Kandar As-Safa – Taman Maluri
Restoran Nasi Kandar Azzam Maju – Taman Sri Manja Square
Restoran Nasi Kandar Bharkat – Taman Cempaka
Restoran Nasi Kandar Deen – Medan Idaman Business Centre
Restoran Nasi Kandar Dinas – Jalan Tunku Putra
Restoran Nasi Kandar Dinas – Pusat Komersial Desaria
Restoran Nasi Kandar Dinas – Taman Merpati Indah
Restoran Nasi Kandar Dinas – Lintang Batu Maung 1
Restoran Nasi Kandar Dinas – Lintang Batu Maung
Restoran Nasi Kandar Dinas – Pusat Komersil Desa Ria
Restoran Nasi Kandar D'Tanjong – OUG Parklane
Restoran Nasi Kandar Grand Palace – Ampang Hilir
Restoran Nasi Kandar Hafeeza Maju – Taman Rakyat
Restoran Nasi Kandar Hafeeza Maju – Susur Simpang
Restoran Nasi Kandar Hafeeza Maju – Jalan Tupai
Restoran Nasi Kandar Haji Tapah – Jalan Diplomatik
Restoran Nasi Kandar Ibramsha Sdn Bhd – Jalan Tuanku Abdul Rahman
Restoran Nasi Kandar Idrizz – Merdeka Garden
Restoran Nasi Kandar Impian – Tampin Square
Restoran Nasi Kandar Kampong Pandan Maju – Lotus's Ampang
Restoran Nasi Kandar Liga Maju – Garden Homes
Restoran Nasi Kandar Mafana – Bandar Puchong Jaya
Restoran Nasi Kandar Mamu NRF – Taman Intan
Restoran Nasi Kandar Mamu Penang – Bandar Bukit Raja
Restoran Nasi Kandar Mazlina Maju – Alam Damai
Restoran Nasi Kandar Melayu – Taman Melawati
Restoran Nasi Kandar Melayu – Puchong Gateway
Restoran Nasi Kandar Melayu Mad – Cyberjaya
Restoran Nasi Kandar Murah Rezeki – Jalan Cecawi 6
Restoran Nasi Kandar Rafei Ali – Jalan Fettes
Restoran Nasi Kandar Raihana – Sutera Square
Restoran Nasi Kandar Raihana – Putra One
Restoran Nasi Kandar Samtaj – Bandar Tasik Selatan
Restoran Nasi Kandar Sayat – Taman Midah
Restoran Nasi Kandar Shaazry – Jalan Simfoni 1
Restoran Nasi Kandar Shajarah – Taman Kelasah
Restoran Nasi Kandar SRB – Ara Damansara
Restoran Nasi Kandar Tayub – Jalan Putra 1B
Restoran Nasi Kandar Utara – SS15
Restoran Nasi Kandar Utara – Jalan Bangsar Utama
Restoran Nasi Kandar Yasmeen – Pusat Komersial Bandar Tasek Mutiara
Restoran Nasi Kandar Yasmeen – Kota Kenari
Restoran Nasi Kandar Yasmeen – Kompleks Perniagaan Amanjaya
Restoran Nasi Kandar Yasmeen – Susuran Kompleks Perniagaan Ampang
Restoran Nasi Kari Hailam – Jalan Pasar [Non-Halal]
Restoran Nasi Katok Doha – Kampung Air
Restoran Nasi Kerabu Kakmi Pak Kerabu – Taman Pulai Utama
Restoran Nasi Kukus Idaman – Taman Idaman
Restoran Nasi Kukus Kebun Sultan – Jalan Kebun Sultan
Restoran Nasi Kukus Luqman – Taman Bendahara
Restoran Nasi Kukus Malaya Ayam Cincang – Taman Medan
Restoran Nasi Kukus My Nur – Taman Sri Rampai
Restoran Nasi Kukus Norraz – Taman Kota Masai
Restoran Nasi Kukus Pulai Indah – Taman Pulai Indah
Restoran Nasi Kukus Seri Dengkil – Cyber Valley
Restoran Nasi Kukus Utara – Matang Pagar
Restoran Nasi Kukus Utara
Restoran Nasi Kuning Jambing – Bandar Tawau
Restoran Nasi Lemak Azlin – Bandar Baru Klang
Restoran Nasi Lemak Kembara Bukit Tiram – Taman Bukit Tiram
Restoran Nasi Lemak Royale Hijau Kuning – Lorong Ria Indah 12
Restoran Nasi Lemak Royale Hijau Kuning – Jalan Utama
Restoran Nasi Lemak Royale Hijau Kuning – Taman Sejati Indah
Restoran Nasi Lemak Royale Hijau Kuning – Kompleks Hijau Kuning
Restoran Nasi Lemak Royale Jalil – Lebuhraya Sultan Abdul Halim
Restoran Nasi Mok Su Nab – Bandar Baru Bangi
Restoran Nasi Padang Azhar – Bangunan KPMNJ
Restoran Nasi Vanggey – Bandar Baru Tambun
Restoran Nasi Vanggey – Anera Niaga Pari 2
Restoran Nasi Vanggey – Seri Iskandar
Restoran Natasha Seafood – Jalan Jemaluang
Restoran Nathan's Corner – OUG
Restoran Nawab Shah – Padang Tembusu
Restoran Nawab Shah – Taman Sejati Indah
Restoran Nazaria – Kg Berangan
Restoran NB Soon Lee – Taman Nusa Bestari 2 [Non-Halal]
Restoran New Cheow Sang Fish Head Bak Kut Teh – Taman Mayang Jaya [Non-Halal]
Restoran New Hong Tu – Taman Tasek Damai
Soo Kee's (Meng Chuan) Prawn & Beef Noddles [Non-Halal]
Restoran New Lim Kee – Taman Melaka Raya
Restoran New Sek Yuen – Jalan Sungai Besi [Non-Halal]
Restoran New Soon Ly – Setapak Jaya [Non-Halal]
Restoran New Ting Fong – Bandar Baru Medan Ipoh
Restoran Next Station – Seksyen 19 [Non-Halal]
Restoran Niang Niang Fried Chicken – Bandar Indahpura
Restoran Nik Ayam Kampung – Laman Rimbunan
Restoran Nikhman Bistro – Menara PGRM
Restoran Nikmat – Pekan Donggongon
Restoran Nirmala Vilas – Menara KLH Condo
Restoran Nisaa – Jalan Bunga Raya
Restoran Nj Street Food – Jalan Sultanah Zainab
Restoran NN Cahaya Maju – Batu Caves
Restoran Noor – Jalan Keris
Restoran Noor Curry House – Bandar Baru Sg Buloh
Restoran Nor Liza – Wisma Hj. Yaacob
Restoran Norrarich Kerabu Thorrbbaikkkk – Kampung Gong Pak Jin
Restoran Norrarich Kerabu Thorrbbaikkkk – Arked Mara
Restoran Norrizan – Jakel Kubang Kerian
Restoran Nourish – Taman Miharja Cheras
Restoran Nunit Thaistyle – Taman Rasi Jaya [Non-Halal]
Restoran Nur – Jalan Sri Skudai
Restoran Nur Ayam Penyet – Seksyen 7
Restoran Nurai Chicken Rice – Denai Alam
Restoran Nurhikmah – Lutong Bazaar
Restoran NY Tomyam Udang Galah – Taman Jaya Sepakat
Restoran Nyonya Makko – Taman Melaka Raya
Restoran Nyonya Suan – Taman Costa Mahkota
Restoran NZ Corner – Bandar Puteri
Restoran NZ Nasi Kandar – Pandamaran
Restoran NZ Selera Tomyam – Kampung Sungai Deraka
Restoran Odin – Taman Ehsan
Restoran O.K.S Curry House – Taman Che Mei
Restoran Ole Sayang – Taman Melaka Raya
Restoran Omar Nasi Kandar – Taman Melawati
Restoran Omar Syarif Rojak Penang – Pusat Bandar Baru Bangi
Restoran One Plus Eight Kopitiam Mix & Match – [Non-Halal]
Restoran One Plus Eight Kopitiam (Gerai Minuman) – Restoran One Plus Eight Kopitiam
Restoran One South – One South Street Mall
Restoran One Stick Noodle – Taman Mount Austin [Non-Halal]
Restoran One Two One Two – Taman Ipoh [Non-Halal]
Restoran One Two Six – Bandar Indahpura
Restoran Onix Jun Sdn Bhd – Taman Ipoh Timur [Non-Halal]
Restoran Onn Kee Claypot Seafood Porridge – Off Jalan Imbi [Non-Halal]
Restoran Onn Kee Jaya – Tampoi [Non-Halal]
Restoran Open Fire – Gopeng Hawker Center [Non-Halal]
Restoran Orang Kampung – Bandar Indahpura
Restoran Oriental Gourmet – Taman Putra [Non-Halal]
Restoran Original Pork Noodles Ricky – Taman Gembira [Non-Halal]
Restoran Original Sarawak Kolomee – Bandar Baru Kota Putri [Non-Halal]
Restoran Osman – Jalan Indah 15
Restoran Osman – Jalan Indah 22
Restoran Osman – Jalan Idaman 3
Restoran Oversea – Sri Petaling [Non-Halal]
Restoran Oversea – Jalan Seenivasagam [Non-Halal]
Restoran Oversea – Jalan Imbi [Non-Halal]
Restoran Padang by DTJ – Shaftsbury Square
Restoran Padang Kota – Cova Square
Restoran Pak Ali Nasi Lemak Daun Pisang – Kuchai Exchange
Restoran Pak Ali Nasi Lemak Daun Pisang – USJ
Restoran Pak Khalid – USJ 9
Restoran Pak Long Ikan Bakar – Taman Ukay Perdana
Restoran Pak Mael – Megan Phoenix
Restoran Pak Mal – Seksyen 10
Restoran Pak Mus
Restoran Pak Ngah – Taman Melor 3
Restoran Pak Punjab – Jalan Tunku Abdul Rahman
Restoran Pak Punjab – Prisma Ville Business Centre
Restoran Pan Zai – Taman Hoover [Non-Halal]
Restoran Pandan – Taman Desa Tebrau [Non-Halal]
Restoran Pandan Mesra – Mesra Villa
Restoran Pangkalama – Taman Kota Laksamana [Non-Halal]
Restoran Pantai Timur Cek Yah – Kampung Melayu Majidee
Restoran Paradise – Jalan Bukit Bintang
Restoran Paradise – Pusat Dagangan Dan Pelancongan Kelana Mas
Restoran Pasembor Hussin – Subang Jaya
Restoran Passage Thru India – Bukit Bintang
Restoran Passage Thru India – Bukit Damansara
Restoran Patatimo – Jalan Wangsa Delima 10
Restoran Payau Borneo – Menggatal Plaza
Restoran Pedas – Taman Idaman
Restoran Peddasss – Arena Pusat Komersil BDC
Restoran Pee Nong – Pandan Indah
Restoran Peking 北京海鲜饭店 – Taman Indahpura [Non-Halal]
Restoran Pepper & Spice – Jalan Mah Pooi Soo
Restoran Periuk Kampung – Taman Gelang Emas
Restoran Periuk Tanah – Seksyen 3
Restoran Perling 81 – Taman Perling
Restoran Perling Soon Lee – Taman Perling [Non-Halal]
Restoran Permai Tomyam – Apartment Permai
Restoran Permata Haji Tapah – Taman Permata
Restoran Permata Umi – Bandar Baru Kubang Kerian
Restoran Pesta Rasa – Pusat Komersil Oakland
Restoran Piao Xiang 88 – Taman Perling
Restoran Pinang Seribu – Jalan Wakaf Stan
Restoran Ping Wah – Taman Paramount [Non-Halal]
Restoran PKS Maju – Taman Sri Serdang
Restoran PKS Maju – Taman Sungai Besi
Restoran PKS Maju – Pekan Ampang
Restoran PKS Maju – Taman Pinggiran Putra
Restoran PMI – Kawasan Perusahaan Silibin
Restoran Poh Kee – Taman Gaya [Non-Halal]
Restoran Poke Japanese Bowl – Taman Mount Austin [Non-Halal]
Restoran Pokok Belacan – Bandar Meru Raya
Restoran Pokok Besar – Wisma TKT
Restoran Pokok Kelapa – Bandar Labuk Jaya
Restoran PP Satu – Taman Putra Perdana
Restoran Prishas Cuisine – Rasah Jaya
⼤眾冷氣海鲜酒樓 Restoran Public – Taman Desa Riang [Non-Halal]
Restoran Purnama Tomyam – Jln Pasir Hor
Restoran Puyuk Besar – Taman Setia Tropika
Restoran Q Baik – 1 Borneo
Restoran Qaseh Mama – Seksyen 13
Restoran Qi Bao – Taman Desa Cemerlang [Non-Halal]
Restoran QQ – Bukit Angkat [Non-Halal]
Restoran Quan Jia – Taman Sejati [Non-Halal]
Restoran Quan Xin – Taman Ungku Tun Aminah [Non-Halal]
Restoran Quan Xin – KSL City [Non-Halal]
Restoran Radha Krishna Sayur-Sayuran – Taman Dato Chellam
Restoran Rafiya – Jalan Sarikei
Restoran Rahmad Bin Abdullah – Wangsa Maju
Restoran Rahman Bistro (City Park) – Magistrate Square
Restoran Rahmat Tan – Bandar Bukit Tinggi 1
Restoran Rahmat Tan – Pusat Perniagaan D'Kebun
Restoran Rahmath Bistro – Seksyen U13
Restoran Rahmath Bistro – Jalan Tengku Ampuan Zabedah
Restoran Rahmath Bistro – Seksyen U10
Restoran Raihana One Bistro Nasi Kandar – Business Centre Persiaran Bestari
Restoran Raja Ulam – Pusat Bandar Senawang
Restoran Rajes – Conally Road
Restoran Rania Thai – Taman Prima Saujana
Restoran Rasa Abadi – Taman Kasawari
Restoran Rasa Berkat – Bandar Pengkalan Indah
Restoran Rasa Permas – Jalan Permas
Restoran Rasa Rasa Baba Nyonya Culinary Heritage – Lotus's Setia Tropika
Restoran Rasa Sayang – Taman Jubilee [Non-Halal]
Restoran Rasa Thai – Lotus's Taiping
Restoran Rasa Thai – TF Mart
Restoran Rasa Thai – Lotus's Mergong
Restoran Rasik – Pandan Jaya
Rata Restaurant – SS15
Restoran Ratha
Restoran Ratu Emas – Jalan Todak 4
Restoran Rawa – Taman Pelangi
Restoran Rawadi Masakan Thai Asli – Taman Kota Masai
Restoran Razak Noor Murtabak – Jalan Rahmat
Restoran Razma
Restoran Rejab – Jalan Kampung Pandan
Restoran Rejab Maju – Jalan Meru
Restoran Rejab Raihan – Taman Mount Austin
Restoran Rejab Raihan – Taman Bayu Puteri
Restoran Ren Ren – Kuchai Entrepreneurs Park [Non-Halal]
Restoran Resepi Bonda Ayam Penyet – Pandan Jaya
Restoran Resepi Ibu – Lorong Inanam Kapital
Restoran Resepi Ummi – Semenyih Vista Valley
Restoran Rest 1 – Taman TTDI Grove
Restoran Rest Haus – Jalan lagenda
Restoran Rest Twenty Three – Pusat Hentian Kajang
Restoran Rezeki – China Street
Restoran Rezeki Bonda – Lorong Bayu Tinggi 1
Restoran Rim Tha Non Mookata – Transfer Road [Non-Halal]
Restoran Rimbun – Taman Sri Kenari
Restoran Rishadh – Bandar Kinrara
Restoran Riverbank – Taman Habsah
Restoran RKR – Taman Bukit Tiram
Restoran RMB Noodle House (M) Sdn Bhd 长江一品粿条汤 – Taman Pelangi [Non-Halal]
Restoran Rocksixteen Burger Ketam Lembut – Jalan Warisan Sentral 1
Restoran Roda Tiga Mix & Match [Non-Halal]
Restoran Roda Tiga (Gerai Minuman) – Restoran Roda Tiga
Restoran Royce Chicken – Jalan Barat
Restoran Rozalinda – Taman Melawati
Restoran Ruth Noodle House [Non-Halal]
Restoran S Hameed – Desa Pandan
Restoran S Maju – Taman Che Wan
Restoran S One One – Taman Sri Bintang [Non-Halal]
Restoran Sabai Sabai Ala Thai – Bandar Baru Nilai
Restoran Safaa – CBD Perdana 1
Restoran Saffwan Seafood – Bandar Putra Permai
Restoran Safreen – Axis Atrium
Restoran Safreen – Off Jalan Pudu
Restoran Safren – Seri Kembangan
Restoran Salai Salai KB – Kampung Baru
Restoran Salai Salai PJ – Pusat Dagangan Petaling Jaya Selatan
Restoran Salai Salai SA – Seksyen 7
Restoran Salai Salai SR – Medan Niaga Rampai
Restoran Salim – Lintas Plaza
Restoran Salim – KK Taipan
Restoran Salsabeel – Seksyen 33
Restoran Salsabeel HM – HICOM Industrial Park
Restoran Sam U Claypot – PJ New Town [Non-Halal]
Restoran Sambal Sambal Rasah – Jalan Rasah
Restoran Sambal Uleg – Seksyen 7
Restoran Sambalado – Putra Square
Restoran Sameera – Mawar Commercial Centre
Restoran Samudra Raya – Sunway City Ipoh
Restoran Samudra Sedap Selalu – Taman Gunung Emas
Restoran Samuji Bin Mangil – Taman Bachang Permai
Restoran San May King – Pandan Indah [Non-Halal]
Restoran San Poh – Jalan Tokong [Non-Halal]
Restoran Sana Sini – DPulze
Restoran S&F Kitchen – Taman Anggerik Emas
Restoran Santai D'Zara – Taman Putra Sulaiman
Restoran Santai Ria – Taman Dato Hormat
Restoran Sappadhutha Mukkiyam – Bishop Street
Restoran Saravanan – Jalan Bendahara
Restoran Sari Ratu – Desa Pandan
Restoran Sari Ratu – Taman Melawati
Restoran Satay Mama Mieda – Krystal Point
Restoran Satay Point – Sri Bandar Besi
Restoran Sate Baung – Seksyen 7
Restoran Sate Kopi Panas – Taman Senawang Indah
Restoran Sayang Western Food Tomyam – Pusat Komersial Tasek Mutiara
Restoran Sayed – Taman Kota Masai
Restoran Sayur-Sayuran Bch Soon Tet – Bandar Country Homes
Restoran Sayur-sayuran Kam Yen – Serdang [Non-Halal]
Restoran Sayur-Sayuran Lai – Kayu Ara
Restoran Sayur-Sayuran Sin Lin – New Pasir Putih
Restoran Sayur Sayuran Thin Hei Vegetarian – Jalan Dass
Restoran Sayur-Sayuran Tian Xiang Yuan – Taman Overseas Union
Restoran Sayur-Sayuran Yun Ji Vegetarian – Kampung Jawa
Restoran Sayur Sayuran Zhu Yuan – Jalan Dr. Lim Chwee Leong
Restoran Sayuran Hengxin Enterprise – Lorong Kampong Jawa
Restoran Sayuran Pu Sen – Stesen 18
Restoran Seafood – Kampung Stulang Laut
Restoran Sebulek – Kampung Pandan
Restoran Sedap Sokmo – Nong Chik Height
Restoran Sederhana – Jalan Barat
Restoran Sederhana – Kampung Bharu
Restoran Sederhana – Chow Kit
Restoran Sederhana – Taman Bintang Utama
Restoran Segar Mewah – Bandar Sungai Long
Restoran Segar Mewah – Taman Segar Perdana
Restoran Segar Pertama *Hoo Jiak* – Bukit Segar [Non-Halal]
Restoran Sehati Sejiwa – Taman Sejati
Restoran Selera Az-Zahra – Jalan Duku
Restoran Selera Bon's – Pusat Perdagangan Kebun Teh
Restoran Selera Darul Naim – KKIP
Restoran Selera Dlynain – Taman Ampang Hilir
Restoran Selera Dnaz – Dataran Larkin
Restoran Selera Malam Terminal – Jalan Stesen Kamunting
Restoran Selera Molek – Taman Setia Tropika
Restoran Selera Putera 2 – Bandar Putera 2
Restoran Selera Salai – Bandar Indah
Restoran Selera Ttq – Jalan Padang Garong
Restoran Selera Ttq 2 – Kg Sireh
Restoran Selma Tom Yam – Kampung Melayu
Restoran Semat Q – Medan Mutiara
Restoran Semenyih Corner – Jalan Pasar Baru
Restoran Sen Izakaya – Taman Nusa Bestari [Non-Halal]
Restoran Sen Kee – Pandan Jaya [Non-Halal]
Restoran Senai HY – Taman Senai Utama [Non-Halal]
Restoran Sentul Ah Yap Seafood – SS2 [Non-Halal]
Restoran Ser Li Xiang – Inanam Kapital [Non-Halal]
Restoran Seremban Roast Duck City – Jalan Kong Sang [Non-Halal]
Restoran Seri Anjung Mutiara – Taman Kota Masai
Restoran Seri Buluh – Mutiara Damansara
Restoran Seri Has – Taman Bunga Melor
Restoran Seri Kasturi – Bandar Seri Alam
Restoran Seri Keningau – Shah Alam
Restoran Seri Malindo – Api-Api Centre
Restoran Seri Manis – Jalan Wangsa
Restoran Seri Melayu Heritage – Lebuh Tun Taman Chi Liung
Restoran Seri Rasa – CityONE Megamall
Restoran Seri Rasa Bandung – Inanam Business Centre
Restoran Seri Sahabat – Jalan Tun Ali
Restoran Seri Saujana – Kompleks Perniagaan PKNM
Restoran Seri Sentosa
Restoran Seri Sentosa – Serdang Perdana
Restoran Seri Sentosa – Glomac Centro
Restoran Seribu Jaya – Taman Melaka Baru
Restoran Sey Salai Masak Lomak – Taman Dato Demang
Restoran Sg Golok 1 – Jalan Kilang
Restoran Shabu-Shabu – Bandar Indahpura [Non-Halal]
Restoran Shafiq – Jalan Tasek
Restoran Shafran Maju – Pusat Komersial
Restoran Shahana Maju – Jalan Segambut Utara
Restoran Shahjee – Taman Bukit Beruang Permai
Restoran Shameer Corner – Taman Anjung Tawas Damai
Restoran Shameer Corner – Taman Klebang Jaya
Restoran Shan Maju – Titiwangsa
Restoran Shang Place – D'Piazza Mall [Non-Halal]
Restoran Shanmuga – Bandar Bukit Tinggi
Restoran Sharifah – Bandar Baru Bangi
Restoran Shawarma Reto – Jalan Bukit Bintang
Restoran Sheng Heng (Beverage) – Restoran Sheng Heng
Restoran Shiang Hai – Mentari Plaza
Restoran Shimah – Jalan Merbau
Restoran Shimexin Seafood Ramen – Taman Usahawan Kepong [Non-Halal]
Restoran Shimexin Seafood Ramen 食麵鮮 – Desa Aman Puri [Non-Halal]
Restoran Shiwei – Taman Connaught [Non-Halal]
Restoran Shui Yu Zheng Feng – Best Mart [Non-Halal]
Restoran Shun Yi 顺意海鲜饭店 – Jalan Teo Kwee Choo [Non-Halal]
Restoran Siakap Baring Haji Razak – Adda Heights
Restoran Siakaplang – Bandar Puchong Utama
Restoran Siam Eatery House – Kota Damansara
Restoran Sichuan Cuisine – Kuchai Entrepreneurs Park [Non-Halal]
Restoran Sichuan Steamboat 蜀味麻辣烫烧烤 – KK Times Square [Non-Halal]
Restoran Sichuan Tasty – Taman Nusa Bestari [Non-Halal]
Restoran Sidah Catering – Seksyen 7
Restoran Sidah Catering – Vista Alam
Restoran Sidah Catering – TTDI
Restoran Siddiq Corner – Taman Seraya
Restoran Silva's Curry House – SS15
Restoran Silva's Curry House – Kota Kemuning
Restoran Simpang Pulai Makanan Daun Pisang – Taman Chandan Desa
Restoran Simpang Tiga – Kampung Kastam Greentown
Restoran Sin Da Wei – Lorong Maju Utama 1 [Non-Halal]
Restoran Sin Hong Kee – Jalan Raja Ekram [Non-Halal]
Restoran Sin Kooi Yuen 新居然云吞面 – Taman Rishah Ipoh [Non-Halal]
Restoran Sin Lai Ping – Bangsar [Non-Halal]
Restoran Sin Teck Kee – Taman Perpaduan Jaya [Non-Halal]
Restoran Sin Yi Xin Lai – Taman Murni [Non-Halal]
Restoran Sinar Mustika – Putatan
Restoran Sinar Mustika – Inanam
Restoran Sinar Mustika – Penampang
Restoran Sinar Mutiara & Katering – Kepayan
Restoran Sing Tai Wah – Seremban [Non-Halal]
Restoran Sing Ting – Taman Sri Puteri
Restoran Sing Ting – Taman Desa Tebrau
Restoran Singapore Chicken Rice [Non-Halal]
Restoran Singgahrasa Pantai Timur – Pandan Indah
Restoran Siow Kim Hin Tim Sum – Taman Bukit Melaka [Non-Halal]
Restoran Sirap Selasih – Taman Desa Rahmat
Restoran Siring Jalan – KK Times Square
Restoran SK Maju – SS2
Restoran SK Maju – Taman Bahagia
Restoran Sky Town Enterprise – Taman Gemilang [Non-Halal]
Restoran SM Corner – Seri Setia
Restoran S'Muara – Desa Tebrau
Restoran S'Muara Tomyam & Seafood – Jalan Datin Halimah
Restoran Sohho – TD Point Retail Mall
Restoran Sohor A&Z – Jalan Kuala Krai
Restoran Solehah – Bangunan Mara
Restoran Solzana Corner – Taman Desa
Song Lim Restaurant [Non-Halal]
Restoran Soo Kee Mee – Lot 10 [Non-Halal]
Restoran Soon Chai – Taman Bukit Jaya [Non-Halal]
Restoran Soon Hoong – Taman Bercham Jaya [Non-Halal]
Restoran Soon Kee – Taman Krubong Jaya [Non-Halal]
Restoran Sourthern Corner – Taman Sungai Abong Jaya
Restoran Spoon Steakhouse -Wangsa Maju
Restoran Spooteh – Taman Nusa Bestari
Restoran Sri Ayutthaya – Medan Damansara
Restoran Sri Belanga Satu – Taman Puchong Indah
Restoran Sri Belanga Satu – Taman Mutiara Indah
Restoran Sri Kantan – Manjung Point 1
Restoran Sri Karak
Restoran Sri Mawar Ria – Terminal Melaka Sentral
Restoran Sri Muslim 24 Jam – Petagas
Restoran Sri Muslim 24 Jam – Grand Plaza
Restoran Sri Paandi – Tun Sambanthan
Restoran Sri Pekan – Jalan Tengku Arif Bendahara
Restoran Sri Permai – Pusat Perdagangan Subang Permai
Restoran Sri Rahmat – Taman Lagenda
Restoran Sri Terathai – Taman Kota Masai
Restoran SS Nasi Kukus- Seksyen 14
Restoran SS8 – Taman Sungai Besi Indah [Non-Halal]
Restoran SSF – Hala Datoh 5 [Non-Halal]
Restoran Star Hadramout – Kampung Wadi Hanna
Restoran Stesen Kota Bharu – Dataran C180
Restoran Subra & Mess Caterers – Kawasan Perusahaan IGB Perak
Restoran Sugantha – Jalan Taming Sari
Restoran Suhana Maju – Taman Suntex
Restoran Sukamari – Taman Seroja
Restoran Sukri – Jalan Sultanah Zainab
Restoran Sultan – Bukit Jalil
Restoran Sultan – Taman Ehsan
Restoran Sultan – Taman Pelangi Semenyih
Restoran Sultania – Lebuh Queen
Restoran Sum Hou Bak Kut Teh [Non-Halal]
Restoran Sun Fei Kee – Hala Datuk 5 [Non-Halal]
Restoran Sun Fong Bak Kut Teh – Jalan Medan Imbi [Non-Halal]
Restoran Sun Heng Kee – Pinji Centrepoint [Non-Halal]
Restoran Sun Kok Kee – Taman Bercham Baru [Non-Halal]
Restoran Sun Tack Kee Ipoh – Taman Kar King [Non-Halal]
Restoran Sun Taii Heng – Jalan Dato Onn Jaafar [Non-Halal]
Restoran Sun Yeong Wai – Bandar Baru Medan Ipoh [Non-Halal]
Restoran Sun Yeong Wai – Taman Ipoh Jaya [Non-Halal]
Restoran Sun You Kei – Gunung Rapat [Non-Halal]
Restoran Sundae – Taman Pelangi Indah [Non-Halal]
Restoran Sungai Besi Indah – Taman Sungai Besi
Restoran Sup Ikan Wiekii – Jalan Keris [Non-Halal]
Restoran Sup Power – Taman Maju
Restoran Sup Raffi – Pusat Komersial Oakland
Restoran Sup Urat Keting – Mukim Padang Enggan
Restoran Sup Urat Keting 2 – Jalan Kuala Krai
Restoran Suriani – Jalan Pudu
Restoran Suriani – Jalan Angsoka
Restoran Suriani – Bukit Bintang
Restoran Suzi's Corner – Kuala Lumpur
Restoran Sweet Shafikah – Pekan Baron
Restoran Syed Malik – Nilai Impian
Restoran Syed Moosa – Menglembu
Restoran Syed Nabi – Prima Seri Gombak
Restoran SYW – Jalan Mustapha Al-Bakri [Non-Halal]
Restoran Sze Zai Hiong – Taman Pelangi [Non-Halal]
Restoran T9 – Taman Tampoi [Non-Halal]
Restoran Tai San Yuen – Taman Rapat Perdana [Non-Halal]
Restoran Tai Zhong Mix & Match
Restoran Tai Zhong – Taman Desa Cemerlang
Restoran Tai Zi – Taman Bukit Indah [Non-Halal]
Restoran Taima Hokkien Mee – Bukit Rimau [Non-Halal]
Restoran Taiwan Dami [Non-Halal]
Restoran Taj Al Arab – Pusat Hentian Kajang
Restoran Taj Curry House – Borneo Centre Luyang
Restoran Tajuddin Hussain – Lebuh Queen
Restoran Taman Perwira – Taman Perwira [Non-Halal]
Restoran Tan Heng Noodle House – Kepong [Non-Halal]
Restoran Tanasia – Taman Melaka Raya
Restoran Tanglin – Plaza Damansara
Restoran Tanglin – Jalan Tun Perak
Restoran T.A.P.A.U – Bandar Universiti
Restoran TAR Sido Mampir – Jalan Plumbum V 7/V
Restoran TAR Sido Mampir – Jalan Tuanku Abdul Rahman
Restoran TAR Sido Mampir – Jalan Kota Raja
Restoran Taste Fresh – Lorong Galing 2 [Non-Halal]
Restoran Tastebuds Botanik – Bandar Botanik
Restoran Tasty Noodle House – Medan Ipoh Bestari [Non-Halal]
Restoran Tasty Way Big Tree – Taman Orkid Desa [Non-Halal]
Restoran Tauge Ayam Ong Kee – Taman Jubilee [Non-Halal]
Restoran Temerloh Catering – Dataran Otomobil
Restoran Tempat Biasa 老地方美食中心 – Jalan Kampar Barat 1 [Non-Halal]
Restoran Teng Ming Ji – Taman Bukit Indah [Non-Halal]
Restoran Teoh Heng Kee – Taman Tayton View [Non-Halal]
Restoran Teong [Non-Halal]
Restoran Teow Chew Meng – SS2 [Non-Halal]
Restoran Teow Chew Meng – Summerskye Residences [Non-Halal]
Restoran Teow Chew Meng – Kawasan Perindustrian Raja Uda [Non-Halal]
Restoran Tepeng Food Center – Taman Sains Selangor 1
Restoran Tepian Bahagia – Taman Sri Bahagia
Restoran Tepian Pandan – Taman Pulai Emas
Restoran TFC 1993 – Everyday Foodcourt [Non-Halal]
Restoran Thahira Roti Canai – Jalan Perak
Restoran Thai Corner – UEP Subang Jaya
Restoran Thaqwa – Maxim Citylights
Restoran Thaqwa – Bukit Rahman Putra
Restoran Thaqwa – Denai Alam
Restoran Thaqwa – Taman Lembah Keramat
Restoran Thaqwa – Seasons Garden
Restoran Thaqwa – D'Sara Sentral
Restoran Thaqwa Curry House – Taman Selayang Jaya
Restoran The Hong – Jalan Eko Botani [Non-Halal]
Restoran The Kampung Cili Padi – Seksyen 9
Restoran The "Mango" – Jalan Sabak Cabang 3 Panji
Restoran Thean Chun 天津茶室 – Jalan Bandar Timah [Non-Halal]
Restoran Theye Kee – Pusat Perniagaan Pesta Baru [Non-Halal]
Restoran Thosai Amour – Brickfields
Restoran Three Pot – Taman Million [Non-Halal]
Restoran Three Pot – Bandar Kinrara [Non-Halal]
Restoran Three Six Eight Lee – Taman Johor [Non-Halal]
Restoran Tian La – R&F Mall [Non-Halal]
Restoran Tian Tian – Taman Mount Austin [Non-Halal]
Restoran Tian Tian Le – Taman Johor Jaya
Restoran Tian Tian Seafood – Bandar Sunway [Non-Halal]
Restoran Tian Ye – Bandar Puchong Jaya [Non-Halal]
Restoran Tiga Ringgit – Lorong Mendaling [Non-Halal]
Restoran Tiga Ros – Jalan Temenggong
Restoran Timur Char Kuey Teow Tea Beng Madu – Kampung Wakaf Stan
Restoran Tin Hiong Lau – Inanam New Townsip [Non-Halal]
Restoran Tiong An – Taman Perling
Restoran TK Chong – Perdana Business Centre
Restoran TKR – Puteri Harbour
Restoran TKR – Dataran Larkin
Restoran TKR – Taman Perling
Restoran Tok Gal – Bandar Dato Onn
Restoran Tok Wan Nasi Kukus – Kota Kemuning
Restoran Tok Wan Nasi Kukus (Ayam Berempah) – Taman Adda
Restoran Tom Yam Sabaidee – KSL Avenue
Restoran Tomyam – Mydin Bukit Jambul
Restoran Tomyam De Sawit – Taman Perpaduan Ria
Restoran Tomyam Kaw – Taman Bukit Subang
Restoran Tomyam Kaw – Bayu Puteri Apartments
Restoran Tomyam Kelapa Muda – Taman Adda Heights
Restoran Tomyam KZ – Jalan Tasik Prima
Restoran Tomyam Udang Galah – Bandar Putra Permai
Restoran Tong Fatt – Taman Setia Indah [Non-Halal]
Restoran Tong Jing Famous Chicken Rice – Taman Tunku Habsah [Non-Halal]
Restoran Tong Kim – Taman Molek
Restoran Tong Nam DSX – Taman Impian Emas
Restoran Tong Nam DSX l Mix & Match – [Non-Halal]
Restoran Tong Nam DSX ll Mix & Match – [Non-Halal]
Restoran Top D Kota Bharu – Jalan Kuala Krai
Restoran Tradisi Mee Tepung Raub – Kepong Baru [Non-Halal]
Restoran Treasure Island – Jalan Pudu
Restoran Tsai Wah Ba Kut Teh – Bandar Baru Medan Ipoh [Non-Halal]
Restoran Tuan Yuan 团圆火锅饭店 – Brinchang [Non-Halal]
Restoran Tujuh Lapan – Taman Sri Batu Caves
Restoran Twelve Road – Sungai Way [Non-Halal]
Restoran Tze Ern – Solaris Dutamas [Non-Halal]
Restoran U Ji Xo Enterprise – Taman Impian Emas [Non-Halal]
Restoran Ulam Raja – Jalan Jagong
Restoran Umi – Medan Lapangan Lagenda
Restoran Uncle Boon – Bandar Baru Permas Jaya [Non-Halal]
Restoran Uncle Koh – Taman Ungku Tun Aminah [Non-Halal]
Restoran Uncle Pou Wok Hokkien Mee – Taman Mount Austin [Non-Halal]
Restoran Uncle Pou Wok Hokkien Mee – Taman Bukit Indah 2 [Non-Halal]
Restoran Uncle Pou Wok Hokkien Mee – Permas Jaya [Non-Halal]
Restoran Uncle Rahmat – Taman Universiti Garden
Restoran V Nam Kitchen – Jalan Seenivasagam [Non-Halal]
Restoran Varunyas Banana Leaf – Medan Putra Business Centre
Restoran Veg Chat
Restoran Vege Thai – Taman Kota Laksamana
Restoran Vegetarian Bahagia – Taman Sri Tebrau [Non-Halal]
Restoran Vegetarian Meow Ching – Taman Muhibbah Jaya
Restoran Vegetarian Swee Meng – Seri Kembangan
Restoran Vegetarian U YEN – OUG
Restoran Veng Soon – PJ Old Town [Non-Halal]
Restoran VRN Aunty Muniz – Bangsar
Restoran W H S Noodles – Taman Cheras [Non-Halal]
Restoran Wadi Daw'an – Jalan Bukit Keramat
Restoran Wadi Sinai – College Heights Utara Commercial Square
Restoran Wajibali – Jalan Bagan Luar
Restoran Wan Jiao 828 – Bandar Putra [Non-Halal]
Restoran Wan Jiao 828 – Jalan Seni [Non-Halal]
Restoran Wan Jiao 828 – Bandar Indapura [Non-Halal]
Restoran Wan Sakinah – Bulatan Pasir Pekan
Restoran Wan Shoon – Damansara Utama [Non-Halal]
Restoran Wan Thai Cuisine – Taman Mount Austin [Non-Halal]
Restoran Wan Xi Heng – Taman Seri Austin
Restoran Wang Hua – Taman Indah [Non-Halal]
Restoran Wang Key – Taman Perindustrian Jaya [Non-Halal]
Restoran Wang Kim Mix & Match – [Non-Halal]
Restoran Wang Kim – Pulai Utama [Non-Halal]
Restoran Wang Kopi – Jalan Timor [Non-Halal]
Restoran Wangleba – Taman Pekan Baru
Restoran Wantan Mee DS – Taman Impian Emas [Non-Halal]
Restoran Waqiah – Jalan Rasah
Restoran Wardah – Mutiara Heights
Restoran Warisan Anisma – Setia Alam
Restoran Warisan Ibu – Jalan Tawau Lama
Restoran Warisan Thai Corner – Taman Sunway Batu Caves
Restoran Waroeng Penyet – NU Sentral
Restoran Waroeng Penyet – The Curve
Restoran Waroeng Penyet – SOGO KL
Restoran Waroeng Penyet – Citta Mall
Restoran Warong Moknik – Persiaran Arked
Restoran Warung Suppakmaon – Taman Impian Senai
Restoran Wazer Maju – Kemayan Square
Restoran WCP Oriental Kitchen – Bandar Hilir [Non-Halal]
Restoran Wen Seng – Pinggir Rapat Perdana [Non-Halal]
Restoran Weng Seng – Bandar Baru Menglembu [Non-Halal]
Restoran Weng Soon – Kampung Baru Jelapang [Non-Halal]
Restoran White Bee Hoon Seafood – Jalan Harimau [Non-Halal]
伟记鱼汤 Restoran Wikiish Sup Ikan – Taman Desa Cemerlang [Non-Halal]
伟记鱼汤 Restoran Wikiish Sup Ikan – Taman Setia Indah [Non-Halal]
伟记鱼汤 Restoran Wikiish Sup Ikan – Taman Ponderosa [Non-Halal]
Restoran Windmill – AEON Mall Shah Alam
Restoran Windmill – AEON Bukit Tinggi
Restoran Windmill – Bandar Baru Klang
Restoran Windmill – SS12
Restoran Windmill – AEON Nilai
Restoran Wo De Jia – Gerai MDS [Non-Halal]
Restoran Woh Heong – Jalan Ayer Itam [Non-Halal]
Restoran Woh Kei – Taman Connaught [Non-Halal]
Restoran Wonderful Honey Chicken – Jalan Tranchell [Non-Halal]
Restoran Wong Kee – Bandar Country Homes [Non-Halal]
Restoran Wu Fu – Taman Sutera Utama [Non-Halal]
Restoran Wu Han – Century Garden [Non-Halal]
Restoran Wu So Peng – Plaza Kinta [Non-Halal]
Restoran Xen Gold Field [Non-Halal]
Restoran Xi Yang Yang Enterprise – Taman Bukit Indah [Non-Halal]
Restoran Xian – Taman Tropika [Non-Halal]
Restoran Xiang Kee – Taman Nusa Sentral [Non-Halal]
Restoran Xin Beijing – Tampoi New Village [Non-Halal]
Restoran Xin Hua Cai – Taman Cheras Makmur [Non-Halal]
Restoran Xin Qi Jia Fa – Lawan Kuda Baru [Non-Halal]
Restoran Xin Wah – Queen's Avenue [Non-Halal]
Chef Loh XO Fried Fish Head Noodles – Taman Paramount
Restoran Xun Wai – Setia Eco Garden [Non-Halal]
Restoran Y Food Box – Jalan Mohamad [Non-Halal]
Restoran Yabedabedu – Jalan Merican
Restoran Yakeen – Warehouse Karamunsing
Restoran Yam Hong – Taman Maju Jaya [Non-Halal]
Restoran Yameen Briyani House – Seksyen 19
Restoran Yamen Sky – Bandar Baru Lembah Selatan
Restoran Yang Jia – Paradigm Mall JB
Restoran Yang Jia – Taman Impian Emas
Restoran Yang Kee – Taman OUG [Non-Halal]
Restoran Yap Beng – Taman Equine [Non-Halal]
Restoran Yap Meng – Taman Klang Utama [Non-Halal]
Restoran Yap Seng – Lintang Sungai Keramat [Non-Halal]
Restoran Yap Seng Bak Kut Teh – Taman Nusa Bestari [Non-Halal]
Restoran Yash – Jalan Tun Abdul Razak
Restoran Yash Maju – Taman Equine
Restoran Yassin – Jalan Dunlop
Restoran Yat Yat Chicken Rice – Pandan Indah [Non-Halal]
Restoran Yat Yat Seng Fei Lo Wu – Jalan Center Point 2 [Non-Halal]
Restoran Yat Yeh Hing – SS4 [Non-Halal]
Restoran Yee Kee Porridge House – Jalan Temenggung [Non-Halal]
Restoran Yee Kee Porridge House – Jalan Kenari [Non-Halal]
Restoran Yei Lock – Taman Kampar [Non-Halal]
Restoran Yenn Lai – Jalan Besar [Non-Halal]
Restoran YG Family Recipe – Taman Puteri Wangsa [Non-Halal]
Restoran Yi Bao – Taman Maju Jaya [Non-Halal]
Restoran Yi Kee – Taman Connaught [Non-Halal]
Restoran Yi Pin Ba Shu – Bandar Botanik [Non-Halal]
Restoran Yi Poh – Bandar Baru Sri Petaling [Non-Halal]
Restoran Yi Poh – Sungei Wang [Non-Halal]
Restoran Yit Foh – Bandar Pinggiran Subang [Non-Halal]
Restoran YMK Bao Dim Sum – Jalan Tiong Batu 3 [Non-Halal]
Restoran Yon Lai – Taman Kulai Utama [Non-Halal]
Restoran Yong Mui – Jalan Lumba Kuda
Restoran Yong Sang – Bandar Utama
Restoran Yong Tau Foo – Taman Danau Kota
Restoran Yong Xin – Taman Ungku Tun Aminah [Non-Halal]
Restoran Yoon Loke – Taman Muhibbah Aman Fasa [Non-Halal]
Restoran Yosenabe – Bayan Point
Restoran You Kee Xo Enterprise – Taman Johor Jaya [Non-Halal]
Restoran You Kee Xo Sdn Bhd – Taman Ungku Tun Aminah [Non-Halal]
Restoran Yu Yi Bak Kut Teh – Jalan Imbi [Non-Halal]
Restoran Yuan Le Dim Sum – Bandar Puteri [Non-Halal]
Restoran Yuan's Hainanese & Western – Bandar Mahkota Cheras [Non-Halal]
Restoran Yue Zhong Lou – Taman Kolej Perdana [Non-Halal]
Restoran Yuek Ching – Taman Bukit Melaka [Non-Halal]
Restoran Yuki Hokkien Mee – Taman Equine [Non-Halal]
Restoran Yummy Vegetarian – Taman Bukit Indah [Non-Halal]
Restoran Yusoof dan Zakhir
Restoran YZ Maju – Titiwangsa Sentral
Restoran Zaha – Persiaran Komersial 5 Waterfront
Restoran Zaitun Indah – Taman Bukit Indah
Restoran Zaituna – Taman Tasek
Restoran Zan Zan – Plaza Pandan Malim
Restoran Zarrin Maju – Cyber Square
Restoran Zat Corner – Jalan Putra Perdana
Restoran Zatimanis – Seksyen 2
Restoran Zaza Ikhlas – Jalan IM3
Restoran Zen Heong Seafood – Taman Bangi Avenue [Non-Halal]
Restoran ZF Ore Kampung – Presint 8
Restoran Zhen Jie – Taman Hormat Mulia [Non-Halal]
Restoran Zhin Ngai Seng – Taman Cempaka [Non-Halal]
Restoran Zhong Hua Dim Sum – Gunung Rapat [Non-Halal]
Restoran Zhoon Wha – Taman Falim [Non-Halal]
Restoran Zim Sum – Jalan Macalister [Non-Halal]
Restoran Ziss – Jalan Ros
Restoran Zu Chuan – Berjaya Times Square
Restoran ZZ – Jalan Sungai Chat
Restu Resipi – KWC
Retto Cafe – Jalan Ibrahim
Rez Q Café – Selayang Capitol Complex
Rezqy Errina – Bandar Putra Permai
Rfc Restoran Western & Thai Food – Taman Tanjung Chat
RG Boutique Cafe – Pusat Bandar Senawang
RH Restaurant & Catering – Jalan Sekolah Lutong
Rhd Western Budget – Spark Box Park
RHR Jaya Bistro – Danga
Rhyme Nasi Sumatera – Jalan Wakaf Stan Kubang Kerian
Rhythm Cafe – R&R Bagan Ajam
Ri Kitchen – Warong Traffic Light
Riam Corner Food Court – Mega E-Mart Commercial Centre [Non-Halal]
Riang-Riang Restaurant – Pantai Dalam
Riang-Riang Restaurant – Bandar Sri Permaisuri
Ricchezza @ Western – Emporium Foodcourt Cityone
Rice – Happy Rich Kopitiam Ban Hock
Rice & Pot Empire – Jalan SS 21/39 [Non-Halal]
Rice Bao Bao – Ksl Bestari Walk [Non-Halal]
Rice Bowl tei Hanabi – Suria KLCC
Rice Bowl tei Hanabi – NU Sentral
Rice Bowl tei Hanabi – Pavilion
Rice. by Omulab – Seksyen 17
Rice Dish – Restoran Chen Fong [Non-Halal]
Rice Garden – Taman Kolej Perdana [Non-Halal]
Rice Home – Restoran Le Kwang [Non-Halal]
Rice House – DTank Paradise [Non-Halal]
Rice House-C3 – Cheng Garden Avenue [Non-Halal]
Rice King – Lorong Dr Wong Soon Kai [Non-Halal]
Rice King – La Promenade Mall [Non-Halal]
Rice King – Saradise [Non-Halal]
Rice Nyonya Curry Laksa – Restaurant Chong Sai Gei [Non-Halal]
Rice Queen – Lorong Stutong 13G
Rice Republic – Taman Tun Perak [Non-Halal]
Rice Society – OUG Parklane
Rice Society – Klang
Richbaliz Kitchen – Selayang Point
Richfield Corner Sdn Bhd – SS3/5
Richiamo Coffee – UITM Shah Alam
Richiamo Coffee – Larkin Sentral
Richiamo Coffee – Kota Masai
Richiamo Coffee – Bandar Baru Lembah Sireh
Riching 嘻饮力 – Jalan Icon City
Richman Station – Taman Kajang Sentral
Ricksha – Bangsar Baru
Rico's Pizza – Kitchen Co
Ric's Burger – The Landmark [Non-Halal]
Ric's Burger – Bayan Lepas [Non-Halal]
Rieyana Air Soya – Kg. Sri Langkas
Right Place – Taman Perling [Non-Halal]
Rihas Cendol Station – Petaling Jaya Selatan
Rihga – Song Kheng Hai [Non-Halal]
Rileez Roti Canai & Murtabak Kedah
Rileks Corner Cafe & Catering – Medan Raya
Rimba at Ambong Pool Villas – Jalan Teluk Baru
Ring Zhi Vegetarian Restaurant – Metro Prima
Rinjin Shokudo – Bukit Jalil [Non-Halal]
RINSE – Bandar Sri Damansara
Rising Ramen – Moulmein Rise Shoppes [Non-Halal]
Rising Ramen – CityONE Megamall [Non-Halal]
Ritz Kitchen – Kuching Waterfront
Riva Bakery & Pastry – KLTS
Riyaz Mee Sotong – Taman Mesra
Riyyad Cafe – Jalan Sultan Azlan Shah
Rizal 151 Char Koey Teow – Jalan Sultan Yahya Petra
Rizky Ayam Penyet – University Plaza Sulaman
Rizqi Baraqah Corner – Medan Selera Bakar Bata
Rizqi Char Kuey Teow – Wangsa Maju
Rizqie Asam Pedas – Seksyen 1 Wangsa Maju
Rizqisya Nasi Kerabu – Medan Selera Wakaf
RJ Cafe – Jalan Abell
RJ Cafe – Jalan Tun Jugah
RJ Cafe – Satok
RJ Kafe – Royal Plaza
RK Foodtruck
Roadside Snack Shop – Taman Mutiara Mas [Non-Halal]
Roast Boy – Kawasan Perindustrian Kampung Baru Balakong
Roast Duck – Five Five Eight Kopitiam [Non-Halal]
Roast Kitchen – Taman Midah
Roasted Chef House [Non-Halal]
Roasted Chicken & Duck – Restoran Kymsan Tea Garden [Non-Halal]
Roasted Chicken & Duck – Bandar Bukit Tinggi [Non-Halal]
Roasted Chicken & Duck – Restoran Jin Zhou [Non-Halal]
Roasted Chicken & Duck – Food Court 33 [Non-Halal]
Roasted Chicken & Duck – Restoran Mou Dek Ding [Non-Halal]
Roasted Chicken Rice – Kaw Perniagaan Taman Merak [Non-Halal]
Roasted Chicken Rice – Restaurant Tim Won [Non-Halal]
Roasted Chicken Wings / Pork Belly – Tambun Star Food Court [Non-Halal]
Roasted Duck Rice – Food Street at Rock Cafe
Roasted Pork – Daerah Pekan Klebang [Non-Halal]
Roasted Pork | Chicken | Duck – Jalan Bagan 1 [Non-Halal]
Robataya Izakaya – Publika [Non-Halal]
Robataya Izakaya – 1Utama [Non-Halal]
Robataya Izakaya – Empire Shopping Gallery [Non-Halal]
Robataya Ramen & Donburi – SS2
Robin Catering – Bandar Perdana
Robin's Nest Cafe & Smokehouse – Abang Galau Road [Non-Halal]
Rock Bottom Kitchen + Bar – The Shore
Rock Bottom Kitchen + Bar – Bangsar [Non-Halal]
Rock Bottom Kitchen + Bar – Desa ParkCity [Non-Halal]
Rock Bottom Kitchen + Bar – Puteri Harbour
Rock n Roll Grill Terminal – Monorail Food Vilage
Rock Road Seafood Restaurant – Jalan Batu Kinyang
Rock Tea – Econsave Aulong
Rockafe Empire – Taman Klebang Utama
Rockafellers Kitchen & Bar – Changkat Bukit Bintang [Non-Halal]
Rockaway Grill+Bar [Non-Halal]
Rockin Chick – Taman Perindustrian Tandop
Rockstarz Burger – Bandar Bayan Baru
RockTea – Equine Boulevard
ROCKU Yakiniku – The Gardens [Non-Halal]
ROCKU Yakiniku – Pavillion [Non-Halal]
ROCKU Yakiniku – 1 Utama Shopping Centre [Non-Halal]
ROCKU Yakiniku – Sunway Pyramid [Non-Halal]
Rod Dee Ded – Damansara Utama
Roda Tiga Penang Fried Kuey Teow – Restoran Roda Tiga
Rodong Meletop Bistro – Jalan Gambut
Roemah Kopi N Satay – Jalan Laksamana
Roenazon's – Putatan Court
Roes Bar – Taman Impian
Rogers Bakery Cafe – Taman Pegoh
Roi Spoon Restaurant – Taman Mount Austin
Rojak 111 Shatin Park – Kafe Fooh Singh
Rojak Ali Lido – Jalan Kee Ann
Rojak & Cendol Dataran Ipoh – Greentown
Rojak & Cendol Pasembur Penang – Taipan
Rojak & Cendol Pasembur Penang – Taman Megah SS 25
Rojak and Cendol Setia Alam – Setia Prima
Rojak & Cendol Syed Subang – USJ Avenue
Rojak & Mee Goreng MG – Food Spot
Rojak & Rojak Fruits – Muar Food Courts
Rojak Ayam & Roti Pol – Fuyu Cafe Satok
Rojak Ayam Mee Jawa – Qims Cafe
Rojak Brother – ONB
Rojak Buah – Taman Daya
Rojak Buah-Buahan Penang – Food City Kolombong
Rojak Buah Pak Abu 1995 – Pangsapuri Sri Penara
Rojak Buah Terliuq – Pinggiran Batu Caves
Rojak Cendol Sri Petaling
Rojak Cendol Mat – Old Klang Road
Rojak Cendol Mat – Restoran Unlimited
Rojak Cendol Shah Alam – Dataran Merdeka
Rojak Dan Cendol Tiga Rasa – Taman Wahyu
Rojak Dan Mee Rebus Special Robiah – Taman Seri Mangga
Rojak Green Town – Medan Selera Greentown
Rojak Gunting – Taman Pulai Indah
Rojak Mat Mat – Metro Point Kajang
Rojak Maxwell – Restoran Alkaff Manjoi
Rojak Maxwell – Taman Cherry
Rojak Pasembur De Kuali – Taman Subang Perdana
Rojak Penang Shatin Park – Taman Kar King
Rojak Petis Leleh House – Pekan Kota Tinggi
Rojak Port Klang – Gerai MPK
Rojak – Restoran Wan Xi Heng
Rojak Sameem – Taman Greenwood
Rojak Seri Pilah – Taman Ampangan
Rojak Stall Lutong – Lutong
Rojak Syed – SS15
Rojak Ulek Medan – Jalan Segambut
Roji Monster Ice Cream – SS15
Rokiah Stall – LB Cafe
ROKKO Japanese Grill Dining – Jalan Ampang
Roll N Roll – Taman Bukit Mutiara
Rolling Rolls & Food – Mont Kiara
Rollney – Mid Valley
Rollney – 1Utama
Rollney – IOI City Mall
Rollney – Central i-City
Rollney – MyTown
Rolly Polly – OUG Parklane
Rolly Polly – USJ 16
Roma Pizza – Selayang – Kuarters Hospital Selayang
Romans Wine House – Austin International Convention Centre [Non-Halal]
Romans Wine House – Mount Austin [Non-Halal]
Rong Chen (Ipoh) Chicken Rice – Kuching City Mall
Rong Kee & Sons Fishball – Taman Taynton View [Non-Halal]
Rong Tiap Fried Prawn Mee – Taman Sutera Utama [Non-Halal]
Roof Top – Casa Hotel
Roofino – KL Trillion
Roofpot Restaurant – Pekan Sitiawan [Non-Halal]
Rooftop Restaurant and Bar – Bandar Baru Medan Ipoh [Non-Halal]
Rose Hills Bakery Bits – Angsana Mall
Rose Hills Bakery Bits (Whole Cakes) – Angsana Mall
Rose Kitchen – Sungai Besi
Rose Mawar Restaurant & Catering – Jalan Chow Thye
Rose Middah Caffe – Menara U2
Rose Villa Cafe & Catering Services – Taman Scientex
Rose Waffle – Pusat Komuniti Bandar Tun Razak
Rosea Cafe – Grandis Hotels and Resorts
Rosera Beverage – Kulai Centre Point
Rose's Claypot – CCS One Cafe [Non-Halal]
Roshona Bilash Restaurant – Bukit Bintang
Roslan Kelapa – Taman Ltat
Rosmizan Cafeteria – Jln Padungan
Rostam De Soup – Taman Gelora
Rosthaithai Restaurant – Taman Petaling Utama [Non-Halal]
Rosya Corner No.3 – Astaka Kampung Melayu
Roti & Kopi – Raintree Square
Roti & Kopi House – Damansara Uptown
Roti Arab Station – Pusat Perkhidmatan Balok
Roti Ayam Kampar – Pandah Indah
Roti Bakar Bandung Kak El – Kampung Kerdas
Roti Bakar Beserah – Jalan Kg Baru
Roti Bakar Hutton Lane – Jalan Penang
Roti Bakar Kacang Phool Penang – Kompleks Desiran Tanjung
Roti Bakery Cafe – The Waterfront @ ParkCity
Roti Bakery Cafe – Bandar Kajang
Roti Bakery Cafe – The Sphere 1
Roti Bakery Cafe – Wisma Minlon
Roti Benggali Rustic Delight – Jalan Lencongan Putra 2
ROTI by GoldenBowl Cafe – Medan Penaga [Non-Halal]
Roti Canai – Big Crab Street Food
Roti Canai – Kunyap-kunyap Cafe
Roti Canai – Xin Daren Coffee Shop
Roti Canai A1 – Pearls Park Food Centre
Roti Canai by RFS – 777 Kopitiam
Roti Canai Celaru Kuala Lumpur – Selayang Baru
Roti Canai Lan – Kg Guchil
Roti Canai Mekah (Warung Abah) – Jalan Setia Utama
Roti Canai Rainbow – Taman Dato Onn Jaafar
Roti Canai Rizqi – Jelutong
Roti Canai Sugu Corner – Taman Rapat Damai
Roti Canai Tashriq Khan – Medan Selera Peremba
Roti Canai TSWB – Lorong Tanjung Api 3
Roti Canai – Z.Z Corner
Roti Chai
Roti John A-Nur – Jalan Seri Mangga
Roti John Ampang – Kampung Perwira Jaya
Roti John Kakdeyk – Kopitiam 2 Cinta
Roti John Legend – Jalan Sri Cemerlang
Roti John Melaka – Semabok
Roti John Reetz Cafe – Selayang Baru
Roti John Padok Burger – Persada Cattleya
Roti John Pasti Rindu – Taman Rambai Utama
Roti John Pekan – Kampung Pulau Serai
Roti John Q Corner – Kg Pantai Dalam
Roti John Reetz – Kiosk Cafe @ Pocket Park
Roti John Reetz – Keramat Wangsa
Roti John REETZ Cafe
Roti John Restu Emak – Taman Perindustrian Utama
Roti John Rockstar – Persiaran Saujana Puchong
Roti John Royal King 52 – Medan Selera Dataran Mat Riau
Roti John Seremban Selatan – Taman Seremban Jaya
Roti John Tabur – Taman Delima
Roti John Turbo Cheese – Cheras Indah
Roti Kaya Junus – Taman Foo Onn
Roti Kaya Junus – Agromall
Roti Kaya Junus – TF Value-Mart Sunway City
Roti King – Lucky Eatery Foodcourt [Non-Halal]
Roti Kukus Aeem – Bandar Putra
Roti Kukus Klang Kaya Pandan – Kelana Jaya
Roti Naik Klasik – Bandar Baru Uda
Roti Puri Abang Jan – Taman Cempaka 4
Roti Roll – Cottage Walk
Roti Tempayan Belakang Bank Islam – Bazar Pasar Mas
Roti Tempayan Kg. Kebakat – Kampung Kebakat
Roti Tempayan Kg. Kebakat Cawangan 2 – Jalan Puteri Saadong
Roti Tempayan Pasir Pekan – Alimi Bazaar Pasir Pekan
Roti Tempayan Sharif Dol Kg. Dusun – Jalan Bayam
Roti Up John – Bandar Seri Putra Bangi
Rotiffee – Taman Perling
Route 1/10 (Stall 4) – Subang Jaya
Route 66 Cafe – Sri Petaling [Non-Halal]
Route 69 Cafe – Bandar Baru Perda
Routine by Soon
Row Six – AEON Bandaraya Melaka
Row Six – AEON Seremban 2
Rox Cafe Mix & Match – [Non-Halal]
Rox Cafe Mix & Match
Roxanne by Thyme Out – Rex KL
Roy King – Sungai Long
Roy King – Kepong Metro Perdana
Roy King – Damai Perdana
Roy King – Taman Segar
Royal Bay Seafood – Jln Buruh
Royal Biryanee – Tiara Mutiara 2
Royal Briyani – Berjaya Times Square
Royal Briyani – Kota Damansara
Royal Briyani – Cheras Leisure Mall
Royal Briyani – Sri Petaling
Royal Darbar
Royal Dessert King – Taman Perling
Royal Family Restaurant – Taman Putra Sulaiman
Royal Food Corner – Lrg Plaza 333-3
RFC (Royal Fried Chicken) – 1 Borneo
RFC (Royal Fried Chicken) – Centre Point Kota Kinabalu
Royal Herba Panggang – Kim Tan Garden Cafe
Royal India – Pavilion
Royale Astana Float – Taman Kemas
Royale Astana Float – Taman Kota Masai
Royale Rolls @ 26 – Dataran Jelatek
Royale Shellout Ipoh – Pekan Razaki
Royale Thor – Ipoh Garden
Royaltea – Taman Sutera Utama
Royaltea – Taman Mount Austin
Roy's – Lebuh Lasam
Roza Cafe – Kompleks Islam Putrajaya
Rozianna Betty Sweet Choice – Piasau Jaya 3D
Rozyanti Malay And Indonesian Cuisines – Lilitan Sungai Ara
Rozzes Cafe – Ujong Pasir
Rozzy Nasi Ayam Bakar – Bayan Lepas Industrial Park
RR Banana Leaf Indian Cuisine – Pusat Perniagaan Lukut Prima
RRK Kitchen – Taman Universiti
RS Burger – Taman Bestari Indah 1
RS Maju – Kitchen Co
RS Sup Meletup – Mydin Subang Jaya
R.S.C BBQ (Rora Rempah BBQ) – Beware Cafe
RTS Food Corner – Kampung Muhibbah Fasa 2
Ru E Cafe – Taman Indah [Non-Halal]
Ru Yee Corner – Jln Stutong [Non-Halal]
Ru Yi – Taman Impian Emas
Ru Yi Imperial – Jalan Taylor's [Non-Halal]
Ruai Carwash & Cafe – Kepayan
Ruai Inap – Persiaran KWSP
Ruai Mee Sup KB – Kepayan
Ruang Damai Restoran – Taman Desa Manggis
Rubberduck – Plaza Damas
Rubi Laksa Perlis – Kampung Seberang Sungai Tapah
Rubiks Pizza – Kampung Sura Tengah
Rubys – Jalan Permatang
Rueys – Bukit Jalil
Rueys – Bandar Indahpura
Rui Xing Vegetarian Food – Taman Asean
RUJI – Savanna Lifestyle Retail
Ruma Puteh – Taman Tasik Titiwangsa
Rumah Amal Kasih – Plaza Kingfisher
Rumah Asap Kenyalang Cafe – Pangsapuri Mesra Jaya [Non-Halal]
Rumah Asap Kenyalang Cafe – Lebuh Keng Kwee [Non-Halal]
Rumah Asap Koboi Bintawa – Kampung Bitawa [Non-Halal]
Rumah Asap Teresang Ensilai – Taman Megah Ria [Non-Halal]
Rumah Ayam Bakar – Mutiara Ville Residence
Rumah Ayam Penyet – Wisma Rampai
Rumah Cafe – Lorong Lampam
Rumah Ketupat Cafe – Seksyen 13
Rumah Makan Cibiuk – Kinrara
Rumah Makan Cibiuk – Taman Putra Kajang
Rumah Makan Cibiuk – Wangsa Maju
Rumah Makan Kak Ijan – Kampung Melayu Majidee
Rumah Makan KD – Kota Damansara
Rumah Makan Mak Marah – Kampung Melayu Batu Lapan
Rumah Makan Patin Pasu – Taman Melawati
Rumah Mas – Taman Melodies
Rumah Mee – Medan Selera Sg Pusu
Rumah Mee – Kafeteria Masjid Negara
Rumah Ngopi – Jalan Sungai Siput
Rumah Padang – Subang Jaya
Rumah Padang – AEON Shah Alam
Rumah Pepokok – Shaftsbury Square
Rumah Popiah – Medan Niaga Pengkalan Minyak
Rumah Sambal – Kota Damansara
Rumah Serai – Jaya One
Rumahku The Spice Pantry – Jaya One
Rumbia Coffee House – De Palma Hotel Shah Alam
Rumzum Satay – Jln Merdeka
Running Chicken Wing – 66 Food Court
Rural Kitchen – Inanam Kapital [Non-Halal]
Rural Table – Inanam Kapital [Non-Halal]
RUTIN – Taman Alma Jaya [Non-Halal]
Ryndu Hot & Grill – Wangsa Maju
Ryoshi Izakaya – SS15 [Non-Halal]
Rys Western Station – Chulia Street
RZ Frozen Food – Taman Pulai Hijauan
RZ Purnama Seafood – Taman Bertam Setia
RZ Stall Burger – Pujut Corner
S&2 Burger & Harumi – Taman Sejati
S & S Western – R&F Mall [Non-Halal]
S Din AB Corner – Gerai Penjajah Seksyen 1
S One One – SS3 [Non-Halal]
S One One – Bukit Rahman Putra [Non-Halal]
S One One – Dataran Ara Damansara [Non-Halal]
S One One – Desa Sri Hartamas [Non-Halal]
S One One – Seksyen 17 [Non-Halal]
S One One – Taman Putra Prima [Non-Halal]
S One One – Setia Alam [Non-Halal]
S One One – SS2 [Non-Halal]
S S Mee Jawa – Gerai MPK
(S) Sup Kambing Beratuh – Jiki Food Court Bukit Baru
S11 Kopitiam – Jalan Indah
S2 Cafe Labuan – Jalan Tengku Ampuan Zabedah
S7 @ Ayam Gepuk – Kompleks PKNS Bangi
S7 @ Ayam Gepuk 2 – Seksyen 7
SA Amma Kitchen – Jalan Ledang
Sa Bing – Jalan Lintas
SA Kenari – D'Piazza Mall
Sa Wa Dee Masakan Thai – Taman Sin Tat [Non-Halal]
Sa Wei Pork Noodles – FGJB [Non-Halal]
Saabman Thai Food – Taman Impian Emas [Non-Halal]
Sab E' Li – Bormill Estate Commercial Centre [Non-Halal]
Saba-Hae – Damansara Utama
Saba Restaurant – Hartamas
Saba Restaurant – Publika
Saba Restaurant – Jalan Jelatek
Saba Restaurant – Cyberjaya
Saba Town – Quill City Mall
Saba'a Kingdom Restaurant – Taman Saujana
Sabah Chilli Pan Mee – Puchong [Non-Halal]
Sabah Chilli Pan Mee – Laman Rimbunan [Non-Halal]
Sabah Chilli Pan Mee – Sg.Long [Non-Halal]
Sabah Chilli Pan Mee – SS2 [Non-Halal]
Sabah Chilli Pan Mee – Taman Bukit Segar [Non-Halal]
Sabah Chilli Pan Mee – Plaza 333 [Non-Halal]
Sabah Pork Noodle – JB City Square [Non-Halal]
Sabah Style Nasi Lemak – Chinatown Food Court
Sabah White Coffee – Kompleks Karamunsing
Sabahan Original Recipe Restaurant – Lorong Sri Kolombong 2
Sabai Sabai Thai Cozy Cuisine – Icom Square
Sabaidee Thai Food – Taman Nusa Idaman [Non-Halal]
Sabbynna Cafe – Medan Selera Iskandar Malaysia
Sabina Makanan Laut – Kompleks Makanan Medan Renong Padang Kota Lama
Sabrina Lauk Kampung – Jalan Teknokrat 6
Sabrina Tomyam – Town Park
Sadiqin Lim Kampua – Jalan Semarak
Sae Ma Eul – Elite Avenue [Non-Halal]
Sae Ma Eul BBQ – Medan Putra Business Centre [Non-Halal]
Sae Ma Eul BBQ – Jaya One [Non-Halal]
Sae Ma Eul BBQ – Dataran Sunway [Non-Halal]
Sae Ma Eul BBQ – Subang SS15 [Non-Halal]
Sae Ma Eul BBQ – EkoCheras Mall [Non-Halal]
Sae Ma Eul BBQ – Sri Petaling [Non-Halal]
Safa Kitchen – Komplek Penjaja Bandar Tasek Mutiara
Safaa Restaurant – Taipan USJ
Safe House Hotpot – Jalan Raja Musa Aziz [Non-Halal]
Saffron Brasserie – Hotel Tenera
Saffron Coffee – Prangin Mall
Saffron Curry House – Oasis Square
Saffron Spice Vegetarian North Indian Cuisine – Kota Kemuning
Sagar Restaurant
Sahabat Cafe – Wadi Hana
Sahabat Tomyam Seafood – Mukim Balai Panjang
Sahana Indian Food – Taman Bunga Kantan
Sahara Tent Restaurant – Ampang
Sahara Tent – Bukit Bintang
Sahul – Pekan Razaki
Sai Goh Pho – FGJB [Non-Halal]
Sai Kee Restaurant – Taman Tun Perak [Non-Halal]
Sai Kee Restaurant – Sunway Velocity [Non-Halal]
Sai Letchumy Jay Restaurant – Taman Saujana Indah
Sai Toh Fish Ball, Duck Meat Koay Teow Th'ng – Reservoir Garden
Saigon Bowl – The Whiteaways Arcade
Saigon House Cuisine – Jalan Sri Bahari [Non-Halal]
Saigon House Cuisine 2 – Persiaran Bayan Indah [Non-Halal]
Saigon Ivy Cafe – Taman Kota Laksamana [Non-Halal]
Saigon Memoir – Bandar Puteri Puchong [Non-Halal]
Saigon Memoir – BMC Mall
Saigon Station Vietnamese Cuisine – Kepong Baru [Non-Halal]
Saigon Table – Damansara Kim
Saigon Table – The Sphere
Saiva Kitchens – Jalan Chantek
SAIWINI CAFE – Jalan Sentul Indah
Sajian Amal Selera Kampung – Medan Selera Stadium
Sajian Aneka Rasa – Kota Kemuning
Sajian Asli Makwan – Lembah Keramat
Sajian Ayam Kampung Alhasanah Ana Kitchen – Pusat Dagangan Seremban 2
Sajian Bonda – Taman Tuanku Jaafar Selatan
Sajian G Jee – Jalan Meru Bistari A/2
Sajian Talam Emas
Sajo Cafe – Farlim [Non-Halal]
Sajo Sarawak Full Egg Kolomee – Sungai Pinang Food Court Paradise [Non-Halal]
Saka Cafe – Taman Melawati
Sakae Sushi – Lotus's Tanjung Penang
Sakae Sushi – Queensbay Mall
Sakae Sushi – Sunway Carnival
Sakae Sushi – Sunway Pyramid
Sakae Sushi – Setapak Central
Sakae Sushi – 1Utama
Sakae Sushi – IOI Puchong
Sakae Sushi – Gamuda Walk
Sakae Sushi – AEON Bukit Tinggi
Sakae Sushi – City Square
Sakae Sushi – Vivacity Megamall
Sakae Sushi – The Spring
Sakenah Nasi Kukus – Taman Universiti
Sakinah N Memey Corner – Gerai Teluk Chempedak
Sakura Kristal – Taman Melawati
Sakura Momo House – Taman Gaya [Non-Halal]
Sakura Sushi – Pandan Indah
Sakura Sushi – Jalan Genting Kelang
Sakura Sushi – Taman Midah
Sakurajima – Jalan Bukit Jambul
Sal Laksam Jln Bayam – Jalan Bayam
Sala The Row – Jalan Doraisamy
Sala – Desa ParkCity
Salad Ayam – 777 Kopitiam
Salad Chicken – Premier Food Republic Samarahan
Salad Chicken Rice – Jalan Song
Salad Chicken Rice – Belly Good Cafe
Salad Chicken Rice 沙律鸡饭 – Dar Zen Food Centre
Salad Chicken Rice – Expert Food Court
Salad Chicken Rice – Northern Delicacies Restaurant [Non-Halal]
Salad Chicken Rice – Peaches Garden Food Court Centre
Salad Chicken Rice – So Good Cafe
Salad Farm – Jalan Kebun Bunga
Salad Wrap & Co – Plaza Mont Kiara
Salad Wrap & Co – KLCC
Salad Wrap & Co – Bangsar Village 1
Salad Wrap & Co – Wisma Lim Foo Yong
Salai D'