No more waiting in lines. Order Self Pick-Up from a variety of restaurants. 
Enjoy 30% OFF (up to RM8) all-day on your GrabFood order via Self Pick-Up with promo code PICKUP. 
It's easy to order Self Pick-Up: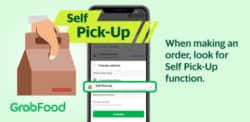 Place your order with Self Pick-Up.

You will be notified when your order is almost ready.

Head to the restaurant and pick up your order.
Terms & Conditions
The discount of 30% OFF up to RM8 is valid with a minimum spend of RM25 per order.

Valid for 4 transactions per user, per Grab account or per device during campaign period.

Limited to 500 redemptions p

er day.

Users must enter promo code PICKUP at checkout. 

This promo is valid for selected restaurants only.

This promo is valid for self pick-up orders only.

Promotion is not valid with any other vouchers or promotions.

Grab reserves the right to alter, extend or terminate the promotion, or amend the terms and condition at its sole discretion at any time without prior notice. In case of any disputes directly or indirectly arising from the promotion, the decision of Grab shall be final.

These terms and conditions shall be governed by the laws of Malaysia and any dispute arising out of or in connection with promotion shall be referred to the exclusive jurisdiction of courts of Malaysia.
Participating Restaurants
1973 J&G Fried Chicken – United Point
1977 New Ipoh Chicken Rice – Seksyen 10 [Non-Halal]
1977 New Ipoh Chicken Rice – Sri Petaling [Non-Halal]
1977 New Ipoh Chicken Rice – Petaling Street [Non-Halal]
1977 New Ipoh Chicken Rice – Damansara Jaya [Non-Halal]
3BG – 3BG Food Station
3BG – Food Valet
3BG – Shah Alam
42 Zest Cafe – Taman Sungai Abong Permai
7 Spice – Danga Bay
A Yogurt Cow – Taman Sutera Utama
Adelphi & Co – Jalan Damai [Non-Halal]
Ado-Rabowl – OUG Parklane
Ado-Rabowl – USJ 16
Ages Ago – Vivacity Megamall
Agrain By Hale – Menara Hap Seng
AhMa PanMee – Juru Sentral [Non-Halal]
AhMa PanMee – Bandar Bayan Baru [Non-Halal]
AhMa PanMee – Lebuh Tye Sin [Non-Halal]
Ahma PanMee – Eco Bloom [Non-Halal]
Alamak – Jalan Argyll
Alamak – Krystal Square
Almizan Satay House – Bandar Baru Uda
Almizan Satay House – Kampung Ubi
Almizan Satay House – Tepian Tebrau
An Viet – The Gardens [Non-Halal]
An Viet – Sunway Pyramid [Non-Halal]
An Viet – Gurney Plaza [Non-Halal]
An Viet – Paradigm Mall [Non-Halal]
Apollo Stall Air Kelapa & Air Tebu – Jalan Raja Uda
Attrus Cafe – Jalan Trus
Aunty Q Kitchen and Bar – Summerton [Non-Halal]
Banh Mi Kitchen – Jalan Zainal Abidin [Non-Halal]
Barastar – Lorong Perda Utama 7
Bask Bear Coffee – Shell Bukit Cheras
BBQ Chicken – Marina Times Square
BBQ Chicken – Imago KK Times Square
BB.Q Chicken – EG Mall
BBQ Chicken – AEON Mall Kuching
BBQ In Love Cafe – Jalan Raja Uda [Non-Halal]
Bean Jr. – Cheras
Bean Jr. – Bandar Sri Petaling
Bean Jr. – Laman Rimbunan
Bean Jr. – Puchong
Bean Jr. – Taipan
Bean Jr. – Wisma Setapak 33
Beside UHome Restaurant 你家隔壁 – Taman Ungku Tun Aminah [Non-Halal]
Big Food F&B – Taman Adda
Big Food – Taman Nong Chik
Biru Biru Cafe – Lorong Dewan
Black Kettle – Beach St [Non-Halal]
Boat Noodle – Kompleks Permaisuri Q
Boat Noodle – 1Utama
Boat Noodle – Central i-City
Boat Noodle – Nadi @ 15
Boat Noodle – Ipoh Parade
Boat Noodle – Berjaya Times Square
Boat Noodle – The Gardens
Boat Noodle – Citta Mall
Boat Noodle – Sunway Pyramid
Boat Noodle – Mahkota Parade
Boat Noodle – AEON Melaka
Boat Noodle – Sunway Carnival
Boat Noodle – Queensbay Mall
Boat Noodle – Gamuda Walk
Boat Noodle – Sunway Velocity Mall
Boat Noodle – Sogo KL
Boat Noodle – Melawati Mall
Boat Noodle – Gombak
Boat Noodle – Sungai Buloh
Boat Noodle – DPulze
Boat Noodle – IOI City Mall
Boat Noodle – IOI Puchong
Boat Noodle – AEON Shah Alam
Boat Noodle – Setapak Sentral
Boat Noodle – Sunway Putra
Boat Noodle – AEON AU2
Boat Noodle – AEON Bukit Tinggi
Boat Noodle – Setia City Mall
Boat Noodle – Aman Central
Boat Noodle – Mid Valley Southkey
Boat Noodle – Paya Bunga Square
Boat Noodle – AEON Kota Bharu
Breakfast from the Barn – Lorong Bangkok [Non-Halal]
Bun Barons – OUG Parklane
Burger Abg&Adik Tokkun – Jalan Cerok Tokun Atas
Burger On 16 – Dataran Sunway
Burgers & Wings Co. – The Curve
Burgers & Wings Co.- Citta Mall
Cafe De Ohana – South Homes [Non-Halal]
Cafe Eatura – Jalan Trus
Canning Dim Sum Express – D'Piazza Mall
Canning Heritage Express – MyTown
Canning Heritage Express – Melawati Mall
Canning Heritage Express – Paradigm Mall
Canning Heritage Express – Sunway Geo
Canteen Authentic Bangkok Tomyam – Wo Lai Yeh Cafe [Non-Halal]
Capang – 3BG Food Station
Cargo Street – OUG Parklane
Chakra Restaurant – Kampung Bahru
Cheras SattiSorru@Penang – Bukit Tengah
Chick Chick Fried Chicken – Jalan Maju
Chicken Claypot House – Jalan Macalister [Non-Halal]
Chicken Hotpot House – Jalan Icon City [Non-Halal]
Chiu's – 88 Market Place
Chong Qing Lao Huo Guo – Icon City [Non-Halal]
Chong Qing Lao Huo Guo – Jalan Kelawai 重庆老火锅 [Non-Halal]
Chopping Block – Jalan Gaya
Chu Char 1st – 1st Avenue
Chubs – Plaza Shell [Non-Halal]
City Milk – 1 Utama
City Milk – Toppen Shopping Centre
Corgi & The Gang Pet Cafe – New World Park [Non-Halal]
Cosy Bistro – Johor Jaya
Cuckoo Chicken Rice – Taman Desa Damai [Non-Halal]
Daboba – Gala City
Daseo – Queensbay Mall
Dave's Deli – IOI City Mall
Dave's Deli – Design Village
Dave's Deli – Sunway Carnival
Dave's Deli – Queensbay Mall
Dave's Deli – The Starling Mall
Dave's Deli Express – Ara Damansara
Dave's Deli – Subang Parade
Dave's Deli – Atria Shopping Gallery
Deens Maju Nasi Kandar – Jalan Gurdwara
Din By Din Tai Fung – KLCC
Din By Din Tai Fung – NU Sentral
Din By Din Tai Fung – Mid Valley Southkey
Din Tai Fung – The Gardens Mall [Non-Halal]
Din Tai Fung – Gurney Plaza [Non-Halal]
Din Tai Fung – Empire Shopping Gallery [Non-Halal]
Din Tai Fung – 1Utama [Non-Halal]
Din Tai Fung – Sunway Pyramid [Non-Halal]
Din Tai Fung – Pavilion [Non-Halal]
Din Tai Fung – City Square [Non-Halal]
Ding Tea – Semariang
D'Lazeez Nasi Kandar – Jalan Van Praagh
Dodoro – Jalan Hutton
Dozo – Summerskye Residences [Non-Halal]
D'Platform – OUG Parklane
Dpondok Pakar Nasi Ayam – Jalan Perda Selatan
Dumpling Cafe – Lintas Plaza [Non-Halal]
Each A Cup – Mydin MITC
Each A Cup – Ipoh Parade
Each A Cup – Mydin Meru
Each A Cup – Tin Village Mall
Each A Cup – KSL City
Each A Cup – Paradigm Mall JB
Each A Cup – Giant Plentong
Each A Cup – Smart Building
East Coast Grill Seafood – Medan Niaga
East Coast Grill Seafood – Leith Street
East Coast Grill Seafood – GoodAll Cafe
EO' Garage – OUG Parklane
Epic Food Hall – Damansara Perdana
Epic Food Hall – Mont Kiara
Epic Food Hall – Bandar Sunway
Feng Cha – Ipoh SOHO
Flip Burger – Gurney Paragon Mall [Non-Halal]
Flip Burger – Queensbay Mall [Non-Halal]
Fried Chicken Master – City Junction
Fried Chicken Master – Suntech Penang Cybercity
Fried Chicken Master – Jalan Hutton
Fried Chicken Master – Jalan Sultan Iskandar Shah
Fried Chicken Master – Jalan Teluk Wanjah
Fried Chicken Master – Jalan Ismail
Fried Rice King – Lebuh Pekaka Satu [Non-Halal]
Friendster Hub – Kepong [Non-Halal]
Gajah Mada by The Majapahit – PJ222
Gajah Mada by The Majapahit – NU Sentral
Gao Enough Tea – Lebuh Pantai
Garsa Kitchen – Bangi
Garsa Kitchen
Garsa Kitchen – Shah Alam
Gathering 2 – 88 Marketplace [Non-Halal]
Gerai Ais Kacang Dan Laksa – Pangsapuri Taman Bagan Jaya
Ginger Thai Express – PJ222
Ginger Thai Express – NU Sentral
Ginger Thai Express – Sunway Geo
Ginger Thai Express – Melawati Mall
GO Noodle House – Sunway Velocity [Non-Halal]
GO Noodle House – Mid Valley [Non-Halal]
GO Noodle House – DaMen Mall [Non-Halal]
GO Noodle House – Setia City Mall [Non-Halal]
GO Noodle House – Gamuda Walk [Non-Halal]
GO Noodle House – 1Utama [Non-Halal]
GO Noodle House – AEON Metro Prima [Non-Halal]
GO Noodle House – Sunway Pyramid [Non-Halal]
GO Noodle House – Klang Parade [Non-Halal]
Go Noodle House – Muar [Non-Halal]
GO Noodle House – AEON Melaka [Non-Halal]
GO Noodle House – The Mines [Non-Halal]
GO Noodle House – Sunway Putra [Non-Halal]
GO Noodle House – Sunway Giza [Non-Halal]
GO Noodle House – Queensbay Mall [Non-Halal]
GO Noodle House – Sunway Carnival [Non-Halal]
GO Noodle House – Gurney Plaza [Non-Halal]
GO Noodle House – IOI Puchong [Non-Halal]
GO Noodle House – Leisure Mall [Non-Halal]
GO Noodle House – Avenue K [Non-Halal]
GO Noodle House – MyTown [Non-Halal]
GO Noodle House – Publika [Non-Halal]
GO Noodle House – Jaya One [Non-Halal]
GO Noodle House – IOI City Mall [Non-Halal]
GO Noodle House – DPulze [Non-Halal]
GO Noodle House – Starling Mall [Non-Halal]
GO Noodle House – Paradigm Mall [Non-Halal]
GO Noodle House – Empire Subang [Non-Halal]
GO Noodle House – Pearl Suria [Non-Halal]
GO Noodle House – JB City Square [Non-Halal]
GO Noodle House – Paradigm JB [Non-Halal]
GO Noodle House – AEON Seremban 2 [Non-Halal]
Go Noodle House – Vivacity Megamall [Non-Halal]
Golden Balls – ITCC [Non-Halal]
Golden Bowl – New World Park
Golden Bowl – The Promenade
Goobne Chicken – MyTown
Goobne Chicken – SS15
Good Social Party – Jalan Sri Purnama 2/3
Goodbox – Horizon Hills [Non-Halal]
Halab KL – Bukit Bintang
Halab KL Beremi – Bukit Bintang
Halab Penang – Lebuh Chulia
Halab Restaurant – Bukit Bintang
Halo Chicken – Taman Sutera Utama
Hameediyah Restaurant – Lebuh Campbell
Hanakoya 花小屋 – Lebuh Muntri
Hap Dessert & Toast – Lebuh Naning
Hayaki – Subang Parade
Hayaki – Uptown Damansara
Hayaki – The Curve
Hayaki – Shah Alam
Hayaki – Setapak
Hello Stranger Cafe – The Walk Riverson
Hold Up! – Jalan Kuala Kangsar [Non-Halal]
Hong Kong 8am – D'Piazza Mall [Non-Halal]
Hong Kong 8AM – Maritime Piazza [Non-Halal]
Hong Kong 8am – Lorong Macalister [Non-Halal]
Hoola Hoop Cafe – Lintas Uptownship
House of Malaya – Sunway Geo
House Of Malaya – NU Sentral
House of Malaya – Melawati Mall
House of Malaya – PJ222
House of Pok – Sunway Pyramid [Non-Halal]
Howdy Grillhouse – Brighton Square [Non-Halal]
Huat Huat Huat Seafood 888 – Taman Sri Tebrau [Non-Halal]
Hungry Ranch – Lebuh Melayu [Non-Halal]
Idealite – Queensbay Mall
Idealite – Gurney Plaza
Idealite – Sunway Carnival Mall
Idealite – Auto City
Idealite – E-Gate
Ikan Boulu Tanpa Tulang 3 – Pavillion Bundusan
Ikan Boulu Tanpa Tulang II – Inanam
Ikigai Cafe – Jalan Raja Uda [Non-Halal]
Indo Padang Restoran Indonesia – ITCC Mall
Ipoh Onn Kee Tauge Ayam – Tingkat Mahsuri [Non-Halal]
IS Station House – Bukit mertajam
Italiannies – The Curve
Jaiho Cafe – Jalan Kehakiman
J&G Fried Chicken – The Alley Bukit Tinggi
J&G Fried Chicken – SS2
J&G Fried Chicken – Centrepoint
J&G Fried Chicken – IOI Puchong
J&G Fried Chicken – Sunway Velocity
J&G Fried Chicken – Mid Valley
JBorn Cafe & Bistro – B5 Johor Street Market
JBorn Cafe & Bistro – Kampung Melayu
JBorn Cafe & Bistro – Adda Heights
Jom Bento – Wisma Rampai
Jom Burgeria – Arena Curve
Jom Burgeria – Karpal Singh
Jom Penyet – Plaza Kingfisher
Jom Penyet – Aeropod
Jothy's Fish Head Curry Banana Leaf
K Fry Urban Korean – KL East Mall
K Fry Urban Korean – Setia City Mall
Ka Sao Noodles – Grand Industrial Centre [Non-Halal]
Kafe A Yogurt Cow – Jalan Radin Bagus
Kanna Curry House – Seksyen 17
Kanna Curry House – Taman Mayang Jaya
Kanna Curry House – Bandar Menjalara
Kanna Curry House – Jalan Gasing
Kanna Curry House – Puchong Jaya
Kanna Curry House – Seksyen 4
Kanna Curry House – Bukit Tinggi
Kenko – Penang Digital Library
Kizuna Bento King – Jalan Perusahaan Jelutong 2 [Non-Halal]
Kizuna Signature Ramen – Gurney Drive [Non-Halal]
KopiClub – Sungei Wang Plaza
KopiClub – Plaza Lowyat
Kruathai Cafe – Taman Adda
La Gourmet Dessert – Taman Pelangi
La Juiceria Superfoods – Menara Hap Seng 2
La Juiceria Superfoods – Main Place
La Juiceria Superfoods – Verve Shops
La Juiceria Superfoods Pro – KLCC
La Juiceria Superfoods Signature – Nadi Bangsar
La Juiceria Superfoods Cafe – Faber Towers
La Juiceria Superfoods – SS18 Subang
La Juiceria Superfoods Signature – Atria Shopping Gallery
La Juiceria Goodness Greens Cafe – TTDI
Let's Eat – Taman Gaya [Non-Halal]
Let's Eat – Setia Tropika [Non-Halal]
Let's Eat – Johor Jaya [Non-Halal]
Let's Eat – Taman Molek [Non-Halal]
Let's Meat – Lebuh Lembah Permai [Non-Halal]
Lim Fried Chicken – Hartamas
Lim Fried Chicken – Sunway Velocity
Lim Fried Chicken – Puchong
Lim Fried Chicken – SS2
Lim Fried Chicken – SS15
Little Neighbour Restaurant – Elite Avenue [Non-Halal]
Little Oasis – Prangin Mall
Loo Kee Chicken Rice – Jalan Seang Tek [Non-Halal]
Lucky Luck Seafood – Taman Nusa Bestari 2 [Non-Halal]
Luna Luna – Bandar Sunway
LyRoy Briyani Kukus – Taman Daya
MaggyMe – NU Sentral
MaggyMe – Sunway Geo
MaggyMe – Melawati Mall
Majez Chix – Lintas Plaza
Majeztea – Inanam Taipan
Majeztea – Centre Point Sabah Basement
Majeztea – Taman Indah Permai
Majeztea – Marketplace 88
Majeztea – Damai Plaza
Majeztea – Menggatal
Majeztea – Lintas Plaza
Majeztea – Centre Point Sabah 5th Floor
Majeztea – One Place
MARSHALL's Co – Jalan SS15
Marshall's Co – Jln Ampang
Marshall's Co – Raja Uda
Marshall's Co – Summerton
Marshall's Co – Greenlane
Marshall's Co – Bukit Mertajam
Marshall's Co – Sri Petaling
Marshall's Co – Station 18
Marshall's Co – Arena Niaga Simee
Marshall's Co – SS2
Marshall's Co – Seremban 2
Marshall's Co – Skudai
Marshall's Co – Mount Austin
Master Crab – Taman Sutera Utama [Non-Halal]
Max Gourmet – Gurney Plaza [Non-Halal]
Maxim Dim Sum Concept Sdn Bhd – Lintang Paya Terubong 1 [Non-Halal]
Maxim Dim Sum Restaurant – Bangunan Lip Sin [Non-Halal]
MDT Kape – 1Utama
MDT Kape – Sunway Pyramid
MDT Kape – Sunway Putra
MDT Kape – OUG Parklane
MDT Kape – Paradigm Mall
MDT Kape – The Mines
MDT Kape – MesaMall
MDT Kape – KIPMall Kota Warisan
Med Mex – Batu Caves
Med Mex – Sunway Pyramid
Med Mex – Hartamas
Med Mex – Tropicana Gardens
Med Mex – Platinum Sentral
Med Mex – Sunway Velocity
Med Mex – Avenue K
Med Mex – KL Eco City
Med Mex – 1 Mont' Kiara
Med Mex – NU Sentral
Med Mex – Starling Mall
Med Mex – Paradigm Mall
Med Mex – The Weld
Med Mex – Intermark
Mee Bandung Hjh Milah – Tanjung Agas
Megumi Modern Cuisine – Mid Valley Southkey
Megumi Modern Cuisine – Jalan Austin Height 8 [Non-Halal]
Mikey's Original New York Pizza – The Curve
Mikey's Original New York Pizza – Sunway Geo
Miss Mi Yogurt – Jalan Raja Uda
Miss Siam – Jalan Sri Purnama 2/3
Mohammad Chow Express – Hartamas
Mohammad Chow Express
Mr Fish & Friends – Sunway Geo Avenue
Mr Fish & Friends – The Curve
My Home Economy Rice – Summerton [Non-Halal]
Myeongdong Topokki – Taman Sri Gombak
Myeongdong Topokki – Tapak Urban Street Dining @ KLCC
MyeongDong Topokki – Sunway Pyramid
MyeongDong Topokki – IPC Shopping Centre
MyeongDong Topokki – Paradigm Mall
MyeongDong Topokki – Taman Lagenda
MyeongDong Topokki – Lebuh Tenggiri 2
MyeongDong Topokki – 1Utama
MyeongDong Topokki – SS15
Myeongdong Topokki – Cyberjaya
MyeongDong Topokki – Central i-City
MyeongDong Topokki – Sunway Putra
MyeongDong Topokki – The Mines
MyeongDong Topokki – Sunway Velocity
MyeongDong Topokki – Bangi Gateway
MyeongDong Topokki – Setia City Mall
MyeongDong Topokki – Metro Point Kajang
Myeongdong Topokki – Amanjaya Mall
MyeongDong Topokki – Kuantan City Mall
MyeongDong Topokki – Palm Mall
MyeongDong Topokki – KIPMall Kota Warisan
MyeongDong Topokki – Paradigm Mall JB
MyeongDong Topokki – Toppen Shopping Centre
MyeongDong Topokki – MesaMall
MyeongDong Topokki – Jalan Batas Baru
MyeongDong Topokki Express – OUG Parklane
MyeongDong Topokki Express – AEON Maluri
Myeongdong Topokki Express – KL East Mall
MyeongDong Topokki Express – Setapak Central
MyLaksa – KTCC Mall
MyLaksa – Mydin Bukit Mertajam
MyLaksa – AEON Seri Manjung
MyLaksa – East Coast Mall
MyLaksa – Aman Central
MyLaksa – KB Mall
Nasi Lemak Bamboo – Putatan
Nasi Lemak Ong – Bandar Alor Setar
Nasi Lemak Sedaap – Flat Taman Public
Nasi Tomato Batu Lanchang – Lintang Batu Lancang
New Thien Thien Restaurant – Royal Plaza Putatan
Nopal De Epoch – Asia City
Noryangjin Cupbob – Metropolitan Square
Noryangjin Cupbob – Mont Kiara Meridin
Noryangjin Cupbob – Bandar Sunway
Nosh By Poke Twins – Permas Jaya
NY Burger Co. – The Curve
NY Burger Co. – Sunway Geo
Nyonya Palace – Taman Melati Jaya [Non-Halal]
Ocean Green Restaurant – Jalan Sultan Ahmad Shah
One Roof – Luyang Perdana
Paperfish – TTDI
Pasta King – Bandar Sunway
Pasta King – Mont Kiara Meridin
Pasta King – Metropolitan Square
Pasta Panas – USJ
Pasta Panas – KL City Walk
Pasta Panas – HQ Shah Alam
Pasta Panas – Mid Valley
Pasta Panas – IOI Puchong
Pasta Panas – Mont Kiara
Pasta Panas – Bangi
Pasta Panas – Sri Petaling
Pasta Panas – Petronas Station Kota Kemuning
Pasta Panas – Bandar Sunway
Pasta Pedas Power – Bangsar
Pasta Pedas Power – Kota Damansara
Pasta x Fried Chicken By Luna Luna – Bandar Sunway
Pasta x Fried Chicken by Luna Luna – Setia City Mall
Penyet Express – Citta Mall
Penyet Express – MyTown
Penyet Express – Sunway Geo
Penyet Express – Melawati Mall
Penyet Express – Arcoris Mont Kiara
PichaEats – Complex Cantonment Exchange
Pinxin Vegan Cuisine – Lebuh Tye Sin
Pizza Station – Sunshine Farlim
Pizzazone & Tapasta – MyTown
Pizzazone & Tapasta – Melawati Mall
Pizzazone & Tapasta – Sunway Geo
Pizzazone & Tapasta – Citta Mall
Poké Twins – Taman Mount Austin
Pound – Jesselton Mall
Pre Tea Q – Jalan Mas Mulia
Pre Tea Q – Taman Kota Syahbandar
Pre-Tea Q – Batu Pahat
Pre Tea Q – Skudai
Pre-Tea Q – Pusat Komersial Oakland 2
Pre Tea Q – Mount Austin
Pure Minded Vegetarian Cafe – Jalan Indah
Pure Minded Vegetarian Cafe – Pusat Perniagaan Taman Daya
Putu Panda – Taman Universiti
Qong – Suria Sabah
Qong – Lintas Square
Rasa Sayang Kopitiam – Taman Kulai
Rawsome @ MGK – Sunway Geo
Restaurant United Nations Economy Rice – Jalan Aziz Ibrahim [Non-Halal]
Restaurant XLL Malahotpot – Dataran Perniagaan Cheras [Non-Halal]
Restaurant XLL Malahotpot – IOI Boulevard [Non-Halal]
Restaurant XLL Malahotpot – Jalan Duku [Non-Halal]
Restoran Hameediyah – Jalan Dato Ismail Hashim
Restoran Hua Mui – Eko Botanic
Restoran Hua Mui – Jalan Trus
Hwa Mui Kopitiam – Taman Sutera Utama
Restoran Hua Mui – Jalan Austin Height
Restoran Jaya – Jalan Gottlieb
Restoran Jaya – Seberang Jaya
Restoran Kaknas – Taman Tampoi Utama
Taiwan Railway Bento – Persiaran Bayan Indah [Non-Halal]
Restoran Nasi Kukus Ekonomi – Kingfisher
Restoran Nasi Malaya – Taman Perling
Olivia's Restaurant – Lebuhraya Batu Lanchang
Restoran Puyuk Besar – Taman Setia Tropika
Restoran Sulaiman Nasi Kandar – Jalan Air Itam
Rice Society – OUG Parklane
Rice Society – Klang
Rolly Polly – OUG Parklane
Rolly Polly – USJ 16
Saba Restaurant – Hartamas
Saba Restaurant – Publika
Saba Restaurant – Jalan Jelatek
Saba Restaurant – Cyberjaya
Sakae Sushi – Lotus's Tanjung Penang
Sakae Sushi – Queensbay Mall
Sakae Sushi – Sunway Carnival
Sakae Sushi – Sunway Pyramid
Sakae Sushi – Setapak Central
Sakae Sushi – 1Utama
Sakae Sushi – IOI Puchong
Sakae Sushi – Gamuda Walk
Sakae Sushi – AEON Bukit Tinggi
Sakae Sushi – City Square
Sakae Sushi – Vivacity Megamall
Sakae Sushi – The Spring
Salad Atelier Cafe – KLEC
Salad Atelier Cafe – Platinum Sentral
Salad Atelier Cafe – Sunway Velocity
Salad Atelier – NU Sentral
Prime by Salad Atelier – Hartamas
Salad Atelier Cafe – The Weld
Salad Atelier Cafe – Sunway Pyramid
Salad Atelier Cafe – Avenue K
Salad Atelier Cafe – The Intermark
Salad Atelier Cafe – 1 Mont Kiara
Salad Atelier Cafe – Starling Mall
EATS by Salad Atelier – Batu Caves
Salad Atelier Cafe – Paradigm Mall
Salad Atelier – Tropicana Gardens Mall
San Francisco Coffee – Central i-City
San Francisco Coffee – Symphony Square
San Francisco Coffee – Menara Prudential
San Francisco Coffee – Kenanga Tower
San Francisco Coffee – Melawati Mall
San Francisco Coffee – Menara UOA
San Francisco Coffee – Gardens
San Francisco Coffee – Menara TM
San Francisco Coffee – Prestige
San Francisco Coffee – Gurney Plaza
San Francisco Coffee – Juru Auto City
San Francisco Coffee – Queensbay Mall
San Francisco Coffee – KL Gateway
San Francisco Coffee – Bandar Baru Sg. Buloh
San Francisco Coffee – Chulan Tower
San Francisco Coffee – Arcoris Mont Kiara
San Francisco Coffee – Oasis Village
San Francisco Coffee – The Envictus
San Francisco Coffee – Technology Park Malaysia
San Francisco Coffee – The Horizon
San Francisco Coffee – Gamuda Walk
San Francisco Coffee – Suria KLCC
San Francisco Coffee – Quill 18
San Francisco Coffee – D'Network
San Francisco Coffee – Symphony House
San Francisco Coffee – Menara AIA
San Francisco Coffee – PJ Trade Centre
San Francisco Coffee – Tamarind Square
San Francisco Coffee – Nu Sentral
San Francisco Coffee – Publika
San Francisco Coffee – Wisma Consplant
San Francisco Coffee – Aman Central
San Francisco Coffee – Seremban Gateway
San Francisco Coffee – R&F
San Francisco Coffee – AEON Nilai
San Francisco Coffee – Mid Valley Southkey
Sangkaya – Tamarind Square
Sangkaya – Bukit Jelutong
Sangkaya – Jaya One
Sangkaya – Jalan Sultan Iskandar
Sangkaya – Sri Petaling
Sangkaya – Muar
Sangkaya – Wangsa Walk
Sangkaya – LuLu Hypermarket
Sangkaya – Spectrum
Sangkaya – Menara Rajawali
Sangkaya – IOI Puchong
Sangkaya – Central i-City
Sangkaya – Jalan Alor
Sangkaya – Riverson
Sangkaya – Lintas Station
Sangkaya – Mesamall
Sangkaya – Toppen Shopping Centre
Sangkaya – Vivacity Megamall
Satay Bayu & Ayam Golek – Penampang Baru
Seven Oaks – Taman Pelangi
Shaka by Poke Twins – Taman Melodies
Sin Seh Kai Artisan Bakery – New World Park [Non-Halal]
Sisters BBQ – Jalan Indah 15 [Non-Halal]
Sizzle – Plaza 333
Soo Guan Restoran
Spade's Burger – Persiaran Greentown [Non-Halal]
Spade's Burger – i-Avenue [Non-Halal]
Spade's Burger – Jalan Burma [Non-Halal]
Spade's Burger – Lorong Maju Utama [Non-Halal]
Spade's Burger – Taman Kolej Perdana [Non-Halal]
Spade's Burger – SS15 [Non-Halal]
Spade's Burger – SS21 [Non-Halal]
Spade's Burger – Jalan Radin Bagus [Non-Halal]
Spade's Burger – Bukit Tinggi 2 [Non-Halal]
Spade's Burger – Taman Mount Austin [Non-Halal]
SS Ikan Bakar – Taman Johor Jaya
Sukhothai – Queensbay Mall
Sukhothai Beef Noodle House – Gurney Paragon Mall [Non-Halal]
Sup Ikan Station – Asia City
Super Saigon – TTDI
Super Saigon – Sri Hartamas
Super Saigon – Ampang
Super Saigon – Subang Jaya
Super Saigon – Menara Hap Seng 2
Super Saigon – Bangsar
Super Saigon – Main Place
Super Saigon – Seventeen Mall
Supermee – Jalan Lim Lean Teng
Tai Tong Restaurant – Lebuh Cintra [Non-Halal]
Tail & Fin – Sunway Geo
Taiwan Kochabi – Jalan Burma [Non-Halal]
Tamaha Cafe – Toojou Hotel
Tasty Chapathi – Hartamas
Tasty Chapathi – Plaza Damansara
Tasty Chapathi – PJ
Tasty Chapathi – Jalan Ipoh
Teck Kee Restaurant – Plaza 333 [Non-Halal]
Teh Tarik Place – The Curve
TGI Fridays – Hartamas Shopping Centre
TGI Fridays – Queensbay Mall
TGI Fridays – Sunway Pyramid
TGI Fridays – 1Utama
TGI Fridays – The Curve
Thai Dee – Taman Mesra Jaya [Non-Halal]
The Black Whale – Taman Segar
The Black Whale – Plaza Arkadia
The Black Whale – Damansara Uptown
The Black Whale – Hartamas
The Black Whale – Karpal Singh Drive
The Black Whale – Pusat Perniagaan Raja Uda
The Black Whale – D'Piazza Mall
The Black Whale – Eco Sky
The Black Whale – IKON Connaught
The Black Whale – Taipan
The Black Whale – Sunway Pyramid
The Black Whale – Bandar Puteri
The Black Whale – Jalan Tun Abdul Aziz
The Black Whale – MyTown
The Black Whale – Lot 10
Black Whale – Paradigm Mall JB
The Black Whale – Mount Austin
The Black Whale – Sutera Utama
The Black Whale – Eco Botanic
The Mediterranean Saveur – Taman Dataran Larkin
The Monarch Tea – Taman Mount Austin
The Morso – Bandar Dato Onn
The Naked Lunch Box – Ara Damansara
The Naked Lunch Box – Damansara Utama
The Safe Room – Lebuh Victoria
The Thai Guys – Bandar Sunway
The Thai Guys – Metropolitan Square
The Thai Guys – Mont Kiara Meridin
Three Leg Cat Cafe – Jalan Paya Terubung [Non-Halal]
Tiger Sugar – Pavilion Elite
Tiger Sugar – 1Utama
Tiger Sugar – Sunway Pyramid
Tiger Sugar – Sunway Velocity
Tiger Sugar – Central i-City
Tiger Sugar – Avenue K
Tiger Sugar – Jalan Hutton
Tiger Sugar – Setapak Central
Tiger Sugar – Jaya One
Tiger Sugar – MyTown
Tiger Sugar – Sunway Giza
Tiger Sugar – Mid Valley
Tiger Sugar – The Starling Mall
Tiger Sugar – Berjaya Times Square
Tiger Sugar – KSL City Mall
Tomyummy – Jalan Sri Purnama 2/3
Tori-Tori – Queensbay Mall
Tori-Tori – Gurney Plaza
Tori-Tori – D'Piazza Mall
Tuk Tuk Tomyam – Harbour City Sembulan
Uncle Lim Delivery – Mount Austin
Uncle Lim Delivery – Taman Sri Yacob
Uncle Lim Delivery – Taman Sentosa
Upperstar – 1 Borneo
Upperstar – Segama Complex
Upperstar – Plaza 333
Upperstar – Lintas Plaza
Upperstar – Damai Plaza
Upperstar – Plaza Menggatal
US Pizza – Station 18
US Pizza – Jalan Niaga Simee
US Pizza – Jalan Raja Uda
US Pizza – Summerton
US Pizza – Jalan Perniagaan Gemilang
US Pizza – Lorong Delima Satu
US Pizza – Jalan Ampang
US Pizza – Jalan SS15
US Pizza – Pandan Indah
US Pizza – Jalan Radin Anum Satu
US Pizza – SS2
US Pizza – Dataran Centrio
US Pizza – Taman Nusa Bestari 2
US Pizza – Jalan Austin Perdana
US Pizza – Kulai
Venzy Tea – Sunway Carnival Mall
Venzy Tea – All Season
Venzy Tea – Suntech@Penang Cybercity
Venzy Tea – Kapal Singh Drive
Venzy Tea – Queensbay Mall
Venzy Tea – Kompleks Bukit Jambul
Venzy Tea – Aman Central
Venzy Tea Black Gold – Jalan Sentral Jaya
Venzy Tea Pink – G Hotel
Warong Baroka – Beverly Hills
Wasabi – Taman Connaught
Wasabi – Kepong
Wholey Wonder – Jalan Gurdwara
Wingin'It – USJ 16
Wingin'It – OUG Parklane
Wings Of New York – The Curve
Wings Of New York – Sunway Geo
Wings Of New York – Citta Mall
Wings Of New York – Melawati Mall
Wings Of New York – MyTown
Wings Of New York – PJ222 – Petaling Jaya
Wings of The World – Sunway Geo
Wings Of The World – MyTown
Wings of the World – Melawati Mall
Wings Of The World – Citta Mall
Wok Block – OUG Parklane
Wok It – SS15
Wok It – Bangsar
Wow Tea – Jalan Hutton
Wrappe – The Linc
Wu Jia Chinese Restaurant – Bangunan Lip Sin [Non-Halal]
Xiang Man Ju Restaurant – Jalan Gaya
Xiang Yang Food 祥洋小厨 – Bandar Baru Permas Jaya [Non-Halal]
Xii Chan – Kampung Malabar [Non-Halal]
Xing Fu Tang – Setia Alam
Xing Fu Tang – Pavilion
Xing Fu Tang – Kota Damansara
Xing Fu Tang – Sri Petaling
Xing Fu Tang – Solaris Mont Kiara
Xing Fu Tang – Taman Kota Laksamana Jaya
Xing Fu Tang – Karpal Singh Drive
Xing Fu Tang – Jalan Lau King Howe
Xing Fu Tang – Sunway Velocity
Xing Fu Tang – Jalan Rimbunan Raya
Xing Fu Tang – SS15
Xing Fu Tang – SS2
Xing Fu Tang – Bandar Puteri Puchong
Xing Fu Tang – IOI City Mall
Xing Fu Tang – DPulze
Xing Fu Tang – Arena Niaga Simee
Xing Fu Tang – Mid Valley
Xing Fu Tang – Sunway Pyramid
Xing Fu Tang – Kota Kemuning
XLL Malahotpot – Petaling Jaya [Non-Halal]
Yi Pin Roasted Chicken Rice Wahong Cafe – Lorong Kampung Jawa [Non-Halal]
Young Yogurt – Pusat Perniagaan Seri Juru