Sahur is an important meal that helps fuel the body with the energy needed to sustain during the fasting period of over 12 hours! Reality check: preparing a meal in the early hours can be a daunting task, especially if you have a whole family to feed. Some may accidentally skip this important meal due to oversleeping (blame the alarm for not going off). We definitely do not want that to happen!
With the importance of Sahur and having foodies wanting a late night supper, we have permanently extended our delivery service until 2am (for Klang Valley only, and last order is at 1.30am). We want to ensure that you get your favourite hot meals delivered – even in the early morning!
Check out some of the following merchants that's perfect for Sahur or late night supper.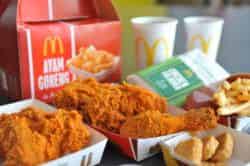 McDonald's
Their golden arches logo is already synonymous with both kids and adults alike and it certainly gets everyone excited! Whether you're craving for a Double cheeseburger or a box of McNuggets – there's something for everyone at any time of the day, including sahur! The must-try for this Ramadan is their Chicken Foldover – two delicious grilled chicken patties, juicy tomatoes, crispy lettuce, sliced onions, topped with the new special and wrapped in toasted flatbread. There is also the Nasi McD which consists of the crispy Ayam Goreng McD, coleslaw and a special Curry Sauce as an add-on! We're lovin' it!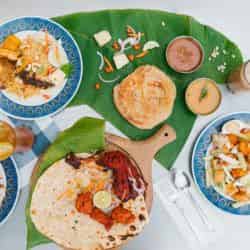 Nasi Kandar Pelita
Nasi Kandar Pelita has an interesting history tracing back to 1995 in Penang. It started selling nasi kandar in a coffee shop before being able to purchase the latter within a short time. It is now one of the most popular 24 eatery in the Klang Valley. The tantalizing aroma from the curry, served with a variety of chicken and beef dishes and a side of fresh vegetables that makes it a filling and unforgettable dish. But if a rice dish is too heavy in the early hours, check out their range of Naan and spice it up with a plate of Tandoori Chicken!  A complete dish for supper or sahur!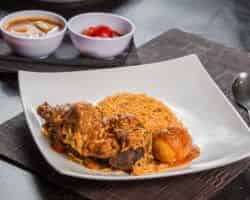 Syed Bistro
Syed Bistro began in the 1900s and the business continues to prosper spanning over four generations. It started in Penang but spread its wings to Kuala Lumpur and it continues to thrive. Apart from the usual staple of Nasi Kandar (of which every mamak eatery is known for), Syed Bistro offers a mouth-watering Bukhara Briyani served with either Chicken or Mutton. The combination of the fluffy rice and fragrant spices will leave you craving for more. Their Wok corner serves some tantalizing dishes like Kampung Fried Rice, Pattaya Fried Rice and even our all-time favorite of Mee Goreng Mamak.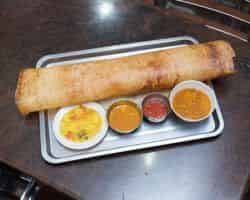 Uncle Rahmat
Restoran Uncle Rahmat is already a popular eatery to relax and unwind in Bangsar. We heard their Garlic Naan and Rojak are a must-try. However, judging by their menu on GrabFood, it's hard to choose since it is pretty extensive! There's Bihoon Goreng, Char Kuey Teow, Mee Goreng and Maggi Goreng if you want some simple noodle (there's even Maggi Goreng Kambing!). For the rice lovers, choose the Nasi Lemak, Nasi Briyani or your usual staple of Nasi Kandar. Wait, there's more. If you're craving for something icy, check out their Milo Ice Blended.  If you need something hot in the early morning, then just choose a nice serving of Teh Tarik or Kopi Tarik.
RSMY Best Cheese Naan
When your menu is part of your namesake, you're in for a cheesy treat. You can never go wrong  with a plate of hot Naan with a generous amount of cheese. Depending on the time, you're most likely need to wait to get a table. But thanks to GrabFood, you can get your favourite Cheesy Set delivered right to your door. We recommend the Cheese Naan, Dhal Fry and Iced Black Tea combo. You'll get a fluffy cheese naan paired with an aromatic lentil curry with a refreshing iced tea. Other combos are available, and if you're a true cheese lover, then don't forget to tick the extra cheese box!
Restoran Mahbub
If you grew up in Bangsar, Restoran Mahbub may perhaps be your childhood 'makan' spot. Originally known as Restaurant Sharifa in 1974, it was later renamed as Restoran Mahbub in 1995. So what are they known for? The go-to dish is the Nasi Briyani Ayam Madu, which continues to be their best signature dish. They also serve the Nasi Briyani Buhara that is cooked with a variety of spices, which gives that aromatic smell, leaving you craving for more!
Order your late night favourites now!
There you go… some of your favourite eateries that can satisfy your late night (or early morning) craving. Check out your Grab app for more participating merchants that have extended their operation hours!
For our Muslim friends, now you can save time and have a more relaxing sahur by ordering your food with GrabFood. As getting your pre-dawn meal is an important aspect of Ramadan, we want to make sure you still get the nutrient and energy needed throughout the day. Remember, last order is at 1.30am!
Selamat Berpuasa dan Selamat Hari Raya Aidilfitri!