It ain't easy being a chef for yourself, and your family – 3 times a day every day, right? If you run out of ideas, just turn to GrabFood. 
Now, you can enjoy 30% OFF with GrabFood Signatures, with a minimum spend of RM25. Juicy fried chicken, refreshing desserts, yummy cakes, soupy noodles – get them delivered without lifting a ladle!
Leave the cooking to these restaurants.

Tip: You can request for contactless delivery, by informing Grab delivery-partners via GrabChat to leave orders at your doorstep.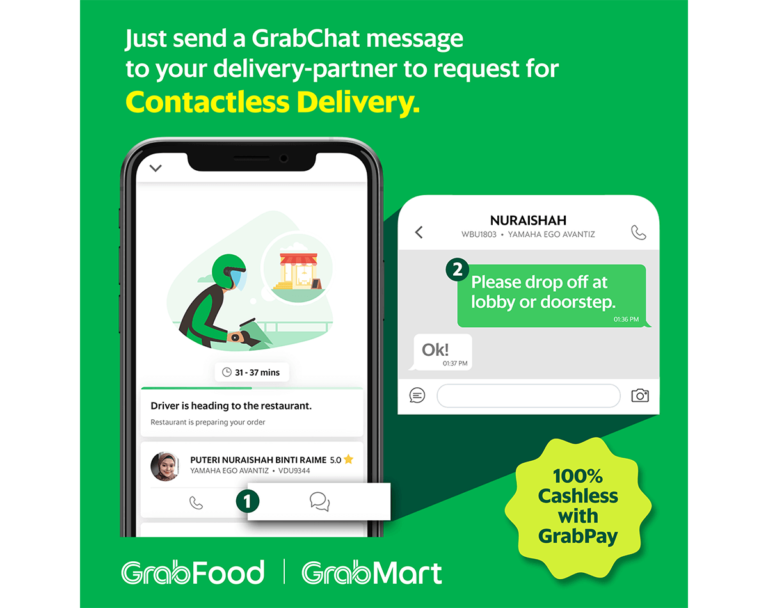 Promotion is valid from 24 March 2020 to

31 March 2020.

Promo code SIGNATURES is limited to GrabFood orders from GrabFood Signatures restaurants only.

Promo code is limited to 5 redemptions per Grab account, or per device during the campaign period. Limited to 15,000 redemptions per day.

Valid for new or existing users.

Promo code is applicable for a minimum order of RM25.

Promo discount is up to RM25.

Promotion is not valid with any other vouchers or promotions.

Promotion is not exchangeable for cash or replacements.

Grab reserves the right to alter, extend or terminate the promotion, or amend the terms and condition at its sole discretion at any time without prior notice. In case of any disputes directly or indirectly arising from the promotion, the decision of Grab shall be final.

These terms and conditions shall be governed by the laws of Malaysia and any dispute arising out of or in connection with promotion shall be referred to the exclusive jurisdiction of courts of Malaysia.
Eligible Restaurants
Absolute Thai
Absolute Thai Street Food
Ages Ago
Ah Cheng Laksa
Alibaba & Nyonya (SR Group)
Appethaizing
Baker's Cottage
Ben's Bake Shop (Whole Cakes)
Ben's To Go
Beyond Veggie (SR Group)
Bok Bok Korean Fried Chicken
Boost Juice Bars
Boran - Classic Thai Street Food
Botanist Cafe
Calanthe Art Cafe
Carl's Jr
Chakra Restaurant
Chizu
Chun Yang
Costa Coffee
Dave's Deli
Deens Maju
Delicious
Dome's
Durian Man - SS2
Eatomo
Fahrenheit 600
Fat Cat
Fish & Co.
Fish Bowl
Friendscino
Geographer Cafe
Go Noodles
Granny's Recipe
Hameediyah Restaurant
Hawker Chan
Hawker Hall
Hayaki
Hello Stranger Cafe
HeyCha (SR Group)
Hock Kee Ulu Yam Loh Mee [Non-Halal]
Hokkaido Baked Cheese Tart (SR Group)
Hometown Hainan Coffee
Honzu
Hubba Hubba
Humble Chef
Imano's Cafe
Inside Scoop
Inside Scoop (Whole Cakes)
Jinjja Chicken
Kedai Biskut Guan Heong
KGB
KL Fried Chicken
Kyochon
La Juiceria SuperFoods
Let's Eat
Liang Sandwich Bar
Lim Fried Chicken
London Sandwich Co
Mei By Fat Spoon
Meng Kitchen
Mohammad Chow Express
MyBurgerLab
MyPizzaLab
Nam Heong Ipoh [Non-Halal]
Nancy's Kitchen
Old Klang Road Hokkien Mee
Oriental Landmark - Landmark
Pasta Panas
Penang Road Famous TeoChew Chendul
Pinxin Vegan Cuisine
Plan B Roasters
Proof Pizza
Red Lobster (SR Group)
Restoran D'Serai Corner
Restoran Super Kitchen Chili Pan Mee
Roast & Grill (SR Group)
Salad Atelier
San Francisco Coffee
Sangkaya
Seafood World
Secret Recipe (SR Group)
Secret Recipe (Whole Cakes)
Sharing Plates
Smooshie Juice
Souled Out
Souper Tang
Spade's Burger
Super Saigon
Tasty Chapathi
Texas Chicken
The Alley
The BIG Group - Ben's
The BIG Group - Ben's Bake Shop
The BIG Group - Ben's Chicken Shop
The BIG Group - Ben's General Food Store
The BIG Group - Bistro Benji's By Big
The BIG Group - Plan B
The BIG Group - S'wine
The Cockerel
The Coffee Bean & Tea Leaf
The Ice Cream Bar
The Ice Cream Bar (Whole Cakes)
The Public House by Vintry
The Red Beanbag
Tiger Sugar
Toast Box
Tujo
Village Park
Village Roast Duck
Vintry
Wall's Ice Cream
Wizards
Xing Fu Tang
Yellow Brick Road
Yu - The Gardens