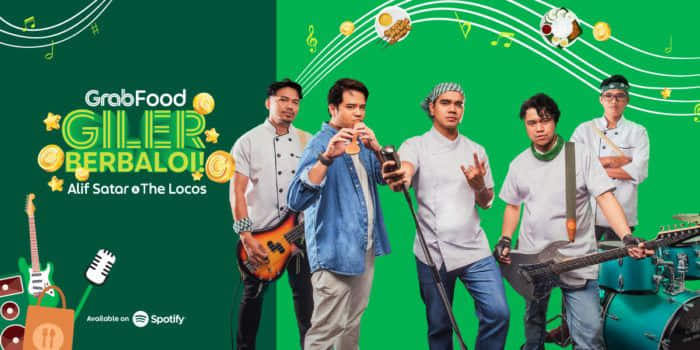 Stand your chance to win RM200 GrabFood Vouchers by participating in this TikTok Song Duet Challenge with Alif Satar & The Locos 🤩
All you have to do is show off your talents and sing the missing verses in this TikTok Song Duet in your very own way! You can be as creative as you can be or just simply follow the lyrics. 🎤🎶
Be sure to follow and tag @GrabFoodMY on TIkTok and Instagram, don't forget to #GrabFood #GilerBerbaloi and submit before 11am on 21st September 2022.  Also, remember to set your TikTok account to PUBLIC.
Hurry, join the challenge now!
Eligibility:
The challenge is open to all residents of Malaysia. The participant must have an activate Grab account in order to participate.
All employees (both permanent and fixed term contract) or agencies of the Organiser and their immediate family members shall not be eligible to participate in the Challenge.
How To Participate:
An individual ("Participant") can enter the Challenge by doing a duet with Alif Satar & The Locos on the song "Lagu Giler Berbaloi" using the video posted on TikTok by Alif Satar (@itsalifsatar) or GrabFood Malaysia (@grabfoodmy). The Challenge is solely applicable on the TikTok platform. 

Participants' TikTok account must be PUBLIC. 

The individual must follow @GrabFoodMY TikTok account.

Participants must tag @GrabFoodMY and hashtag #GrabFood #GilerBerbaloi

o

n the Challenge post. 

The Organiser reserves its sole right and discretion to delete, remove, not consider or reject content that is deemed by it to be improper or offensive in whatever nature. 

Entries on behalf of another person will not be accepted.

One Participant is only eligible for one (1) prize regardless of the number of entries.

Twenty-Five (25) winners will

be selected amongst the eligible submissions via an internal panel from the Organiser. The winners will be determined after the Organisers have conducted the relevant examination, which includes fraudulent checks on the Participants. The winners will be selected based on the best content, and the selection criteria will be according to the following (60% creativity, 20% relevancy and 20% style).

The winners will be announced and contacted via direct message (DM) on TikTok for further instructions to redeem their prizes. Therefore, participants are required to follow @GrabFoodMY on TikTok to be able to receive DM's from GrabFoodMY. By participating in this Challenge, you provide consent to the Organiser to announce your name and/or release a photograph of you as the prize-winner in our winners announcement. Your prize may be forfeited to the next winner if you are unable to comply with this condition.

Winners who fail to respond to their DM within 7 days of contact will be disqualified and the Organiser reserves the right to award the prize to another winner.

The Organiser expects, that Participants will not post any materials that fall into any of the following categories, and may remove any materials that include or involve the following:

Defamation, abuse, harassment, stalking, threatening actions or otherwise which may violate the legal rights (such as rights of privacy and publicity) of others.

Publish, post, distribute or disseminate any defamatory, infringing, obscene, indecent, misleading, insensitive or unlawful material or information.

Upload or attach files that contain software or other material protected by intellectual property laws (or which may infringe a privacy right of another) unless you own or control the rights thereto or have received all necessary consents.

Upload or attach files that contain viruses, corrupted files, or any other similar software or programs that may damage the operation of another's computer.

Delete any author attributions, legal notices or proprietary designations or labels in any file that is uploaded.

Falsify the origin or source of software or other material contained in a file that is uploaded.

The Organiser reserves its rights to publish or display materials or information, including but not limited to, the names of all Participants for marketing, advertising and publicity purposes in any manner it deems appropriate.
The Prize(s): 
Each winner will receive a RM200 GrabFood voucher (4 x RM50 denominations) to be redeemed in GrabApp. 

It is mandatory for each winner to have an activate Grab account to receive the prize. Each winner will be required to provide Name and Mobile Phone Number as per registered on their Grab app + User ID (instructions on how to retrieve ID will be shared via DM). 

Each GrabFood RM50 voucher can only be redeemed once, in full and any unused balance from each voucher will be forfeited. 

The prizes are non-exchangeable and non-transferable, and are not redeemable for cash or other prizes.

The Organiser retains the right to substitute the prize with another prize of similar value.

No compensation will be payable if the winner is unable to use the prize as stated and before expiry of the said voucher. 

The Organiser reserves the sole and absolute right to disqualify any Participant or reject qualifying Participants deemed ineligible (be it under these Terms & Conditions, or because the Participant has engaged in a conduct that the Organiser considers inappropriate or unacceptable).
General Terms and Conditions
The Organiser reserves the sole and absolute right to withdraw, amend and/or alter any part of the whole terms and conditions in relation to this Challenge at any time without giving any prior notice to the Participants, and the Participant agrees to be bound by those changes.
By participating in the Challenge, Participants are deemed to agree and shall be bound by the terms and conditions herein, as set out upon submission of entry. The terms and conditions herein shall prevail over any inconsistent terms, conditions, provisions or representations contained in any other promotional or advertising materials for the Challenge. In the event of any inconsistency, conflict, ambiguity or discrepancy between the English version and any other languages' version of these terms and conditions, the English version shall prevail at all times.

The Organiser's decisions in any matter in relation to the Challenge shall be final and conclusive.

The Organiser shall not be liable for any claims by the Participant or third-party claims or losses of any nature, including but not limited to, loss of profits, punitive, indirect, special, incidental, or consequential damages or for other damages and any related claims of any nature, including direct, indirect, third-party, or other damages resulting from or in connection with this Challenge.

These terms and conditions shall be governed by the laws of Malaysia and any dispute arising out of or in connection with promotion shall be referred to the exclusive jurisdiction of Asian International Arbitration Centre in Kuala Lumpur.
By taking part in this Challenge, you have acknowledged that you have read, understood and agreed to be bound by these terms and conditions. You further agree you shall not question the decisions of the Organiser without limitations or qualification. You agree that all decisions of the Organiser shall be final and conclusive.