Mum has been with you through your ups and downs. Seen you at your best and your worst (and even worst-er). This Mother's Day, show Mum how much you appreciate her by winning her amazing prizes from dUCk.
Simply take the challenge from 25 Apr–15 May! 
Check on your challenge progress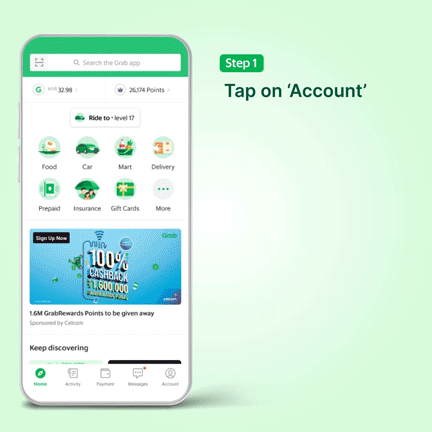 Challenge Rules
Each Challenge cannot be shared. Each Challenge is specially designed for every individual user and limited to the user who has access to the Challenge in their app. Grab reserves the right to limit accessibility of participants to the Challenge in their app.

Challenge is only valid from

25 April 2022 – 15 May 2022

(Challenge Period)

.

Challenge is only valid in Malaysia. Any GrabMart transaction made outside Malaysia will not be considered as part of this Challenge.

Each participant will be eligible to participate in this Challenge upon completing 1 order from any participating stores on GrabMart with a minimum spend of RM75. 

This challenge is only applicable in selected stores.

This Challenge cannot be replayed once it is completed or the period has ended.

Challenge will end when the Challenge Period ends, or when the available reward inventory runs out, whichever earlier.
Reward terms and conditions
Upon completing Milestone 1 of the Challenge, GrabMart customers will be awarded with 300 GrabRewards points (min spend RM75).

Upon completing Milestone 2 of the Challenge, GrabMart customers will need to submit an answer to a simple question in order to stand a chance to win a dUCk lipstick (min spend RM75). *The first 500 GrabMart customers to answer the question correctly will win a dUCk lipstick.

The first 200 GrabMart customers to complete Milestone 3 and submit the form within the challenge period will win a dUCk scarf or wristlet. 

GrabMart customers who have completed Milestone 1 of Challenge, will be awarded the voucher within three (3) working days.

Each level of rewards issued will be valid for 30 days from the issuance date, no extensions of reward validity will be entertained.

The reward will be issued after Grab has conducted relevant examinations, which include fraudulent checks on the participants.
Other terms and conditions
Winners of this contest will be contacted via email registered with your Grab account by 9 June 2022 to arrange for collection of prizes.

The prize may be forfeited if we fail to reach the winners by 9 June 2022.

Winners of this contest will be announced by 12 June 2022.

The prize may be forfeited to the next winner if the participant is unable to comply with these terms & conditions.

You agree that you are in compliance with Grab's terms of service applicable for the Grab service provided, as stipulated in the Grab app. Each reward is governed by its applicable terms of use. Please refer to the Terms and Conditions in each reward for such applicable terms. 

Grab reserves the sole and absolute right to withdraw, amend and/or alter any part of the whole terms and conditions in relation to this Challenge at any time without giving any prior notice to you and you agree to be bound by those changes.

Grab's decisions in any matter in relation to the Challenge shall be final and conclusive. Grab shall not be liable for any claims by you or third-party claims or losses of any nature, including but not limited to, loss of profits, expectation loss, punitive, indirect, special, incidental, or consequential damages or for other damages and any related claims of any nature, including direct, indirect, third-part, consequential or other damages resulting from or in connection with this Challenge.

Grab may, at its sole and absolute discretion, substitute the reward for another reward of similar value, in circumstances that include unavailability of the original prize, illegality or non-feasibility. 

In claiming the reward, Grab may request for such identification documents or further information to verify and check the identity of the prize winner, to prevent gaming and fraud. 

All rewards must be claimed/redeemed within the stipulated deadline. Any rewards not claimed by the deadline may be forfeited (or disposed of, or donated, all at Grab's discretion), and no claims whatsoever for payment or compensation shall be entertained.

Unless otherwise provided, all rewards are non-transferable and non-exchangeable for cash/credit in kind.

These terms are governed by the laws of Malaysia and the non-exclusive jurisdiction of the Malaysia courts.