Tekan sini untuk terjemahan Bahasa Melayu
We have created this guide to help driver-partners who would want to make a reservation for a vehicle inspection with Puspakom online.
Part 1: MyPuspakom Account Registration
Step 1
Click on 'Register Now'
Step 2 – Registration
Choose account type 'Company', then choose 'Enterprise'
Step 3 – Account information
Change Company Information to Vehicle Owner Information
Company Name → Owner Name
Company Registration Number → Owner's NRIC number
Step 4 – Required Documents
Registration of Business → Owner Name
Authorization Letter → Copy of Certified Car Registration Card OR copy of Vehicle Ownership Certificate that has been certified by Commissioner for Oaths or JPJ Officer.
Click 'Register'. You will be informed via email if your account has been confirmed to make an inspection reservation.
---
Part 2: Puspakom Inspection Reservation
Step 1
Login using the registered email and password
Step 2
Choose 'New Reservation'
Step 3 – Lengkapkan maklumat kenderaan anda
Tip: Please refer to the registration card or vehicle ownership certificate for the required details.
Vehicle Category: Commercial*
Vehicle Type: Light
Usage Class: Private e-hailing
*Your vehicle is still classified as a private vehicle, the category here is for registration only.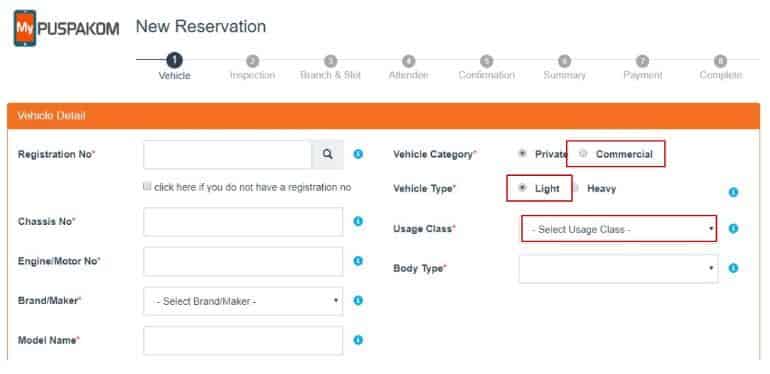 Step 4
Choose 'Berkala Pertama e-hailing'
Step 5
Choose your preferred 'State' and 'Date', to go for the inspection. Then, select the date and location that are still available.
Step 6
Choose your preferred time slot
Step 7
Fill up the details of the vehicle representative that will be present for the inspection.
Step 8 – Confirm your reservation details
You only need to bring one of the following documents:
Original Car Registration Card

Original Vehicle Ownership Certificate

Copy of a Car Registration Card which has been certified by the Commission of Oaths or JPJ Officer

Copy of a Vehicle Ownership Certificate which has been certified by the Commission of Oaths or JPJ Officer
Step 9
The summary of the total payment will be displayed here
Step 10 – Payment
Make online payment via credit / debit card / FPX . Please bring the Reservation Confirmation Slip during the inspection, printed or electronic copies are acceptable.
Scan QR code on the scanner terminal
Kindly be reminded that all members of the Grab community are required to follow the Code of Conduct and Terms of Services.