Unlike many other foods from Indonesia which can only be found at street-side stalls, Balinese cuisine goes way beyond hawker culture. Dishes are personal, ceremonial, and to some, even sacred. Hours of laborious work often go into the preparation. An invitation to a Balinese home is to be treasured, an opportunity to enjoy traditional Balinese food: recipes passed down through generations. This is why, in Bali, some of the most popular local eateries are connected to the family home. 
Much of Bali's food centres around a seasoning known as base genep, a heady spice mix of fresh ginger, turmeric, galangal and nutmeg — local ingredients that are rich in taste and, many believe, also rich in healing properties. Balinese favourites from bebek betutu (barbecued duck) to suckling pig are all seasoned with base genep in various intensities, giving a complex, multi-layered flavour that is distinctively Balinese.
Even for Indonesians, Balinese dishes are considered very spicy, so if you can take the heat, consider yourself almost a local!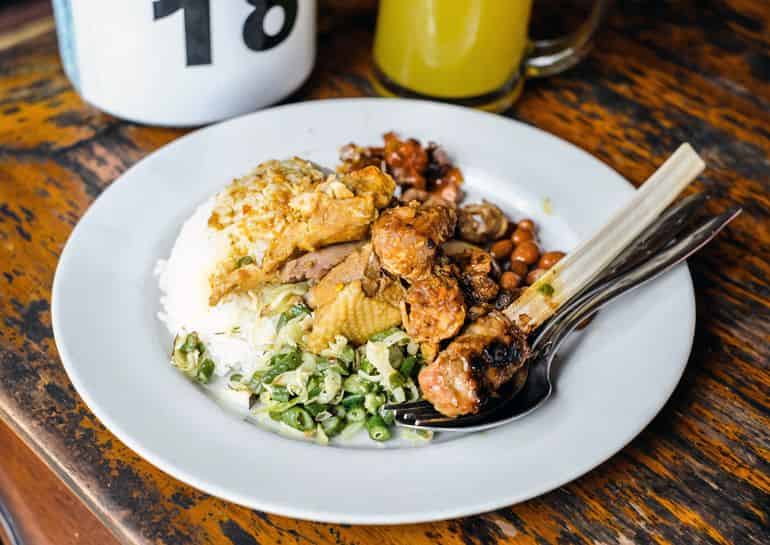 To the Balinese, a plate of nasi campur is the everyday fare that gives them enough protein, lean fat, fibre, carbs and medicinal spices to fuel a day's work or play. And to those visiting Bali, it is a great opportunity to sample Bali's varied dishes. 
Nasi campur  encompasses all that is great about Balinese food. White rice is surrounded by portions of fish or chicken satay, shredded chicken, crispy fried chicken, fried peanuts, beans lawar (beans with coconut milk, palm sugar and shallots), telur pindang (egg boiled in spiced water), fried chicken skin, and sambal matah. Many people will be familiar with nasi goreng, a staple of Indonesian food, so nasi campur  is the perfect introduction to Balinese cuisine. And where better to enjoy this everyday dish other than at one of Bali's firm favourites: Nasi Ayam Kedewatan Ibu Mangku?   
Nasi Ayam Kedewatan Ibu Mangku has been popular among tourists and locals alike for decades, even though it is a small, two-menu eatery, serving nasi ayam komplit (complete) and nasi ayam biasa (standard). Its homey, authentic flavours have won many hearts and return diners. The accompaniments are plenty and if you're staying long enough in Bali, then you might find yourself coming back for more, time after time. 
Pricing: 25,000–35,000 rupiah  
Address: Jl. Kayu Jati No. 12, Seminyak, 80361 Bali 
Phone number: 0361 474 0031
Opening hours: Monday–Sunday: 8am–9pm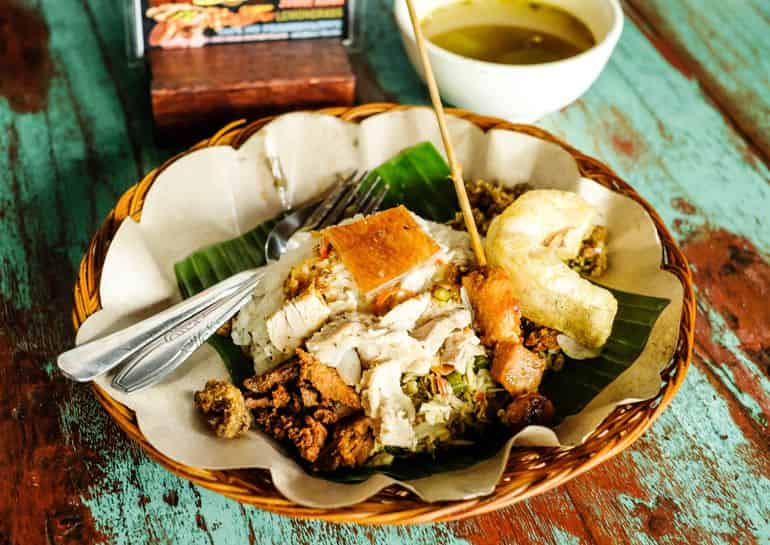 Some Balinese don't consume babi (pork) but for many locals, babi guling is a staple dish — one that you may find is quite unlike anything else. 
The preparation of this much-loved dish is theatre in itself. Like many other traditional foods, the preparation takes hours and often begins before dawn, especially during ceremonies when cooking takes place from morning to night. Once cleaned, the pig is stuffed with base genep, giving it curry-like flavours and the fragrant aroma of lemongrass and ginger, before being roasted on coconut husks for several hours. 
The resulting pork is tender, but tantalisingly crispy on the outside, the bronzed skin a prized delicacy on its own, known as krupuk (cracker). A plate of nasi campur babi is made up of several pork dishes: pork satay, fried pork, heart, pork cracker, pork skin, beans lawar, and sambal. 
Some Balinese turn their homes into a suckling pig kitchen, serving friends and neighbours with their own special take on the dish. It can take an entire family to run a small business like this, which is why you will find many Balinese naming their warung with their own family name, such as Babi Guling Pak Malen. 
One of the oldest suckling pig eateries in Bali, Babi Guling Pak Malen is located in the heart of Kuta, easily accessible to anyone in the South. Pak Malen's suckling pig is renowned for being hot and spicy. This suckling pig is so juicy and tender, it's best enjoyed slowly, to better savour each mouthful.
Pricing: 30,000–70,000 rupiah
Address: Jln. Sunset Road No. 554, Kerobokan, Seminyak, Kuta, 80361 Bali
Phone number: 0851 0045 2968
Opening hours: Monday–Sunday: 8.30am–7pm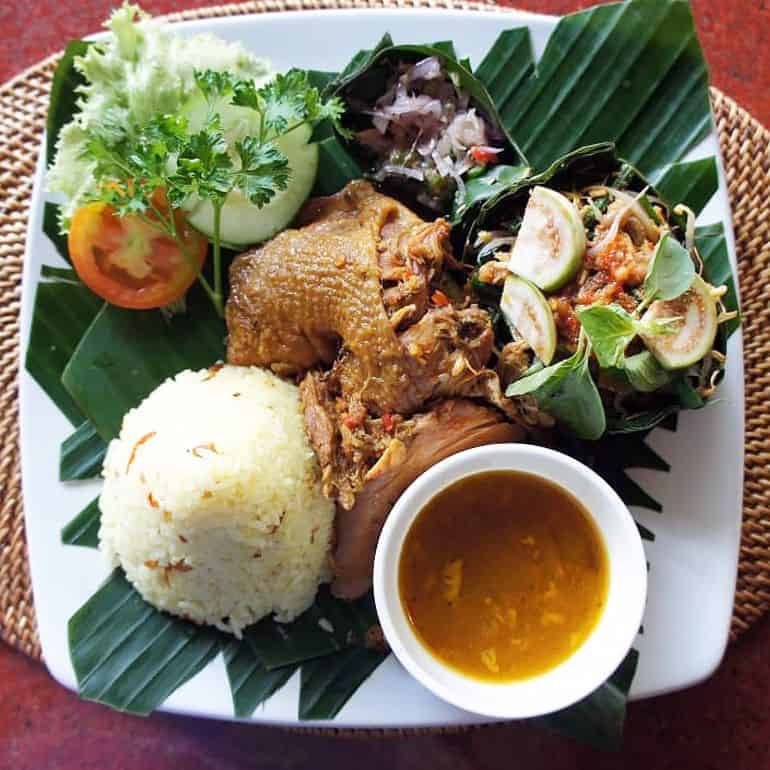 There are two kinds of bebek dishes in Bali: the crispy fried duck and the juicy, melt-in-your-mouth bebek betutu. Just like suckling pig, the preparation for bebek betutu takes a village. After being cleaned and seasoned, the duck is wrapped in banana leaves and coconut leaves. Banana leaves, which are abundant in Bali, are often used to wrap foods — both sweet and savoury — either as packaging or as a wrapper before the entire package is cooked. The thick leaves keep the food from burning, while contributing a delicious fragrance of the tropics. 
After being wrapped, bebek betutu is buried in the ground, then covered in live coals to cook for seven to eight hours, often overnight. The resulting meat is a sensation of natural seasoning and flavour. It is delicate, refined and mouth-watering. If you're looking for something original and authentic then this fits the bill perfectly.
Murni's Warung is one of the oldest authentic Balinese restaurants in the heart of Ubud, and is known to serve among the best bebek betutu in town. Here diners can enjoy bebek betutu that is so tender it practically falls off the bone, accompanied by fresh vegetables and sambal. Perfection!
Pricing: 55,000–100,000 rupiah
Address: Jln. Raya Campuhan, Ubud, 80571 Bali
Phone number: 0361 975 233
Opening hours: Monday–Sunday: 8am–11pm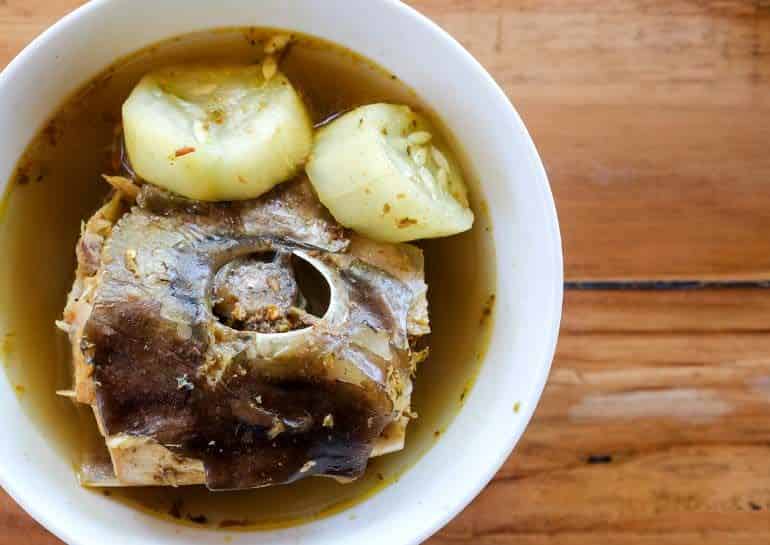 Fish soup is one traditional Balinese dish that is often eclipsed by other, more glamorous creations. Aside from Jimbaran (the capital for anything seafood), Sanur is the go-to place for a more rustic and low-key seafood dining experience. You can find several fish soup stalls on the same street (the most famous being Warung Mak Beng); these usually open at 8am — great for a light, nutritious breakfast after a stroll on Sunrise Beach (Pantai Matahari Terbit).   
Like many other Balinese dishes, fish soup uses base genep, though in a more subtle way. Fish head is drenched in a warming, spice-infused broth. Served alongside is chunk of fried fish, cooked until the skin turns crisply brown. Dip the fried fish into the broth or eat as is, accompanied by white rice and sweet sambal bajak. This tasty combination is nourishing for both body and mind. You could say that Sup Kepala Ikan is Bali's own version of chicken soup for the soul! 
Pricing: 20,000–45,000 rupiah
Address: Jln. Matahari Terbit No. 1, Sanur Kaja, Denpasar Selatan
Phone number: 0811 3885 403
Opening hours: Monday–Sunday: 8am–9.00pm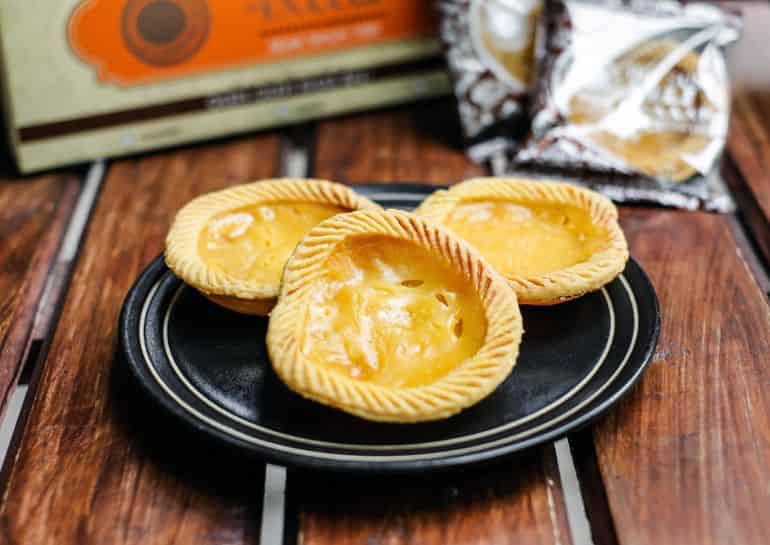 Pie susu or egg tart is not a traditional Balinese snack. However, as it's easier than most other foods to take home, it has become a must-buy item for both local and international tourists — the ideal edible souvenir! 
The brand which is thought to have kick-started this trend is Pie Susu Asli Enaaak, which has been in Denpasar since 1989. A humble family business, Pie Susu Asli Enaaak operated from the owners' home for a decade, selling their wares only at nearby markets. When tourists began to look for something new to take home, pie susu became the souvenir of choice. Domestic tourists drive the market and Pie Susu Asli Enaaak remains the crowd favourite, despite many more brands now being on the market. 
Nowadays at many traditional Balinese ceremonies, egg tarts are expected from the host. They're easy-to-get, milky and sweet — not to mention, they're a great end to the meal after a full plate of babi guling.
Pricing: 30,000–60,000 rupiah 
Address: B No. 8, Jln. Dewi Sri VIII, Legian, Kuta, 80361 Bali
Phone number: 0361 760 088
Opening hours: Monday–Sunday: 8am–5pm