Canggu (pronounced "Chan-goo") has been a popular surf destination for decades, but it has only emerged as a Bali hotspot in the last five to seven years. Just a 20-minute drive up the coast from Seminyak, Canggu has quickly evolved with its own distinct culture.
It's a little more hipster, a little less resort-laden than Seminyak, and is divided into three main areas: Berawa, Canggu and Echo Beach. Villas, cafés, restaurants and boutiques line the streets, yet there are still rice fields and traditional Indonesian ceremonies to discover and enjoy. 
As for its food scene, it's just like the surf — it's pumping. There are many Canggu cafés to choose from, with most trending towards healthy menus. This is largely due to the access to quality local fruits and vegetables and the yogi/fitness lifestyle the island offers.
There are coffee shops in Canggu aplenty and coffee is taken quite seriously in this beachside haven. Imported coffee is popular; however, some impressive locally produced bean varietals have emerged as well. 
So what are the best cafés in Canggu? We take a look at four that stand out for best coffee, brunches and healthy menus.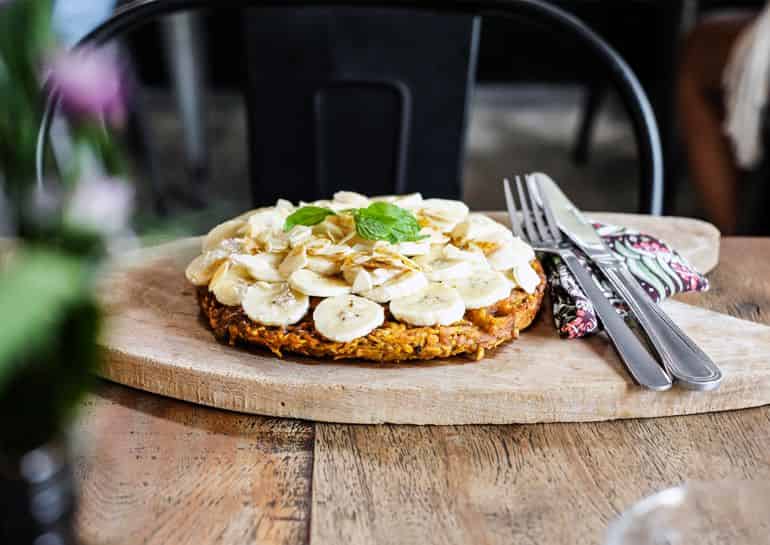 Motion Café is for people who love the clean eating scene. Everything is prepared in-house; there's no refined sugar used, and organic and local ingredients are go-tos as much as possible. But don't let all this talk of healthy ingredients make you think that this menu is going to lack punch. Far from it. Herbs, spices and brilliant combinations of whole foods really make eating healthy extremely enjoyable here. 
A word of advice: check out the Sweet Potato Waffles, topped with sliced avocado, rocket, tomato relish and sour cream. Season with a sprinkle of Himalayan rock salt and they become even more delicious! If waffles aren't for you, the Eggs and More menu is packed with options for a post-workout meal tailored to your specific tastes; or if you're after something sweet, a granola bowl will hit the spot. 
And the coffee? Motion uses its own blend to make all your favourite brews to help you kick-start the day.
Following a particular diet, or have a food sensitivity? Motion has what you need if you're dining paleo, keto, vegan or gluten-free. If you're serious about clean eating or are a fitness fanatic, Motion's nutritionists can even prepare a detailed meal plan for you. Now that's next level. 
Pricing: IDR 65K – IDR 95K
Address: Jl. Pantai Batu Bolong No. 69B, Canggu 80361, Bali
Phone number: 0811 399 9411
Opening hours: Monday–Sunday: 7am–10pm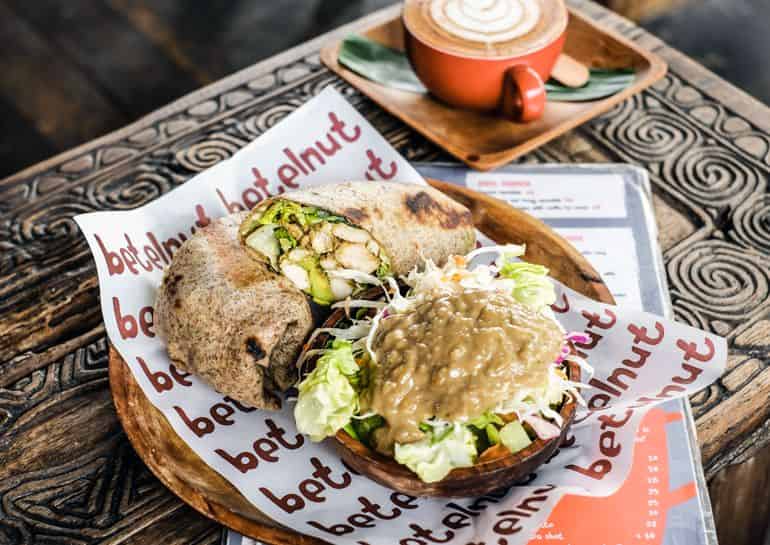 Once upon a time, a café stood alone amidst the rice fields of Canggu. Even before this part of Bali gained popularity as a destination, Betelnut café was making smoothies, coffees and breakfasts for yogis, surfers and the occasional tourist. Now, it's one of the best-known Canggu cafés — an institution, in fact. 
Let's get straight down to breakfast business. The Selamat Pagi breakfast plate (pictured) feels like home; two eggs any way, accompanied by bacon, spinach, mushrooms, roasted tomato, avocado, home-made beans and toast. The result is satisfying, tasty and sets you up for a great day. If you're time-crunched, one of the four set breakfasts will make things easier for you to rush out the door. 
Moving along to the fruity side of the menu, Betelnut's menu features an enviable selection of smoothie bowls, and our pick has to be the Mango Bowl. Think blended mango, pineapple, banana and coconut topped with granola, fresh coconut, strawberries, passion fruit and chia seeds. For other healthy treats, Betelnut also does great porridge, granola and muesli, as well as fresh fruit combinations, natural yoghurt and local honey. 
And last, but certainly not least, is the coffee. Sourced from Mandailing Estate in northern Sumatra, Betelnut's brews are the perfect accompaniment to your brunch. 
Pricing: IDR 35K – IDR 90K
Address: Jl. Batu Bolong 60, Canggu, 80361 Bali
Phone number: 0821 4680 7233
Opening hours: Monday–Sunday: 8am–10pm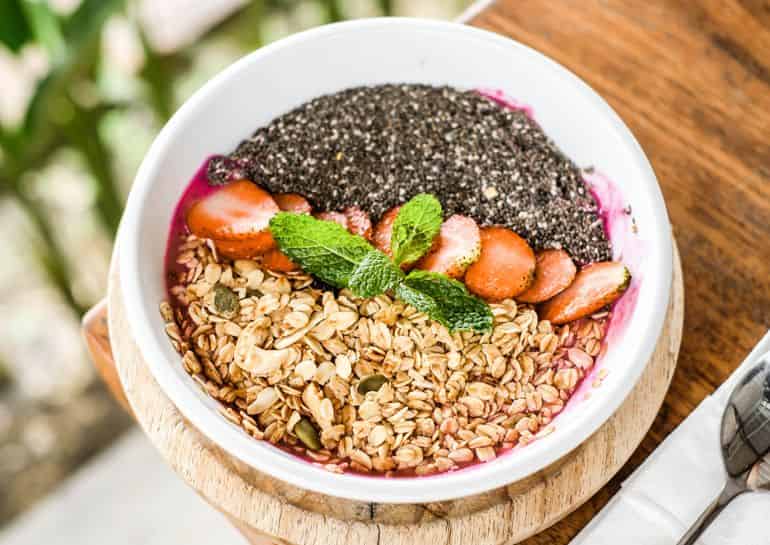 You may know Deus ex Machina as a custom motorcycle, surfboard and apparel brand, but did you know it has cafes in Australia, Japan, Europe and Bali? The Canggu café sits in the heart of the village and is a fantastic space with food, live music, events and a retail concept.
The Deus passion for bikes extends to an equally strong passion for food and you can see this in the breadth and depth of the menu: original recipes leaning on local cuisines with a European influence.  
The Italian coffee is by Illy and the impressive coffee machine is warmed up and waiting, ready to make your long black, flat white, espresso or macchiato. Prefer it cold? Deus does an exemplary hand-crafted, cold-drip coffee. It's brewed for eight hours for less acidity and a smoother taste, while retaining the flavours of the roast. 
As for brunch, don't let the cool facade of the venue give the impression that it's all pizzas and burgers. When you're in the mood for something healthy, go for one of the many smoothie bowl creations, such as the Red Dragon Smoothie Bowl, featuring red dragon fruit, mango and apple, with granola and chia seeds for crunch. It's light and tasty, and will allow some room for a freshly baked croissant with butter and jam.
If you're hitting the surf later, you may prefer something a little more substantial to fuel you, such as the Chorizo Baked Eggs: skillet-baked eggs cooked in a spiced tomato and capsicum sauce, and served on a toasted baguette. Oh yeah. 
Pricing 41,000–246,000 rupiah 
Address: Jalan Batu Mejan No.8, Canggu, 80361 Bali
Phone number: 0811 388 150
Opening hours: Monday–Sunday: 7am–midnight
Koloni

[vegan-friendly]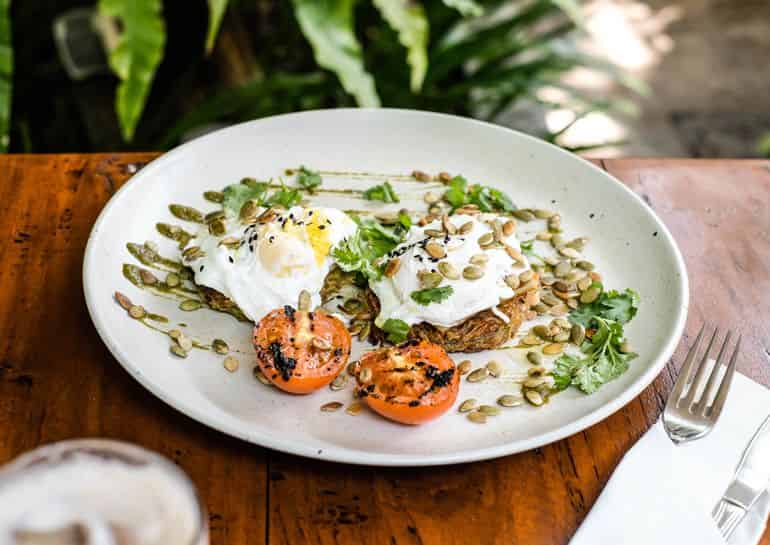 Koloni's California-inspired offerings certainly pack a punch. Available until midday, the café's brunch menu is particularly colourful and is considered by many as the best brunch in Canggu.  
The Mango Tango Chia Parfait tastes as good as it looks. Layers of coconut chia parfait, home-made granola, and mango and banana smoothie will have you salivating, especially when topped with fresh strawberry, mango slices and coconut flakes. Pair that with one of the café's many juice options or a cup of coffee, and there is no better start to the day.
From the savoury side of the menu comes a little dish called You Look Smashing in Red Miss Avo. Brace yourself for smashed avocados seasoned with citrus, poached eggs and fresh alfalfa sprouts topped with a drizzle of balsamic vinegar, all perched neatly on multigrain sourdough toast and served with beet hummus and dukkha (a mix of spices, nuts and seeds). Are you hungry yet? 
Coffee lovers, rest easy — Koloni's baristas have your back. From hot to iced, and with dairy-free milk options available, you can get your caffeine fix exactly how you like it. If chai is more your style, Koloni has you covered too: apart from the original chai flavour, there's also turmeric golden, beetroot and cacao, and activated charcoal.
Pricing: IDR 32K – IDR 138K
Address: Jalan Raya Semat No.1, Canggu, Kec. Kuta Utara, Kabupaten Badung, Bali 80351
Phone number: 0813 3894 6085
Opening hours: Monday–Sunday: 8am–10pm