The Bali breakfast scene is buzzing, and right now it's particularly thriving in Canggu — or as locals call it, "the 'Gu".  Breakfast in Canggu can go two ways: an early start on your way to surf or to yoga, or a long lazy brunch, after hitting the party scene hard! On this note, there's no shortage of cafes offering all-day breakfasts — they've got your back.
It takes a bit more than avo on toast these days to impress the local foodies, creatives and entrepreneurs who make this such an interesting neighbourhood — but don't worry, you can still get excellent examples here if a craving hits. Current Canggu breakfast trends include gut-health-enhancing probiotic foods and drinks, beautiful smoothie bowls with superfood toppings and nourishing, savoury brekkie bowls. And it's all impressive beyond the Insta-shot.
It seems like every week there's a new hip breakfast spot opening here, so to help guide your way to a good start, we're sharing our insider tips on our five best breakfast places in Canggu: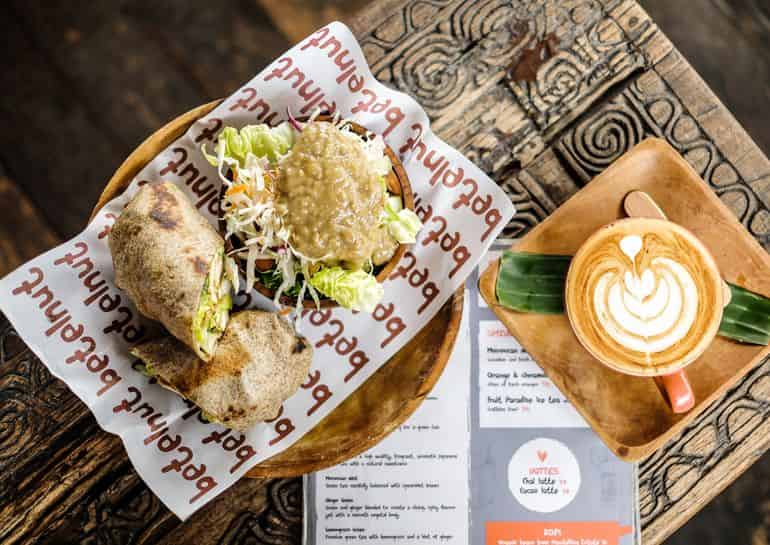 Betelnut Café is a local institution known for serving one of the best brunches in Canggu. Part of its success? It feels a bit like eating your brekkie in a breezy tree-house here. And it's a great option for those who are health-conscious but refuse to compromise on taste.
Breakfast is served from 7am to 12pm and the most famous options are the lip-smackingly delicious brekkie wraps. These are just your thing if you love a savoury start to the morning and want something that's going to fuel you for hours and hours.
The Mexicana wrap, with soft scrambled egg, home-made beans, crispy bacon and melted cheddar cheese in a light tortilla, practically melts in your mouth. Betelnut also serves vegan wraps for those who are on a plant-based diet.
Bonus: the breakfast smoothie bowls here are available until 5pm (in case you've had a late, late night). Naga bomb, one of Betelnut's most in-demand smoothie bowls, is a tropical treat with pink dragon fruit, banana, coconut, strawberries, granola and superfood toppings (including bee pollen, goji berries and chia seeds) to give you that extra little buzz.
Tea lovers will be spoilt for choice with its huge selection of hot and iced teas, from English breakfast to original chai, to gunpowder green, to Agung Black — and Betelnut does decadent smoothies (loads of them are dairy-free) and fresh juices too!
Our hot tip? The popular set breakfasts are great value. Set 1 includes fruit salad, poached eggs, feta, mashed avo, crispy bacon and tomato salsa plus tea or coffee, for just 75k rupiah!
Pricing: 30–80,000 rupiah
Address: Jl. Batu Bolong 60, Canggu, Bali, 80361
Phone number: 0821 4680 7233
Opening hours: Monday–Sunday: 8am–10pm 
The Shady Shack [vegetarian and vegan-friendly]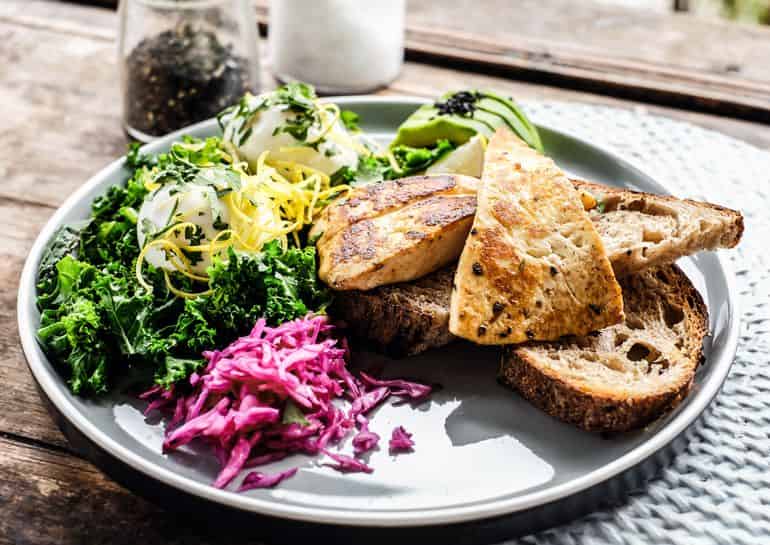 Super vibey, The Shady Shack is set in a sunlight-dappled tropical garden, and the decor is rustic jungle chic. This local fave is known for its fantastic range of creative veggie and vegan options, and breakfast is served 'til 5pm daily.
Must-trys include the wholesome, satisfying (and beautiful) haloumi breakfast: soft boiled eggs on a bed of kale with avocado, red cabbage sauerkraut, lemon and top-notch sourdough bread topped with haloumi cheese. Trust us, this sourdough is chewy and absolutely delicious — it's the real deal!
Other top picks include the Lost in Paradise smoothie, with passion fruit and pineapple, chia and coconut. You can't go wrong with their Chia Pod — coconut, chia and dragon fruit topped with tropical fruit and a muesli-seed mix. Gone Troppo, an awesome tropical fruit platter, is another crowd favourite.
The Shady Shack also has a range of awesome healthy shots, including wheatgrass and probiotics, to put a pep in your step.
Pricing: 42–80,000 rupiah
Address: Jl. Tanah Barak No.53, Canggu, Canggu, Bali 80351
Phone number: 0819 1639 5087
Opening hours: Monday–Sunday: 7am–10.30pm
Koloni [vegan-friendly]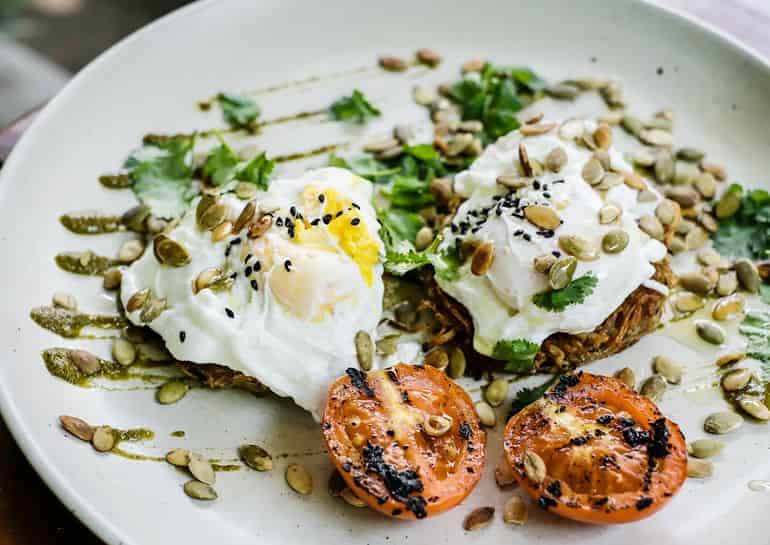 Here, California-inspired and nourishing breakfasts are served in a beautiful, light-filled tropical space.
We recommend the Hungry Breaky Bowl, which gives you flexibility on how healthy you want to be: think eggs anyway you like on a bed of quinoa and sautéed kale. Top that with your choice of bacon, grilled tomato, hash brown, sautéed mushroom or avocado — there's also a vegan version with tofu!
The much-loved When Eggs Meet Haloumi is a cracking vegetarian offering, with poached eggs served on a hash brown patty and halloumi cheese… paired with Koloni's delicious chimichurri sauce.
Breakfast is served between 8am and 12pm daily.
Pricing: 55–75,000 rupiah
Address: Jalan Raya Semat No.1, Canggu, Kec. Kuta Utara, Kabupaten Badung, Bali 80351
Phone number: 0813 3894 6085
Opening hours: Monday–Sunday: 8am–10pm
This cool little café is a fave with locals in the know. It offers great coffee (RUKO's own special Indonesian blend) and mostly organic, local produce. Breakfast/brunch options are served all day from 7.30am. It's pretty popular, so get there early to snap up a seat, or get it delivered so you don't miss out.
RUKO has a huge range of tempting choices, from breakfast burgers and delicious old-school toasties, to smoothie bowls — and the pulled pork eggs Benedict is next level. Our other fave, the Brekky to Go toastie, is a bacon-egg-spinach toasted sandwich like no other.
The Fluffy Vanilla Hotcake, served with berry compote and Chantilly cream, is a perennial favourite too and the Bircher Bowl — muesli with tangy berries and apple, is balanced by sweet and creamy oats and yoghurt. Heavenly.
Pricing:  45–75,000 rupiah
Address: No. 99 Jalan Pantai Berawa, Canggu, Bali, 80361
Phone number: 0812 3967 3077
Opening hours: Monday–Sunday: 7.30am–4.30pm