Bali is no longer famous just for its dramatic sunsets and cocktail parties under the stars. With a never-ending stream of visitors from around the world, the brunch scene is flourishing. Add to that the Eat, Pray, Love philosophy that is still in full force, injecting a craving for new healthy and delicious options as part of Bali's burgeoning brunch scene.
Think sourdough crepes with natural yeast or sandwiches using Bali's seasonal ingredients, on top of the regular brunch favourites of avocado toast or grilled cheese sandwiches.

In short, Bali's brunch scene is more vibrant than ever. Whether you are thinking of swapping sangria for a smoothie bowl or can't start your morning without coffee and a pastry, the evolution of Bali's café culture and blossoming brunch scene promises something for everyone.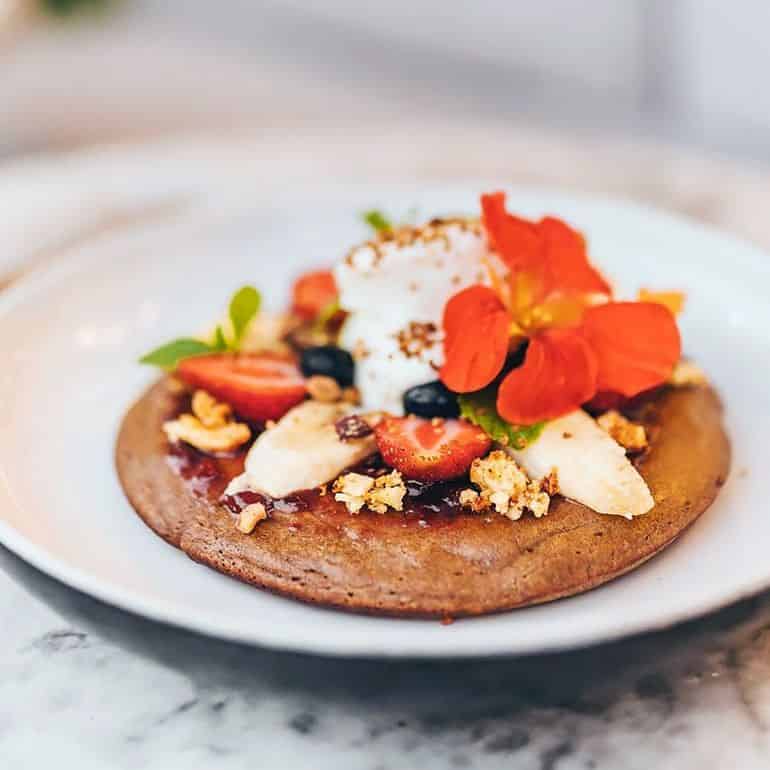 For many, Watercress is the everyday brunch spot with an uncomplicated menu that caters to everyone. Craving pancakes? The Skillet Pancake is gluten-free, uses banana flour instead of regular flour, and is topped with berries, honeycomb and crunchy almonds — and it's amazing. Looking for an alternative to the usual smoothie bowl? The acai smoothie bowl (pictured top) is a superfood and flavour-packed start to the day. Or go for the Coconut Chia Pudding, which is served with dragon fruit, mango and refreshing tangerine sorbet. It's dessert and breakfast in one — and is healthy to boot, rich in fibre and omega-3 fatty acids.
If sweet foods aren't your thing, we recommend the 3 Cheese Toastie, with emmental, parmesan and cream cheese coming together for an indulgent, savoury treat. Alternatively, the Heirloom Tomato Salad with golden haloumi, pickled onions, basil and almonds is a fresh and unforgettable combo. Follow it up with coffee from The Good Food Brotherhood and you have a daily ritual you'll always look forward to.  
Pricing: 34,000–110,000 rupiah 
Address: Jln. Batu Belig No. 21A , Kerobokan, Seminyak, 80361 Bali
Phone number: 0851 0280 8030
Opening hours: Monday–Sunday: 7.30am–10pm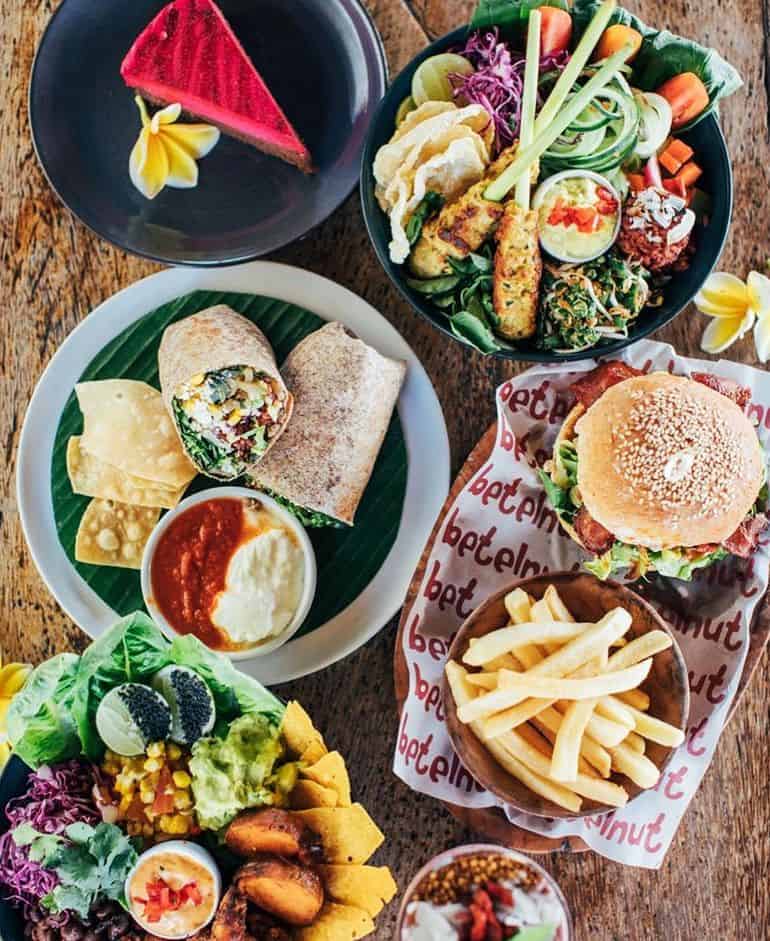 New to Bali and feeling a bit overwhelmed with the food-as-medicine philosophy that is taking the entire island by storm? So were we. If you are still getting used to this plant-based diet world, but are curious about the health benefits, then Betelnut Café is a great place to start. 
Betelnut Café is a tropical hideaway in the heart of Canggu. When it feels like 40 degrees outside, a cool coconut juice or two here provides a great moment of sanctuary from the sun. Its architecture and bamboo and teak interior gives this cafe the vibe of a modern warung, echoed by a truly Indonesian menu that balances clean-diet thinking with local medicinal spices.
Try the Beatnik Tofu, with Bali-spiced scramble tofu, mixed greens and courgettes on your choice of toast. Pair this  with a tart Lime and Lemongrass Cooler to temper the heat! If you like your dishes with a bit of kick, then The Bali Spiced Rubbed Chicken infused with Balinese spices and accompanied by sautéed spinach and mushrooms, is not to be missed. Grab one of the café's health shots first thing in the morning and discover a whole new way to start the day!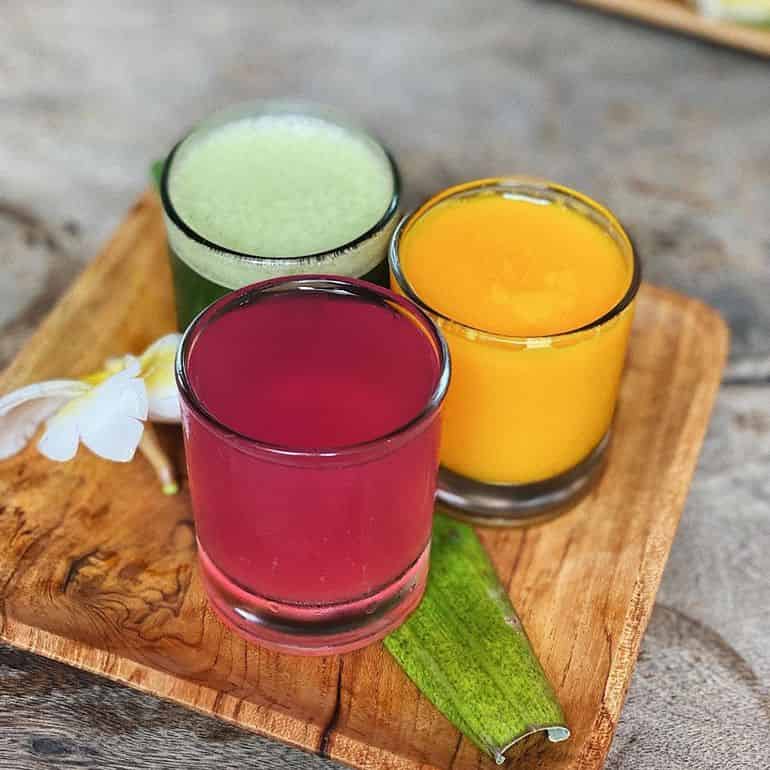 Pricing: 60,000–92,000 rupiah
Address: Jln Pantai Batu Bolong No. 60, Canggu
Phone number: 0821 4680 7233
Opening hours: Monday–Sunday: 8am–10pm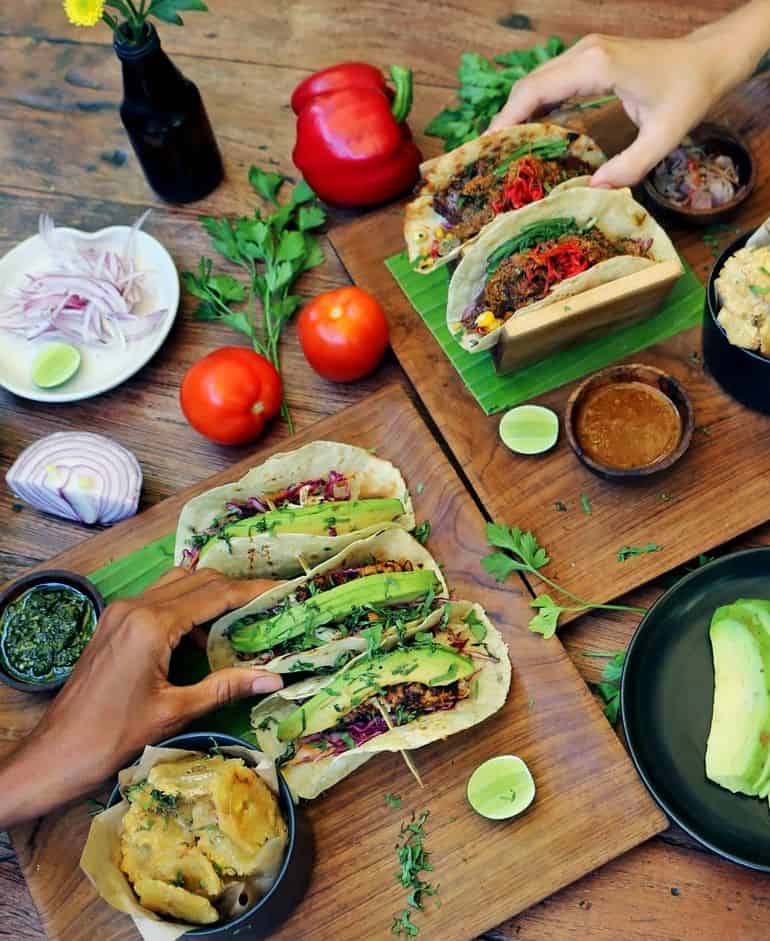 Koloni's food philosophy of  "California cuisine, marinated in Bali" says it all, but we'll tempt you further with classic Cali faves such as fish tacos, huevos rancheros and excellent avocado toast (or as this Bali café calls it, You Look Smashing in Red Miss Avo). 
Koloni caters to every craving. Enjoy fresh seafood such as Jimbaran snapper straight from Bali's coastline and served on a bed of indulgent truffle mash. Or if you prefer something closer to land, the delicious Chicken Wrap will not disappoint. And if you have a hankering for quinoa and all things vegan, Koloni boasts an impressive selection of plant-based breakfasts that will get your day off to a great start.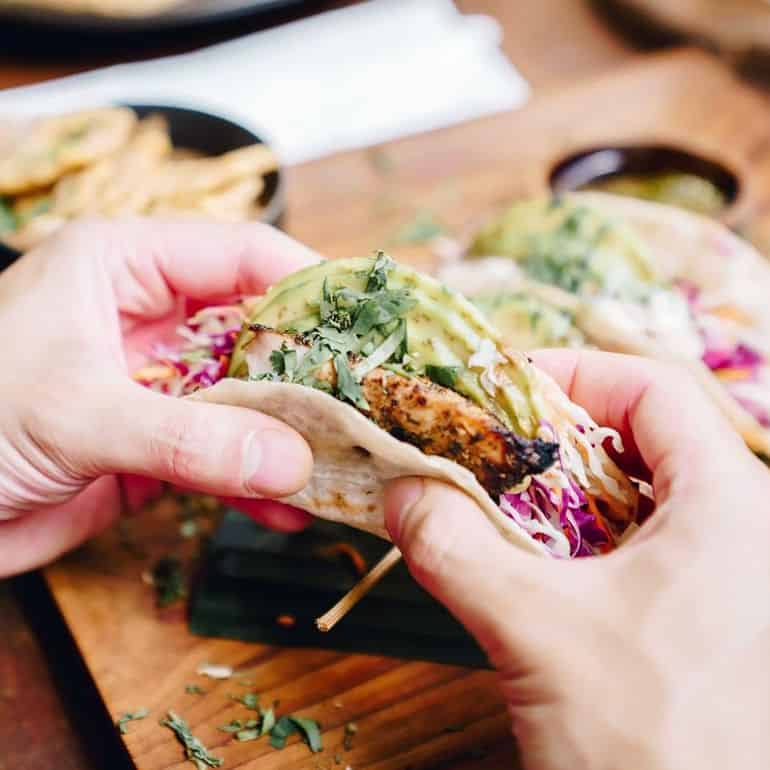 Pricing: From 60,000 rupiah 
Address: Jln. Raya Semat No. 1, Canggu, 80361 Bali
Phone number: 0813 3894 6085 
Opening hours: Monday–Sunday: 8am–10pm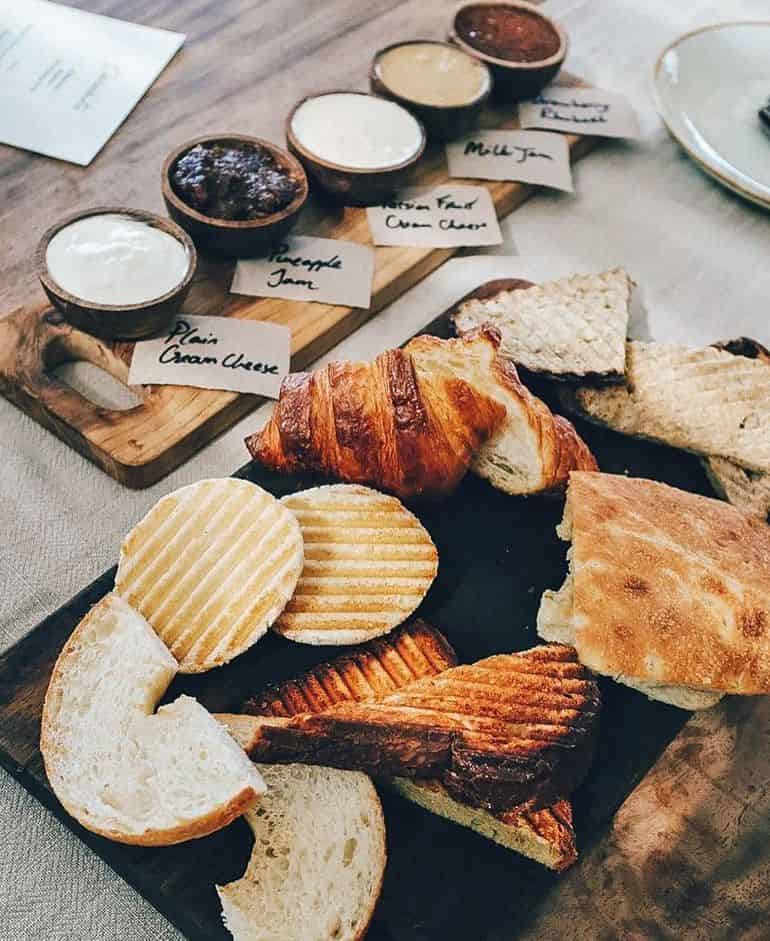 As its name suggests, Parachute boasts a 19-metre wide parachute as its centrepiece. But this bakery cafe isn't just a dazzling visual concept: with unrestricted views of Berawa's rice paddies and its own organic garden, Parachute offers a relaxed farm-to-table experience. 
This Bali café's philosophy is to produce one-of-a-kind, dishes with ingredients that are carefully sourced and selected from Bali's best local farmers. And the most highly recommended picks from the menu? The sourdough or gluten-free crepes. Made using a natural yeast starter to help digestion, the sourdough crepes are the perfect base for passionfruit gel and coffee-infused honey, while the gluten-free crepes come loaded with salted caramel, banana brûlée and toasted cashews. 
Parachute also offers a wide range of breads and pastries to sate any morning carb craving. Whether you are a fan of pain au levain (sourdough), country rye or pumpkin focaccia — they are all just a click away.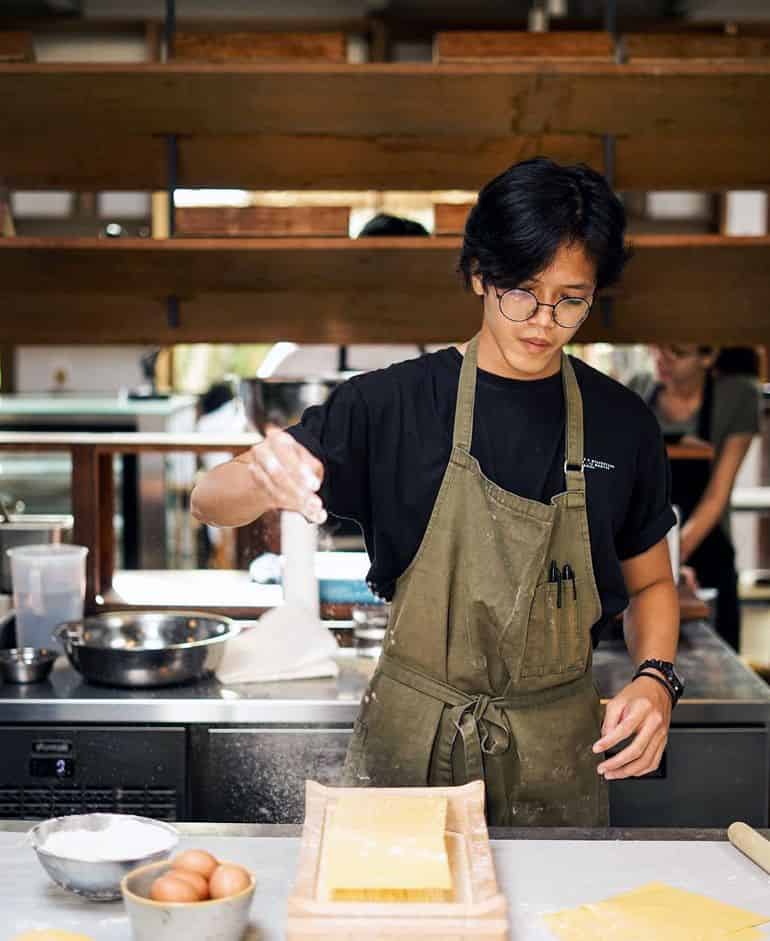 Pricing: From 11,000 rupiah for bread and 64,000 rupiah for main items
Address: Jln. Subak Sari 13 No. 4–8, Badung, 80361 Bali
Phone number: 0813 3742 3010
Opening hours: Monday–Sunday: 8am–midnight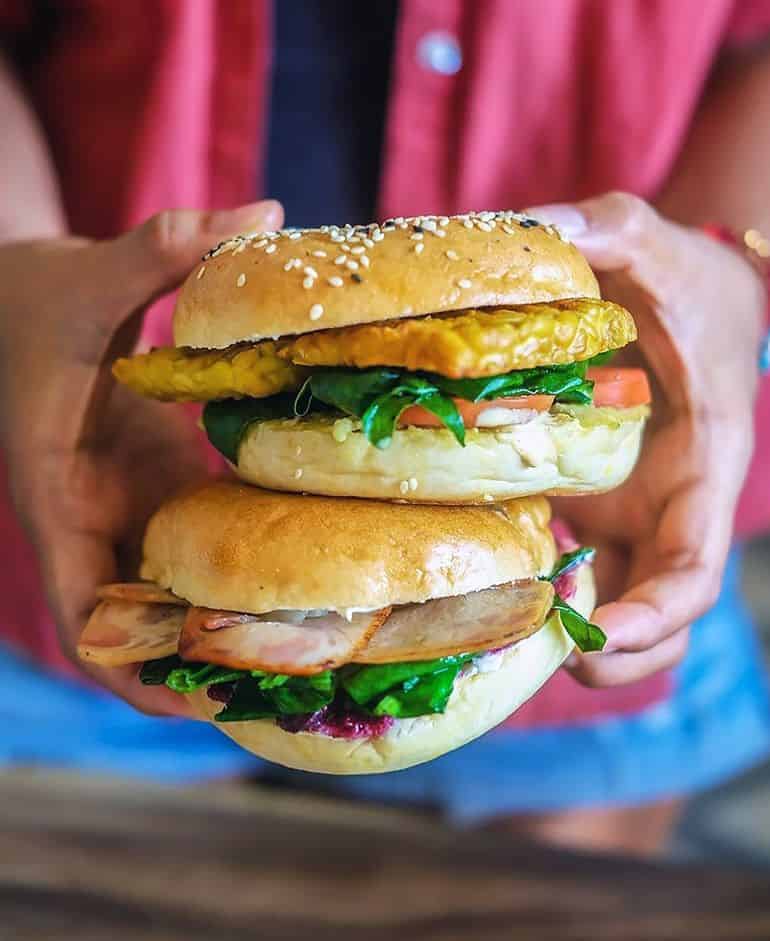 If you're in Canggu, Seminyak or Ubud, you will no doubt have noticed the trend for brightly coloured smoothie bowls topped with fruit and nuts. But if you're craving bagels, you may have to look a little harder! As its name suggests, Island Bagels specialises in this delightfully doughy bread — in all its forms, and with a smorgasbord of fillings. This breakfast spot in the heart of Canggu offers a serious selection of bagels, making it the number-one destination in Bali for people craving this chewy New York-style bread. 
Try Canggu's Favourite, a flavourful combination of feta cheese, avocado and egg, for a quick and easy morning fix. If you prefer something more savoury, the NYC Classic with smoked salmon and cream cheese is always a crowd-pleaser. For a local twist, there's the Yummy Vegan bagel, which features Indonesia's own soy superfood: tempeh. It's marinated in herbs, and served with hummus, fresh tomatoes and spinach, and curried coconut cream — and it's amazing.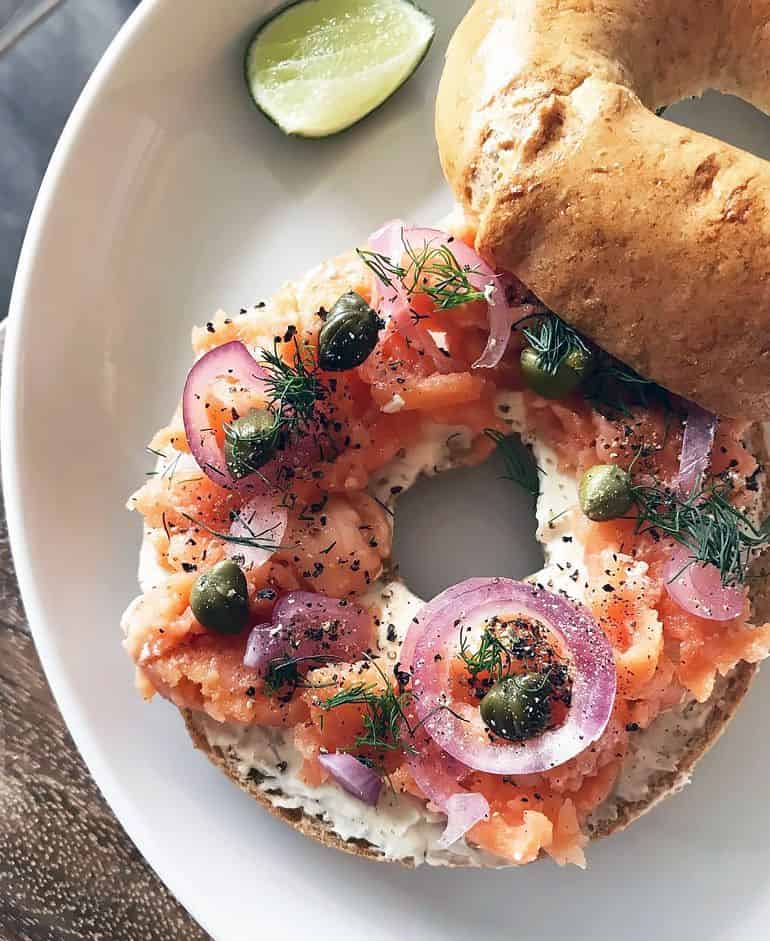 Pricing: From 60,000 rupiah 
Address: Jln. Pantai Berawa No. 99, Canggu, 80361 Bali 
Phone number: 0859 6714 6502 
Opening hours: Monday–Sunday: 7.30am–4pm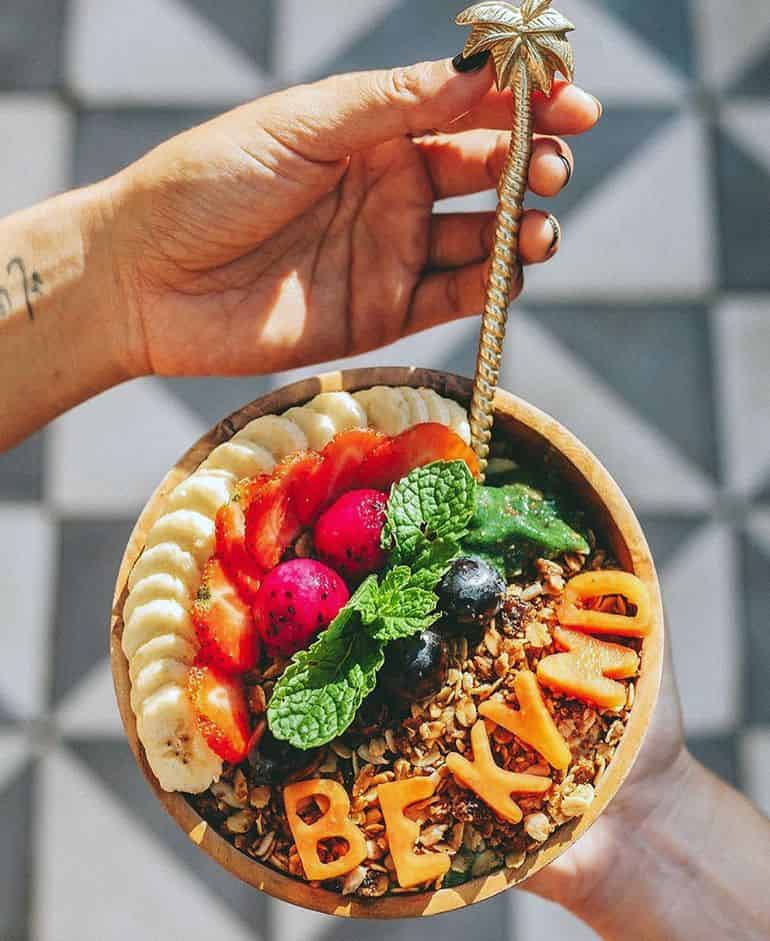 Be kind. That's the motto of this Bali cafe in Petitenget, Seminyak. With its blush-pink interior and oh-so-Instagrammable dishes, Kynd is more than just a place to eat.
A vegan dining spot and a sustainable lifestyle store, Kynd's mission is to spread kindness far and wide. This is evident from its plant-based menu — which promises food that is as nourishing as it's photogenic. Who says plant-based diets are boring? 
Start with the Paradise Pancakes (pictured below): vanilla pancakes with coconut ice cream, maple syrup, strawberry cream and fresh banana. On stressful days, power up with the Big Boss Breaky of scrambled tofu and pumpkin hummus for the ultimate energy and protein boost. Looking for something more European? Try the Italian Scramble for delicious scrambled tofu and sautéed mushroom on sourdough toast. Whatever you choose, you can be assured it's going to be healthy (and fun)!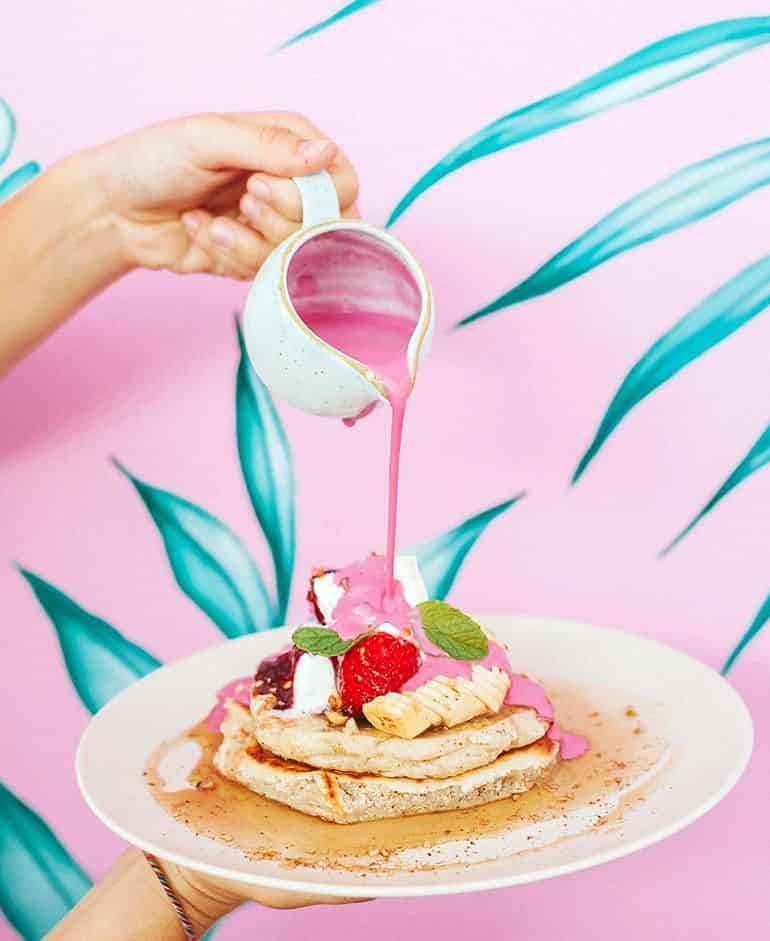 Pricing: 91,000–133,000 rupiah
Address: Jln. Petitenget No. 12, Kerobokan Kelod, Seminyak, 80361 Bali 
Phone number: 0859 3112 0209
Opening hours: Monday–Sunday: 7am–10pm