Bali, the island of the gods, is fast becoming one of Asia's highly renowned food hubs, attracting world-class chefs and restaurateurs, consistently satisfying the foodie traveller's cravings. For top-notch food and a buzzing vibe, Seminyak is undoubtedly the place to be. Seminyak restaurants dominate the food scene with organically sourced produce and quality establishments, from casual street food to fine dining that will leave a bruise on your wallet but your mouth craving more.
The tourists come in droves and the streets are humming. You know you are well into relaxation mode when the hardest decision is where you will order your next meal from. And the decisions on where to eat in Seminyak can be daunting — with such a vast array of bucket list venues it is hard to fit them all in. Here are our picks for some of the best restaurants in Seminyak who dish out delectable meals every time…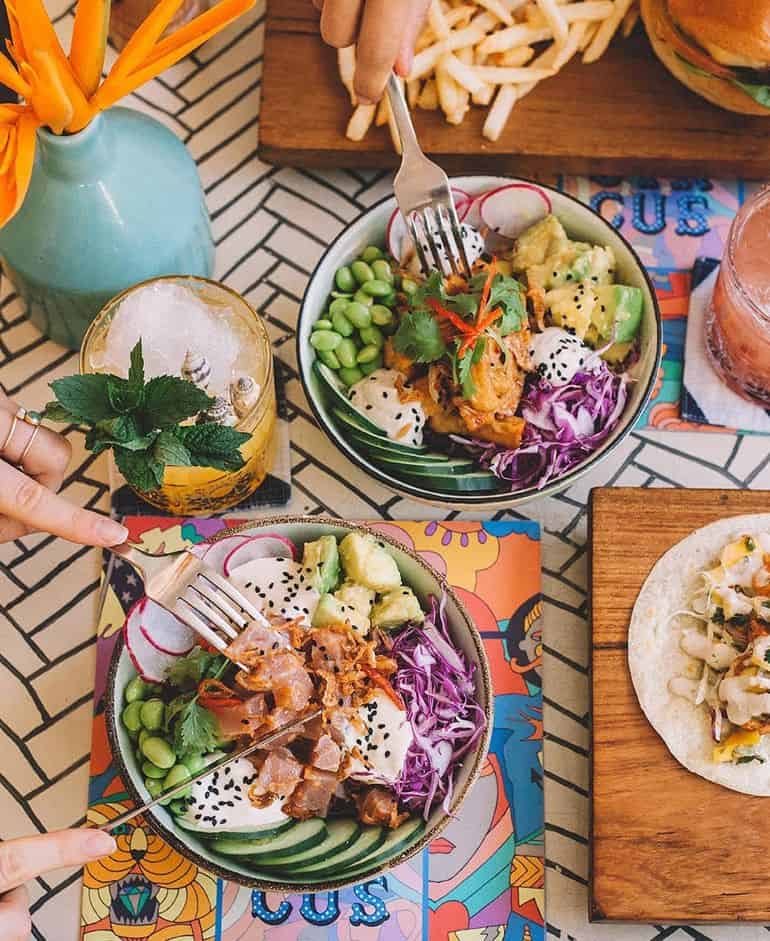 This colourful little gem is big on fun and flavour. The place itself is a vibrant scene of bright murals, neon signs and trendy clientele who for years have known this as one of the top restaurants in Seminyak. Self-described "restaurant, cocktail bar and coffee den", this place is well known for delicious dishes, fresh flavours, a casual modern menu and after-dark revelry.
Balance is a key part of the menu — some days are for vegan scrambled tofu and coconut lattes, and other days are for zesty margaritas. Some people visit Bali for health retreats and acai bowls — like the Sea Circus frozen acai bowl blended with banana, blueberries, mango and coconut water, topped with cinnamon and raisin granola, berries and bee pollen. Others would prefer a pulled pork breakfast burrito; make it a "hangover happy meal" and it'll be accompanied by your choice of coffee, some orange juice, a Berocca shot and a dose of Panadol. The main idea is, there is something on the menu for everyone, at an affordable price.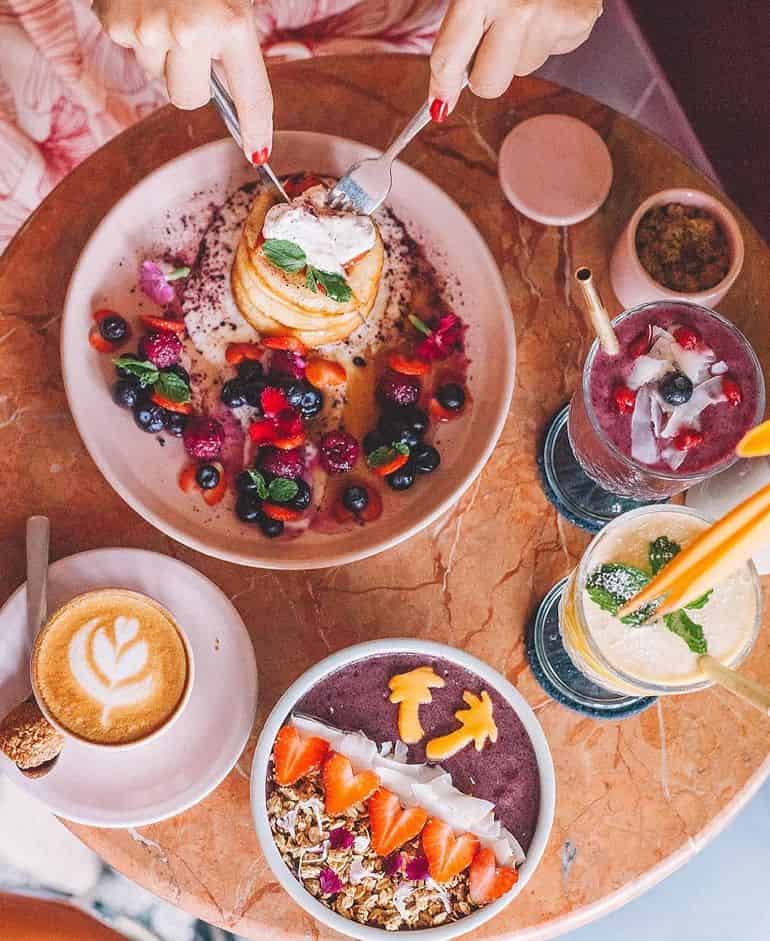 The menu is made for sharing with small, tasty bites. For lunch or dinner, why not have the Baja fish tacos with tempura or grilled barramundi, which is served with tomato salsa and tartare aioli[JP4] ? Come and join the circus!
Pricing: 50,000–130,000 rupiah per dish
Address: Jalan Kayu Aya No.22, Seminyak, Kuta, Kabupaten Badung, Bali 80361
Phone number: (361) 738 667
Opening hours: 7.30am–10.00pm
La Baracca [gluten-free and vegan options]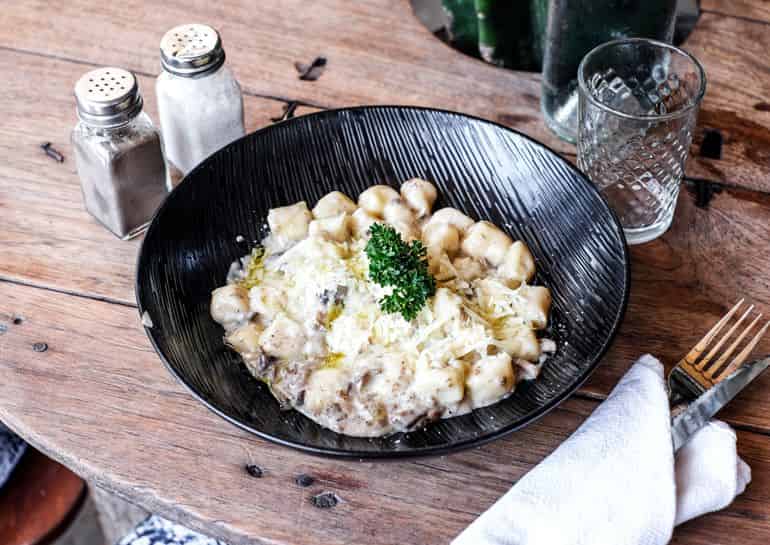 Welcome to little Italy in humid Bali. La Baracca is revered as one of the best pizza places in Bali and certainly top of the list for casual but consistently great Seminyak restaurants. The restaurant itself has a light and breezy, rustic relaxed feel — and most importantly, the food is authentic. La Baracca's speciality is its thin and crispy-based pizza, and the pasta is made from scratch on site. The menu is traditional, satisfying Italian cuisine made with local produce and Italian love.
If it's comfort food you need, try the highly recommended signature dish, Gnocchi Scamorza Salsiccia e Funghi. This one you won't want to share, as it consists of soft home-made potato gnocchi with Italian sausage, mushrooms, parmesan and melted smoked scamorza cheese sauce. The gnocchi is satisfying without being too heavy, and the sauce is rich and flavoursome.
When the pizza craving hits, the Prosciutto e Burrata pizza is the answer. With its combination of special tomato sauce, mozzarella, Parma ham, rocket, parmesan and fresh burrata cheese, we can't stop at just one slice. La Baracca offers gluten-free options and plenty of vegan choices.
Pricing: 50,000–180,000 rupiah per dish
Address: Jalan Petitenget 17D, Seminyak, Bali
Phone number: (361) 738 373
Opening hours: –Midnight[JP5] 
Taco Casa  [no pork; gluten-free, vegetarian and vegan options]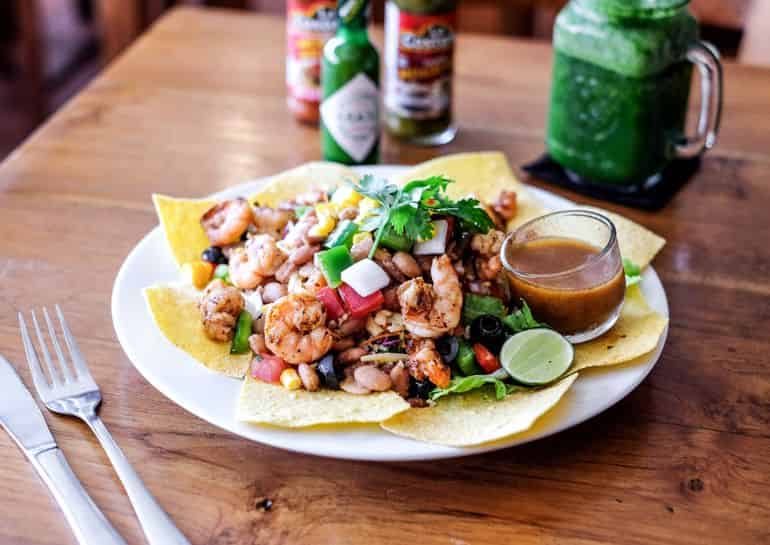 On a busy street in the heart of the Seminyak restaurant scene sits a popular Mexican eatery called Taco Casa. A favourite amongst locals and travellers alike, the menu is uncomplicated and delicious. Prices are reasonable and the restaurant uses organic ingredients as much as possible. Perhaps the best part: the flour tortillas and taco shells are made from scratch!
Here you can feast on Mexican favourites like chicken or vegetable tacos in your choice of soft or crispy tortillas. But no taco is complete without a selection of mouth-watering side dishes like salsa and black beans, and an impressive array of fiery hot sauces. One favourite here is the Naked Burrito Bowl: layer upon layer of meat, sauce and salad, without the guilty carb loading.
To impress the entire family, our tip is to go for the chicken quesadillas. The meat and the softly toasted cheesy tortillas form the perfect base for a colourful mountain of house guacamole, sour cream and salsa — topped with a healthy dose of chilli sauce.
Pricing: 55,000–99,000 rupiah per dish
Address: Jl. Petitenget (north end of Seminyak), Kerobokan, Kuta Utara, Badung, Bali 80361
Phone number: 821 2422 2358
Opening hours: 10am–10pm
Bo & Bun [non-halal but serves pork-free dishes]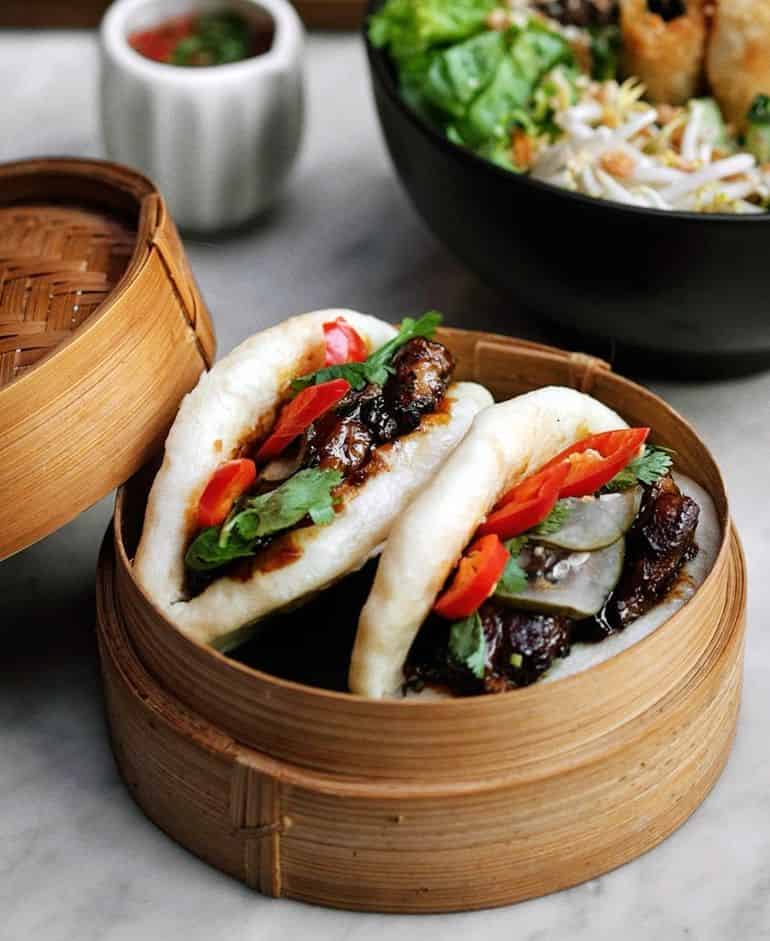 Just when you thought the fusion food scene couldn't get any better, along comes Bo & Bun — a Vietnamese-Asian eatery with a French bistro-style setting. Bo & Bun sources locally grown produce and quality ingredients to create some of Bali's best Vietnamese dishes that will linger on the tongue and in your memory. Some people can't get their heads around hot soupy meals in humid climates, but The 12 Hour Pho is certainly worth the heaty conundrum. With delicate rice noodles in fragrant beef broth, accompanied by sliced tenderloin, beef meatballs, coriander stems, sliced onions and served with a side of fresh bean sprouts, Thai basil, sliced chilli and lime, this is a dish that is not forgotten easily.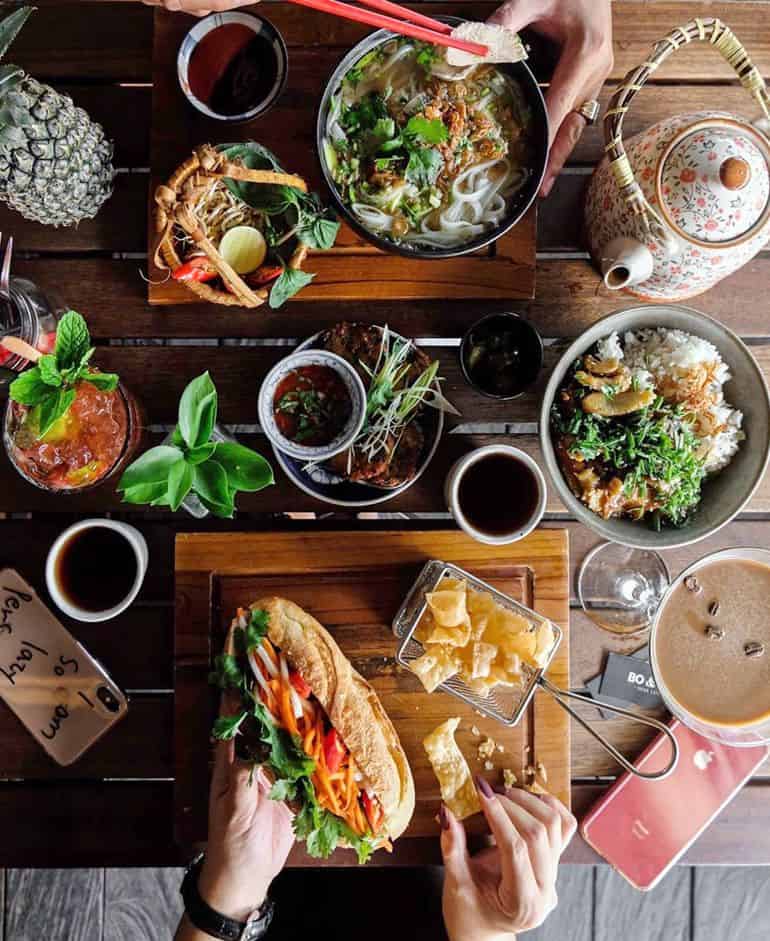 Voted second-best pan-Asian restaurant in the NOW! Bali Best Restaurant Bar and Café Awards 2019, Bo & Bun is not to be missed. For lunch on the go, the melt-in-your-mouth Banh Mi Thit is the perfect combo of crispy baguette with lemongrass pork belly slices, pickled carrots and jicama, pate and fried wonton skins.
Pricing: 45,000–145,000 rupiah per dish
Address: Jl. Raya Basangkasa no. 26, Br. Basangkasa, Seminyak, 80361
Phone number: (361) 934 3390
Opening hours: 10am–10.30pm