Seminyak is known for shopping and nightlife, and in recent years it's become Bali's hotspot for foodies. Many expat chefs and restaurateurs have come to the island to create their dream dining experience, resulting in world-class food techniques and trends from all over the globe.
Right now, breakfast places in Seminyak are buzzing: cafe food is where it's at. From early risers who want their acai bowl and top-notch coffee first thing, to those who need an all-day breakfast burger with the lot after a big night, there is always something new to sample and never enough days to try everything.
Bali's abundance of local ingredients, particularly tropical fruits and vegetables, means that you'll always be able to get a fresh and colourful juice or smoothie bowl, and the best news: smashed avocado on toast is available all-year round. Newer trends on the Seminyak breakfast scene seem to be charcoal buns, micro herbs and edible flowers, coffee art and imported Australian beef and bacon — all very Insta-worthy, so your food looks as good as it tastes. And for those travelling with children or babies, most cafes do cater for kids with menus designed specifically for the little ones.
Before heading out for a day of shopping, surfing or exploring, begin the day right with the best breakfast or lazy brunch in Seminyak. But where to start? Here are our top picks…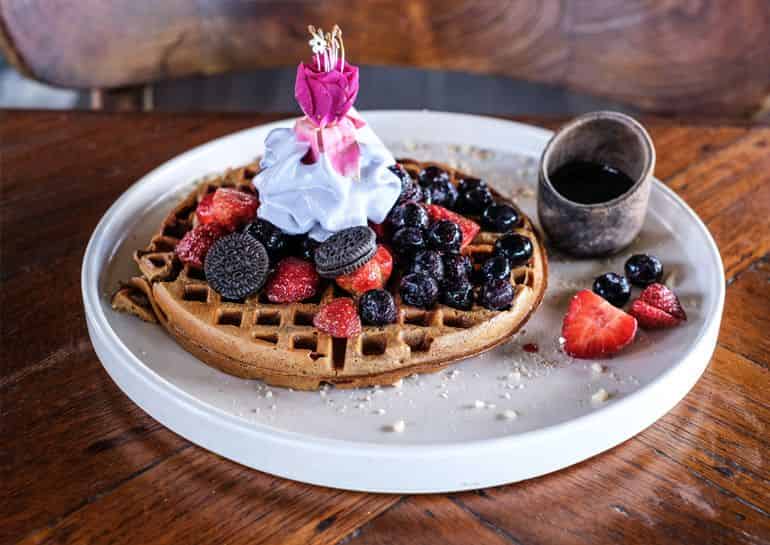 Shelter Cafe states its mission clearly: to serve delicious, affordable food that guests will want to return to week after week. It's fun all-day menu ticks off all the staples and also caters to our vegan friends.
The Rise and Shine breakfast dishes span from simple-but-yummy Baked Granola to the Senor Pancho breakfast burrito, and our fave, Mr Waffles — plant-based waffles with whipped blueberry coconut cream, mixed berries, coconut palm syrup, almond dust and mini Oreos. For something a little more savoury, the Shelter Creations menu includes Eggs Benny, omelettes and protein with a variety of mouth-watering sides. Yes please!
Breakfast aficionado? The Design Your Own Breakfast menu allows you to choose your own bread, eggs and extras, so your dish is precisely how you want it. Round that up with one of the extensive range of healthy juices, smoothies or shots to really get your day going.
Pricing: 30,000–90,000 rupiah per item (+16% tax)
Phone: 813 3770 6471
Address: Jl. Drupadi 1 No. 2, Seminyak, Bali 80361
Opening hours: Monday–Sunday: 7.30am–6pm
Coffee Cartel [non-halal; vegan options]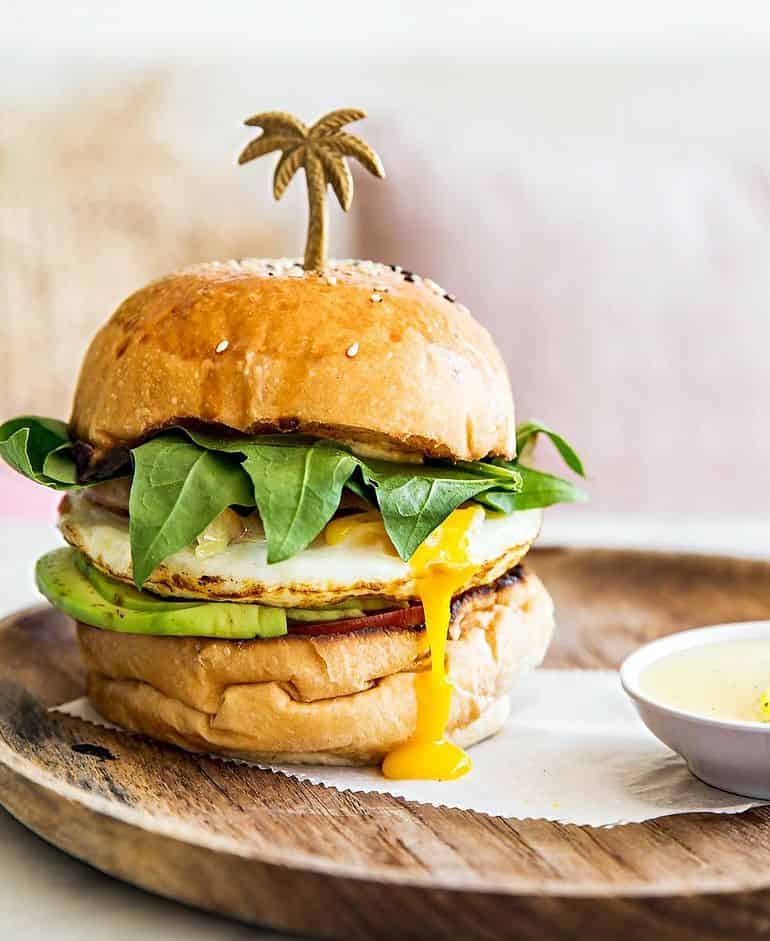 If you're the type of person who follows the mantra "but first, coffee" (you know who you are!), then Coffee Cartel will blow your mind. In addition to roasting its own coffee and making its own blends, the latte art is simply amazing. Traditional hand-poured foam in cute patterns will impress — but should your coffee art commitment be extra-strong, you can even download the Coffee Ripples app and have any image or text printed onto your beverage. Just wow.
Now that you're caffeinated, it's time for the food — which is just as impressive. The all-day breakfast menu means the team here is on holiday time too. A traditional full breakfast menu allows you to build your own meal or choose from one of the speciality plates with gluten-free, vegan and spicy options: check out the Breaky Bao Bunn with chilli scrambled tofu and mushroom! Another favourite of ours is the Smashed Avo — this is avocado on sourdough taken to the next level with sweet corn puree, feta cheese, cherry tomatoes, and balsamic soy pepitas.
We appreciate the nutritional information on the menu around fat, carbs and proteins. Now that's different.
Price: 50,000–95,000 rupiah per item (including tax)
Phone: 812 4601 0515
Address: Jl. Lb. Sari No. 8, Seminyak, Bali 80361
Opening hours: Monday–Sunday: 7.30am–6pm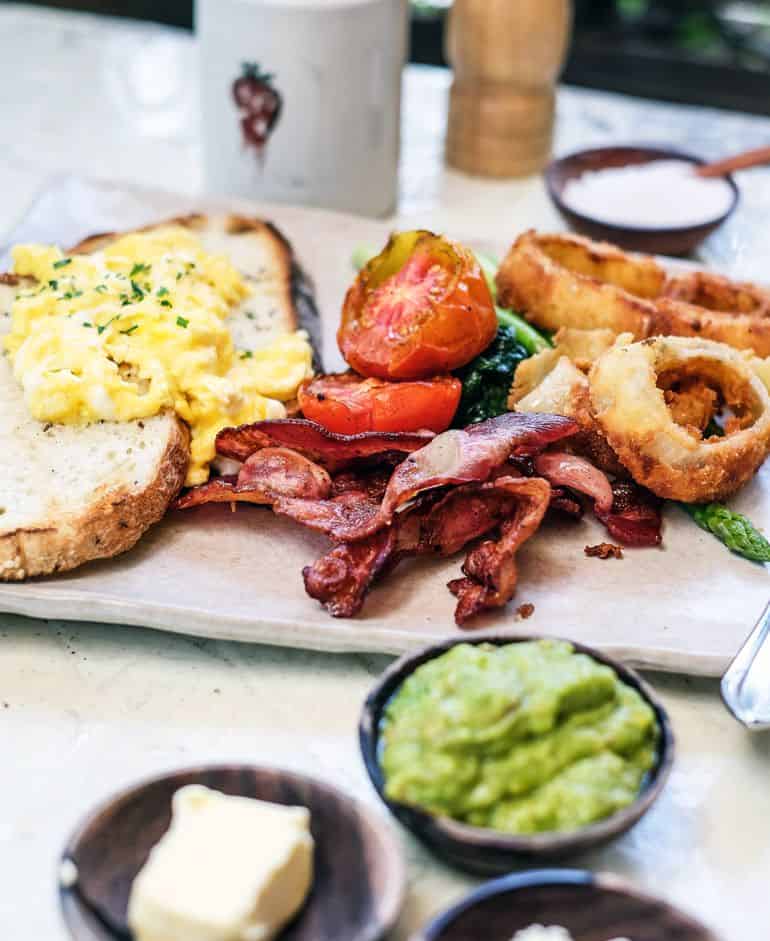 We're telling you about this burger emporium because it's home to our ultimate hangover cure: the Breakfast Club Burger, available all day (and night). This baby features an Aussie Angus beef patty loaded with American cheese, crispy bacon, a hash brown, a fried egg and tomato with smoky BBQ sauce.
Beyond the burger, the breakfast menu also delivers some impressive egg dishes: check out the 'Good-Life' Breakfast Plate, with scrambled egg, feta, asparagus and chorizo, and the Ubud Breakie Bowl, perfect for gluten-free foodies. Other highlights include the smashed avocado with all the extras, and the make-your-own options. If you're in the mood for a more traditional Balinese flavour, there's mie goreng and nasi goreng to satisfy that craving.
Price: 50,000–120,000 rupiah per item (+16% tax)
Phone: 859 6900 9245
Address: Jl. Batu Belig, Gg. Anisa No.77, Seminyak, Bali 80361
Opening hours: Monday–Sunday: 8am–midnight
Clean Canteen [vegan and gluten-free options; halal-certified chicken]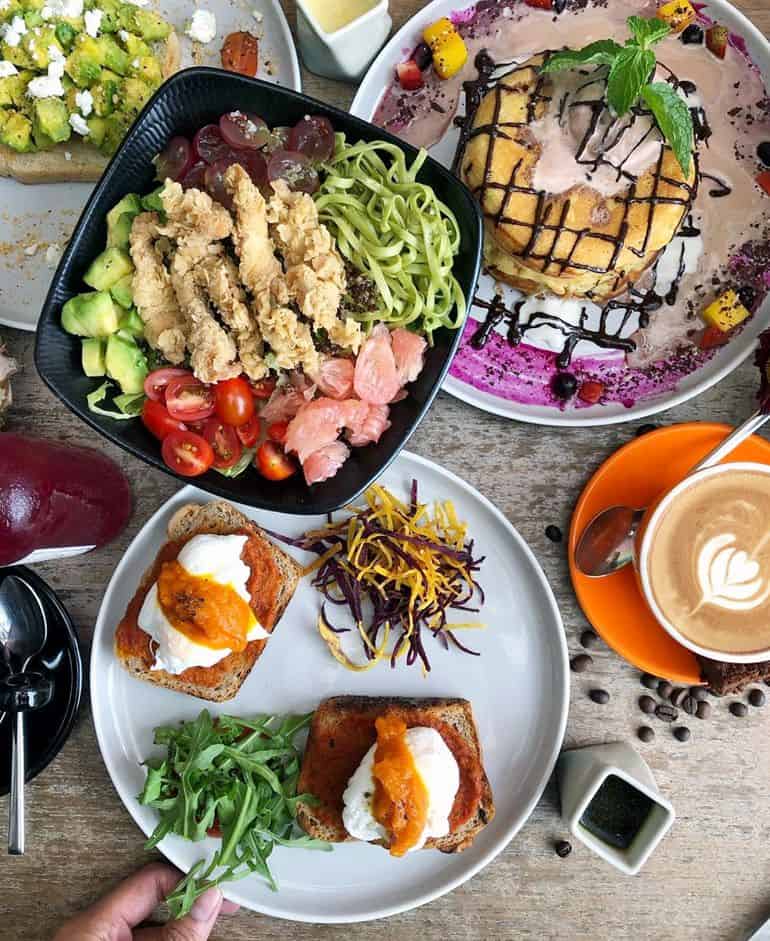 Clean Canteen is an international street food concept that leans towards organic produce, and is committed to an inclusive menu: whether you're looking for vegetarian, vegan or gluten-free options, or have allergies, Clean Canteen has something delicious for you.
Start the day light and clean with something from the Canteen's selection of smoothie bowls, or a fruit platter paired with a home-made iced tea. Some of our faves include the Acai Berry Bowl and the Paradise Bowl with coconut yoghurt, granola, and fresh fruit. But if you're in the mood for something a little heavier, the Apple Strawberry Pancakes or an order of Gozleme (stuffed Turkish bread) are winners with an espresso.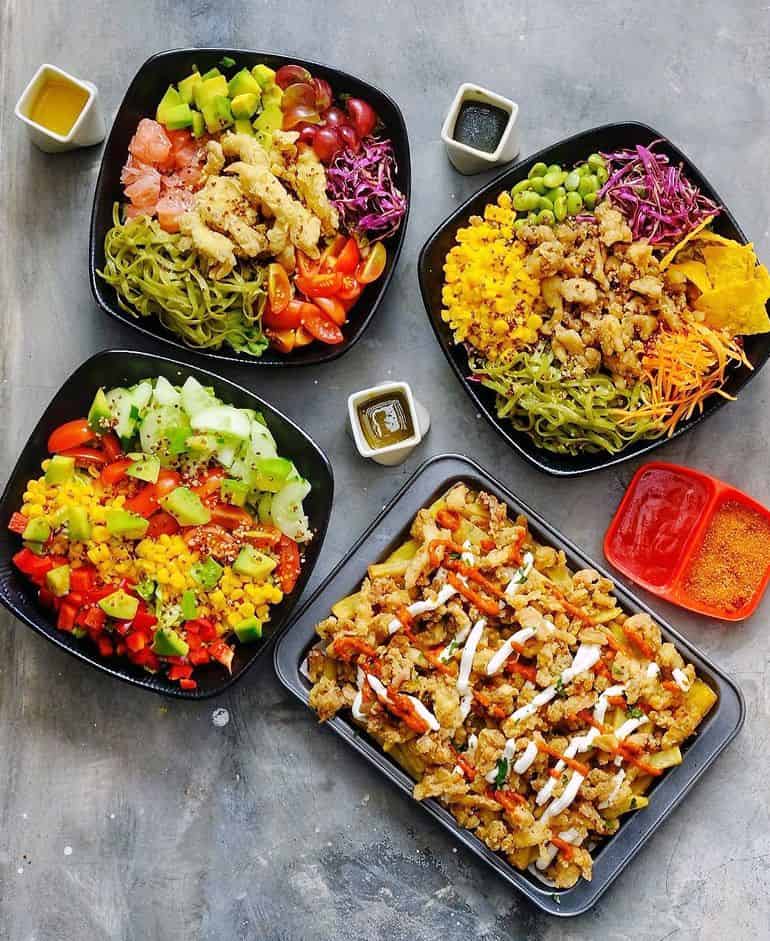 Price: 50,000–105,000 rupiah per item (including tax)
Phone: (361) 934 2124
Address: Jalan Petitenget No. 38KX, Seminyak, Bali, 80361
Opening hours: Monday–Sunday: 8am–midnight