Kolaborasi dengan Pemerintah Kota Semarang, Grab dan Good Doctor Hadirkan Grab Vaccine Center bagi 10.000 Lansia, Mitra Pengemudi dan Pelaku UMKM di Semarang
Grab Vaccine Center di Kota Semarang menargetkan vaksinasi untuk 10.000 penduduk yang terdiri dari lansia, pekerja publik sektor transportasi dan para pelaku Usaha Mikro, Kecil, dan Menengah (UMKM)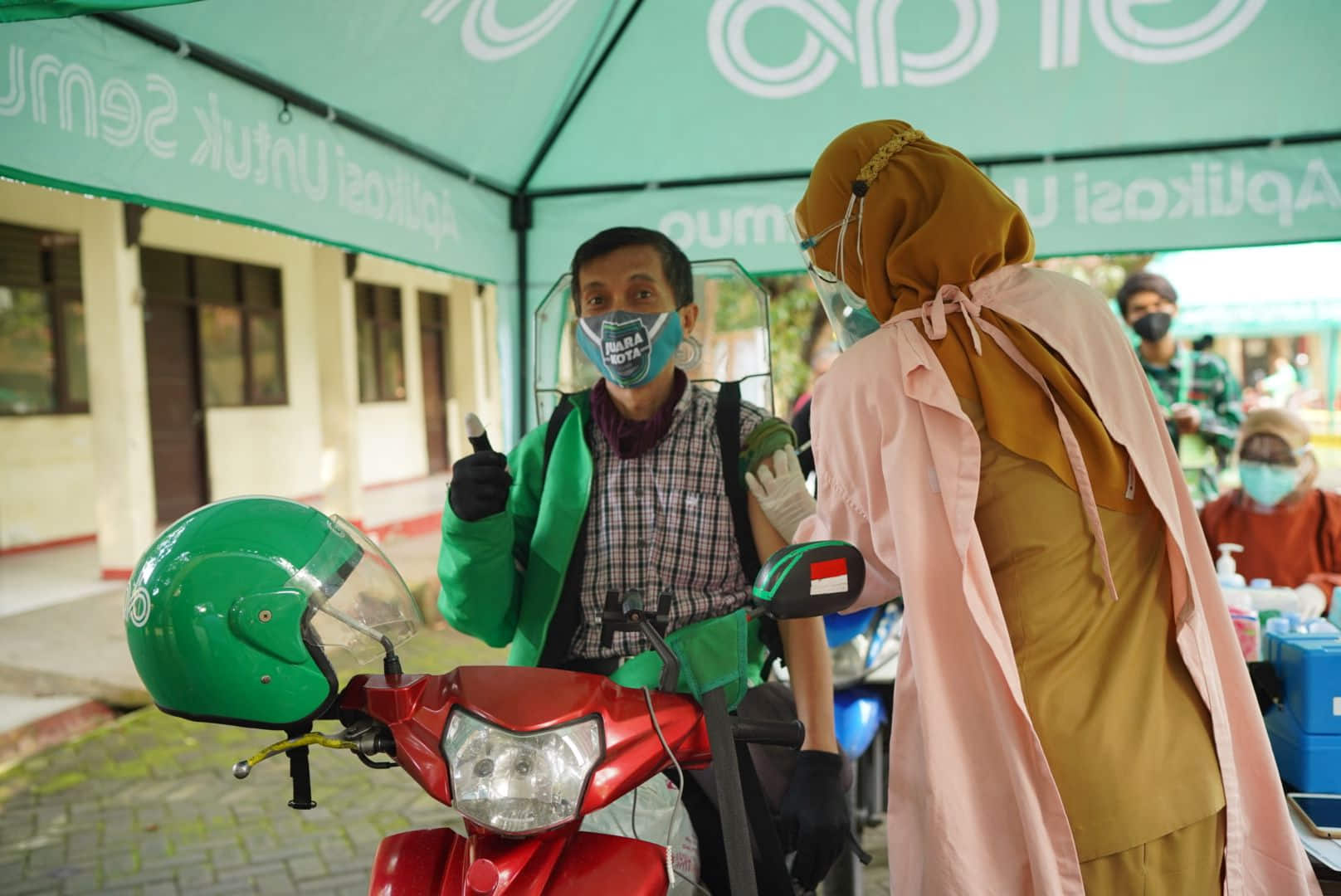 Salah satu mitra pengemudi GrabBike tengah divaksinasi oleh tenaga kesehatan melalui metode Drive-Thru di Grab Vaccine Center Semarang, (28/6)
Grab Vaccine Center di Kota Semarang menargetkan vaksinasi untuk 10.000 penduduk yang terdiri dari lansia, pekerja publik sektor transportasi dan para pelaku Usaha Mikro, Kecil, dan Menengah (UMKM)

Pusat vaksinasi ini menggunakan pendekatan teknologi melalui metode Drive-Thru untuk kendaraan roda dua dan Walk-In

Sejak Februari, Grab turut menyukseskan program vaksinasi nasional dan telah memfasilitasi distribusi vaksin bagi ratusan ribu masyarakat dan mitra pengemudi di lebih dari 53 kota dan kabupaten
Semarang, 28 Juni 2021 – Bekerja sama dengan Pemerintah Kota Semarang dan Dinas Kesehatan Semarang, Grab dan Good Doctor menghadirkan pusat vaksinasi dengan menggunakan metode Drive-Thru untuk kendaraan roda dua dan Walk-In. Grab Vaccine Center Semarang menargetkan vaksinasi bagi 10.000 penduduk Kota Semarang yang terdiri dari lansia, pekerja publik sektor transportasi yakni mitra pengemudi dan mitra pengantaran Grab, serta para pelaku UMKM yang mencakup mitra merchant GrabFood dan agen GrabKios. Grab dan Good Doctor telah menjadi mitra swasta pertama pemerintah Indonesia dalam menyukseskan program vaksinasi nasional menggunakan pendekatan teknologi, dengan membantu distribusi vaksin ke ratusan ribu masyarakat dan mitra pengemudi di Indonesia di lebih dari 53 kota dan kabupaten hingga kini.
Grab Vaccine Center Semarang berlokasi di Kantor Kecamatan Pedurungan, Semarang, Jawa Tengah yang beroperasi sejak 28 Juni hingga 30 Juli 2021 untuk gelombang pertama vaksinasi. Pusat vaksin ini menggunakan pendekatan yang mengedepankan teknologi untuk memberikan pengalaman yang lebih nyaman bagi penerima vaksin. Mulai dari proses pra-registrasi, jadwal vaksinasi, pra-skrining serta penerapan pendaftaran melalui layanan GrabHealth yang didukung oleh infrastruktur digital Good Doctor, juga bekerja sama dengan Pemerintah Kota Semarang untuk pelaksanaan vaksinasi yang lebih efisien.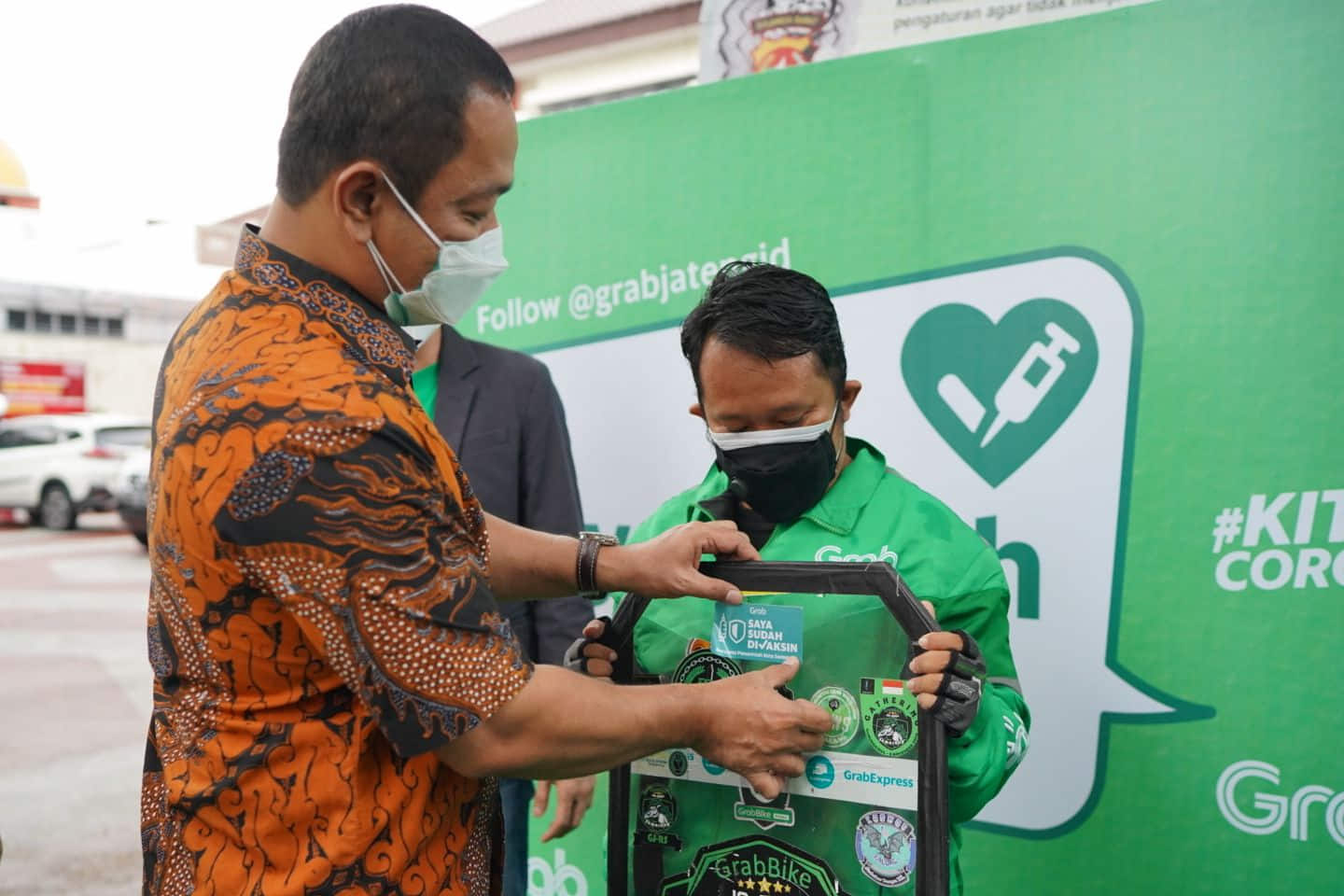 Wali Kota Semarang, Hendrar Prihadi memberikan stiker penanda sudah vaksin kepada salah satu mitra pengemudi GrabBike yang telah divaksinasi di Grab Vaccine Center Semarang (28/6).
Wali Kota Semarang, Hendrar Prihadi, menyampaikan apresiasinya kepada Grab dan Good Doctor dalam menghadirkan Grab Vaccine Center di Semarang. "Kami sangat senang dengan metode vaksinasi drive thru kendaraan roda dua, karena dapat menghindari terjadinya kerumunan. Grab Vaccine Center membantu Pemerintah Kota Semarang dalam pendistribusian vaksin kepada masyarakat, terutama lansia, pekerja publik sektor transportasi dan para pelaku UMKM. Kami juga menghimbau kepada masyarakat, walaupun sudah mendapatkan vaksinasi harus tetap mematuhi protokol kesehatan, yaitu menerapkan 5M serta tidak bepergian kecuali sifatnya penting dan mendesak."
"Hadirnya Grab Vaccine Center ini merupakan semangat kami dalam mempercepat proses vaksinasi agar segera terbentuknya kekebalan kelompok di tanah air. Kami juga ingin mengucapkan terima kasih kepada Pemerintah Kota Semarang karena para mitra pengemudi dan pengantaran Grab yang merupakan garda terdepan bisa mendapatkan vaksin, agar terlindungi saat memberikan pelayanan kepada masyarakat di masa pandemi, serta para pelaku UMKM yang merupakan tulang punggung perekonomian. Semoga melalui sumber daya dan teknologi kami ini, dapat menciptakan herd immunity dan juga terus mendorong perekonomian lokal demi mencapai pemulihan ekonomi Indonesia," ujar Richard Aditya, Director of West Indonesia, Grab Indonesia.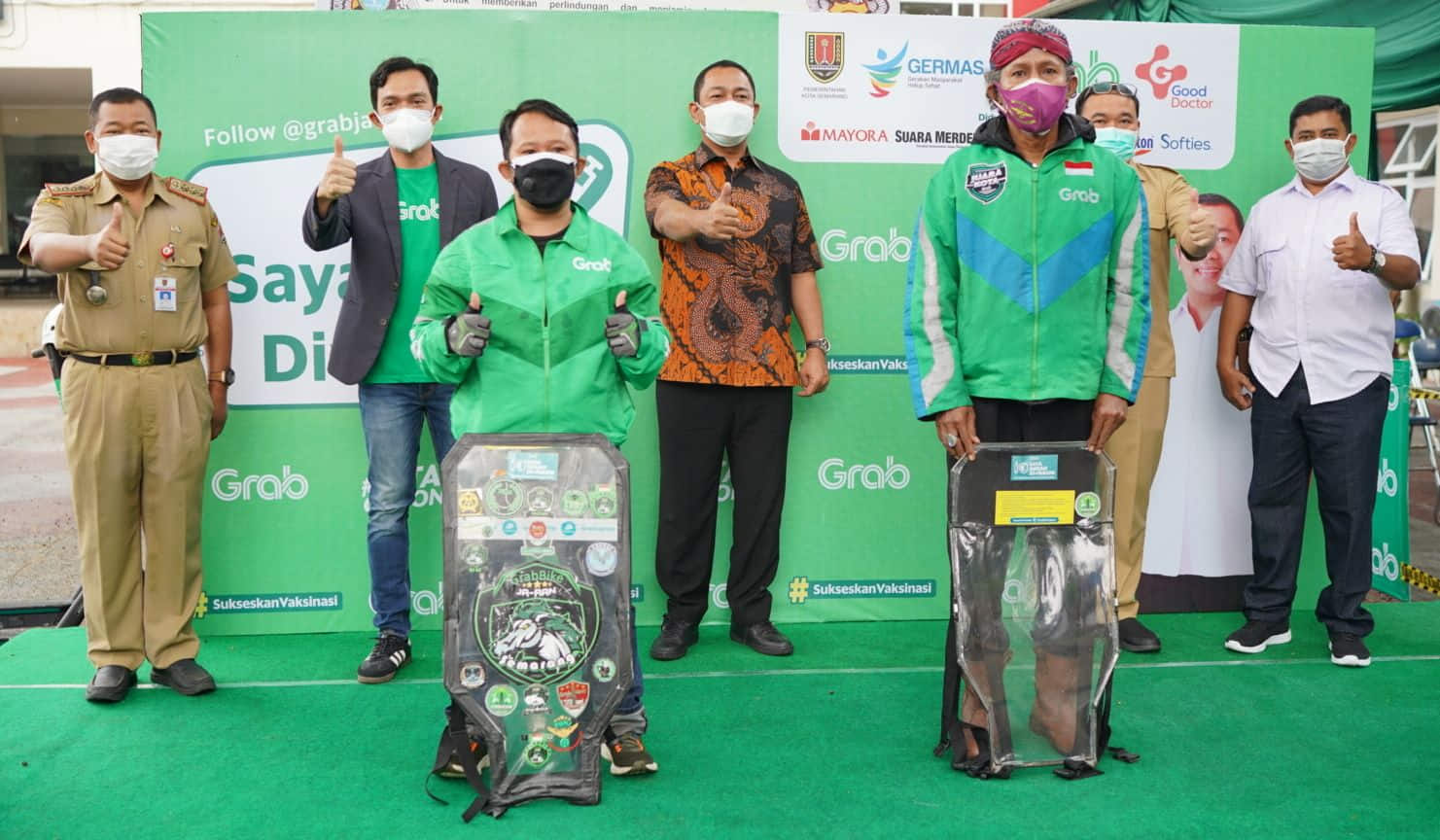 Wali Kota Semarang, Hendrar Prihadi (tengah) berfoto bersama mitra pengemudi Grab penerima vaksin di Grab Vaccine Center Semarang (28/6)  
Vaksin dalam Grab Vaccine Center Semarang disediakan oleh Kementerian Kesehatan Republik Indonesia. Para penerima vaksin dipilih berdasarkan kriteria dan rekomendasi dari Dinas Kesehatan Semarang. Para penerima vaksin ini kemudian mendapatkan panggilan untuk menjalankan vaksinasi. Metode Drive-Thru bertujuan untuk melengkapi metode vaksinasi secara Walk-In yang umum dilakukan. Penerima vaksin yang memasuki area Drive-Thru akan melalui proses skrining terlebih dahulu untuk memastikan bahwa mereka memenuhi kriteria sebagai penerima vaksin. Peserta yang telah lolos tahap skrining akan diarahkan ke salah satu jalur yang terbuka untuk pendaftaran, lalu akan divaksinasi dan observasi oleh dokter dan perawat.
"Akselerasi proses vaksinasi COVID-19 sangatlah penting untuk memulihkan kehidupan sosial dan ekonomi masyarakat di seluruh wilayah Indonesia. Kami di Good Doctor selalu siap menjadi mitra pemerintah dalam menyukseskan program vaksinasi nasional di berbagai kota sesuai arahan Kementerian Kesehatan. Secara khusus, kami juga menyediakan proses registrasi peserta vaksinasi secara daring dan juga fitur pre-screening untuk lansia di dalam aplikasi Grab and aplikasi Good Doctor; sehingga dapat mengurangi kerumunan massa dan meminimalisasi kasus batal atau tunda di lokasi vaksinasi," ungkap Danu Wicaksana, Managing Director Good Doctor Technology Indonesia.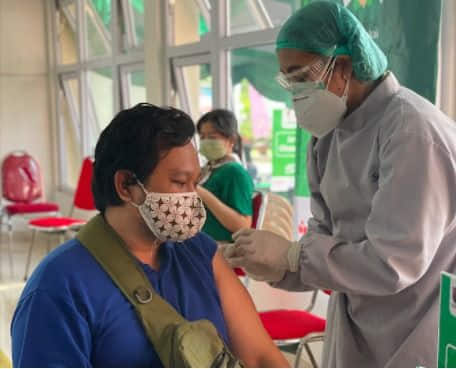 Peserta vaksinasi di Grab Vaccine Center Semarang  (28/6) ini juga turut diikuti oleh para pelaku UMKM, di antaranya adalah GrabFood merchant.
Salah satu pelaku UMKM yang merupakan mitra merchant GrabFood, Roti Bakar Yuana telah menerima vaksin di Grab Vaccine Center Semarang. Yuana mengungkapkan, "Saya sangat senang karena bisa mendapatkan kesempatan menerima vaksin. Vaksin ini sangat perlu sebagai salah satu upaya bagi kami para pelaku UMKM agar bisa lebih terlindungi dari penyebaran COVID-19. Terima kasih kepada semua yang terlibat dalam penyelenggaraannya ini, semoga nantinya semakin banyak para pelaku UMKM yang divaksinasi agar tetap kuat dan dapat bertahan dalam menjalankan usahanya."
Untuk informasi lebih lanjut tentang dukungan vaksinasi dari Grab Indonesia, silahkan kunjungi https://grabforgood.id/vaksinasi/.