Grab Releases a Better App and Inaugurates Grab Excellence Center to Enhance Driver-Partner Welfare in Indonesia
Grab, the leading super app in Southeast Asia, today announces significant enhancements to its "Grab Mitra Sejahtera" program, a comprehensive program to improve the welfare of Grab driver-partners and their families.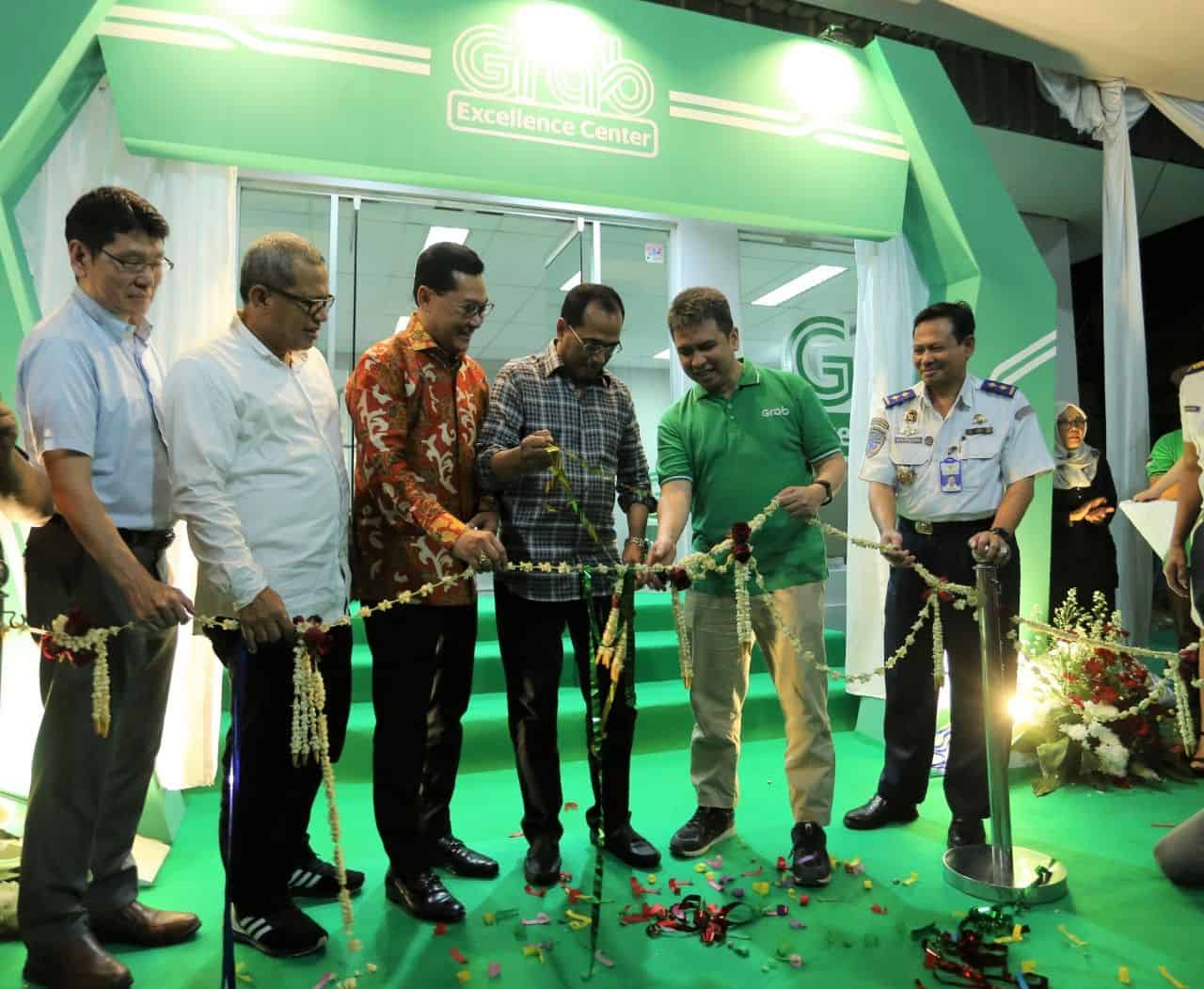 As part of a comprehensive driver-partner welfare program "Grab Mitra Sejahtera", Grab introduces 4 new components for its driver app
Grab reintroduce training programs for driver-partners under Grab Academy and a new dedicated training and development facility for GrabCar driver-partners – the Grab Excellence Center
To further enhance passenger and driver-partner safety, Grab is introducing Kamera GrabSiaga in 3,000 GrabCars, in partnership with JVCKENWOOD, to dissuade inappropriate behaviour or aggressive driving
Jakarta, 29 May 2019 — Grab, the leading super app in Southeast Asia, today announces significant enhancements to its "Grab Mitra Sejahtera" program, a comprehensive program to improve the welfare of Grab driver-partners and their families. These enhancements include a refreshed driver app featuring 4 new components –  Discover Hub, Driver Profile, Grab Benefits, and Earnings Overview – designed to help driver-partners earn more and save more. In addition, Grab is reintroducing its training program called GrabAcademy to increase driver-partner knowledge, as well as opening a new 1,290 square-meter training and development facility, Grab Excellence Center (GEC) in Cilandak, South Jakarta. 3,000 GrabCars have  also been equipped with Kamera GrabSiaga  in partnership with JVCKENWOOD as part of Grab's ongoing commitment to promoting greater safety for both passengers and driver-partners.
During the inauguration of the new Grab Excellence Center, Budi Karya, Minister of Transportation Republic of Indonesia said that passengers' safety, security, and comfort are the main priorities for online transportation. To actualize the three aspects, drivers are the most important element. Therefore, drivers need to keep improving themselves to give a better service, especially with the evergrowing online transportation ecosystem. "I really appreciate Grab's initiative to create new innovations in order to improve driver partners quality to drive and serve passengers better. I hope this initiative can be a sustainable development and create a safe, secure, and comfortable online transportation ecosystem for Indonesian," said Budi Karya.
Moreover, the Minister also adds that driver partners are the front-liner of online transportation service, therefore Grab needs to maintain equal partnerships and good communications with the driver partners.
"For the millions of driver-partners who earn a living through Grab, our commitment is to empower them to succeed on their own terms, but with peace of mind for the everyday. They work hard every day to provide for themselves and their families, so it's on us to keep pushing the boundaries. To offer them more opportunities to earn with us, to support them with more benefits, to develop themselves, and to ensure they have an enjoyable everyday experience with Grab. The refreshed app, training facility and curriculum are another step forward in that direction," said Ridzki Kramadibrata, President of  Grab Indonesia.
Through programmes and initiatives like Grab Mitra Sejahtera program, which was first introduced in 2017, Grab driver-partners income have increased. Between January to April 2019, GrabBike driver-partners income increased by 28%, while GrabCar driver-partners income increased by 15%.
Introducing the New Additions to Grab Mitra Sejahtera
Designed with feedback from Grab's driver-partners, and to address their top requests and biggest needs, Grab is introducing a redesigned driver app that does more for drivers, whether it's helping them achieve higher earnings and greater savings, or by offering a more stress-free and rewarding on-the-job experience. The four new components being introduced include:
Discover hub: Helps drivers discover ways to earn more, save more, and drive better. It allows drivers to find new earning opportunities outside of driving. For example, Grab driver-partners can choose to earn additional income through GrabAds in partnership with StickEarn, also offer phone data top-up (Pulsa) to passengers and more. It also gives drivers easy access to GrabBenefits, and features a feed which surfaces information such as heat maps and events taking place nearby to help drivers earn more through driving. As Grab continues to expand its ecosystem with more services, Grab will bring a wider array of earning opportunities to its driver-partners, all accessible through the Discover hub.
GrabBenefits: With the new GrabBenefits section, drivers can now easily browse and redeem discounts, deals and rewards exclusive to them, all through the Grab app. GrabBike Driver-partners in Indonesia will find offers such as special data package from Telkomsel, fuel discount from Shell, medical check-up discount from Prodia, bike maintenance discount from Honda, SiTepat, and ProBan, food discount from Warteg Wahyoo and many more. For GrabCar driver-partners, they will find similar offer for data package and fuel discounts as the above, as well as Premium Health Insurance package from Mandiri InHealth, car maintenance discount from AutoGlaze, Bengkel Bos, and One Station. With Grab bringing in more and more offers through its growing partnership ecosystem, Grab driver-partners can look forward to greater monthly savings through GrabBenefits.
Earnings Overview: The enhanced Earnings Overview tab gives drivers greater clarity and better insights into their earnings. They can view their daily and weekly earnings, with a detailed breakdown that shows income from fares, incentives and tips, and deductions for commissions.
Driver Profile: A fun and engaging profile page to enhance drivers' experience by celebrating them, their achievements and also provide information to help them make the most of the feedback from their passengers. Drivers can see the compliment badges and positive feedback they've earned from their consumers, a more detailed breakdown of their rating, and areas of improvement. The new driver profile gives drivers greater recognition for a job well done, and motivates them to perform even better.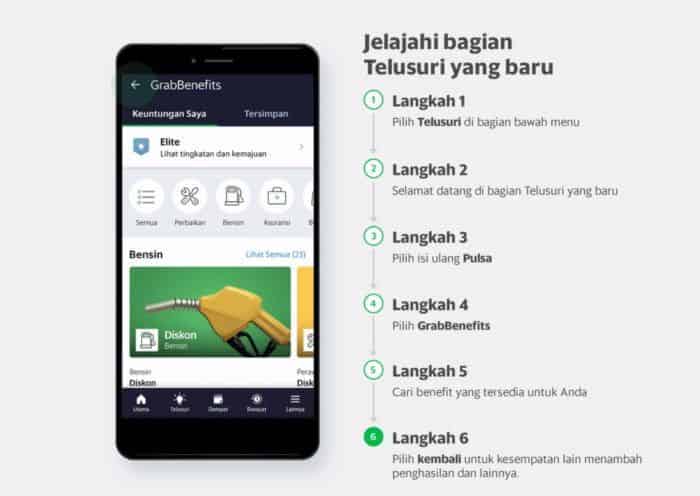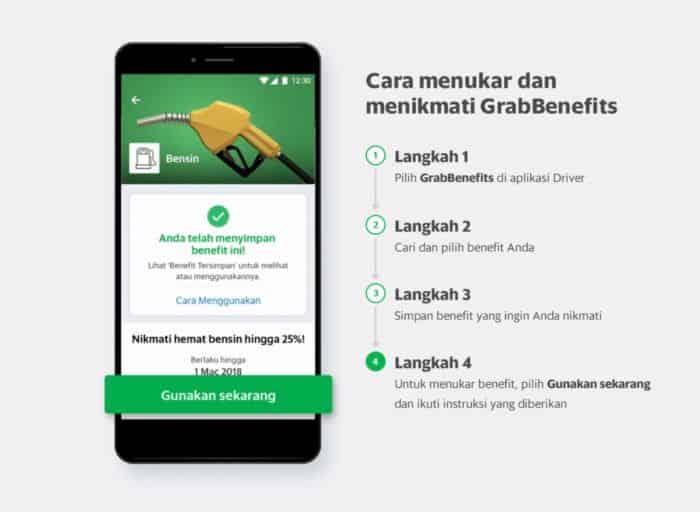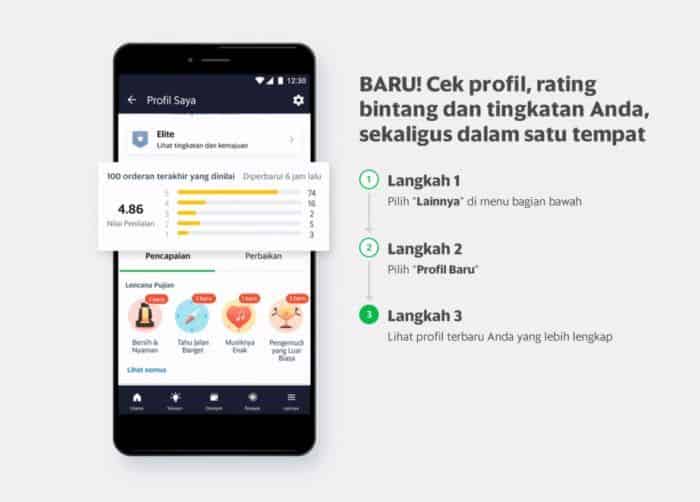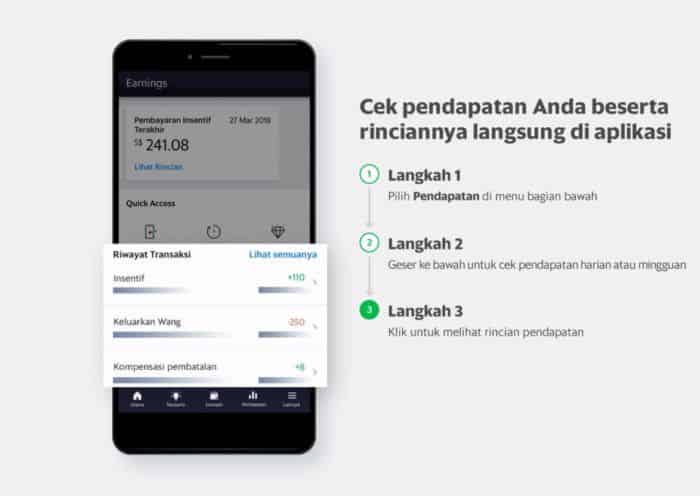 To help driver-partners further improve their services, Grab also reintroducing GrabAcademy, an online training program with more than 150 online modules available across 222 cities in Indonesia that was first launched in September 2018. Driver-partners will be able to access this education platform from their app, through a fun video format where each module can be finished in 8-10 minutes. Some top module for driver-partners includes service & quality, avoid misunderstanding with passenger, defensive driving, sexual & verbal harassment, and crime prevention.
For GrabCar driver partners, Grab has also opened a brand new training and development facility in Cilandak, South Jakarta called Grab Excellence Center. This facility is an investment to build resources with good capabilities. The 1,290 meter-square facility will be a home away from home for GrabCar driver-partners, where they can learn new skills, consult with Grab representatives about their income and welfare and also socialize with fellow driver-partners. The facility will be equipped with 7 training classes, 1 multi-purpose room, a clinic, e-learning zone, and also driving simulation using cars and virtual technology.
Following the "Safety Technology Roadmap" that Grab launched in November 2018 with the National Commission of Anti Violence Against Women and Indonesia Police Department, Grab is also partnering with JVCKENWOOD to equip3,000 GrabCars with GrabSiaga cameras intended to discourage unwanted actions or aggressive driving behavior.
Ahmad Marzuki, GrabCar driver-partner from Jakarta stated, "The 4 new components in the driver-partner app helps us to track our performance, enjoy GrabBenefits and explore more perks as driver-partners. I also like how Grab pay good attention to driver-partners skills by designing a fun and engaging online training program. Moreover, the new training facility in Cilandak also allow us to discuss our income plan that is really important and beneficial for us. Thank you, Grab."
"We want our driver-partners to know that we have their backs. We offer the most comprehensive driver welfare and benefits programme in Indonesia, which includes personal accident insurance during journey with Grab, various partnerships with financial institutions to offer home loans, vehicle loans and working capital loans. This way, they can work towards owning instead of renting assets like a house (whereby they can also build equity) or a vehicle. We've pioneered standards for driver-partner welfare that others have followed, but we believe we can raise the benchmark even more to grow together with them. We will keep innovating and keep improving because we know that the better we get, the better their everyday life. Grab's ecosystem is growing with more partners and more services, and with that we will bring even more benefits to our driver-partner family," added Ridzki.
Beyond the upgraded driver app, Grab has rolled out a number of significant enhancements for its driver-partners this year, including:
Driver and passenger face authentication to provide an extra layer of protection in ensuring that passengers and driver-partner account remains secure.
Tipping and Batch function that allows drivers to be rewarded for great service provided.
Free Call (VoIP) feature to provide affordable and secure communications between driver-partner and consumers.
Incident insurance that covers all driver-partners and consumers during their journey with Grab.