GrabExpress Conducts Digital Marketing & Product Photography Workshop to Forge Competitiveness Spirit Among Local Entrepreneurs in Lampung
Grab, Online-to-Offline (O2O) mobile platform terkemuka di Indonesia hari ini mengajak wirausahawan lokal di Lampung untuk mendorong pertumbuhan bisnis mereka dengan menyelenggarakan pelatihan pemasaran digital serta fotografi produk dengan tema "Usaha Lancar Bareng GrabExpress".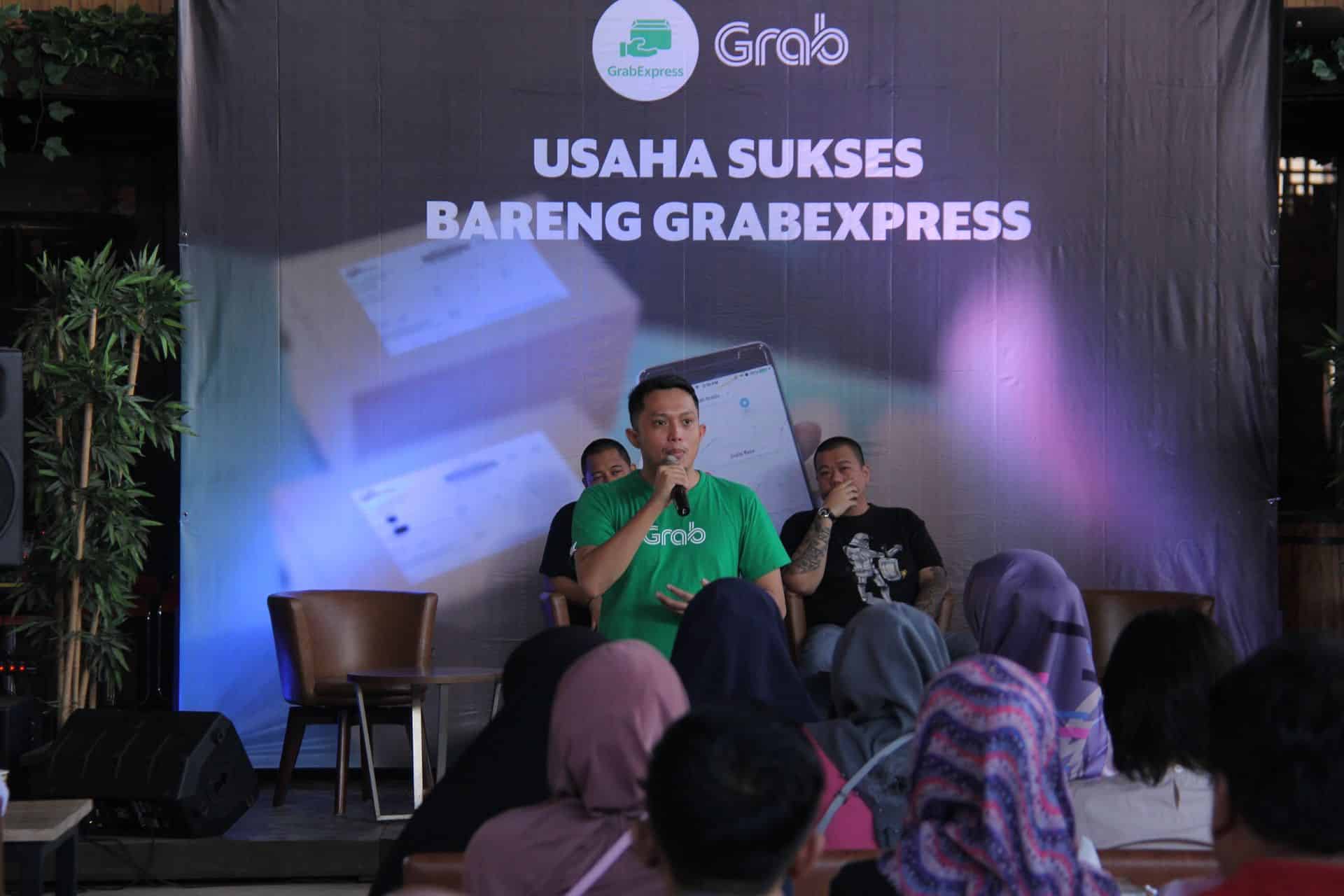 In collaboration with digital marketing practitioners and local influencers, 100 participants from e-commerce communities and Lampung local entrepreneurs attended the workshop
Knowledge of digital marketing strategies and the understanding of novel ways to present visual content are expected to be the main skills to drive the business growth of local entrepreneurs
 Lampung, 16 February 2019 – Grab, Indonesia's leading online-to-offline (O2O) mobile platform, today conducted a digital marketing and product photography workshop, entitled "Success Resolution with GrabExpress". The workshop aims at empowering local entrepreneurs in Lampung to drive their business growth. Grab is supporting local entrepreneurs in Indonesia through an easy, instant and convenient courier service, GrabExpress. The seminar which was attended by 100 participants also collaborated with a number of e-commerce communities in Lampung, including Tokopedia, Bukalapak, and Shopee.
GrabExpress is committed to continue supporting local Indonesian entrepreneurs to grow. According to the data from Lampung Province Department of Cooperation, and SME in 2017[1], while MSME have become one of the main economic drivers in Lampung with the contribution around 11.42%, MSME growth in the city only reached 1.92%. On the other hand, the gross regional domestic product of Lampung province was the highest amongst other provinces in Sumatera during 2014 to 2016 with an average growth of 9.17%. Seeing huge opportunities and the MSME growth potency in Lampung, GrabExpress is pleased to drive the local business growth by providing a convenient delivery service.
Mediko Azwar, Marketing Director Grab Indonesia explained, "GrabExpress is committed in helping local entrepreneurs to grow by utilizing our technology. In Lampung, GrabExpress is already available as a step to be an everyday superapp by fulfilling the customers' needs of a reliable, convenient and safe instant courier service. Through the workshop, we provide more opportunities to local entrepreneurs to learn new things to increase their business efficiency and achieve their business objectives. The workshop will support Grab's ongoing commitment, which is summarized in the Grab 4 Indonesia master plan to drive the growth of Indonesia digital economy as Indonesia's power in the future by accelerating the growth of e-commerce business."
Digital marketing practitioner and Director Gink Technology, Eka Yuda Gunawibawa, one of the speakers at the workshop explained, "MSMEs have an important role in supporting national economic activities, especially in solving unemployment problems and gaps between sectors. On the other hand, MSMEs usually have limited budget, especially for marketing activities. However, this should not be an obstacle to their business acceleration because digital marketing through the Internet can save on promotional costs, making it cheaper if compared with other methods. Today's workshop is expected to provide practical tips that can be implemented by local entrepreneurs in Lampung to drive their business growth. With many conveniences offered in the digital era, including online delivery service like GrabExpress, businesses are getting easier to grow.
Photographer, influencer, and founder of Focusone Iwan Laksmana explained, "In this digital era, the use of social media platform has a huge role in product marketing strategy. For MSME players, social media has become one of the main gateways for establishing new businesses. However, attractive content with good visual is also important to attract greater customer attention. I am excited to help today's workshop management and hope the similar workshops can be conducted in other cities across Indonesia."
Today, GrabExpress service is available in 139 cities in Indonesia, from Sabang to Merauke as well as on the Tokopedia, Bukalapak, K24klik platforms, etc. Users in Lampung can enjoy the GrabExpress service using the GrabBike fleet with various features including:
More friendly interface: The booking flow has been updated with an easier and simpler user interface. Contact list in the mobile phonebook will be automatically integrated to Grab application to ease users in choosing and filling contact details of the recipients when booking the service.
Instant delivery: The delivery and reception of goods are conducted on the same day with the availability of GrabBike fleet.
Safety insurance: The delivery is now safer with the availability of goods insurance, delivery proof and delivery tracking feature.
Multi Concurrent Booking: Customers will be able to send up to ten orders at same time.
"We carry out hyperlocal approach with a deep understanding of the local people preferences and habits, which are then translated into our services. We hope Grab will be an integrated application that becomes more relevant to the daily needs of Indonesians. Thus, we are able to embody our vision as the first everyday superapp in Southeast Asia," Mediko concluded.
[1] Pemerintah Provinsi Lampung Dinas Koperasi, Usaha Kecil dan Menengah (2017): http://www.depkop.go.id/uploads/tx_rtgfiles/06._Paparan_Rakornas_Yogyakarta_2018_-_Lampung.pdf