ONE Championship and Grab Partnership Aims to Unleash Everyday Champions
The largest global sports media property in Asian history, ONE Championship™ (ONE), announces a partnership with Grab, the leading O2O mobile platform in Southeast Asia, to celebrate Everyday Champions among Grab's driver-partners.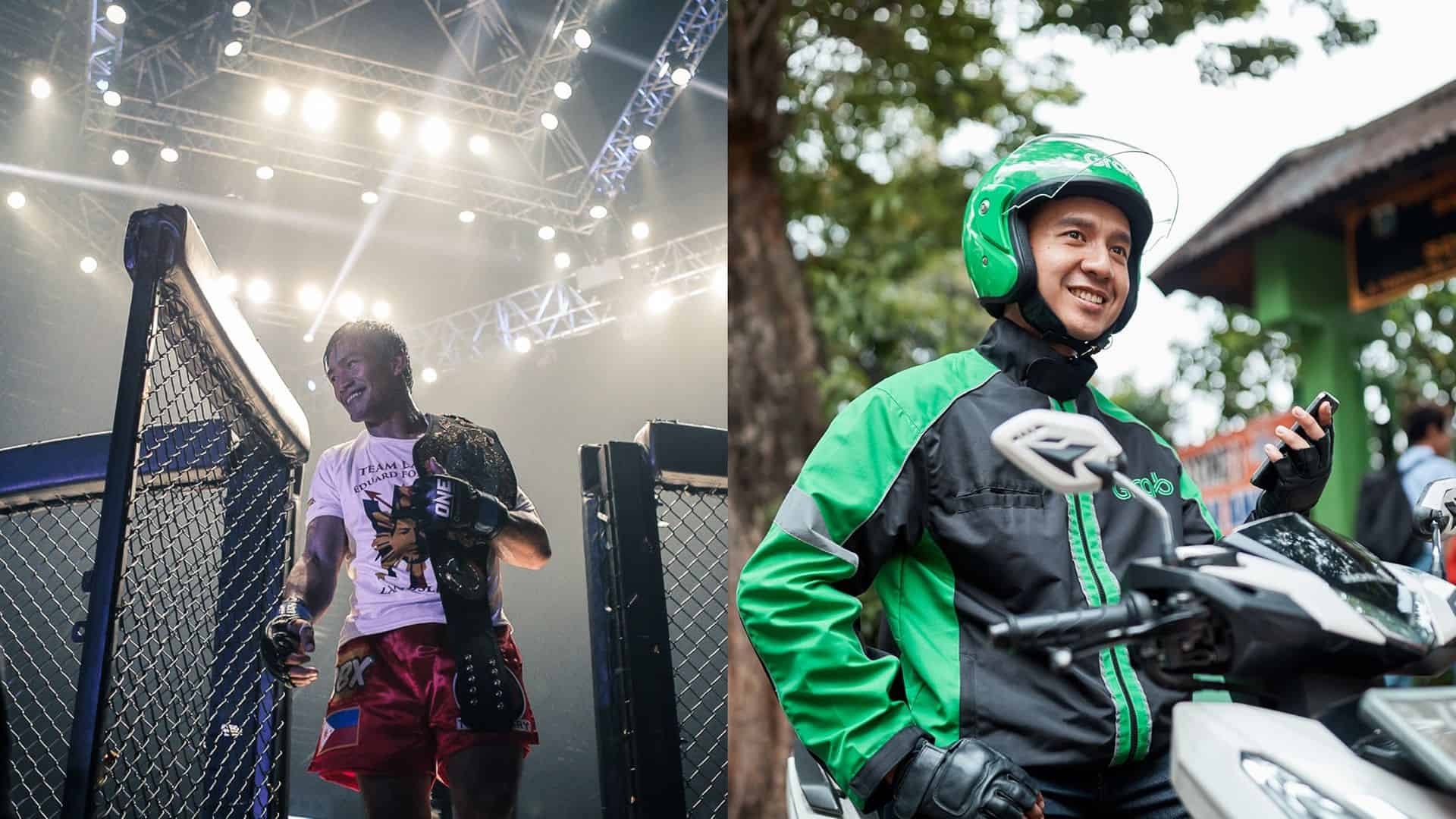 18 January 2019 – Jakarta, Indonesia: The largest global sports media property in Asian history, ONE Championship™ (ONE), announces a partnership with Grab, the leading O2O mobile platform in Southeast Asia, to celebrate Everyday Champions among Grab's driver-partners.
This partnership will be rolled out in Indonesia and Philippines, as our research shows that ONE Championship enjoys strong following in these countries. In Indonesia, it is just as popular as football, while in the Philippines, its fanbase trails just second behind basketball. With this insight, Grab and ONE Championship found strong common ground and synergy to celebrate champions outside of the ring and reward Grab's driver-partners who are the Everyday Champions on the roads.
This long-term partnership with ONE Championship is an extension of Grab's Better 365 commitment to make a difference to the personal lives of its driver-partners beyond just income-earning opportunities. With this partnership, Grab's champion driver-partners can enjoy the following initiatives and benefits:
Champion Driver-Partners in the spotlight: As recognition of their tremendous efforts and hard work, Grab will identify and crown the Everyday Champions among its driver-partners, with the aim of sharing their inspiring stories to everyone. The stories of these driver-partners will be aired during ONE Championship matches, just like how ONE World Champions are being honored.
Exclusive access to Grab Champions Arena: Grab champion driver-partners will get to attend the ONE Championship events as VVIPs, which includes backstage access, facetime with ONE athletes and exclusive rights to the Super Fan area where they get the most visibility of athletes making their way to the ring. This is a rare money-can't-buy moment for driver-partners as they get to be in the heart of the action during a ONE Championship event.
Kudos from passengers: Grab driver-partners are always on during all occasions, including festive seasons, simply to bring passengers safely and seamlessly from one point to another. Grab will give more opportunity for passengers to thank and gift champion driver-partners who have gone the extra mile to serve them, and these include exclusive ONE x Grab merchandise.
Champions rallying for a good cause: Grab and our driver-partners in Indonesia and Philippines, together with ONE athletes will rally consumers to raise funds for a regeneration project in the community they hail from. Ultimately, the real Everyday Champions give back to the society by helping to better serve their communities and solve everyday problems that the people in their society face.
In many ways, Grab's Everyday Champions share similar values and experiences with ONE World Champions. Grab driver-partners work hard every day not just to enhance their income opportunities for a better life, but also to bring greater accessibility, convenience and safety to all passengers with dedication and best quality service. They are no doubt the Everyday Champions on the roads. Now with the partnership, Grab has the perfect opportunity to celebrate its Everyday Champions alongside ONE World Champions, allowing them to be recognized for their efforts.
Hari Vijayarajan, Chief Commercial Officer, ASEAN of ONE Championship stated: "ONE Championship has chosen to partner with Grab, the everyday super app of Southeast Asia. It is important for our organization to continue to forge long-term strategic partnerships with brands that understand our vision. We believe in what Grab is doing for their driver and passenger community, making high-quality transport easier and more accessible to all. In the same way that our athletes champion the values, honor, and prestige of martial arts, ONE Championship hopes to provide the platform to recognize Grab's Everyday Champions in Indonesia for going the extra mile."
Mediko Azwar, Marketing Director, Grab Indonesia, stated, "We're excited to announce our strategic partnership with ONE Championship to celebrate champions outside the ring. Together with ONE Championship, we will celebrate the amazing spirit of our driver-partners who diligently provide the best services for our customers. Grab driver-partners have become the foundation of our success to achieve our aspiration to be Southeast Asia's first everyday super app. We are committed to recognize our Grab champion partners and improve their livelihood as our appreciation for their hard work and commitment to uphold Grab's values and service standards. We hope that our partnership with ONE Championship would be able to spark our drivers' spirit in delivering Grab's signature safe and reliable transportation service to our customers."
With this partnership, Grab will leverage ONE Championship's global platform to care for, celebrate, and recognize their Everyday Champions through a series of campaigns and activations designed to bring added value to both Grab driver-partners and passengers. In addition, ONE Championship will work together with Grab in effecting a broader scale rewards and recognition program for Grab driver-partners, as well as work seamlessly together in community building efforts.
For more updates on ONE Championship, please visit www.onefc.com, follow us on Twitter and Instagram @ONEChampionship, and like us on Facebook at https://www.facebook.com/ONEChampionship.