Grabiella, the Baby who was Born on a GrabCar ride
Pada penghujung tahun 2018 lalu, keluarga besar Grab dianugerahi anggota baru dengan lahirnya putri salah satu mitra pengemudi GrabCar,  R. Dani Zulfikar, yang akrab disapa Dani pada 15 Desember 2018.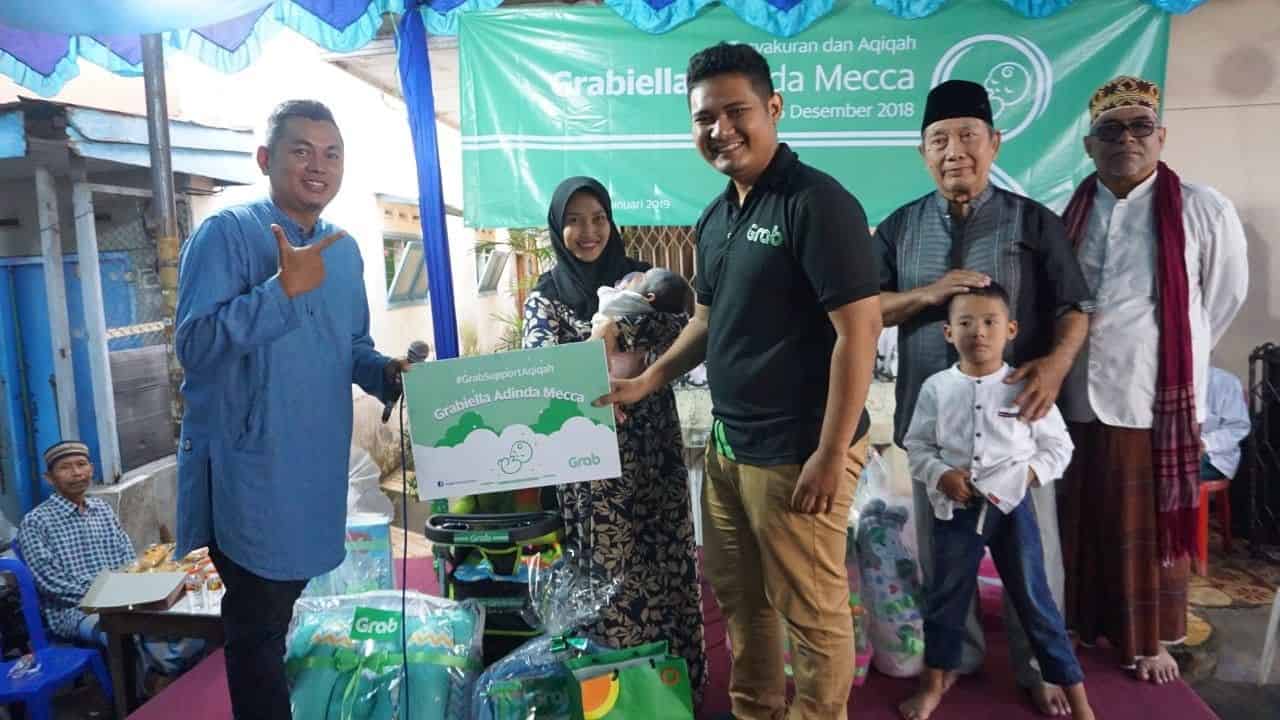 East Java, 26 January 2019 – At the end of 2018, Grab's big family welcomed a new addition with the birth of the daughter of GrabCar driver R. Dani Zulfikar, also known as Dani, on 15 December. Dani has a unique and touching story about the birth of his third child, named Grabiella Adinda Mecca, thanks to the presence of Grab. Grabiella was the seventh baby born on a Grab ride in 2018.
Dani's story began when his pregnant wife woke him up at 3:30am with unbearable contractions. Realizing that the situation at that time did not allow him to drive his own vehicle, Dani immediately ordered a GrabCar to take him and his wife to the maternity clinic. Shortly later, Adi Riyanto, a driver partner of GrabCar, picked up Dani and his wife.
The car drove through the cool and quiet morning in Malang, but in the middle of the trip, Dani's wife started to experience even more pain. To calm the couple down, Adi advised pulling over, but Dani chose to continue the trip to the clinic. Driving in the middle of a dark and bumpy road while minimizing shocks is not an easy thing to do, and the car experienced such a severe shock that Grabiella was safely born in the car.
"Our happy tears that morning were shed alongside the crying of our daughter, who was born safely and in good health inside the car," said R. Dani Zulfikar. "I am very grateful to my friend, Adi Riyanto, who helped my wife get further medical assistance when we arrived at the clinic. Besides welcoming the presence of a new member in my family on December 15, I also become a good friend with my fellow driver.
The birth of Grabiella was a year-end gift who was happily welcomed by Grab's big family. As one of its gifts to Dani and his family, Grab held an Aqiqah for Grabiella on January 25, 2019. "We are also happy to welcome Grabiella into extended family," said Dimas Pahlawan, Malang City Lead Grab Indonesia. "Dani's exceptional story certainly illustrates how Grab has become part of the life journey of many Indonesians. This sort of story drives us to always improve the quality of our services as an everyday superapp by providing services that are relevant to our users' needs. We hope that Grabiella grows up to be a healthy, smart, and happy child."
Grabiella is one of the seven babies who were born on Grab rides in 2018. Grab is proud to be part of the happiness of the following families:
2 January 2018

–

Arsyila Farzana Inova

was born in Yogyakarta on a GrabCar ride driven by driver partner Albertus.

8 February 2018

–

Gibran Rangga Al Bani

was born in Makassar on a GrabCar ride driven by driver partner Supriady.

8 April 2018

–

Ghaitsa Raline Bassamah

was born in Semarang on a GrabCar ride driven by driver partner Mohammad Zaky.

16 August 2018

–

Azalea Dasinangon

was born in Manado on a GrabCar ride driven by driver partner Yasmin Tempomona.

7 September 2018

–

Ganendra Rasyid Abidzar Bimantara

was born in Bali on a GrabCar ride driven by driver partner Nur Ida Lisetyowati.
14 September 2018 – Grabya Adinda Pratiwi was born in Bandung on a GrabCar ride driven by driver partner Akbar Kuspriyadi.