GrabFood Invites Customers to be Food Reviewers through the 'Jadi Foodie Sejati' Video Challenge
GrabFood,  layanan pengantaran makanan on-demand milik Grab dengan pertumbuhan tercepat dan jangkauan geografis terluas di Asia Tenggara, berkolaborasi dengan Eatlah, santapan cepat saji yang terkenal dengan menu andalan nasi hangat yang disajikan dengan telur ceplok dan ayam berbumbu telur asin, menggelar tantangan video "Jadi Foodie Sejati".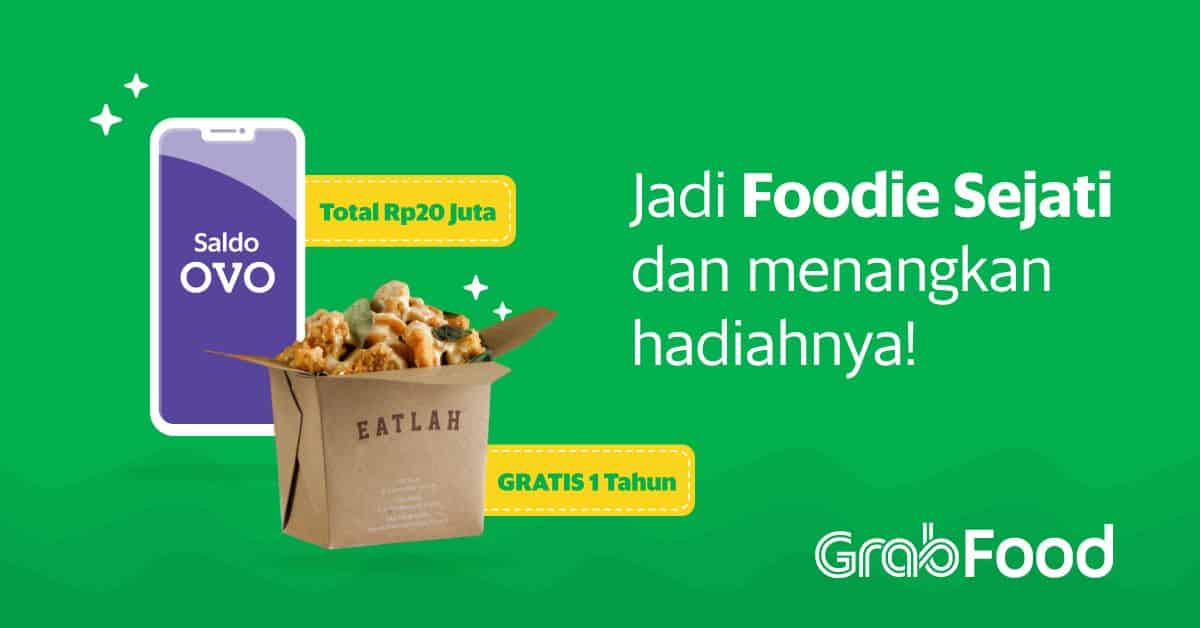 Jakarta, 19 February 2019 – GrabFood, Grab's fastest-growing on-demand food delivery service with the largest geographic presence in Southeast Asia, is collaborating with Eatlah, a fast-food service that is popular for its mainstay menu of salted egg chicken, held a video challenge entitled "Jadi Foodie Sejati." The competition encourages customers in the Jabodetabek area to become food reviewers by uploading a review video while enjoying one of Eatlah's menus on the GrabDaily widget inside the Grab application for the opportunity to win exciting prizes.
This contest is conducte from 19 February to 31 March, and five winners with the most likes will be announced on 12 April. The winners will receive an OVO balance of IDR 20m and the opportunity to become a GrabFood reviewer for a month. One chosen winner will enjoy free Eatlah food for a whole year.
"The culinary industry has changed rapidly and is constantly innovating to indulge customers, including with the emergence of unique professions such as food reviewers, which have attracted public interest – particularly that of millennials. Through the 'Jadi Foodie Sejati' video competition held by GrabFood, we are giving customers the opportunity to become food reviewers on the GrabFood Indonesia Instagram account for a month and to win various interesting prizes. We have in-depth understanding about people's tastes and are inspired to constantly present new culinary experiences while bringing a positive impact toward customers,' merchant partners,' and driver-partners' lives." stated Mediko Azwar, Marketing Director, Grab Indonesia.
Competition Mechanism
Order your favorite menu from an Eatlah outlet in the Jabodetabek area
Record a review within 30 minutes and upload it to GrabDaily through the video widget in the Grab application
Uploaded videos that pass the selection process will be accessible to Grab users in the Jabodetabek area through the Grab app to gain Likes
Entrants can share their videos through social media to increase the number of Likes in the Grab app
The contest will end on 31 March 2019
Prizes
The five videos with most Likes will receive an OVO balance of IDR 3m and become GrabFood food reviewers for a month, with an additional OVO balance of up to
IDR 5m for one lucky winner
Free Eatlah food will be given for a year to the uploader of the favorite video as selected by GrabFood & Eatlah
GrabFood is available in the Grab app, which has become part of Indonesians' daily mobility services. On-screen, customers can choose the food delivery service easily and find numerous restaurants close by.
GrabFood is available in Indonesia, Singapore, Malaysia, Thailand, the Philippines, and Vietnam. Grab's commitment to become the leading everyday "superapp" in Southeast Asia offers ride-hailing services, food deliveries, package deliveries and digital payment services to millions of people. Grab has a presence in 336 cities in eight countries and enables 9 million micro-entrepreneurs throughout Southeast Asia.
More information about the "Jadi Foodie Sejati" video competition can be accessed on grab.col/blog/eatlah.