Grab Launches Its Second GrabBike Lounge in Jakarta to Improve Service for Driver-Partners
Grab, the leading Online-to-Offline (O2O) mobile platform in Southeast Asia, today has announced the launch of the second GrabBike Lounge in Kebayoran Lama area, South Jakarta.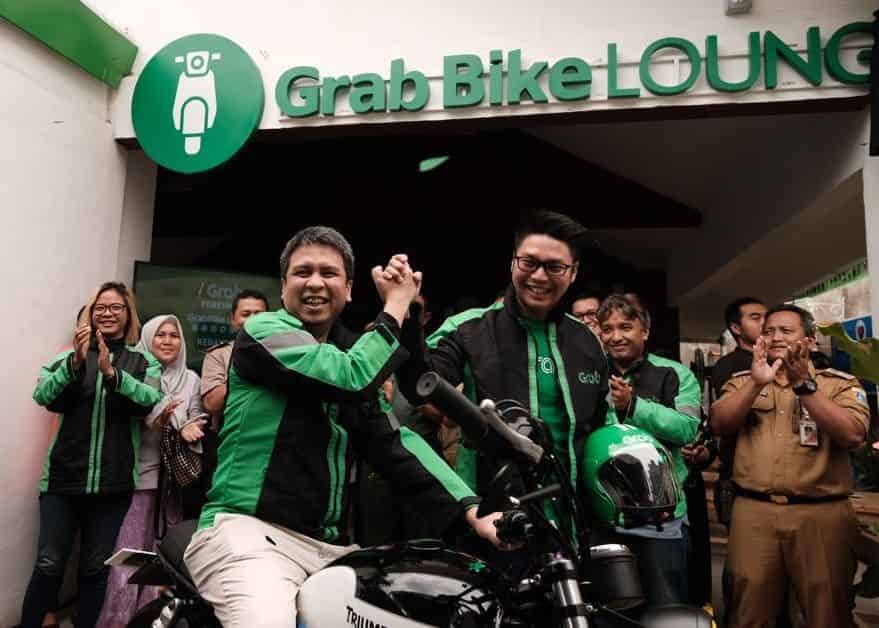 Part of "Grab Mitra Sejahtera" initiative as the main program to improve driver-partners' welfare
Jakarta, 4 December 2018 – Grab, the leading Online-to-Offline (O2O) mobile platform in Southeast Asia, today has announced the launch of the second GrabBike Lounge in Kebayoran Lama area, South Jakarta. GrabBike Lounge launch is Grab's sustainable attempt to improve service for driver-partners and part of "Grab Mitra Sejahtera" as the main initiative to improve driver-partners' and their family's welfare through several programs including education, health services, financial services, social life and facilities. GrabBike Lounge offers a comfortable place to relax which accessible and reachable for GrabBike's driver-partner. The lounge is expected to support their daily mobility.
The 1,300 square meter facility will open from 09.00 am until 09:00 pm, and offers a large and secure parking area, free Wi-Fi, prayer room, charging room, air-conditioned relaxing room, and toilet. There are also paid facilities including canteens, workshops, motorcycle washing service, and barbershop.
Ridzki Kramadibrata, Managing Director Grab Indonesia explained, "Empowering driver partners in becoming micro-enterpreneurs and improving their welfare are our priority. We have several ways in doing so, including providing them various opportunity to increase their income by being Kudo agent and also by receiving GrabExpress and GrabFood's order. We also provide free insurance that covers any accidents occur while riding with Grab, several credit and loan programs including for smartphone and houses, and facilities to support their mobility. We maintain active communications by making regular meetings with driver partners' community, also through social media. Today, we have officially launched our second GrabBike Lounge based on driver partners' input. We thank our driver-partners for their hard work and we hope this facility would boost their passion to give the best for the customers."
GrabBike Lounge Kebayoran Lama is the second GrabBike Lounge in Jakarta, after its first launch on March in Daan Mogot, West Jakarta. This facility is expected to be the main destination for driver-partner to relax in comfortable and safe place.
AKBP Elfian BSc, SH as II Head of Subdirectorate for Economics, representing Polda Metro Jaya Security Intelligence's Director also attended the opening ceremony of GrabBike Lounge and explained, "We welcome Grab's initiative as today they prove its commitment to continue improving driver-partner's welfare. Align with our vision to maintain safety, discipline and security while riding, GrabBike Lounge would be an ideal place for driver-partners to have some rest and build positive community with fellow driver-partners."
Grab constantly strives to improve driver-partner's welfare, by giving them facilities such as:
Affordable credit program for house and vehicle ownership, so that driver-partners can start owning an asset, not just renting.

Collaboration with Bank BTN providing the opportunity for driver partners to have credit and home ownership with affordable mortgage and interest.
Collaboration with Telkomsel, Samsung, and Erafone that provide special mobile
#ImpianUmrahItuDekat program allows driver partners' from all cities across Indonesia to accomplish their dreams for umrah.
"Best GrabBike's Driver Partners" program is an appreciation towards the most active GrabBike's driver partners who delivers best performance. GrabBike's driver partners entitled to receive retirement funds, incentive in cash, scholarship for their children, and enjoy GrabScheme program which is a payment scheme to purchase a motorcycle with low interest.
"Aside from the facilities, we continously undergoing a series of technology improvements as our way to protect hardworking and honest driver partners by perfecting anti-fraud technology to detect fictitious orders, also "Grab Lawan Opik" program to catch syndicates who commit fraud. The safety program within Grab application is comprehensive, supported by secure mechanism for transactions, data protection, and fraud detection, which have successfully lower the number of fraud in Grab's platform consistently under 1% in second semester 2018," added Ridzki.
Grab provides services with the widest coverage in 237 countries in 8 countries with more than 100 million users throughout Southeast Asia, including Indonesia where Grab operates in 139 cities from Sabang to Merauke. Aligns with its vision as everyday superapp and open platform strategy, today Grab provides services to fulfill Indonesian's daily needs, starting from two and four-wheel transportation services, package delivery, digital payment, to door-to-door food & beverages and groceries.