Combating COVID-19: A message from our management team
We will continue to do our best to protect our partners' livelihoods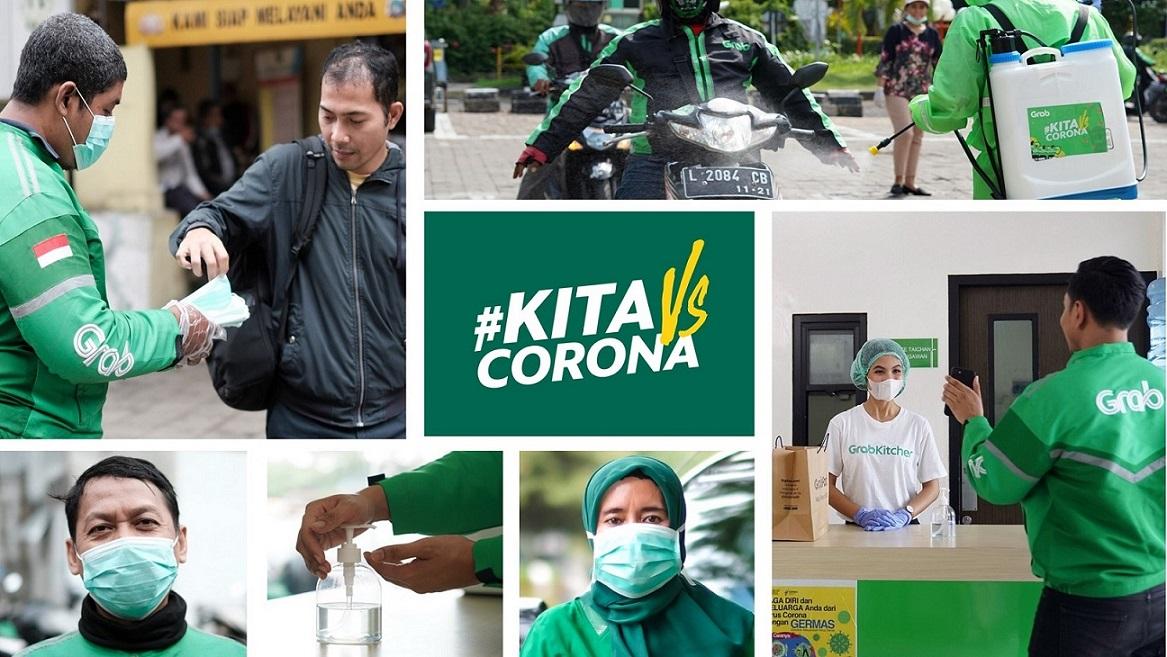 Dear respected driver-, agent-, merchant-partners, and consumers

…
We are now halfway into the two-week emergency period in Jakarta. The streets are a lot quieter, malls are operating at reduced hours and places of worship remain closed. Our hearts, thoughts and prayers are with everyone affected.
With governments around the world implementing stricter prevention and control measures, we must prepare for an economic slowdown.
The weeks and months ahead will be challenging for all of us, but I want to assure you that we are 100% committed to overcoming this crisis together. As a company, Grab has committed USD$10 million in ongoing and new initiatives to address the pandemic in Indonesia.
Here in Indonesia, our #1 priority is to ensure the safety and well-being of everyone on our platform.
We will continue to do our best to protect our partners' livelihoods.
As more people stay home to help slow the spread of Covid-19, the livelihoods of our drivers, delivery partners and restaurant partners have unfortunately been impacted. That is why we have put in place the following assistance schemes aimed at alleviating the financial strain faced by our community of partners:
The GrabCare support package will provide financial and medical assistance to driver and delivery-partners most impacted by Covid-19:
Any GrabBike or GrabCar driver-partners who undergo government-mandated quarantine or test positive for Covid-19 will receive a one-time payout of Rp. 1.5 million and Rp. 3 Million respectively. This will help cover vehicle rental costs and other expenses and hopefully give our driver-partners peace of mind during the quarantine and recovery period.
GrabCar driver-partners who have opted-in for the Grab-subsidised Mandiri In-Health insurance can now claim against their policy for Covid-19 related medical examinations, doctor consultations, chest x-rays, blood tests and more.
For restaurant partners, our Merchant Support Programme will help:
Generate additional revenue through enhanced in-app visibility, special promotions and a dedicated category for homegrown eateries and local heroes.
Reduce operational costs through a cashback program for common food ingredients and discounts on food packaging.
The above initiatives for drivers and merchants are in part funded by voluntary Grab employee donations that are matched dollar-for-dollar by the company.
We will continue to provide daily essential services in the safest way possible.
To keep our communities safe, we have done the following:
Provided surgical masks and hand sanitisers to GrabBike and GrabCar driver-partners. We continue to source for more supply amidst the global shortage.
Set up disinfection stations and car cleaning in various cities to sanitise GrabBike and GrabCar driver-partner vehicles.
Introduced contactless delivery for consumer and delivery partner safety.
Instituted daily temperature reporting by our drivers and delivery partners. Where delivery partners display symptoms, they are requested to seek medical advice and self quarantine if needed, during which they are temporarily suspended from our platform and provided with financial aid.
Worked with merchant-partners to enhance food preparation protocols and ensure food safety and hygiene.
Implemented GrabFood Delivery Statement Card that enables merchants to log the date, time, names and temperature of people who handled the GrabFood order. If any delivery-partners show symptoms such as high body temperature, fever, colds, and cough, an alternative delivery-partner will be assigned for the order.
Provided over 2000 non-contact thermometer guns to merchant-partners.
Over the next few weeks, we will expand GrabMart, our daily essentials delivery service, as well as GrabAssistant, our on-demand concierge service across Indonesia so that more people can stay home in an effort to stop the spread of the virus. This would also provide our driver-partners access to  more earning opportunities through the Grab platform.
We will continue to support the government's efforts to flatten the Covid-19 curve.
As governments work to contain the spread of the virus, we've provided our support by:
Serving as a trusted partner of the Ministry of Health of Republic Indonesia to provide free preliminary Covid-19 telehealth screening through our GrabHealth service, powered by Good Doctor. The service enables doctors to assess an individual's risk of contracting Covid-19 and provide recommendations e.g. observe self-isolation, or get tested for Covid-19.
Preparing to launch a dedicated transport fleet for medical staff and medicine delivery for hospitals under the Ministry of Health.
Leading a donation campaign where Grab, Tokopedia and OVO contributed IDR 1 billion each to the National Disaster Management Agency of the Republic of Indonesia's Task Force for the Acceleration of Handling COVID-19 to support Indonesian medical frontliners needs.
Coming together with BenihBaik and Palang Merah Indonesia (PMI) to provide masks to health workers, driver-partners, and the public through the '1 million masks for PMI'
We will get through this together.
Our business has not been spared from the impact of the virus. It's been the most trying times we've experienced. Yet in these trying times, we remain committed to serving and supporting our communities to the best of our ability.
I am deeply grateful for our driver, delivery and restaurant partners who put themselves at risk daily to keep our cities running. Thank you for all that you do and for continuing to serve Indonesians during these trying times.
While the coming days may still be difficult for all of us, we must remain optimistic. We need to support each other and ensure the wheels of Indonesia's economy continue to run. I believe the best way to overcome them is to work together and pray to God Almighty.
May God Almighty repay all of your kindness and always accompany our steps.
Warmest regards,
Ridzki Kramadibrata, President of Grab Indonesia
Neneng Goenadi, Managing Director Grab Indonesia
+++
Note: The information in this post is accurate as of the date of posting. Given that the circumstances are rapidly evolving, we may iterate on or modify our approach, including the nature of initiatives, amounts allocated, criteria and duration of aid, as conditions change.