Answering Government's Call to Accelerate COVID-19 Rapid & PCR Testing in Indonesia, GrabHealth powered by Good Doctor Provides Free Test for Driver-Partners and Healthcare Personnel
For the initial rollout, Good Doctor and Grab Indonesia offer free Covid-19 tests to 1000 medical workers and Grab driver partners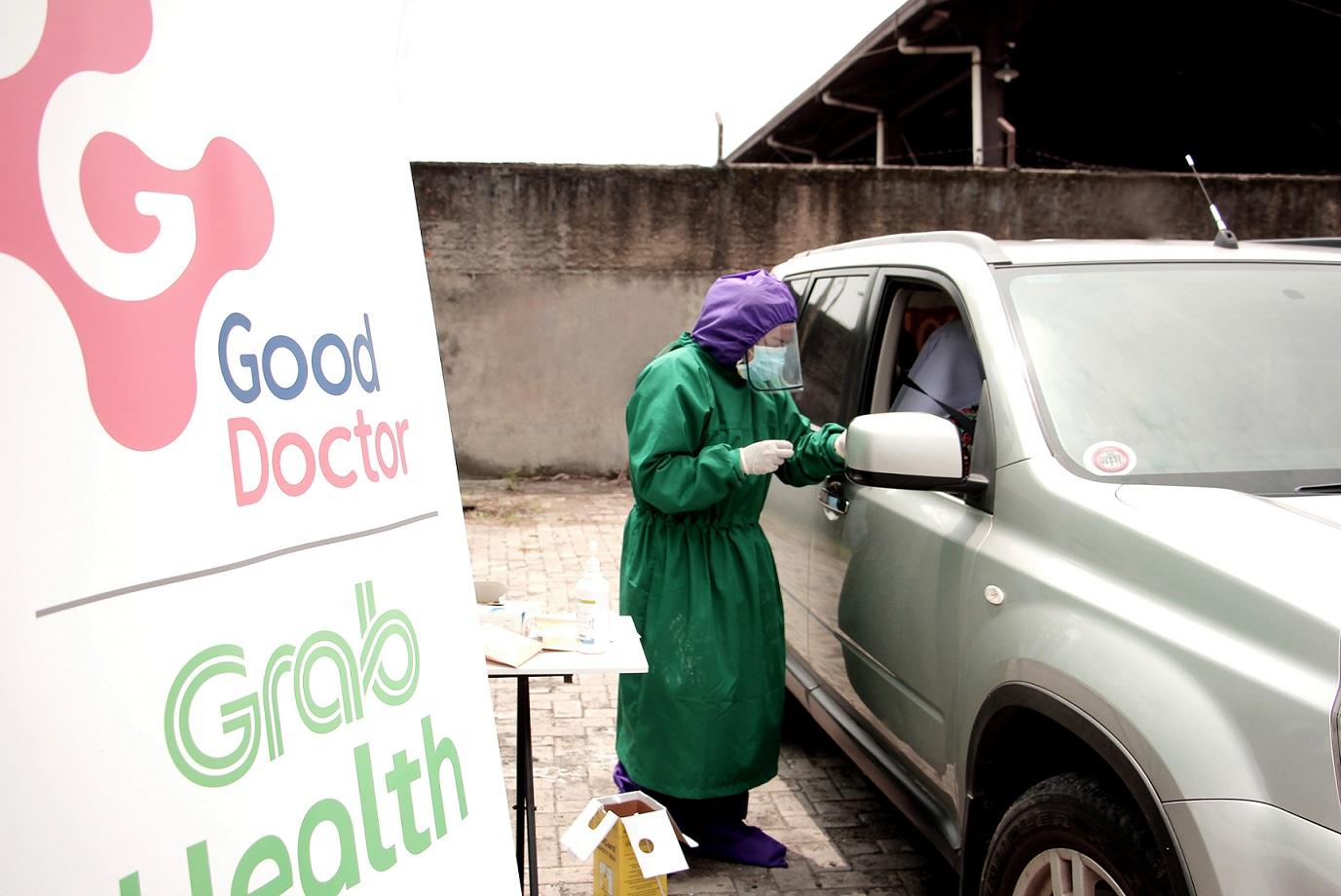 For the initial rollout, Good Doctor and Grab Indonesia offer free Covid-19 tests to 1000 medical workers and Grab driver partners

In addition to a free consultation with a doctor's partner,

GrabHealth powered by Good Doctor also offers free initial COVID-19 screening to detect early signs of infection for public through the app

Good Doctor promotes the spirit of their #BaikBersama initiative to combat the COVID-19 pandemic through collaboration with various stakeholders
Jakarta, April 15, 2020 – As countries around the world continue to battle the spread of the COVID-19 virus, President Jokowi has called for the need to boost  COVID-19 testing capacity in Indonesia. Responding to the need to expand testing, GrabHealth powered by Good Doctor, a digital health platform in Indonesia, provides free tests to healthcare workers whose profession makes them most vulnerable to virus exposure, as well as to Grab drivers and delivery partners who are playing an important role in keeping the economy moving. This activity is also a part of the #BaikBersama campaign implemented by Good Doctor as a form of their on-going commitment to combat the COVID-19 pandemic in Indonesia.
In the first phase of this rollout, which started today, free rapid tests will be given to 1000 medical workers and Grab driver and delivery partners. Those that test 'positive' for the virus through the rapid tests will then undergo PCR testing for further confirmation. All of the tests are carried out free of charge and GrabHealth and Good Doctor aim to further expand the number of free tests available in upcoming phases.
"GrabHealth powered by Good Doctor has been appointed as government partner, in this case Ministry of Health and The National Agency for Disaster Authority, in helping to fight the COVID-19 outbreak. Ever since the pandemic started worldwide in February up to now, we have increased our capacity to match demand up to 4x in providing various digital health services to the public, ranging from online consults, dissemination of COVID-19 education, to conducting official screening tests via teleconsultation. We want to continue to contribute to our country's developing needs. For now, we are helping to expand the rapid and PCR test to help detect COVID-19 infection for those that need it the most, which are the healthcare professionals who serve at the frontline of the COVID-19 fight and are most vulnerable to the exposure of the virus, as well as Grab driver partners who are still actively carrying out important daily services for the community. Of course to also ensure eligibility based on infection risk level, all of the test participants will be screened first through our platform. We are grateful for all parties supporting this initiative, especially SBC and partners who provide free PCR tests for the medical personnel," said Danu Wicaksana, Managing Director of Good Doctor Technology Indonesia.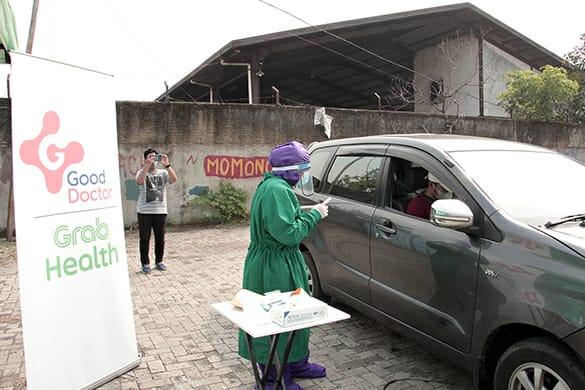 GrabHealth powered by Good Doctor will provide free rapid tests for GrabCar and GrabBike driver partners in the Jakarta area. While the COVID-19 rapid test and PCR test will be given to medical workers. This free service starts from April 15 until April 30, is open to all Grab driver partners and medical workers in the Jakarta area. Before conducting the rapid test, medical workers and driver partners are required to consult with Good Doctor's doctor-partner through the GrabHealth powered by Good Doctor application at the appointed hours. This consultation is an important screening to determine a person's risk level of COVID-19. Only those with medium and high risk will be eligible for the free rapid test and PCR test programs. All costs for procuring equipment and conducting rapid tests are fully borne by Grab, Good Doctor, and SBC (Solidaritas Berantas COVID-19).   
The rapid test will be conducted in a drive-thru setting, so the health workers and Grab driver partners who will take the test are obliged to come to the location using a vehicle, such as a motorbike or a car. As for the PCR test, it will be carried out using a walk-in system or coming directly to a designated hospital. Good Doctor and Grab Indonesia ensure that all stages are carried out with strict health protocols and in accordance with government direction to maintain physical distancing. All staff involved in the rapid test and PCR test will  be equipped with personal protective equipment for the safety of others. In carrying out these tests, Good Doctor is collaborating with Brawijaya Hospital as the implementing team of rapid tests and also Solidarity Berantas COVID-19 (SBC), which is supported by the Clinical Microbiology Lab of FKUI, Jakarta Hajj Hospital and Jakarta Islamic Hospital Pondok Kopi, as the provider of PCR testing for medical workers. 
"Safety and hygiene which has always been a top priority for Grab Indonesia, is now more important than ever. Grab Indonesia is committed to doing whatever it takes to protect the well-being of our driver-partners, delivery teams, merchants and consumers to the highest extent. For this reason, the rapid test and PCR test were carried out as a form of Grab Indonesia's preparedness to protect their health and safety. Since the enactment of the regulation of Large-Scale Social Restrictions (PSBB) starting on 10 April 2020, Grab's driver partners are still operating to support the mobility of the population of DKI Jakarta and its surroundings. In addition, our medical  workers continue to work hard on the frontline providing the best service for patients. By supporting each other, we believe we can fight this pandemic together," said Neneng Goenadi, Managing Director of Grab Indonesia.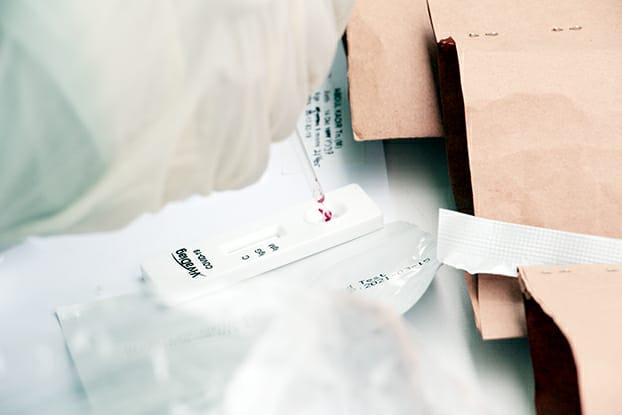 drg. Oscar Primadi, The Secretary General of the Ministry of Health of the Republic of Indonesia said, "In terms of prevention and handling of the COVID-19 virus, both the government and the Ministry of Health, cannot work alone and requires the support of telemedicine startups who have become important partners and spearheads that can help eliminate the  COVID-19 spread in the forefront. We fully support the free rapid test and PCR test given by GrabHealth powered by Good Doctor as it is a major contribution and an important step in identifying the risks of drivers and medical workers. By conducting rapid screening tests for drivers and medical personnel, it can help the government in mapping the spread of pandemics and prepare prevention measures in a more directed, effective and efficient manner, given that now we are racing with time."
Arya Sinulingga, Special Staff for the Minister of SOE and Member of COVID-19 Rapid Response Task Force added, "We greatly appreciate the initiative of Good Doctor Technology Indonesia and Grab Indonesia in carrying out COVID-19 rapid tests for drivers and medical personnel, because these two professions carry a huge task during the COVID-19 pandemic crisis. In order to serve the community, almost all the activities of drivers and medical personnel place them physically close to consumers or patients. For this reason, this rapid test has an important role in ensuring their safety in order to reduce the spread of the COVID-19.
"From the outset of the outbreak of a pandemic, the Solidarity Berantas COVID-19 (SBC) is very concerned with protection for health workers and hospital staff because of their high-risk of exposure during duty. Solidarity Berantas COVID-19 is one of the initiatives of various organizations and civil networks and individuals. The role of SBC complements the government's efforts in handling COVID-19. SBC collaborates with GrabHealth and Good Doctor in providing screening and testing facilities for medical personnel. Further information about SBC work programs can be obtained through the Center for Indonesia's Strategic Development Initiatives (CISDI) as the SBC Joint Secretariat," said Arifin Panigoro, Member of the Indonesian President's Advisory Council & the originator of SBC.
Ever since the Indonesian government declared war on the COVID-19 pandemic, Good Doctor has taken part in the vanguard as a government partner. Various initiatives and services are provided by Good Doctor to accelerate the handling of COVID-19 in Indonesia, such as assisting call centers of the DKI Jakarta Provincial Government Health Office in conducting public questions and answers about COVID-19, screening for COVID-19 infection risk through a teleconsultation system 24/7, and disseminating COVID-19 pandemic educational content on the GrabHealth powered by Good Doctor application and on social media. In March alone, COVID-19 related consults has increased by 16x compared to the previous month.
The latest step taken by Good Doctor Technology and Grab Indonesia is to provide free rapid tests and PCR tests for driver partners and health workers. All these joint initiatives are expected to invite all members of the community to unite their voices and actions, and work together to suppress the spread of COVID-19. Moving forward, Good Doctor will continue to work closely with government agencies and other relevant parties, to minimize the spread of COVID-19. This is part of the #BaikBersama initiative as a manifestation of Good Doctor's efforts to jointly combat COVID-19 because Good Doctor believes that this pandemic can be curbed by the collaboration of various parties, both government, private sector including the community.
GrabHealth powered by Good Doctor is available for free on the Grab application for Android and iOS smartphones. Health consultations with general practitioners at Good Doctor are free of charge, while consultations with specialist doctors start from Rp. 10,000. Users can also get products and medical devices at the Health Mall, which has partnered with more than 1,000 trusted pharmacy partners, including Century, K24, Griya Farma, and other pharmaceutical partners. Other services such as making doctor's appointments at hospitals/clinics that have partnered can also be accessed by users. Good Doctor services can be accessed by Grab users in Jakarta, Bogor, Depok, Tangerang, Bekasi, Bandung, Sukabumi, Semarang, Yogyakarta, Solo, Malang, Sidoarjo, Surabaya, Bali, Medan, Palembang, Balikpapan, Samarinda, and Manado.