Grab sets 2025 goals to use tech for good in Southeast Asia
Grab, Southeast Asia's leading everyday super app, today announced its 'Grab for Good' social impact programme that aims to empower people in Southeast Asia to gain critical access - some for the first time - to technology, upskilling and digital services.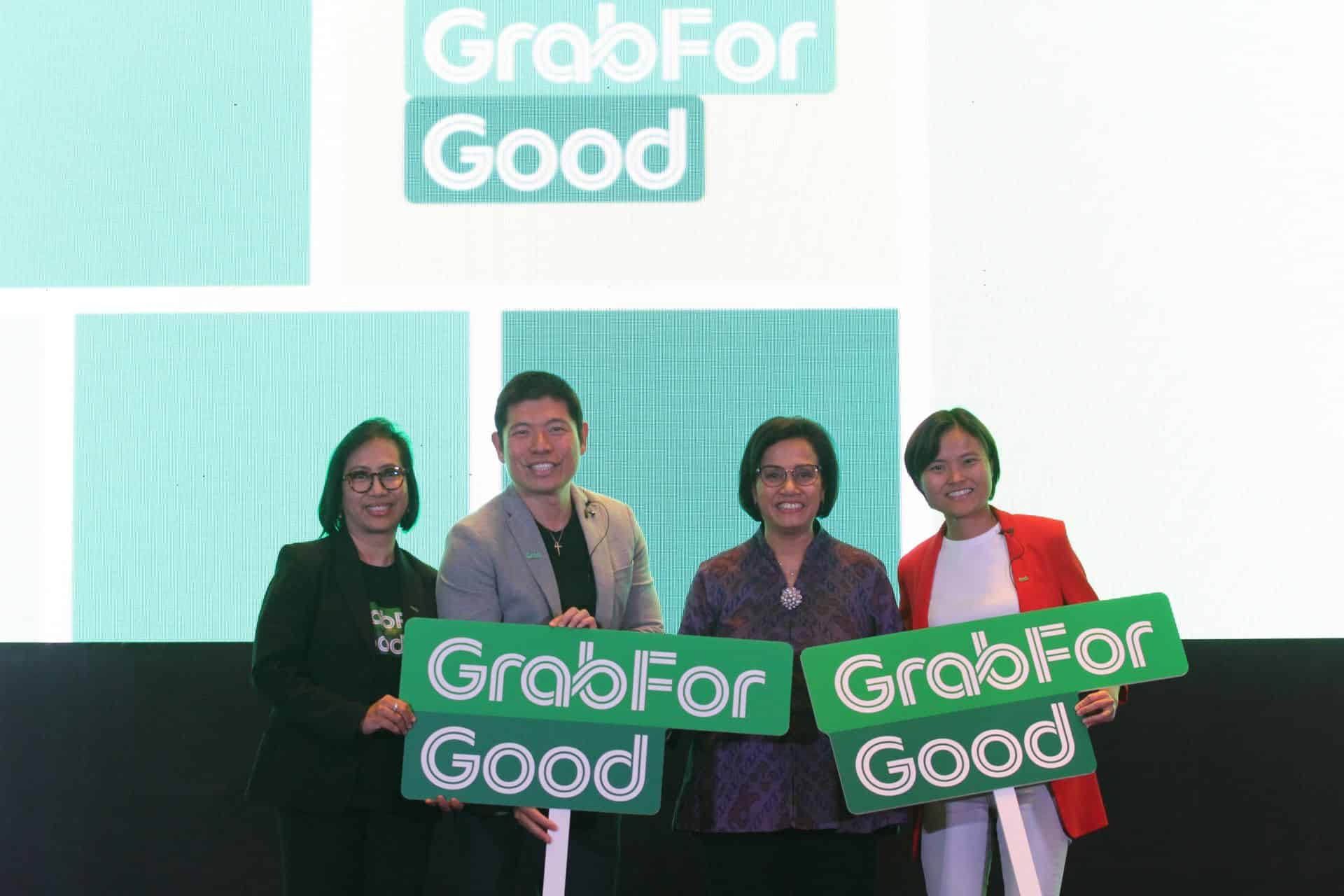 Grab sets 'Grab for Good' 2025 goals to upskill and provide opportunities to more Southeast Asians in the digital economy
'Tech for Good' partnership with Microsoft to bridge the tech skills gap in Southeast Asia, with dedicated programmes for Grab's driver-partners and their families
Grab to roll out 'Break the Silence' regionally to create more opportunities for the deaf and hearing-impaired (Break the Silence) dalam lingkup regional untuk menciptakan lebih banyak kesempatan bagi teman Tuli dan orang dengan keterbatasan pendengaran
Company releases first social impact report; estimates a contribution of US$ 5.8 billion to Southeast Asia's economy in the twelve months leading up to March 2019
JAKARTA, Indonesia – 24 September, 2019 – Grab, Southeast Asia's leading everyday super app, today announced its 'Grab for Good' social impact programme that aims to empower people in Southeast Asia to gain critical access - some for the first time - to technology, upskilling and digital services. This will allow them to be part of the fast-growing digital economy and have more choices and opportunities to improve their livelihoods.
By leveraging its technology, platform, and partnerships, Grab has set ambitious goals for its "Grab for Good" programme to be achieved by 2025:
Improve digital inclusion and digital literacy in Southeast Asia: To ensure that everyone, regardless of background or ability, is able to benefit from the rise of the digital economy, Grab aims to bring digital literacy and greater inclusion to 3 million Southeast Asians by 2025 through partnerships with governments, private companies and non-profit organisations.
Empowering micro-entrepreneurs and small businesses: Micro-entrepreneurs are at the core of Grab's business model while small businesses are the lifeblood of Southeast Asia's economies. To enable them to tap the cost-savings and increased productivity brought on by technology, Grab aims to help over 5 million more traditional businesses, and small merchants digitize their workflows and processes.
Building future-ready workforces: 16% of ASEAN youth want to work in the technology sector in the future . Grab aims to train 20,000 students through its tech talent initiatives in partnership with educational institutions, non-profits and leading technology companies.
To achieve these goals, Grab announced two flagship initiatives under its "Grab for Good" programme; a skills training and digital literacy partnership between Microsoft and Grab, and regional "Break the Silence" initiative, that enables the deaf and hearing-impaired to better participate in the digital economy through the Grab ecosystem.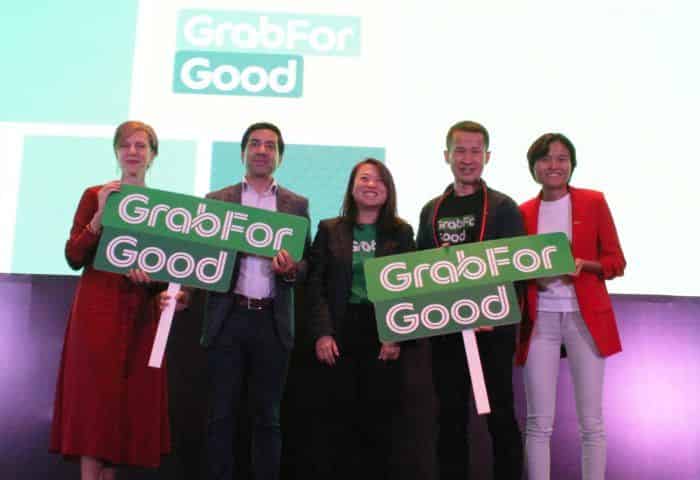 These two initiatives are the start of a multi-year plan to equip individuals and small businesses with the necessary technology skills and tools to thrive in the new digital economy. More initiatives will be announced later this year (see Appendix A).
"Southeast Asia is poised to become the world's fourth largest economy by 2030, yet the hard truth is that not everyone has equal access to opportunity - and the equal chance to succeed with the region's growth. If the private sector actively creates programmes for local communities, technology can be within reach for many, and the learning of new skills can immediately improve the livelihoods for many more people in Southeast Asia," said Anthony Tan, Group CEO & Co-founder, Grab.
Anthony Tan added, "'Grab for Good' is about building an inclusive platform, and is our commitment to deliver positive, sustainable impact in every country that Grab operates in."
Airlangga Hartarto, Indonesia Minister of Industry said, "Industry 4.0 is a big endeavour that can boost the real economy of Indonesia by 1-2 percent. This economic growth must be inclusive and shared by all segments of Indonesians, from small businesses to the ordinary man. The only way we can succeed is for all stakeholders to play their part, and the Grab for Good programme is a strong commitment from a private sector company to provide the technology and tools for micro-entrepreneurs and small businesses."
Grab for Good: Social Impact Report 2018 - 2019
The "Grab for Good" social impact programme builds on Grab's focus on improving the livelihoods of all Southeast Asians over the past seven years of its existence. In its inaugural social impact report, released today, Grab is estimated to have contributed US$ 5.8 billion to Southeast Asia's economy in the 12 months to March 2019. This social economic calculation was independently verified by KPMG based on agreed upon procedures.
Over 9 million micro-entrepreneurs, or approximately 1 in 70 people in Southeast Asia, have earned an income through the Grab platform, whether as a driver-partner, delivery-partner, merchant, or agent-partner. 21% of Grab driver-partners did not work prior to joining Grab, while 31% of agent-partners had no income prior to joining Grab-Kudo. Beyond creating economic opportunities, the report also outlines how Grab has helped improved access to financial services and digital payments. Since Grab's founding in 2012, Grab has helped over 1.7 million micro-entrepreneurs open their first bank accounts. Grab is also helping to move the region into a cashless future. Cashless usage is up to 9x higher on Grab, compared to overall country cashless usage.
Grab and Microsoft join hands to open new upskilling paths for millions of Southeast Asians
As part of 'Grab for Good', Grab announced a regional partnership with Microsoft that will empower workers with the necessary technology skills for them to thrive in the new digital economy. 6.6 million workers across the six major ASEAN economies will require reskilling by 2028. About 41% of them lack relevant IT skills that new jobs will demand .
Grab and Microsoft aim to plug the digital skills gap by committing their combined resources, expertise and capabilities, and are partnering to fulfill a shared vision to make the economic opportunities in technology and the digital economy accessible to all across Southeast Asia.
"One of the challenges we see in Asia Pacific is the democratisation of education. We believe education should be accessible to everyone, specifically, tech and digital literacy. This encourages ingenuity, computational thinking and problem-solving skills, all of which are key to the future. We're excited to launch a pathway to develop a digitally inclusive workforce across Asia Pacific with Grab, which will improve the trajectory of generations to come. Our mission to empower every person and every organization on the planet to achieve more, it's something we care deeply about. Together with Grab, we are building a skilled workforce that will transform families, communities and countries, to create the world of tomorrow," said Andrea Della Mattea, President, Microsoft in Asia Pacific.
"As Southeast Asia grows, we hope everyone can rise with it and benefit from the growing digital economy. I'm especially excited that Grab driver-partners and their families will be able to learn new skills from Microsoft courses and work towards certifications," said Hooi Ling Tan, co-founder, Grab.
The partnership will cater to varying levels of digital literacy, and Grab and Microsoft will collaborate in three ways:
Membangun keterampilan teknis bagi mahasiswa di perguruan tinggi di berbagai negara Asia Tenggara, untuk memastikan mereka siap untuk memasuki angkatan kerja saat ini dan di masa depan

Grab dan Microsoft akan bekerja sama dengan universitas-universitas terpilih di Asia Tenggara untuk memberikan pelatihan bagi para mahasiswa dengan keterampilan teknis yang dibutuhkan di dunia nyata.
Microsoft akan menyediakan akses terhadap konten, kurikulum, platform pembelajaran dan sertifikasi yang telah dikenal di berbagai bidang industri; sebagai tambahan dari penyediaan akses akan teknologi komprehensif seperti Azure for Education. Grab akan mendukung penerapan dari proses pembelajaran melalui studi kasus dan data yang relevan dengan industri terkait, juga berbagai pengalaman pembelajaran seperti hackathons dan beragam kesempatan magang.
Grab dan Microsoft telah bekerja sama dengan Universitas Indonesia dan Institut Teknologi Bandung untuk menawarkan program sertifikasi milik Microsoft, dan lebih banyak universitas di Asia Tenggara akan turut bergabung dalam enam bulan kedepan.
Memberdayakan mitra pengemudi dan keluarganya agar dapat berkembang dalam ekonomi digital melalui pengembangan keterampilan digital

Mitra pengemudi Grab akan mendapatkan akses untuk mengikuti program sertifikasi literasi digital milik Microsoft melalui aplikasi mitra pengemudi Grab. Mereka bisa mengikuti pelatihan dasar, mencakup topik seperti ilmu komputer dasar, cara menggunakan Internet dan perangkat lunak penunjang produktivitas. Setelah menyelesaikan latihan ini, mitra pengemudi akan mendapatkan sertifikasi Microsoft secara cuma-cuma.
Pada tahap pertama, pelatihan ini akan tersedia dalam Bahasa Inggris dalam modul GrabAcademy, sebuah platform pelatihan online dalam aplikasi mitra pengemudi Grab, dan bahasa lainnya akan tersedia tahun depan.
Grab dan Microsoft juga akan bekerja sama dengan ASEAN Foundation dan Empire Code untuk menyediakan akses pelatihan ilmu komputer melalui platform FutureReadyASEAN untuk perorangan, khususnya anak-anak dan pasangan mitra pengemudi.
Membuka jalur bagi mitra pengemudi untuk mengejar karir di bidang teknologi, dengan dukungan dari organisasi nirlaba global, Generation: You Employed

Grab dan Microsoft akan membuka jalur bagi mitra pengemudi yang tertarik untuk mengejar karir di bidang teknologi, dengan dukungan dari Generation: You Employed, sebuah organisasi nirlaba global yang memiliki pendekatan 'skilling-to-employment'. Program ini mencakup kurikulum dengan pendekatan praktik studi kasus, yang dirancang oleh Generation, dan menawarkan kesempatan untuk mendapatkan sertifikasi dalam kelas-kelas yang dikelola oleh Microsoft. Lulusan dari program ini akan mendapatkan kesempatan untuk diwawancarai oleh perusahaan rekanan Grab dan Microsoft untuk posisi khusus di bidang teknologi.
Program percontohan yang diluncurkan di Singapura diharapkan dapat meningkatkan keterampilan dari sekitar 100 mitra pengemudi, dan angkatan pertama akan dilatih pada Juni 2020. Program ini akan sejalan dengan inisiatif pemerintah Singapura bernama SkillsFuture untuk pengembangan angkatan kerja dan mendukung proses pembelajaran berkesinambungan yang relevan, sebagai bentuk dukungan komprehensif bagi mitra pengemudi Grab di Singapura. Inisiatif ini akan diluncurkan di negara lainnya menyusul evaluasi dari program percontohan ini.
Melayani lebih banyak penyandang disabilitas
Inti dari program 'Grab for Good' adalah memastikan bahwa setiap orang, terlepas dari latar belakang atau kemampuan yang mereka miliki, dapat merasakan manfaat dari ekonomi digital.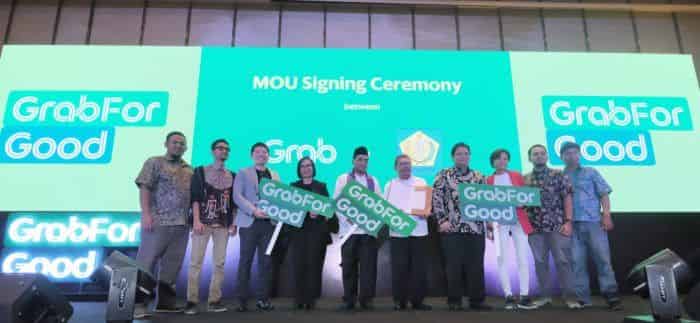 Mulai hari ini, Grab akan memperluas inisiatif 'Mendobrak Sunyi' (Break the Silence) ke Indonesia dan Singapura, serta mengembangkan lebih lanjut program yang telah berjalan di Malaysia dan Thailand ini. Grab memiliki lebih dari 500 mitra pengemudi Tuli dan berencana untuk menggandakan jumlah ini di tahun depan.
Dalam International Week of the Deaf (23-30 September), Grab mengumumkan kerja sama dengan Gerakan untuk Kesejahteraan Tuna Rungu Indonesia (Gerkatin) di Indonesia, Malaysia Federation of the Deaf, Singapore Association of the Deaf, dan National Association of the Deaf Thailand untuk meningkatkan penerapan serta advokasi pentingnya inklusivitas untuk mendukung teman Tuli dan orang dengan keterbatasan pendengaran di Asia Tenggara.
Bambang Prasetyo, Ketua DPP Gerkatin menyatakan, "Mendapatkan kesempatan bekerja dengan penghasilan yang cukup selalu menjadi tantangan bagi orang Tuli di Indonesia. Sering kali, kesempatan bekerja yang ada tidak menyediakan alternatif cara berkomunikasi selain lewat suara sehingga menyulitkan orang Tuli dalam mendapat pekerjaan. Kami sangat bersyukur perusahaan seperti Grab telah merangkul kami ke dalam platform mereka sehingga orang Tuli bisa menjadi mitra pengemudi, Today, food delivery has become (GrabFood) atau mitra pengiriman barang. Kerja sama dengan Grab Indonesia telah membantu memberdayakan orang Tuli sehingga lebih percaya diri dan mandiri secara ekonomi. Kami percaya, merupakan langkah penting bagi Indonesia guna mewujudkan bangsa yang lebih inklusif bagi semua."
Peningkatan proses dan sejumlah fitur baru akan ditambahkan ke dalam aplikasi Grab untuk memudahkan mitra pengemudi berkomunikasi dengan para pelanggan, mendapatkan bantuan layanan pelanggan melalui fitur pesan instan khusus (lihat Lampiran B). Di Malaysia, Grab juga akan menciptakan Kamus Bahasa Isyarat untuk mengajarkan masyarakat cara berkomunikasi dengan teman Tuli melalui widget dalam aplikasi Grab. Selain itu, Grab juga akan melakukan serangkaian pelatihan bulanan untuk memastikan mitra pengemudi dapat melayani pelanggan penyandang disabilitas.
Al Kautsar Wirawan, mitra pengemudi Tuli dari Bandung menyatakan, "Saya diberhentikan oleh perusahaan tempat saya bekerja karena masalah pendengaran. Menemukan kesempatan kerja baru sangatlah sulit, sampai saya menemukan Grab. Saya telah menjadi mitra pengemudi selama lebih dari satu tahun dan menjadi pengalaman yang luar biasa bagi saya. Saya sangat bersyukur atas kesempatan ini dan senang melihat Grab terus berupaya untuk meningkatkan pengalaman berkendara kami melalui platformnya."
Hooi Ling Tan mengatakan, "Hampir 800 penyandang disabilitas termasuk teman Tuli, cerebral palsy atau gangguan motorik, kini memiliki akses untuk mendapatkan penghasilan melalui platform Grab hari ini. Mereka tidak hanya melayani pelanggan kami sebagai mitra pengemudi, mitra pengiriman baik barang maupun makanan, tapi juga menjadi inspirasi bagi setiap orang yang mereka temui. Kegigihanlah yang telah membantu mereka menjadi mandiri secara finansial. Namun platform-platform inklusif seperti Grab yang tidak melakukan diskriminasi, dapat membantu membuka lebih banyak peluang ekonomi untuk mereka."
Untuk mendukung kebutuhan penyandang disabilitas, Grab akan meluncurkan GrabGerak, sebuah layanan yang didedikasikan untuk pelanggan penyandang disabilitas, di dua kota baru di Indonesia. GrabGerak akan tersedia di Medan dan Semarang pada Desember 2019.
Layanan transportasi yang ditujukan bagi pelanggan dengan kebutuhan khusus juga tersedia di Singapura dan Thailand. Disebut GrabAssist di kedua negara ini, mitra pengemudi menjalani rangkaian pelatihan khusus yang mencakup cara melipat kursi roda, alat bantu jalan, scooter lipat, dan perangkat mobilitas lainnya, bantuan untuk pindah dari kursi roda ke dalam mobil, bahasa isyarat dasar untuk berkomunikasi dengan pelanggan Tuli mengenai arah dan tujuan, dan pelatihan kepekaan – untuk mengetahui apa yang boleh dan tidak boleh dikatakan.
LAMPIRAN A:
Inisiatif 'Grab for Good' lainnya akan diluncurkan pada akhir tahun 2019:
Literasi digital dan inklusi bagi penduduk lanjut usia di Singapura
Grab juga memperluas misi memperkenalkan literasi digital, di luar jaringan mitranya. Grab mendukung pengelolaan 100 klinik digital untuk warga lanjut usia di Singapura, dalam kemitraan dengan Infocomm Media Development Authority, untuk mengajar dan memberdayakan mereka agar dapat menggunakan layanan online. Klinik-klinik ini, didukung oleh para relawan Grab, yang akan diadakan selama 1 tahun dan diperkirakan menjangkau 10.000 warga lanjut usia.
Meningkatkan fungsi Jollijeeps tradisional melalui solusi digital
Usaha kecil dan menengah (UMKM) menjadi nadi Asia Tenggara, yang merupakan bagian terbesar dari seluruh bisnis yang ada di wilayah ini. Platform Grab dapat membantu UMKM dan wirausahawan mikro, yang terkadang menjalankan toko kelontong, untuk mendigitalisasi bisnis mereka dan tetap kompetitif. Hal ini mencakup menggunakan teknologi untuk menjalankan bisnis yang lebih efisien, dan memperluas bisnis mereka ke ranah online. Contohnya, Today, food delivery has become makanan dan minuman kecil yang telah merasakan pertumbuhan penjualan 2x lipat dalam satu tahun melalui GrabFood.
Di Filipina, Grab akan memberikan Jollijeeps tradisional (kedai makanan keliling) alat dan platform modern, termasuk akses ke layanan pesan-antar makanan GrabFood dan juga pembayaran non-tunai GrabPay, untuk membantu mereka bertumbuh dan bisa berkompetisi dengan restoran-restoran baru. Tahap pertama proyek Jollijeep ini akan dimulai pada Kuartal 4 2019 dan juga akan diterapkan ke bisnis tradisional lainnya.
LAMPIRAN B:
Mendobrak Sunyi: Fitur-fitur yang diciptakan bagi mitra pengemudi Tuli
Pertama diperkenalkan di Malaysia pada tahun 2018, program Mendobrak Sunyi milik Grab merupakan sebuah inisiatif yang didedikasikan untuk menciptakan peluang usaha bagi teman Tuli dan orang dengan keterbatasan pendengaran. Berdasarkan masukan dari mitra pengemudi Tuli kami, Grab telah berhasil mengimplementasikan hal-hal di bawah ini yang dapat mendukung kebutuhan mereka:
Pesan khusus untuk menginformasikan pelanggan dan penumpang bahwa mereka mendapatkan mitra pengemudi Tuli, meminta mereka menggunakan fitur GrabChat untuk berkomunikasi.
Fitur pesan instan khusus bagi teman Tuli untuk mendapatkan dukungan dari tim Layanan Pelanggan di manapun mereka membutuhkan.
Kartu petunjuk di dalam mobil atau di atas motor untuk memfasilitasi komunikasi non-verbal yang lebih baik antara pengemudi dan penumpang, mencakup permintaan yang sering ditemui seperti petunjuk arah, temperatur pendingin udara atau pembayaran parkir atau tol.
Materi pelatihan mendalam dengan teks tambahan lokal serta bahasa isyarat untuk memastikan proses registrasi yang lebih mudah bagi teman Tuli.
Kampanye edukasi publik untuk meningkatkan komunikasi yang lebih baik serta empati antara mitra pengemudi dan pelanggan, menyampaikan kemungkinan kesalahpahaman yang bisa terjadi dan meningkatkan kepercayaan terhadap teman Tuli untuk melakukan pekerjaan mereka dengan baik.
Grab berencana untuk menambah berbagai hal penting dalam program ini di tahun ini, termasuk:
Informasi yang langsung muncul dalam aplikasi yang akan mengindikasikan bahwa mitra pengemudi tersebut Tuli. Saat ini pelanggan menerima notifikasi dalam fitur GrabChat.
Menonaktifkan fitur telepon bagi teman Tuli dan orang dengan keterbatasan pendengaran. Hal ini untuk menghindari pelanggan yang mencoba menghubungi mitra pengemudi Tuli dengan telepon.
Petunjuk komunikasi dalam aplikasi yang menunjukkan cara berinteraksi dengan mitra pengemudi Tuli.
[1] World Economic Forum, ASEAN Youth: Technology, Skills and the Future of Work, August 2019
[2] Kurs USD1 = IDR14,060
[3] Indonesia, Malaysia, Filipina, Singapura, Thailand, Vietnam
[4] Cisco: Technology and the future of ASEAN jobs, September 2018