Grab Perluas Dukungan Kesejahteraan bagi Mitra Pengemudi Bersama Perusahaan Terkemuka
Ribuan mitra pengemudi Grab yang paling terkena dampak pandemi ini dapat menemukan informasi bantuan melalui fitur GrabBenefits di aplikasi yang dapat mereka tukarkan dengan paket sembako ataupun voucher belanja sembako.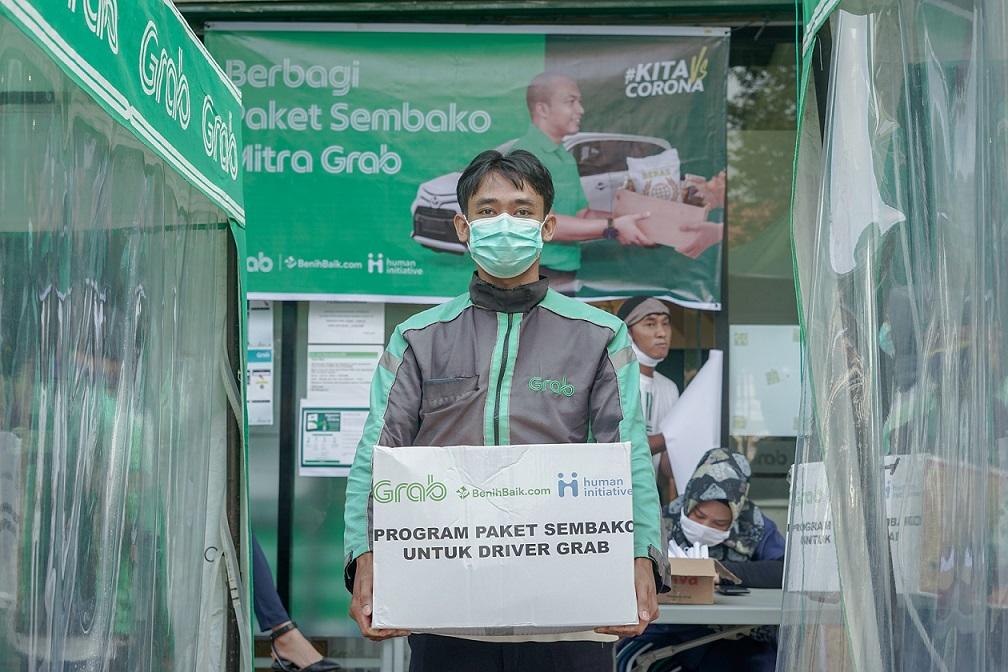 Didukung oleh BenihBaik dan dengan bantuan sejumlah perusahaan terkemuka di Indonesia, Grab akan membagikan donasi kepada lebih banyak mitra pengemudi dalam bentuk paket sembako, voucher belanja sembako, dan kebutuhan pokok lainnya

Inisiatif ini merupakan bagian dari komitmen Grab sebesar Rp 160 miliar untuk mendukung masyarakat di Indonesia dalam mengatasi pandemi COVID-19
Jakarta, 29 April 2020 – Grab Indonesia hari ini memperkuat komitmennya untuk mendukung mitra pengemudi Grab yang terdampak oleh pandemi COVID-19 dan PSBB. Dengan dukungan BenihBaik, Grab telah mengundang sejumlah mitra perusahaan untuk berpartisipasi dalam perluasan inisiatif donasi Grab untuk para mitra pengemudi. Ribuan mitra pengemudi Grab yang paling terkena dampak pandemi ini dapat menemukan informasi bantuan melalui fitur GrabBenefits di aplikasi yang dapat mereka tukarkan dengan paket sembako ataupun voucher belanja sembako. Mereka juga akan menerima bantuan lain seperti hand sanitizer dan multivitamin.
"Di saat situasi pandemi berlanjut dan peraturan PSBB diperpanjang, banyak mitra pengemudi kami yang terdampak. Selain membantu mereka menemukan alternatif untuk memperoleh penghasilan, kami juga mencari cara untuk membantu memastikan pemenuhan kebutuhan sehari-hari mereka. Kami bersyukur atas dukungan dari berbagai mitra bisnis dan juga BenihBaik yang telah bekerja sama dengan kami untuk memperluas program bantuan Grab untuk para mitra pengemudi kami. Kami telah meluncurkan donasi gelombang pertama dua minggu yang lalu dan akan terus mencari cara untuk memperluas program ini agar dapat bermanfaat bagi mitra pengemudi yang lebih banyak lagi. Kami sangat berterima kasih atas dedikasi mereka dalam melayani kebutuhan masyarakat Indonesia dan berharap dapat terus membantu mereka dalam memberikan rasa tenang dan lega serta berkah dalam bulan Ramadan ini," jelas Neneng Goenadi, Managing Director of Grab Indonesia.
Inisiatif donasi Grab ini telah berhasil menggandeng berbagai perusahaan terkemuka di Indonesia seperti Bank Danamon, Adira Finance, Tunas Toyota, PT. Pertamina (Persero), Bank Syariah Mandiri, PT. XL Axiata Tbk, PT. ExxonMobil Lubricants Indonesia (ExxonMobil Lubricants), dan perusahaan multinasional yaitu MUFG Bank. Didukung oleh BenihBaik, platform penggalangan dana ini akan menyalurkan donasi dalam bentuk paket sembako dan voucher belanja sembako untuk mitra pengemudi Grab. Donasi gelombang pertama Grab diluncurkan dua minggu lalu, dengan paket sembako didistribusikan ke mitra pengemudi GrabBike dan GrabCar di 27 kota di seluruh Indonesia dan terus diperluas ke kota-kota lainnya.
"Kami menyadari bahwa di masa penuh tantangan ini, para pekerja di sektor informal seperti mitra pengemudi terkena dampak. Sejalan dengan visi kami yaitu 'Peduli dan Membantu Jutaan Orang Mencapai Kesejahteraan', kami bergandeng tangan dengan Grab untuk meringankan beban sekaligus bentuk apresiasi atas perjuangan mereka. Semoga di bulan Ramadan ini, dukungan ini bisa membantu mereka untuk memenuhi kebutuhan sehari-harinya," jelas Herry Hykmanto, Direktur Syariah dan Sustainable Finance, Bank Danamon. Sustainable Finance adalah Unit di Bank Danamon yang mengelola kegiatan terkait pembiayaan berkelanjutan, termasuk CSR.

Andy F. Noya, Founder of BenihBaik mengatakan, "Bulan Ramadan tahun ini pasti terasa berbeda bagi kita semua, terutama bagi para pekerja sektor informal yang kesulitan memperoleh pendapatan saat ini. Oleh karena itu, dengan semangat berbagi di Bulan Ramadan, semakin banyak pihak yang juga tergerak untuk mendukung donasi ini, sehingga mitra pengemudi Grab juga dapat merasakan kebahagiaan Ramadan."
Ribuan mitra pengemudi Grab yang paling terkena dampak pandemi ini akan dapat menemukan informasi bantuan melalui fitur GrabBenefits di aplikasi mereka baik dalam bentuk paket sembako atau voucher belanja sembako. Paket sembako kemudian dapat diambil di titik pengambilan yang ditentukan di setiap kotanya. Sedangkan untuk voucher belanja sembako dapat ditukar dengan produk-produk seperti beras, minyak goreng, garam, gula, tepung, mie instan, telur, sarden, daging kornet senilai Rp 150.000 per mitra pengemudi. Sebagian dari dana yang digunakan untuk sembako ini juga didanai oleh sumbangan sukarela karyawan Grab Indonesia yang telah dilipatgandakan oleh perusahaan.
Selain bantuan makanan, mitra pengemudi Grab juga akan menerima multivitamin dan hand sanitizer yang disediakan oleh mitra bisnis seperti Fatigon dan Lifebuoy. Melalui donasi ini, Lifebuoy berbagi peran untuk membiasakan pentingnya mencuci dan menjaga kebersihan tangan agar terhindar dari berbagai penyakit.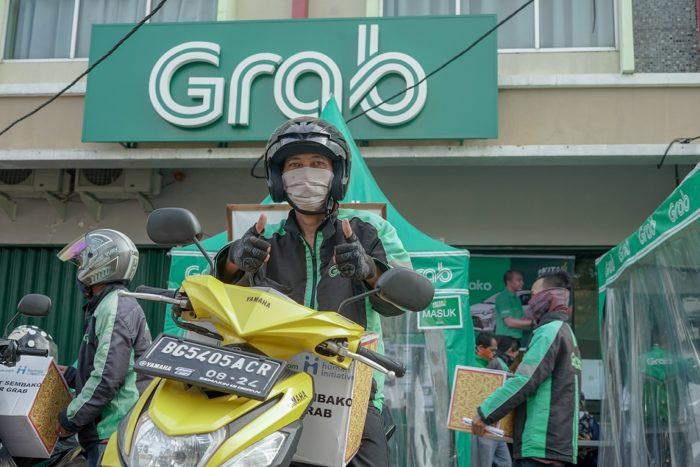 "Kesehatan adalah kebutuhan esensial bagi setiap individu. Sebagai brand multivitamin yang memiliki misi mendukung kesehatan setiap individu, Fatigon mengapresiasi mitra pengemudi sebagai sosok #PejuangHidup yang berjuang melayani kebutuhan masyarakat dan keluarganya. Fatigon memahami kondisi ini dan ingin memastikan mitra pengemudi menjalankan aktivitasnya dengan tetap sehat dan semangat. Untuk itu, Fatigon bersama Grab menyalurkan ratusan ribu Strip Fatigon Multivitamin untuk mitra pengemudi di Jabodetabek, Bandung, Surabaya, Semarang, Yogyakarta, Solo, Makassar, Palembang, dan Medan. Fatigon Bantu Jalani Hari #PejuangHidup untuk tetap sehat dan semangat demi Indonesia terpulihkan," jelas Feni Herawati, Director of Kalbe Consumer Health.
Grab berencana untuk memperluas inisiatif donasinya untuk memberi manfaat kepada lebih banyak mitra pengemudi, bekerja sama dengan perusahaan lainnya dalam mengumpulkan sumber daya untuk mendukung mitra pengemudi yang telah memainkan peran penting dalam mendukung bisnis mereka dan ekonomi Indonesia secara umum.
"Dalam masa sulit ini, kami tetap berkomitmen untuk melayani dan mendukung komunitas kami sebaik mungkin. Dengan dukungan satu sama lain, kita dapat menghadapi masa-masa yang menantang ini bersama." tutup Neneng.