4 Momen Admin Grab Bikin 'Heboh' Jagat Media Sosial
Selamat Hari Pelanggan Nasional! Berikut merupakan 4 momen viral Grab Indonesia di media sosial.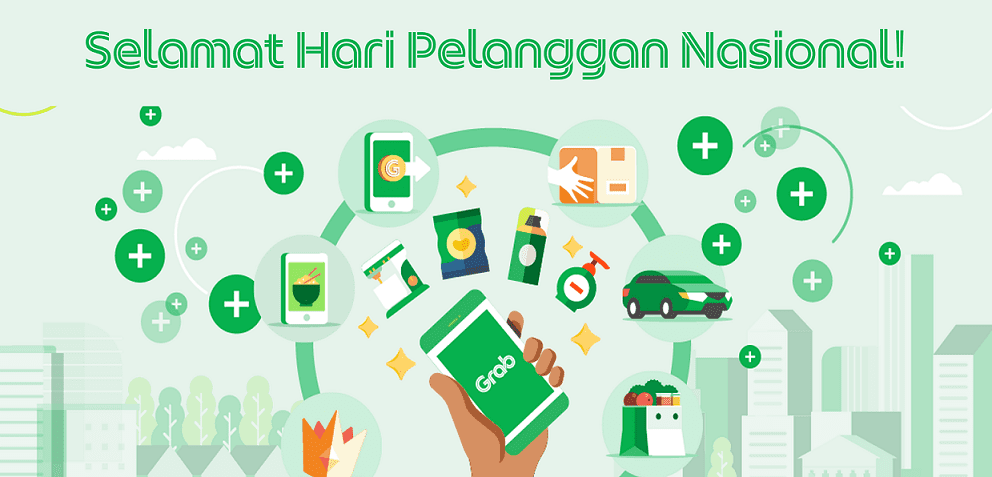 Naik Grab ke Pasar Malam, pasar malamnya di daerah Tegal.

Dari hati yang paling dalam, Grab ucapkan, Selamat Hari Pelanggan Nasional!
Jakarta, 3 September 2020 – Selamat Hari Pelanggan Nasional! Ya, sejak tahun 2003 lalu, kita merayakan Hari Pelanggan Nasional setiap tanggal 4 September. Melayani pelanggan pastinya  sudah menjadi bagian di setiap perusahaan, namun untuk bisa memahami dan terhubung dengan dengan pelanggan, kreatifitas juga memainkan peran penting terutama di era digital seperti saat ini. Berbekal hal ini, aplikasi serba bisa terkemuka di Asia Tenggara, Grab, sejak 2019 lalu memiliki tim Social Media Care & Community Engagement di Indonesia yang belakangan sering viral, berkat unggahan yang mengocok perut warga internet.
Beranggotakan 30 orang, tim Social Media Care & Community Engagement Grab Indonesia tidak hanya bertugas menjawab pertanyaan pelanggan di media sosial, tetapi juga merancang strategi untuk memastikan setiap pelanggan dapat dilayani dengan baik dan dengan cara yang kreatif. Ridzki Kramadibrata, President of Grab Indonesia menjelaskan, "Sebagai aplikasi yang telah menjadi bagian dari keseharian jutaan masyarakat di Indonesia, Grab terus mencari cara-cara kreatif untuk bisa terhubung pada pelanggan dengan cara yang lebih baik. Tidak sekedar hadir, kami terus memonitor tren yang terjadi di sekitar dan memanfaatkannya untuk dapat terhubung dengan pelanggan agar bisa terus relevan. Kami sadar bahwa memahami pelanggan bukanlah pekerjaan semusim, oleh karena ini kami sangat senang melihat respon positif yang diberikan warganet bagi layanan pelanggan di media sosial kami."
Berikut merupakan 4 momen viral Grab Indonesia di media sosial. Hal ini membuktikan bahwa kreativitas dan relevansi menjadi 2 kunci penting dalam layanan pelanggan.
#1) Apresiasi Pekerja Harian: Petugas Bioskop
Di bulan Juli tahun lalu, seorang petugas bioskop menceritakan pengalamannya saat bekerja menawarkan makanan ringan di dalam studio kepada pelanggan. Ia menyebutkan kerap kali diejek, dijadikan bahan tertawaan dan mendapatkan perlakuan yang tidak mengenakkan perasaannya. Netizen pun memberikan dukungannya kepada pemilik akun bernama @Gggani ini. Tak ketinggalan, untuk mengapresiasi para pekerja Indonesia yang jujur dan tidak kenal patah semangat, Grab berusaha menemukan petugas bioskop ini dan memberikannya saldo OVO yang diharapkan dapat terus membuatnya bersemangat walau menghadapi tantangan tersendiri dalam pekerjaannya. Aksi ini mendapat respon positif dari netizen, dengan total lebih dari 116.000 interaksi di Twitter.
#2) Apresiasi Pelanggan: #AkuBersamaAdminTwitterGrab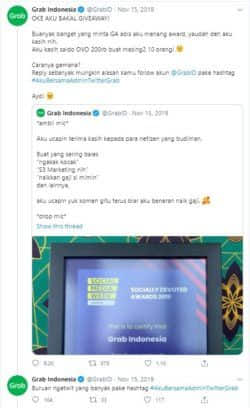 November 2019 lalu, Grab Indonesia mendapatkan penghargaan dari Social Media Week sebagai The Most Engaging Brand on Twitter. Kalau bukan karena apresiasi dari warganet yang budiman, tentu penghargaan ini tidak bisa diraih. Untuk merayakan pencapaian ini, Grab mengajak netizen untuk berbagi alasan kenapa mereka mem-follow akun Twitter Grab dengan tagar #AkuBersamaAdminTwitterGrab dan memilih puluhan pemenang yang akan mendapatkan saldo OVO. Berbagai respon positif, kocak dan mengocok perut dikirimkan lebih dari 12.000 netizen dan membuat tagar ini sempat menjadi Trending Topic Twitter di Indonesia. Tujuannya satu, yakni mengapresiasi pelanggan Grab dan tentunya menciptakan komunikasi dengan cara yang menarik dengan mereka.
#3) Pantun Viral Bikin Terkenal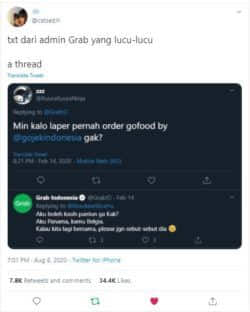 Siapa yang tak kenal pantun? Cara ini menjadi salah satu ciri khas admin Twitter Grab Indonesia untuk berkomunikasi dengan pelanggan, baik saat memberikan informasi atau menjawab pertanyaan. Februari 2020 lalu, salah seorang warganet menanyakan apakah Grab pernah memesan makanan menggunakan aplikasi kompetitor, dan dijawab dengan sebuah pantun singkat yang direspon sangat positif oleh netizen. Hal ini dibuktikan dengan hampir 8.000 retweet dan lebih dari 30.000 likes yang didapatkan untuk unggahan pantun ini! Tujuannya tentu untuk menunjukkan bahwa di balik akun resmi perusahaan, ada manusia yang terus mengedepankan interaksi dengan kreativitas dan humor.
#4) Menjadi #YangSelaluAda untuk Pelanggan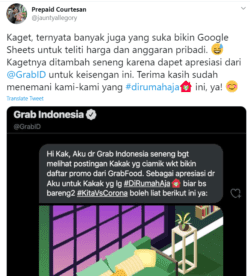 Pandemi membawa tantangan tersendiri bagi banyak orang. Untuk mengapresiasi pelanggan setia dan membantu lebih banyak orang dapat tetap merayakan berbagai momen spesial mereka di tengah pandemi, admin Twitter Grab mulai Februari 2020 lalu memberikan kejutan bagi ratusan pelanggan lewat tagar #YangSelaluAda. Melalui monitor perbincangan media sosial yang real-time yang dilakukan oleh Grab, kami memberikan ratusan voucher GrabFood bagi pelanggan setia yang sudah berbagi pengalamannya dengan Grab, bahkan yang menceritakan keluhan atau memberikan masukannya tanpa menyebutkan akun resmi Twitter Grab. Hal ini menekankan perlunya monitor perbincangan di media sosial secara menyeluruh agar kita bisa mendengarkan serta memahami kebutuhan pelanggan. Hal ini tentunya menekankan komitmen tim Social Media Care & Community Engagement untuk jadi #YangSelaluAda untuk semua pelanggan Indonesia.
Mulai 30 Agustus hingga 3 September lalu, President of Grab Indonesia Ridzki Kramadibrata juga terjun langsung untuk terhubung dengan warga net di Twitter dan Instagram, guna menjawab pertanyaan, komentar dan memberikan informasi yang dibutuhkan.

"Sejalan dengan misi GrabForGood untuk memanfaatkan teknologi yang membawa jutaan dampak positif bagi masyarakat Indonesia, Grab sadar bahwa pelanggan merupakan komponen penting agar ekosistem Grab dapat terus melayani satu sama lain. Mendengarkan secara aktif, bersikap proaktif serta membangun layanan pelanggan yang berpusat pada manusia menjadi kunci Grab untuk bisa terhubung dengan pelanggan melalui media sosial dengan baik. Selamat Hari Pelanggan Nasional!" tutup Ridzki.