by Hooi Ling Tan
Happy International Women's Day everyone! I wanted to take this opportunity to share how grateful I am to be able to play a part in creating a truly diverse and inclusive society in Southeast Asia.
When Anthony and I co-founded Grab seven years ago, we sought to better the daily lives of as many people as possible, irrespective of their ethnicity, belief, gender, age, sexual orientation, disability, and more. We believe that every Southeast Asian deserves an equal opportunity to be part of the digital economy, and have built Grab's app and services around this.
Seven years on, we feel extremely fortunate that we are able to continue serving the women, men, and children of Southeast Asia at scale – touching millions of lives and enabling more to access safer transportation options and better income opportunities every single day. We believe that walking the talk when it comes to equal opportunity makes for a fairer and more inclusive society.
Hence, this year's IWD theme of #BalanceforBetter is especially meaningful to us. Today, I am proud to work alongside some incredibly talented women across the region. Be it our female driver-partners, Grab-Kudo agents, GrabFood merchant-partners, or the many talented female colleagues I get the pleasure and honour to work with each day – they are all pursuing their personal goals in life without fear or favour. (Read more about some of them at Faces of Southeast Asia!)
We wanted to take this opportunity to make a recommitment to our longstanding pledge. To drive more diversity and inclusion in the Southeast Asian workforce, here's what we are doing to redress the balance:
(1) Creating more economic opportunities for women,
(2) Driving towards zero preventable incidents to build a safer everyday for everyone to live in, and
(3) Forging global partnerships to enact change at scale.
Opening up income opportunities to all
While ASEAN is projected to become the world's fourth largest economy by 2030, the Asian Development Bank (ADB) estimates that women in Asia are on average 70% less likely than men to join the labour force. This gender gap persists despite stable economic growth, improved educational opportunities, and the desire of most working-age women to become employed.

To further our goal to close gaps between men and women in emerging markets, we have joined the International Finance Corporation (IFC)'s Digital2Equal. Under this global initiative, Grab will join other leading technology companies to expand women's access to income and entrepreneurial opportunities across digital platforms.
We know that to enact sustainable change, we need to create a more equitable workforce. And the best way we can support these women in their quest for economic empowerment is to create a safe and secure environment.
Setting the bar for a Safer Everyday
Very early on, we realised that the main barrier for women to fully leverage the opportunities of today's digital economy were concerns over their personal safety. Last March, the IFC released a report that shed light on how the emergence of ride-hailing has facilitated women's entry into the transportation industry. Almost a quarter of women surveyed say that ride-hailing increases their sense of independence – compared with 18 percent of men. This in turn increases their socioeconomic mobility in a space traditionally dominated by men.
To us, safety creates the foundation for a more diverse and inclusive world. I still remember the days when I was working as a consultant in Kuala Lumpur. My mum constantly worried when I worked late as my personal safety was at risk whenever I had to take late night rides home alone in taxis. This was before GPS and smartphone technology was widely available. So I often texted and called my mum during these rides, sharing updates on my location and wellbeing as a safety precaution.
Through tech advancements made, innovations such as the 'Share My Ride' feature, the Emergency SOS button, GrabChat and number-masking for calls, Grab now offers a safer and more reliable mode of transport for thousands of women (and men!) – driver-partners and passengers alike.
This is just the beginning. Anthony and I have set a target of bringing preventable incidents across our Grab services down to zero, to make everyday life safer for millions of Southeast Asians. This is a keystone of the #SaferEveryday promise we made last October when we unveiled our Tech Roadmap to elevate transport safety standards across the region. As we evolve into Southeast Asia's first everyday super app, we have already extended this safety-centric ethos across the entire Grab ecosystem – from cybersecurity to data privacy and fraud prevention.
We are pleased to report that in 2018, a ride with Grab (be it in Indonesia, Philippines, or any of the 8 countries we operate in) was found to be as safe as a taxi in Singapore – home to the safest transport system in the region. When compared to the minimum Quality of Service standards set by regulators for monitoring the safety and service performance of Singapore's taxi industry, Grab's ride-hailing services across the region were 1.3 times safer in terms of driver-related accidents and 1.8 times safer in terms of driver-related offences.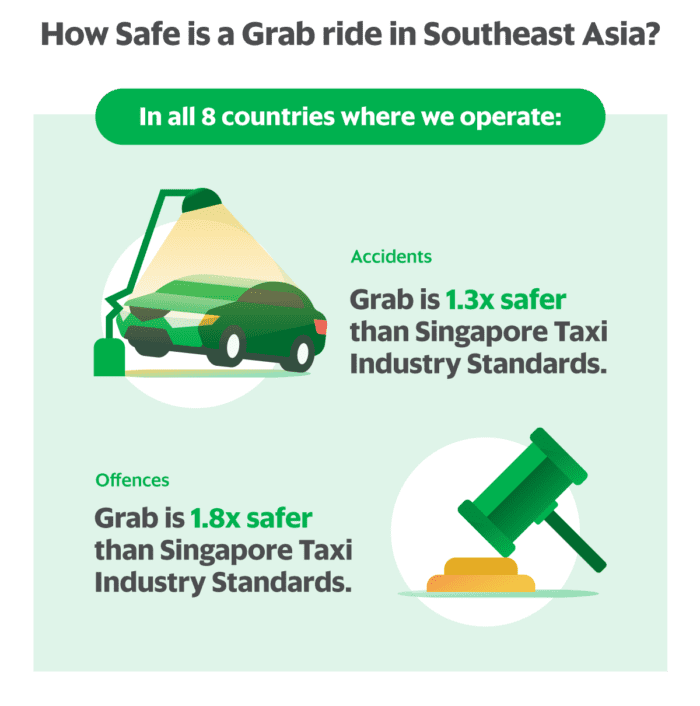 We are very proud of the tangible impact our efforts to build a Safer Everyday have made for millions of Southeast Asians. – not just for individuals, but to the wider public transport industry in the region. Yet, there is more we would like to do to make every single ride safer.
Starting from the first half of 2019, Grab will roll out new safety features to protect our users at every touchpoint of their journeys from enhancing passenger verification processes, allowing for real-time detection and intervention in emergencies during trips, and harnessing the power of machine learning to enable the safest possible match between drivers and passengers.
Joining hands to enact change at scale
"Alone we can do so little; together we can do so much." 一 Helen Keller
These wise words from Helen Keller are deeply embedded into the founding ethos of Grab. We have always taken a collaborative approach towards problem solving. And we are so thankful to be able to collaborate with like-minded governments, organisations, and civil society organisations to make a lasting difference to more people.
Grab has and will always uphold a zero tolerance policy on sexual violence. We work closely with global entities such as UN Women and state institutions such as the National Commission on Violence Against Women (Komnas Perempuan) in Indonesia to develop best practices in managing and preventing such incidents, and in training our driver-partners on anti-sexual violence guidelines.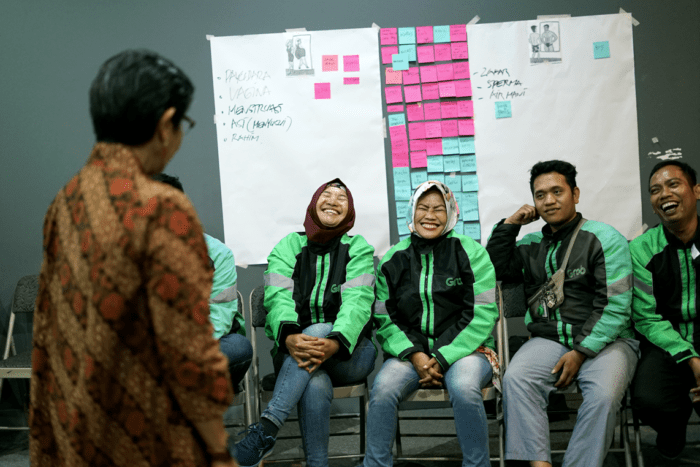 But we want to do more and extend our support to women who have already been impacted by sexual assault or are unable to speak up for themselves.
For this, we have teamed up with the Pulih Foundation, an Indonesian non-profit that provides psychological counsel and social assistance for victims of sexual violence. Together, we will help provide counselling services for driver-partners and passengers who have experienced sexual violence. Just last week, Grab and Pulih jointly held an educational workshop for our first responders – the Customer Experience team – on psychological first-aid training to better equip them when faced with complaints of sexual violence.
We are also expanding our efforts to reach some of the most vulnerable people in society. Human trafficking is one of the most lucrative and fastest growing forms of organised crime in the world. Of the 40 million individuals living and working in modern-day slavery, two-thirds of victims were trafficked from within East Asia and the Pacific countries and 71% comprised of women and girls.
Often, taxi drivers unwittingly become the first point of contact for both human traffickers and victims when they pick them up at the airport, bus terminal or take them to their work locations. To circumvent this, Grab has partnered with Liberty Shared, a non-profit that fights human trafficking through legal advocacy and technological interventions. All Grab driver-partners and customer experience representatives will undergo training to detect and report suspected instances of human trafficking in transportation.

Tell us how we can do better
Creating a #SaferEveryday for every Southeast Asian is a mission we keep close to our hearts. Anthony and I are personally involved in this and are fully committed to doing more. Throughout the year, we will keep everyone posted on new initiatives and improvements we will continue to make. The journey to bringing preventable incidents on our platform down to zero won't be easy but is one we are committed to.
As we strive to do more together, everyone – from potential partners to Grab users – is welcome to reach out to us with feedback and/or solutions. We're always here to listen at safety.engagement@grab.com.