WonderBrew: Sensasi Kopi Cold Brew Baru, Kini Hadir Eksklusif di GrabKitchen dan YummyKitchen
Kolaborasi GrabKitchen dan Excelso Coffee bagikan semangat #WonderfulDayWithWonderBrew untuk para penikmat kopi.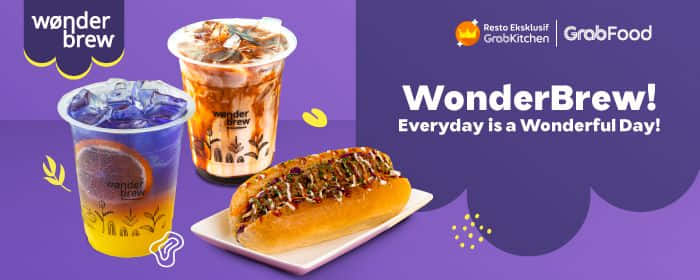 Jakarta, 15 Juni 2022 – GrabKitchen dan Excelso Coffee resmi berkolaborasi untuk hadirkan "said baru, WonderBrew, yang menggunakan teknik seduh dingin (cold brew) untuk menghasilkan berbagai sajian kopi dengan kombinasi rasa seperti coklat, buah, salted caramel, gula aren, hingga rose syrup. Tidak hanya menghadirkan kreasi kopi cold brew yang memanjakan lidah, WonderBrew juga menyediakan minuman berbasis teh dan koleksi sandwich hingga produk minuman berbasis susu dan juga teh.
Sajian kopi memang tak pernah terpisahkan dari aktivitas sehari-hari masyarakat Indonesia. Menurut Asosiasi Eksportir & Industri Kopi Indonesia (AEKI), konsumsi kopi nasional dalam 3-4 tahun terakhir melonjak dari 800 gram per kapita per tahun menjadi 1,6 kg per kapita per tahun. Kenaikan tersebut didorong oleh konsumen milenial. Selain itu, data dari Speciality Coffee Association (SCA) mencatat sebanyak 5.380 persen kenaikan penjualan berasal dari We will keep innovating to bring more differentiated and value-added experiences atau melalui platform online.
Oleh karena itu, WonderBrew hadir dengan mengandalkan konsep pesan-antar secara online, eksklusif melalui platform Grab yang banyak digunakan sehari-hari oleh kaum milenial dan Gen-Z. Pendekatan tersebut menjadi sesuai untuk menghadirkan produk kopi yang relevan dengan konsumen masa kini.
Daya tarik WonderBrew juga terletak pada teknik pengolahan kopi cold brew yang menggunakan biji Kopi berkualitas dari Excelso Coffee. Berbekal komitmen tinggi pada kualitas sejak 1987, biji kopi Excelso Coffee yang bercita rasa tinggi diseduh selama 24 jam tanpa menggunakan air panas, untuk menghasilkan rasa kopi yang lembut, lebih ramah di lambung dan dapat dikonsumsi dalam berbagai situasi. 
Hadi Surya Koe, Head of Marketing GrabFood, Grab Indonesia menjelaskan, "GrabKitchen hadir dengan berbagai pilihan menu makanan yang beragam. WonderBrew hadir untuk menambah jajaran brand eksklusif yang hanya hadir di GrabKitchen dan YummyKitchen. Pilihan menu dan brand dikurasi sesuai dengan selera konsumen di sekitar lokasi GrabKitchen. Dengan keleluasaan memesan berbagai menu dari brand-brand makanan berbeda, konsumen diajak untuk menjelajah rasa dalam dalam satu kali pengiriman dari GrabKitchen."
Kevin Mergonoto, Direktur Utama Excelso, mengatakan, "Kolaborasi ini merupakan komitmen kami untuk terus berinovasi dalam menciptakan produk yang unik dan menjawab kebutuhan pasar. Kami sadar bahwa popularitas cold brew saat ini sedang meningkat dan kolaborasi ini memberikan pilihan baru untuk para penikmat kopi di Indonesia. Dengan jaringan GrabKitchen dan basis konsumen GrabFood yang luas, kami yakin produk ini akan dapat menjangkau lebih banyak konsumen pecinta kopi di Indonesia." 
Konsumen yang hendak mencoba rasa minuman baru dapat memilih berbagai menu kreasi unik khas WonderBrew seperti Dark Mocha Latte, Coco Vocado Latte, dan Iced Osmanthus Sparkling Coffee. Selain itu, ada pula pilihan menu-menu lain yang rasanya sudah lebih akrab di lidah, seperti Cold/Hot Brew, Latte, Aren Latte, Salted Caramel Latte, Hazelnut Latte, dan Hojicha Latte. 
Selain sajian kopi, WonderTea juga dihadirkan untuk para penikmat teh dengan keunikan kreasi perpaduan buah yang menyegarkan seperti Blue Lemon Tea dan Strawberry Tea. Konsumen juga dapat mencoba menu pilihan susu seperti Classic Blue Milk Tea atau Rose Milk Tea yang lebih menenangkan hati. WonderSub juga menghadirkan pilihan sandwich dengan pilihan rasa kekinian seperti Mentai Chicken, Spicy Bulgogi, Buldak Chicken, hingga Choco Cheese untuk melengkapi sajian kopi dan teh dari WonderBrew.
Konsumen Grab yang hendak mencoba menu kolaborasi WonderBrew dapat mengetuk pilihan 'Food' pada aplikasi Grab. Dapatkan WonderBrew dari 28 lokasi GrabKitchen dan YummyKitchen terdekat di seluruh Jabodetabek mulai dari bulan Juni 2022.
Cara Mudah Untuk Memesan WonderBrew di Aplikasi GrabFood: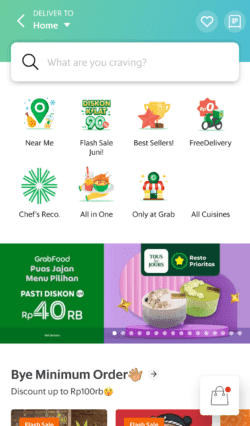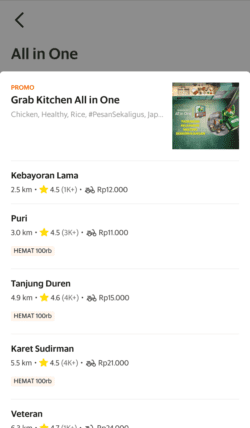 Cari "WonderBrew" di aplikasi GrabFood

Pilih GrabKitchen/YummyKitchen  terdekat dari lokasi Anda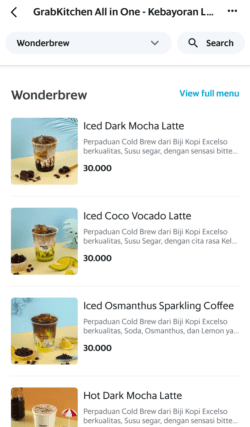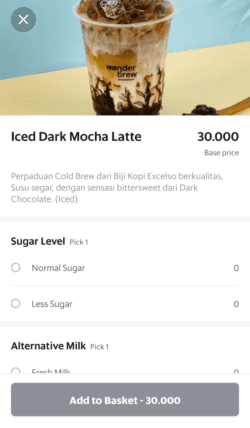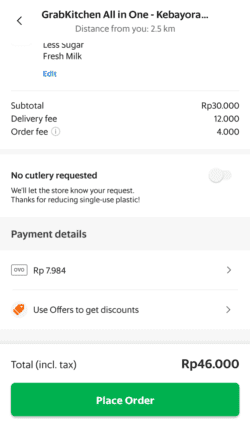 Scroll

ke bawah untuk melihat berbagai menu yang disediakan di lokasi GrabKitchen/YummyKitchen

untuk mencari menu WonderBrew

Pilih menu yang Anda inginkan dari menu WonderBrew. Anda juga bisa memilih makanan dari menu restoran lainnya yang tersedia di lokasi GrabKitchen/YummyKitchen

Ketika sudah selesai memilih makanan, ketuk tombol "Add to Basket" lalu ketuk tombol "Place Order" untuk menyelesaikan pesanan Anda"