Tingkatkan Kualitas Layanan dan Pacu Penjualan, XL Axiata Jalin Kemitraan Strategis dengan Grab dan Tokopedia
XL Axiata bekerja sama dengan Grab dan Tokopedia untuk mempermudah pelanggan mendapatkan produk XL Axiata melalui saluran penjualan yang dimiliki oleh dua perusahaan teknologi terkemuka di Indonesia.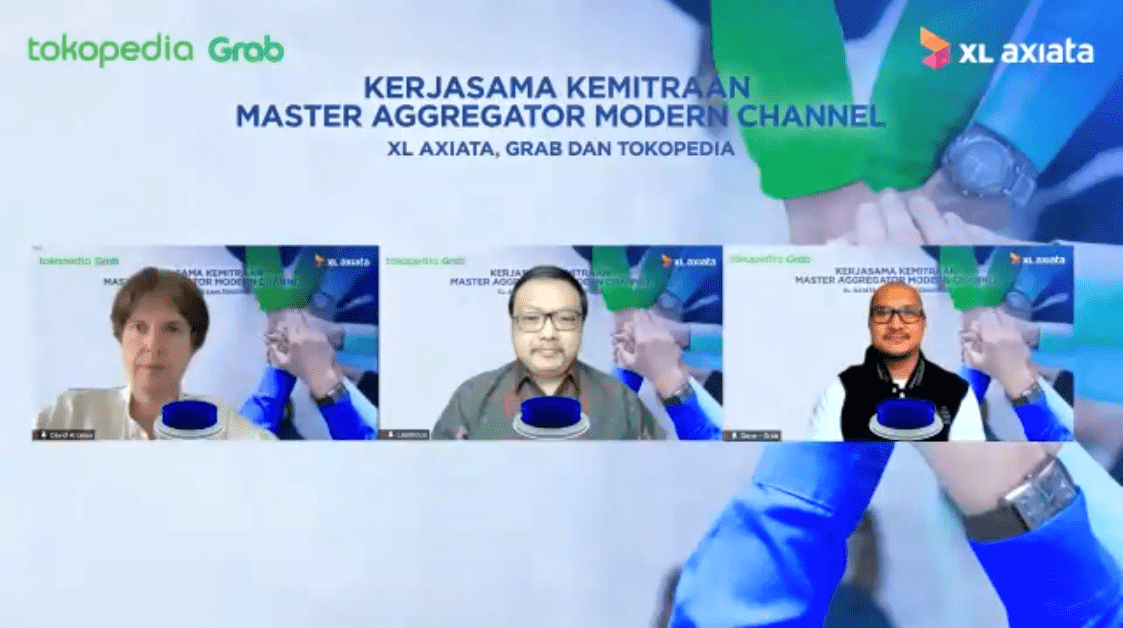 Jakarta, 20 Agustus 2021 – PT XL Axiata Tbk (XL Axiata) menjalin kerja sama strategis dengan Grab dan Tokopedia guna meningkatkan kualitas layanan kepada pelanggan dan sekaligus  mendorong penjualan. Kerja sama dengan dua perusahaan teknologi terkemuka di Indonesia ini merupakan langkah yang ditempuh XL Axiata untuk menyesuaikan diri dengan tren belanja masyarakat melalui saluran digital. Dalam kerja sama ini, keduanya akan berperan sebagai modern channel master aggregator yang akan mendukung perluasan dan pengembangan distribusi penjualan produk XL Axiata ke seluruh saluran distribusi di bawah masing-masing, sehingga diharapkan juga akan bisa meningkatkan akuisisi pelanggan. Kerjasama ini efektif berjalan mulai Juli 2021. Kerja sama ini sekaligus melengkapi rangkaian perayaan XL Axiata memasuki usia 25 tahun dalam upaya Membangun Indonesia Digital.
Director & Chief Commercial Officer – Consumer XL Axiata, David Arcelus Oses mengatakan, "Kerjasama dengan dua perusahaan besar berbasis teknologi digital di Indonesia ini sangat strategis dan menjanjikan bagi pengembangan bisnis XL Axiata. Grab dan Tokopedia menyediakan ekosistem yang sangat lengkap, yang bisa menciptakan berbagai kemudahan bagi pelanggan dalam mendapatkan produk-produk XL Axiata, sekaligus akan bisa mendorong penjualan. Kami berharap, kerja sama ini pada akhirnya akan bisa meningkatkan pertumbuhan exponensial pada market share XL Axiata."
David melanjutkan, sebagai partner, Grab dan Tokopedia juga memiliki kesamaan visi untuk bersama-sama mengambil manfaat dari trend belanja online yang saat ini terus meningkat di Indonesia. Trend ini antara lain terdorong oleh situasi dan kondisi di mana virus Covid-19 masih mewabah dan memaksa masyarakat luas untuk beraktivitas secara produktif dan memenuhi kebutuhan hidup sehari-hari tanpa perlu keluar dari rumah. Lewat kerja sama ini, nantinya Grab dan Tokopedia akan membantu distribusi produk XL Axiata, antara lain paket data dan kartu perdana, lewat seluruh mitra bisnis modern channel yang mereka miliki, antara lain teknologi finansial dan startup, logistik, area expansion, mitra B2B, Today, food delivery has become, hingga mitra pengemudi.
Kertapradana Subagus, Director of Partnership & Business Development, Grab Indonesia mengatakan, "Grab berkomitmen untuk menghadirkan layanan dan produk yang dapat mempermudah kegiatan harian masyarakat. Produk digital telah menjadi salah satu kebutuhan sejalan dengan tren aktivitas online yang terus meningkat di tengah pandemi. Melalui kerja sama ini, Grab dapat memperluas penawaran berbagai produk digital XL Axiata ke dalam ekosistem kami, mulai dari mitra pengemudi, mitra Today, food delivery has become, agen, hingga konsumen. Kami berharap, kolaborasi ini dapat mempermudah masyarakat untuk mengakses berbagai produk digital dan turut mengembangkan ekonomi digital tanah air."
Grab telah menghadirkan Produk Digital sebagai bagian dari Grab for Business yang sebelumnya dikenal sebagai Grab Digital Business. Layanan ini telah hadir lebih dari 3 tahun untuk melayani ekosistem Grab di Asia Tenggara dan menjangkau 500 kota di Indonesia. Sebagai aggregator digital, layanan ini menyalurkan dan menyediakan berbagai produk digital bagi perusahaan seperti pulsa, paket data, pembayaran tagihan, voucher mitra pengemudi, voucher game, dan voucher GrabGifts dengan koneksi Single Application Programming Interface (API). 
Sebagai modern channel master aggregator bagi XL Axiata, sekarang perusahaan dapat mengintegrasikan produk XL Axiata secara langsung sebagai tambahan dari berbagai produk digital yang telah tersedia di Grab for Business. Grab juga menghadirkan customer support yang siap sedia 24 jam seminggu untuk melayani perusahaan dan para pelaku usaha individu yang menggunakan layanan ini.
Sementara itu, Head of Digital Goods Tokopedia, Katherina Tjin, mengatakan, "Kemitraan antara Tokopedia dan XL Axiata ini sejalan dengan komitmen kami sebagai perusahaan teknologi Indonesia untuk #SelaluAdaSelaluBisa membantu masyarakat memenuhi kebutuhan sehari-hari, termasuk produk digital dari XL Axiata, di mana pun kapan pun. Selain itu, kemitraan ini juga diharapkan dapat mempermudah seluruh mitra strategis di ekosistem Tokopedia dalam melakukan distribusi produk digital melalui mekanisme terintegrasi yang aman dan mudah sekaligus menjadi kunci dalam menghadapi pandemi sekaligus berkontribusi pada pemulihan perekonomian Indonesia."
Sebagai modern channel master aggregator bagi XL Axiata, Tokopedia menawarkan mekanisme yang aman dan mudah diintegrasi dengan sistem yang stabil dan tersertifikasi ISO serta harga yang kompetitif. Di sisi lain, Tokopedia juga telah menyediakan 42 produk digital untuk mempermudah kehidupan lebih dari 100 juta masyarakat Indonesia setiap bulannya. Berbagai produk dan layanan Tokopedia ini pun telah berhasil menjangkau lebih dari 99% kecamatan di Indonesia.  
Kerja sama ini juga akan memberikan manfaat lebih kepada pelanggan. Dengan ekosistem yang sangat kuat di Indonesia, Grab dan Tokopedia akan memudahkan masyarakat dan pelanggan XL Axiata untuk memperoleh produk XL Axiata di semua mitra dan ekosistem milik keduanya. Kedepannya akan ada fitur baru dalam kerjasama ini yang memudahkan setiap pelanggan mendapatkan promo penawaran yang sudah disesuaikan dengan profil dan kebutuhan masing-masing pelanggan. Pelanggan cukup klik atau memilih promo tersebut dan melakukan pembayaran. Bentuk penawaran seperti ini hanya akan ada secara eksklusif di saluran milik Tokopedia dan Grab.
Saat ini XL Axiata memiliki lebih dari 56 juta pelanggan, yang ditopang lebih dari 156 ribu BTS, termasuk lebih dari 65 ribu BTS 4G. Jaringan 4G LTE XL Axiata juga terus diperluas, dan saat ini sudah mencapai lebih dari 458 kota/kabupaten di berbagai wilayah di Indonesia. XL Axiata juga terus berinvestasi untuk jaringan fiber, transmisi, backhaul, modernisasi jaringan, dan berbagai upgrade jaringan lainnya untuk meningkatkan stabilitas, kapasitas jaringan, dan kualitas layanan data seiring dengan terus meningkatnya trafik layanan data.