Social Impact & SafetyTech & Product
Grab Indonesia Pesan 6.000 Lebih Sepeda Motor Listrik Buatan Jawa Tengah untuk Mobilitas Hijau di Indonesia
Grab bekerja sama dengan VIAR yang merupakan salah satu produsen kendaraan listrik lokal untuk meluncurkan sepeda motor berbasis listrik bagi mitra pengemudi GrabBike dan mitra pengantaran Grab di seluruh Indonesia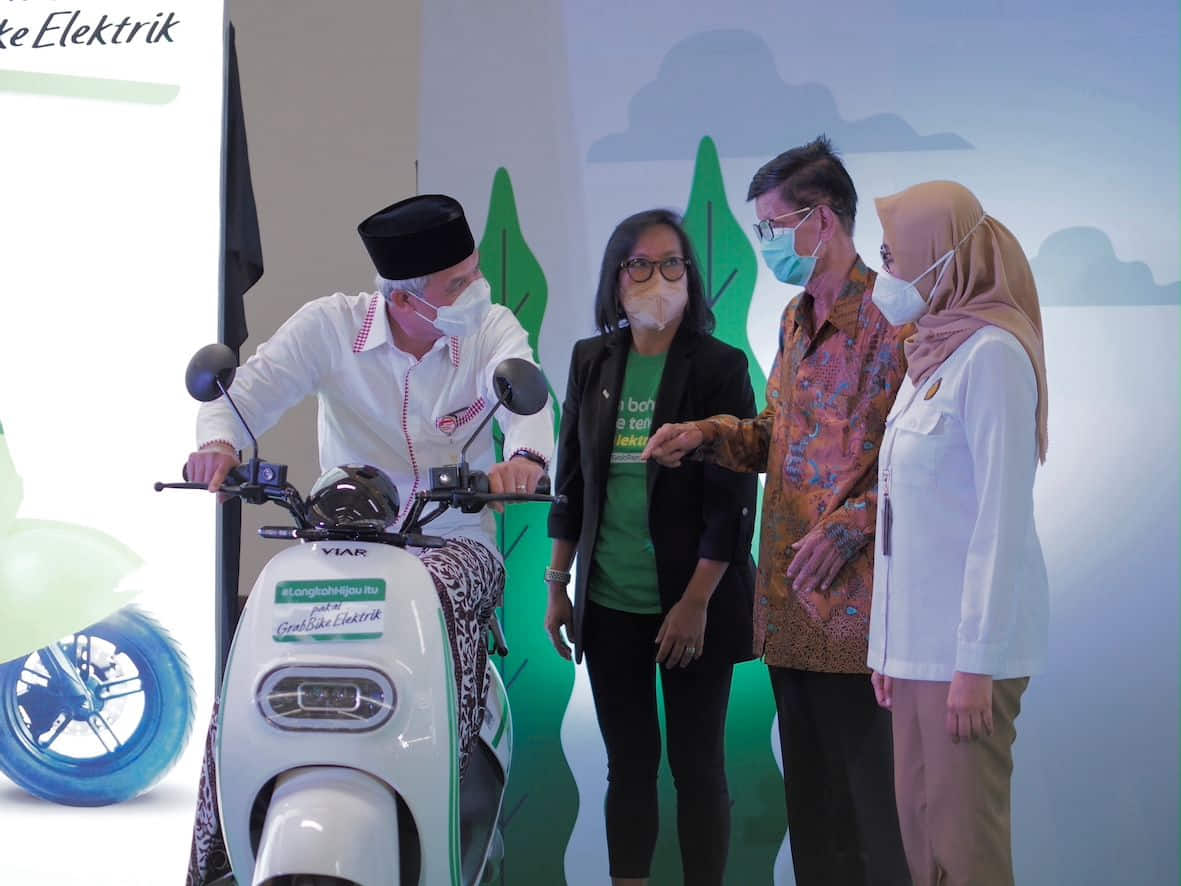 (Ki-Ka) Gubernur Jawa Tengah Ganjar Pranowo, Country Managing Director Grab Indonesia Neneng Goenadi, Presiden Direktur VIAR Indonesia Ignatius Kartiman, Tenaga Ahli Menteri ESDM Bidang Ketenagalistrikan Sripeni Inten Cahyani berfoto bersama dalam acara serah terima kendaraan listrik buatan Jawa Tengah untuk mobilitas ramah lingkungan Indonesia di Semarang (22/10)
Grab bekerja sama dengan VIAR yang merupakan salah satu produsen kendaraan listrik lokal untuk meluncurkan sepeda motor berbasis listrik bagi mitra pengemudi GrabBike dan mitra pengantaran Grab di seluruh Indonesia
Inisiatif ini merupakan kelanjutan komitmen Grab melalui kampanye #LangkahHijau untuk mendukung pelestarian lingkungan hidup melalui pengurangan emisi karbon serta pengembangan ekosistem kendaraan listrik di Indonesia
Semarang, 22 Oktober 2021 – Grab, aplikasi super terkemuka di Asia Tenggara, bekerja sama dengan produsen kendaraan listrik lokal VIAR, melakukan serah terima dan pemesanan lebih dari 6.000 sepeda motor listrik di Kota Semarang. Hal ini merupakan bagian dari inisiatif pelestarian lingkungan hidup #LangKahHijau dari Grab Indonesia yang bertujuan diantaranya untuk mengurangi emisi karbon, sejalan dengan target pemerintah untuk menghadirkan 2 juta unit EV (Electric Vehicle) pada tahun 2025. Acara serah terima ini dihadiri oleh Kementerian Energi dan Sumber Daya Mineral (ESDM) Republik Indonesia yang diwakilkan oleh Sripeni Inten Cahyani, Tenaga Ahli Menteri ESDM Bidang Ketenagalistrikan dan Gubernur Jawa Tengah Ganjar Pranowo. Seluruh kendaraan listrik nantinya akan digunakan oleh mitra pengemudi GrabBike dan mitra pengantaran Grab di seluruh Indonesia. 
Country Managing Director Grab Indonesia, Neneng Goenadi, "Kami sangat bangga hari ini dapat memperluas inisiatif #LangkahHijau serta turut membantu pemerintah untuk menggalakkan Gerakan Nasional #BanggaBuatanIndonesia dengan berkolaborasi bersama VIAR, yang merupakan salah satu produsen kendaraan berbasis listrik lokal. Sejalan dengan pengembangan ekosistem kendaraan listrik, kami percaya akan mengurangi jejak karbon yang bisa berdampak luas bagi lingkungan serta dapat menciptakan peluang ekonomi bagi masyarakat lokal. Bahkan semangat kolaborasi ini kami lanjutkan dengan menyiapkan 6.020 kendaraan listrik yang akan siap didistribusikan hingga akhir tahun 2021 di seluruh Indonesia. Total armada kami akan menjadi lebih dari 12.000 akhir tahun ini dan terbesar di Indonesia."
Gubernur Jawa Tengah, H. Ganjar Pranowo, S.H, M.IP yang turut hadir dalam acara serah terima kendaraan listrik buatan Jawa Tengah untuk mobilitas ramah lingkungan Indonesia mengatakan,  "Saya mengucapkan terima kasih kepada Grab bersama VIAR yang telah berani mengambil keputusan penting dan mengambil tindakan untuk merawat lingkungan yang bukan hanya diperuntukkan bagi kita saat ini, tapi juga demi menjaga anak cucu nanti. Ini merupakan usaha mencari jalan keluar yang terbaik, karena saat ini kendaraan listrik sudah merupakan sebuah keharusan dan kita tinggal mengikuti perkembangan peradaban. Tentu ini adalah titik cerah yang sedang kita lakukan, mudah-mudahan sukses untuk semuanya."
Grab memperluas kerja sama dengan VIAR untuk meluncurkan motor listrik bagi mitra pengemudi GrabBike dan mitra pengantaran Grab di Indonesia. Hal ini juga turut mendapatkan apresiasi dari pemerintah pusat maupun daerah. Menteri Energi dan Sumber Daya Mineral (ESDM) Republik Indonesia, Arifin Tasrif mengungkapkan, "Pemerintah memberikan apresiasi tinggi terhadap inisiatif Grab dan VIAR yang turut membangun ekosistem terintegrasi sehingga membantu meningkatkan minat masyarakat Indonesia akan Kendaraan Bermotor Listrik Berbasis Baterai (KBLBB). Kolaborasi ini dapat membantu pemerintah dalam mencapai target jumlah KBLBB roda dua sebanyak tiga belas juta unit pada tahun 2030, sesuai dengan Grand Strategi Energi Nasional dalam upaya pengurangan konsumsi BBM sebesar enam juta kilo liter (KL) per tahun serta menurunkan emisi Gas Rumah Kaca sebesar 7,23 juta ton CO2e."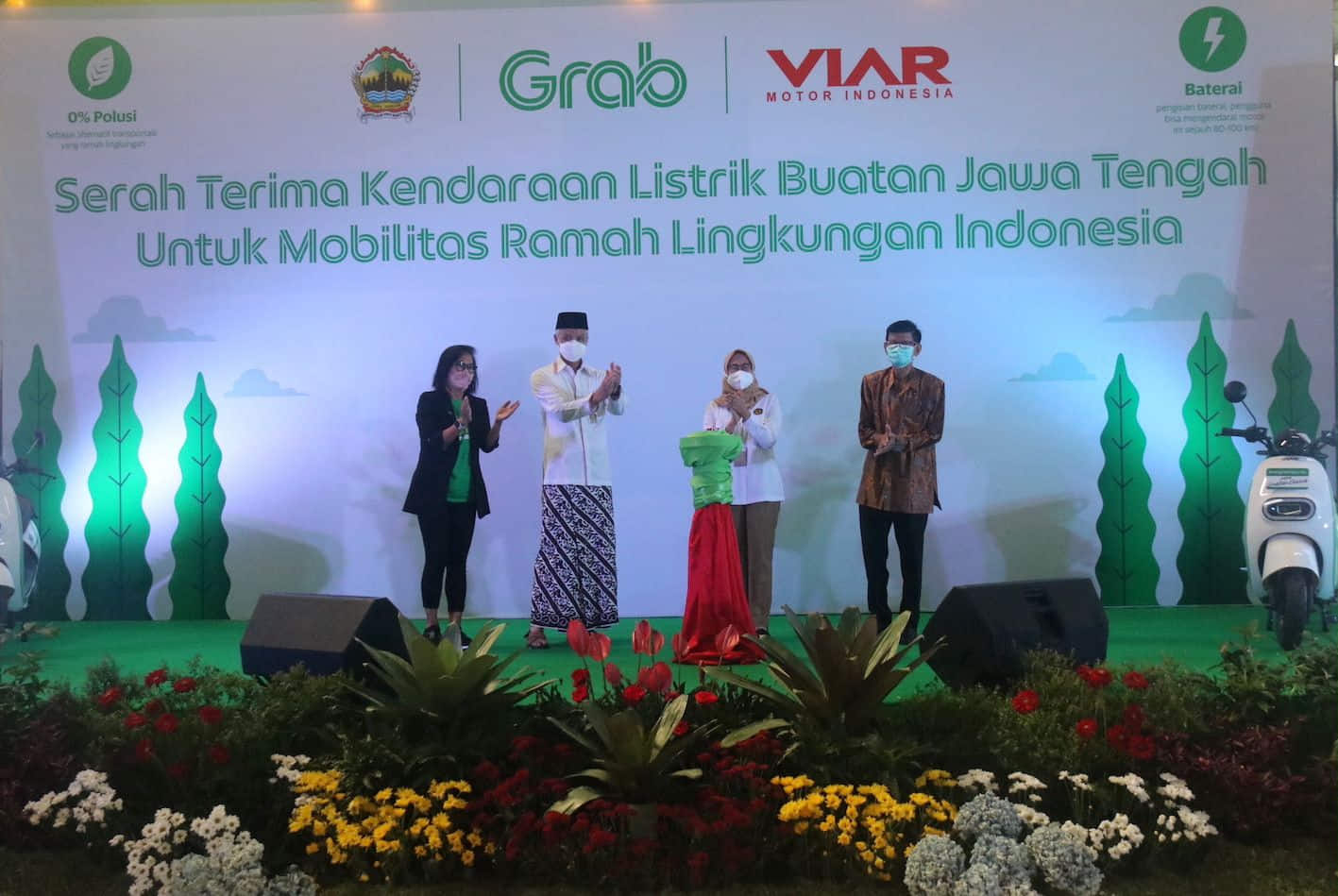 Dukungan Grab dalam Pengembangan Ekosistem Kendaraan Listrik di Indonesia
Sejalan dengan misi GrabForGood, kampanye #LangkahHijau Grab mendukung pelestarian lingkungan hidup diantaranya melalui program inisiatif tambahan Carbon Offsetting with Grab (Langkah Menanam Pohon), Electric Vehicle Provided by Grab (Langkah Kurangi Emisi), dan Recycle with GrabExpress Recycle (Langkah Daur Ulang).
Untuk Langkah Kurangi Emisi, antara Januari 2020 hingga April 2021, sebanyak lebih 8.500 armada kendaraan listrik Grab telah membantu mengurangi emisi CO2 yang diperkirakan hingga 7.500 ton. Angka tersebut setara dengan jumlah penyerapan CO2 oleh lebih dari 350.000 pohon dalam setahun.
Khusus di Jawa Tengah, pada April lalu, Grab memperkuat dukungan untuk ekosistem Kendaraan Listrik Nasional dengan meluncurkan skuter listrik yang dapat digunakan oleh masyarakat, sepeda listrik yang digunakan oleh mitra pengantaran GrabFood, serta motor listrik yang digunakan oleh mitra pengemudi GrabBike di Surakarta. Selain itu, Grab juga bekerja sama dengan Dinas Perhubungan Kota Surakarta dalam pemanfaatan jalur City Walk untuk lajur alat mobilitas pribadi skuter listrik GrabWheels dan membangun Stasiun Penyedia Listrik Umum (SPLU) bersama dengan PT. PLN Persero Surakarta.
VIAR juga telah melakukan investasi kepada unit bisnis GrabWheels sebagai bagian dari dukungan terhadap ekosistem kendaraan berbasis listrik di Indonesia.
Direktur Viar Motor Indonesia, Yucuanto Susetyo menjelaskan bahwa VIAR selaku industri otomotif dalam negeri yang telah berkiprah selama 21 tahun turut serta membantu pemerintah Indonesia dalam mengurangi emisi karbon. "Mengacu pada Peraturan Presiden Nomor 55 tahun 2019, mengenai percepatan program kendaraan listrik, kami selaku industri otomotif yang berbasis di Semarang, Jawa Tengah telah berkomitmen untuk mendukung program pemerintah tersebut dengan melakukan research dan development di Indonesia menghasilkan produk-produk kendaraan listrik yang sesuai dengan kebutuhan konsumen dalam negeri. Saat ini VIAR telah memproduksi beragam tipe kendaraan konvensional maupun kendaraan listrik yang telah memenuhi persyaratan dan ketentuan legal. Untuk produk kendaraan listrik, mulai dari sepeda hingga motor listrik, dan akan terus merambah ke produk kendaraan listrik dengan manfaat dan kegunaan yg lebih beragam. Semoga dengan adanya kolaborasi kami dengan Grab seperti ini, dapat mempercepat pengembangan ekosistem kendaraan listrik tersebar di seluruh wilayah Indonesia sehingga emisi karbon akan berkurang signifikan, dan langit Indonesia akan kembali cerah."