Grab Hadirkan Hospital Cash Cover, Produk Asuransi Proteksi Pertama dari Grab untuk Pengguna Indonesia
Grab Financial Group mengumumkan peluncuran Hospital Cash Cover, produk proteksi rawat inap pertama untuk para pengguna, bekerja sama dengan PT Asuransi Simas Jiwa.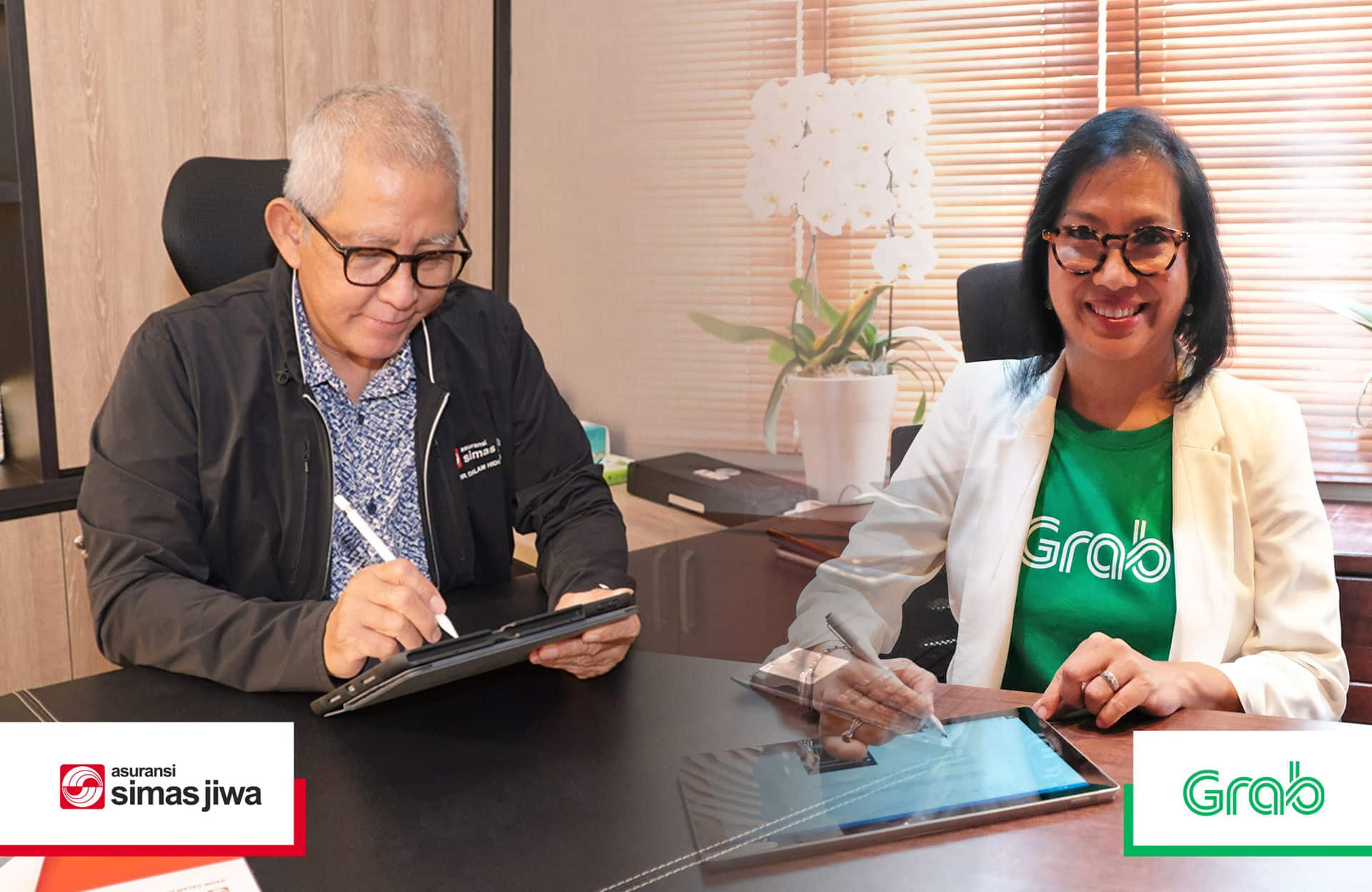 Asuransi Proteksi Rawat Inap melindungi masyarakat Indonesia dan keluarganya selama masa perawatan di rumah sakit, memberikan pelayanan yang lebih fokus bagi kebutuhan kesehatan dan perlindungan keluarga.
Bagian dari strategi konsumen Grab Financial Group (GFG) 'Thrive with Grab', yang bertujuan untuk menciptakan benchmark baru di layanan keuangan dengan memiliki aksesibilitas, kenyamanan serta transparansi.
Jakarta, 20 Oktober 2020 – Grab Financial Group (GFG), platform fintech terkemuka di Asia Tenggara, hari ini mengumumkan peluncuran Hospital Cash Cover (Proteksi Rawat Inap), produk proteksi rawat inap pertama untuk para pengguna, yang bekerja sama dengan PT Asuransi Simas Jiwa di Indonesia. Asuransi Hospital Cash Cover ini sekarang telah tersedia dan dapat diakses melalui aplikasi Grab sebagai solusi yang mudah dan terjangkau bagi para pengguna untuk melengkapi asuransi kesehatan mereka dengan pembayaran menggunakan saldo OVO mereka.
Peluncuran ini kian membangun bisnis asuransi konsumen GFG yang bertumbuh pesat  serta telah menampilkan pertumbuhan yang kuat di beberapa wilayah, dengan lebih dari 13 juta polis asuransi diterbitkan sejak diluncurkan pada April 2019. Keberhasilan bisnis asuransi mikro GFG menunjukkan kebutuhan yang belum terpenuhi di seluruh wilayah terhadap akses layanan finansial. Di Indonesia, kepemilikan asuransi secara umum masih terbilang rendah, dengan penetrasi asuransi (total premi/PDB) sebesar 3%. Lebih dari 80% orang Indonesia hidup dengan kurang dari USD 4,50 per hari, dengan produk asuransi reguler yang tidak terjangkau oleh banyak orang.
Neneng Goenadi, Country Managing Director Grab Indonesia menyatakan, "Kami peduli kepada para pengguna kami dan ingin menciptakan solusi layanan keuangan digital yang inovatif untuk membantu setiap orang Indonesia beradaptasi dan berkembang dalam keadaan new normal ini. Kami percaya bahwa masyarakat Indonesia dapat lebih terlindungi selama masa-masa sulit ini, di mana perawatan kesehatan terus menjadi prioritas utama. Solusi asuransi mikro seperti Hospital Cash Cover akan dapat membantu para pengguna dan keluarga mereka untuk lebih tenang karena mereka terlindungi dengan lebih baik. Oleh karena itu, kami akan terus memajukan ekonomi digital Indonesia dan memastikan bahwa semua orang Indonesia bisa mendapatkan manfaat darinya."
Produk asuransi rawat inap ini bertujuan untuk memberikan individu kesempatan dalam melindungi orang tersayang mereka. Dengan kemitraan bersama PT Asuransi Simas Jiwa, produk asuransi ini akan tersedia dalam aplikasi Grab. Pengguna dapat mengajukan permohonan untuk 3 pilihan rencana asuransi baik untuk diri mereka sendiri atau keluarga mereka. Bergantung pada rencana yang dipilih, Hospital Cash Cover menawarkan pembayaran sekaligus per hari rawat inap yang berkisar antara Rp 150.000 hingga Rp 250.000. Dengan premi yang terjangkau mulai dari Rp 9.900 per bulan sesuai dengan umur dan paket terpilih, akan diperoleh manfaat total pertanggungan hingga  Rp 29 juta, yang meliputi dengan manfaat rawat inap harian, termasuk rawat inap di ICU/ICCU, Surgery Cash Benefit, serta rawat jalan lanjutan untuk penyakit yang sama.
Sebagai ekosistem digital terbesar di Indonesia, sistem pembayaran terus didukung secara mudah oleh OVO. Metode pembayaran premi dapat dilakukan secara otomatis dengan menggunakan saldo OVO, transfer bank, kartu kredit dan debit. Selain itu, pelanggan juga dapat memiliki fleksibilitas untuk membayar secara bulanan atau tahunan. Pengalaman digital end-to-end pelanggan juga terbukti dengan kemudahan pembelian, terpusat pada proses klaim.
I.J. Soegeng Wibowo, Direktur Utama PT Asuransi Simas Jiwa juga menjelaskan, "Bekerja sama dengan Grab, kami telah menciptakan proses asuransi secara digital. Tujuan utama kami adalah memberikan kemudahan penggunaan untuk memastikan bahwa semakin banyak masyarakat Indonesia yang memiliki akses ke layanan keuangan, termasuk asuransi, dengan aman, proses pembelian online yang mudah dan cepat. Produk asuransi Hospital Cash Cover dari Grab telah memberikan manfaat perlindungan maksimal dengan harga yang sangat terjangkau."
Bekerja sama dengan Grab untuk memasarkan produk rawat inap merupakan wujud komitmen PT Asuransi Simas Jiwa untuk melayani masyarakat luas, yang mulai menunjukkan kesadaran yang semakin besar akan pentingnya perlindungan terhadap risiko dalam hidup, khususnya dalam hal kesehatan. Ketersediaan produk rawat inap dalam aplikasi Grab merupakan salah satu tujuan PT Asuransi Simas Jiwa untuk mewujudkan inklusi keuangan Indonesia sesuai dengan Peraturan Presiden Republik Indonesia (Perpres) Nomor 82 Tahun 2016.
"Hospital Cash Cover merupakan bagian penting dari strategi layanan keuangan yang kami fokuskan bagi konsumen. Kampanye 'Thrive with Grab' yang diluncurkan pada bulan Agustus kami bentuk untuk melindungi orang-orang tersayang. Hospital Cash Cover merupakan bagian dari rangkaian produk yang akan membantu kami membangun pertumbuhan yang potensial dalam perlindungan keluarga di seluruh Asia Tenggara dari ketidakpastian hidup. Dengan demikian, kami membuka potensi luar biasa bagi industri asuransi dan layanan keuangan di seluruh pasar." tutup Tom Duncan, Head of Insurance, Grab Financial Group.