Dukung Kepolisian dalam Adaptasi Kebiasaan Baru, Grab Donasikan 30 Unit GrabWheels
30 unit GrabWheels akan diserahkan kepada Direktorat Lalu Lintas (Ditlantas), Direktorat Sabhara (Dit Sabhara), Provos, dan Polres Bandara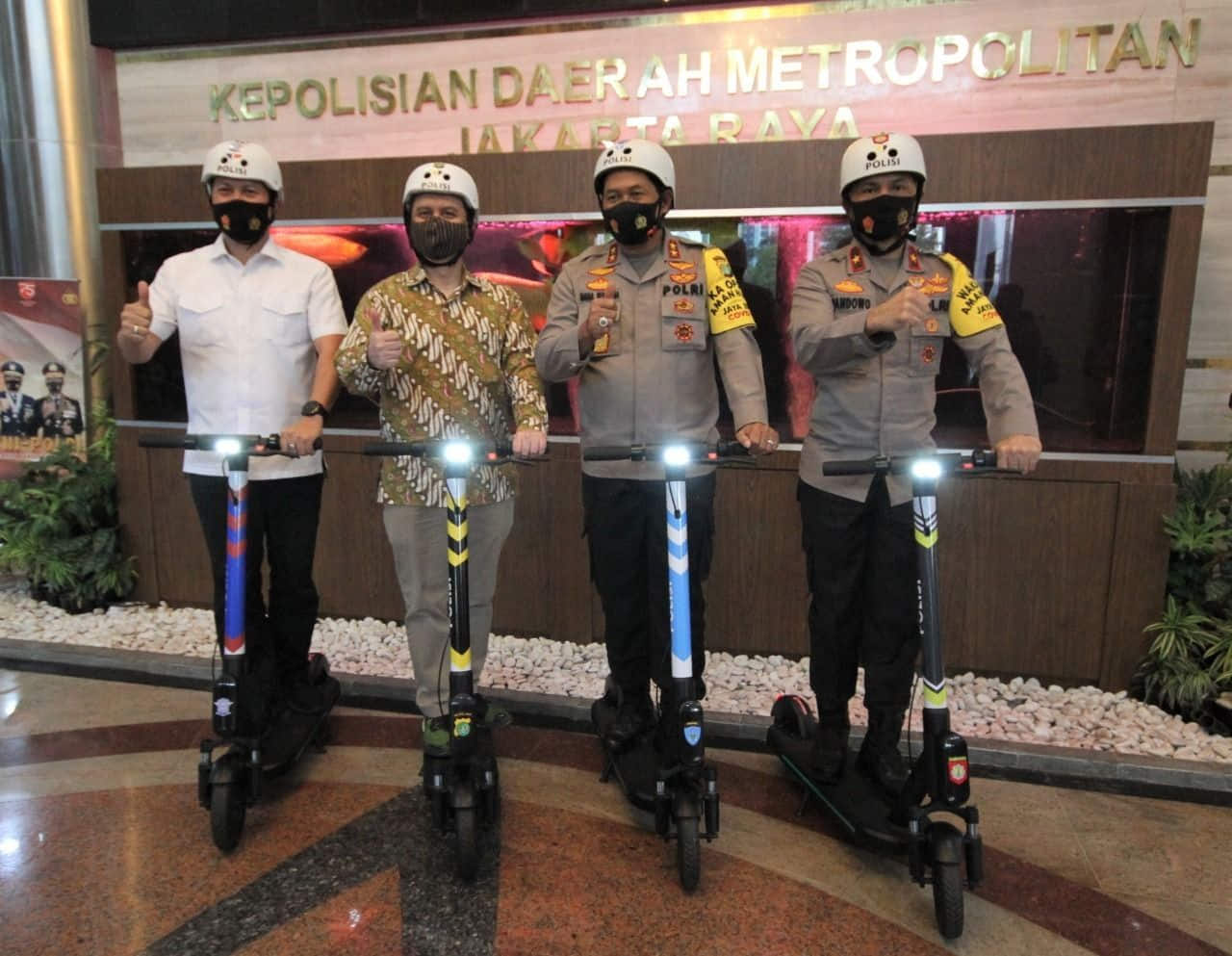 30 unit GrabWheels akan diserahkan kepada Direktorat Lalu Lintas (Ditlantas), Direktorat Sabhara (Dit Sabhara), Provos, dan Polres Bandara
Sebagai solusi mobilitas yang praktis dan ramah lingkungan, GrabWheels dapat membantu kepolisian dalam kegiatan operasinya selama masa adaptasi kebiasaan baru
Jakarta, 26 Agustus 2020 – Melanjutkan komitmen dalam mendukung mobilitas garda terdepan dalam memerangi pandemi COVID-19, hari ini, Grab, aplikasi serba bisa terkemuka di Indonesia, memberikan dukungan kepada ke Kepolisian Negara Republik Indonesia Daerah (Polda Metro Jaya), secara khusus ke beberapa direktorat di bawahnya, yaitu Direktorat Lalu Lintas (Ditlantas), Direktorat Sabhara (Dit Sabhara), Provos, dan Polres Bandara dengan menyerahkan 30 unit GrabWheels yang merupakan solusi mobilitas ramah lingkungan yang inovatif. Unit GrabWheels ini diharapkan dapat digunakan untuk mendukung mobilitas para polisi untuk melaksanakan tugasnya dalam adaptasi kebiasaan baru.
Irjen Pol. Nana Sudjana, Kepala Kepolisian Negara Republik Indonesia Daerah (Kapolda) Metro Jaya dan Ridzki Kramadibrata, President of Grab Indonesia hadir dalam aksi dukungan ini yang dilakukan di Kantor Kapolda Metro Jaya.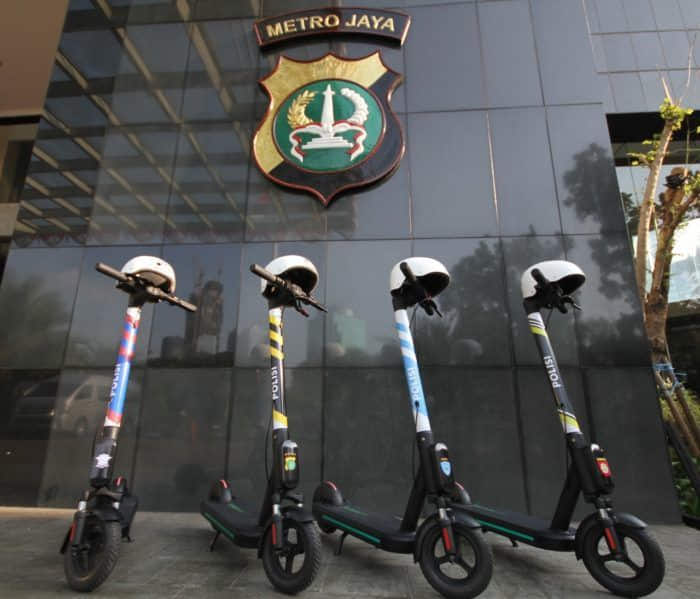 Irjen Pol. Nana Sudjana, Kepala Kepolisian Negara Republik Indonesia Daerah (Kapolda) Metro Jaya yang telah hadir dalam acara nota kesepakatan ini menyampaikan, "Dalam masa transisi menuju adaptasi kebiasaan baru, personel kami tetap terus bertugas melayani masyarakat terutama untuk menjaga keamanan dan ketertiban agar suasana kondusif demi kenyamanan warga. Saya dan seluruh jajaran kepolisian juga secara rutin melakukan patroli untuk memberikan himbauan, sosialisasi, dan edukasi agar setiap masyarakat mematuhi protokol kesehatan serta menjaga jarak aman. Kami berterima kasih atas niat baik yang ditunjukkan oleh Grab Indonesia dalam memberikan dukungan berupa unit GrabWheels bagi kami. Harapannya, GrabWheels dapat membantu kegiatan operasional kami dan mewujudkan kondisi yang kondusif."
Ridzki Kramadibrata, President of Grab Indonesia menyatakan, "Pemerintah bersama dengan para pasukan garda terdepan telah melakukan berbagai macam inisiatif termasuk pihak kepolisian dalam menangani pandemi ini. Kami sangat memahami perjuangan para jajaran kepolisian yang sudah berusaha untuk turut mengamankan dan juga menertibkan situasi terutama untuk membantu masyarakat beradaptasi dengan kebiasaan baru. Dengan adanya aksi dukungan ini, kami berharap unit GrabWheels dapat menjadi alat mobilitas pribadi yang inovatif, praktis dan ramah lingkungan bagi para jajaran kepolisian dalam kegiatan operasinya di masa transisi tapi juga berkontribusi untuk mengurangi polusi udara. "
Grab Donasikan 30 Unit GrabWheels untuk Kepolisian untuk Bantu Operasional Selama Masa Transisi menuju Adaptasi Kebiasaan Baru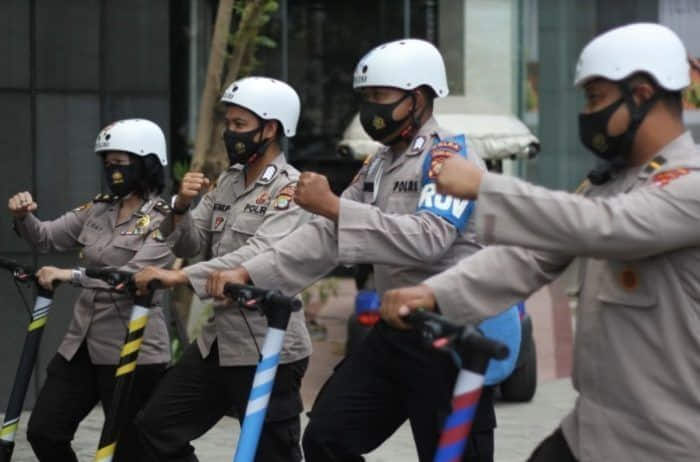 30 unit GrabWheels yang dilengkapi helm akan ditempatkan di Direktorat Lalu Lintas (Ditlantas), Direktorat Sabhara (Dit Sabhara), Provos, dan Polres Bandara. Layanan ini disalurkan untuk mendukung aktivitas anggota kepolisian dalam menjalankan tugasnya di tengah masa transisi ini.
Selain itu, layanan GrabWheels ini dapat membantu para anggota kepolisian dalam mengawasi sejumlah fasilitas umum yang menjadi penunjang ekonomi ibu kota untuk memastikan bahwa masyarakat terus mematuhi protokol kesehatan. Pengawasan ini mencakup memastikan bahwa semua orang memakai masker wajah dan menjaga jarak yang aman, serta menyiapkan tempat untuk mencuci tangan atau memberikan pembersih tangan.
"Melalui misi GrabForGood yang Grab miliki, kami percaya bahwa melalui inovasi teknologi yang kami hadirkan di ekosistem kami, dapat memberikan dampak positif kepada masyarakat Indonesia, salah satunya adalah pihak Kepolisian dan juga terhadap lingkungan. Dengan adanya Peraturan Menteri Perhubungan (Permenhub) No. 45/2020 mengenai Kendaraan Tertentu dengan Menggunakan Penggerak Motor Listrik yang mengatur terkait penggunaan kendaraan listrik, kami berharap GrabWheels bisa memberi kemudahan bagi mereka yang terus melayani masyarakat Indonesia di masa transisi dan juga tetap memberi dampak positif bagi lingkungan," tutup Ridzki.