In a world first, Jakarta's Soekarno-Hatta Airport Offers GrabWheels Electric Scooters for Passengers in Terminal 3
Soekarno-Hatta International Airport once again introduces innovation as a new standard of airport service in Indonesia.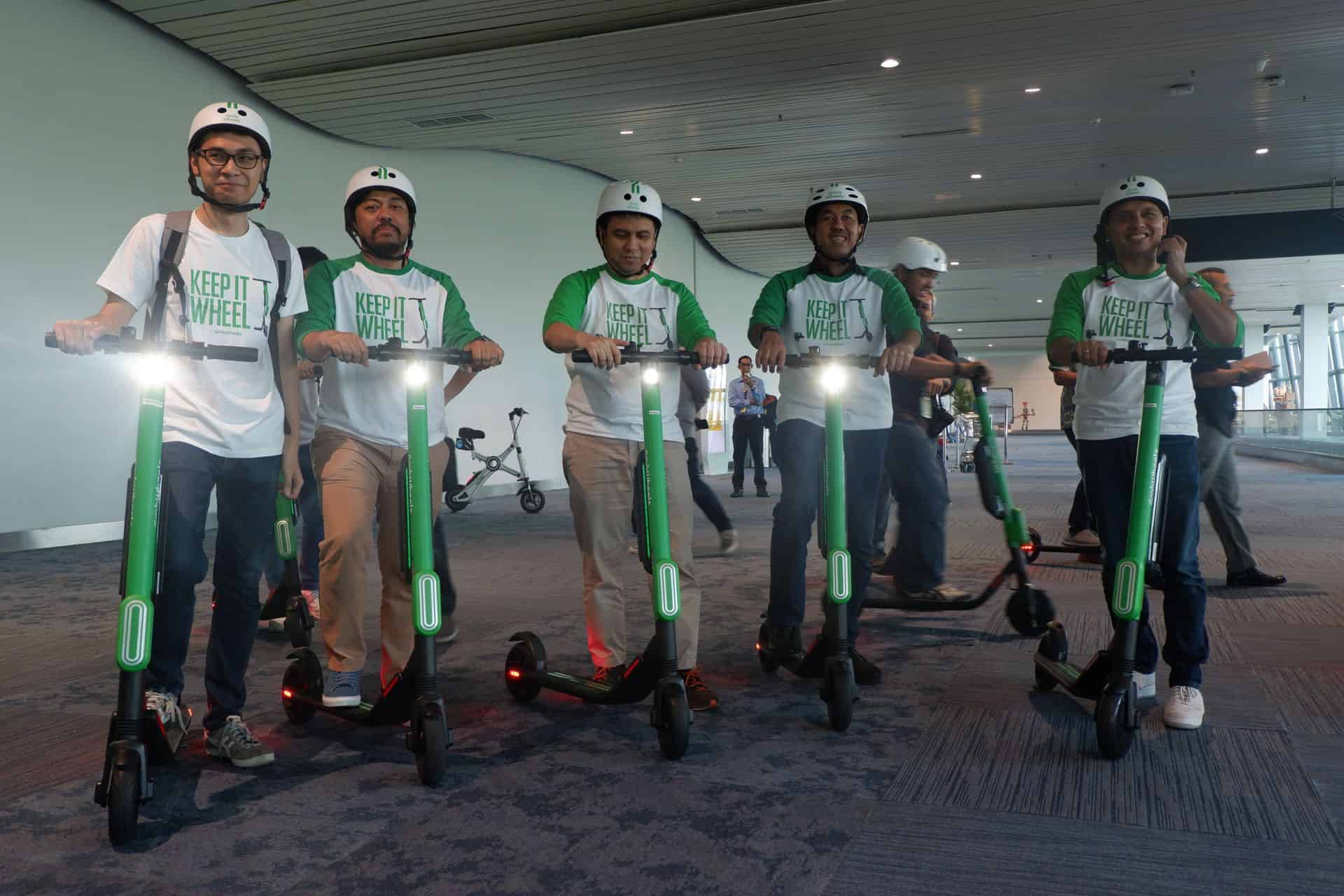 Bandara Soekarno-Hatta, May 31, 2019 – Soekarno-Hatta International Airport once again introduces innovation as a new standard of airport service in Indonesia.
In a world first, the GrabWheels electric scooter was launched in Terminal 3 today by Muhammad Awaluddin, President Director of PT Angkasa Pura II (Persero) and Ridzki Kramadibrata, President of Grab Indonesia, for use of arriving domestic passengers.
At this initial stage, 20 units of GrabWheels are available at Terminal 3 Domestic Arrivals. In the future, more personal mobility devices (PMD) will be made available at Terminal 3's International and Domestic terminals, both arrival and departure halls.
For June 2019, the GrabWheels facility is free of charge, and after that period, users will be charged Rp 5,000/30 minutes paid through the Grab application.
AP II President Director Muhammad Awaluddin said GrabWheels will be an addition to the short-distance transportation in Terminal 3 for travelers that currently offers passenger golf carts.
In addition, continued Muhammad Awaluddin, GrabWheels services increasingly confirms Terminal 3 as the first digital airport in Indonesia.
"Application-based electric scooters have become a lifestyle trend in big cities in America, Europe, even in Singapore. Now, Terminal 3 of Soekarno-Hatta joins the big cities and offers the GrabWheels electric scooter service."
"Terminal 3 is the largest passenger terminal in Indonesia, covering an area of ​​around 422,000 square meters. Personal transportation tools such as the GrabWheels electric scooter greatly helps the mobility of travelers in Terminal 3," said Muhammad Awaluddin.
There will be an area of ​​8 square meters of parking with a capacity of 10 units of GrabWheels. At the moment, travelers can start using GrabWheels at the far end of the terminal and return the unit by the luggage conveyor belt.
Each GrabWheels unit can only be driven at a maximum speed of 10 km/h for safety reasons.
Ridzki Kramadibrata, President of Grab Indonesia, revealed, "We are very pleased to be working with PT Angkasa Pura 2 to offer GrabWheels, the first electric scooter service in Indonesia that is environmentally friendly and can provide new experiences for tourists and visitors in Jakarta. As an everyday super app, we continue to look for technological solutions that can help improve our partner industries such as tourism. This will help provide global class services for Jakarta visitors!"
The launch of GrabWheels today also makes the upcoming Hari Raya "mudik" period increasingly festive at Soekarno-Hatta International Airport, especially Terminal 3.
"Services in Terminal 3 are increasingly diverse starting from the iMATE Digital Lounge, the Airsport game play zone, to now the GrabWheels electric scooter. We hope that these services can make the homecoming atmosphere even more enjoyable in Terminal 3," concluded Muhammad Awaluddin.