Grab dan KemenkopUKM Dukung Perluasan Digitalisasi dan Peluang Ekonomi UMKM Indonesia
Grab meresmikan kerja sama dengan Kementerian Koperasi dan Usaha Kecil dan Menengah Republik Indonesia untuk mendukung perluasan digitalisasi serta peluang ekonomi jutaan UMKM Indonesia yang terkena dampak pandemi.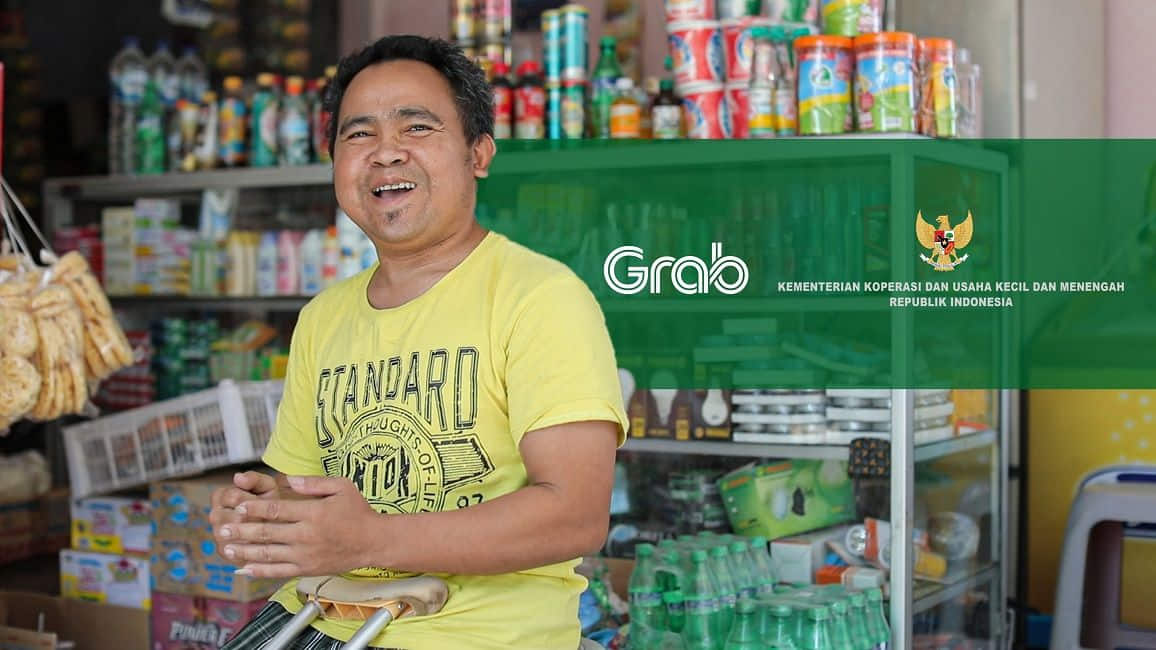 Grab Indonesia dan Kementerian Koperasi dan Usaha Kecil dan Menengah (KemenkopUKM) Republik Indonesia memperkuat kerja sama untuk membantu para UMKM di Indonesia tetap berkembang dan bertahan di masa pandemi lewat Nota Kesepahaman Sinergi untuk Dukungan Usaha Mikro Kecil dan Menengah Berbasis Digital di Indonesia.

Menjadi payung dari sejumlah program kerja sama dari Grab Indonesia dengan Kementerian Koperasi dan UKM yang akan dijalankan demi mendukung pemulihan ekonomi nasional dan meringankan dampak dari wabah pandemi COVID-19.

Kerja sama ini mencakup pemberian akses pelatihan, pengembangan pembinaan, dan percepatan digitalisasi UMKM dan akan

menjangkau lebih dari 400.000 UMKM di tanah air pada akhir 2020
Jakarta, 1 September 2020 – Grab, aplikasi serba bisa terkemuka di Asia Tenggara, hari ini meresmikan kerja sama dengan Kementerian Koperasi dan Usaha Kecil dan Menengah Republik Indonesia (KemenkopUKM) untuk mendukung perluasan digitalisasi serta peluang ekonomi untuk jutaan UMKM di Indonesia terutama yang terkena dampak pandemi. Kemitraan ini merupakan lanjutan dari program #TerusUsaha sebagai komitmen Grab untuk memanfaatkan teknologi dan informasi yang dimiliki guna memberi pelatihan dan pembinaan berbasis digital kepada UMKM Indonesia agar terus berkembang dan bersaing di ekosistem ekonomi digital Indonesia yang terus berkembang.
Nota Kesepahaman (Memorandum of Understanding/MOU) telah ditandatangani oleh KemenkopUKM dan Grab Indonesia dimana Grab akan memberikan akses terhadap pelatihan untuk peningkatan keterampilan UMKM dan dukungan program pendaftaran serta menjadi jembatan antar pelaku UMKM guna menciptakan kesempatan kerja sama yang lebih luas. Dengan ditandatanganinya Nota Kesepahaman antara kedua belah pihak, diharapkan kolaborasi ini dapat mewujudkan sinergi dalam rangka mengembangkan sumber daya ekonomi bangsa ini dan menjangkau lebih dari 400.000 UMKM pada akhir 2020.
Menteri Koperasi dan Usaha Kecil dan Menengah Republik indonesia, Teten Masduki yang turut hadir pada acara konferensi pers virtual mengatakan, "Untuk dapat bertahan dan terus berkembang di masa pandemi seperti saat ini, para pelaku UMKM di Indonesia harus melakukan inovasi dan mulai bertransformasi ke arah digital. Oleh karena itu, peran berbagai pihak termasuk pihak swasta sangatlah dibutuhkan guna memberikan platform yang dapat dimanfaatkan oleh jutaan UMKM yang tersebar di seluruh Indonesia agar kita bisa memastikan keberlangsungan bisnis mereka yang tentunya berimplikasi terhadap perputaran ekonomi Indonesia. Kami sangat mengapresiasi upaya-upaya yang dilakukan oleh pihak swasta termasuk Grab Indonesia yang terus berkomitmen dalam mendukung percepatan transformasi digital para UMKM. Kami harap ini juga bisa menjadi batu loncatan bagi bisnis mereka sehingga mereka dapat beradaptasi dan berkembang dalam era ekonomi digital."

Neneng Goenadi selaku Managing Director Grab Indonesia juga menyampaikan bahwa Grab berkomitmen penuh untuk membantu pemerintah dalam mendukung keberlangsungan bisnis UMKM di Indonesia. "Dari awal didirikan, Grab telah berkomitmen untuk memberdayakan dan mendigitalisasi lebih banyak UMKM di Indonesia. Melalui misi GrabForGood dan program #TerusUsaha yang telah kami luncurkan, kami berkomitmen untuk memastikan teknologi kami dapat membawa dampak positif bagi jutaan orang di Indonesia. Oleh karena itu, melalui kerja sama dengan KemenkopUKM ini, Grab akan memberikan akses perluasan digital dan dukungan peluang ekonomi yang lebih luas kepada para jutaan UMKM tradisional di Indonesia agar mereka bisa terus bertahan di masa yang sulit ini."
Guna mewujudkan pengembangan pembinaan UMKM berbasis digital dan sumber daya ekonomi Indonesia, kerja sama antara Grab dengan KemenkopUKM ini akan meliputi:
Dukungan akses terhadap pelatihan untuk peningkatan keterampilan UMKM Indonesia.

Dukungan program pendaftaran UMKM ke dalam ekosistem digital untuk mempercepat transformasi digital pelaku usaha di Indonesia.

Dukungan untuk menjembatani antara pelaku UMKM untuk menciptakan kesempatan kerja sama yang lebih luas dalam  mengembangkan bisnis mereka.

Serta dukungan promosi untuk para UMKM dalam berbagai kegiatan yang akan dilakukan oleh Grab Indonesia.
Grab pun akan terus berinovasi dalam menyediakan dan menciptakan lebih banyak lagi peluang ekonomi untuk jutaan UMKM di Indonesia. Sejak bulan Maret 2020, Grab telah meluncurkan lebih dari 24 inisiatif baru untuk meringankan dampak pandemi bagi UMKM maupun mitra Grab lainnya. Inisiatif-inisiatif tersebut antara lain kerja sama dengan Kementerian Pertanian dan Pasar Tani; kerja sama dengan para nelayan di Ambon untuk pemasaran dan penjualan hasil laut  lewat GrabMart serta Grab belum lama ini juga bekerja sama dengan Kementerian Kelautan dan Perikanan; mendukung gerakan Bangga Buatan Indonesia dan #BeliKreatifLokal dengan membantu proses on-boarding UMKM ke platform Grab dan masih banyak lagi.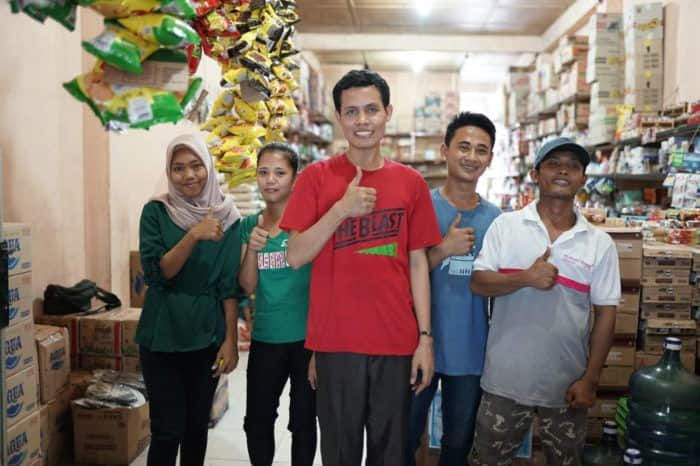 Selama masa pandemi ini, Grab juga telah menyambut lebih dari 170.000 UMKM dan lebih dari 32.000 pedagang tradisional yang tak mengenal kata menyerah untuk bertahan dan terus mengembangkan bisnis mereka di masa yang serba tidak pasti ini. Semangat itulah yang menginspirasi Grab untuk meluncurkan program #TerusUsaha yang didedikasikan khusus untuk membantu UMKM di Indonesia agar mereka dapat terus beradaptasi dalam menghadapi kondisi new normal ini. Program ini mencakup berbagai inisiatif akselerasi untuk melatih dan membina keterampilan UMKM, serta upaya-upaya Grab lainnya untuk meningkatkan visibilitas dan permintaan bisnis para pelaku UMKM, supaya mereka bisa dikenal dan terus tumbuh dalam ekosistem ekonomi digital. Melalui program ini, Grab juga telah bekerja sama lebih dari 20 pemerintah daerah untuk memberikan lebih dari 20 solusi transformasi digital di 25 kota di Indonesia untuk para pelaku UMKM.
Sebelumnya, menurut riset yang dilakukan oleh Center for Strategic and International Studies (CSIS) dan Tenggara Strategics pada Januari 2020, menyebut Grab menawarkan peluang ekonomi yang lebih baik bagi pekerja informal di 12 kota, serta meningkatkan pertumbuhan bisnis kecil dan menciptakan lapangan pekerjaan di luar platform Grab. Secara keseluruhan, pekerja informal dari platform Grab berkontribusi sebesar Rp77,4 triliun bagi ekonomi Indonesia pada 2019, angka ini meningkat 58% dari Rp48,9 triliun pada tahun 2018.
"Kami harap segala upaya dan inisiatif yang kami lakukan dapat membantu upaya pemulihan ekonomi, dan meningkatkan daya saing serta ketangguhan para UMKM di Indonesia. Mari kita #TerusUsaha untuk mendukung UMKM dan perputaran ekonomi Indonesia!" tutup Neneng.