Kudo Transforms Into GrabKios, Empowers Traditional Retailers to Boost Indonesia's Economic Growth
Kudo today unveils its official transformation to GrabKios, signalling a tighter integration with Grab, who acquired Kudo in 2017, and a deepened commitment to empowering 'warungs' (traditional retailers) to better compete in the new digital era.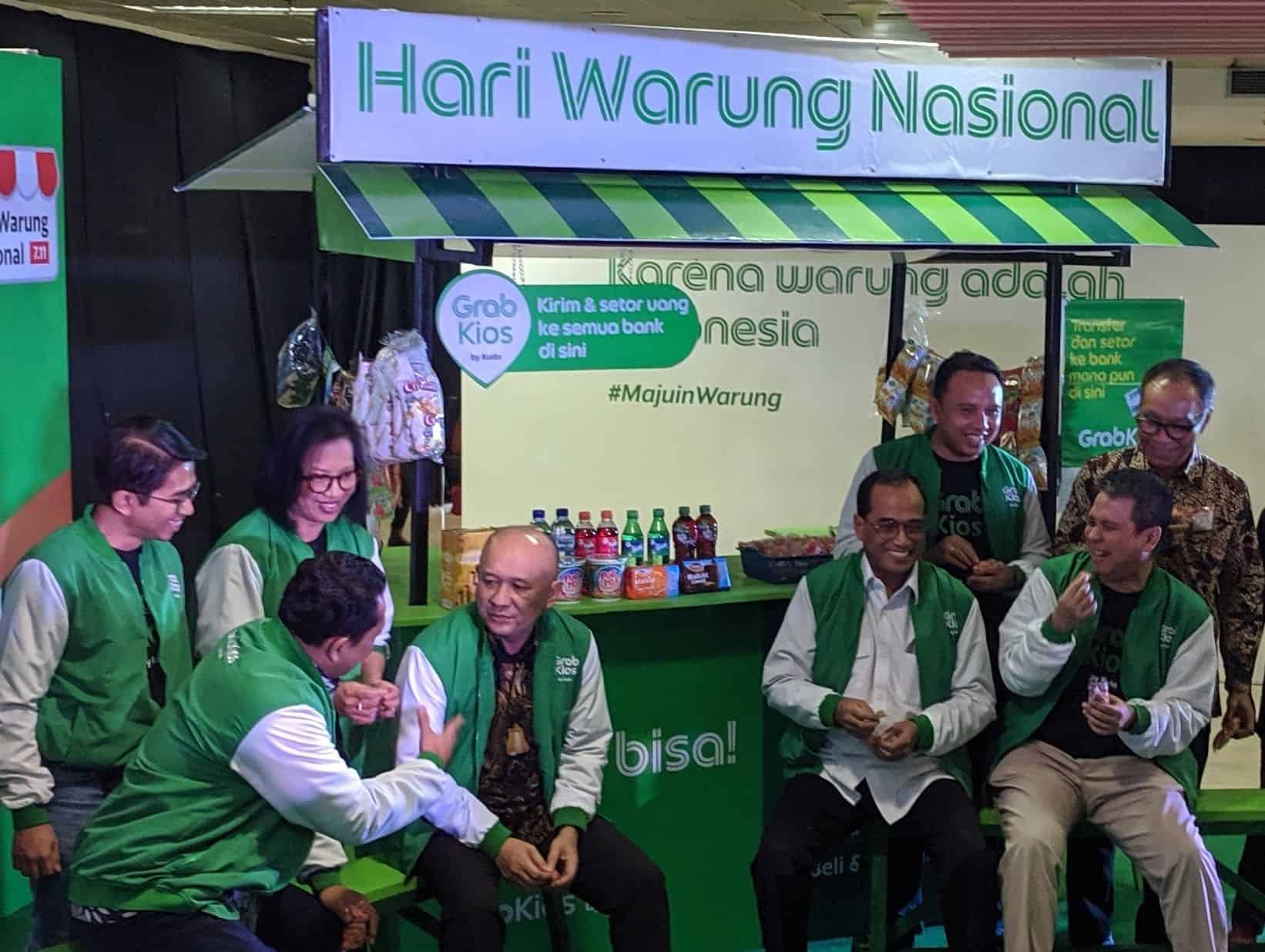 GrabKios and Ministry of Cooperatives and Small and Medium Enterprises join hands to initiate annual Hari Warung Nasional (National Traditional Kios Day) to celebrate and promote support for warungs
Closer integration between Grab and Kudo introduces new innovative products and services to help warungs digitize their businesses and improve their competitiveness
Grab signs MOUs with State Logistics Agency (Bulog) and Bank Mandiri to deliver more benefits to GrabKios partners and Grab driver-partners
Jakarta, 7 November 2019 – Kudo today unveils its official transformation to GrabKios, signalling a tighter integration with Grab, who acquired Kudo in 2017, and a deepened commitment to empowering 'warungs' (traditional retailers) to better compete in the new digital era.
Over 4.5 million warungs can be found across Indonesia today, in even the most rural areas, playing a critical role as the heart of society and helping to serve the everyday needs of Indonesians. GrabKios, in partnership with the Ministry of Cooperatives and Small and Medium Enterprises and supported by Grab's business partners, such as BULOG and Bank Mandiri, today also announced that from this year onwards November 7 will be established as Hari Warung Nasional, with the goal to celebrate warungs' contribution to Indonesia's economy and drive mass empowerment for warungs through technology and partnerships.
Teten Masduki, Indonesian Minister of Cooperatives and Small and Medium Enterprises said, "Grab's effort to connect 2.6 million agents in 505 cities/regencies in Indonesia into the digital economy ecosystem is an innovation to empower SMEs to digitize their business. Through the use of technology and digitalization, the warungs will be more competitive in facing the competition with modern retail and also giving added value for their consumers."
As part of the inaugural Hari Warung Nasional celebrations, GrabKios is supporting more than 100,000 warungs across Indonesia by providing vouchers and additional business capital. With this occasion, GrabKios also strengthened #MajuinWarung social media campaign to encourage the public to patronize and support their local warungs. In the years to come, GrabKios and Ministry of Cooperatives and Small and Medium Enterprises will partner with more industries and companies to grow Hari Warung Nasional and catalyze greater support for warungs.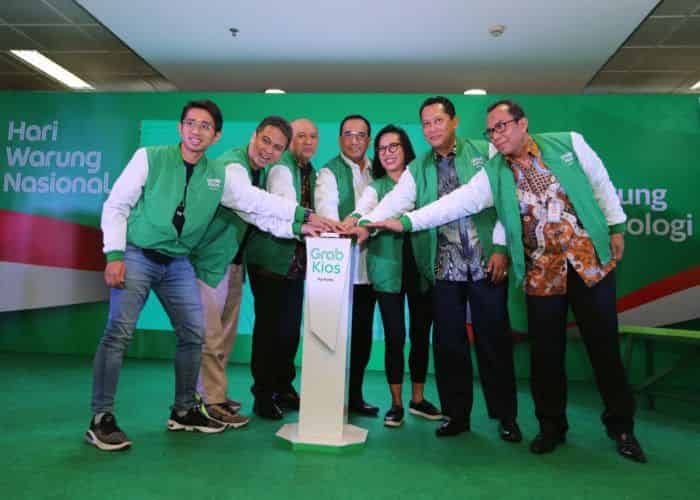 GrabKios to accelerate efforts to digitize warungs and help improve their competitiveness
GrabKios brings together Kudo's vast network of over 2.6 million partners in more than 500 cities and regencies in Indonesia, and Grab's ecosystem of services and partnerships. As part of Hari Warung Nasional, GrabKios also unveiled plans to help digitize more warungs through technology, providing solutions that help them remain relevant as the digital economy grows, at the same time better compete with convenience stores. GrabKios will empower warungs in three ways:
1) Expand the range of services warungs can offer and help them grow new revenue streams: In addition to existing services such as airtime, bill payments, travel tickets, remittance, and registration of Grab driver partners, GrabKios is introducing new business opportunities such as:
a. Package delivery supported by Porter, where customers can deliver packages through GrabKios. This service is now available in Jakarta, Depok, Tangerang, Bekasi, Bandung, and Surabaya.
b. Gold savings feature supported by Tamasia where GrabKios warungs can offer their customers a safe, reliable, and sharia-compliant gold savings plan that starts from as low as IDR 10.000. This feature was recently rolled out in Medan and all cities in Java.
c. Micro insurance, where customers can purchase health, life, education, accident and other micro-insurance plans through GrabKios partners. This will be rolled out from early December 2019.
2) Provide access to capital and financial services to help warungs scale their business: Grab today signed a memorandum of understanding (MoU) with Bank Mandiri, one of Indonesia's largest state-owned banks, to provide loans from Bank Mandiri through products offered to GrabKios partners and also Grab driver partners.
3) Reducing their cost of business: GrabKios offers warungs access to a wider and more reliable range of wholesale inventory which they can order through the application at very competitive prices. The goods are delivered to warungs with free delivery and cash on delivery (COD) options, which suit the needs of smaller warungs.
Agung Nugroho, who previously served as Kudo's CEO and Co-Founder, remains at the helm as Head of GrabKios. He stated that, "Warungs are the lifeblood of Indonesia's economy and play such an important role in the fabric of Indonesian society. As Indonesia moves towards a digital economy, our mission at GrabKios is to ensure that no warungs are left behind. Our goal is to empower 1 million more GrabKios partners in Indonesia by 2021 through technology and help them to thrive and be able to continue serving the communities around them. Bringing Kudo closer into Grab's overall ecosystem allows us to accelerate innovation for warungs and leverage our joint partnership network to offer them greater benefits and services."
Neneng Goenadi, Managing Director of Grab Indonesia added, "By supporting warungs, we can build a future for Indonesia where everyone can benefit from the digital economy. Many Indonesians are still not connected to the Internet. But you can find warungs everywhere, in every village and on every street corner. With GrabKios, we're not only aiming to empower warungs, we want to help turn them into access points through which more Indonesians can gain access for the first time to digital products, financial services, insurance, savings and more. We believe we have a real opportunity to bring development to the most rural areas of Indonesia. This is the Grab for Good vision that we serve."
By leveraging the GrabKios nationwide network, Grab also aims to bring more benefits to other micro-entrepreneurs on the Grab platform. Working in partnership with State Logistics Agency (Bulog), Grab driver-partners will be able to purchase rice at an exclusive, affordable price at GrabKios warungs, as part of the GrabBenefits programme. GrabKios warungs will also continue to serve as an important channel to introduce more income opportunities on the Grab platform to more cities across Indonesia. Potential Grab driver-partners can register and be onboarded at GrabKios warungs across Indonesia. In turn, this will introduce Grab services to more locations across the country.
Additional quotes from partners:
Budi Waseso, President Director of State Logistics Agency (Bulog) said, "As part of Bulog's commitment to ensure food security, we are proud to partner with Grab to help distribute rice to its stakeholders as well as strengthen our partnership with one of the nation's top startups. We hope this entry into the digital economy will be the start of many positive things to come."
Donsuwan Simatupang, Retail Banking Director of Bank Mandiri said, "As the digital economy grows, we hope that micro and small entrepreneurs will be able to compete and between Bank Mandiri and Grab, to provide loan, both for GrabKios partners and also Grab driver partners and reach more people widely."