Kolaborasi Grab dan Lazada Untuk Pengiriman Barang Konsumen Dengan Lebih Ramah Lingkungan
Grab mengumumkan kolaborasi bersama Lazada untuk inisiatif pertama yang akan mempromosikan pengiriman paket dengan lebih ramah lingkungan.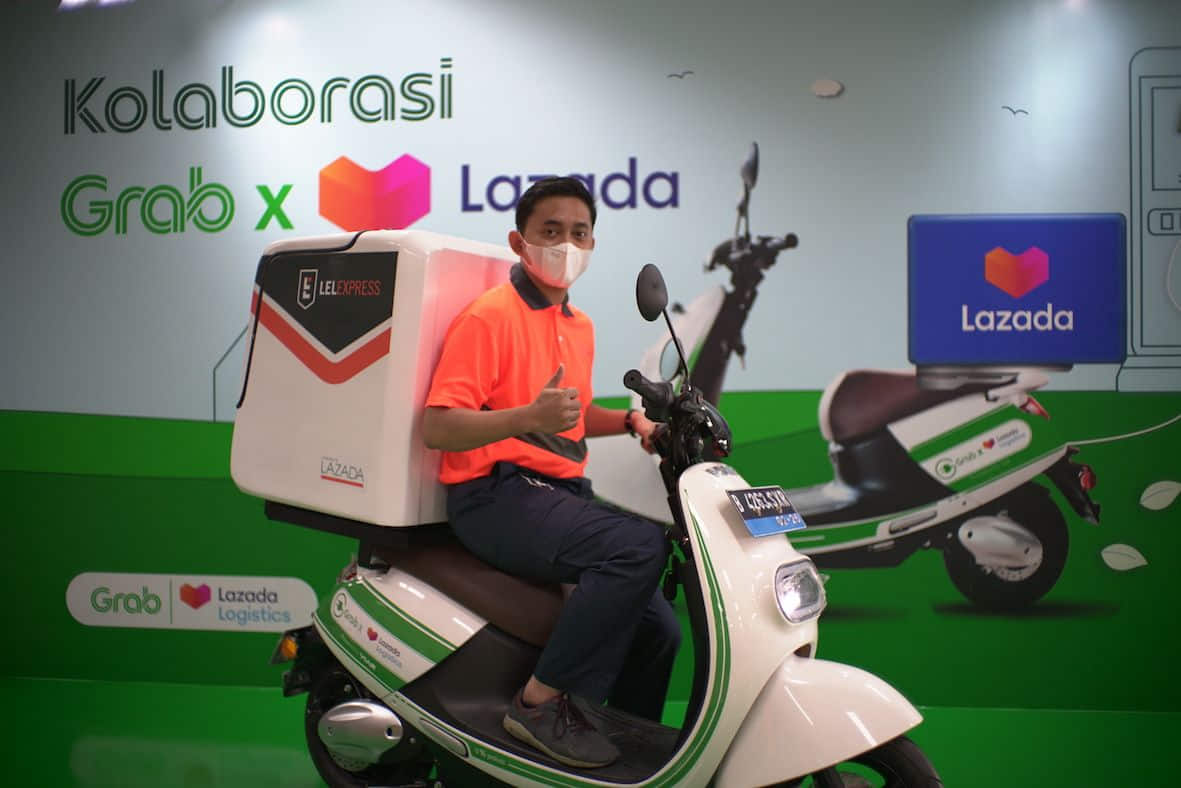 Lazada menjadi ecommerce pertama dengan inisiatif solusi logistik ramah lingkungan yang berkolaborasi dengan GrabRental
Lazada Logistics, divisi logistik Lazada menyewa sepeda motor listrik dari Grab untuk mengurangi karbon emisi pengiriman barangnya ke konsumen Lazada
Penambahan armada kendaraan bermotor berbasis listrik ini akan membantu memperluas jangkauan logistik Lazada di Jabodetabek
Jakarta, 8 Maret 2021 – Grab, aplikasi super terkemuka di Asia Tenggara, telah mengumumkan kolaborasinya bersama Lazada, e-commerce terdepan di Asia Tenggara untuk inisiatif pertama yang akan mempromosikan pengiriman paket dengan lebih ramah lingkungan. Armada ini berasal dari GrabRental, model bisnis penyewaannya GrabWheels, Grab akan menyewakan motor dari armada GrabWheels untuk mengirimkan paket kepada konsumen Lazada di area Jabodetabek.
Kolaborasi ini merupakan bagian dari Kampanye #LangkahHijau Grab dan Lazada, salah satu e-commerce terdepan di Asia yang memiliki jaringan logistik yang luas, melalui Lazada Logistics turut berkontribusi dalam mendukung ekosistem kendaraan listrik di Indonesia yang berkelanjutan, salah satunya dengan meluncurkan armada motor listrik kolaborasi dengan GrabWheels dari bulan Februari 2021 dan akan diperbanyak berdasarkan kebutuhan di bulan selanjutnya. Dengan armada ini, Lazada akan dapat memperluas jangkauan logistiknya secara ramah lingkungan di Jabodetabek. Hal ini mencerminkan komitmen bersama Grab dan Lazada untuk menjangkau dan menyediakan solusi yang lebih "hijau" bagi konsumen di Indonesia.
Sebelumnya, Grab juga telah menjalin kerjasama dengan kendaraan motor berbasis listrik asal dalam negeri seperti Viar dan Selis serta brand internasional seperti Kymco dengan menghadirkan perkembangan teknologi kendaraan berbasis listrik untuk mendukung komitmen ini.
Direktur Angkutan Jalan, Kementerian Perhubungan RI, Ahmad Yani, ATD, MT. turut menyampaikan, "Kolaborasi yang dilakukan oleh Grab dan Lazada merupakan sebuah solusi bersama dalam mendukung ekosistem kendaraan listrik di Indonesia yang patut kita apresiasi. Hal ini dapat mempercepat usaha pemerintah dalam memiliki ekosistem kendaraan listrik, sejalan dengan Roadmap Stasiun Pengisian Kendaraan Listrik Umum (SPKLU) dan Stasiun Penukaran Baterai Kendaraan Listrik Umum (SPBKLU) yang telah diluncurkan beberapa waktu lalu. Kami berharap dengan adanya kolaborasi ini, pemain e-commerce lainnya dapat terinspirasi untuk meningkatkan layanannya dengan kendaraan yang lebih ramah lingkungan."
Ridzki Kramadibrata, President of Grab Indonesia mengatakan, "Kami telah bekerja dengan pemerintah dan berbagai mitra lainnya pada sejumlah inisiatif lingkungan hidup, yang mempercepat pengembangan ekosistem kendaraan motor berbasis listrik di Indonesia serta untuk membangun masa depan yang lebih "hijau" bagi negara. E-commerce telah berkembang pesat selama setahun terakhir dan logistik adalah tulang punggung yang mendukungnya. Kami sangat bersemangat untuk mengumumkan kemitraan kami dengan Lazada untuk mengurangi jejak emisi karbon dalam pengiriman paket mereka, serta memperluas jangkauan logistik mereka."
Philippe Auberger, Chief Logistics Officer of Lazada Indonesia, mengatakan, "Lazada menyambut baik kolaborasi membawa kendaraan elektronik ke dalam ekosistem logistik kami dan sangat senang dapat bermitra dengan Grab dalam program ini. Pembangunan ekosistem e-commerce yang berkelanjutan serta ramah lingkungan memang merupakan komitmen kami, sehingga mengurangi jejak karbon kami dalam mengirimkan paket kepada pelanggan Lazada yang tinggal di Jabodetabek ini menjadi bentuk peran nyata kami. Kemitraan ini dengan Grab ini sekaligus menegaskan komitmen kami dalam memberikan solusi logistik yang berkualitas bagi bisnis, khususnya usaha mikro, kecil dan menengah (UMKM) di Indonesia."
Dalam sebuah riset yang berjudul Studi Lazada tentang Percepatan Transformasi Digital Melalui e-Commerce, salah satu temuan utama adalah peran penting logistik dalam membangun ekosistem digital. Kolaborasi penggunaan motor listrik GrabRental ini adalah bagian dari komitmen last mile Lazada.
Kendaraan listrik ini dapat menjangkau jarak hingga 130 km dengan kecepatan hingga 100km/jam dan membawa beban hingga 130kg. Sebagai bagian dari kerjasama ini, armada pengiriman di Lazada Logistics akan mendapatkan rangkaian training menggunakan motor listrik GrabWheels sehingga mereka dapat melakukan pengiriman dengan aman dan tepat waktu.
Sejak tahun 2019, Grab secara aktif berkolaborasi dengan pemerintah lokal untuk mengakselerasi transportasi ramah lingkungan dengan kampanye #LangkahHijau. Kolaborasi terbaru ini adalah wujud nyata komitmen berkepanjangan Grab untuk mendukung ekosistem kendaraan listrik yang sejalan dengan Peraturan Presiden (Perpres) nomor 55 tahun 2019 tentang Percepatan Program Kendaraan Bermotor Listrik Berbasis Baterai untuk Transportasi Jalan.
oOo