Mastercard dan Grab Luncurkan Program "Small Business, Big Dreams" untuk Tingkatkan Kewirausahaan di Indonesia
Mastercard dan Grab mengumumkan program regional "Small Business, Big Dreams" untuk meningkatkan keterampilan digital para pekerja lepasan  dan pelaku usaha kecil di Indonesia, Filipina, dan Vietnam.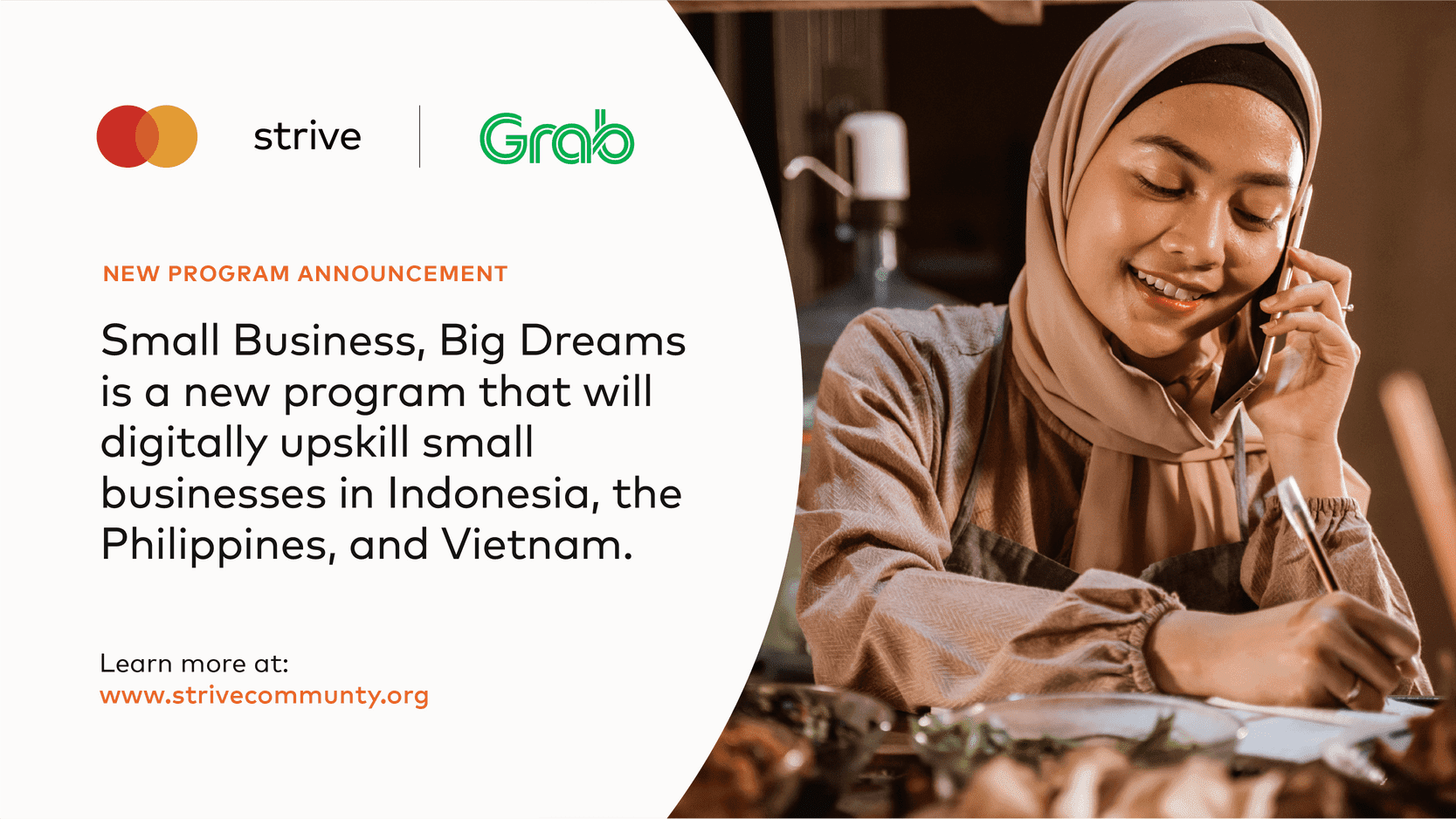 Program mencakup peluncuran dua kursus bisnis online untuk mendukung pertumbuhan usaha kecil, dan calon wirausahawan untuk memulai bisnis pertama mereka

Kursus dikembangkan melalui kemitraan dengan para pakar bisnis mikro lokal dan berdasarkan hasil survei lebih dari 34.000 mitra pengemudi dan pengantaran Grab serta 600 usaha kecil

Kursus tersedia secara gratis untuk semua mitra pengemudi, pengantaran dan merchant Grab melalui GrabAcademy yang tersedia di aplikasi  Grab Driver dan GrabMerchant
12 Oktober 2022 – Mastercard dan Grab, superapp terkemuka di Asia Tenggara, hari ini mengumumkan program regional "Small Business, Big Dreams" untuk meningkatkan keterampilan digital para pekerja lepasan  dan pelaku usaha kecil di Indonesia, Filipina, dan Vietnam. Kolaborasi ini merupakan bagian dari Strive Community, sebuah inisiatif filantropi global yang dikembangkan oleh Mastercard Center for Inclusive Growth dan Caribou Digital. Strive Community bertujuan mendukung ketahanan dan pertumbuhan lima juta usaha kecil di seluruh dunia.
Program regional "Small Business, Big Dreams" ini mencakup peluncuran dua kursus bisnis online untuk mitra pengemudi dan  pengantaran Grab yang ingin memulai bisnis baru, serta pemilik usaha kecil yang ingin tumbuh dalam ekonomi digital yang kompetitif. Program ini bertujuan memungkinkan para pelaku usaha kecil mencapai potensi penuh mereka dengan mendukung upaya digitalisasi dan memberikan akses terhadap layanan keuangan bagi mereka, agar dapat berpartisipasi secara lebih efektif dalam ekonomi digital.
"Banyak masyarakat Asia Tenggara yang bekerja di sektor informal menginginkan lebih, tetapi kenyataannya banyak dari mereka tidak memiliki sarana atau kesempatan untuk mengakses program pelatihan yang berkualitas. Melalui kemitraan kami dengan Mastercard Center for Inclusive Growth, kami berharap dapat memberikan dorongan kepada para pekerja lepasan dan usaha kecil untuk memulai. Program "Small Business, Big Dreams" akan membekali mereka dengan pengetahuan bisnis dan keterampilan praktis melalui perjalanan pembelajaran terstruktur yang disesuaikan dengan kebutuhan dan minat mereka," kata Cheryl Goh, Group Head of Marketing and Sustainability, Grab.
"Ekonomi digital menawarkan berbagai kemungkinan dan peluang yang dapat membantu bisnis dari semua ukuran menjadi lebih tangguh dan tumbuh dengan cara yang lebih berkelanjutan. Mastercard senang bekerja sama dengan Grab dalam inisiatif ini, yang akan meningkatkan kapasitas digital dan inklusi calon wirausahawan dan usaha kecil pasca pandemi," kata Payal Dalal, Senior Vice President Social Impact, International Markets, Mastercard Center for Inclusive Growth. 
"Mastercard secara global berkomitmen untuk menjadikan 1 miliar orang dan 50 juta usaha mikro dan kecil bagian dari ekonomi digital pada tahun 2025. Pengumuman hari ini melanjutkan keberhasilan Mastercard Academy 2.0 di Indonesia, Business Cell di Filipina, HER Project Digital Wage BSR di Kamboja, serta Care Ignite di Vietnam, yang telah memberdayakan jutaan usaha kecil untuk mengakses teknologi, pelatihan, bimbingan, dan layanan keuangan," tambah Payal.
Usaha kecil memainkan peran penting di Indonesia, memberikan kontribusi hingga 27% dari PDB*. Meskipun 80-90% usaha kecil dan menengah di Asia Tenggara kehilangan pendapatan karena diberlakukannya lockdown saat pandemi COVID-19, banyak yang mampu melewati tantangan ini dengan beralih ke digital, dengan keuntungan bisnis online kembali lebih cepat. Ketahanan inilah yang ingin dibawa oleh program pembelajaran mikro ini ke banyak usaha kecil dan calon wirausahawan di seluruh wilayah Asia Tenggara.
Kursus disediakan khusus untuk meningkatkan kewirausahaan di Asia Tenggara
Dua kursus online baru, yaitu Driver Entrepreneurship Toolkit dan Small Business Toolkit, dibuat berdasarkan hasil survei lebih dari 25.367 mitra pengemudi dan 100 usaha kecil di wilayah tersebut. Meskipun hampir semua usaha kecil yang disurvei di Indonesia menggunakan smartphone untuk bisnis mereka, 58% masih mengandalkan proses manual  untuk mengelola bisnis mereka.
"Kami menggunakan buku untuk mencatat penjualan karena saya tidak tahu cara yang lebih baik untuk melakukan ini," kata pengecer kosmetik kecil berusia 29 tahun dari Indonesia.
"Saya kesulitan menentukan harga. Harga sayur dan bahan lainnya di pasar tradisional sangat fluktuatif," kata penjual jajanan di Indonesia.
Sedangkan untuk mitra pengemudi, tiga topik pelatihan yang paling banyak diminati adalah 1) cara memulai bisnis baru (68%); 2) cara mengembangkan bisnis dan meningkatkan keuntungan (60%), dan 3) cara memasarkan bisnis secara online (41%).
"Saya tertarik untuk mengikuti pelatihan bisnis tetapi saya membutuhkan pelatihan yang benar-benar membahas topik dari tingkat yang paling dasar," kata seorang mitra pengemudi Grab dari Indonesia.
"Saya ingin tahu bagaimana mengembangkan bisnis dengan modal kecil, bagaimana memiliki penjualan yang baik, bagaimana mempromosikan dan membuat lebih banyak calon pelanggan mengetahui produk kami," kata mitra pengemudi Grab lainnya dari Indonesia.
Untuk memenuhi aspirasi ini, Mastercard dan Grab telah melibatkan pakar bisnis mikro lokal terkemuka, seperti Tumbu Indonesia, serta WISE dan Bayan Academy, untuk bersama-sama mengembangkan kursus online. Kursus yang masing-masing terdiri dari 20 pelajaran video pendek, memberikan langkah-langkah praktis untuk mengatasi tantangan yang sering dihadapi oleh usaha kecil dan pengusaha pemula. Kursus ini juga menampilkan wawasan yang kuat dan relevan dari para pakar industri lokal dan pemilik bisnis, sebuah format pembelajaran yang disukai oleh mitra pengemudi dan pemilik usaha kecil yang disurvei.
"Penelitian telah menemukan bahwa selama pandemi, adopsi perdagangan digital di antara usaha mikro-kecil hanya meningkat sekitar 5%, sementara 44% bisnis menengah dan besar mulai berjualan secara online. Ada kebutuhan mendesak akan program pelatihan yang terukur untuk membantu jutaan usaha mikro di Asia Tenggara membangun keterampilan kewirausahaan digital mereka dan meningkatkan kesiapan mereka untuk tumbuh," kata Dewi Meisari, CEO Tumbu Accelerator. "Inisiatif peningkatan keterampilan digital Grab dan Mastercard memungkinkan kami untuk menyediakan modul pelatihan yang relevan, fleksibel namun terstruktur dalam skala besar."
Video pelatihan tersedia gratis untuk semua Mitra Grab di GrabAcademy, melalui aplikasi super Grab Driver dan GrabMerchant. Mitra pengemudi dan usaha kecil akan menerima sertifikat ketika mereka menyelesaikan setiap modul.
*ILO: Financing Small Businesses in Indonesia – https://bit.ly/3TBNoON