Grab dan Lifebuoy Jalin Kerja Sama untuk Hadirkan Keamanan dan Kenyamanan Masyarakat untuk Kembali Beraktivitas
Grab Indonesia menjalin kolaborasi dengan PT Unilever Indonesia, Tbk. dan brandnya, Lifebuoy guna menghadirkan rasa aman dan nyaman bagi pelanggan untuk siap beraktivitas.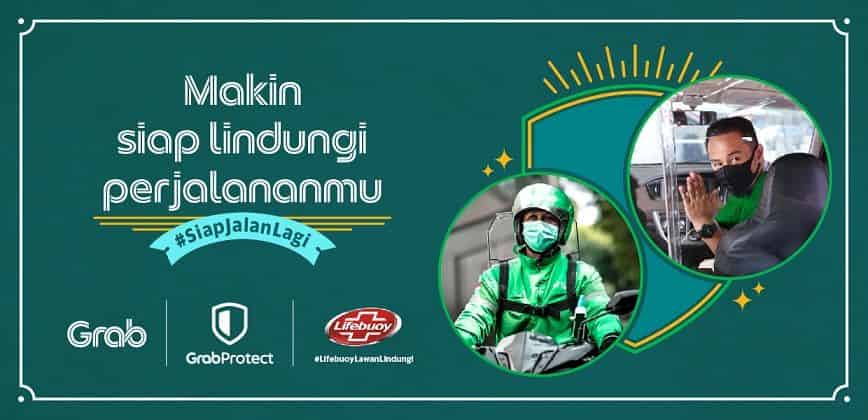 Grab jalin kerjasama dengan Lifebuoy untuk melengkapi armada GrabProtect dengan Lifebuoy Hand Sanitizer sebagai perlindungan tambahan untuk memberi pengalaman berkendara yang aman dan higienis bagi mitra pengemudi dan penumpang
Dengan visi dan misi yang sama, Grab dan Unilever terus berupaya untuk menghadirkan inisiatif untuk bersama-sama melewati masa ini
Jakarta, 20 Juli 2020 – Pada masa PSBB transisi, sebagian besar orang Indonesia mulai kembali ke rutinitas sehari-hari mereka, tetapi dengan kesadaran yang semakin tinggi akan pentingnya keselamatan dan kebersihan. Menjawab kebutuhan ini, Grab Indonesia menjalin kolaborasi dengan PT Unilever Indonesia, Tbk. dan brand-nya, Lifebuoy guna menghadirkan rasa aman dan nyaman bagi pelanggan untuk siap beraktivitas. Kemitraan ini mencakup melengkapi armada GrabProtect (GrabBike dan GrabCar) di 15 kota di seluruh Indonesia dengan Lifebuoy Hand Sanitizer.
Mulai bulan Juni 2020, Unilever dan Grab telah mendistribusikan Lifebuoy Hand Sanitizer  Skin Immunity Boosting secara gratis kepada sekitar 11 ribu armada GrabCar Protect di 15 kota, untuk semakin meningkatkan keamanan dan kebersihan dalam berkendara. Inisiatif ini bertujuan mendukung GrabProtect yang telah diluncurkan dengan fitur keamanan terbaru, peralatan kebersihan, serta kebijakan keamanan terbaru, termasuk pemasangan partisi plastik antara pengemudi dan penumpang untuk melindungi risiko penyebaran. Dengan hadirnya GrabBike Protect yang bisa beroperasi di beberapa lokasi zona hijau, Unilever juga akan melengkapi lebih dari 4 ribu armada GrabBike Protect tersebut dengan Lifebuoy Hand Sanitizer. Kedepannya, pembagian hand sanitizer akan terus ditambah sesuai dengan jumlah armada GrabProtect yang terus meningkat.
"Kami menyadari bahwa masyarakat Indonesia berharap untuk kembali beraktivitas, tetapi mungkin mengkhawatirkan keselamatan mereka. Kami ingin memastikan bahwa mereka memiliki cara paling aman untuk bepergian bersama Grab. Dengan GrabProtect, pelanggan dan mitra pengemudi kami dapat merasa tenang dan aman melalui berbagai langkah yang telah kami lakukan. Kami senang dapat bermitra dengan Unilever untuk lebih meningkatkan langkah-langkah kebersihan kami dengan produk mereka yang terkenal dan terpercaya," jelas Neneng Goenadi, Managing Director Grab Indonesia.
Unilever telah hadir di Indonesia sejak 86 tahun yang lalu dan senantiasa mendampingi keluarga Indonesia dengan kehadiran produk-produk berkualitas. Sejak situasi pandemi menyerang Indonesia, Unilever telah mengamati terus perkembangan situasi dan kebutuhan serta berupaya untuk memberikan dukungan berkelanjutan yang dibutuhkan. Sampai saat ini Unilever Indonesia telah memberikan bantuan dalam berbagai bentuk termasuk produk dan alat kebersihan untuk 100.000 masjid di seluruh Indonesia, 52.000 paket makanan serta 60.000 masker N95 untuk petugas kesehatan, serta 40.000 test kit PCR yang disalurkan lewat BNPB.
Sri Widowati, Chief of Growth and Digital Transformation Unilever Indonesia menyampaikan, "Unilever memahami pentingnya rasa aman dan nyaman bagi masyarakat yang akan kembali beraktivitas di masa penuh tantangan seperti ini. Oleh karena itu, Unilever Indonesia berkomitmen untuk terus menyediakan produk-produk terpercaya yang dapat melindungi sesuai standar kesehatan yang diakui, bagi konsumen di seluruh Indonesia."
Sejak April hingga Juni 2020, Grab telah berkomitmen sekitar Rp 260 miliar untuk inisiatif memerangi COVID-19 dan melahirkan 24 inisiatif terbaru. Unilever juga merupakan salah satu perusahaan yang berpartisipasi dalam inisiatif donasi Grab kepada mitra pengemudi dan mitra pengantaran dengan mendistribusikan berbagai produk kebersihan, seperti sabun mandi, sabun cuci piring, dan cairan pembersih lantai untuk membantu kebutuhan sehari-hari mitra pengemudi dan mitra pengantaran.