Grab Business Forum 2022 Jadi Ajang Diskusi Inovasi Digital Berbagai Pemimpin Industri Terkemuka
Perkuat Komitmen Grab for Business untuk dukung lebih dari 7.000 perusahaan memanfaatkan potensi digital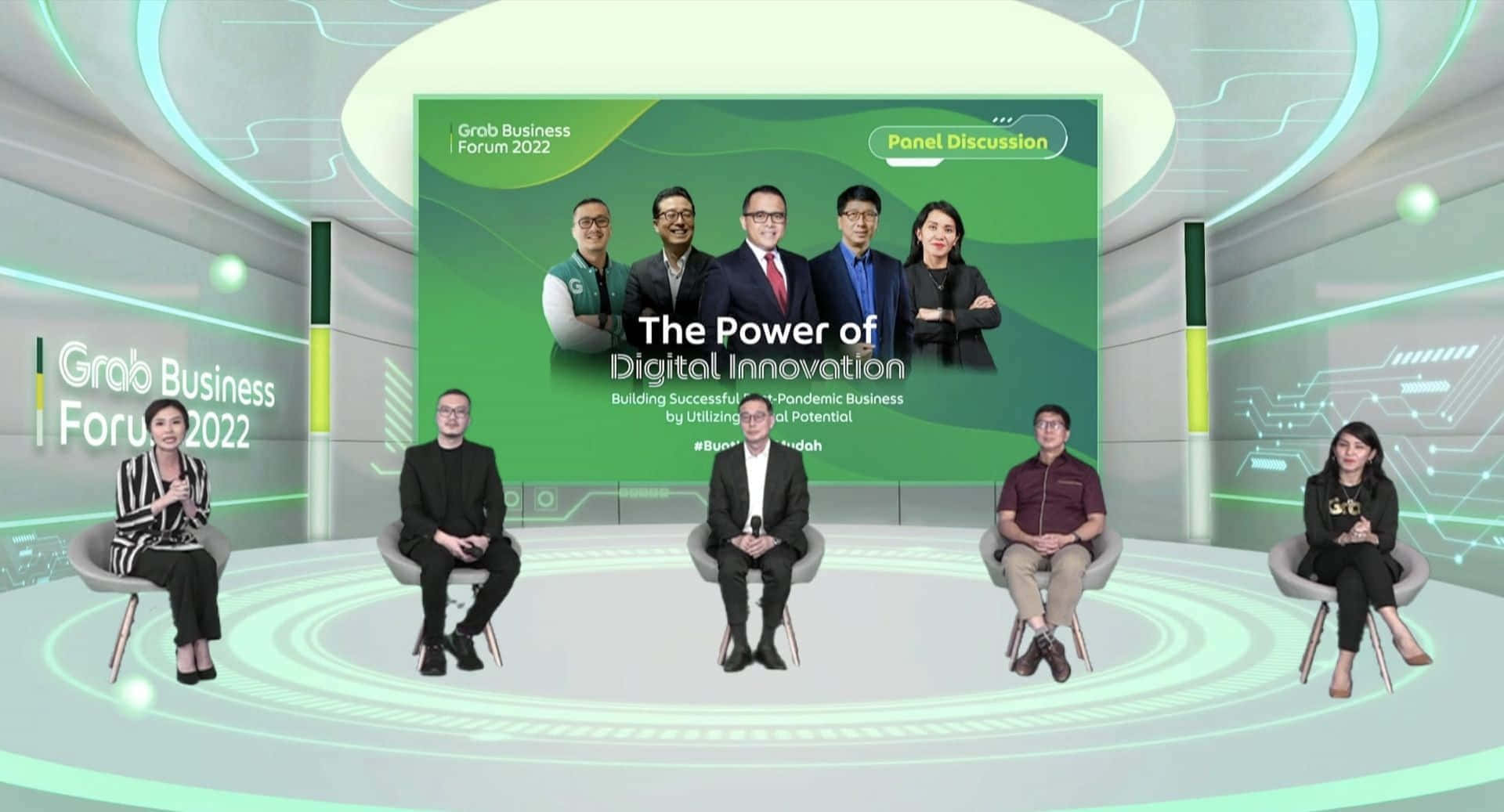 Ki-Ka: Roy Nugroho Director of Grab for Business, Grab Indonesia, Kang Hyun Lee Vice President Hyundai Motor Asia Pacific HQ, Sutanto Hartono Managing Director EMTEK Group, Tirza R. Munusamy, Director of Central Public Affairs, Grab Indonesia dalam Business Panel Discussion:  Building Successful Post-Pandemic Business by Utilizing Digital Potential
Jakarta, 25 Maret 2022 – Grab Business Forum 2022 kembali mengajak perusahaan Indonesia untuk mendiskusikan digitalisasi sebagai pendorong pemulihan ekonomi dan bisnis. Bertajuk "The Power of Digital Innovation: Building Successful Post-Pandemic Business by Utilizing Digital Potential", perhelatan virtual akbar ini merupakan tahun ketiga diselenggarakan, dimana para pembicara akan berbagi mengenai manfaat peluang digital untuk membantu sektor bisnis secara optimal setelah pandemi.
Grab Business Forum tahun ini terbagi dalam dua sesi acara, yaitu Executive Forum dan Business Talks bersama puluhan pembicara terkemuka dari sektor pemerintahan, transportasi, kesehatan, perbankan, logistik, dan teknologi. Hadir dalam sesi Executive Forum, Luhut Binsar Pandjaitan, Menteri Koordinator Kemaritiman dan Investasi Republik Indonesia; Ridwan Kamil, Gubernur Provinsi Jawa Barat; dan Gita Wirjawan, Menteri Perdagangan Republik Indonesia (2011-2014), Pendidik dan Entrepreneur yang membahas seputar pemulihan ekonomi yang berkelanjutan, investasi digital untuk ekonomi Jawa Barat sebagai pusat ekonomi proyeksi ekonomi, serta megatrend  masa depan industri bisnis Indonesia. 
Sejumlah pembicara yang merupakan mitra strategis Grab dan klien perusahaan Grab for Business juga turut berbagi dalam sesi panel diskusi dan Business Talks. Mulai dari Lembaga Kebijakan Pengadaan Barang/Jasa Pemerintah (LKPP), EMTEK Group, Hyundai Motor Asia Pacific HQ, Jaklingko, PLN, OVO, KAI Services, POS Indonesia, DHL Indonesia, Mahadasha, hingga sektor perbankan dan kesehatan seperti Bank Jateng, Bank Syariah Indonesia, Bank Central Asia,  Kalbe Nutritionals, Dexa Medica.
Neneng Goenadi, Country Managing Director of Grab Indonesia mengatakan, "Inovasi digital menjadi semakin penting terutama pada masa pandemi ini. Laporan E-Conomy SEA 2021 menyatakan bahwa ada 21 juta konsumen digital baru di Indonesia hingga paruh pertama 2021. Sementara 28 persen dari pelaku bisnis di Indonesia menyatakan, tanpa platform digital, usaha mereka berpotensi tutup karena pandemi. Hal ini membuat banyak bisnis mulai melihat kembali strategi bisnis mereka, terutama dalam melakukan transformasi digital untuk mendukung kebutuhan bisnis yang terus berubah. Grab telah berkomitmen untuk dapat menghadirkan solusi teknologi tidak hanya untuk individu dan UMKM, tapi juga bagi perusahaan yang terus berlari, mengadopsi teknologi untuk memberikan dampak positif bagi karyawan, pelanggan, dan juga bisnis mereka."
Dalam rangka mendukung perusahaan, Grab telah menghadirkan solusi untuk perusahaan yang akhirnya secara resmi diluncurkan melalui platform berbagai layanan Grab for Business pada 2019. Mulai dari layanan transportasi on-demand seperti GrabBike dan GrabCar, pengiriman dokumen dengan GrabExpress, kebutuhan konsumsi untuk acara perusahaan melalui GrabFood for Business, belanja perusahaan dengan GrabMart, atau untuk mengapresiasi karyawan dengan GrabGifts. Perusahaan juga dengan mudah dapat mengelola dan mengawasi penggunaan operasionalnya secara efektif dan efisien melalui portal Grab for Business. 
Roy Nugroho, Director of Grab for Business, Grab Indonesia menyampaikan, "Grab for Business terus konsisten hadir sebagai pelopor platform digital dalam melayani kebutuhan harian lebih dari 7.000 perusahaan untuk meningkatkan produktivitas, efisiensi, dan growth. Tidak hanya melalui berbagai layanan digital, namun kami menyelenggarakan acara tahunan Grab Business Forum yang ditujukan sebagai wadah diskusi dan berbagi para pemimpin terkemuka dan perusahaan mengenai peran digitalisasi. Pengalaman perusahaan yang sudah memanfaatkan potensi digital di berbagai sektor diharapkan dapat menginspirasi perusahaan di Indonesia untuk dapat terpacu memberikan layanan terbaik bagi karyawan dan pelanggan dengan dukungan teknologi."