Grab Opens Two New Delivery-Only Kitchens, GrabKitchen, to Bring Indonesians' Favourite Foods Closer to Them
Grab, Southeast Asia's leading everyday super app, today announced the opening of two delivery-only kitchens, GrabKitchen, in Jakarta, Indonesia.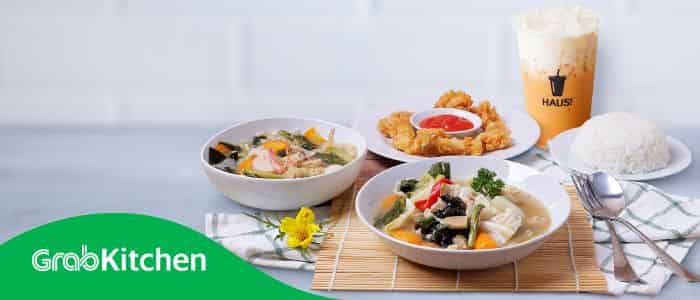 Located in Cideng and Kramat, each kitchen will feature a mix of popular food and beverage (F&B) brands cooking up delicious specialty dishes for the local community
Consumers can enjoy more quality food options in the area and faster delivery
The two new kitchens are part of GrabFood's ambitious growth plans to be the leading food delivery service in Southeast Asia in 2019
Jakarta, Indonesia, 15 April 2019 – Central Jakartans are in for a treat! Grab, Southeast Asia's leading everyday super app, today announced the opening of two delivery-only kitchens, GrabKitchen, in Jakarta, Indonesia. Located in Cideng and Kramat, GrabKitchen brings the most sought-after foods on GrabFood closer to consumers who live, work and happen to be in the area.
GrabKitchen is a delivery-only kitchen, also known as cloud kitchens, that unites multiple F&B brands in a single central kitchen to plug the cuisine gaps in specific areas. GrabKitchen not only increases the diversity of food choices in the area but also reduces delivery time for orders, resulting in improved consumer experience. This concept was introduced in Indonesia in September 2018 when GrabFood opened its first delivery-only kitchen in West Jakarta.
With the two newly minted delivery-only kitchens, GrabFood now operates a total of three GrabKitchen outlets in Jakarta, deepening its commitment to better connect consumers to their local favourite foods, and to empower merchants to grow.
"We find innovative and creative ways to better serve our consumers and this is one of the reasons our food delivery business has grown extremely fast in Indonesia and across Southeast Asia. GrabFood delivery volume grew almost 10x in Indonesia from December 2017 to December 2018, and we're now partners with many of Indonesians' top national and international brands and local merchants. We're on the path to leadership and we believe that our GrabKitchen network will be a game-changing experience for our consumers. We plan to add more GrabKitchen outlets in Indonesia by the end of the year, and we invite interested merchants to join us in this journey of rapid expansion," said Tomaso Rodriguez, Vice President of GrabFood.
Designed and built specially for the community
GrabFood's tech and on-ground operations team conducted an in-depth analysis of users' commuting and eating patterns on the Grab app to identify potential locations and merchants for the new kitchens. Combining insights from consumer research, data on the most highly searched items on GrabFood and the movement of people and food orders during mealtimes, GrabFood has partnered with eleven popular merchants who are known for their dishes that residents in Cideng and Kramat have been longing for. The eleven merchant-partners to join the new kitchens are:
Partners
Specialities
Kitchen location
Ayam Asix
Known for its crispy fried chicken, Ayam Asix is among the top ten most popular merchant in Jakarta.
Cideng and Kramat

Dons Burger

 

This fast-growing burger brand is known for their scrumptious burgers and juicy patties, paired with creamy and tangy homemade mayonnaise sauce. Dons Burger is sure to satisfy the growing burger-loving community here.
Cideng and Kramat

HAUS!

 

One of the most searched for beverage brands, HAUS! is best known for its wide selection of refreshing iced cold drinks. From fruit teas to milk teas to milo to coffee and yakult-based drinks, there's never a boring day when you order from HAUS!
Cideng and Kramat

RM Pilar Minang

 

How can we not bring this famous Padang restaurant to Kramat residents? With six outlets across Jakarta, this well-loved merchant on GrabFood is sure to add some spice to your life.
Kramat

Makaroni Ngehe

 

Craving something spicy and savoury to snack on? This multi-chain macaroni shop has finally arrived in Cideng to satisfy your cravings.
Cideng
Piscok Super
When tradition meets modernity, foodies stand to win. Well-loved for their exciting spread of banana treats with different toppings and flavours, our super star merchant in Makassar has come to Jakarta to satisfy your unmet dessert cravings. As people often say, no matter how full you are, there's always room for dessert.
Cideng

Bakmi Setiabudi

 

As GrabFood is all about bringing the best foods from the best merchants closer to consumers, we've convinced this highly favoured bakmi merchant from Setiabudi to finally open a second outlet in Indonesia.
Cideng

Amarly Food

 

Consistently on our top 50 list, Amarly Food brings you tasty Chinese food and many rice dishes that will set your taste buds tingling.
Cideng

Kebab Monster

 

Sink your teeth into Kebab Monster's power-packed kebabs to enjoy a delicious mix of protein, fibre and carbohydrates. With ten outlets across Jakarta, it's about time we bring this popular brand to residents in Kramat.
Kramat

Fish Streat

 

Fish Streat brings the ocean to Kramat. Their golden-battered fish and chips and wide seafood selection is any seafood lovers' dream.
Kramat

Baso Aci Juara

 

Baso Aci Juara always saves the day with a comforting, yummy, piping hot bowl of Baso. You can't go wrong with this.
Kramat
"We are honoured that some of the top local merchants in Indonesia have chosen to expand their business with us. We are confident that GrabKitchen will give merchants the best chance of success. Our work doesn't stop here. We'll continue to use data to help merchants optimise their business, reach new revenue potentials, and capture any unmet demands in the market," said Ridzki Kramadibrata, President of Grab Indonesia.
While delivery-only kitchen is still a relatively new concept in Indonesia, results from Grab's first GrabKitchen in West Jakarta has shown tangible benefits.
Faster delivery, more variety: By bringing brands to consumers through GrabKitchen, average delivery time of GrabFood orders in West Jakarta reduced by 20%. Consumers not only enjoy more quality food options but faster delivery – the two things they care the most about.
Move-in condition, rent-free location: GrabKitchen is the cheapest and least risky way for merchants to expand to new locations. Merchants who join GrabKitchen do not have to pay to fit out the kitchens or pay any rent to use the space. As each location and merchant are thoughtfully selected based on the gaps in the market, merchants have the best chance of success. Merchants in Grab's first kitchen are completing more orders daily and are among the top 1% earners of micro-small and medium enterprises on GrabFood.
More jobs, higher income: More orders translate to more jobs for delivery-partners. Delivery-partners on Grab's platform today earn 40% more from GrabFood orders, on top of taking rides.
To celebrate the launch of the two new GrabKitchen outlets, consumers who are within five kilometers of the Cideng and Kramat kitchens can enjoy discounted delivery fee of 1000 IDR  from now to the end of April when they order from any merchants there.
GrabFood is the fastest-growing food-delivery service with the largest regional presence in Southeast Asia. GrabFood is the only food delivery service that currently serves six major Southeast Asian countries: Indonesia, Singapore, Malaysia, Vietnam, Thailand and the Philippines. In Indonesia, GrabFood is available in 178 Indonesian cities. Currently the leading food delivery service in Thailand and the Philippines, GrabFood is set to be the #1 food delivery service in Southeast Asia in 2019.
For more information about GrabFood, visit: https://www.grab.com/id/food-blog/