Gak cuma Newt aja yang penuh kejutan, kita juga punya lho 🔮✨ Siap-siap kembali ke Dunia Sihir dengan kesempatan nonton berdua GRATIS Fantastic Beasts: The Secrets of Dumbledore!
Caranya gampang banget! Cukup langganan paket diskon Grab Unlimited Rp1rb dan ikuti kuis #NobarGrab #FantasticBeasts di akun Twitter @grabid.
Cus, ikuti cara lengkapnya di bawah ini dan sampai ketemu di bioskop ya! 🧙🏻‍♂️
Langganan Paket Grab Unlimited dulu yuk!
Serbu ratusan ribu diskon makan, belanja, kirim-kirim & jalan-jalan seharga Rp1 hanya di paket Grab Unlimited 🎉 Simpan bukti pembelian paketmu untuk mengikuti kuis di akun Twitter.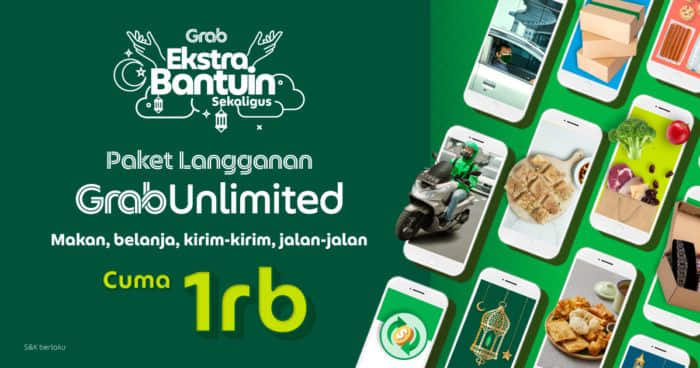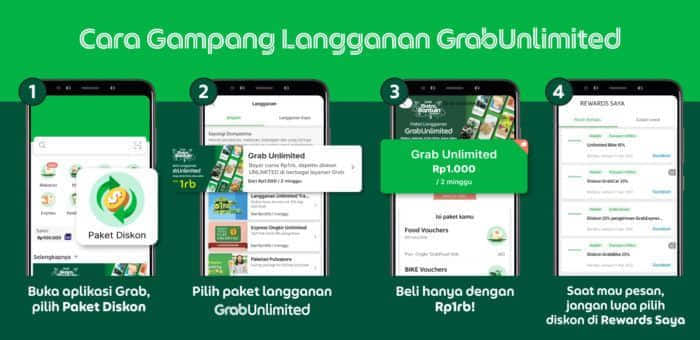 Jangan lewatin kuisnya di akun Twitter @grabid
Potterheads, siap-siap ikutan kuis #NobarGrab #FantasticBeasts di akun Twitter @grabid ya! Sertakan bukti pembelian Paket Grab Unlimited-mu, dan ikuti ketentuannya
Sertakan #NobarGrab #FantasticBeasts

Pemenang akan dipilih berdasarkan jawaban & bukti pembelian Paket yang sah

Kuis ini hanya berlaku di

Jakarta

Pemenang akan dihubungi oleh tim Grab via direct message paling lambat 2×24 jam setelah pengumuman untuk mengkonfirmasi data dan detail hadiah 
Hadiah hanya berlaku hanya pada hari Jumat, 22 April 2022 untuk penayangan Fantastic Beasts: The Secrets of Dumbledore di di bioskop yang telah ditentukan
Hadiah tidak dapat digabungkan maupun diuangkan
Hadiah berlaku untuk 2 orang
Selamat untuk para
Pemenang!
Pake promo Grab buat pulang pergi dan ngemil di bioskop!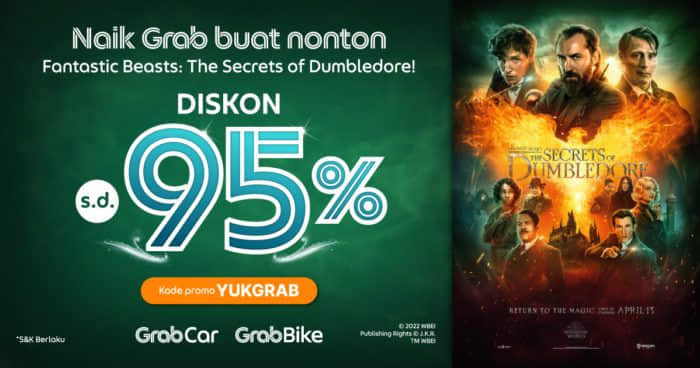 Pake kode promo YUKGRAB dan dapetin diskon s.d. 95% buat naik Grab dari dan ke bioskop buat nonton.
Biar makin lengkap, jangan lupa beli camilan sebelum nonton pake kode promo GFXFB3. Dapetin diskon s.d. 25rb untuk layanan GrabFood  'Ambil Sendiri/Self Pick-Up.'
Syarat & ketentuan promo code:
Diskon s.d. 95% untuk perjalanan GrabBike/GrabCar.

Promo berlaku untuk perjalanan dari dan ke mall/bioskop.

Promo hanya bisa digunakan untuk 1x perjalanan.

Berlaku untuk semua metode pembayaran, termasuk Ovo points.

Promo tidak termasuk parkir.
Periode promo berlaku dari 12 – 30 April 

Promo hanya berlaku untuk pesanan dengan fitur 'Self Pick-Up/Ambil Sendiri' di merchant XXI 

Promo memiliki kuota terbatas

Promo berlaku untuk pembayaran menggunakan OVO Cash/Poin dan Kartu Kredit/Debit