Grab announces programme winners of Grab Ventures Ignite batch 1
bePOS, Stringee, GoDee, Papaya and Vbee named as programme winners of Grab Ventures Ignite batch 1.
Grab Vietnam is also exploring partnership opportunities with winning startups, enabling them to tap into Grab's unparalleled market access, technology capabilities and customer base in Vietnam.
A testament of the "Grab for Good" development roadmap aiming to accelerate tech entrepreneurship and grow a thriving tech startup ecosystem in Vietnam.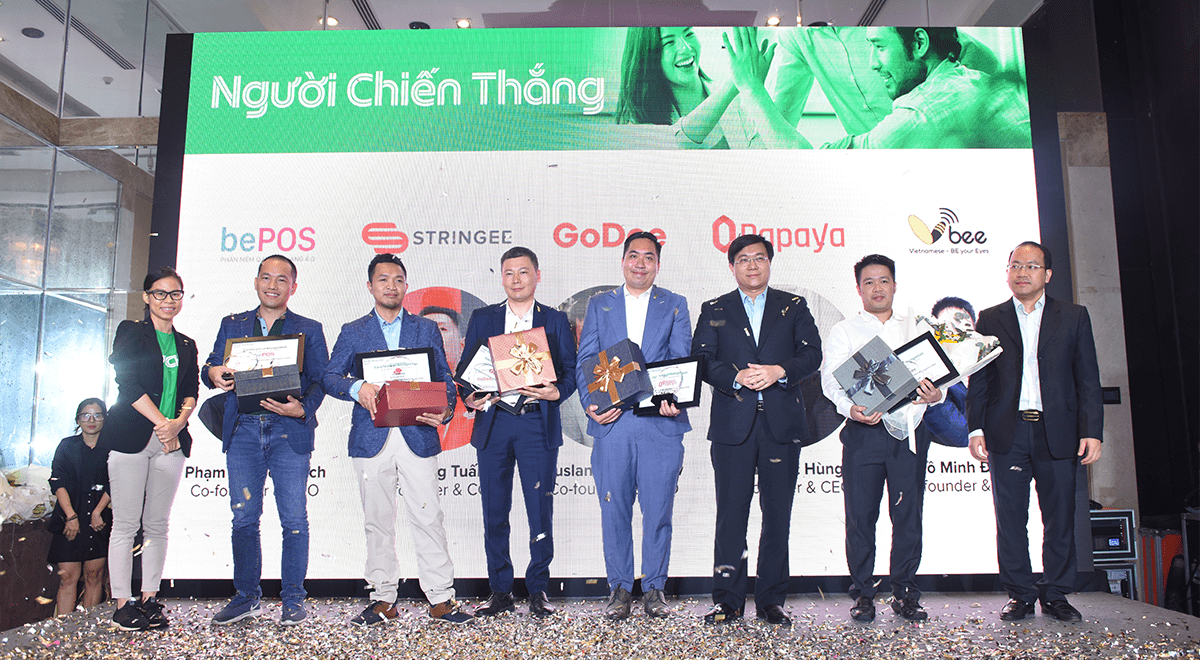 Vietnam, November 24, 2020 – After a rigorous multi-stage selection process, Grab Vietnam today announces bePOS, Stringee, GoDee, Papaya, Vbee as the 5 winners of the first batch of Grab Ventures Ignite, an accelerator programme dedicated to Vietnamese early-stage startups. This milestone marks the successful completion of Grab Venture Ignite's first year journey of nurturing the tech startup ecosystem and growing the next generation of technology leaders in Vietnam. Grab Ventures Ignite is a testament of Grab for Good long-term commitment to proactively contribute to the socio-economic growth of Vietnam in general and the startup ecosystem in particular.
Vietnam is the first country in Southeast Asia that Grab launched Grab Ventures Ignite, in support of the government's national strategy to create 10 technology unicorns by 2030. Grab Ventures Ignite brings Grab's unique strengths and capabilities as the first startup decacorn in Southeast Asia to nurture Vietnam's startups in their early stages. The programme is implemented in strategic partnership with Vietnam National Innovation Center (under Ministry of Planning and Investment) and in association with Singapore's Infocomm Media Development Authority (IMDA), Gobi Partners, Toong, YKVN, Microsoft and Amazon Web Services.
Officially launched in July this year, Grab Ventures Ignite has been supporting 13 participating startups by equipping them with practical knowledge and experience to thrive their businesses in the new normal. Specifically, over the last three months, all participating startups have had the opportunity to learn how to raise funds and rapidly scale, better market their products and protect their bottom lines as well as to deepen their understanding about Vietnam's macroeconomic landscape in order to emerge even stronger from the Covid-19 crisis. They also got the opportunity to join in 1:1 mentorship with senior leaders of Grab and world-class experts of its programme partners. 
Speaking at the award ceremony, Mr. Vu Quoc Huy, Deputy Director of Vietnam National Innovation Center, said: "Vietnam's technology startup ecosystem is on the rise and the environment for investment is also very advantageous for tech startups to flourish. This is a strong foundation and a motivation for the government and leading tech companies to continue developing Vietnam's startup ecosystem. We highly appreciate the efforts Grab Vietnam has spent to accelerate the growth of the tech startup ecosystem with us. I congratulate 5 best startups of the first batch of Grab Ventures Ignite programme, and believe that with creativity and ambition from these shiny winning startups, together we can grow Vietnam stronger to become a new "startup hub" of the region in the near term."
Ms. Nguyen Thai Hai Van, Managing Director of Grab Vietnam emphasized: "Many startups have challenges over scaling past the early stage due to difficulties in optimizing funds, scaling effectively in a high-growth and dynamic market, pivoting business models to cope with the rapidly changing landscape. As SEA's home-grown tech company that has successfully built a pan-SEA business, we understand the problem, we know how to scale and we would like to share that with Vietnamese startups through Grab Ventures Ignite. Batch 1 of Grab Ventures Ignite has come to an end with the award ceremony today, yet ignites a next chapter for all to dream bigger, innovate better and scale up faster to create an outsized impact on the entire tech startup ecosystem in Vietnam."
Grab Vietnam also announces that it is in discussion to explore potential partnership opportunities with winning startups, enabling them to access and leverage Grab's vast market access, technology capabilities and expertise in Vietnam to expand their suite of products and services. Further details will be announced in the next few weeks.
Mr. Tran Duy Dong, Deputy Minister of Planning and Investment remarked: "Vietnam targets to create 10 technology unicorns by 2030 and over the years, the government has been introducing a lot of initiatives to help promising Vietnamese startups flourish. But there is an increasing need for better, stronger participation of private companies like Grab to help startups develop business opportunities and grow the tech ecosystem in the country. Especially when we are entering the New Normal and international economies are shifting in a way that benefits Vietnam, the opportunity is ripe for us to become a tech startup hub in the Southeast Asia region where we can drastically promote innovation and digitalisation and our startups can internationalise their fast-growing business to succeed in the long term."
For more information about Grab Ventures Ignite, please visit https://ventures.grab.com.