Grab integrates public transportation options into its app, first in Thailand to introduce 'Mobility as a Service' (MaaS) solution for mass market consumers
Grab launches 'Trip Planner' feature that integrates public transportation options directly into the Grab app, with Grab services offering first-mile-last-mile rides to and from public transit stations or bus stops
Grab is the first in Thailand to pilot Mobility as a Service (MaaS) solution, putting the power of choice into the hands of commuters at the price point and convenience level they desire
Grab collaborates with the government to support its long-term Smart Mobility vision to develop smart cities nationwide, under the "Mobility as a Service: a Smart Solution for Smart Cities" framework
This new public transit offering further establishes Grab as Southeast Asia's super app for everyday mobility needs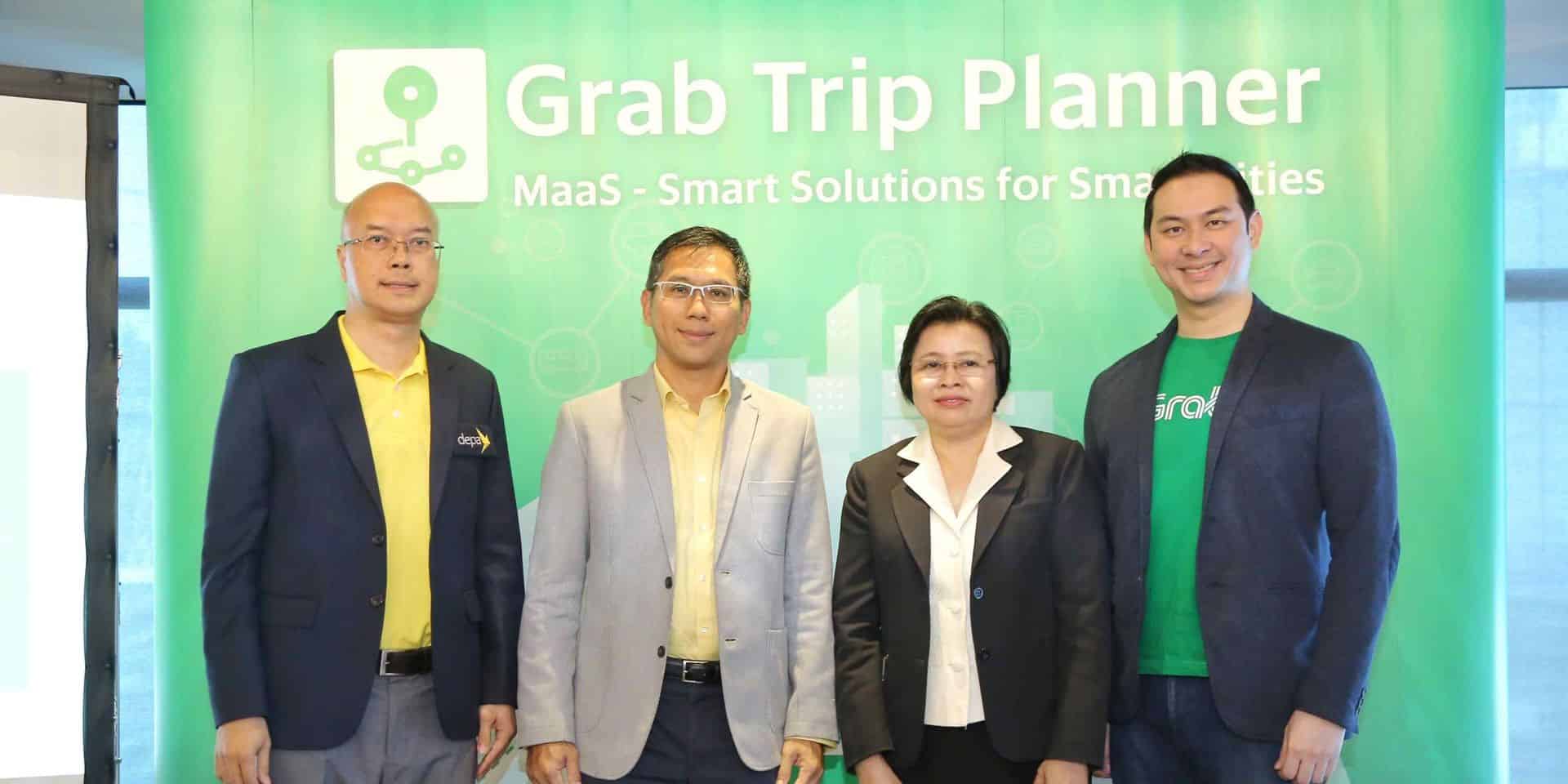 Bangkok, 23 April 2019 – Grab, the leading super app in Southeast Asia, today launched a new 'Trip Planner' feature that integrates public transportation options directly into the Grab app. To complement these public transportation options, Grab has also connected its services such as GrabBike (Win) or JustGrab to serve first-mile-last-mile trips to and from public transit stations or bus stops – a first-of-its-kind in Southeast Asia.
This significant step goes towards realising Grab's mobility vision of making daily commutes more seamless, accessible and affordable for millions in Thailand and Southeast Asia. This new public transit offering marks the first-ever pilot of the Mobility as a Service (MaaS) solution in Thailand for mass market consumers, in support of the government's Smart Mobility vision to develop smart cities nationwide. In partnership with the government, Grab is committed to reducing reliance on private car ownership to bring about less-congested and less-polluted cities.
Ms. Laksanawadee Tanamee, Director of Transport and Traffic Information Technology Center, Office of Transport and Traffic Policy and Planning (OTP), Ministry of Transportation said in the welcoming speech, "Our main mission is to improve basic infrastructure and provide public transportation services to drive economic and social development, to enhance Thai livelihoods and sustainability, and to increase the country's ability to compete. The Office of Transport and Traffic Policy and Planning under the Ministry of Transport designates the directions and drives the development of the Thai transportation system. In recent years, the ministry has determined a 20-year strategic plan for the development of the Thai transportation system (2017-2026) as a framework for further long-term enhancement in line with 20-Year National Strategy and the vision of Thailand 4.0. Today's launch is a tangible effort to move Thailand toward an efficient transportation network that is in line with the National Strategy, with the private sector participating in the process, supporting the government's policy for economic and social development, and adapting its innovations and smart technologies to advance transportation efficacy. Through this initiative directed toward Smart Mobility, everyone will be able to access the transportation system conveniently and safely and we believe it will change the system and lead to the realization of the vision in the National Strategy framework that aims to build 'stability, prosperity, sustainability' in the near future."
A discussion on "Mobility as a Service: Smart Solution for Smart Cities" was held during the event to exchange views on establishing and pushing through a Smart Mobility system in accordance with the National Strategy for Thailand 4.0 policy, whose mission is to reform the Thai economy and see it driven by innovations.
Dr. Passakon Prathombutr, Senior Executive Vice President, Digital Economy Promotion Agency (DEPA), said, "In creating a smart city, transportation and traffic are considered basic structures where technologies can be applied in their administration. One of Smart Mobility system patterns that several countries have already put in practice is Mobility as a Service (MaaS), through which commuters can choose their combinations of public transportation and the private sector's ride services through online platforms, paid by monthly subscriptions or by usage. In Thailand, the government is initiating a smart city development plan that depends on Smart Mobility, the main core of city development. Blending smart technologies and innovations with the traffic and commuting system, such as the transportation planning feature or Grab's idea of Mobility as a Service (MaaS), is one example of combining cooperation with and specialization of the private sector to tangibly drive a city toward smart city status through the government's projects. Not only will residents of 7 beta provinces – Bangkok, Phuket, Chiang Mai, Chonburi, Rayong and Chacheongsao – enjoy advantages and conveniences through these services, but so will tourists. This supports the Thai tourism industry while also aligning with today's technological society."
Assoc. Prof. Sorawit Narupiti, Ph.D., Department of Civil Engineering, Faculty of Engineering, Chulalongkorn University, said, "Traffic jam is still one of the biggest problems faced by Thailand partly because the basic structure of public transportation is incomplete, resulting in unconnected first-mile-last-mile trips. People still rely on personal vehicles. One solution is using ride-hailing services and providing road information to help commuters choose their methods of transportation, routes and fees in ways that are affordable, time-saving and avoid traffic congestion. Service providers who are able to plan and integrate all the methods together into Mobility as a Service (MaaS) will help increase convenience in commuting, reduce traffic congestion, lower the demand for car use, and decrease traffic pollution. Transportation will be smooth, accessible and cost-effective, give value to the existing resources and move the country's system toward Smart Mobility."
Mr. Tarin Thaniyavarn, Country Head of Grab Thailand, said: "In Bangkok, there are 9.8 million registered private cars and motorcycles, which is 8 times more than what the existing road infrastructure can accommodate, and the numbers are increasing day by day[1]. These trends underpin the massive congestion problems plaguing the city. Our long term vision is to make people's everyday commute so reliable and seamless that they eventually choose to leave their vehicles at home. Mass transit – via high-quality public transport – is the only way to achieve this without adding cars to the roads. With 'Trip Planner', we are giving access to more affordable mass transit options for everyday use, and more importantly, a compelling substitute to private vehicles."
"With the 'Trip Planner' feature, Grab leads the way in piloting the 'Mobility as a Service' (MaaS) solution in Thailand. Our ultimate goal is to learn and iterate with this initial public transit offering and see how we can best solve consumer pain points in daily commute. Whether it is to take public transit (bus, train or ferry) for most of the distance and ride a JustGrab or GrabBike (Win) for some part of the way, the power of choice is now put into the hands of commuters at the price point and convenience level that they desire. Most importantly, our foray into MaaS aligns with Thailand's smart city vision which aims to build an innovation-driven future and provide more convenience and accessibility in transportation, while sustainably enhancing the livelihoods of Thais," Mr. Tarin added.
First launched in Greater Jakarta, Indonesia, in March, the 'Trip Planner' feature has now been expanded to Bangkok, Thailand, Singapore and Kuala Lumpur, Malaysia. Users in Bangkok who prefer to use public transit options can now use the 'Trip Planner' feature to plan their journey with accurate public transportation information and end-to-end directions within the Grab app. The Grab app will display public transit schedules from Bangkok Mass Transit System (BTS Skytrain), Metropolitan Rapid Transit (MRT), ferries and buses in Bangkok to make transportation seamless, accessible and affordable for mass market consumers.
Once a user enters their destination via 'Trip Planner, they will be able to view available public transit routes nearby that will get them to their destination, along with departure and arrival times. They will also receive walking directions or recommendations of first-mile-last-mile transportation options such as GrabBike (Win) or JustGrab to and from public transit that they can book right away. This offers greater predictability and certainty for daily commute and allows users to plan their end-to-end journey better.
Public transit partners will benefit from increased ridership as Grab helps to extend the reach of mass transit by leveraging Grab's network of ride-sharing services and journey planning. They will also get to understand how commuters use public transportation services in-app, and identify any gaps in existing public services that need to be plugged to improve accessibility for all. Grab welcomes public transit companies to come on board and collaborate with Grab to serve commuters better. For more information on Trip Planner, please visit https://www.facebook.com/GrabTH/.