Grab launches a Southeast Asia first GrabTukTuk Electric in Chiang Mai
Grab joins Chiang Mai Smart Mobility Alliance Network to bring about cleaner, safer and more efficient mobility solutions for Thais
Launches GrabTukTuk Electric, a first in Southeast Asia (SEA), in Chiang Mai, digitising a public transportation mode that is well-loved by locals and tourists, while driving the adoption of electrification to reduce pollution
Part of Grab's long-term commitment to invest in the smart mobility future of Thailand and drive the country's Smart City and 4.0 ambitions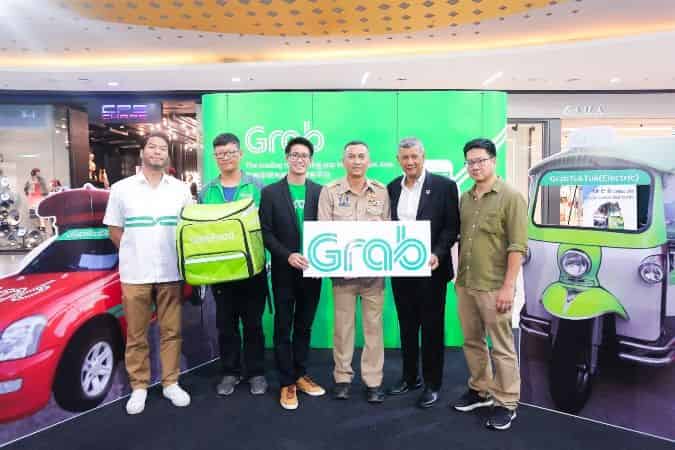 Chiang Mai, 4 June 2019 – Grab, Southeast Asia's leading everyday super app, has signed a Memorandum of Understanding (MoU) with partners from both government and private sector organisations to establish the Chiang Mai Smart Mobility Alliance Network. This public-private partnership aims to reduce the use of private vehicles in Chiang Mai by 35 percent in five years' time, contributing to a less-polluted, less-congested Chiang Mai city.
As part of its partnership commitment to bring about cleaner, safer and more efficient mobility solutions for Thais, Grab launched SEA's first GrabTukTuk Electric to allow locals and tourists to easily book this popular mode of transport through the Grab app. This new service will also create better income-earning opportunities for GrabTukTuk Electric driver-partners as they enjoy up to 80% additional savings in fuel costs. A LPG TukTuk driver incurs total monthly fuel expenses of 6,000 baht, compared to 1,400 baht for the monthly cost of charging an electric TukTuk. Driver-partners can also benefit from higher user demand for TukTuk services due to the convenience of booking through a mobile phone. The GrabTukTuk Electric service will complement the existing wide range of on-demand services that Grab has been offering to locals and tourists in Chiang Mai, including JustGrab, Grab RodDaeng and GrabFood. The goal is to replace 450 LPG TukTuks with electric TukTuks within this year.
With the electrification of TukTuk in Chiang Mai as a start, Grab aims to drive the adoption of more electric transportation options in Thailand and support the Thai government's efforts in driving a smarter and more sustainable mobility future for all Thais. Grab will share insights on reduced carbon footprint resulting from the adoption of GrabTukTuk Electric service in Chiang Mai, and support the local government in their efforts to reduce the reliance on private vehicle ownership and drive the usage of public transportation across the country. Based on statistics from the Energy Conservation Laboratory (EnConLab), KMUTT, one electric TukTuk is estimated to reduce the emission of greenhouse gas by up to 4.18 tons per year.[1]
Mr. Wirun Panthewee, Deputy Governor of Chiang Mai, said, "As one of Thailand's pilot smart cities, Chiang Mai has initiated several projects aimed at transforming city management in all spheres in response to the Smart City vision. Over the past year, we have improved the infrastructure in the Nimmanhaemin area under the 'Smart Nimman' project where the development of transportation has been our top priority so as to increase the efficiency of public transportation, reduce air pollution, elevate the quality of life for the people and move towards Smart Mobility. The Chiang Mai Smart Mobility Alliance Network will thus be key to unlocking the full potential of both the public and private sectors to drive Chiang Mai forward and become one of the first smart cities in Thailand."
Mr. Tarin Thaniyavarn, Country Head of Grab Thailand, said, "We are committed to invest in the smart mobility future of Thailand and bring about cleaner, safer and more efficient mobility solutions for Thais. In partnership with the Chiang Mai government and industry partners, we want to actively contribute towards Chiang Mai Smart Mobility Alliance Network's goal of a less-polluted and less-congested Chiang Mai city. With today's launch of GrabTukTuk Electric in Chiang Mai – a first in Southeast Asia, we are not only making it easier for locals and tourists to book this well-loved public transportation mode through one Grab app, but also driving the adoption of electric transportation options in Thailand. We will also be creating better income-earning opportunities for new GrabTukTuk Electric driver-partners by better connecting them with users. Ultimately, we want to use technology to deliver a better quality of life for everyone in Thailand."
Assistant Professor Dr. Poon Thiengburanathum, the Department of Civil Engineering and Director of the Excellence Center in Urban Study and Public Policy, School of Public Policy, Chiang Mai University, said, "Chiang Mai is one of the three selected pilot cities along with Phuket and Khon Kaen which the government is supporting as they move towards Smart Cities. The collaboration with partners to establish the Chiang Mai Smart Mobility Alliance Network will create a strong force that drives development projects for the city's infrastructure as well as transport services through Smart Mobility. It is one of the seven key factors in developing Smart City as defined by Digital Economy Promotion Agency (DEPA). The partnership and innovation from both the public and private sectors will also benefit the tourism industry through easy access to a seamless network of transportation via an online application. More importantly, we also see the commitment to work together to solve the pollution in Chiang Mai through making public transportation more seamless and accessible. Our plan is to enhance the mass transit system to connect the inner and outer areas of the city. Electric buses will also be launched. Together with GrabTukTuk Electric, the network will provide a public transportation system that has greater coverage, gives commuters more alternatives and lessens the carbon footprint. This will encourage people to use their private cars less and further reduce pollution from exhaust fumes."
GrabTukTuk Electric service is part of Grab's long-term push into environmentally friendly transportation options such as electric and plug-in hybrid vehicles across Southeast Asia for a more sustainable mobility network. As on-demand ride-hailing, food and parcel delivery becomes an indispensable part of people's lives, the electrification of transportation and delivery options will be transformative for the region's sustainable future by significantly reducing carbon footprint. Grab today operates the largest network of eco-friendly vehicles in Southeast Asia and welcomes partnerships with city governments and industry partners to drive greater adoption of electric vehicles across the region. For example, in Singapore, Grab has rolled out a fleet of 200 Hyundai Kona electric vehicles. This electric vehicle fleet is expected to reduce 4 tons (3,850kg) of carbon dioxide per day, and enable Grab's driver-partners to earn up to 25% more in daily income, thanks to fuel savings.
Users in Chiang Mai can start booking their GrabTukTuk Electric ride from the Grab app.