Grab merchant loans triple in first four months, Reaffirming commitment to provide liquidity support to merchant-partners through "easy apply, speedy approval, worry-free daily repayment" features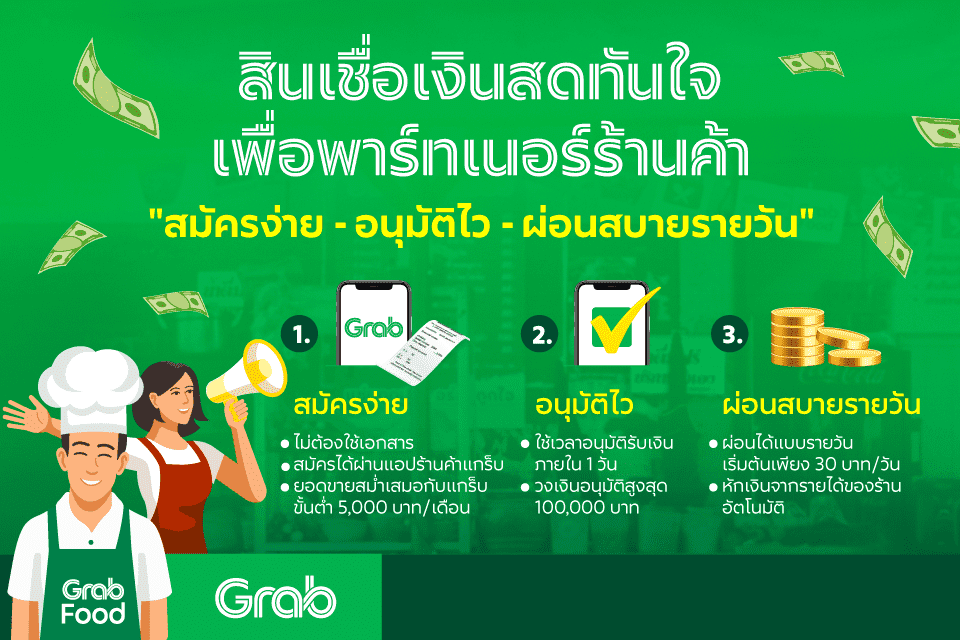 Grab Financial Group, the fintech arm of Grab, a leading superapp in Southeast Asia, saw its new lending volume for merchant-partners in Thailand triple during the first quarter of 2022. This growth corresponds with the rising number of merchant-partners on food delivery platforms and the growing demand for personal loans to improve cash flow during challenging economic circumstances. Grab continues to focus on offering merchant-partners access to funding through three key features: "easy apply – speedy approval – worry-free daily repayment".
Worachat Luxkanalode, Thailand Country Head of Grab Financial Group, said, "Grab Thailand has provided loan services to merchant-partners since 2020 to enable business owners and restaurant operators, especially small restaurants, on our platform to access capital to enhance their financial liquidity and expand their operations. The new lending volume of merchant-partner loans has tripled this quarter, compared to the same period last year, with three in four of the restaurant borrowers located in upcountry areas. Such significant growth is driven by the global economic downturn and impact from the prolonged COVID-19 pandemic. These events have accelerated the need for working capital to manage business cash flow and everyday expenses, as reflected in an upward trend of overall demands for consumer loans throughout 2020, according to the Bank of Thailand's Report on Credit Conditions. At the same time, we have also seen more merchant-partners on our GrabFood platform."
"Grab Quick Cash Loan for Merchant-Partners" is a short-term cash loan with a three-to-six month repayment period, a maximum loan amount of 100,000 baht and a maximum effective interest rate of 2.8% per year, in accordance with the Bank of Thailand's regulations. The lending product has received favourable responses from small merchants which usually have limited access to traditional financial services. This year, Grab continues to provide loan services to everyday entrepreneurs, with three highlight features: "easy apply – speedy approval – worry-free daily repayment".
Easy apply: GrabFood merchant-partners can access the loan service through Grab Merchant App, without collateral or additional document submission. They are only required to have minimum monthly sales of 5,000 baht on GrabFood and at least three consecutive months of transaction history with Grab.
Speedy approval: Merchant-partners can receive the loan approval within one day, after confirming the loan terms. The system utilises merchant-partners' data to assess risks and determine a suitable loan amount for each restaurant's financial capability and needs, which allows partners to quickly access the funds.
Worry-free daily repayment: The repayment, starting from 30 baht per day, will be automatically deducted from merchants' sales transaction, enabling them to easily manage their expenses without having to worry about making large amounts of monthly repayments.
"Grab Financial Group will continue to enhance our lending service with a focus on customising products to meet the various needs of micro enterprises. We plan to increase the maximum credit to over 100,000 baht to cater to the operational needs of large-sized restaurants, extend the repayment period to offer small merchants more flexibility in cash flow management and business expansion, and enable more partners to access the loan service in efforts to support them in growing their business and responding to consumer demands," concluded Worachat.