GrabMart presents 'Moment Marketing,' driving Quick Commerce business with new feature launch, special gift sets, and hot promotions this Valentine's Day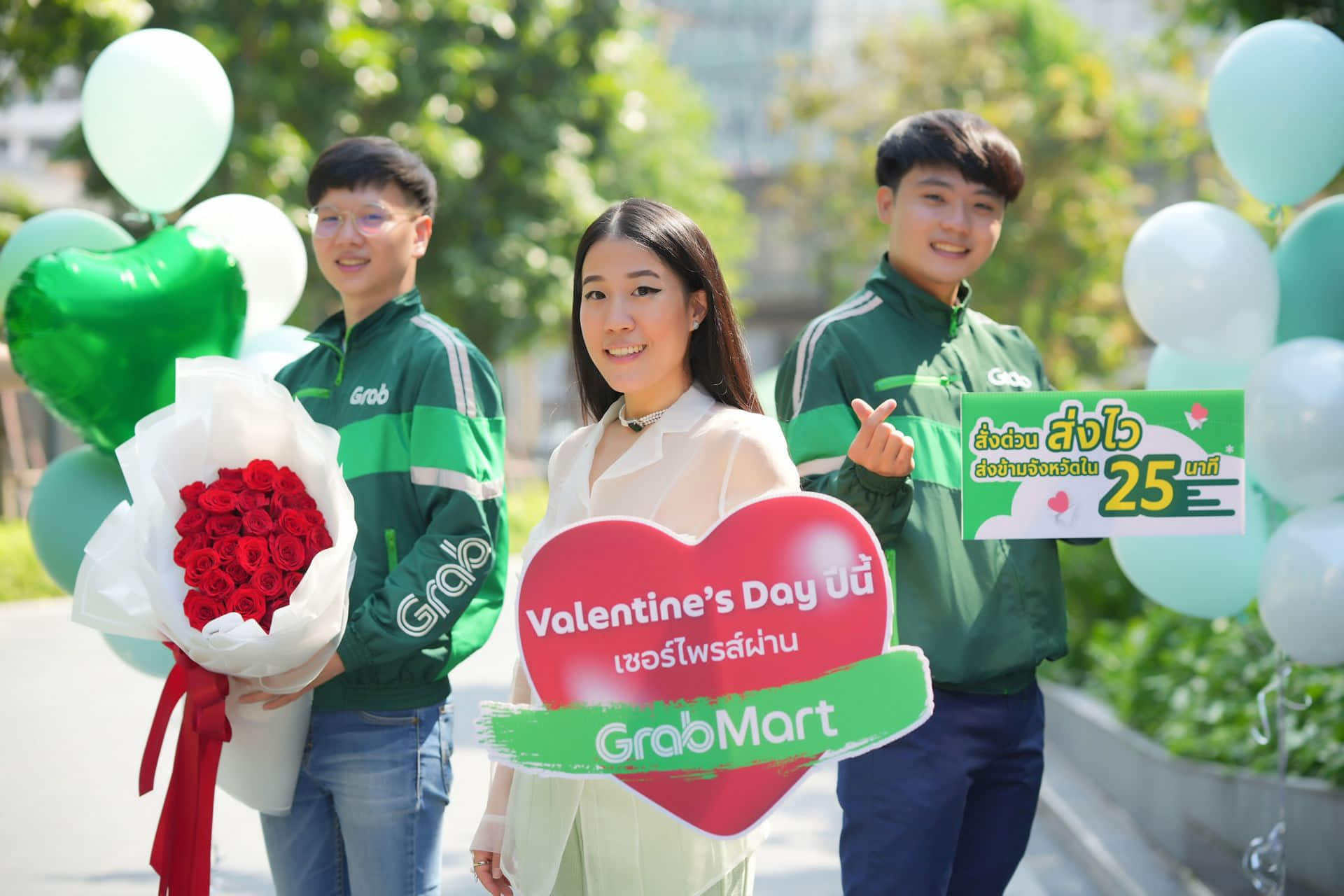 Grab Thailand battles in the arena of the Quick Commerce market, highlighting its "Moment Marketing" strategy to drive "GrabMart" business this loving festive season. In collaboration with leading brands, Grab provides multiple special gift sets, hot deals, and the new feature launch of a nationwide and overseas delivery for all shoppers this coming Valentine's, aiming to grow the service usage.
Ms. Chantsuda Thananitayaudom, Country Marketing & Partnership Head, Grab Thailand said "The on-demand or instant delivery via online ordering services are currently and continuously on the rise due to the behaviors and needs of today's consumers in receiving quick and convenient delivery service. The past two prolonged years of the COVID-19 pandemic also led to the significant growth of the Quick Commerce market. Similarly, the number of 'GrabMart' users also continues to rise since the first service launch in 2020, while 'GrabMart' became one of the popular services, especially among Gen Z and Millennials. To celebrate and build on this success even further this year, Grab continues to expand GrabMart services to better respond to users' needs more comprehensively. We have collaborated with leading retail brands and stores to provide more products variety. One of our key strategies is the use of 'Moment Marketing' to encourage the market and service use during this special festive season such as gifting for loved ones this coming season of love."
This Valentine's Day, GrabMart presents the special campaign with three highlights as follows.
Highlighting the top three best-selling product categories and special gift sets by multiple brands collaboration for shopping lovers
In celebration of the season of love, Grab offers a wider variety of gifting selections, highlighting the popular three product categories for Valentine's day, including 1) Flower bouquets from leading stores such as PREMIUM FLOWERS BKK and Papercut Thailand 2) Health and Beauty products such as cosmetics, perfumes, skincare products, as well as supplements from Boots, BEAUTRIUM, Matsumoto, and Oriental Princess, and 3) Special Valentine's Day gift sets from Karmakamet, chocolates in limited edition packages, as well as premium gift sets from leading retail brands such as Tops and Lotus's.
Providing ultimate discounts with FlashSale promotions
For customers who enjoy valuable prices, Grab offers up to a 50% discount on GrabMart service during 7 – 20 February 2022 with special FlashSale promotions to add more fun to this upcoming shopping experience. Moreover, couples who love to plan their Valentine's celebration ahead can now use the 'Schedule Order' feature for shopping on GrabMart and select the delivery date and time preferences up to 14 days in advance while enjoying up to a 30% discount. Sending your loved one a special gift via GrabExpress and applying the 'VDAY80' code to receive up to an 80% discount or THB 50, starting from 4 – 14 February 2022*.
Launching the new nationwide and overseas delivery feature
To enhance the service experience for consumers, Grab launches the new delivery feature, allowing users to place their orders via GrabMart and choose to deliver these items or special gifts to their friends, family, or loved ones in other provincial areas via the outstanding feature of 25-minute instant delivery service**. Furthermore, parcels can also be delivered to other five countries, including Singapore, Indonesia, Malaysia, Philippines, and Myanmar.
*Terms and conditions as designated by Grab Thailand
**Delivery duration can be adjustable according to delivery distance and demands