GrabFood Invites You to Experience Three Exclusive Collaborative Set Menus by Six #GrabThumbsUp Award-Winning Cafés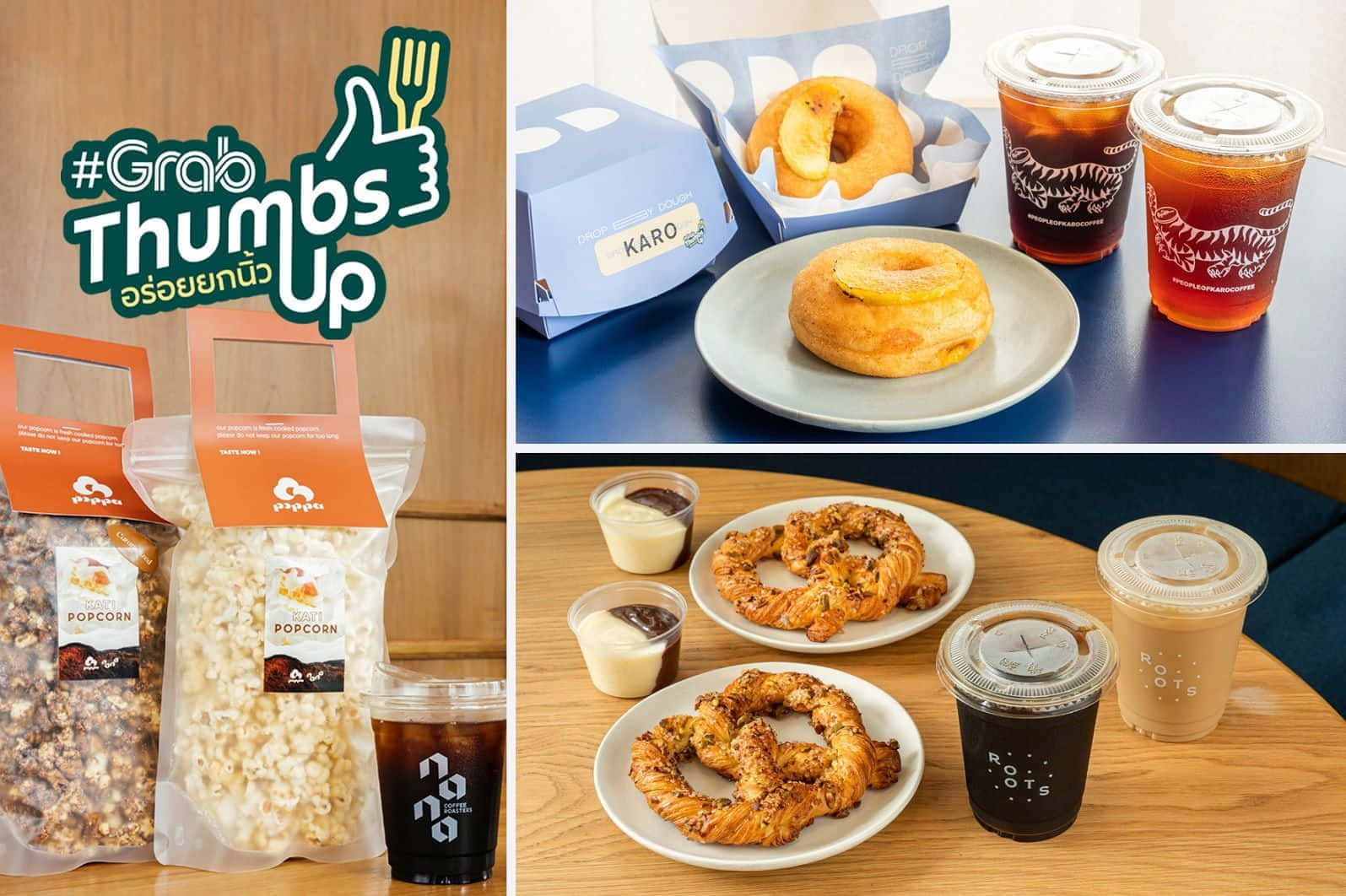 Calling all café aficionados! GrabFood, in collaboration with six users' favorites from #GrabThumbsUp, including NANA Coffee Roasters, POPPA, KARO Coffee Roasters, DROP BY DOUGH, Roots, and Roots Bakeshop, presents three signature set menus. Ready to turn your ordinary day into a special one, these exclusive drink and snack combos are perfect whether you enjoy them alone or with buddies. Grab yours now and enjoy these ultimate flavors only on GrabFood!
NANA Coffee Roasters x POPPA
A special menu set of Coffee and authentic Thai cuisine's own Kati-flavored popcorn
Starting with the first menu set designed by a fan-favorite coffee roaster, NANA Coffee Roasters owned by Vasin. He attracts coffee lovers by selecting coffee beans from all over the world to create a unique coffee menu for fans to enjoy. Known for its specialty coffee brewed by the World Champ's baristas, NANA Coffee Roasters is serving a mellow and delicate coffee to be enjoyed with crafted popcorn from POPPA, a café owned by two best friends, Pun and Gino, for this special collaboration. Vasin initiated the tasty idea of using authentic Thai Kati (coconut milk) in the menu set, while POPPA made it possible mouthwatering with the two new Crafted Kati Popcorn flavors.
Firstly, Kati Popcorn enriched with the Thai savor of Kati will present to you a great combo with Dirty Coffee or Caramel Macchiato to add more mellowness with fresh milk. While Caramelized Kati Popcorn with the creaminess of Kati and sweetness of caramel will make a perfect match with Signature Kanda, an amazing combination of fruit tea and nitro coffee for a refreshing fruit-like flavor. To give you an idea, this set menu is perfect for either ordering on a relaxing day off lying in bed watching movies or on a work-day afternoon to add a refreshing feeling! These coffee and popcorn duos are now available until 31 August.
KARO Coffee Roasters x DROP BY DOUGH
Menu set for sweet n' sour and sparkling enthusiasts
The collaboration between Phra-khanong-based KARO Coffee Roasters, with a Sri Lankan vibe, and DROP BY DOUGH, a Scandinavian homemade doughnut café. According to Karo, the owner, barista, and roastmaster of KARO Coffee Roasters, the sparkling drink Karo Kola was formulated by extracting dried coffee cherry skin to introduce the sparkling feelings and sweet yet sour flavor to create a unique, refreshing, and sweet-scented taste. The beverage is made more perfect when paired with a puffy homemade doughnut, Cinnamon Apple Jam, giving a sweet taste of an apple alongside the spiciness of the cinnamon. Enjoying the doughnut while sipping the Sparkling Karo Kola promises to boost energy and add colors to otherwise dull afternoons! Order the set menu from these two trendy shops now until 30 September.
Roots x Roots Bakeshop
Milky coffee served with Cretzel for bakery lovers
When mentioning Roots, most people would think of the aroma of high-quality authentic Thai coffee, on which Varatt "Tae" Vichit-Vadakan puts great emphasis. He often visits coffee plants in northern Thailand to oversee the production and harvest of coffee beans. With Roots' growing customer base, Tae had an idea to open a new café called Roots Bakeshop, which is a combination of a coffee shop and a bakery serving daily-baked treats. In this collaboration, Tae wishes to create a menu that brings out the delicate flavors of grains like oatmeal and pistachio.  From Roots Bakeshop, the Pistachio Cretzel with Two-Tone dip combines croissant and pretzel to create a new dessert with a crunchy taste and buttery scent. It is topped with pistachios and served with a two-tone dip – chocolate and vanilla – for a strong yet delicate flavor. When pairing the cretzel with the Oat Milk White Cold Brew or Black Cold Brew from Roots, the combination is perfected. The idea of the menu collab between the two cafés has been on Tae's mind for a long time, so he decided to join this campaign from Grab without hesitation. The Pistachio Cretzel with Two-Tone dip is now available only on GrabFood until 30 September.
All of the six cafés in this collaborative campaign are part of the award-winning restaurants from #GrabThumbsUp. Selected by GrabFood, these nationwide restaurants have passed rigorous criteria in terms of taste, reputation, and popularity based on the number of orders as well as customer ratings. They must also pass the standard and be verified by food experts. For anyone who wishes to take a bite, these special menus created by Grab and the six cafés are now available exclusively on the Grab application!