Grab launches a big campaign, "Triple Discounts," to drive the online market during Chinese New Year, aiming to help ease expenses during the time of rising living cost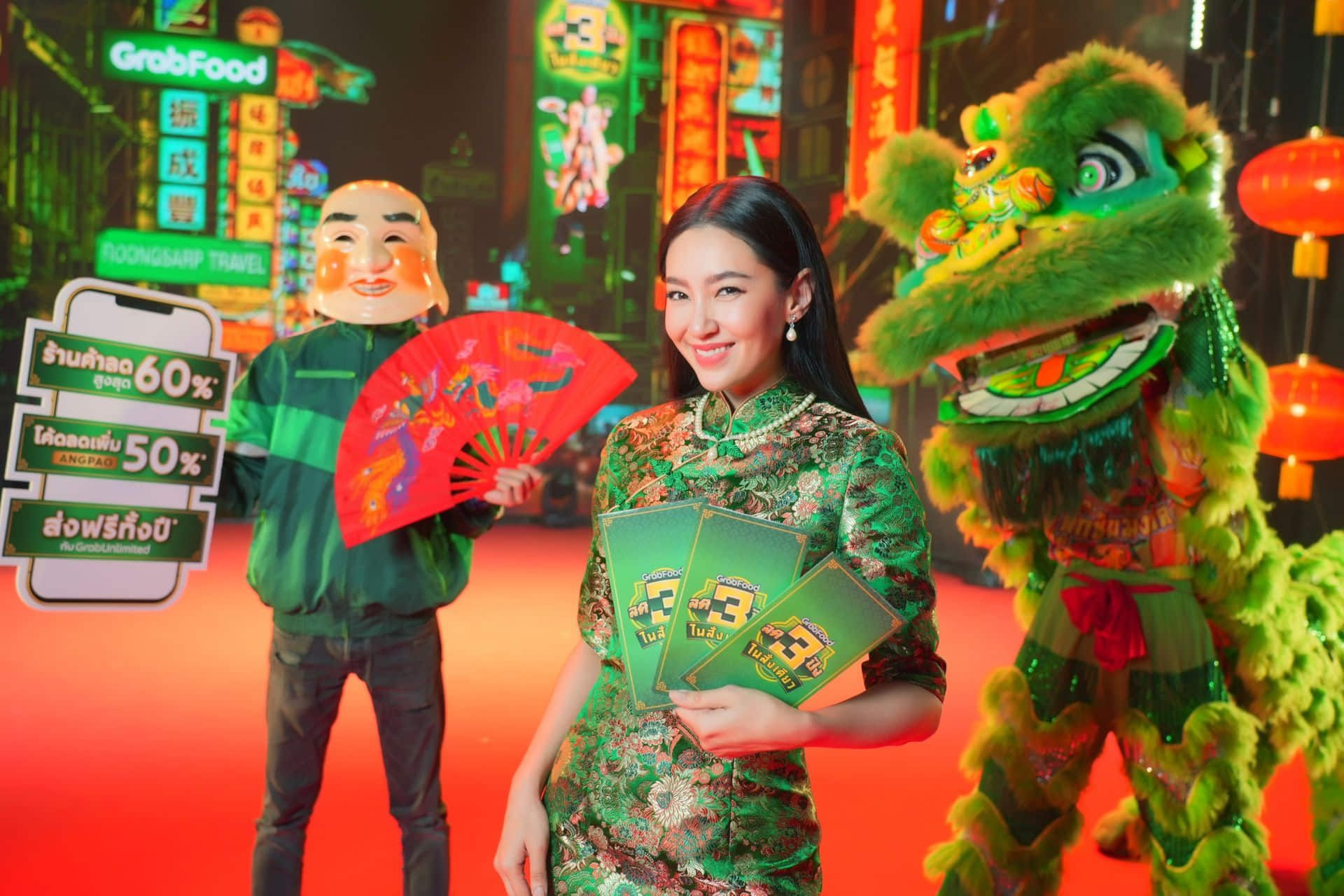 Grab Thailand launches a big campaign, "Triple Discounts," to celebrate the Chinese New Year festival and create a new phenomenon for the industry by offering multiple discounts on GrabFood and GrabMart, including up to 60% discount from merchants, up to 50% discount with the 'ANGPAO' code, as well as special deals like all-year free delivery. Through this campaign, Grab aims to encourage the mood for a shopping spree within the first quarter, while also helping to minimize expenses for the people during the festive season. The campaign starts from today until 13 March 2022.
Ms. Chantsuda Thananitayaudom, Country Marketing & Partnership Head, Grab Thailand said "Chinese New Year is a big festival where people usually spend a lot for the celebrations and thus, contributed to a great volume of expenditure during this festive season. However, ever since the prolonged COVID-19 outbreak, many families have still been impacted by the economic crisis. Coupled with the rising cost of living, they would have to tighten their belts on spending. To support our consumers on this, Grab launches a new campaign, "Triple Discounts," offering the special highlight that allows consumers to apply triple discounts in one order on both GrabFood and GrabMart. This is the first time Grab has launched this special deal to help alleviate the burden of expenses and provide valuable deals when ordering food and merchandise via Grab services. The campaign derived from our market research on the consumers' expectations during the Chinese New Year festival in order to address their preferences precisely."
The 3 highlights of "Triple Discounts" include
The First Highlight: Up to 60% discount from merchants
Grab offers special deals from the collaboration with merchants on GrabFood and GrabMart to boost consumers' spending and help save expenses on both food and merchandise at more valuable prices during the Chinese New Year festival.
Examples of special Chinese New Year menus, which come with special discounts for family gatherings are Yangzhou Fried Rice and Szechuan Tofu from Four Season restaurant, Noodles with Szechuan gravy and Stir-fried Spicy String Beans from Kiao Liao Ning restaurant, as well as Szechuan Tofu and Steamed Mantou from Ting Tai Fu restaurant.
In addition, GrabMart also offers a wide selection of sacrificial offerings and auspicious items for worshipping and bringing lucky charms during this Chinese New Year. For instance, the Sasae set, broilers, black chicken with frozen entrails, a full set of auspicious fruits, tangerines, silver and gold papers, and many more items available on Tops Market, Central Food Hall, Lotus's, and other participating stores.
The Second Highlight: 'ANGPAO' discount code for up to 50% off or THB 100 discount
As a gift for consumers on the special occasion of the Chinese New Year, Grab would like to offer the second highlight with 'ANGPAO' discount code for up to 50% off or THB 100 discount for GrabFood orders with minimum spending of THB 180, and up to THB 150 discount on GrabMart with minimum spending of THB 200 when making payments via GrabPay or GrabPayWallet.
The Third Highlight: All-year free delivery!* with GrabUnlimited Package
Get the third privilege of free delivery codes up to 600 times a year with GrabUnlimited packages that are applicable for both GrabFood and GrabMart services. Users can choose to subscribe to the GrabUnlimited Package at only THB 1 per month or a full-year package at only THB 12 a year. Moreover, users will also receive an instant THB 20 discount on delivery fee when ordering via GrabFood with a minimum spend of THB 150, or an instant THB 15 off on the delivery fee when spending at least THB 250 via GrabMart.
"Triple Discounts" is Grab's big campaign for the first quarter with an aim to bring joy and liveliness to the online delivery market, while also reinforcing Grab as a leading super app. The campaign was kicked off with the new exciting advertising movie, featuring our brand ambassador, Bella Ranee, along with the hottest duos, Yin Anan and War Wanarat to join our LIVE event on the campaign launch with multiple giveaway discount codes. Stay tuned for more details at www.facebook.com/GrabTH," added Ms. Chantsuda.
Celebrate this joyful Chinese New Year festival with special valuable deals with the "Triple Discounts" campaign from today until 13 March 2022.
*Terms and conditions as designated by Grab Thailand. For more promotional information, please visit GrabFoodTH Facebook, or visit the Grab application for more details on the GrabUnlimted package subscription.