Grab Thailand presents "Grab 10versary" campaign to celebrate its 10-year business
Grab Thailand celebrates its 10th anniversary of business in Thailand through a major campaign launch, "Grab 10versary," presenting a series of surprising events under the concept of "Make the Impossible Possible with Grab" to bring joy and appreciation to all […]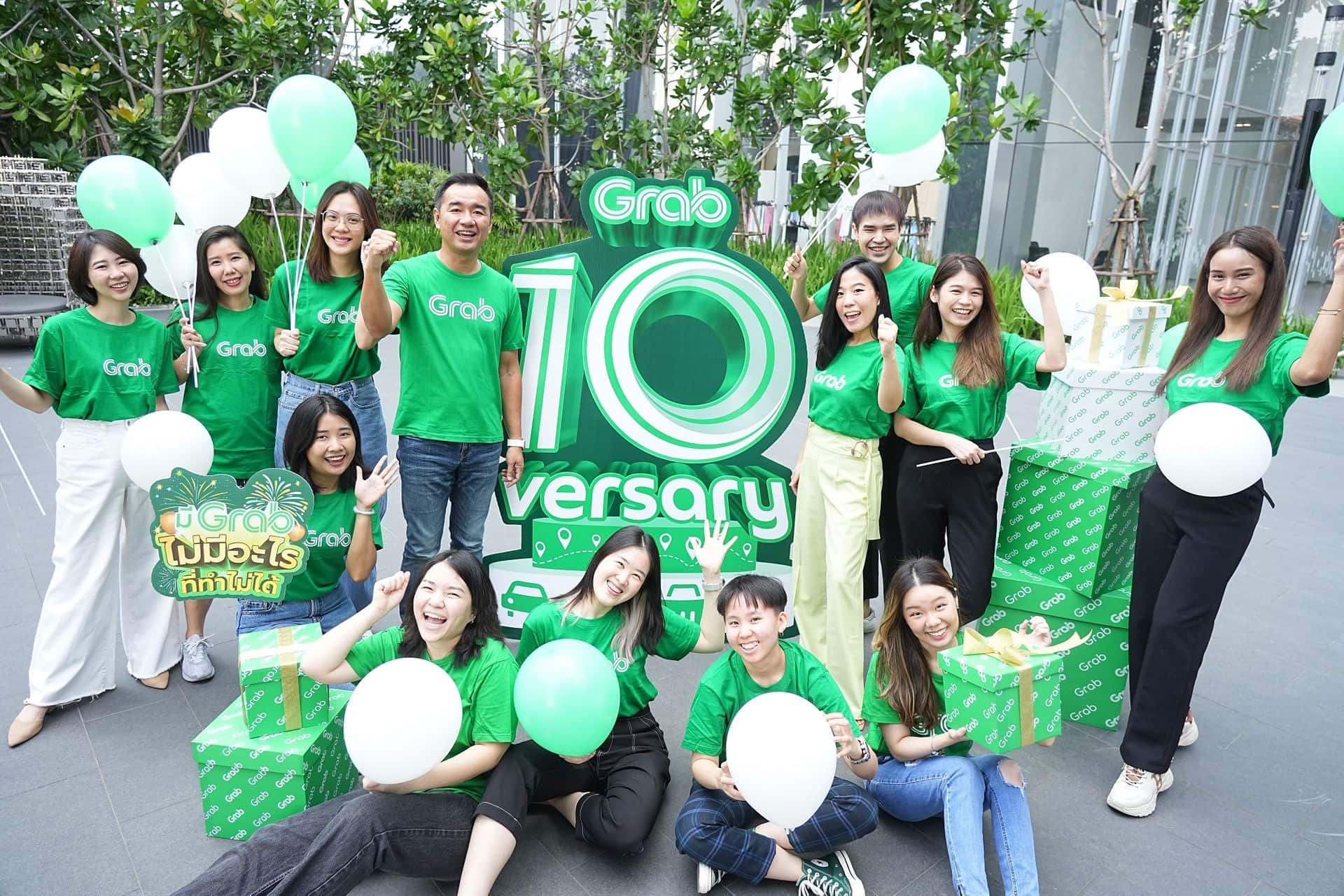 Grab Thailand celebrates its 10th anniversary of business in Thailand through a major campaign launch, "Grab 10versary," presenting a series of surprising events under the concept of "Make the Impossible Possible with Grab" to bring joy and appreciation to all users, partners, and businesses who support the successful journey of Grab. The activity highlights include a great celebration hosted by GrabFood, a gigantic 'Tunnel of Happiness,' decorated with colorful and shimmering lights to create fun and happiness for everyone this year-end, a 'Restaurant make-over' campaign by GrabFood to help renovate merchant-partners' restaurants, a '#GiveawaywithGrab' activity that invites Grab driver-partners to participate in sports charity and games to win big prizes, as well as, special discounts on all Grab services, exclusively for users with GrabUnlimited subscriptions.  
Worachat Luxkanalode, Country Head of Grab Thailand, said, "This is an exciting moment and another milestone for Grab as we announce the 10th year of business in Thailand, from a platform providing a taxi-hailing service back in 2013 to becoming a Southeast Asian leading superapp that provides a variety of services to meet people's lifestyles. The journey was undeniably challenging, but we could not have come this far as an "everyday everything" app for Thai people without continuous support from everyone alongside, including Grab users, driver-partners, merchant-partners, business partners, and all partners from every sector. To celebrate our 10 years of success together, we, therefore, launch a 'Grab 10versary' campaign under the concept of 'Make the Impossible Possible with Grab' to thank everyone for all their support and reinforce our dedication to developing the platform that provides opportunity and makes the impossible possible. We would like everyone to join us in celebrating this remarkable success and creating the next possibilities all together as one."
To celebrate the 10th anniversary in Thailand, Grab launches various surprises from now until the next year, starting with the 'Grab 10versary' campaign to bring joyous moments for everyone in the ecosystem as follows:
Users who help make everything possible
Grab is ready to present special activities for users, starting off with an exciting GrabFood's campaign with unlimited fun and happiness, featuring the rising teen pop star, PP Krit. More discounts will also be given to all users in late November, followed by the year-end celebration with a magnificent landmark, the 'Tunnel of Happiness', a 40-meter tunnel located at Samyan Mitrtown that invites all families and loved ones to share their memorable moments together during mid December and January 2023. Grab also launches another gimmick for everyone to enjoy creating their online characters based on their lifestyles using Grab services. Last but not least, the greatest promotion of the year, exclusive for users with GrabUnlimited subscriptions. Enjoy special discounts on all Grab services, including GrabFood, GrabMart, GrabExpress, and GrabCar by applying the 'GUBONUS' code from today until January 8, 2023. For more information, please visit grb.to/grab10versary.   
Merchant-partners who serve everyone a joyful meal-time
For the first time ever! Grab presents "Restaurant Make-over with GrabFood," selecting 5 restaurants of users' choice from the Small Restaurant project, ranging from street food restaurants, food stalls, and hawker stalls, to renovate and turn them into iconic restaurants, which aims to boost both their online and offline sales.
Driver-partners who make every transportation and delivery at ease
Grab invites all driver-partners to take part and have fun in the sports charity event, '#GiveawaywithGrab,' to pass joy and happiness to children at The Mirror Foundation through funds and donation of sports equipment. Apart from the joy of goodwill, participating Grab driver-partners also have a chance to win special prizes at the event. Moreover, all driver-partners nationwide can also join this happiness through online activities to win big prizes as well.
"We hope that the 'Grab 10versary' campaign will bring joyous moments and pleasure to all of our users, drivers-partners, and merchant-partners. Once again, we would like to extend our appreciation to everyone for making success possible throughout the past 10 years. Grab will continue to develop our services and promote the use of technology and our application for the benefits and better quality of life for the people. We are more than ready to drive Thailand forward together with everyone," concluded Worachat.