GrabFood Launches Annual Mega Campaign of the Year "Free Your Hunger"
Reaffirm its presence for being Thailand's leading food delivery platform
Aspire to sort out unsolvable issues inspired by consumers' eating habit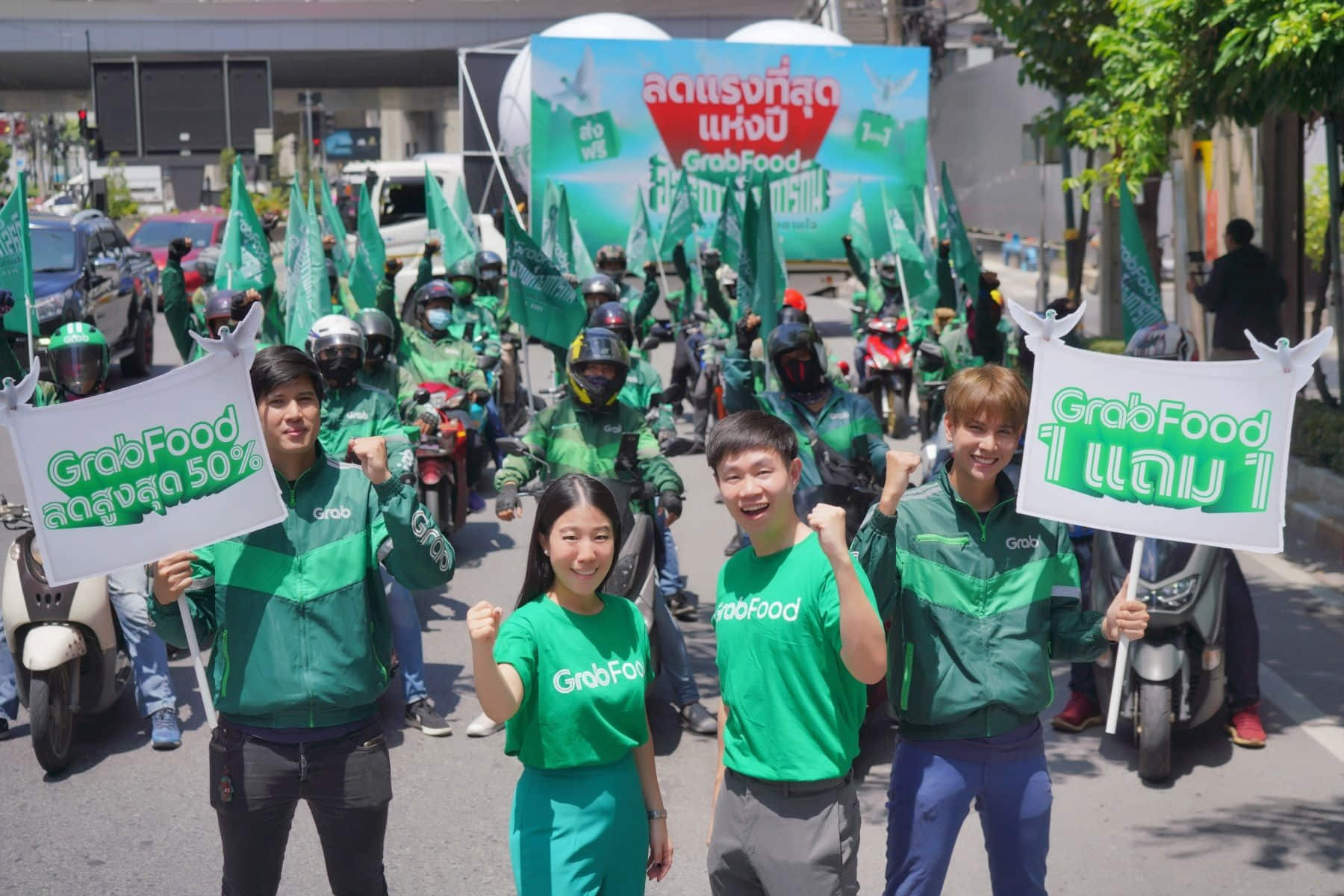 Bangkok, Thailand – Grab Thailand launches annual mega campaign of 2020 'Free Your Hunger' to reaffirm its presence for being Thailand's leading food delivery platform and aspire to sort out unsolvable issues inspired by consumers' eating habit, serving over 100 highlight signature menus from 75 restaurants nationwide starting from 24 August 2020 to 4 October 2020.
Chantsuda Thananitayaudom, Country Marketing Head of Grab Thailand said "GrabFood 'Free Your Hunger' started from consumers insights that usually encounter an issue as they are trapped and accustomed to their own boring eating habit by ordering same menu everyday particularly Thai Fired Basil with Fired Egg (Kapraow Kai Dao), Hainasese Chicken Rice (Khao Man Gai) and Omelet with Rice (Khao Khai Jeaw). GrabFood aims to offer an alternative to liberate the freedom of food selection through Free Your Hunger campaign which is the most comprehensive campaign with wide selection that comes offering Signature Menus over 100 Menus from 75 restaurants nationwide exclusively at GrabFood. More to offer, special promotions come with discounts on delivery and food fees, buy 1 get 1 free and exclusive deals such as free delivery within the first 3 kilometers and deals up to 50% from renowned restaurants. In addition, Grab also develops integral communication activities in both online and offline to target consumers across 35 provinces in Thailand that Grab presents."
The highlights of Free Your Hunger campaign include:
New Campaign & Communications:

An extra exclusiveness of this campaign is the short film to promote the campaign directed by Nawapol Thamrongrattanarit (Ter), a notable film director, who bring consumers' insight accustomed to the same eating habits and narrate the story in different scenarios, presenting GrabFood wide selections for consumers perfectly.
GrabFood uses marketing campaign to communicate the brand in both online and offline platforms to directly reach target audience, for instance, leveraging #HandsomeGrab to help communicate the brand, creating contents on 'TikTok', the newly video-sharing platform that has gained widespread popularity among teens and reaching out to target audiences, in addition GrabFood also collaborates with Hollywood Game Night Thailand via online channel in order to reach target audience across the country.
GrabFood Free Your Hunger is the longest campaign throughout 6 weeks in an effort to urge the sales in the third quarter from 24 August 2020 to 4 October 2020.

Deals & Promotions: 

A variety of over 30,000 special deals nationwide that join the campaign, bringing your favorite menu to order.
Co-promotions with banks and digital financial service providers including Kasikorn Bank, Siam Commercial Bank, Bank of Ayudhya (Krungsri), Citi Bank, UOB bank, Bangkok Bank, TMB Bank, Mastercard and UnionPay to get 200 baht discount ( limited redemption amount ) to meet the needs of consumers on digital and contactless payment.

Menu Exclusively Available at GrabFood:

Over 100 Signature Menus in particular Donut Tiramisu from Tim Horton, Spicy Thai Grilled Pork Spare-ribs Soup from Thong Smith, Strawberry & Truffle Croissant from  Paul Bakery etc.
"For GrabFood Free Your Hunger campaign this year, Grab aims to increase the sales for merchant partners who join the campaign, increase new users by double of the regular period and to satisfy the needs of consumers as Grab is the leading super app that complements their daily lives in Southeast Asia" said, Chantsuda Thananitayaudom.
Grab Thailand offers three main services inclusive of transport service, food and parcel delivery service particularly GrabExpress and GrabMart that was newly launched in April 2020 and financial service, offering personal loans to Grab's driver-partners and merchant partners.